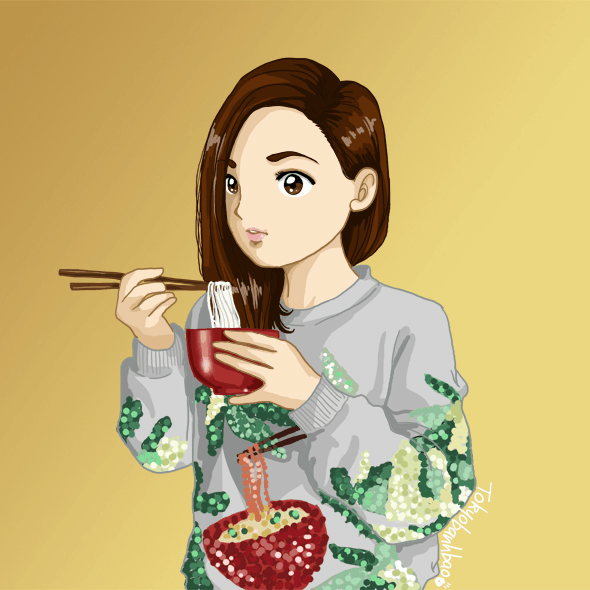 Aujourd'hui, double crush : auditif et visuel ! J'ai toujours aimé l'univers de la chanteuse Yelle depuis ses débuts, que ce soit au niveau du son, du rythme ou de l'esthétique graphique.
Si vous me suivez depuis un moment, vous savez que j'ai fortement adhéré à leur 2ème album « Safari Disco Club » , qui m'a fait remuer le gras à maintes reprises (en live c'est encore mieux, si jamais vous avez l'occasion).
Today, I have a double crush: audio and visual! I've liked the singer Yelle since her very beginnings, be it for the rhythm, the sound or the graphic aesthetics.
If you've been following me for a while, you know that I really really liked their 2nd album « Safari Disco Club », that got me movin' and shakin' it quite often (and it's even better live, if you ever get the chance).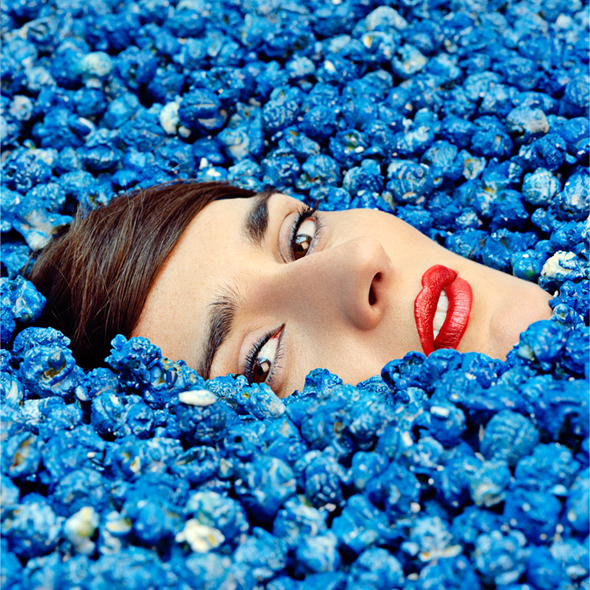 Il se trouve que la jolie Julie s'apprête à sortir « Complètement fou », un 3ème album en Septembre 2014 et en a dévoilé un morceau intitulé « Bouquet Final » il y a quelques semaines. À la première écoute, j'ai trouvé ça un peu plat et puis… j'ai insisté.
And it just so happens that the pretty Julie is about to release « Complètement fou », a 3rd album in september 2014 and disclosed a new title called « Bouquet final » a few weeks ago. The first time I listened to it, I found it was maybe a bit bland, but … I insisted.
Et depuis, je l'écoute en boucle car à chaque nouvelle lecture, il y a un arrangement ou sonorité que je découvre et qui me fait davantage apprécier la chanson (le passage de la fin ou celui à 2'31″… oui oui j'aime des endroits précis dans les chansons).
And since, I've been listening to it non stop: every time I listen to it, I discover a new arrangement or sound that makes me enjoy the song even more (the little bit at the end or at 2'31″ for example….yes, yes, I like very specific bits and pieces in songs).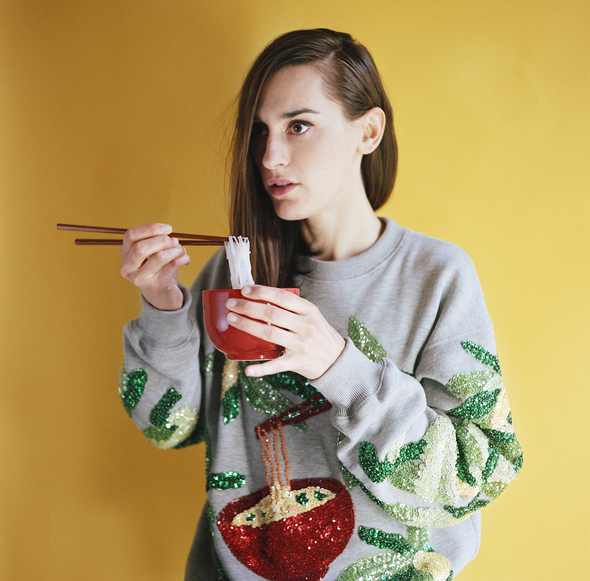 Et puis je suis tombée sur cette photo de Jules Faure : Bien que simple, l'harmonie des couleurs, le sweatshirt, le bol de nouilles, la posture, tout m'a parlé. Cette photo rassemble un peu tout ce que j'aime (mode, graphisme, nourriture…). Et j'ai voulu la redessiner à ma manière.
Ça ne vaut pas l'original mais c'était un coup de coeur, un petit plaisir que j'ai pris en dessinant que je me devais de partager avec vous.
And then I found this picture of Jules Faure: even if it's quite simple, the harmony of the colors, the sweatshirt, the bowl of noodles, the posture … it all spoke to me. This picture is a concentrate of everything I love (fashion, graphics, food…). I wanted to draw my own version of it.
It's not worth the original of course, but it was a real visual crush, and I felt I had to share the pleasure I took in drawing it with you. (English translation by Bleu Marine)