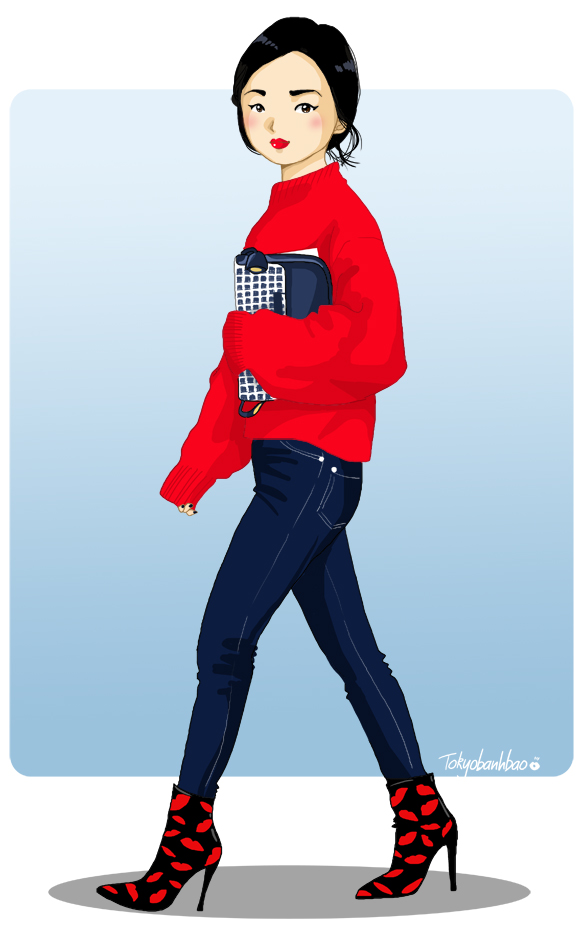 Le temps passe vite ! Le dernier « She's got the look ! » date de Décembre dernier ! Il était temps que notre petit jeu de devinette revienne ! Aujourd'hui, c'est une blogueuse venant d'Australie que j'ai eu l'occasion de rencontrer une fois (super cute!) et qui a un style toujours très chic, coloré et féminin.
J'ai craqué sur ce look rouge et bleu marine plutôt automnal (mais bon, la météo du moment s'y prête !) constitué d'un mélange de matières et motifs : Je suis fan. Saurez-vous deviner de qui il s'agit ?
Time goes so fast! The last « She's got the look ! » dates from last December! Today it's an Australian blogger that I have had the pleasure to meet once (super cute!) who's style is very chic, bright and feminine.
I fell for this pretty automnal navy and red look (worthy of this weather! ) mixing textures and prints: I'm a fan. Could you guess who this is? (English translation by Isa)
EDIT du 17/08/14 à 20h08 : Vous avez majoritairement trouvé de qui il s'agissait !  Il s'agit de Nicole Warne du blog Gary Pepper prise en photo par Style du monde lors de la Fashion week parisienne automne-hiver 2014. Bravo à Lola qui fut la première à dégainer la réponse ! Bonne soirée !