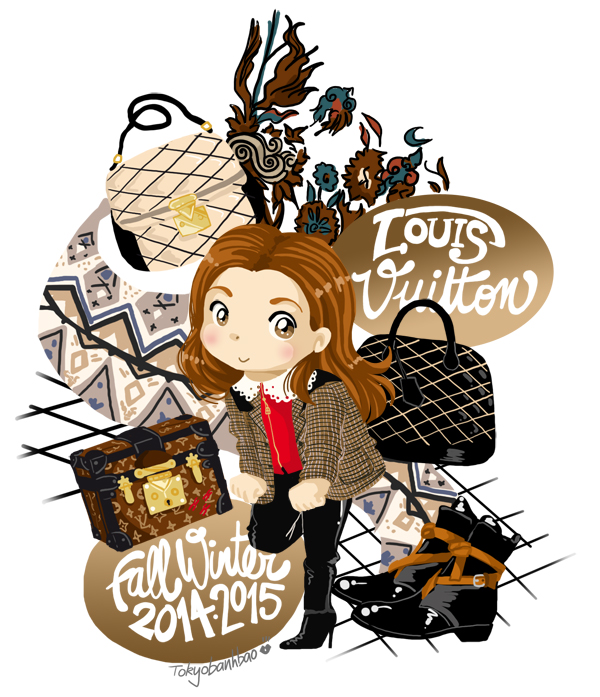 Il y a quelques semaines, j'ai eu la chance d'être invitée à découvrir la collection automne/hiver Louis Vuitton 2014-2015 dans la boutique éphémère située Rue François 1er, à deux pas des Champs-Elysées.
A few weeks back, I was invited to discover the 2014-2015 Louis Vuitton autumn/winter collection in the pop-up store located François Ier street, just minutes away from the Champs-Elysées.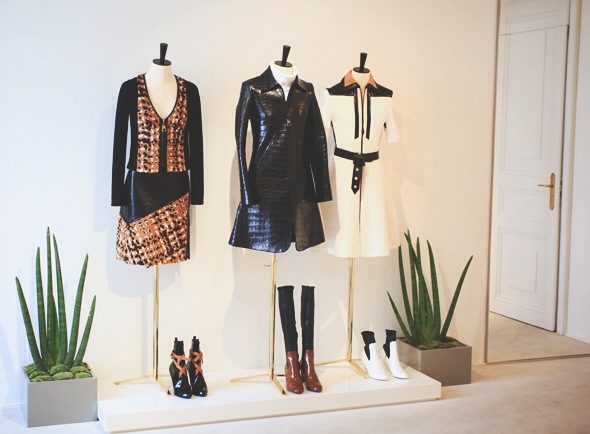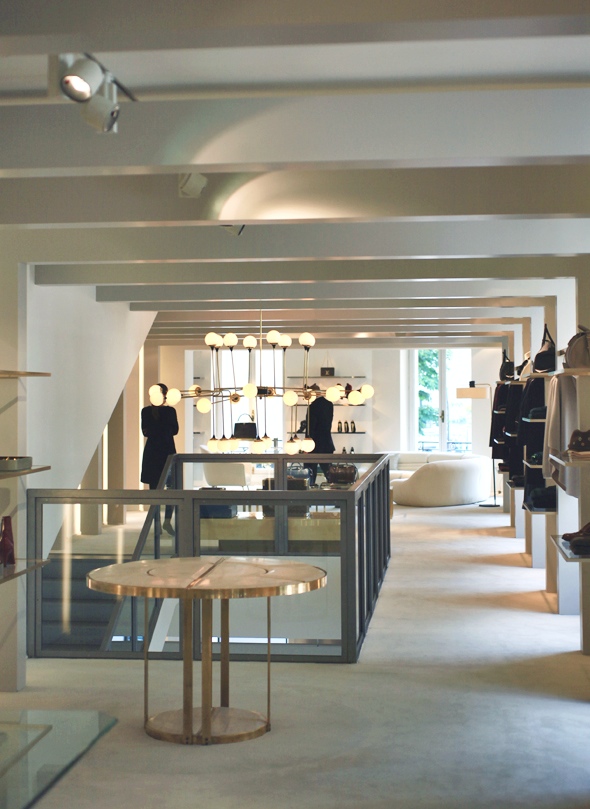 J'avais suivi le défilé avec attention sur l'écran de mon ordinateur et avais déjà particulièrement apprécié ce vent frais apporté par le nouveau directeur artistique, Nicolas Ghesquière (Ex-Balenciaga).
J'aimais énormément la Nicolas' touch pour Balenciaga, je n'ai pas été déçue par son nouveau travail chez Vuitton.
I had followed the the fashion show with great concentration on my computer screen, and had really enjoyed the breath of fresh air that the new artistic director, Nicolas Ghesquière (Ex-Balenciaga) had brought.
I already loved the « Nicolas touch » for Balenciaga, and I wasn't disappointed when I saw his work with Vuitton.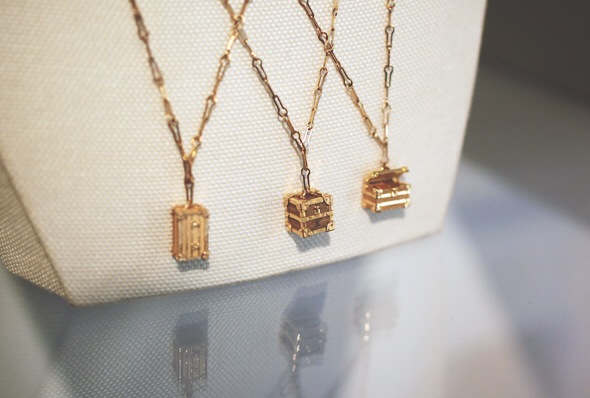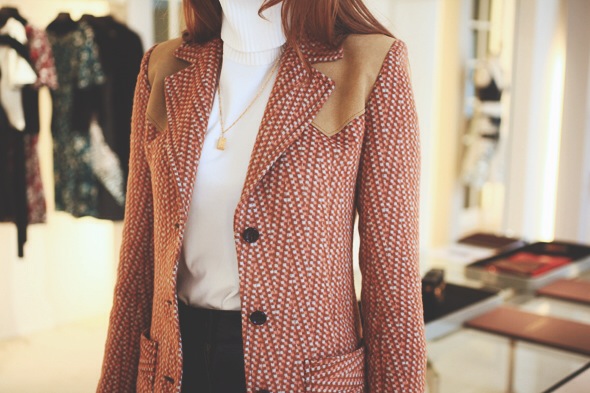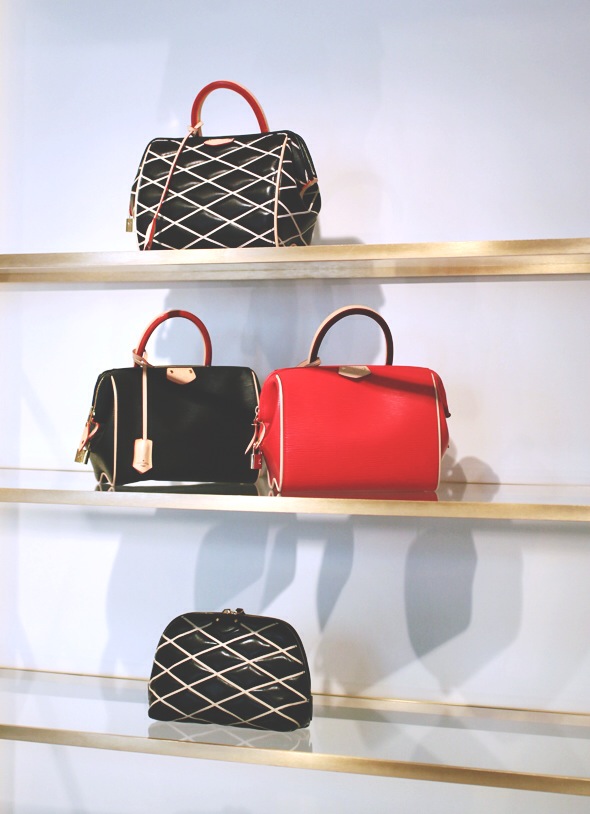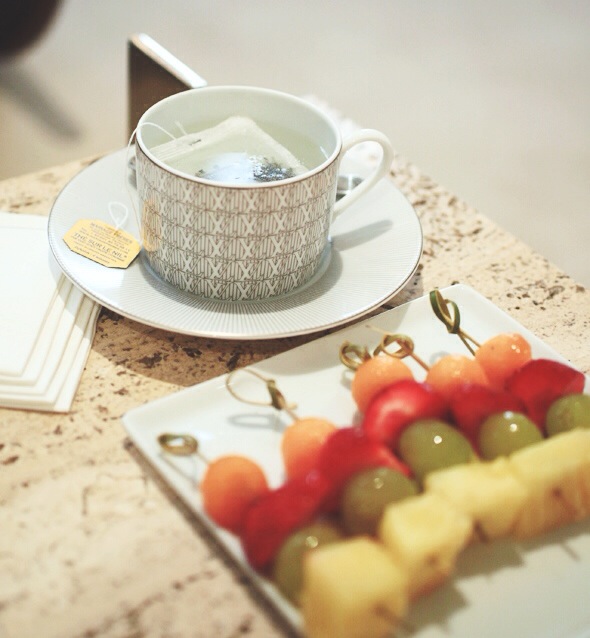 Lors de ce rendez-vous matinal, mes coups de coeurs virtuels se sont confirmés. La silhouette masculine-preppy qui m'avait faite fondre à distance a tenu toutes ses promesses en vrai.
Je m'y vois totalement dedans (… mais mes cuisses peut-être pas : Les mannequins du jour avaient les jambes tellement fines et élancées !)
On that early morning, my virtual favorites were confirmed. The preppy-masculine silouhette that I had loved from afar held all its promises when I saw it irl.
I can totally see myself in it (…just maybe not my thighs: the models that day had such slim legs!)

Au premier abord très sixties, cette collection révèle des facettes futuristes lorsqu'on l'observe de plus près :
With a very « sixties » first impression, the collection has a futuristic aspect to it when you look more closely: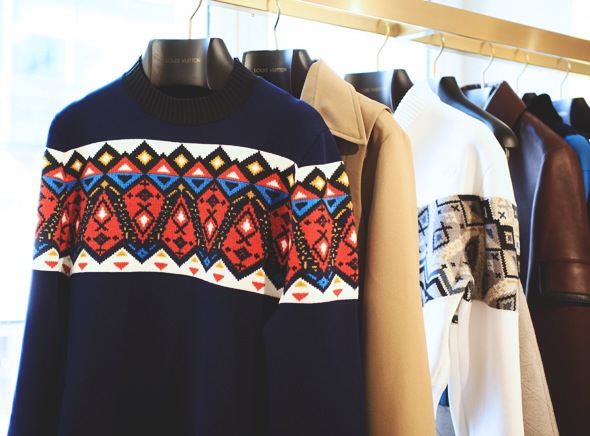 Les motifs des gilets façon jacquard sont obtenus par teinture de la laine et non par tricotage de différentes pelotes colorées (vous saisissez ?) autrement dit, nous voilà face à un joli trompe-l'oeil très astucieux (et qui fait peut-être gagner plus de temps lors de la réalisation … quoique…).
The jacquard patterns on the knits are obtained through a dyeing of the wool, and not knitting various colored balls of yarn together (get it?). In short, it's a pretty efficient trompe-l'oeil (and it might even save time…although…).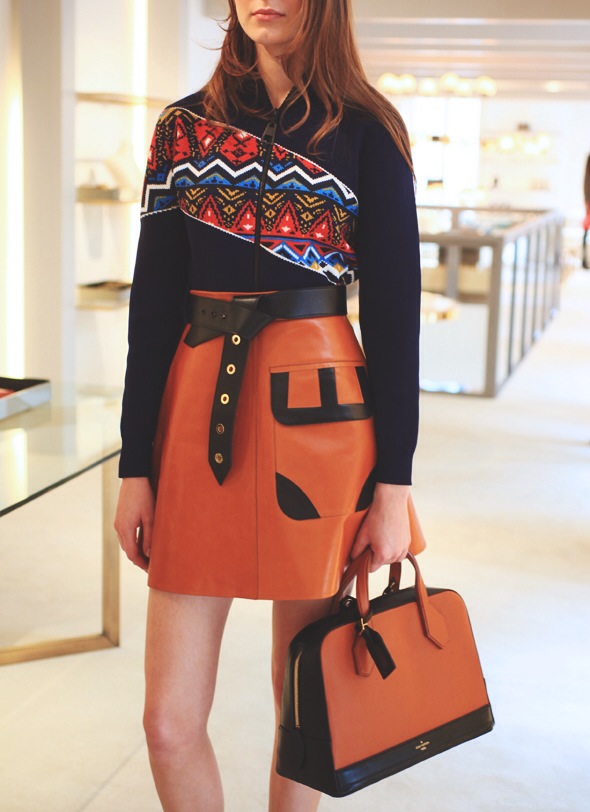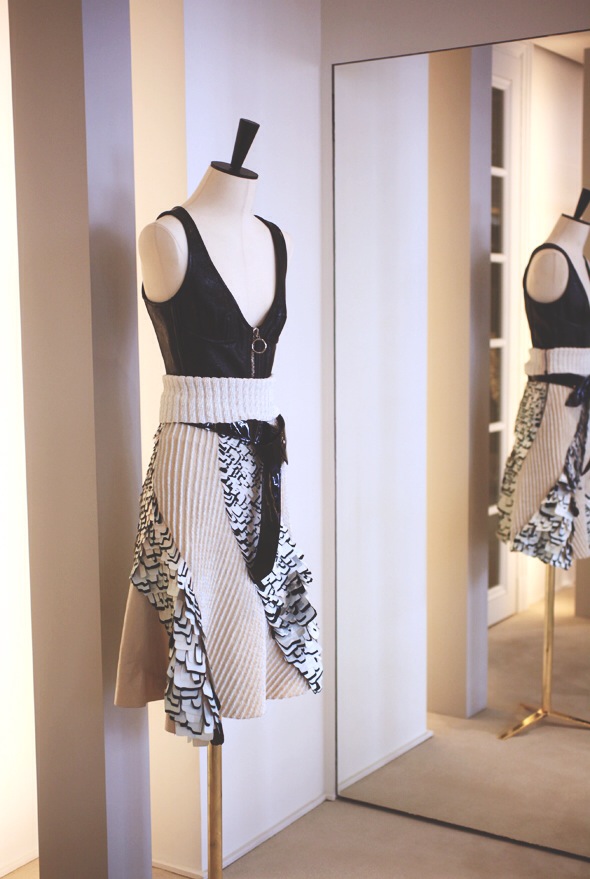 La jupe évasée à écailles que je pensais en cuir est en réalité constituée de plastique coupé au laser.
The flared skirt with the scales that I thought was leather was in fact laser cut plastic.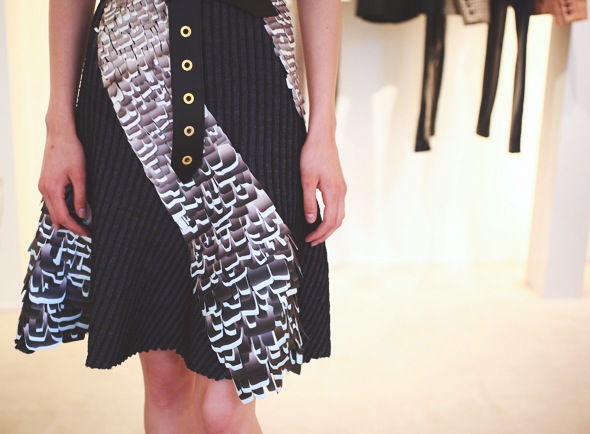 On sent l'inspiration des années Balenciaga sur mes bottines préférées de la collection (qu'elles soient plates ou à talon, je ne dis pas non).
You can really feel the inspiration emanating from the Balenciaga years on my favorite boots from the collection (with high heels or flat, I don't mind)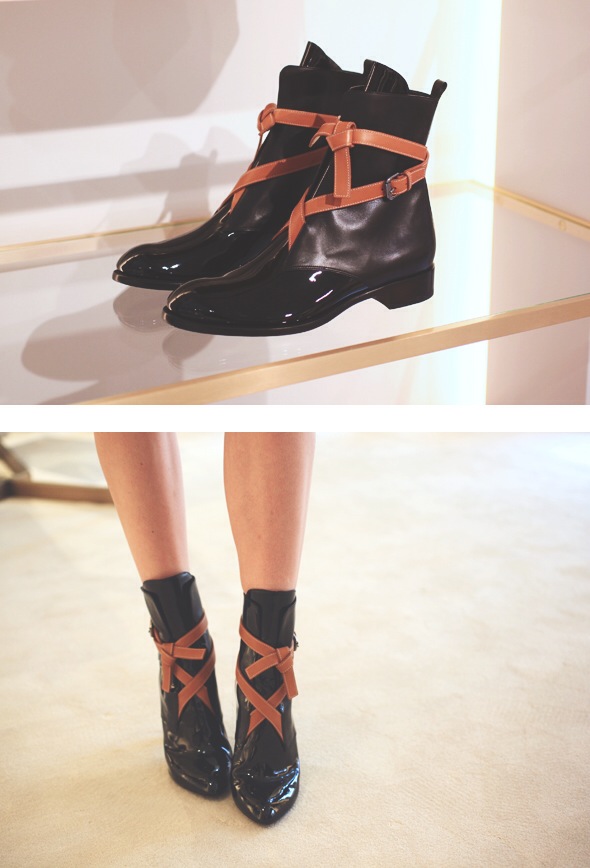 Même si je n'ai jamais été très fan du monogramme, je dois avouer le potentiel de « mignonitude » de ces mini-malles Vuitton.
Even if I was never a big fan of the monogramm, I have to admit that these small Vuitton cases have quite a bit of « cuteness » potential.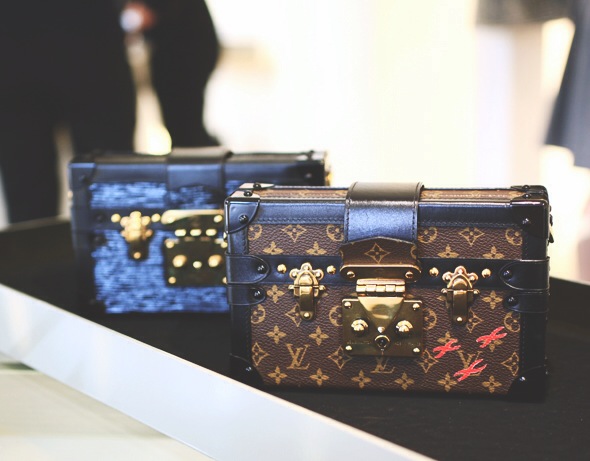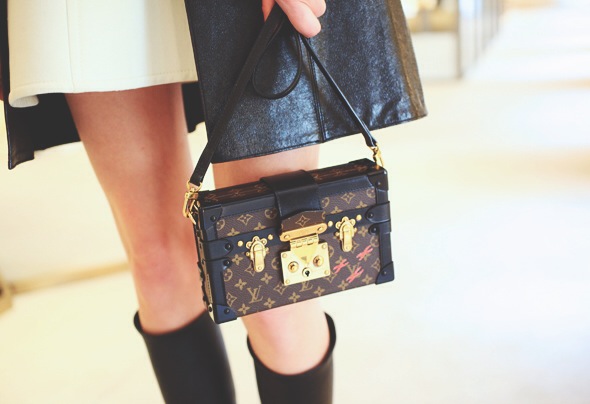 Je suis fan de la forme triangle des jupes de la collection qui ont l'avantage d'être flatteuses sur n'importe quelle morphologie (contrairement au pantalon « cuisse de poulet à l'étouffée » précédemment envié).
I love the triangle shape of the collection's skirts: they're flattering on any body type (so much cannot be said of the pair of « smothered chicken legs » pants that I wanted).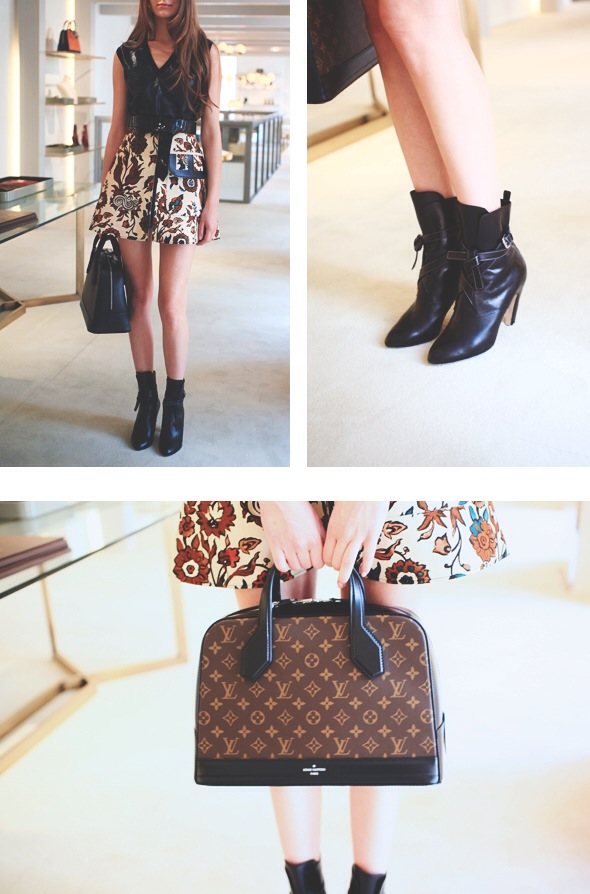 Une féminité savamment dosée, un extrême souci du détail, un respect des codes tout en les bousculant en finesse, c'est ce que, conquise, je retiendrai de cette collection. Hâte de voir ce que nous réserve la suite !
A well dosed feminity, a great sense of detail, a way of respecting conventions while shaking them up with panache…this is what I will take from this collection that quite won me over. I can't wait to see what comes next!!! (English translation by Bleu Marine)