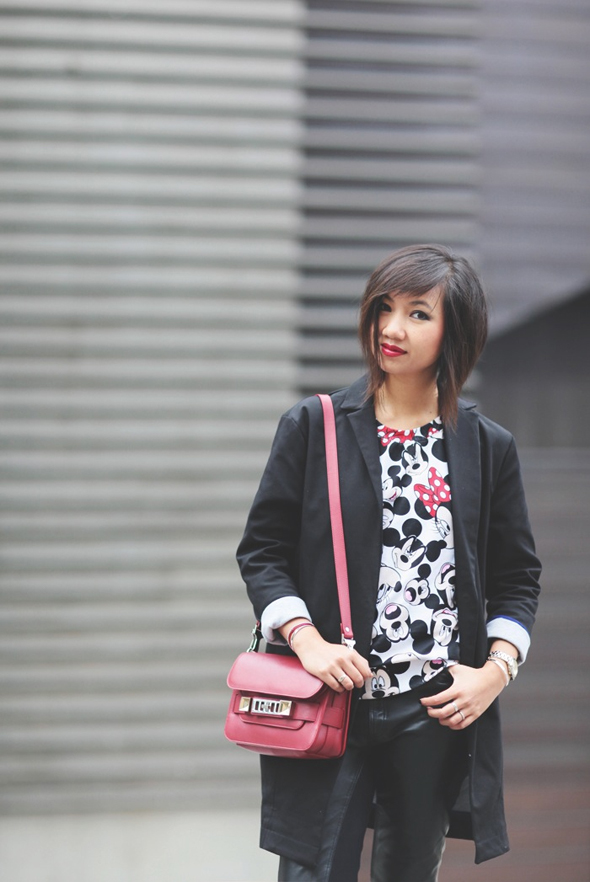 À quel âge doit-on s'arrêter de porter des sweatshirts à l'effigie de personnages de dessin animé ? C'est la question que je me suis posée lorsque j'ai validé ce sweat à têtes de Minnie et Mickey dans mon panier virtuel.
Je suis en général pour la liberté de porter ce qu'on veut quand on veut mais force est de constater qu'un tee-shirt Mickey ou Hello Kitty, c'est un peu décrédibilisant dans les situations qui requièrent le sacro-saint « sérieux » (=entretien d'embauche, demande d'augmentation, rendez-vous chez le notaire : essayez et admirez la réaction de votre interlocuteur).
At what age are you supposed to stop wearing sweatshirts with cartoon characters on them? It's the question I asked myself when I placed an online order for this Minnie and Mickey sweatshirt.
I'm generally all for the « freedom of wear » but I have to admit that a Mickey or Hello Kitty t-shirt doesn't do much for your credibility in situations that require formal dress (such as job interviews, asking for a raise, meeting with your lawyer : just try, and see how the person accross the desk reacts).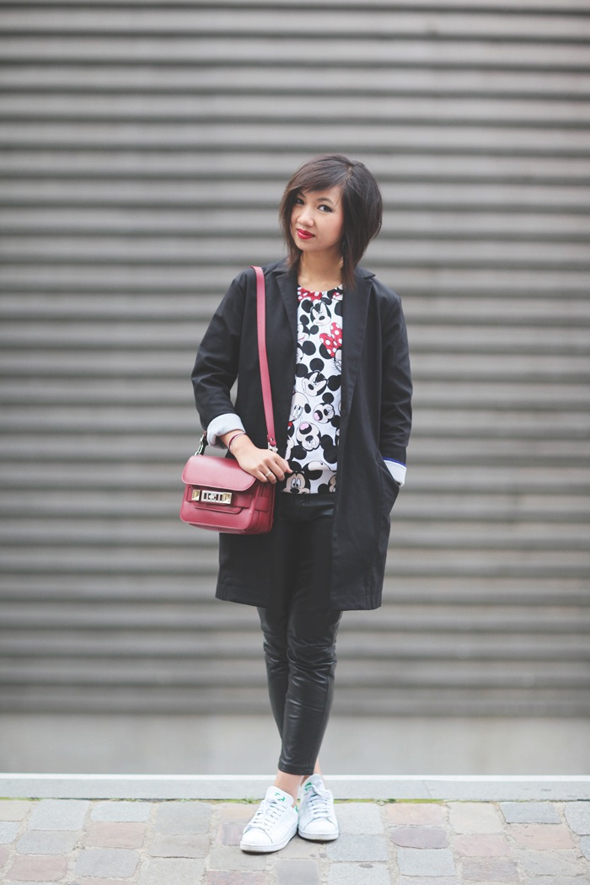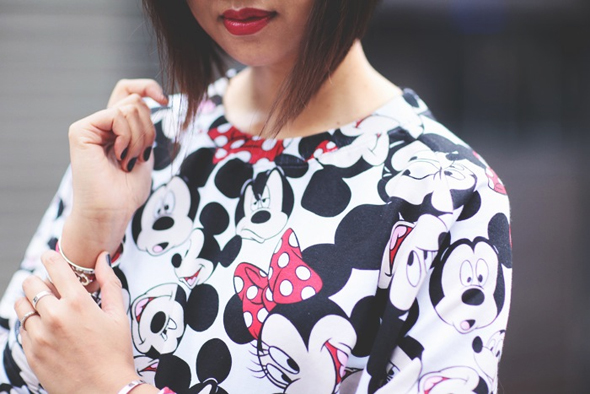 Au début de mon blog (si vous voulez rigoler un coup, vous pouvez faire un tour dans mes archives), j'étais vraiment attirée par tout ce qui pouvait être Kawaii, enfantin et je me suis un peu calmée depuis, visant un look plus sobre et plus « adulte ».
Mais à la vue de ce sweatshirt, je n'ai pu m'empêcher de vouloir le porter : il est régressif… mais décalé. C'est bien simple, j'aime quand le sage Mickey montre des faiblesses : colère, manque de sommeil, crise de démence, jalousie. Il me séduit lorsqu'il s'éloigne de son image parfaite.
Tout ça ne me dit pas s'il existe un âge requis pour porter du Mickey : je dirais juste que tant qu'on s'y sent bien et qu'on n'a pas l'impression d'être déguisée, tout est possible. Alors? Vous êtes prêtes à intégrer le Mickey Mouse Club vous aussi ?
When I started my blog (if you're up for a good laugh, just browse through my archives), I was naturally drawn to anything Kawaii or childish; but I sobered up and now aim for a more « adult » look.
But seeing that sweatshirt, I couldn't help but want to wear it: it's regressive…but off-beat. It's simple, I like it when Mickey shows his weaknesses: anry, tired, mad, jealous … I like him best when he parts from his perfect ways.
That being said, I still don't know if there's an age restriction for Mickey-wear: I'd say that as long as you feel good in it and don't feel like you're playing dress up, all is possible. So, are you ready for the Mickey Mouse Club auditions too? (English translation by Bleu Marine)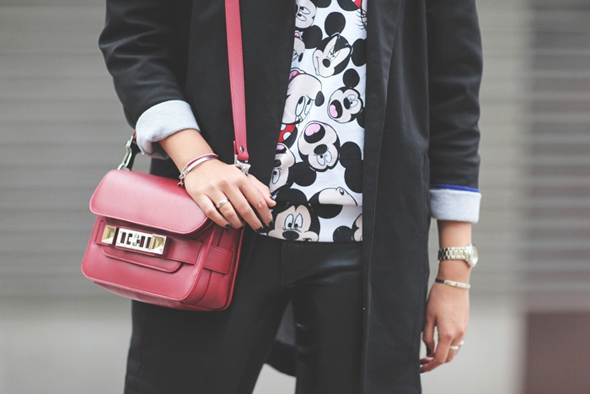 Sweatshirt Eleven Paris
Blazer Cédric Charlier pour La Redoute (déjà vu ici)
Pantalon en cuir / leather Pants Soft Grey (déjà vu ici)
Sac / bag PS11 Proenza Schouler (déjà vu ici)
Bracelets Dinh Van & Mya Bay
Rouge à lèvres/ lipstick Rouge Dior « 869 Rouge Massaï » Dior
Vernis / nailpolish « 902 Bar » Dior
Ombre à paupières/ eye shadow « 096 Pied de Poule » Dior
Sneakers Stan Smith Adidas