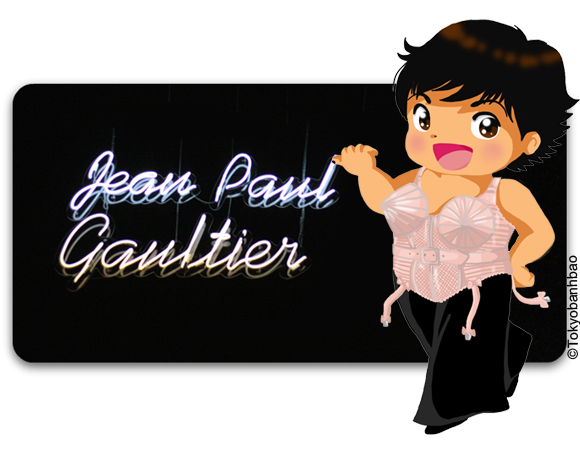 I didn't get a chance to make an official announcement on the blog, but those of you who follow me on Twitter and Facebook know that I left this weekend for Montréal for the Jean Paul Gaultier exhibition. And I wasn't alone in this mission since we travelled as a dream team : I have the honor of belonging to the JPG Ambassadors' "Tribe" (composed of Big Beauty, Pauline, Modissimo, Matérialiste, PubliGeekaire, Dandies, Caroline Daily, Le Modalogue and Jules =a sort of JPG SClub7!) and my duty as an ambassador is to lend you my eyes so that you can see the exhibition exactly like if you had been there yourself! I was truly glad to be able to discover the set up imagined for the work of one of the most popular fashion designers of his time.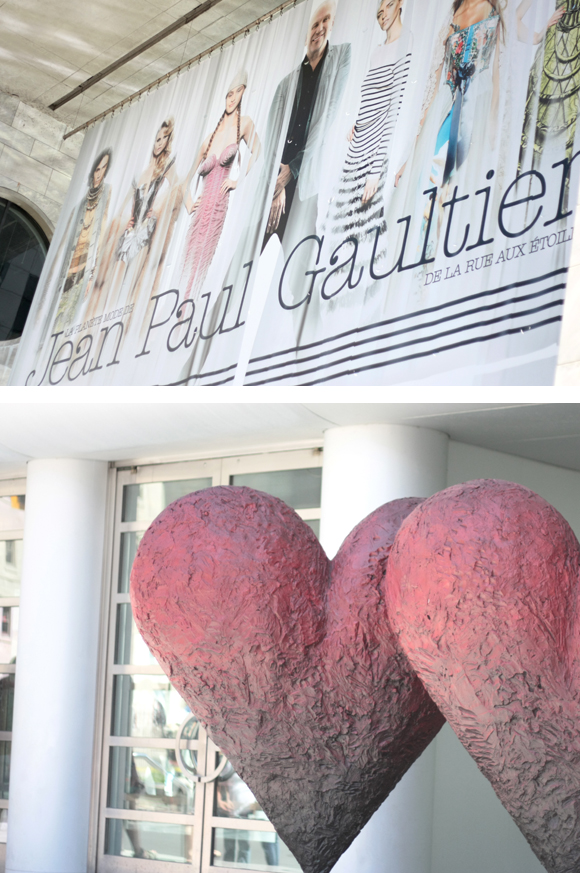 For Jean-Paul is kind of everybody's favorite : someone who found a way to stay modest and close to the people, nonewithstanding all the success and talent that surrounds him, which makes him someone I admire even more. And the mood is set when we walk up the first steps to the exhibition : Jean Paul welcomes us himself in his cheerful voice, just like if he were here to open the door to his creations for us. All this thanks to a set of holograms and animations on the mannequins that made it seem like they were coming to life.
To start, the breton striped t shirt, THE one … in all it's variations…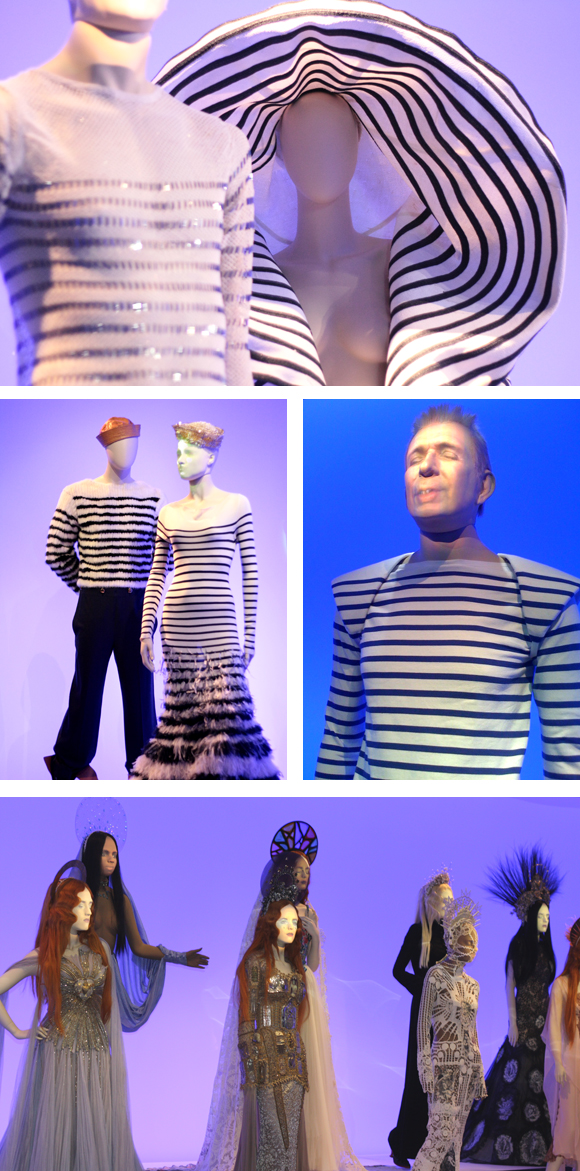 Then comes the "Boudoir" room, in which we find his famous corsets : amongst which the one made especially for Madonna's "Blond Ambition Tour" in 1990. I was also able to approach the "Nana" teddy bear of his childhood years since even at a young age, Jean Paul practiced sewing clothes on this obedient animal (which is now probably not as furry as he was in his best years).
And Nana was the first to test the conic breasts, long before Madonna  … but ssshh! don't say it too loud, Madonna might be offended …

This said, Jean Paul had more than one muse to guide him in his creativity, for I was able to admire the muscle-hamstring-like outfit of Mylène Farmer for her 2009 Tour, and the one made for Dita Von Teese, the incredibly glamourous burlesque artist, on the occasion of a certain Winter 2010/2011 Haute Couture runway show.
But I think that my favorite outfit … is Kylie Minogue's space dress with the structured shells. I would find it totally wearable for a party that we, the ordinary folk might attend (well, it would require my taking it up a notch sports-wise…) : the perfect amount of originality, and glamour as a bonus. Now I only have to convince Jean Paul to lend it to me …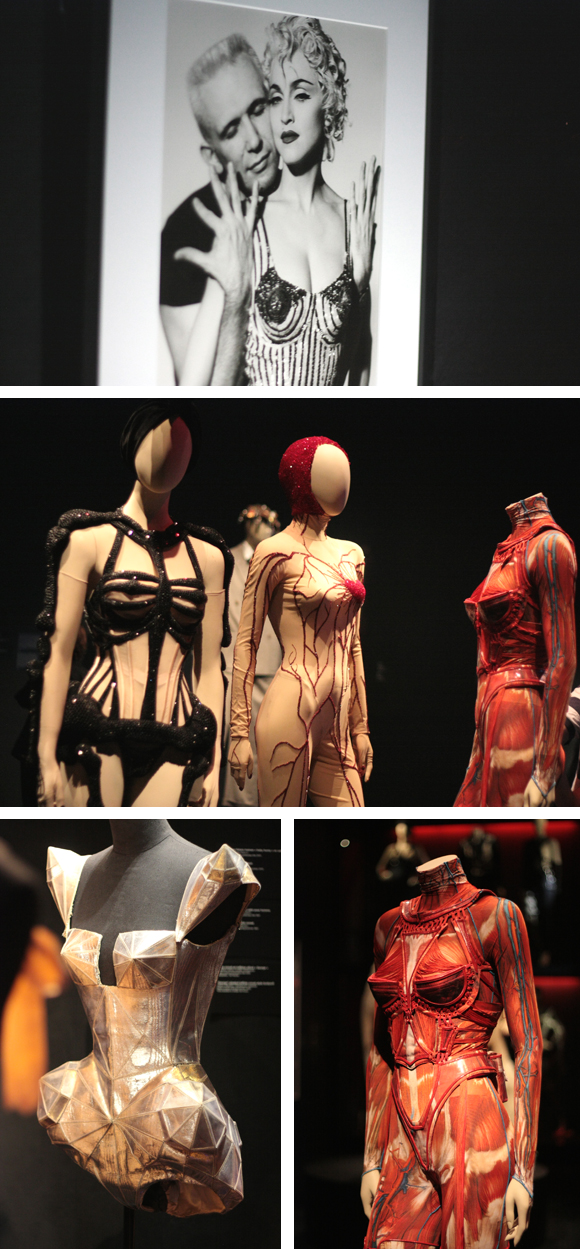 His feather creations also appealed to me by this exacerbated sense of detail, to the limit of the overload. And I'm not the only one to love it, Miss Gaga seems to agree with me …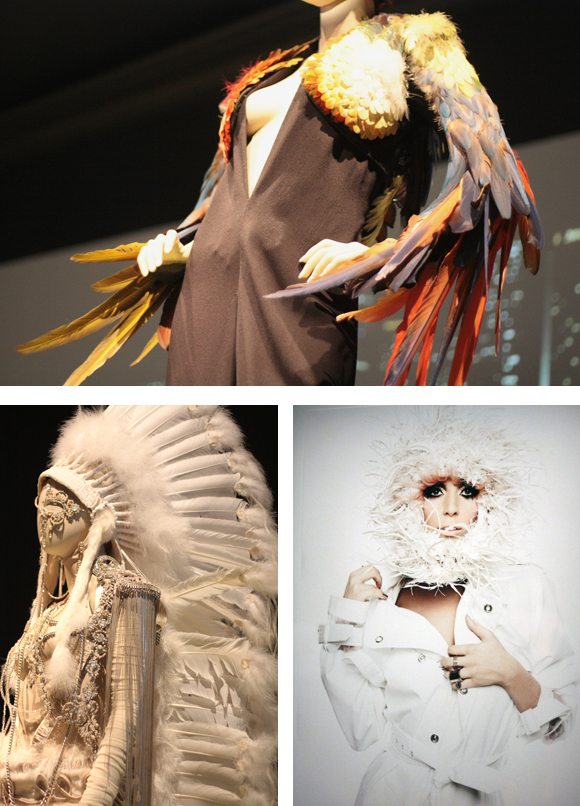 Then the Punk Cancan room shakes us up a bit more, with the nail, strass and mohawk outfits. Incredible "Gaultier-ish" outfits.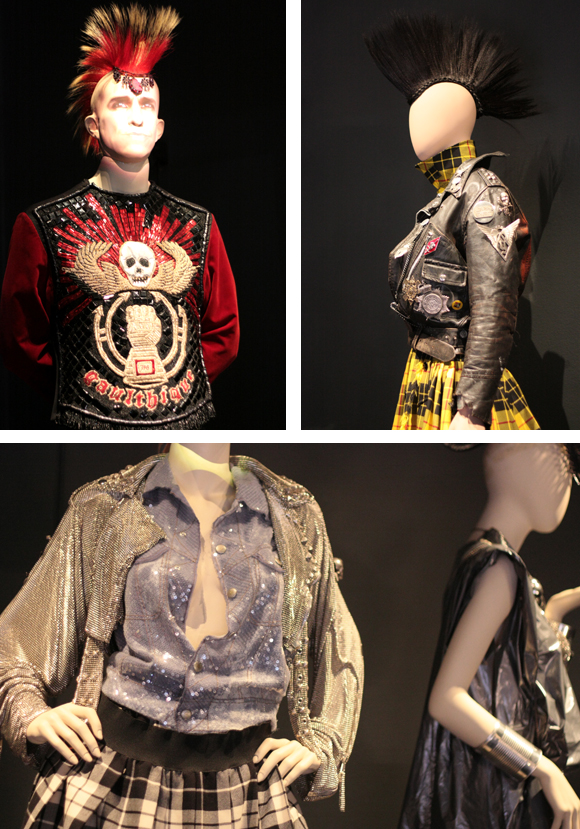 … but punk also flirts with "cancan", the Parisian collection I'd love to find, now more than ever, in a souvenir shop of the Capital, instead of all those sculpted plates, magnets or decorative snow globes! Eiffel Tower heels, how chic is that!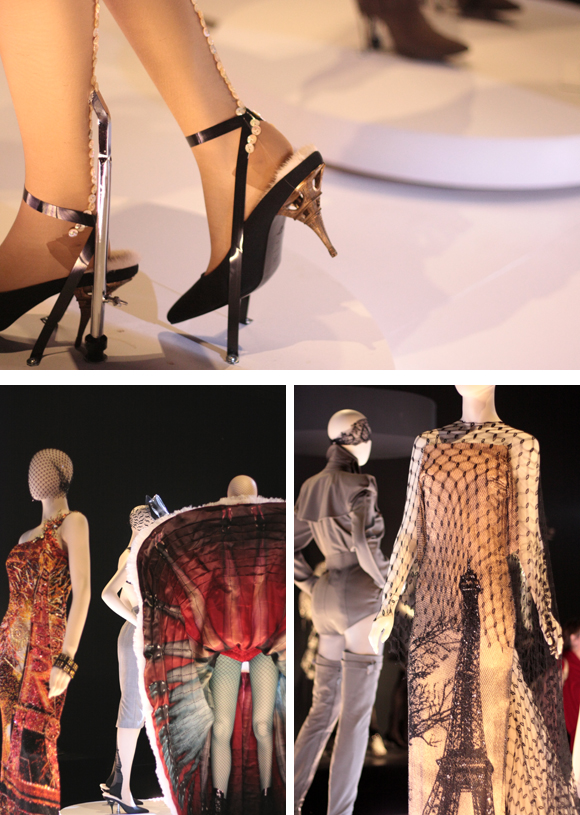 Of course, I didn't take pictures of all I saw during this exhibition since I was torn between wanting to take in the moment, and wanting to have pictures to remember it by. Well, all I know today, is that be it in my memories or on the pictures, Jean Paul and I, it's for life.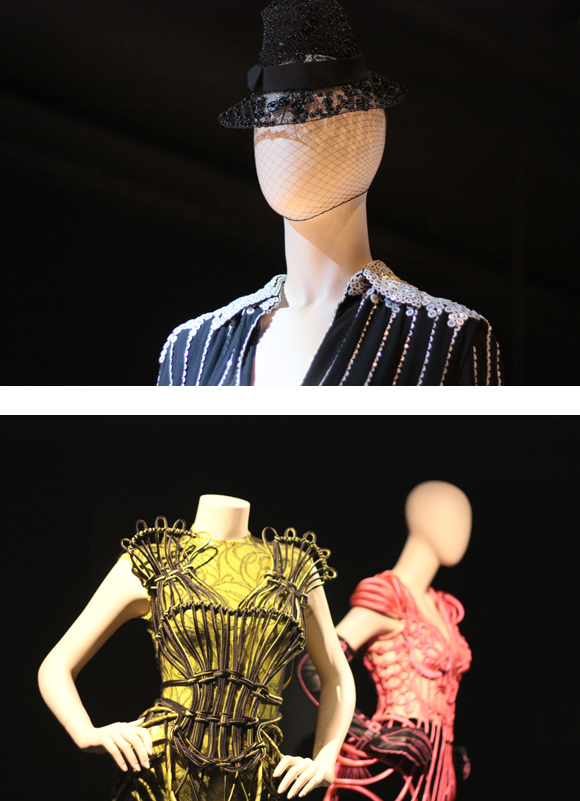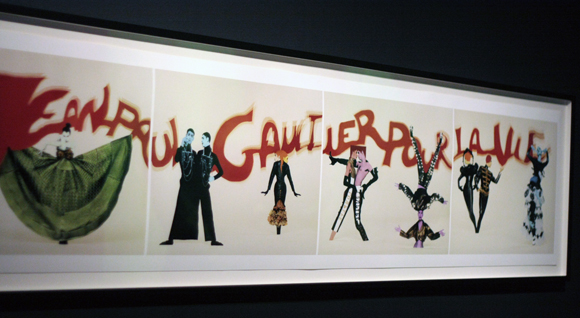 Pictures et drawings ©Tokyobanhbao. All right reserved
A great thanks to the incredibly chic Thoaï , to the wriggling and dancing Loïc, to the wonderful Sonia, the spicy Sarah Anne, to the chauffeurs, the cameramen and guides that invested themselves to show us the best of what there was to see and to help create the incredible magic of this weekend. (English translation by Bleu Marine)

Exhibition La planète Mode de Jean Paul Gaultier "De la rue aux étoiles" at Musée des Beaux Arts de Montréal (from June 17th to October 2nd  2011)