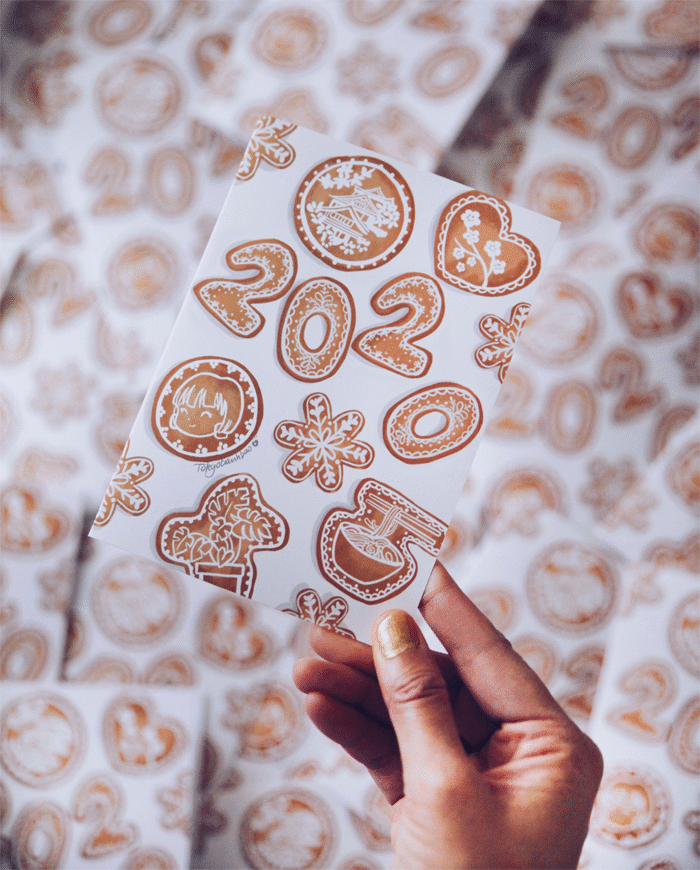 Here we are in 2020! Time to wish you the happiest and warmest new year!
Time flies… I would have never thought this May 25th 2007, when I wrote my welcoming words on my blog (on the canalblog platform) that almost 13 years later I would write my greetings… still on a blog!
I won't write here a sum up of this year nor the previous ones: (almost) everything is written on this blog, almost 10 years of my 2.0 memory.
All I can say without sounding too lame like in a Christmas soap, a huge THANK YOU for sharing my passions, discoveries with humor and goodwill. I am still amazed that I've had the chance to grow up with you along these years without getting bored of it… (if you are still reading this, it's a good sign that you are not bored too!).
I'm sending you my best wishes by mail

As every year, I created a greeting card in paper that I hope you will like : I baked so many Christmas cookies that it gave me some inspiration for my drawing for 2020!
Here are on these homemade biscuits a few Japanese inspirations I particularly like and a bit of greenery to calm down: in a nutshell, small things that makes me happy.
I hope this card will also contribute to your happiness as I would like to mail you a few of them: just write a comment below (until Monday 6th January 2020) and I will choose 20 of you to send my personal greetings !
I wish you a sweet and a happy year 2020… let's continue this adventure together! (English translation by Quiterie)
EDIT : Thank you everyone for your sweet words : here are the 20 people who will receive a greeting card by mail : Thank you again and happy new year !
Jovanee : Commentaire du 1er Janvier à 14h02
Marjorie : Commentaire du 1er Janvier à 14h12
Eva : Commentaire du 1er Janvier à 15h24
BIgdreamer68 : Commentaire du 1er Janvier à 17h10
PetitZouzou : Commentaire du 1er Janvier à 20h39
Pauline M : Commentaire du 1er Janvier à 20h41
Margaux : Commentaire du 1er Janvier à 20h45
Emmanuelle : Commentaire du 1er Janvier à 22h16
Puente Deborah : Commentaire du 1er Janvier à 22h
Cahuete_O: Commentaire du 1er Janvier  à 23h30
C2Lor : Commentaire du 1er Janvier à 23h36
Khadija MJ : Commentaire du 1er Janvier à 23h53
Sofy from sxb : Commentaire du 2 Janvier à 6h54
petitesteph16 : Commentaire du 2 Janvier à 11h17
Aline : Commentaire du 2 Janvier à 16h19
Chloé : Commentaire du 3 Janvier à 8h21
Petitrenard : Commentaire du 3 Janvier à 12h37
Cyrielle : Commentaire du 3 Janvier à 18h 53
Aurélie : Commentaire du 5 Janvier à 13h56
Kellyvoncalvez : Commentaire du 6 Janvier à 10h 39