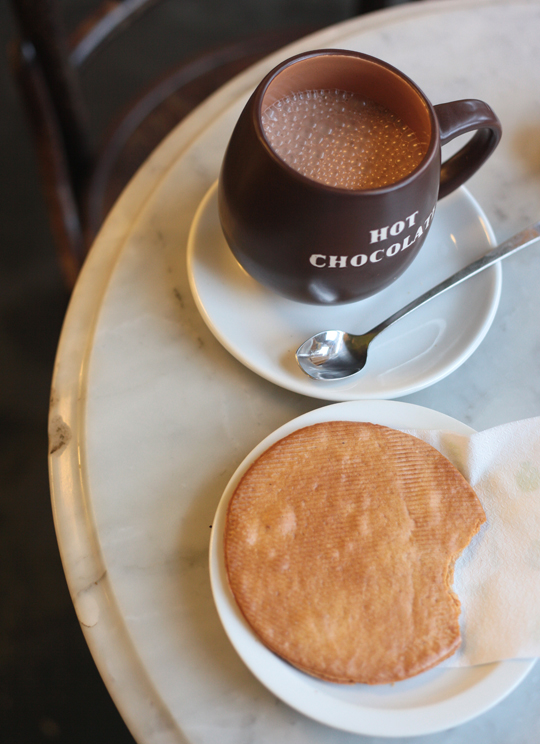 Finally! I'm back with my favorite places in Amsterdam! Of course, in 3 days time, I didn't get a chance to taste everything, but here is a small selection that I really enjoyed, and that I hope you will too, if you get the chance to spend a couple days in the city. Don't hesitate to share your good spots to complete my list!
LANSKROON
(Singel 385, Amsterdam)  it's a must if you want a taste of delicious Holland waffles (or stroopwafel) or other various sweets to have with a delicious hot chocolate. If you could take only one thing there, it'd be those stroopwafel: they are crisp and yet very soft with a caramel center.
There are two flavors: honey caramel (my favorite) and coffee caramel. Just talking about it makes me regret I didn't bring back more! The apple pie is very nice too, even if it may have lacked some binding for it to be perfect (the genoise was a tad dry) and after having tasted the waffles…everything seems bland, I must say!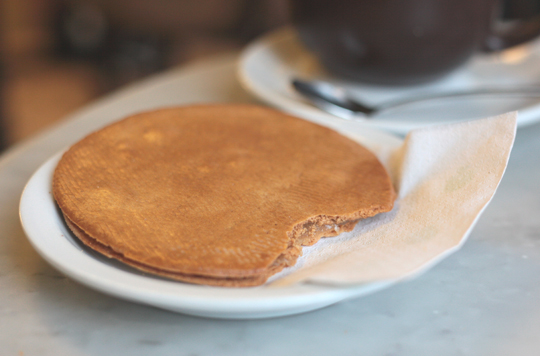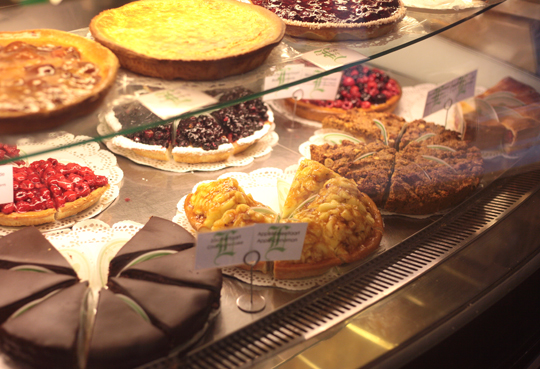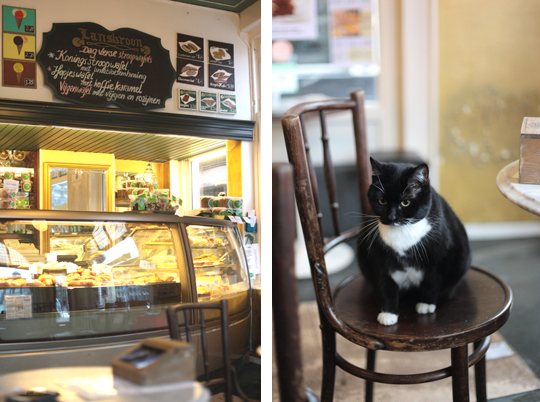 The owner!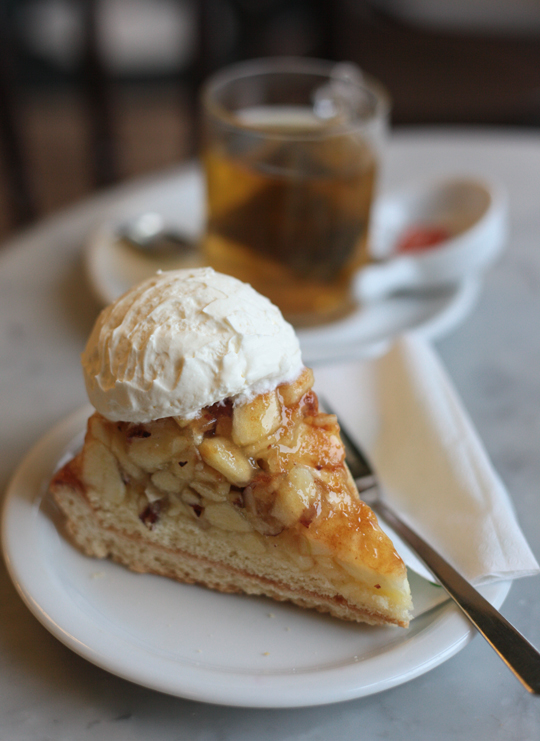 Apple pie with a generous serving of whipped cream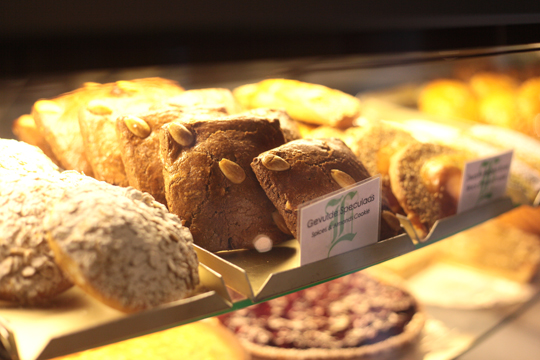 Spices and almond snack cakes
WINKEL
(Noordermarkt 43, Amsterdam) Here, apple pie is their specialty! That is THE reason why people go. It was also the case for me, for I braved a snowstorm with this sole objective in mind: go and taste this apple delicacy (recommended by a local in the tram: the Dutch are very friendly, I love it!) Inside, the atmosphere is very cozy, you can even have some salty snacks. But the best thing to have there is the apple pie!
I was just saying how the previous one lacked some "binding", well here, the harmony is perfection : it's delicately scented … perfect!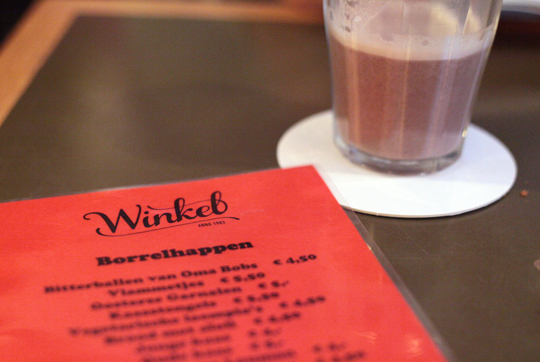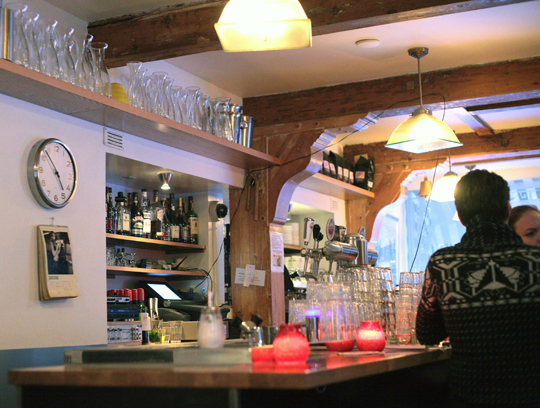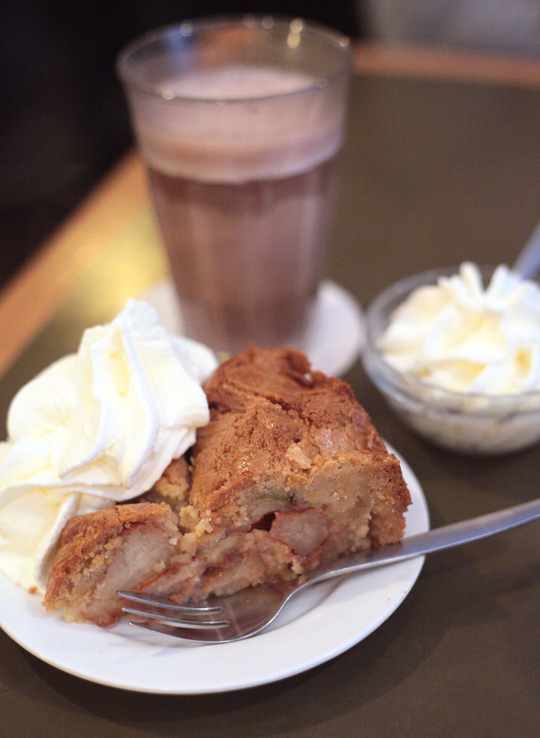 100% perfect apple pie
LA PERLA
(Tweede Tuindwarsstraat 14, Jordaan Quarter, Amsterdam) : Nothing to do with traditional Dutch cuisine, but this pizzeria was a real treat, I had to share! Pizzas are made and cooked before you. The dough is thin, crisp and the melted mozzarella di bufala on top is extraordinary. Stacks of fashion magazines are set on the tables: so you can daydream about the latest trends while eating!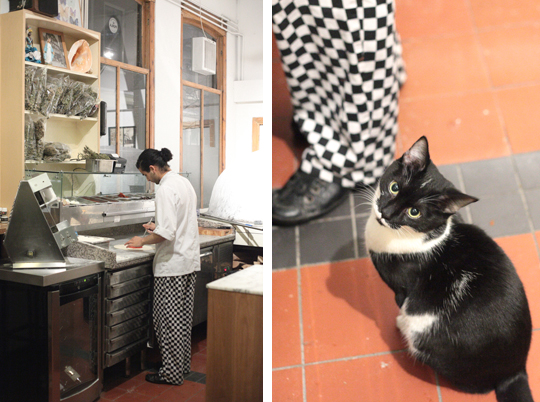 Another owner checking to see if the job is well done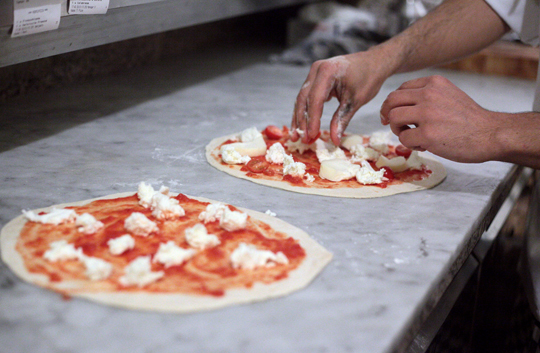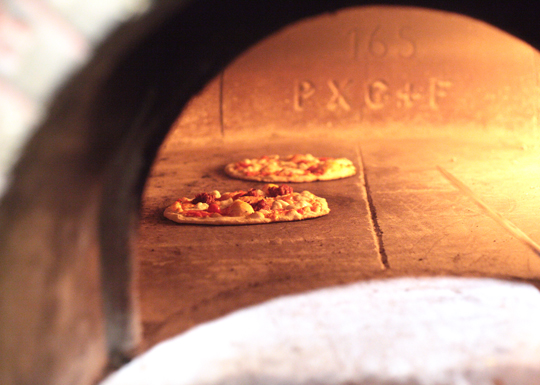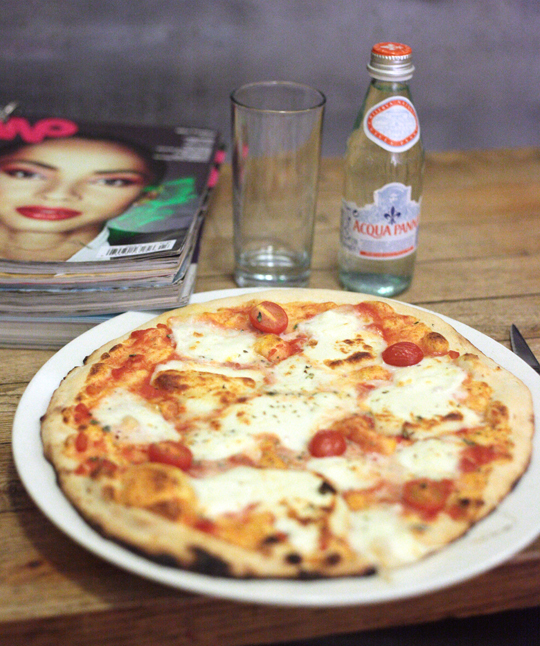 Stracchino , buffalo mozzarella & oregano pizza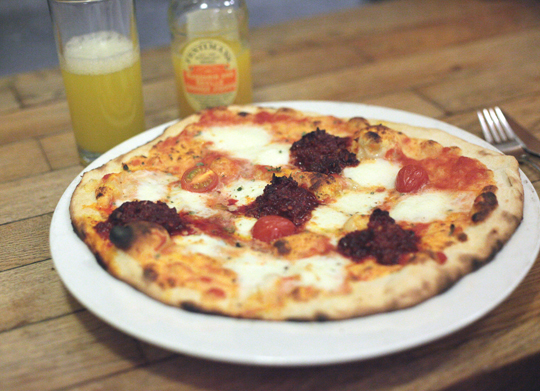 "Calabrese di Spilinga" pizza with 'ndjua (spicy salami), Buffalo mozzarella
ROB WIGBOLDUS VISHANDEL
(Zoutsteeg 6, Amsterdam): a hidden spot in the midst of all these tourist-trap restaurants on the Dam Square. One couldn't have picked it from the other (Thank you Lonely Planet!). Here, you can have their specialty: the "Broodje haring" … a small bread with herring (you get to choose between different types of bread).
The owner (not a cat this time!) is extremely friendly and welcoming and knows how to advise you about his products. You can also choose to have your herring cut up in dices, with pickles and small onions (and never ever kiss anyone ever again afterwards). A real delight for fish lovers.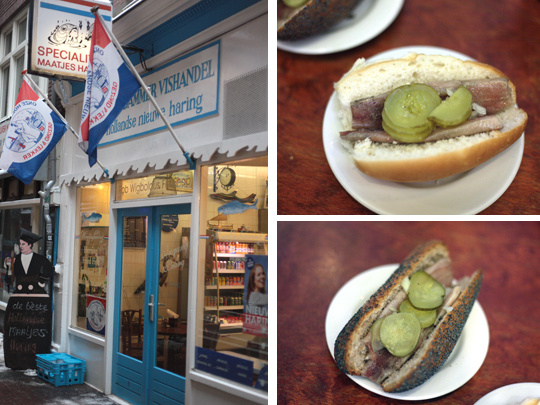 EICHHOLTZ DELICATESSEN
(Leidsestraat 48, Centrum quarter, Amsterdam) : a place that makes you want to buy a whole new suitcase just to bring all of it back. Once again, it's not typically Dutch but you can find tons of english and american snacks: pretzel or peanut butter M&M's, all kinds of breakfast cereal, chocolate bars to no end. No good when you're dieting, but oh so exotic!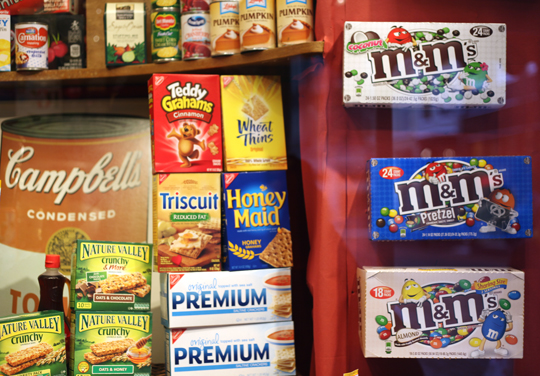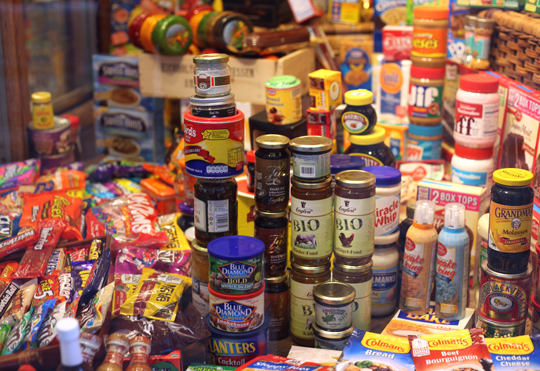 Another similar address (where there is a large choice of Oreo cookies) : SUPERMARKT DE BUURMAN (Spuistraat 58, Amsterdam)
A place to buy good cheese : (truffle or pesto gouda: yummy!) : DE KAASKAMER (Runstraat 7 , Jordaan quarter, Amsterdam)
(English translation by Bleu Marine)