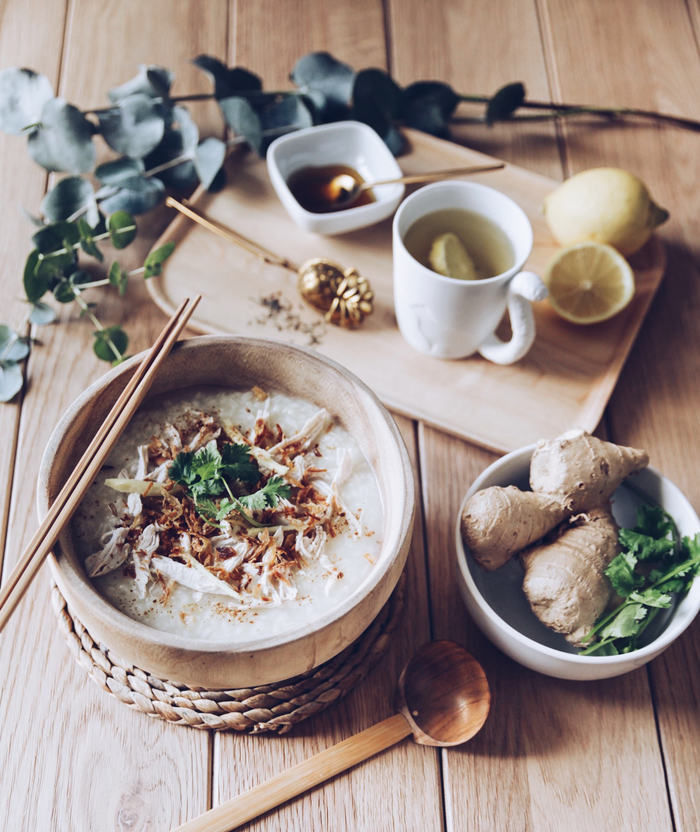 My grandmother's recipe is a bit exotic but considering my Vietnamese origins, my Bà ngoại (= mother's mother in Vietnamese) was more used to prepare asian meal rather than occidental food (although I remember a chicken marengo and "bouchées à la reine" prepared with love).
This Vietnamese Grand-ma porridge, on top of being yummy, is very good when you feel a bit dodgy.
I'm also sharing my life-saving drink recipe in case of cold/cough. Looking at this gloomy weather, these small remedies might be useful!
Cháo Gà (chicken rice porridge)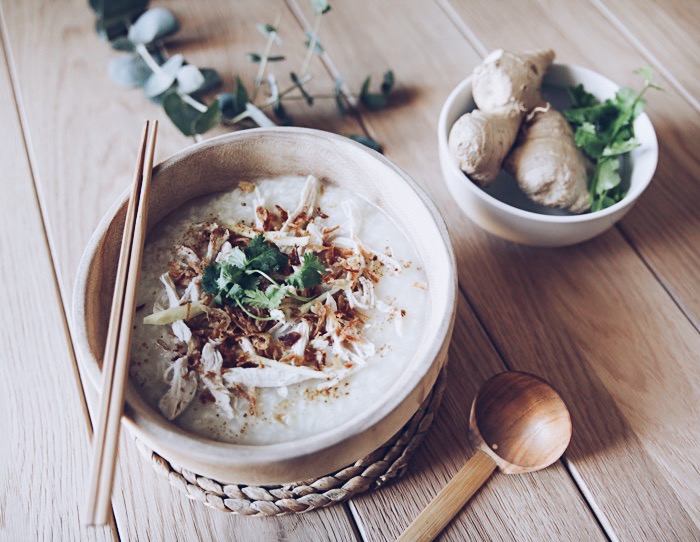 I was not really found of this porridge when I was young : on the one hand because I was always very sick when my mother and grand-mother were preparing me this, and on the other hand because I didn't like much the mushy texture.
But I had to admit: this cháo was warming me up a lot. This being said, for the past few years, I love porridges, I couldn't explain it (maybe because I'm getting old and will soon need dental protheses?).
So here is the recipe of this famous "Cháo gà", which in addition to his healing powers is also tasty and contains a lot of flavors (no need to be sick to eat it!).
INGREDIENTS (4 servings)
2 chicken breast (or chicken legs)
200g of jasmine rice (ideally)
2L of water
Fresh Coriander
Fresh ginger (3cm)
1 garlic clove
1 small onion
2 stock cubes
1 tablespoon of nước mắm
Fried onions
Salt & pepper
RECIPE
Here is the quick recipe using stock cubes (preferably organic, and try to avoid glutamate). You can also not use them and instead cook the chicken legs a bit longer in 2,5L of water instead of using chicken breast. It will be used to replace the cubes of stock (but be careful it might get greasy if you leave the skin). Up to you.
•In a big saucepan, heat 2L of water and add garlic clove, onion, 2 pinches of salt, stock cubes.
• Add the chicken breast. Cook everything slowly 15min
• When it's almost cooked, add the nước mắm. Add salt and pepper as you like. Take out the chicken breast, unravel them and keep them.
• In the same saucepan, containing the chicken stock juice, add the rice while stirring.
•Slowly cook 35 minutes until the whole mixture get a mushy/porridge texture. In the middle of the cooking, do not forget to add the prior peeled and cut in thin lashes ginger, and if needed correct the seasoning with salt.
• Pour the porridge into a bowl. Add pepper.
• Dispose a few pieces of chicken, lashes of ginger, a bit of fresh coriander and scatter with fried onions. It's ready!
Thyme-lemon-honey-ginger herbal tea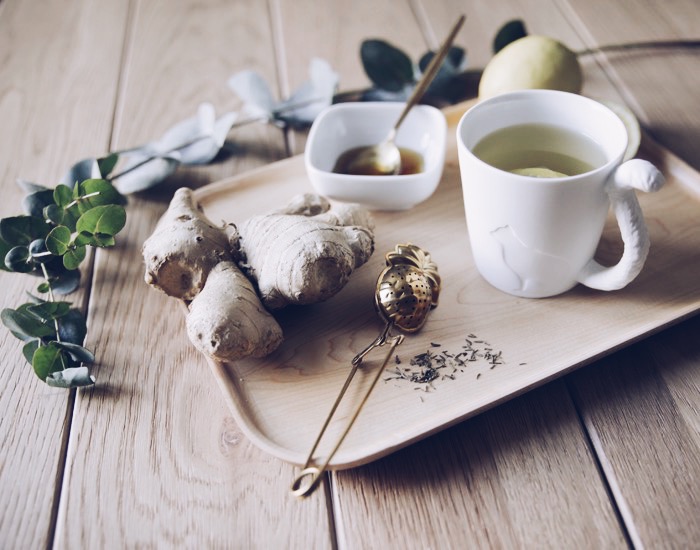 This drink is pretty useful to ease the winter respiratory diseases (thanks to the antiseptic action of the thyme) but I also drink it when I have digestive issues (Vade Retro Gastro!) because the ginger is anti-nausea on top of its natural anti-inflammatory effect.
The honey and lemon are used to balance the strong tastes of the two other ingredients.
To prepare this hot drink, the quantity are approximate: dose out based on your tastes.
RECIPE
• Boil water. Poor into a big cup with a tea infusers containing a few lashes of fresh ginger and a teaspoon of thyme. Let infuse.
• Dispose a slice of lemon into the cup (or squeeze a quarter of lemon), add honey.
• You can also prepare a teapot full of this magic mix, to drink as much as you want. (English translation by Quiterie)