I remember the blue sky, the ideal temperatures, this panoramic view, from the top of the Mont Royal…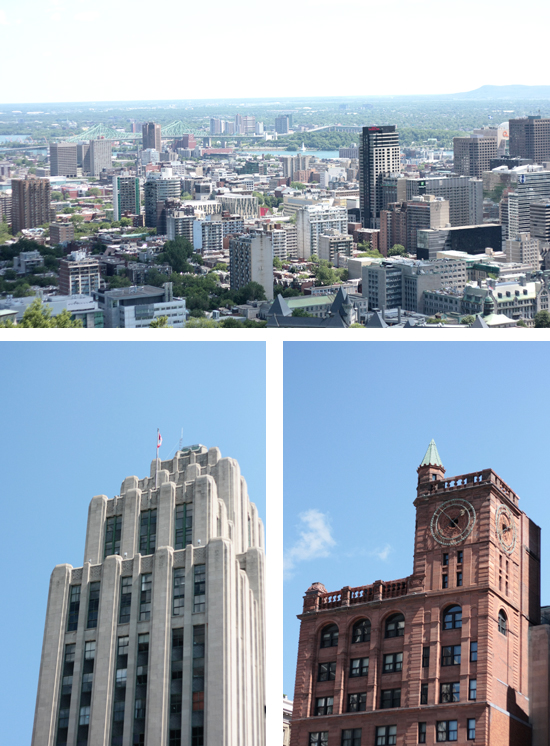 I remember how all the people I met were so incredibly nice. And when I told our bus driver I found the Montreal people always very galant toward the ladies, he told me about this very popular saying in Caribou-Land : "if ya ain't pretty, be polite"…From what I got to see during those few days in Quebec, the proverb also works for the pretty … which gives us an incredible amount of lovely people by square meter.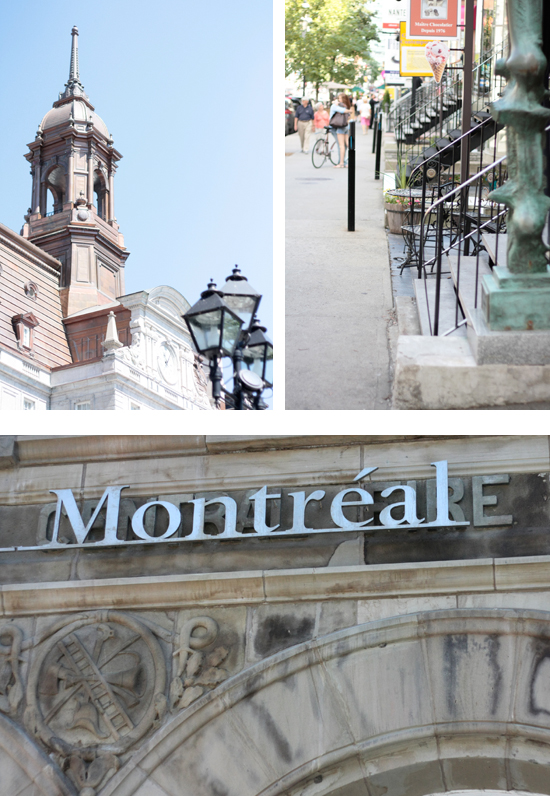 I remember the lively streets, and how the Montréal people absolutely insist on using French on almost all road and shop signs. For example, whereas here in France, Starbucks Coffee is called just that, in Montréal, it is "Café Starbucks Coffee", and all the "Stop" and "Go slow" signs don't say Stop and Go slow (like they do in Europe) but "Arrêt" and "Lentement" …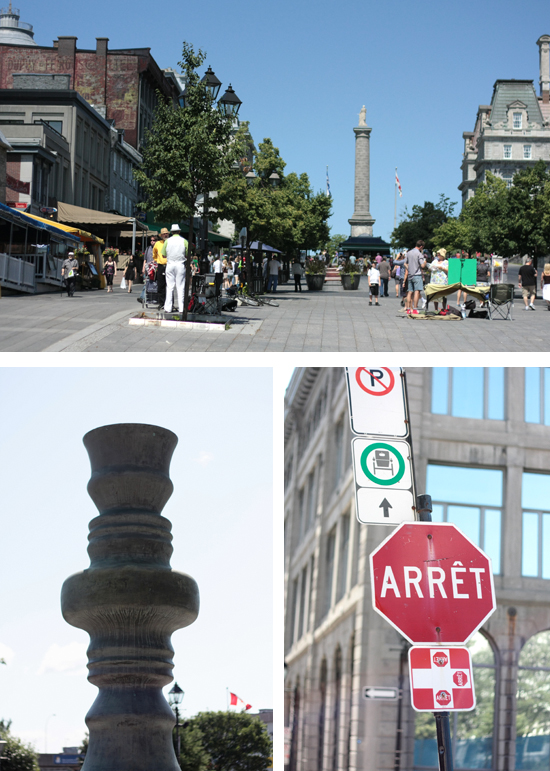 I remember a work of art in Old Montréal, titled "Entre Nous" (Between us- by Andrew Dutkewych) that symbolizes the trasmission of culture and history by the witnesses of the past, but also exchange between humans (yes, it's full of good intentions and all that)…for if you look closely, the two sides of the statue seem to show in "negative" two profiles looking at each other. Interesting!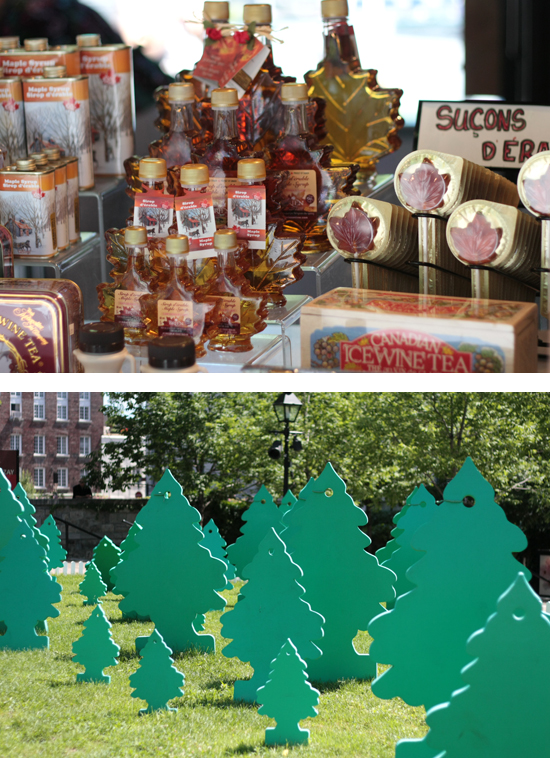 I also remember our trivial jokes regarding "suçons" (hickeys in english) that are just maple syrup lollipops in Montreal, but you see, when in good company, even the tiniest of thing makes for a good joke!) …Jokes that we may or may not have repeated at least 10 times during (and after) the stay…I also remember the giant pine tree air fresheners on exhibit in the city center…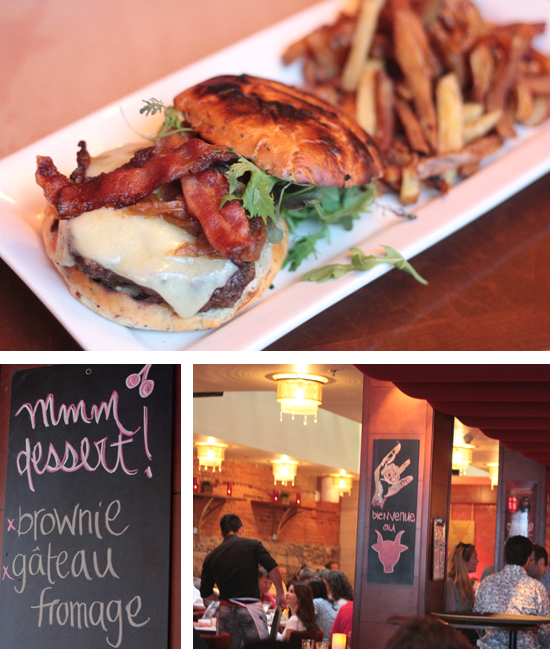 I also remember the "Bad Burger" (Bacon, blue cheese, caramelized onions and home made fries) that we ate at the "Bad Beef" ( Méchant boeuf ) , on our first night there. It wasn't the best burger I ever ate, but the fun atmosphere and people around me almost made me believe it was.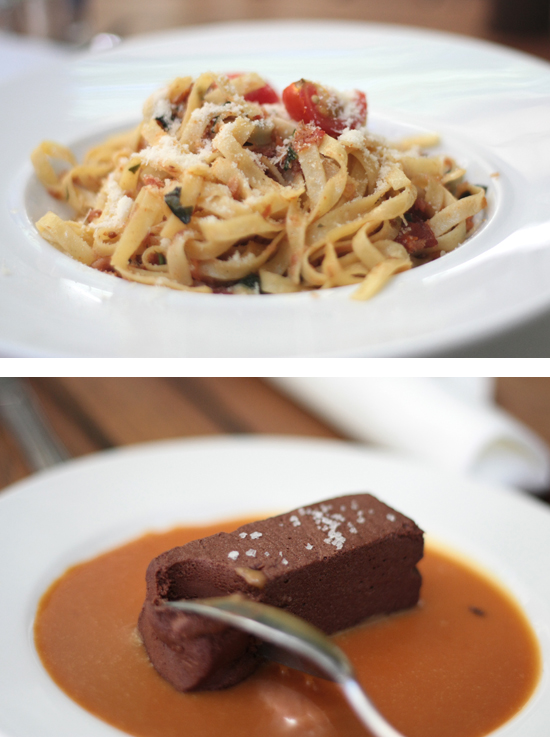 I remember the tagliatelle pasta with spicy pancetta, basil and confit tomatoes as well as this fabulous chocolate marquise eaten at the Boris Bistro, in the shade, on the terrace.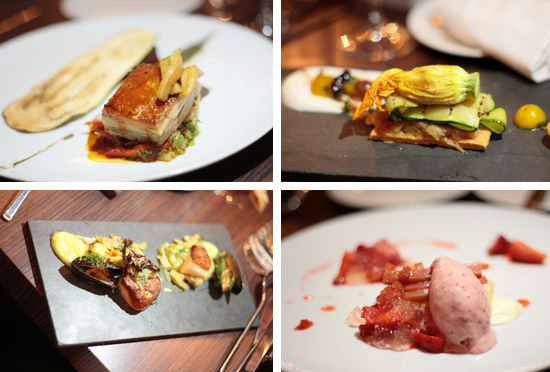 … of our saturday night dinner at "La montée de Lait", where you had to choose 4 courses out of all the ones offered on the menu. All combinations were possible : 4 main courses, 2 main courses and 2 desserts, 3 main courses and 1 dessert, 1 main course and 3 desserts … or 4 desserts for "wannabe" diabetics.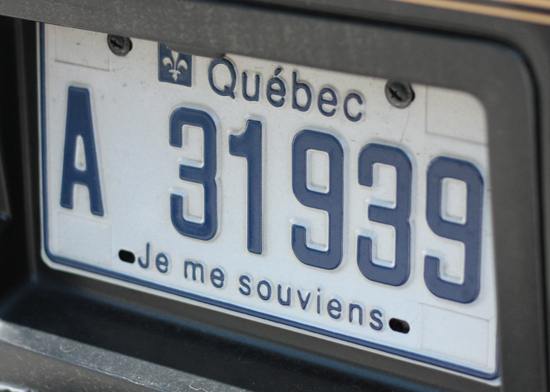 I remember all the ingredients that made this weekend so special and so social. What I very much hope for the future, is to be able to go back to Montréal … to remember it even better. (English translation by Bleu Marine)