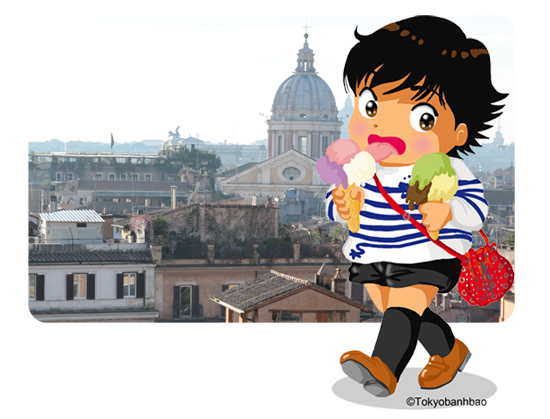 I walked a lot in Rome and I ate a lot: right balance of things. I brought you back some addresses where my taste buds lost themselves during those few days. Of course, if you have good ideas, you can share them with everyone, it could be helpful in the future. For the moment, I am sharing mines. Buon apetito!
LE TAVERNELLE: (48 Via Panisperna )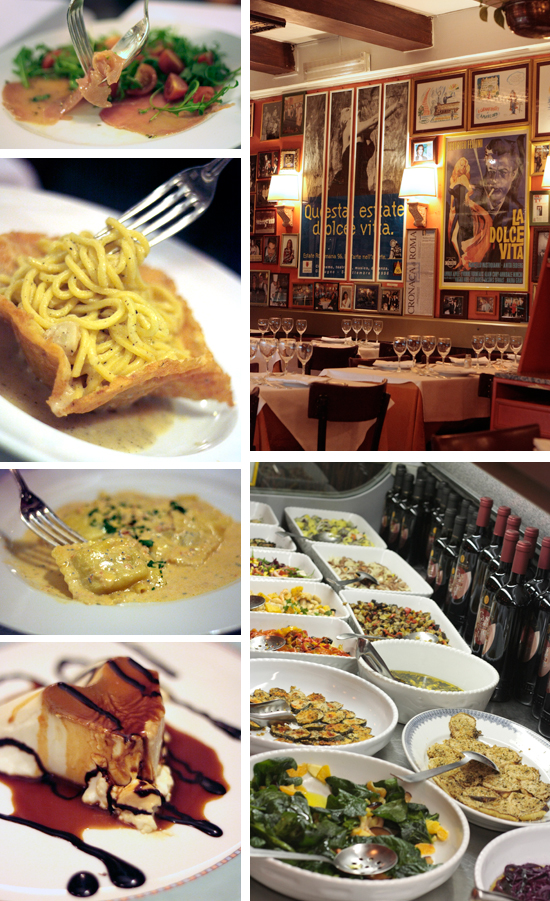 This is one of the oldest restaurants in Rome and has had many people through its doors: the director Federico Fellini, the Pope Jean Paul II (what a glutton) and others. Normally I find it odd when a restaurant advertisises the celebrities as pictures on their walls: kind of looks like the way you show of your diplomas, and also the fact that celebrities came to eat there doesn't mean that it's good (who's to say that they have good taste?).
But in fact here, it was very good: melting raviolis and a delicious "Dolce Vita" for dessert (as a tribute to Fellini, do you follow?): a melting panna cotta in the shape of a heart covered with toffee and chocolate.
OBIKA Mozzarella Bar (Piazza di Firenze)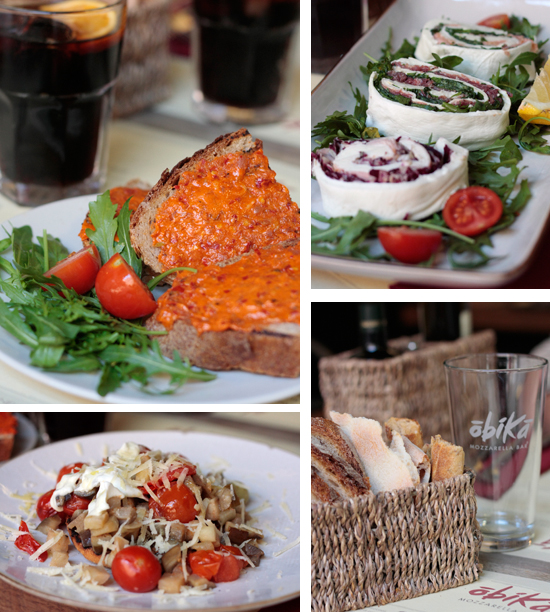 The mozzarella di bufala temple, the true one, the melty one. It's prepared in several ways, especially as a roll, mixed with pork meat products from italy or salmon. We even can eat it solo if we want. The interior looks like a sushi bar.
The place is maybe a bit too "fashion" but you won't argue with a design that has been so well executed. Apart from the mozzarella, I also tasted the drink "Chinotto" some kind of an italian Coca Cola. It's got the color but not the taste: indescribable, a bit particular but at least I tasted it!
OPEN COLONNA: (7 Via Milano)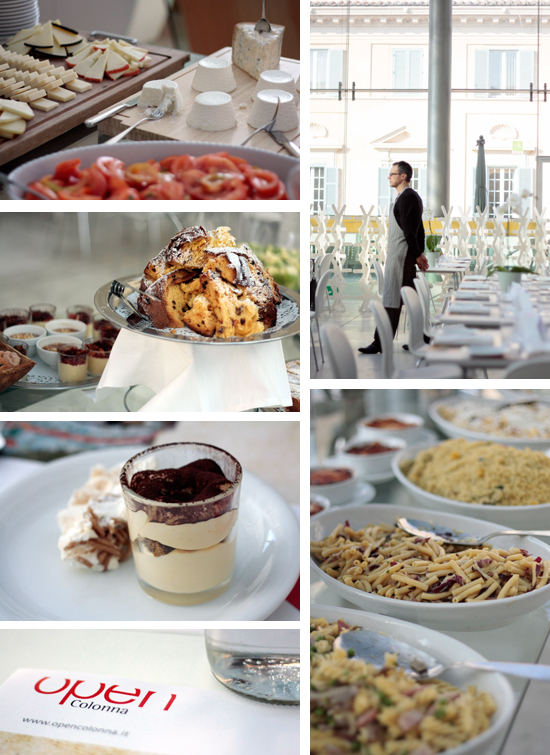 I could only get the sunday brunch but it seems that during the week, they do gastronomic menus for around 20 euros! (another excuse to go back in Rome…). I've often been disappointed by buffet formulas but this one is very complete and very well prepared.
Pictures only show a fifth of what was there: soups, meat balls, antipasti, salads and a special note for the cheese and deserts really delicious. Tiramisu, "Mont Blanc" ( meringue chestnut cake), panna cotta… the whole prepared lightly (except if you get 10 times the amount). The interior is covered with a light from a big veranda and the waiters were very reactive to undressed tables. Not the time to day dream on top of your plate!
HOSTARIA ISIDORO ( 59 Via di san Giovanni in Laterano)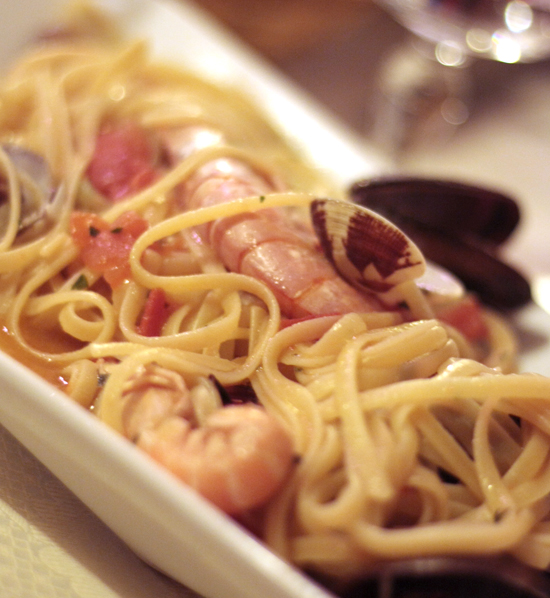 Only one picture of the "shellfish liguine" but god knows it was good! It is probably why I forgot to take pictures of the rest! The interior isn't exceptional with its bricks, a bit tasteless, but what's on your plate is very well cooked and the staff very welcoming. Just beside the coliseo, it's perfect to get your strength back!
GIOLITTI ( 40 via degli Uffici del Vicario)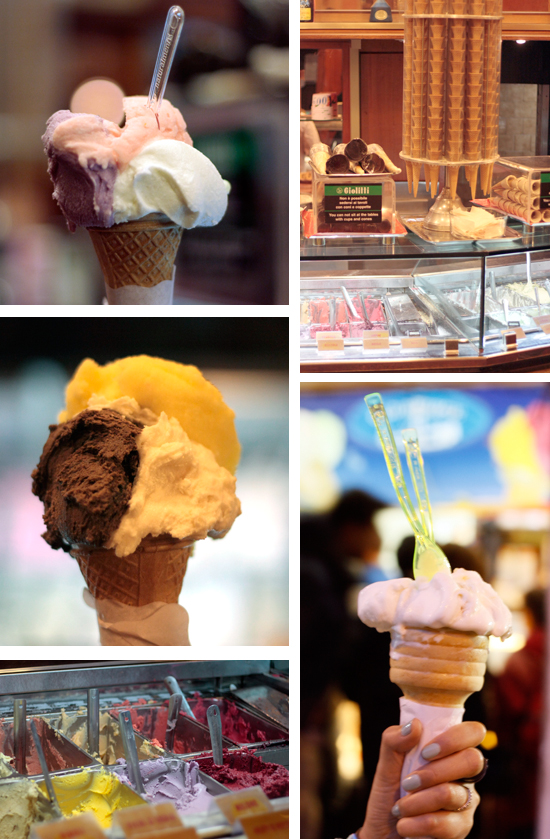 … and OLD BRIDGE (5 viale dei Bastioni di Michaelangelo, Vatican)
My heart's torn between these 2 ice-cream shops. But with a short lead ( or a short ball, I should say… Filthy minds, run away!). My preference goes to Giolitti for is wider range of tastes: I tasted the Oreo one (with crunchy bits of Oreo inside!), the champagne one (an original way to cheer!), the Baileys one, Nutella and I think that my favorite is the rice one because it's like your eating rice pudding but kind of "icy". Enormously, "gigantically" delicious.
PS: the gluttonous Tokyobibi is wearing the Tsumori Chisato man sea top, leather shorts from Vero Moda, and a red suede bag I just ordered from ASOS. Are there any tricks to avoid having the red suede fade on clothes? (English translation by Charlotte B)