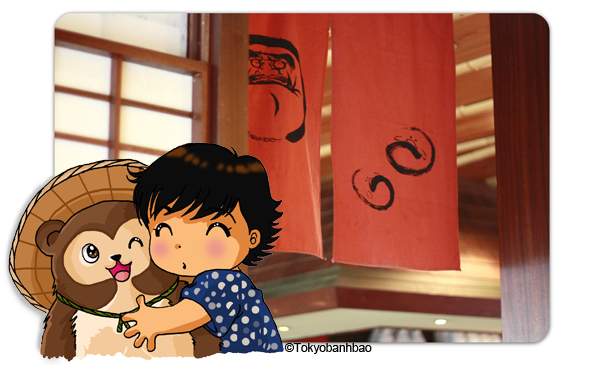 When I listed all my good addresses in Bruges, I deliberately put one aside : the one I'm going to talk about today : the TANUKI restaurant. Once again, it's not the local cuisine I'm putting in the spotlight here … but why should we taste in Bruges only what is typically Bruges? (Yeah ok, a bit of bad faith here … I was desperate for japanese food this day, and was overdosing on fries … yes, I know that fries are not the ONLY thing available in Bruges … anyway, you get my meaning !)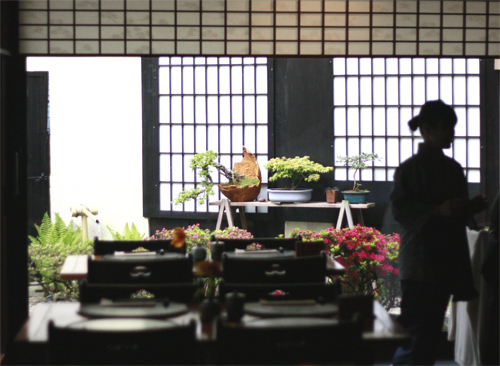 From what I learned afterwards, the restaurant has been in Bruges since 1989 and it's specialty is the Teppan Yaki (hot plates) ; in winter, you can also taste the Shabu-Shabu and Sukiyaki (japanese fondues). That day, I had opted for the 68 euros menu (yes, I'm splurging but we had decreeted that that day was a celebration day (yes, easy I know!) and you'll see from all the different courses that they were worth it all in all.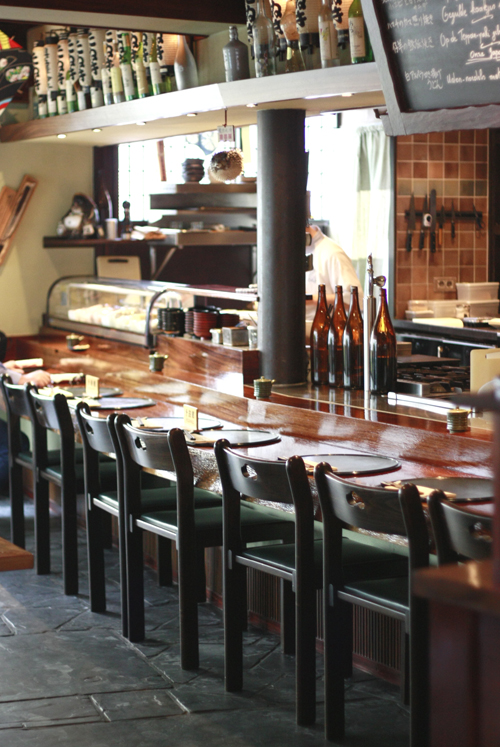 Regarding the place's decoration, it's completely exotic, decorated in the most traditional japanese style, with a little garden and a fish pond. Just sitting down at a table made me more serene. The "Feng Shui" effect perhaps … but there are places like that, you just can't explain, you feel at ease!
And you're even more at ease when you're brought 3 appetizers! (Stomach grumbles with pleasure). I unfortunately didn't note the exact name of said appetizers (because on one hand I don't read Flemish, and on the other, I didn't listen to the waitress when she was describing the contents of the appetizers, I was too busy devouring them with my eyes!) So, following the menu's order, I got a small asparagus and seafood salad. Don't mind if the name of the courses are so totally uninspired, they are a spontaneous invention on my part! Perfect to get you started. Subtle presentation too …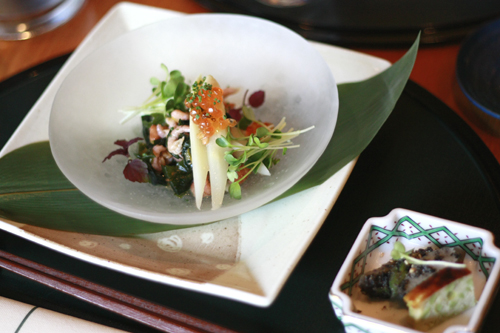 Then come the squid fritters in a sweet sour sauce. Extremely refined, despite the fritter looks of it …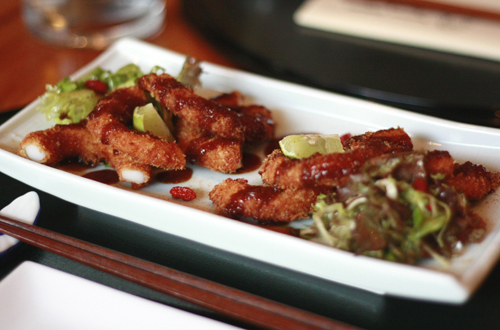 … And 3rd appetizer, ginger yellowtail. Apparently it's some sort of dab. Once again, the dab was caramelized in a sweet sour sauce, probably soy-based. (If the Chef passes through here, please correct the deductions I'm making that might be erroneous!) … Delicious, just melts in your mouth!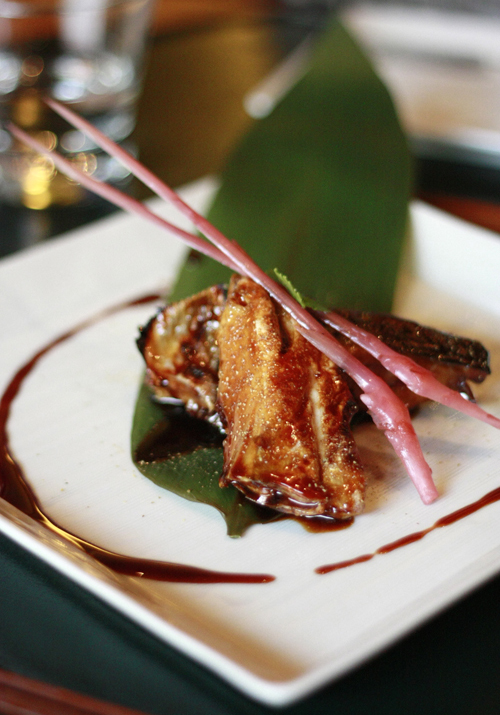 Let's move on to the main course : the choice was mine between Sushis or Teppan Yaki. I took the sushis, but also took a bite or so out of the plate across from me (for the blog's needs, of course!) Hot plate beef. The sushis were pretty good, but once again, those from Toritcho remain undefeated to my eyes for the moment : I found the rice a tad dry …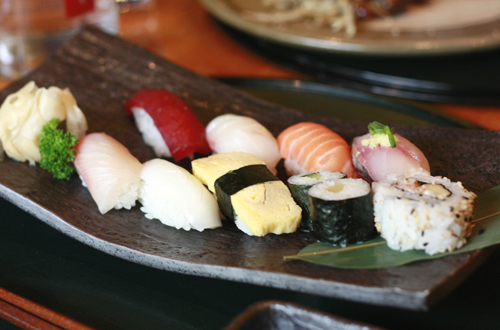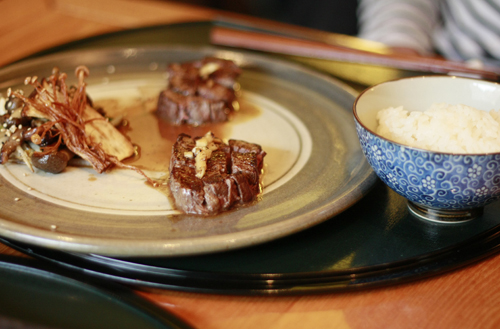 Regarding the Teppan Yaki beef, you can watch the preparation of you plate … Cutting and chopping, frying and sizzling! It's a whole show in itself…and the taste was as amazing as the show, the beef was more than tender … Magnificent!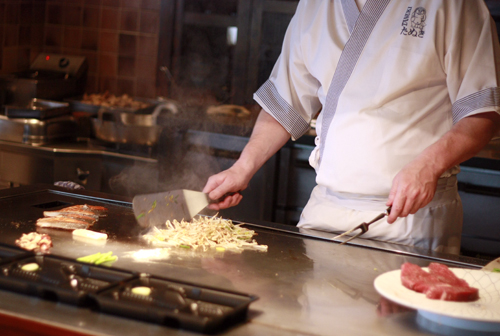 But what just astounded me (well … in a good way!) was the dessert!! On a pleasure scale, for me, it's a tie with the Dinosaurus … (the cook will be more than flattered to learn that his fine dessert is being put on the same level than the cookies from the local supermarket … no but for me, the "Dinosaurus" level means a lot!).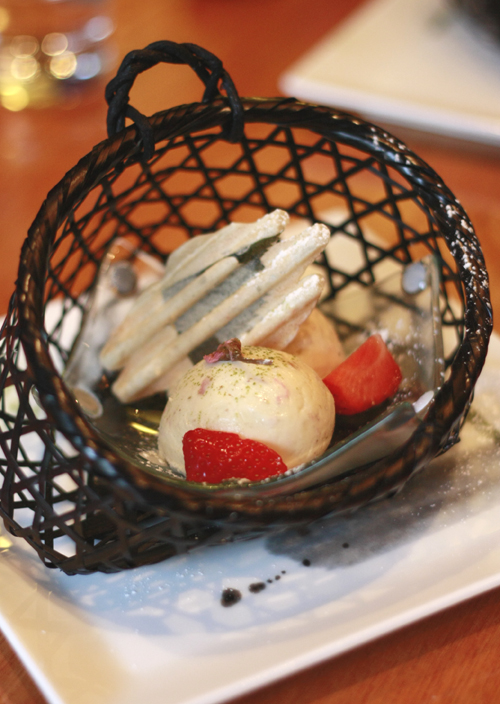 Seriously, it was a killer dessert : let me describe it, and you'll tell me if I'm right : So in this happiness basket, fist off, two scoops of Sakura (cherry blossom) ice cream, with a half plum, half flower taste, next to which a few strawberries, and on top of it all, the apotheosis, the small waffle that contains a delicate Sakura leaf. But this waaaffle! Just imagine, the taste of a waffle, as crispy and sugary as it should be, with as aftertaste the slightly salty taste of the cherry tree leaf … So, who's willing to pay for my daily Paris-Bruges round-trip ticket?
PS : a Tanuki is a small, slightly magical animal that kind of resembles a raccoon : it symbolizes chance and prosperity … and incredible meals too apparently! (English translation by Bleu Marine)

Restaurant TANUKI
Oude Gentweg 1
8000 BRUGES