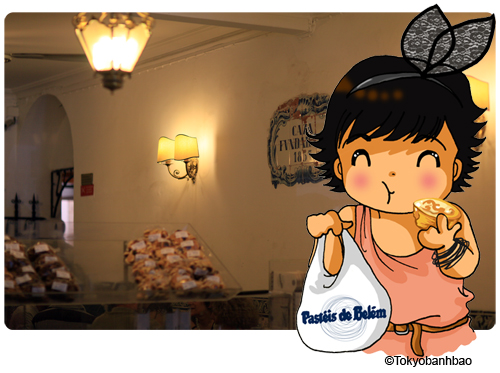 Let's go on with the « not typical from Lisbon » at the risk of being blamed by the Portuguese, the genuine ones, the preservationist of the local cuisine. Because I failed in my mission « trying a typical restaurant in Lisbon » with its traditional cooking … Since I didn't ask for information before I left and also because I was too lazy to find out, I lost my way …
But « not traditional » doesn't necessarily mean « bad restaurant », because I really enjoyed the restaurant I speak about in this post … It's just that it sounds « I went to Tokyo to eat a pizza », you know what I mean … Well, let's this culinary post be an ode to the opening up of borders, to a combination of culture, to the brotherhood in the world … yes, I'm very committed. So, If you know some « typical » restaurants in Lisbon, you can leave here the addresses, so it could help other people, and the next time I go to Portugal, I won't have any excuse !
SUL Restaurant
13 rua do Norte LISBOA (Métro Baixa Chiado) 
This is a good address if you want some nice tender meat. Located near the lively district of Chiado, I wasn't disappointed. We have to choose between the ready to eat meat, cooked by the Argentinian chef and the  "pierrade" ( Meat cooked on a hot rock) if you like doing your own food. That day, I tried the "Pierrade" : not really photogenic, I admit, but it was delicious : they brought us the meat on a wooden board topped by a very hot stone so you can roast the piece of filet. With spice and sauce to season the meal … simple but delicious ! Not to mention the mojito … I'm not a big consumer and I'm not very fond of alcohol, but I enjoyed it, what a feat !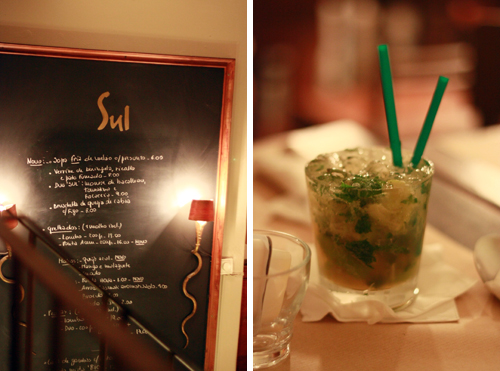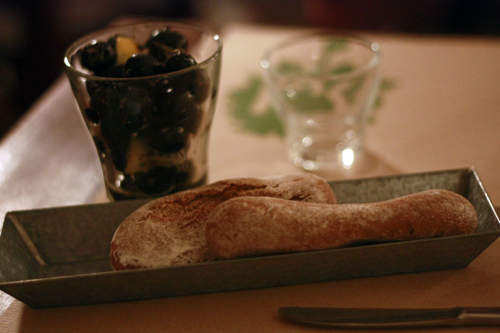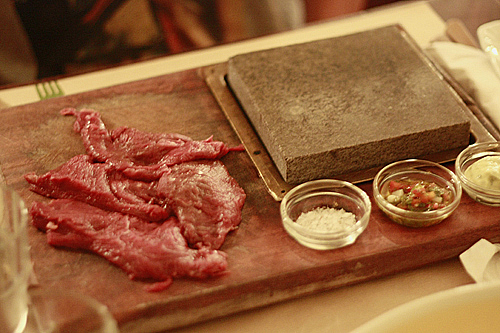 100 MANEIRAS
35 Rua do Teixeira LISBOA
The chef here is Ljubomir Stanisic (well, sounds very Portuguese… eh ! Don't say anything, I warned you from the beginning !), he runs this gourmet restaurant and the price is fair ( 35 euros for a tasting menu ), the place to be for a romantic dinner. As I told you, nothing was prepared and I came without any reservation, but I think it's better to be provident and to reserve.
In this restaurant, there's no à la carte menu only a tasting menu. I admit I'm not very « tasting menu » because it often means « I'm still hungry with these small portions and run to McDonald's after that » : here the courses are very surprising and refined like the cod crisps hang on a clothes line ! (yes, I ate some cod !) and a glass of champagne, mint and lemon sorbet drunk between the courses …
These are the pictures of the courses (there was certainly about ten of them, but I was so fond of this food that I surely forgot to photograph them all !).I have a rather good appetite but with all these courses, I was full, I couldn't say that it was really copious but I was satisfied as I left the restaurant. And above all, it was delicious : that's the main thing.
Cured ham and melon ravioli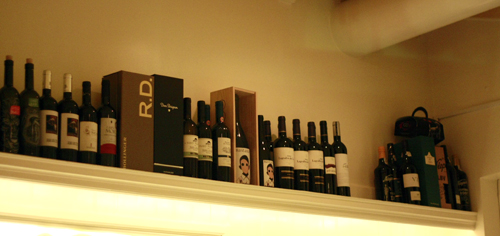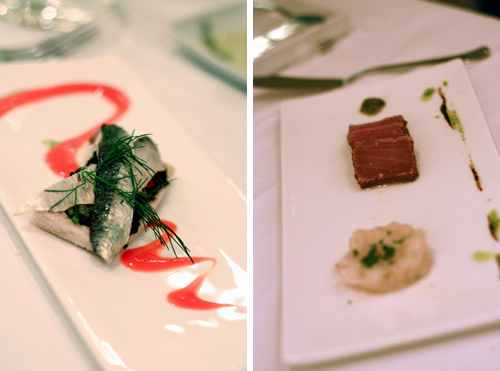 Left: Sardines on toast with Tapenade, Right: Butterfish tartare with tuna and wasabi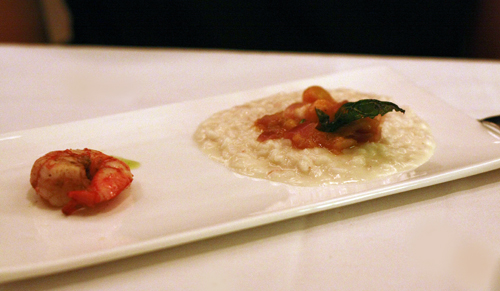 Rice Tropicana ( =some kind of "Risotto")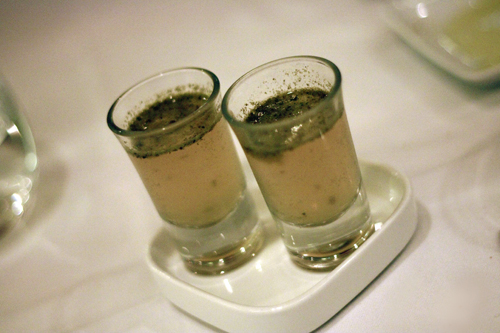 Palate cleanser: Mint and lime sorbet with Champagne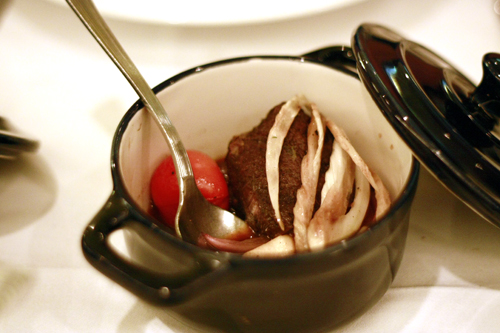 Miniature Pot-au-Feu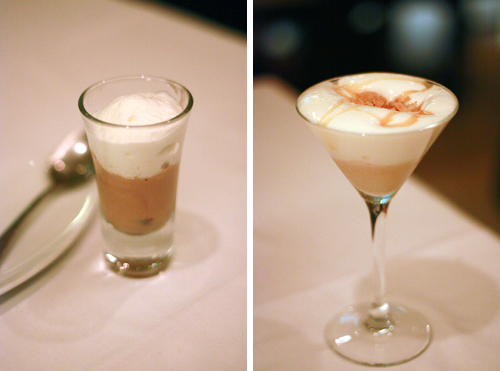 Pre-dessert (chocolate ice cream, coffee foam and a cherry hidden in there!) & dessert ( "Fake" peach cheesecake)
PASTELERIA DE BELEM
84 rua de Belém LISBOA ( Tramway 15)
And as dessert, the famous Pasteleria de Belém, the pasteis I showed you the last time. You have to go there. This little sweet that will make your cinnamon heart melt.