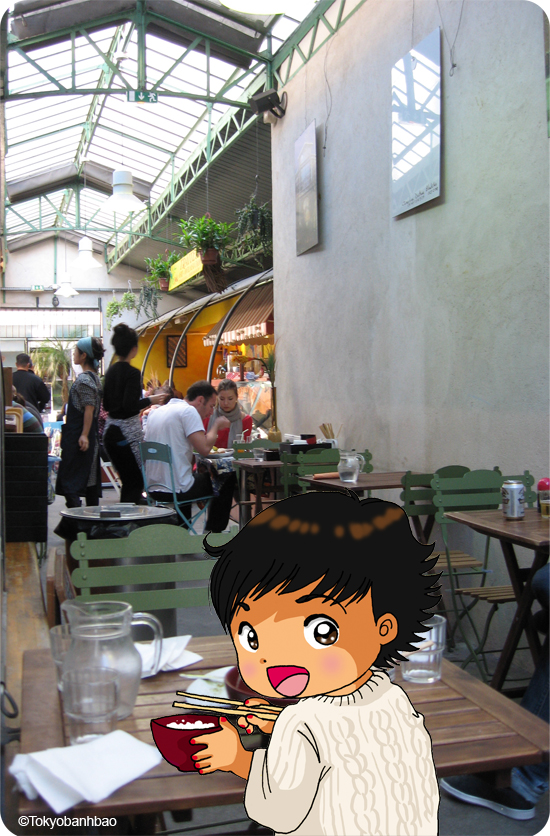 And the sweet tooth is back on this blog! I'm taking you to a semi-open space: we're going to have lunch at the Marché des Enfants Rouges, in the Marais. I had vaguely heard about the place, but I had no idea it hosted so many temptations!
I thought it was just a market … you know, the kind of place you go grocery shopping … when in fact, the place reminds me a lot of the Boqueria Market at Barcelona, with it's multiple stalls where you can taste specialties from all over the world: oriental pastries, italian or japanese specialties (among many others) can all be found under this big greenhouse.
However, you have to choose your stall and seat carefully, you can't order from various stalls and take it all to your table. You have to make a decision, which isn't easy. So today, being the forceful woman that I am, I take the matter into my own hands and decide we shall go and eat at the japanese stall TAEKO.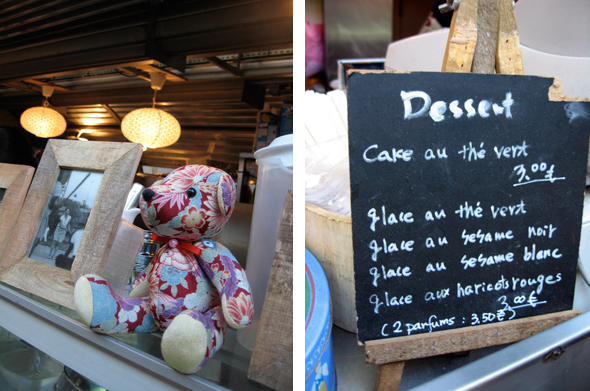 A traditional decoration in front of the stall, a few (family?) pictures, a flower adorned teddy. Nice. We take our seat at a table behind the stall, and the waitress brings us the menu, written on a slate. There are quite a number of possibilities, but I can't stress enough the importance of coming early to benefit from the largest choice.
I think we'll take a sashimi to share as first course, and then a main course each. But first, a glass of green tea to start, and to warm up, for we're sitting in a draft … A good opportunity for us to show off in a cape, a duffle-coat or yet something else.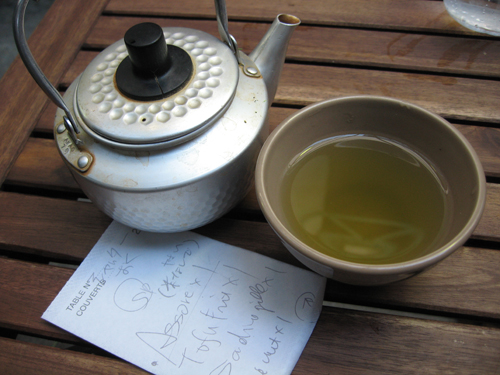 The bento « sashimi » plate arrive. Raw salmon, tuna sprinkled with chive. No big culinary surprise, but for a start, it's not bad. A few macerated veggies and white radishes to go with the whole.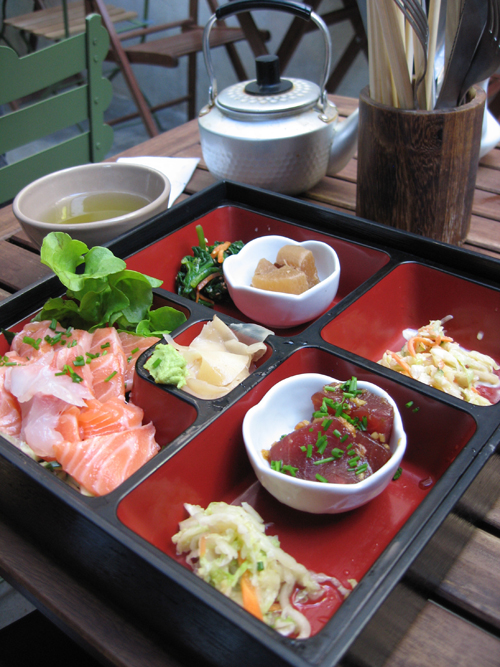 For the main course, I decide to go with the fried tofu, that comes with a bowl of rice.
It's not the kind of dish I usually crave, but I wanted to see how it was done here. And I'm not disappointed, because I usually find the tofu rather bland and uninteresting : it's just one of those guiltiless (because not very caloric) dishes…although with the fried part, maybe I shouldn't get ahead of myself with the caloric intake. Let's just pretend.
The tofu just melts in your mouth and the fried coating is well flavored and enhances the taste. I actually would have liked some more!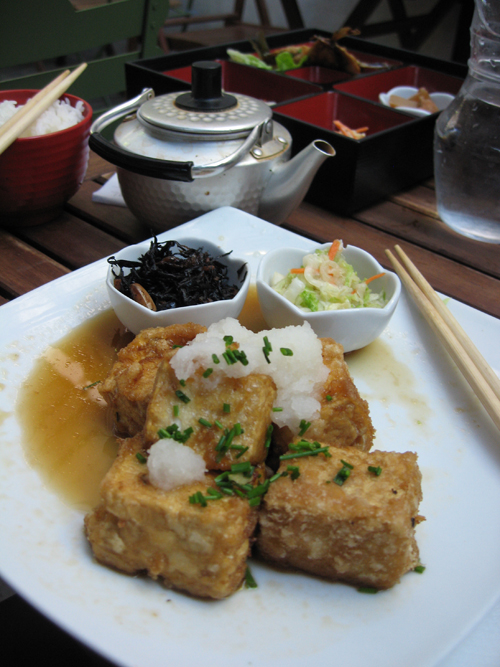 De votre côté, vous avez choisi les sardines grillées à la Kabayaki, servies également avec un bol de riz et deux petits makis. C'est légèrement épicé mais facilement surmontable. J'ai confiance en vous. On your part, you went for the sardines, grilled Kabayaki style, and also served with a bowl of rice and two makis. It's slightly spicy, but quite bearable. I believe in you.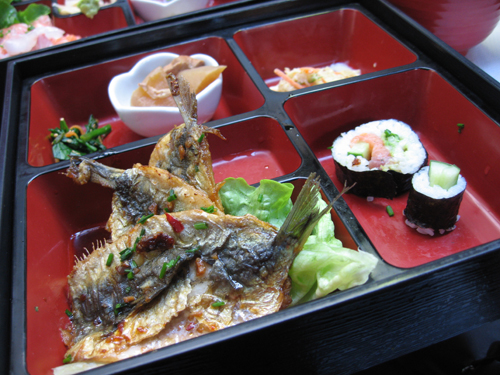 How about some dessert? I don't know if with the weather we're having a green tea ice cream is going to be very invigorating … We'll pass this time around. We learn that we can also order to go!
So if you're not into the noisy environment of the market, you can always recreate the mood at home … but I'm telling you right now, I won't do the dishes … (English translation by Marine)
Restaurant TAEKO
Marché des Enfants Rouges
39 Rue de Bretagne
75003 PARIS
(Métro Temple)