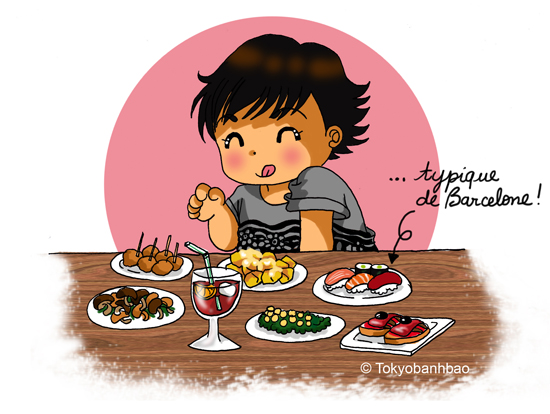 As you certainly can imagine it, Barcelona is a place with lots of restaurants and other places to have a meal. This time I won't invite you in a particular restaurant as I usually do, but I will rather give you a list of the best addresses, so you can go there by yourselves (it's a way to say that usually I pay the bill for you in my gourmet posts, but this time, obviously, they will be too much bills ! Héhé).
About tapas, I would say that you can't miss them, it's quite simple, you find them everywhere, so, this isn't an exhaustive list, but it's just based on the feeling of a tourist in Barcelona :
TALLER DE TAPAS 
( 49-51 Rambla de Catalunya) the first tapas restaurant I tried in Barcelona. Rather nice due to its great choice of tapas : I tasted there some with spinach chickpeas, with pickled anchovies, with spiced octopus, grilled sardines or razor-shell (I think this seafood has been rather overlooked in France) … the portions are generous, the whole is served with tomato bread (not free, of course) … and the bill is all the same a bit expensive…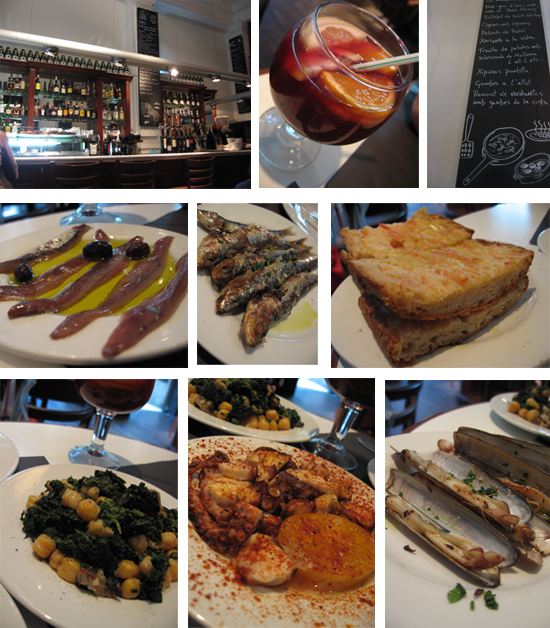 CIUTAT COMTAL
( 18 Rambla de Catalunya) : once again lots of tapas (No pictures of this restaurant in my article, it's perhaps a good sign because I finally only think of me while eating and I forgot the rest !). You can also eat at the bar in front of the friendly waiters who move quickly a pair a pliers to catch any piece of bread or portion that you would need. My favourite course was the delicious « patatas bravas », fried potatoes served with a creamy sauce … and after all, the others courses on the menu too. It was so tasty, nice and not expensive that I went there several times, but careful ! You have to come rather early otherwise you will have to wait in a queue !
TAPA TAPA
( 44 Passeig de Gracia) : nothing special to say about this restaurant, looks like the previous one, except that they didn't give us such a warm welcome, like « I'm bored about serving you but you don't pay attention to it because the food is good ». The tapas are excellent and cheap.
KIOSKO UNIVERSAL
the address isn't easy to find, but you can't miss this stall that is located next to the market de la Boqueria, near the stalls selling fresh fruits juice (Ultimately, you can walk the market up and down to find this stall, it's a good opportunity to loose the calories you will gain after having your meal !) I would say that I really loved these mixed fried mushrooms sprinkled with chopped parsley, it's a delight ! You can eat at the bar or sit at round tables : I quickly made my choice ! The great variety of grilled sea fruits is to die for and it's very fresh … As many people go there, once again, the « cuenta » (bill) is rather high but it's worth going to.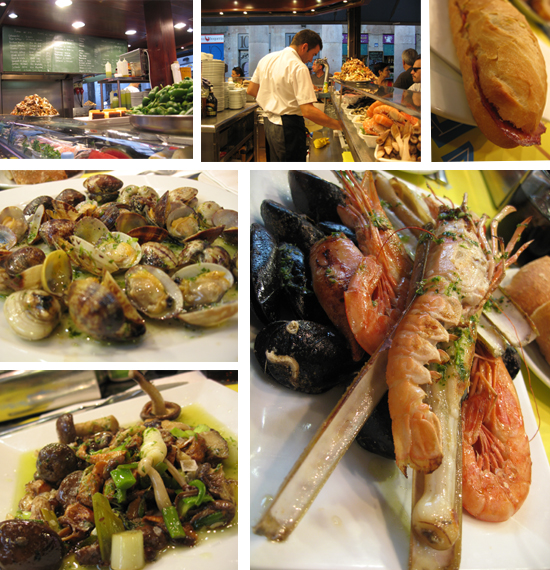 There also was this nice place to eat a paella worthy of the name :
ELCHE
(71 vila i vilà) : a restaurant specialized in all sorts of rice preparations, I've just tried the paella without taking any risk. Delicious and well seasoned (perhaps a bit too salted). The only drawback was that they serve paella only if there are two people at least (the 2nd person has to take the same paella as you as it's cooked in the same pan, I suppose !) … So you can't peck in your neighbour's plate, it's the same food than in yours ! So, if you're going at Elche, you can't come alone otherwise the paella will slip through your fingers !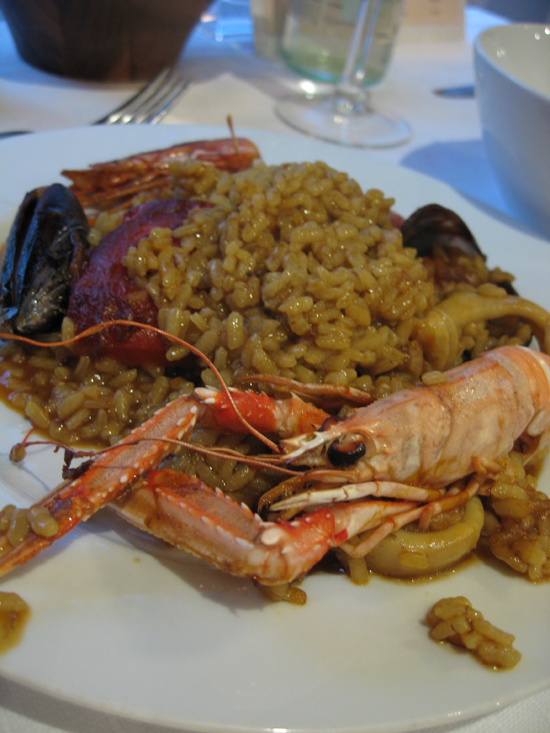 And finally, taking a look at the cookery of the world, after a while you grow tired of tapas … you look after other ccokery … preferably asian cookery … what a coincidence !
SHIBUI 
(272 Comte d'Urgell) , a quiet japanese restaurant whose front looks like the entrance of an office building … not really tempting ! but inside, a minimalist design, and a head chef who excels in the art of making sushis, sashimis and chirashis. But you know these, nothing to add; it's simple, delicious and refined.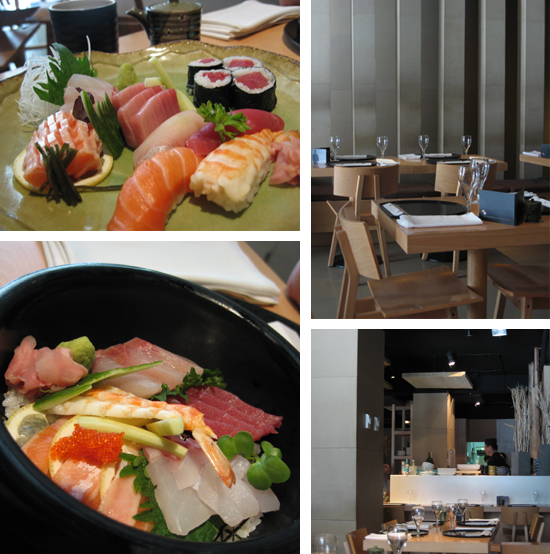 LA XINA
(3 Pintor Fortuny)
A chinese restaurant right in the middle of the ramblas, which is original and not only to draw the tourists. The décor is worth seeing, slumped in a wall seat, with lacquerer tables, a big paper dragon suspended from the ceiling … It's studied. But what a surprise in the plate with a ginger marinate beef meat, with wok sauté vegetables and flavoured rice. The "dim sums" (little steamed raviolis) are hand-made and not bought by Tang (= an asian grocery in Paris)  and put out the freezer. In short, freshness, beauty and zen, a place of refuge at thousand miles from the hustle and bustle of the street.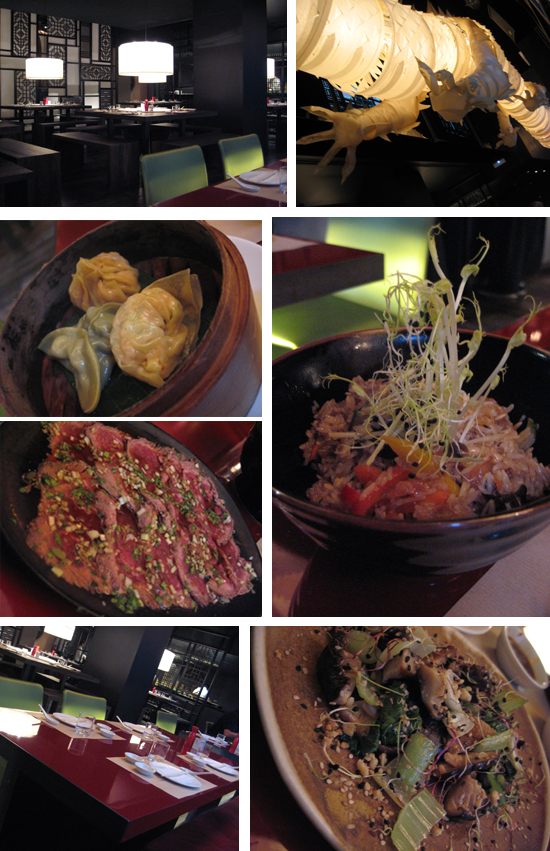 KOMOMOTO 
(33 carrer de la Princesa): The most surprising restaurant I've tried in Barcelona, not a « crazy » one, but just a concept of cultural melting pot. Actually, it's a restaurant based on a combination of japanese and peruvian cookery … On the face of it, there 's no resemblance but finally it's a successful union of taste. A course of raw marinaded fish : the « ceviche » slightly spicy is the emblem of the restaurant.
Also, the design is very zen and original with scribbled pieces of paper, certainly done by customers and pinned on the ceiling … and on the wall, there's lots of photographs and illustrations also left by the visitors : « Feel free to post your art », that is written in big letters … No need to tell me twice : I sketched a little something on the tablemat and pinned it on the wall like a little girl in a kindergarten …If one day, you go past this restaurant, please tell me if there is still the trace that I was in, this will be my « hello » to you !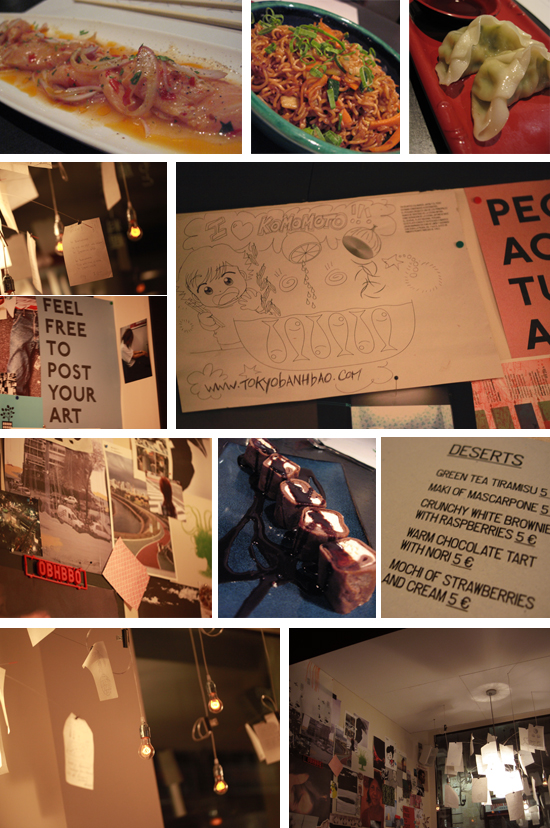 **