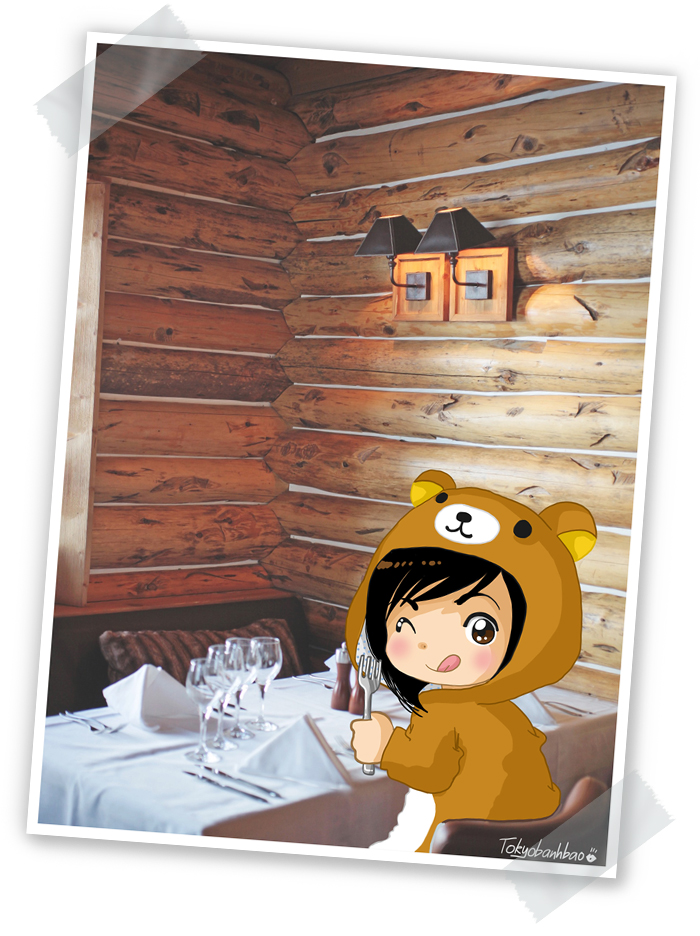 We are approaching to the end of our mountain adventure : so let's get out food on…times 3 ! It is an absolute fact that the hôtel "Les Barmes de l'Ours"  were able to satisfy my culinary wants (except asian, the hotel is not called "The Barmes of Panda", so I can forgive them) because the hotel is composed of 3 restaurants, expertly run by the Michelin star chef Alain Lamaison.
I was lucky to try out the 3 venues…and even to meet the chef in a warm place, but I will tell you about that later (don't get any ideas, naughty !). In the meantime I am going to make you discover these 3 places where I was lucky to let my eyes and taste buds linger : let's go !
La Table de l'Ours
This restaurant is where our chef Alain Lamaison got his star from but it wasn't the first one because he was the youngest chef to be 'starred' in 1977 (when he was 23 years old, wow) with his restaurant "La Bretonnière" and then another star a few years later in his restaurant in Les Baux de Provence" (again, wow) !
In my opinion, even if obtaining a star and good restaurant reviews are subjective, you can feel perfectly are ease with this impressive résumé !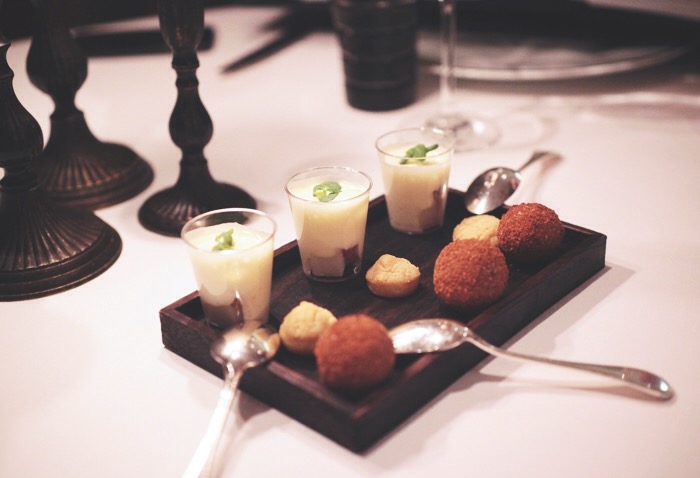 Appetizers (Ahhh ! these Beaufort croquettes !)

My man and I opted for the 'menu des saveurs' meaning menu of flavors: me drooling on my pan fried duck foie gras cutlet and him on his filet beef cooked in a sauté pan. Appetizers, pre-starters, dishes and nibbles, it's all served delicately with conviviality.
As I was saying, here, despite the undeniable luxury of the place, no ackwardness or uncomfortable silences are felt when the waiter comes and it's apreciated.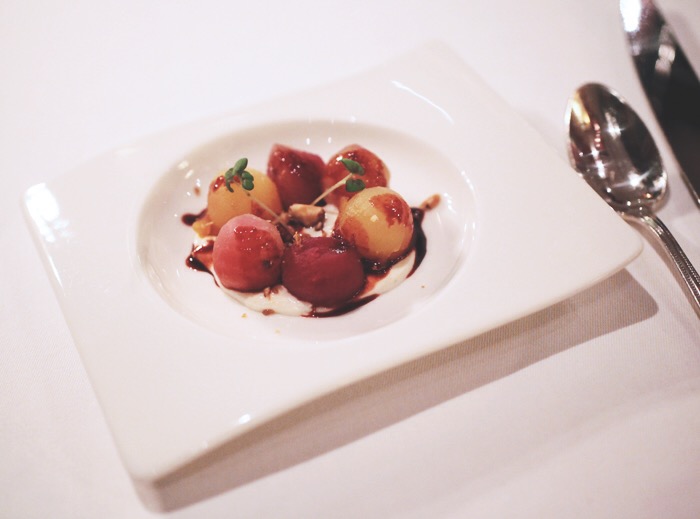 "Beet" Pre-starter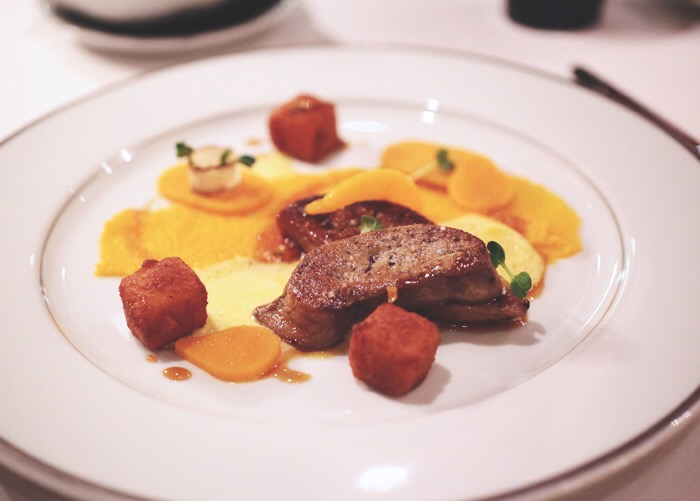 As expected, massive crush on the pan fried foie gras cutlets and it's butternut variations. It all blends perfectly, the melty foie gras, the crusty battered butternut in small cubes, the mash, a real find. Here is a picture of the dishes from the menu: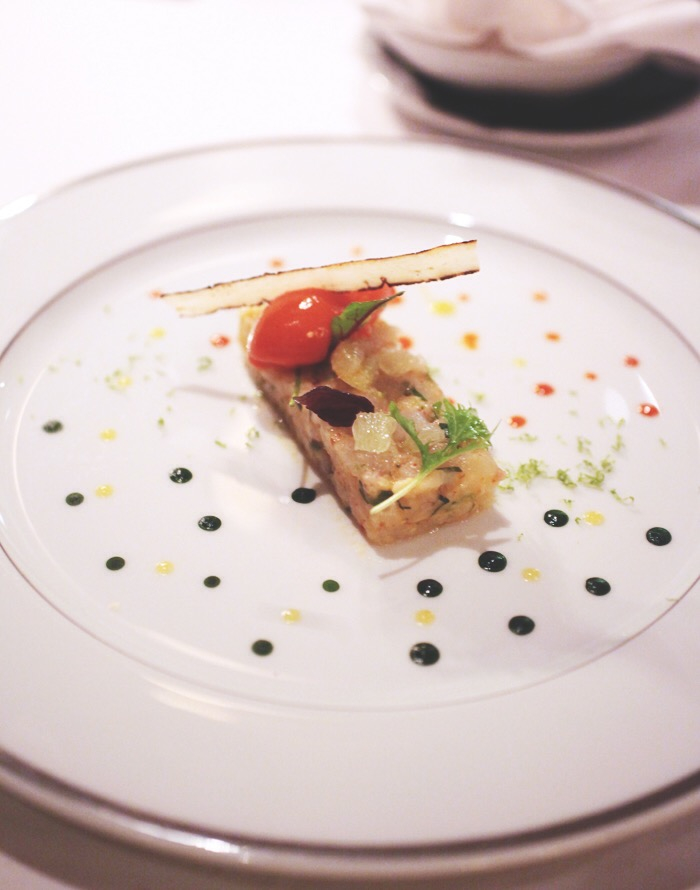 Delicate fish tartare with herbs, Yuzu and red pepper sorbet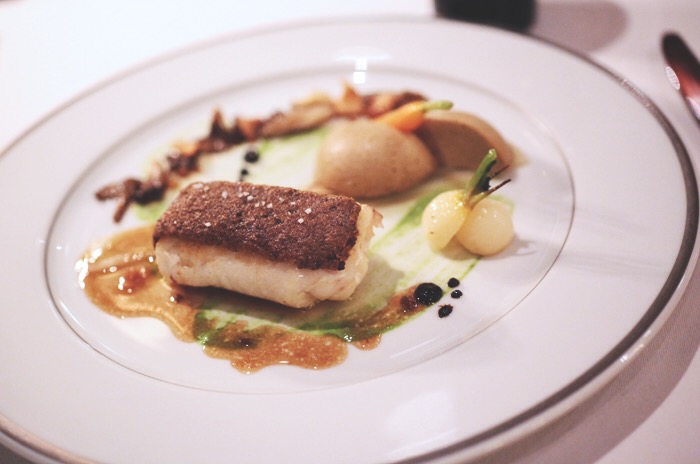 Turbot filet and its cep viennoise Black garlic, Swiss chard, wild mushrooms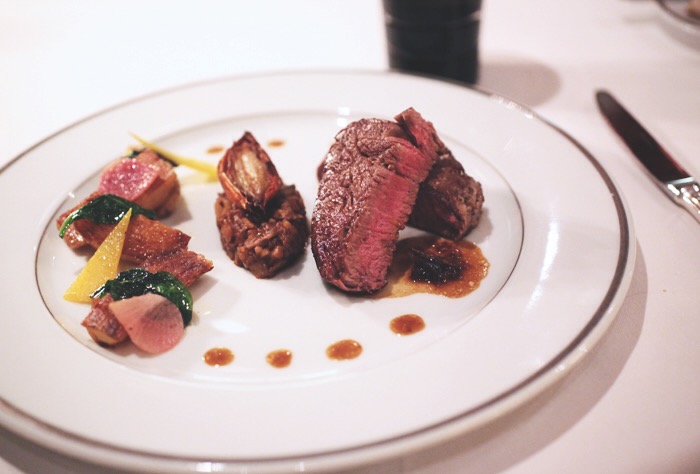 Sauté cut of filet beef Confit fingering potatoes, chestnut, spinach, sour jus
My sweetheart then decided on the cheese platter: impressive ! A great variety of cheeses from the region, dripping, soft, tender…paradise !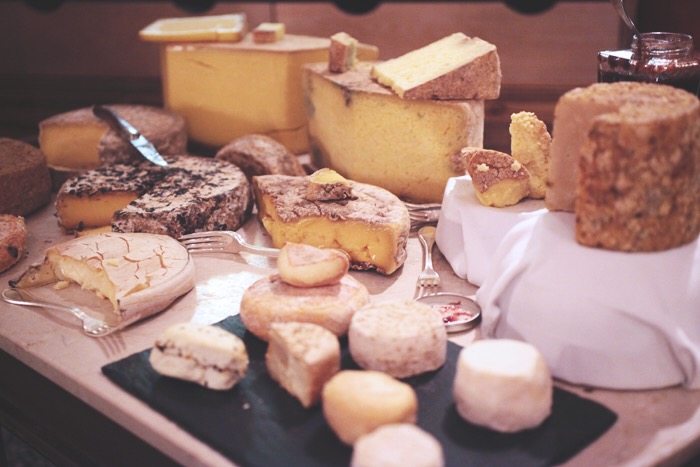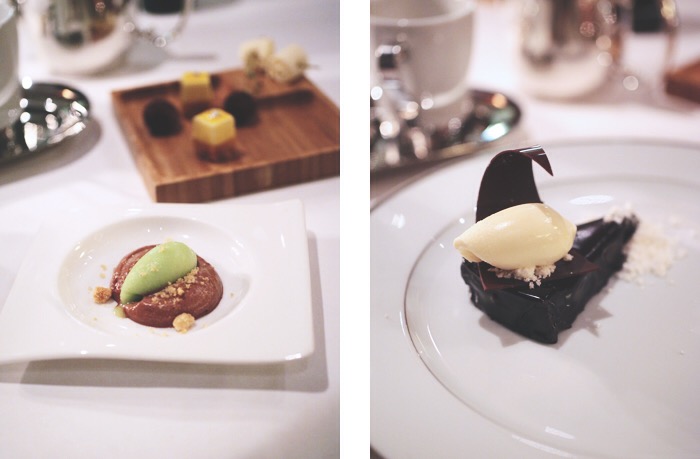 I changed my dessert for the chocolate tart, salted biscuit with coco, Caribbean ganache ice cream with butter. I am often weary of heavy chocolate desserts but this one really paid hommage to the chocolate as a whole with it's differant textures, very appreciated. Yum !
A Michelin star that is very justified : I can still taste the bliss.
Le Coin savoyard
Another ambiance if gastronomic food is not your bag and you are more into a good fondue or raclette by a lovely woodfire.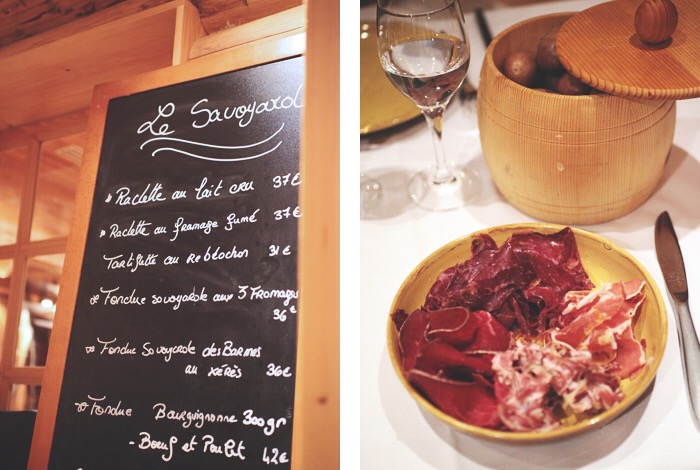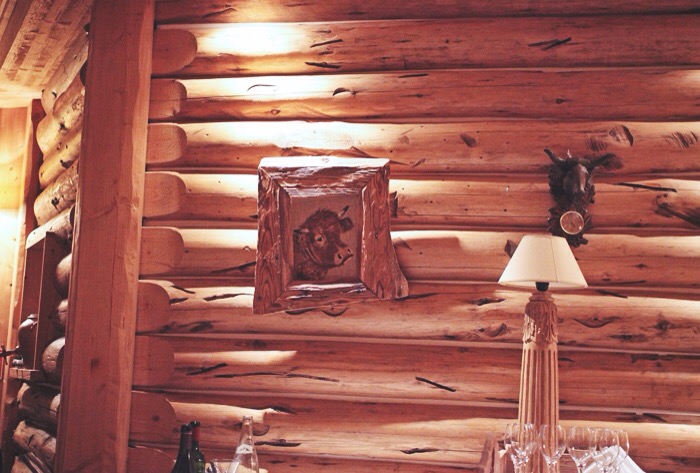 In another room much like a montain chalet (wood walls and pictures of cows of the region), I chose the roast cheese raclette and my other half chose a fondue with Xérès.
All our previous efforts in our snowshoe treck were obliterated but nevermind, you only live once (and only one cholesterol rating).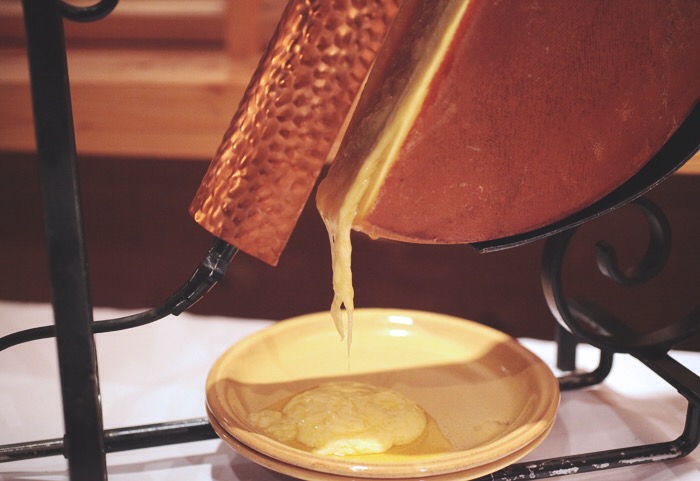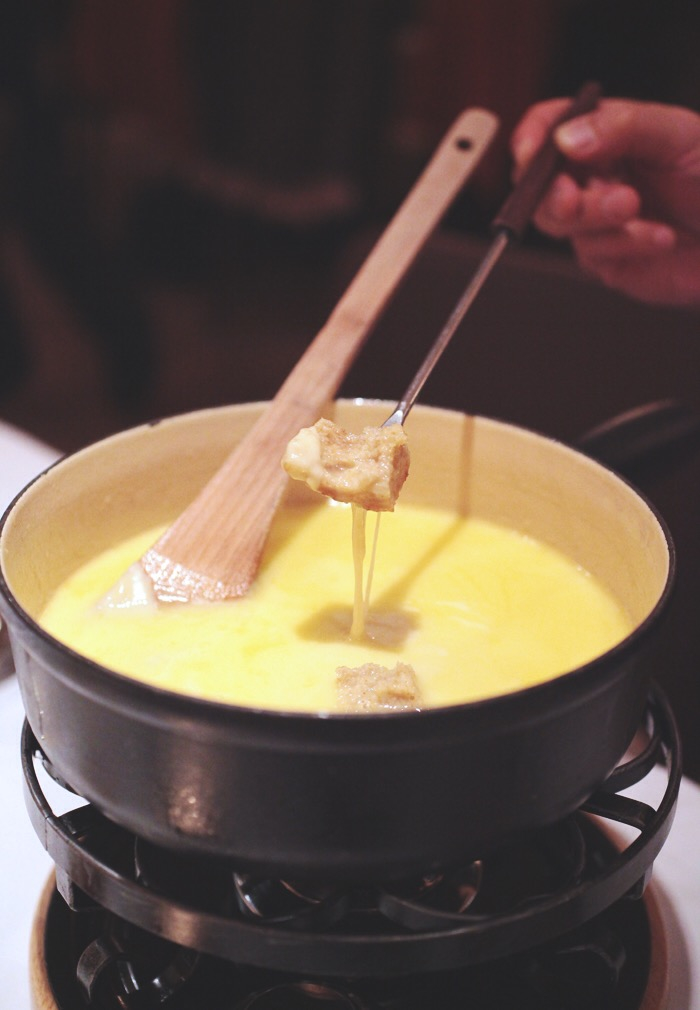 The portions are very generous: I realised it when I saw my piece (should I call it that?) of dripping raclette and the pot of fondue. All is excellent in quality, the cured meat with little gherkins…and this melty cheese, my god.
La Rôtisserie
We finished our stay with a trip to the Rotisserie. Ambiance once again is family chalet like with a selection of good old chef roasted meats.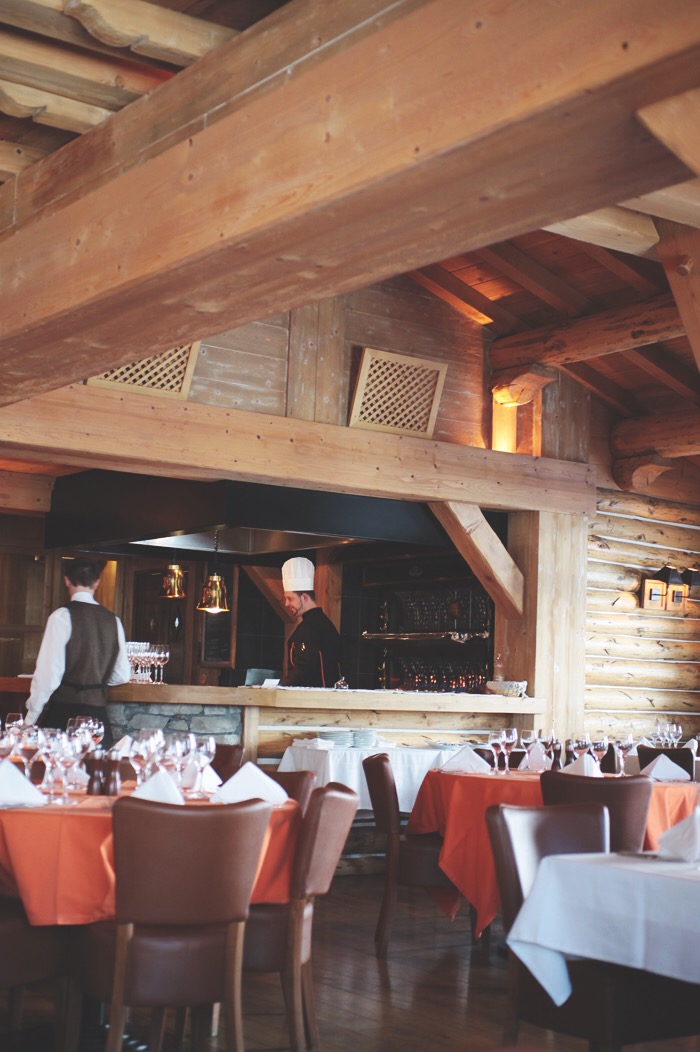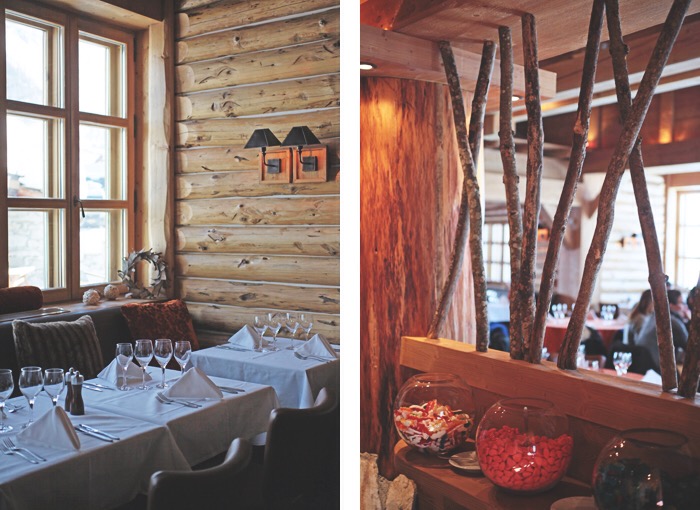 We chose the buffet menu that allows you to taste a meat dish and to choose what we like from the starter and dessert buffet : I won't tell you how happy that made me. I said before that I don't care for buffets but that was before I saw this one !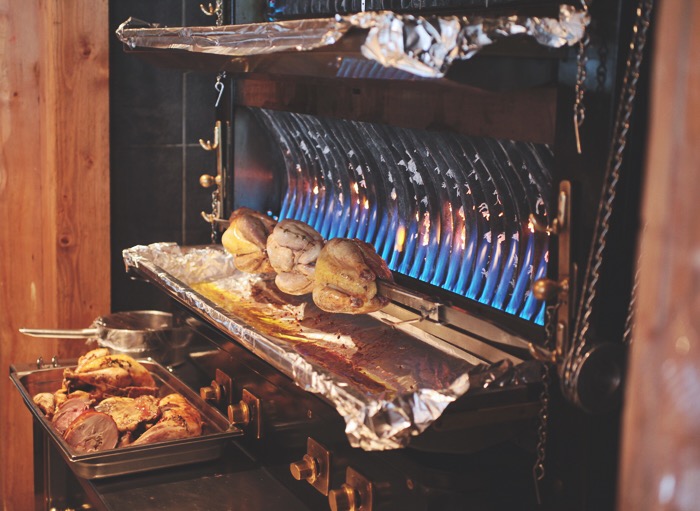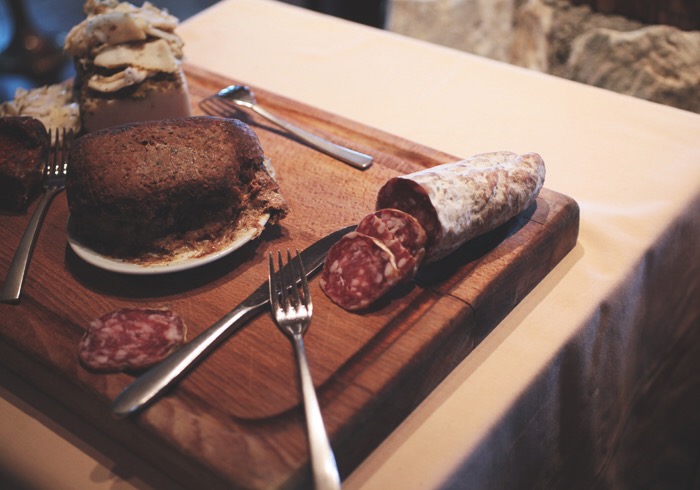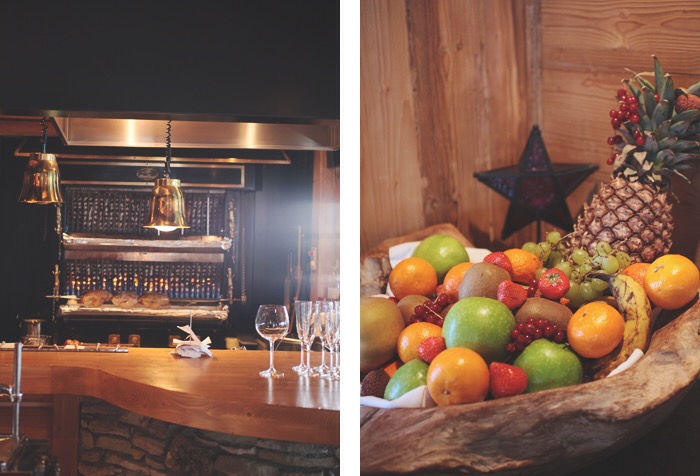 Here the dishes are incredibly fresh and prepared with the upmost care : I even forgot to take pictures of the starter buffet (hypnotised by the food) : oysters, fish pie, salades, half lobsters, everthing is tempting : it's as plenty as the dessert one (I came back to my senses then).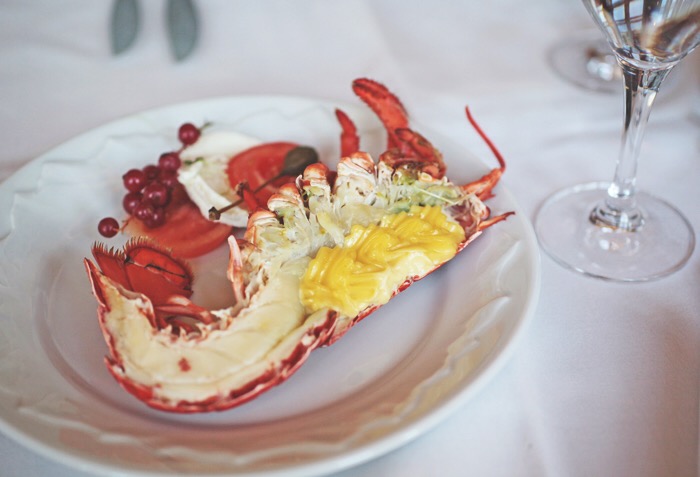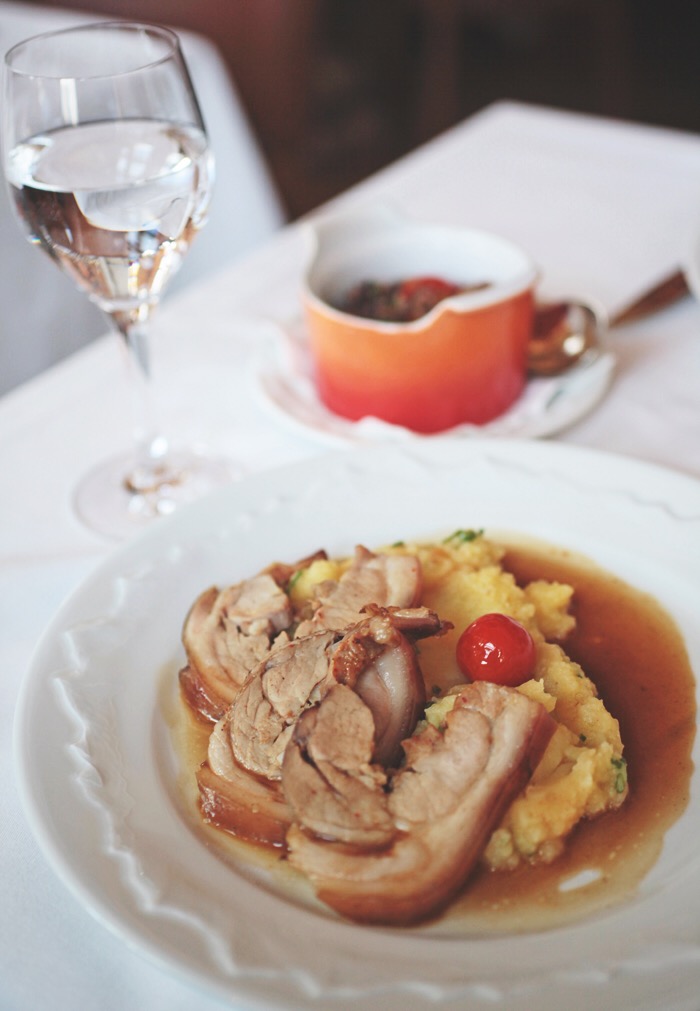 Suckling pig and little pot of rice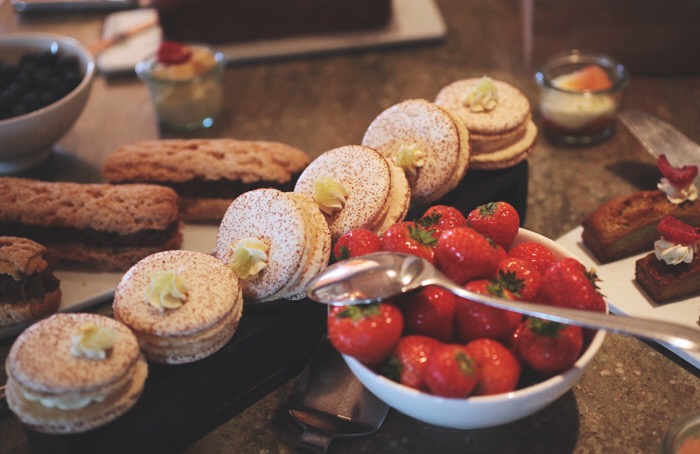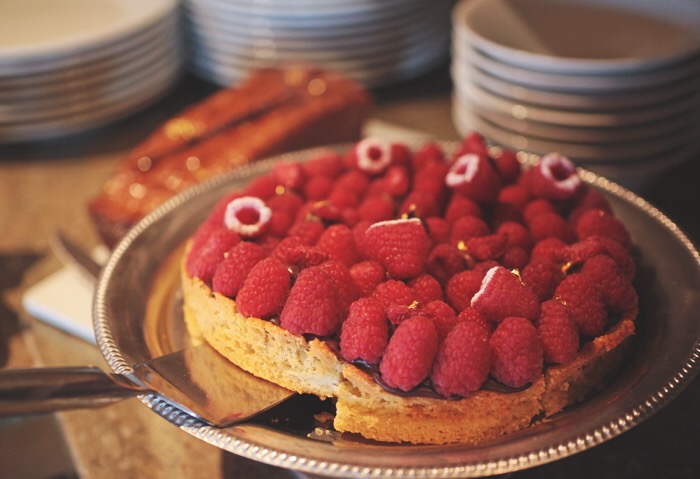 On the sugary side of things I will let you admire : the macaroons and raspberry chocolate tart were absolutely fantastic.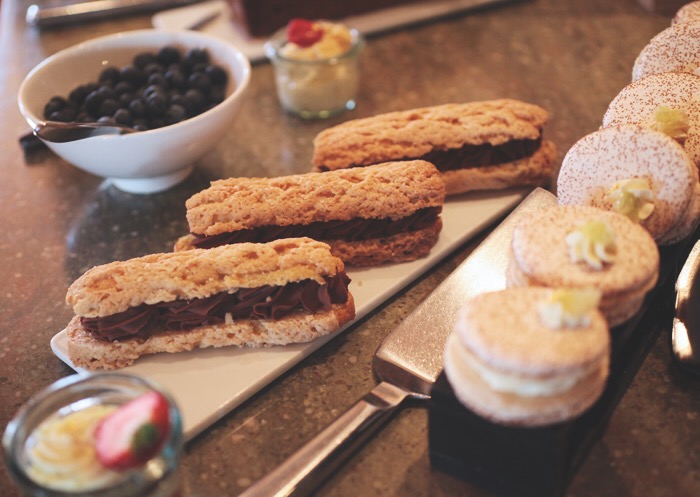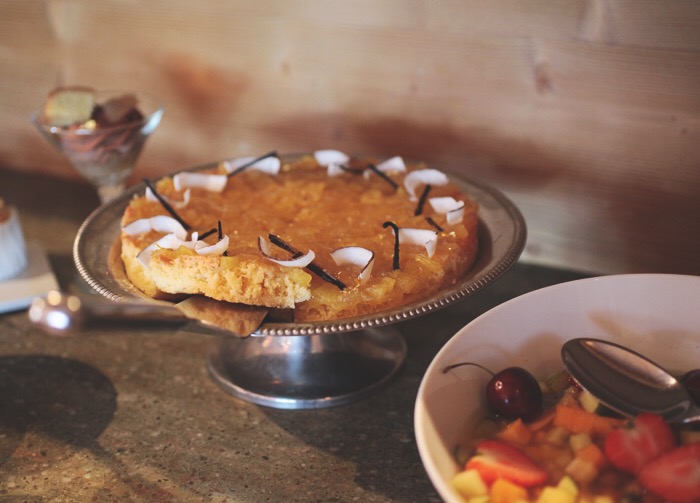 I thought about stitching myself a second stomach but despite the numerous services from the hôtel, this one wasn't offered. Pfff.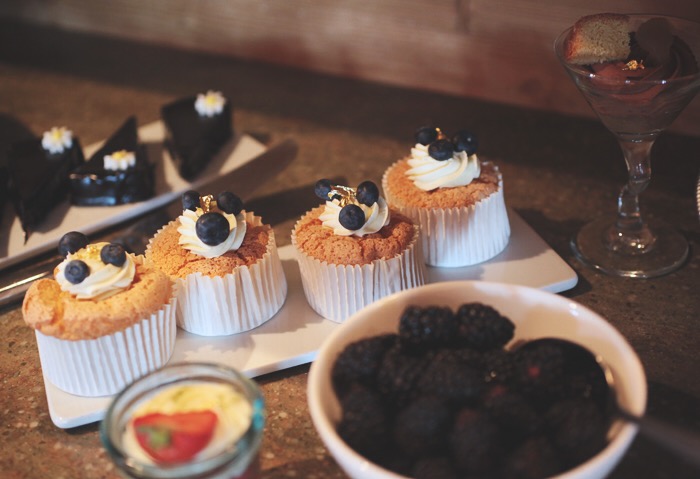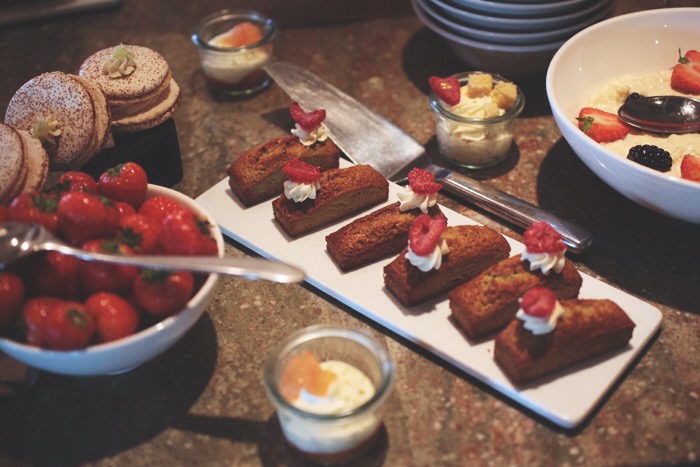 After this in depth tour of the restaurants of the hotel, see you soon in the last episode of our big saga "les Barmes de l'Ours" where we will be hands on (or paw on).
Will I be the same after leaving this dreamlike place? Will I be able to walk or roll to access the chef's secret place? You will see in our next chapter ! (English translation by TradIsa)
Les Barmes de l'Ours *****
Restaurants « LA TABLE DE L'OURS »
« LE COIN SAVOYARD » « LA RÔTISSERIE »
Chemin des Carats
73150 VAL D'ISÈRE