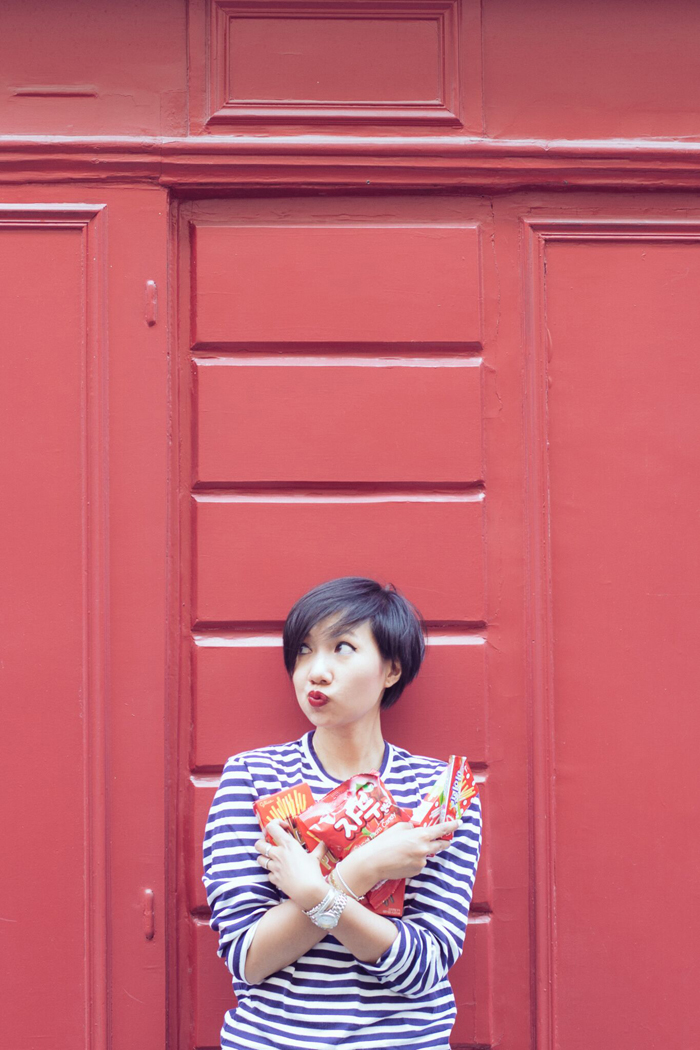 This post is a bit different than the usual, since this time, my friend Clémence imagined and realized the pictures you see posted here.
You know that fashion and yummy things are strongly linked on this blog: which is why we set up this little photo shoot in which I showed you my favorite food spots in my favorite area of Paris: Palais Royal-Opéra.
Let me tell you we spent the whole afternoon eating (everything you see on the pictures has been wolfed down = nothing goes to waste) but here's the result. I hope you enjoy this post as much as we enjoyed making it.
Korean & japanese delis

I always feel like I'm traveling when I step inside these shops. I go to stock up on japanese sauces, rice vinegar and other asian products for cooking, but I also never leave without exotic sweets!
ACE MART 63 Rue Sainte-Anne 75002 Paris
ACE OPERA 43 Rue saint Augustin 75002 PARIS
KIOKO 46 Rue des Petits Champs 75002 PARIS
Aki Boulanger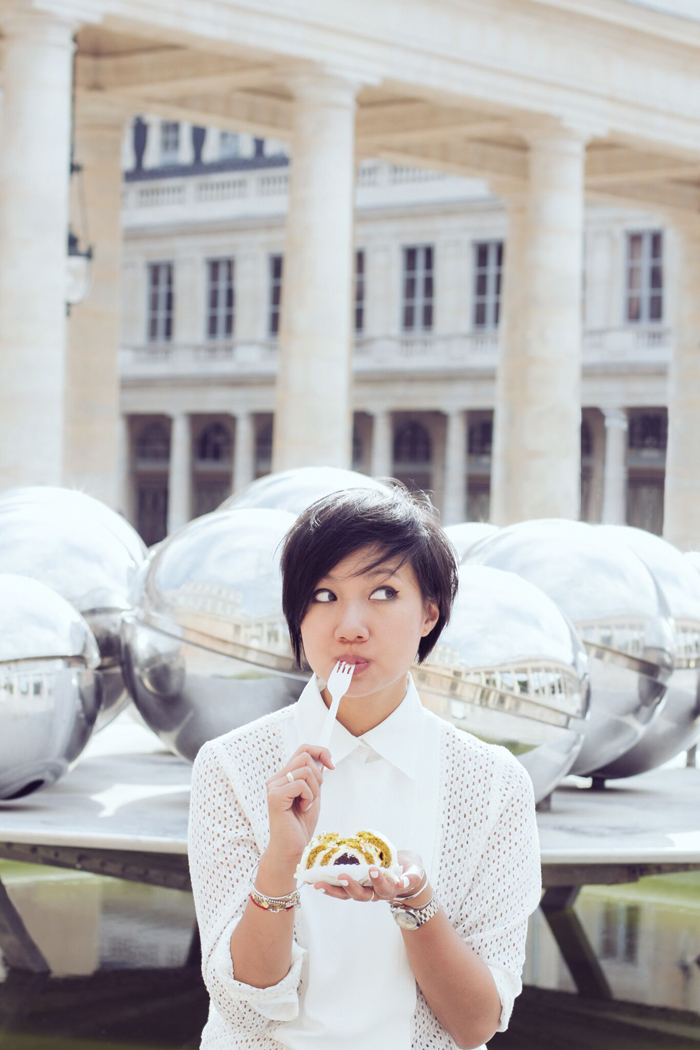 Shirt Coralie Marabelle pour La Redoute
Lipstick « 640 Erotique » Color Riche Matte L'Oréal Paris
I already talked about it on the blog and I'm still not over their french pastries with the japanese touch, always so airy.
The strawberry short-cake, mont-blanc and all the matcha specialties are my favorite, but I think I have yet to have tried all of their creations!
AKI BOULANGER
16 Rue Sainte-Anne
75001 Paris
Café Kitsuné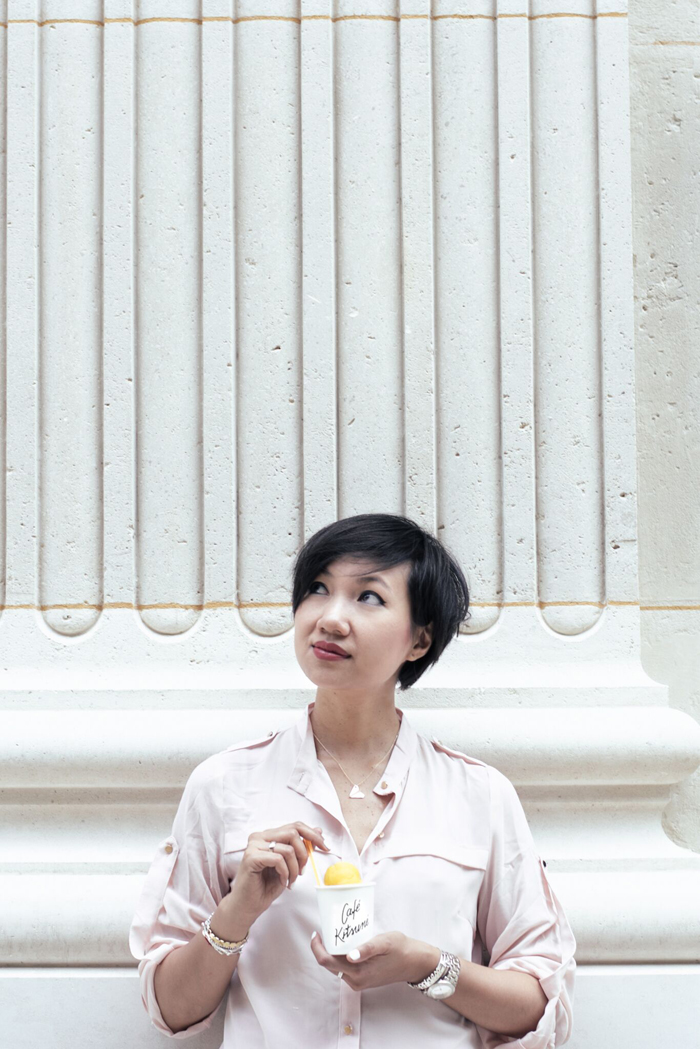 Shirt So Essential
Necklace Timi (already seen here)
Lipstick « Dahlia Insolent 135 » Color Riche L'Oréal Paris

I don't drink coffee, so the address might seem odd, but as I love the clothes that go by the same brand name, I enjoy the atmosphere and style of the café.
The products are very simple (gluten free cookies, ice cream and sorbets during the summer) but it's really fun to have a matcha latte in the shade of the Palais Royal garden!
CAFÉ KITSUNÉ
1 Galerie de Montpensier
75001 Paris
Chatime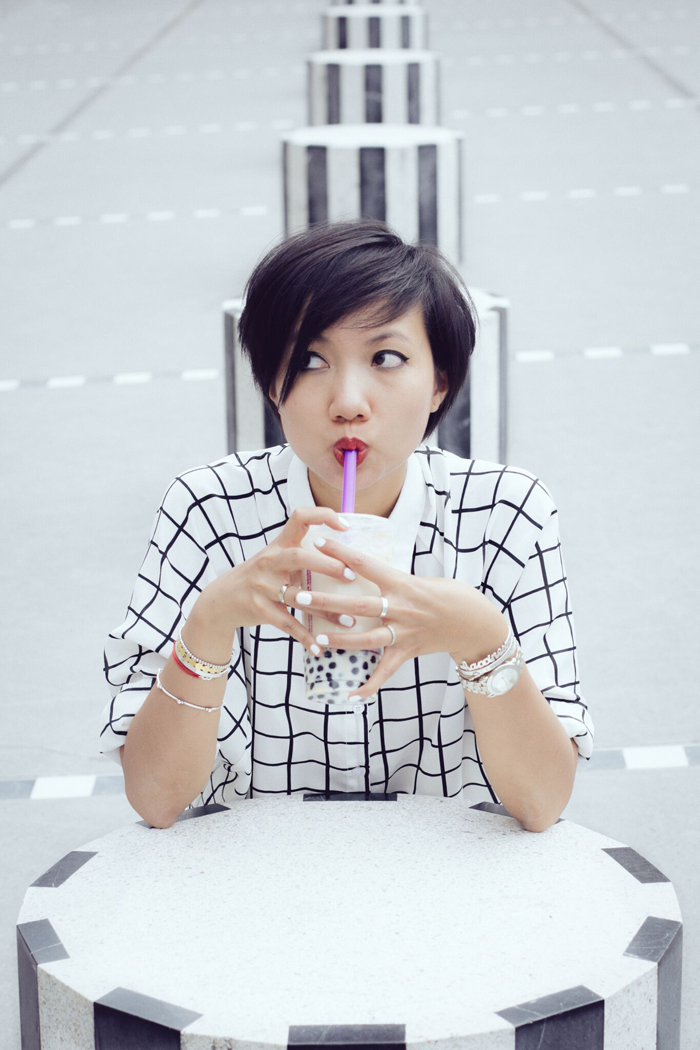 Shirt By Monshowroom (similar here)
Lipstick « 16 Place Vendôme 364 » Color Riche L'Oréal Paris
Watch ASOS (-10% on the website with the YAY10 code)
Bracelets Dinh Van, Mya Bay

My favorite drink is bubble tea… you know, this taiwanese specialty with tapioca bubbles that you can chew on.
Up to know, I was a faithful Zen Zoo fan – their tapioca bubbles were close to perfection …. but I recently discovered this place, which is apparently a worldwide chain (they have shops in Australia, Asia, United Kingdom …)
The advantage of this spot is the huge choice in flavors and the variations in bubble teas: a matcha red bean slush during hot summer days is absolutely divine, and what to say of the milk tea with grilled rice flavor. You can also choose how sweet you want it: I go with as less sweet as possible.
And on top of the tapioca bubbles, you can add grass jelly, pudding, and other colorful gelatins. It may seem odd for a number of western palates, but for my part, I'm completely hooked!
CHATIME
33 Rue de Richelieu
75001 PARIS
Pictures by Clémence Firmin