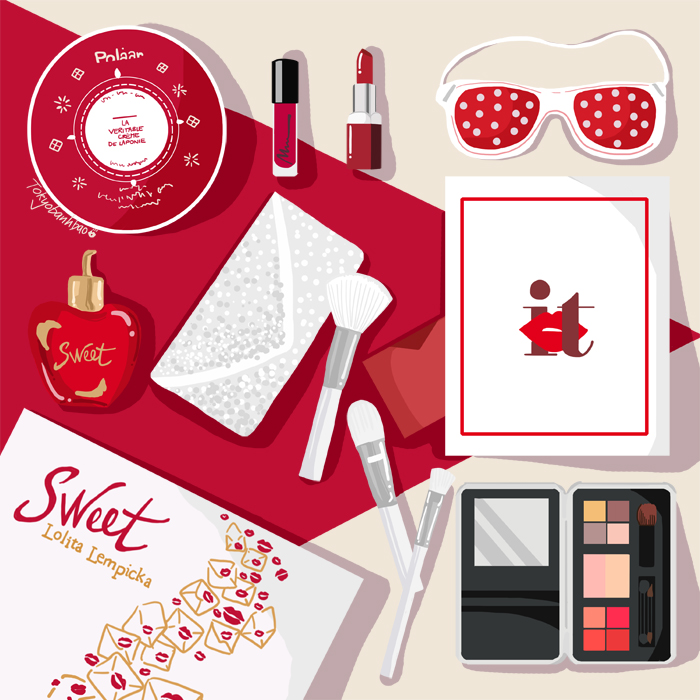 "Sweet" Xmas set Lolita Lempicka / Pouch & brushes Marionnaud / Lapland cream Polaarcare / Nail Polish "Rouge terrible" Marionnaud / Lipstick Pop Clinique / Radiance face mask Marionnaud / Gift set Itset Box / Makeup Palette Marionnaud
I hope your Christmas gift quest is going well. On my side, I haven't bought anything yet but I have been working on it!
Actually, this post could help moving things forward. During this holiday season, the Marionnaud Perfumery asked me to select my favourite products for a dazzling Christmas.
Rather than doing a classic wish-list (I must admit that I don't need anything because all I want for Xmas is … youuuuuu), so I decided to choose a few products that you might be interested in and made a drawing of them.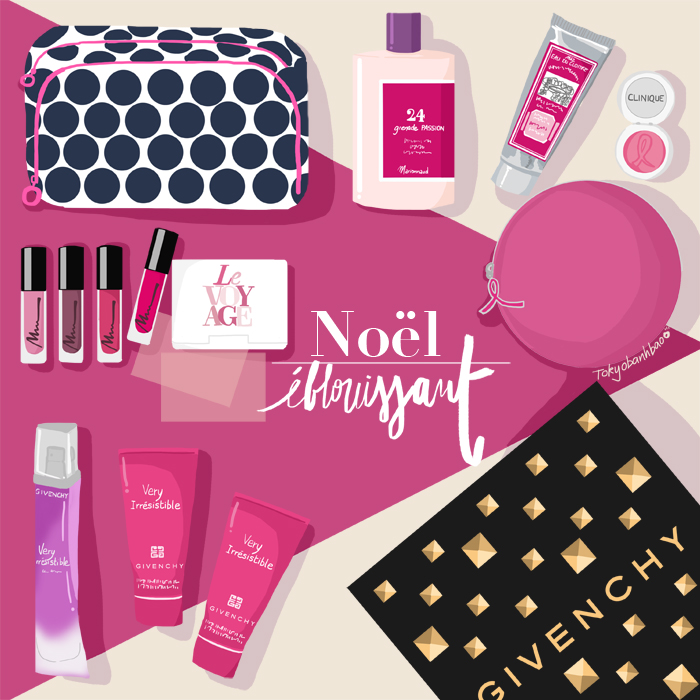 "Very Irresistible" Set Givenchy / Beauty case Marionnaud / Bath shower gel "Grenade Passion" Marionnaud / Handcream Couvent des Minimes / "Cheek Pop" pouch Clinique / Nailpolish "Les roses" Marionnaud / Matifying paper Marionnaud
So I selected two pretty perfume gift sets (I must go and try the Very Irresistible because I only smelt someone wearing it… and it proved its 'irresistible' power). Then, I wanted to pair make up products or accessories with the same kind of colour tints (well, yes, we always need to match gifts hehe).
I hope my selection of drawings will give you ideas (by the way the radiance face mask with a glasses shape is super cute).
Have a good Christmas gifts hunt everyone! (English translation by Quiterie)