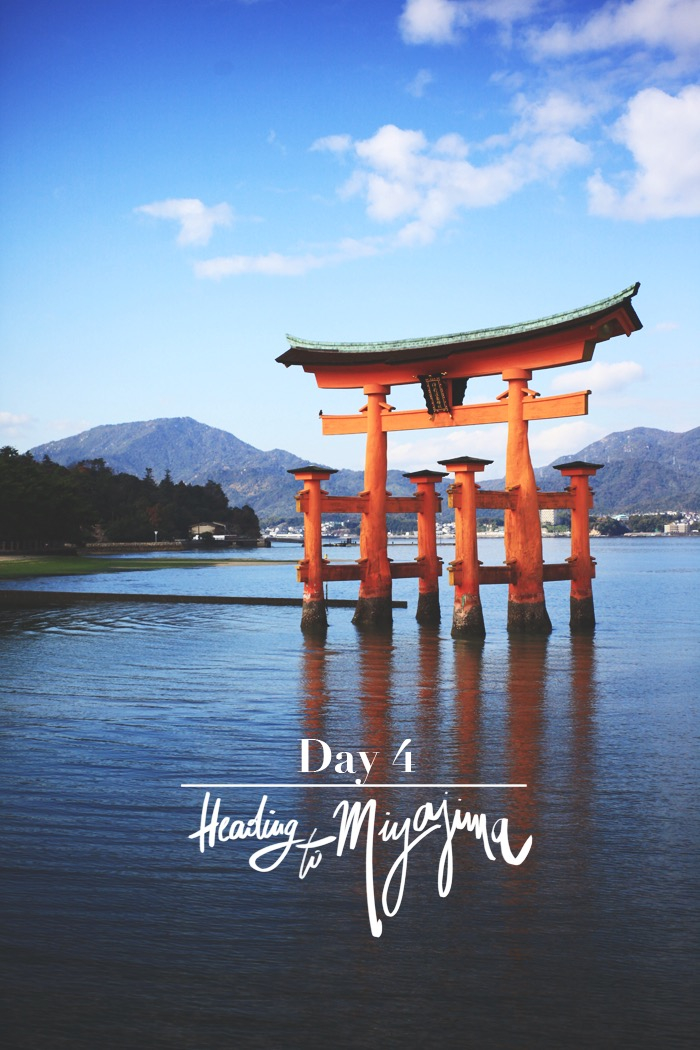 I'm delighted to see you're still enjoying our japanese trip in the fall (and I hope I'll be finished telling you all about it by next fall!).
After relaxing in Kinosaki Onsen, we're off to discover new places. Next stop: Miyajima! Located by Hiroshima, this island has a few surprises in store for us!
Kinosaki-Miyajima
As I had told you at the very beginning, to discover Japan, travelling by train is a must. This time, the trip was a bit long (but then again, in Japan, travelling is a real pleasure: the punctuality, the extreme cleanliness and the "ekiben" bentos make it such an enjoyable experience!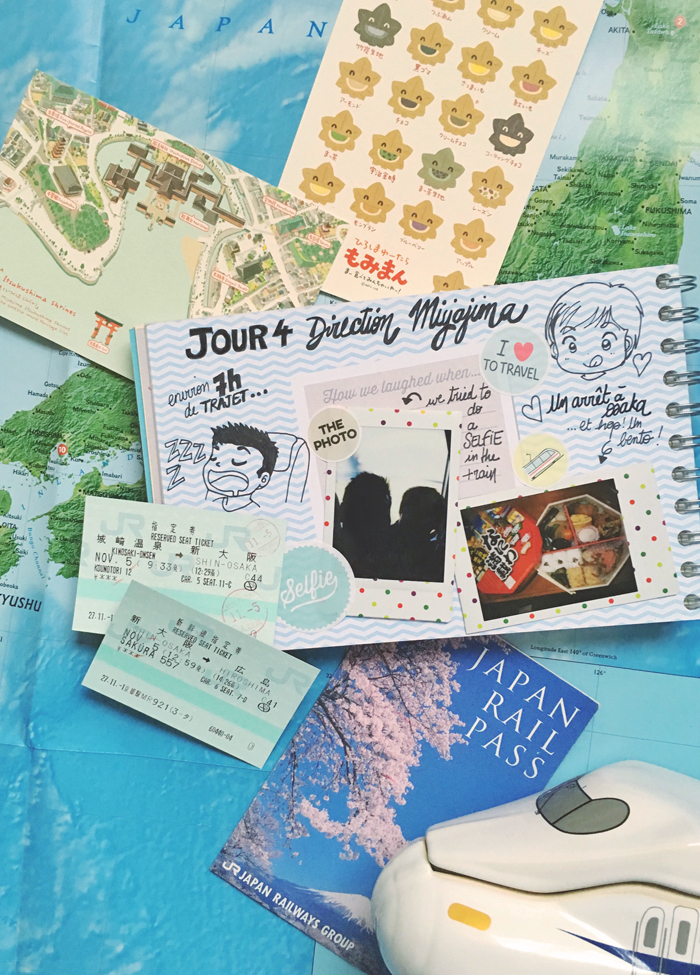 To get to Itsukushima island (Miyajima's other name), we stopped in Shin-Osaka to change trains, and headed in Hiroshima's direction.
Then we took a local train to Miyajima-Guchi, and took the JR ferry (a great way to make the most out of your JR pass).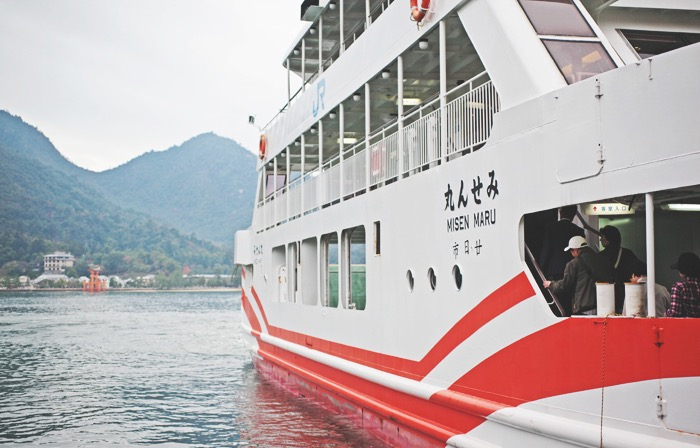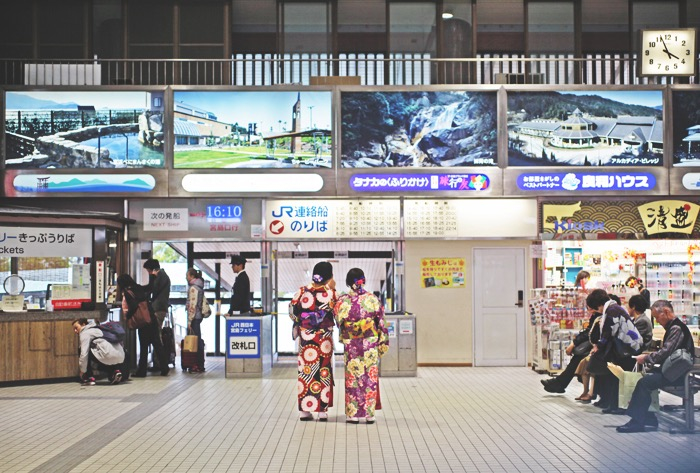 The whole thing was 7 hours long, but again, it wasn't a big deal: I spent my whole time drawing, while my SO slept with his mouth open.
Arriving on the island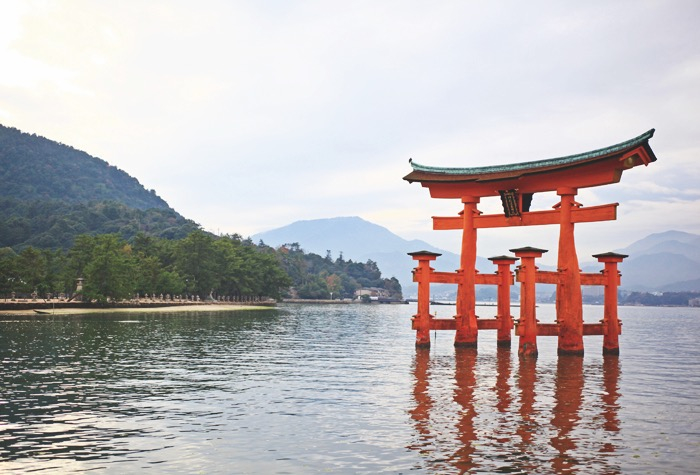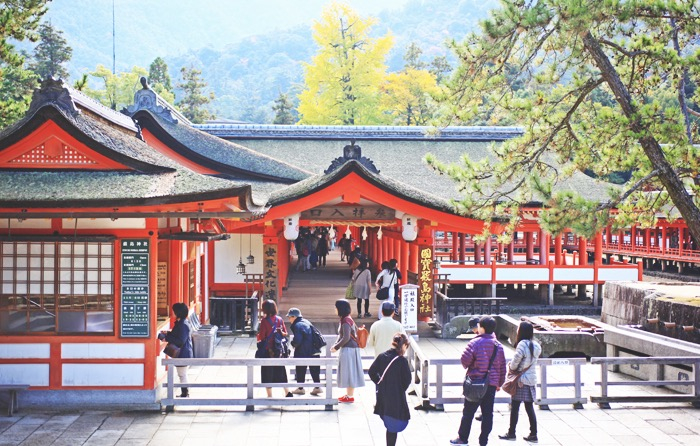 Itsukushima shrine

We arrived on Miyajima mid-afternoon, which only allowed us to get our room, freshen up and familiarize ourselves with the area.
Some will advise you to stay in Hiroshima and take the ferry every day to the island – which is cheaper, but we really wanted to experience the island as a whole. Which means we ended up missing out on Hiroshima, but it'll be for our next visit!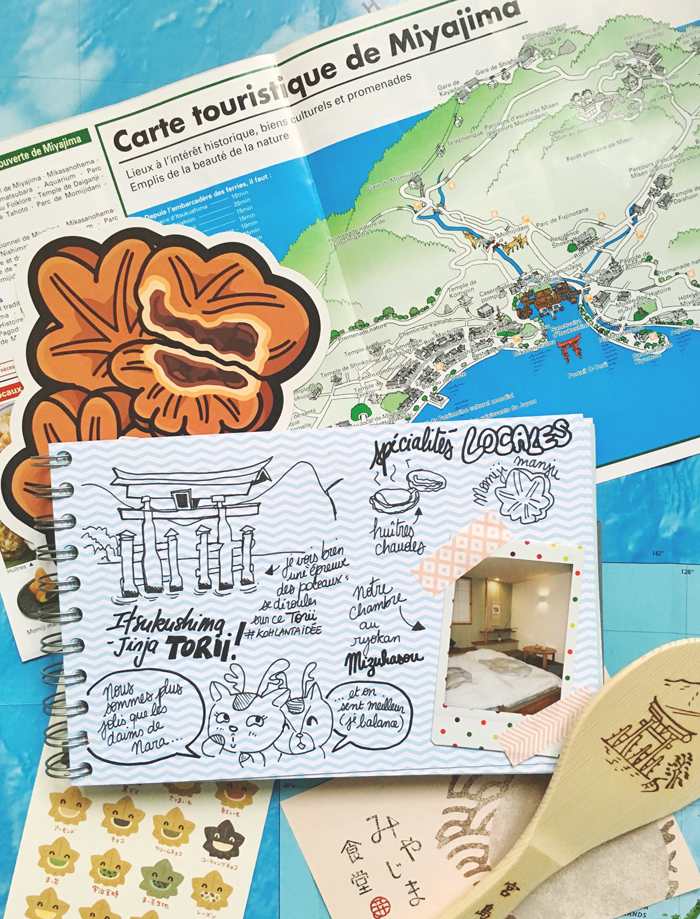 We chose to stay in the Mizuhasou ryokan (more modern, and more of a family feel than the one in Kinosaki – more like Maison Ikkoku if you see what I mean).
Extremely well located, with a charming landlord (who doesn't speak a word of english), simple but comfy, with a bathroom outside, but that you can lock from the inside (no flashing this time!).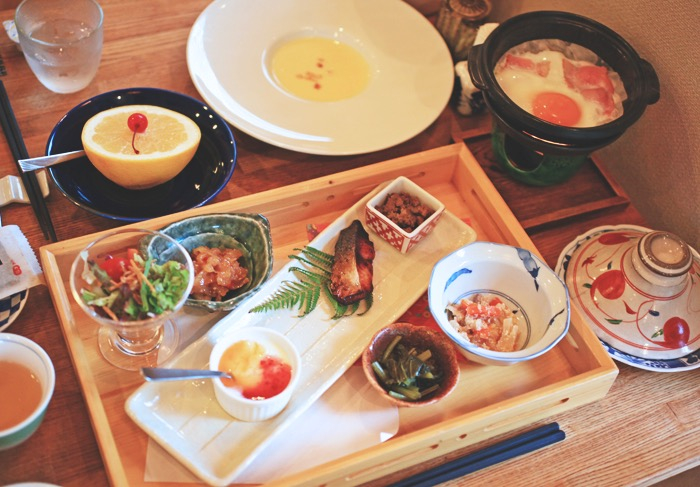 Japanese breakfast…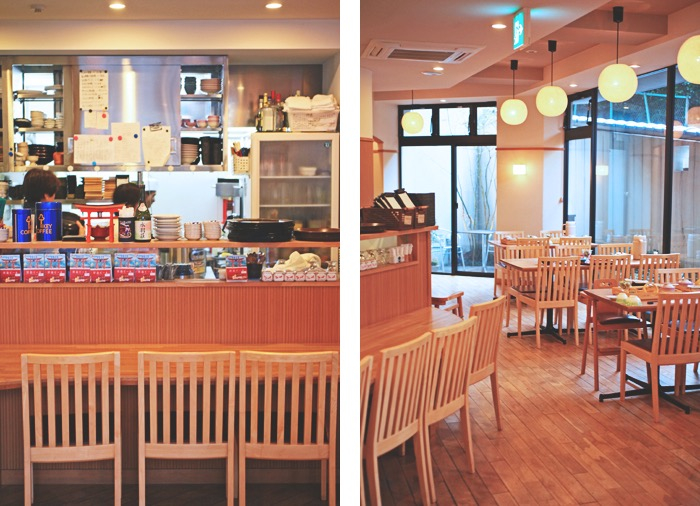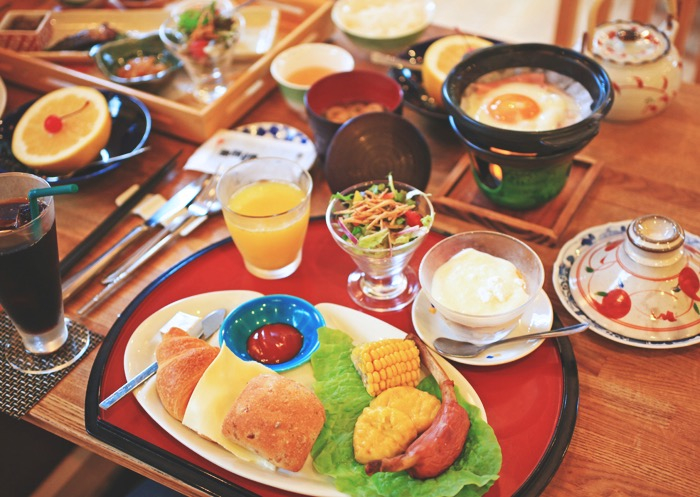 …or continental breakfast

Breakfast is bountiful: I decided to eat the japanese way during these two days, but my SO was too tempted on the second day, and he chose the continental breakfast. The establishment adapts to the needs of its clients!
Discovering Miyajima
We'll talk more about all there is to discover on the island next time, but let me start by saying that just arriving was magic.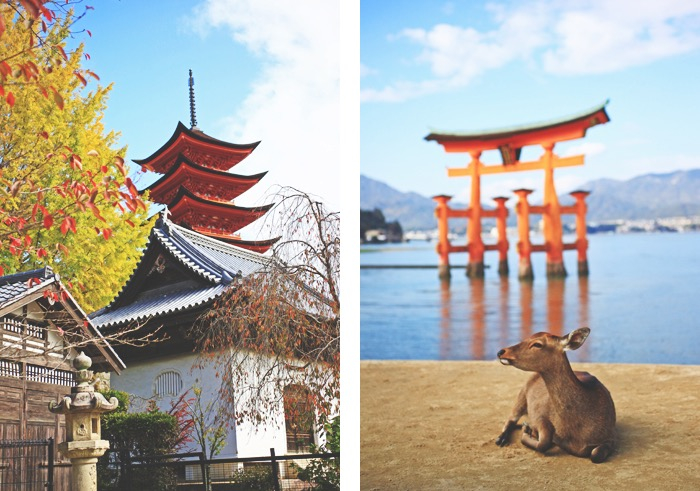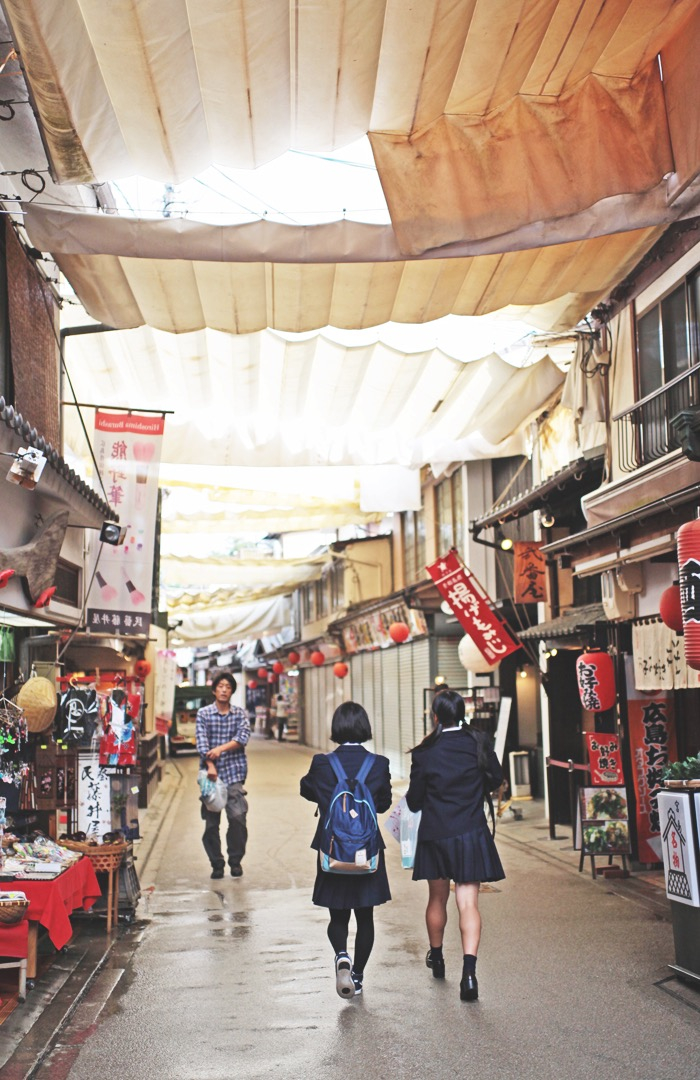 You probably know the floating torii (often used on flyers): seeing it irl is incomparable. You really feel tiny, and blessed and lucky and moved all at the same time.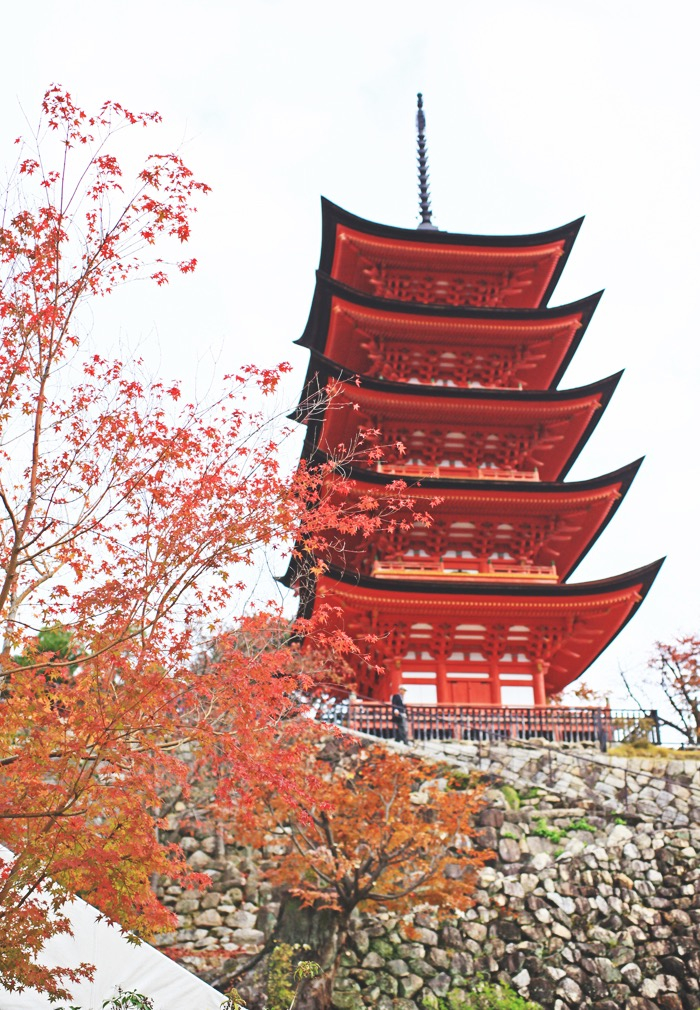 Gojunoto pagoda

A bit of history here: according to the shintoist ritual, it's forbidden to be born, to die and to cut down trees on this sacred island.
I was born in France and I didn't bring any chainsaws with me on this trip, so two of these rules seem easy to follow.
As for not dying on the island, I'll just have to be careful (then again, if you die inadvertedly on the island, what kind of punishment could you get? Does the punishment follow you up above?).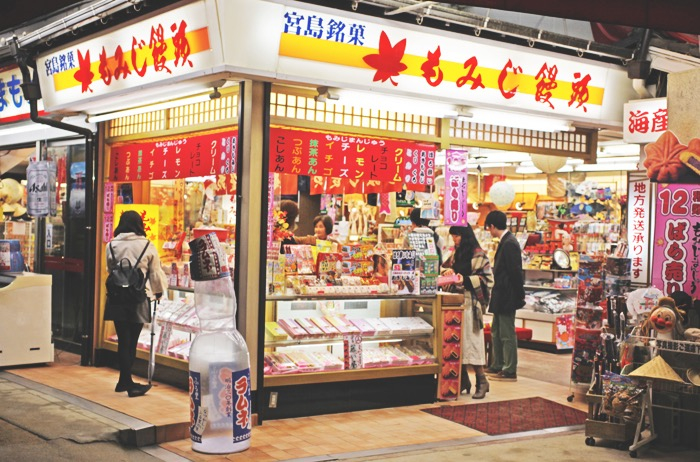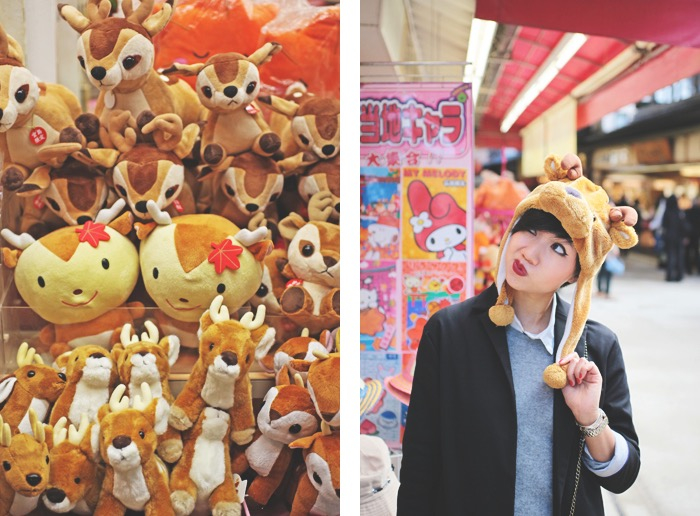 There are quite a number of four-legged inhabitants on this island, and they mingle pretty easily with the two-legged tourists. Some of you will inevitably think of Nara, the deer-city. You can choose to bring a couple of stuffed animals back from your trip, that you'll find in most of the town's shops.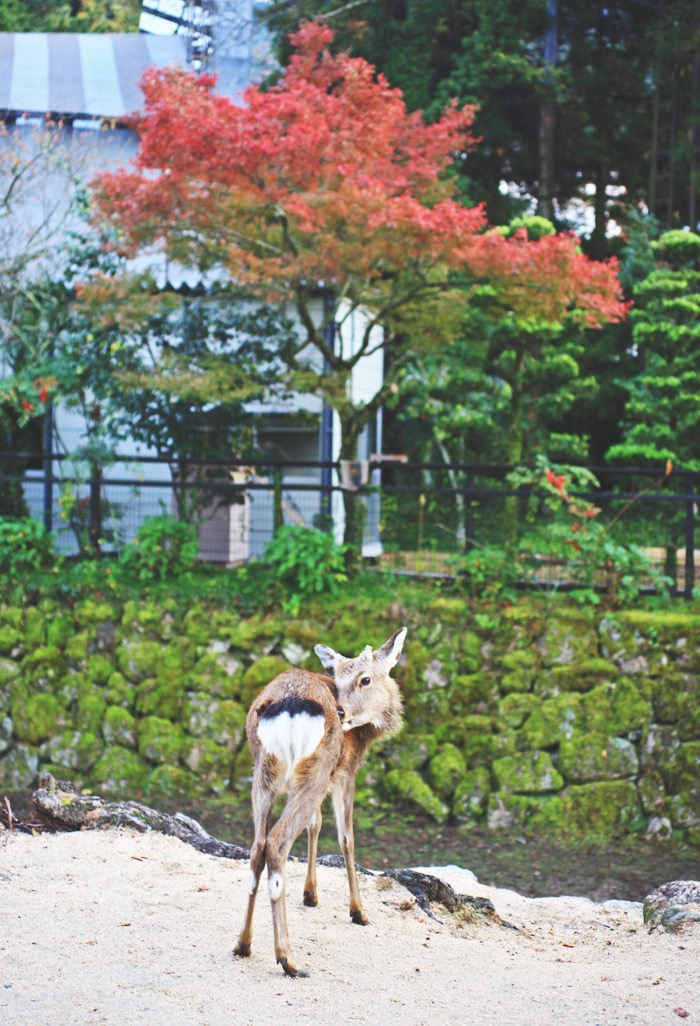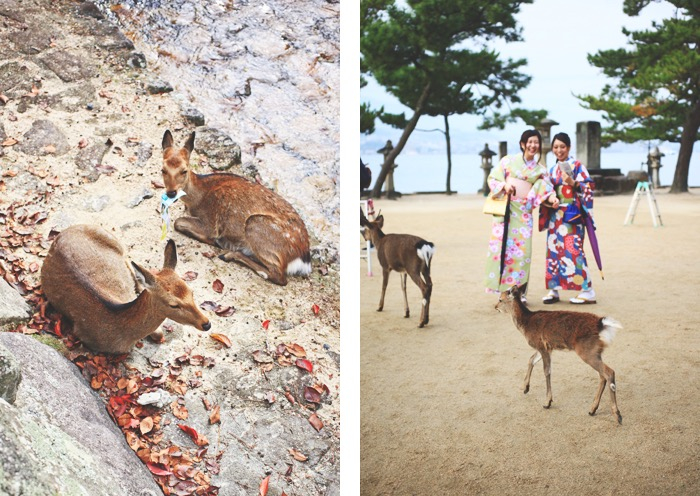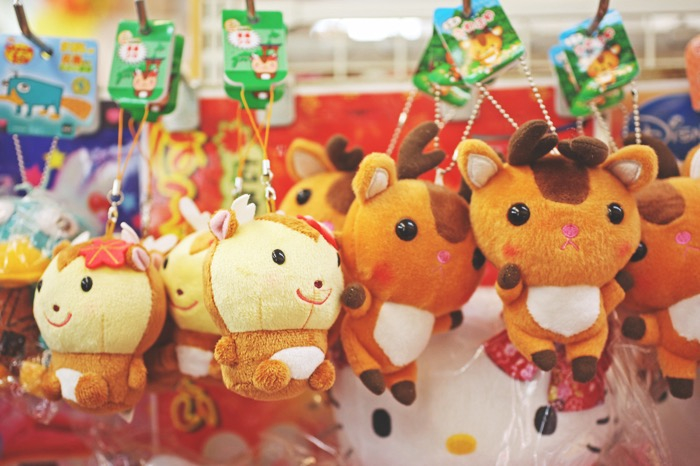 The island's other specialty is it's crafted rice spatula (they even have a giant version in the street): not sure if it'll be enough to spark your interest, but I brought one back, and it'll be a big help for my daily dose of rice (hahaha, I'm so cliche!).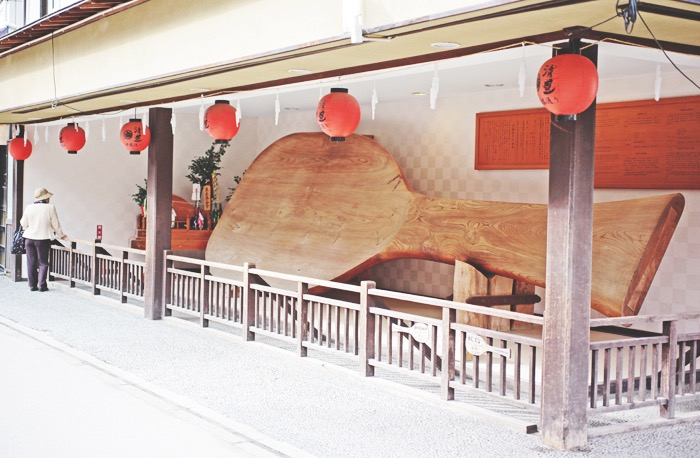 Watching the sunset on the big Torii is probably one of the most romantic things that you can do on Earth (which is why there are no pictures of abovementionned sunset in this post : we were totally unplugged for a couple minutes there)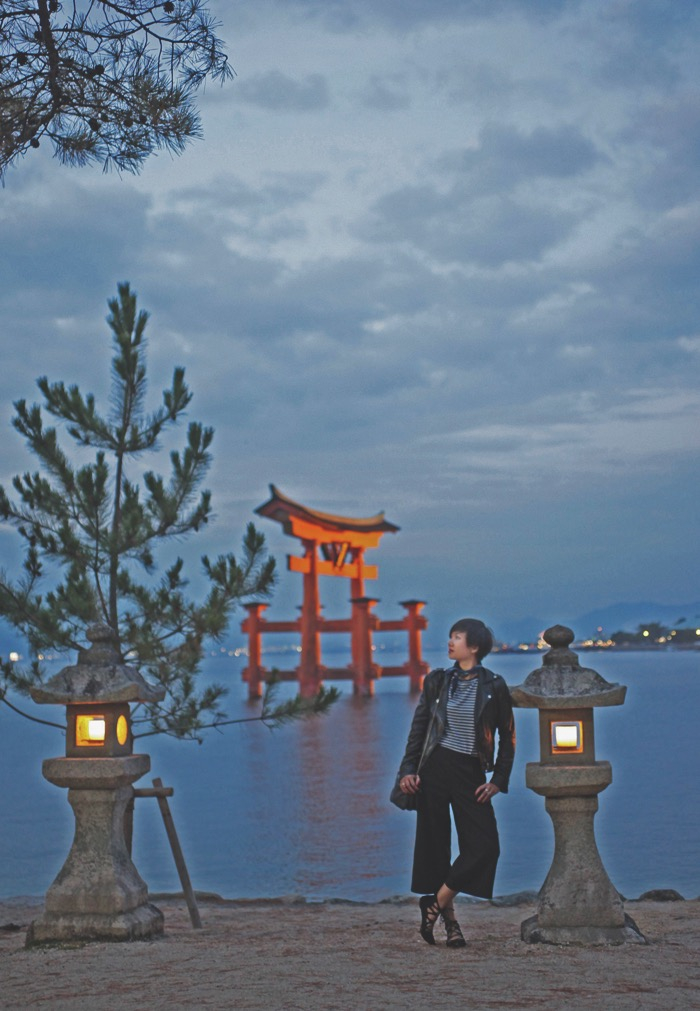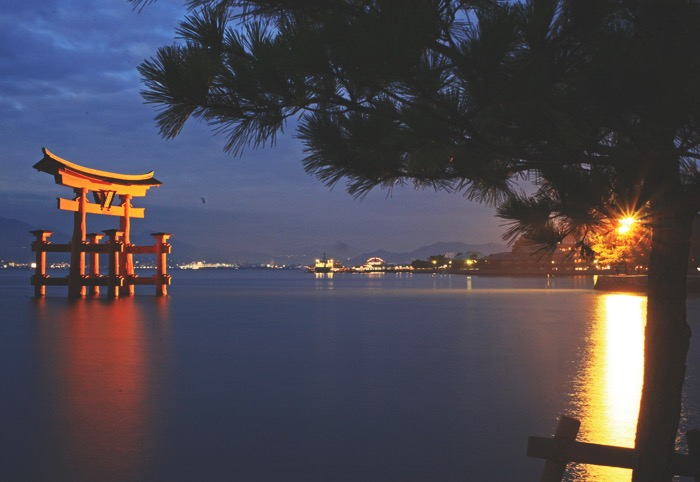 Yummy local specialities

WARM OYSTERS

Tons of streetfood, and more specifically the delicious curry oyster fritters that we couldn't help but try when we arrived (and that we enjoyed again the next day).
Miyajima is all about the oysters (though they are rarely eaten raw). You can easilly have them on the street, grilled, on skewers, breaded…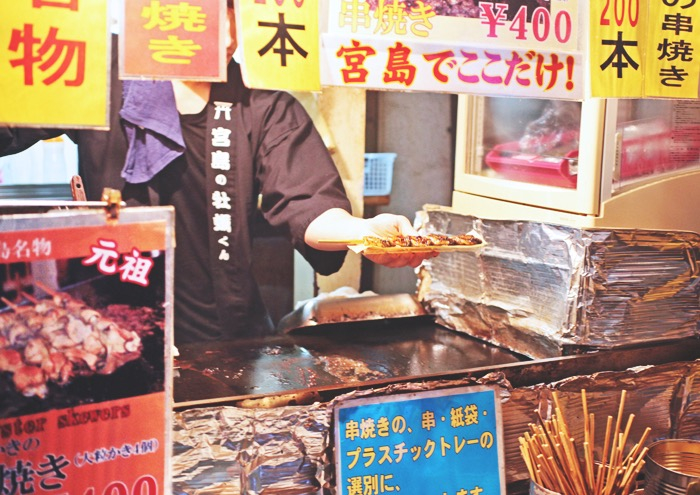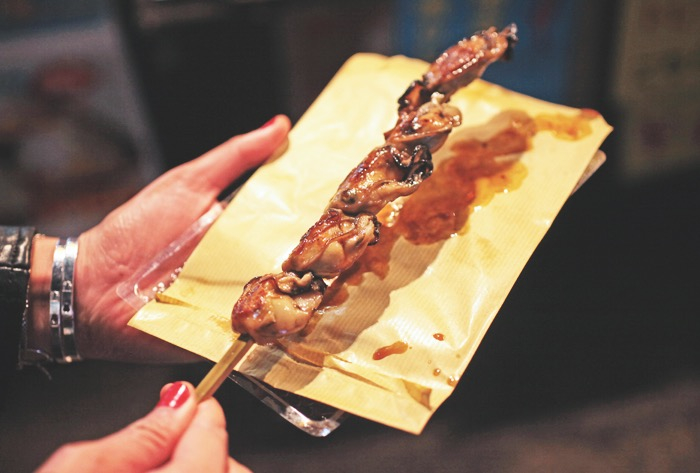 We had dinner in this nice little restaurant : MIYAJIMA SHOKUDO (590-5 Miyajimacho, Hatsukaichi) where we had especially good oysters, in a cozy atmosphere.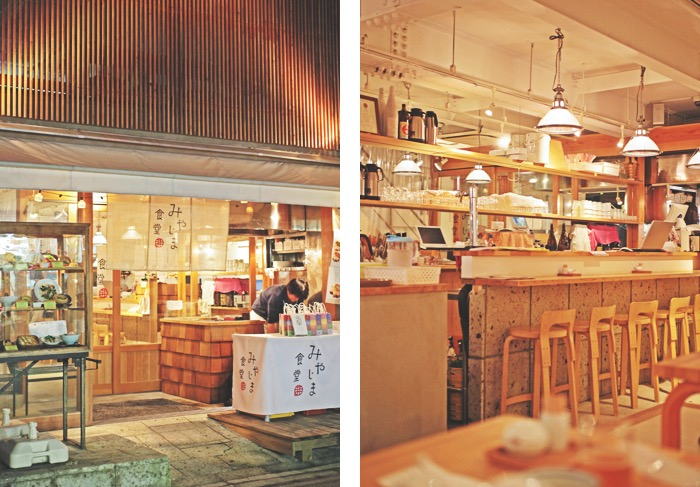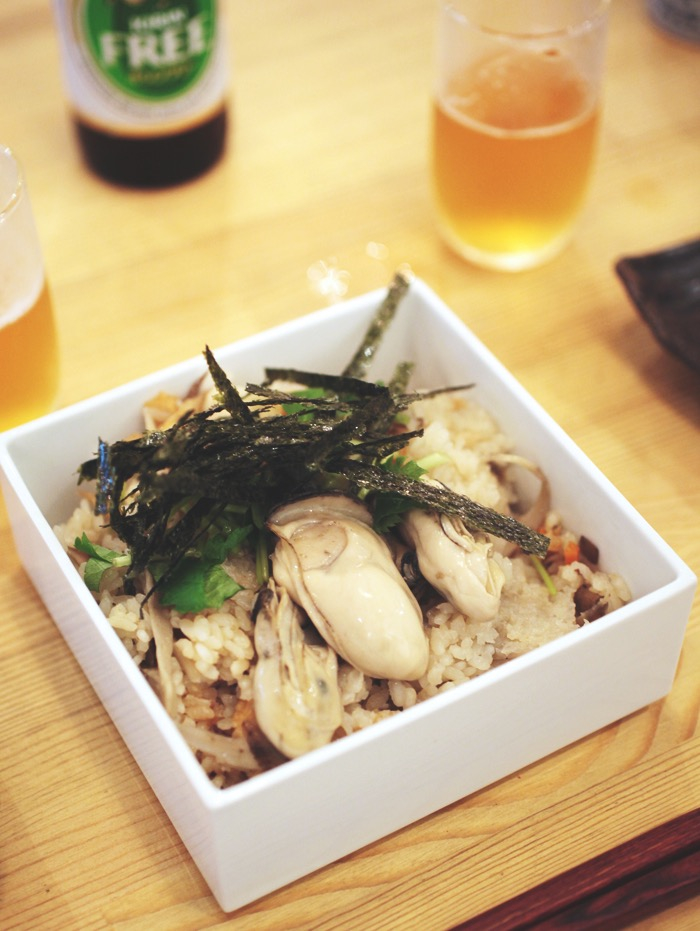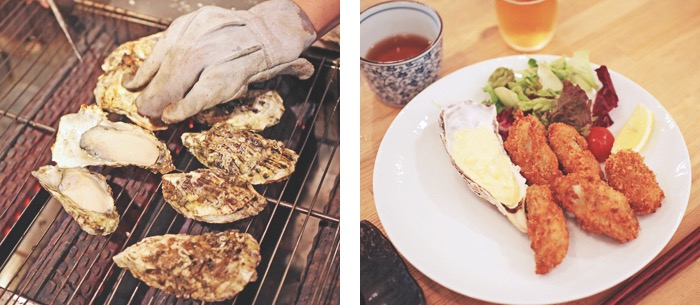 MOMIJI MANJU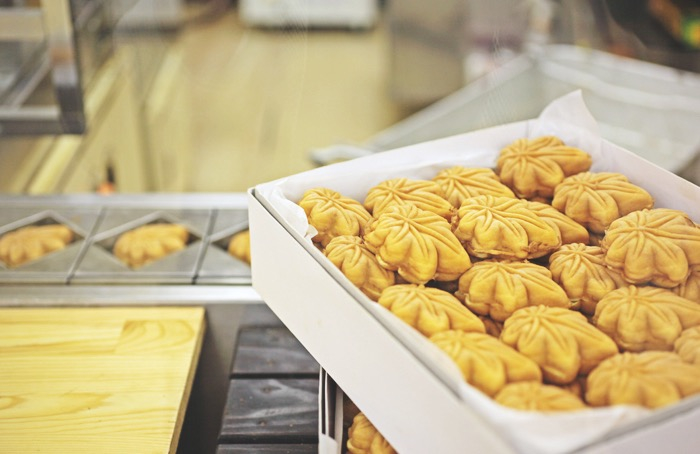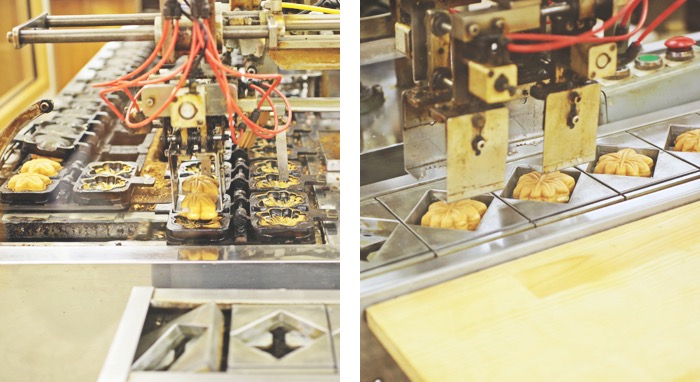 Quand modernity meets tradition…

The island's famous cake – in form of a maple leaf, habitually stuffed with red bean , but also sometimes with ice cream, custard, cream cheese… there is no limit to creativity! You can even find fried versions (which we happily tried – double calorie intake!).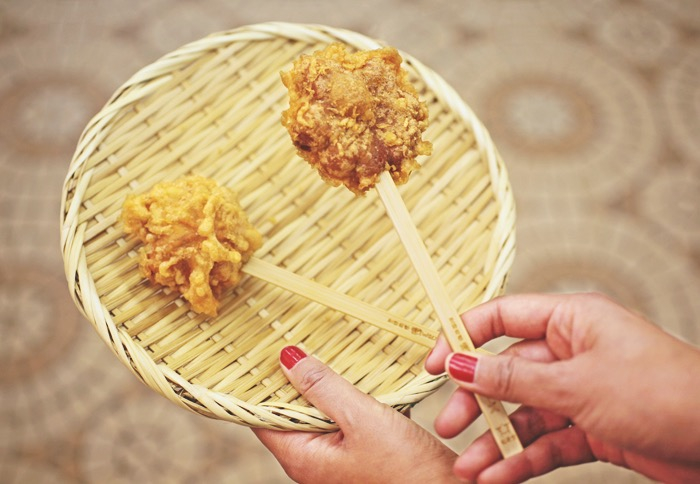 Fried Momiji manju

The classic momji manju looks something like a hybrid between a stuffed limp waffle and cake. Nothing too extravagant, but with the little crispy coating, it's an easy snack ("crispy addict" forever)
So here's a first overview of the Miyajima island; next up, we'll go on a rather intense hike. Take your sneakers, I'll let you choose which ones you want to slip on for this next chapter! (English translation by Marine)