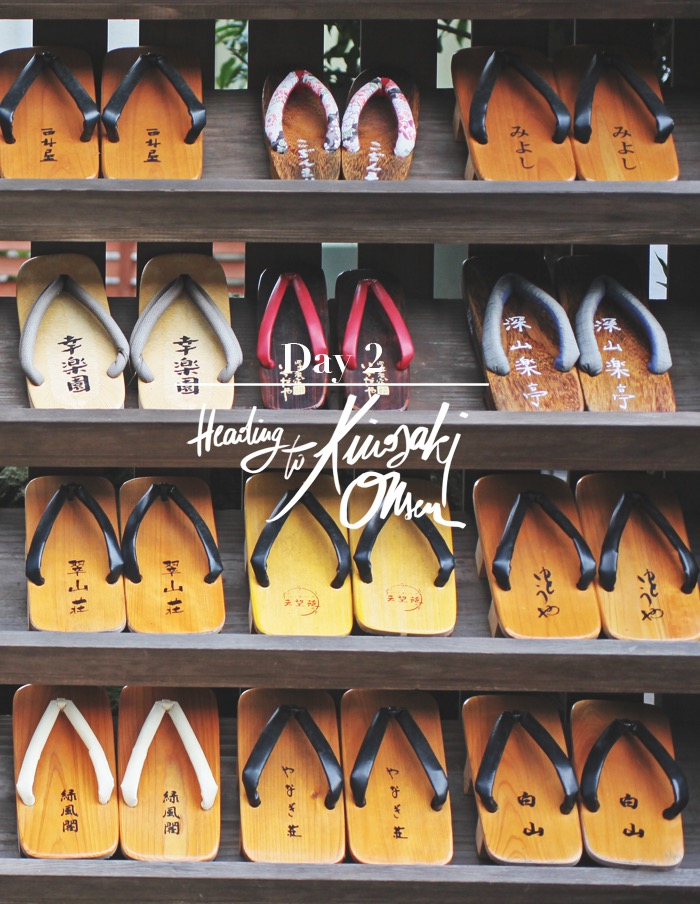 I noticed you enjoyed the bike ride in Kyoto… no time to rest, tomorrow we're taking the train (it's a 2h30 long ride with a change in Fukuchiyama) to spend 2 days in the thermal city of Kinosaki Onsen.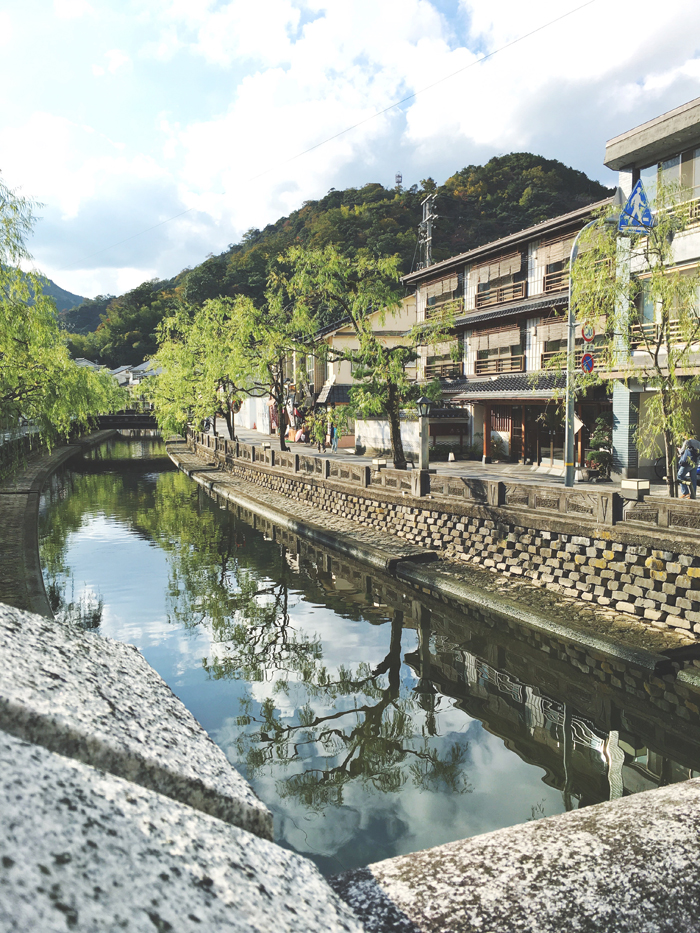 I hadn't been able to "experience" Onsen (=hot bath with volcanic water) during my previous japanese travels.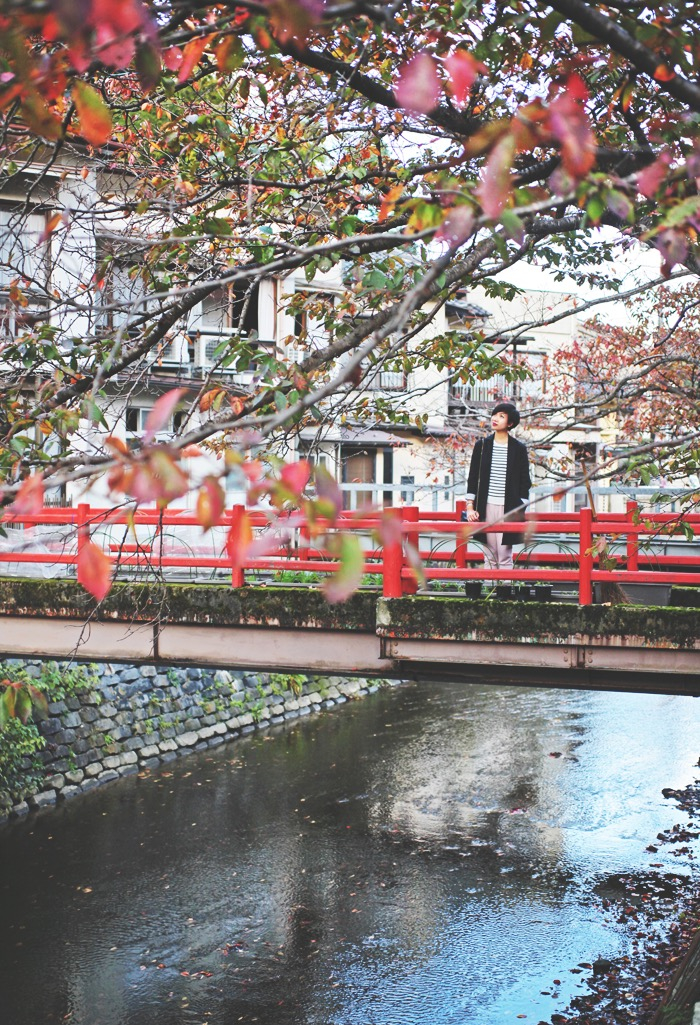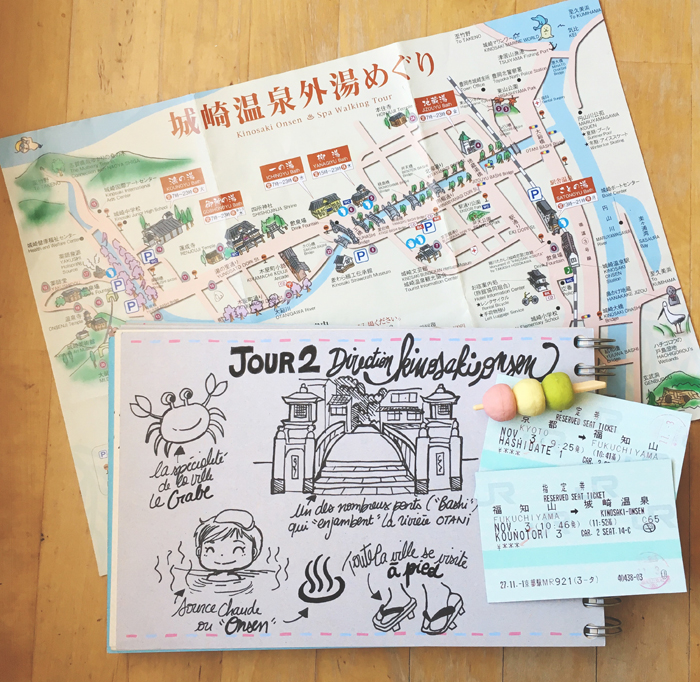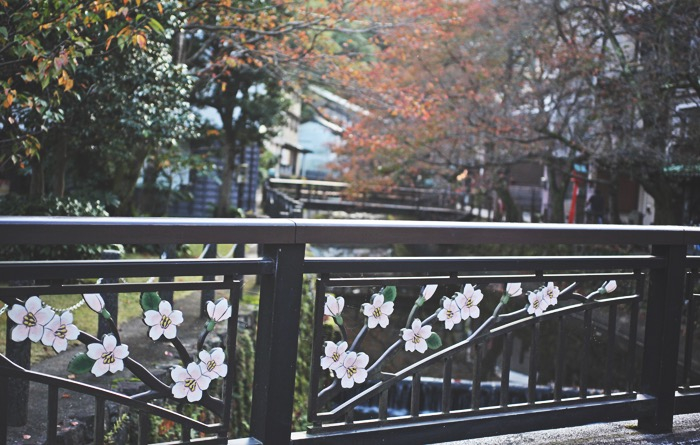 So this time we wanted the whole deal, and booked two nights in a ryokan (a traditional japanese inn) and Kinosaki was definitively one of my favorite japanese destinations: a real change of scenery, lots of peace and quiet, a rather unusual experience, but an authentic atmosphere, even more so than in Kyoto and Tokyo.
Discover Kinosaki
We arrive late in the morning and immediately head off to collect the keys to our room, but it won't be ready until this afternoon. No problem! We'll take the time to explore the city!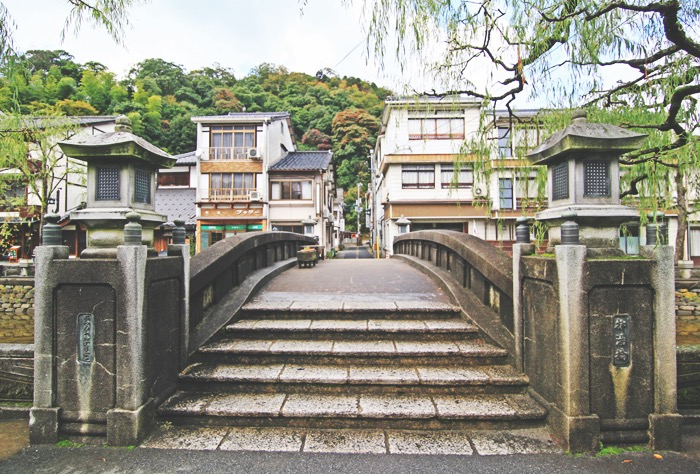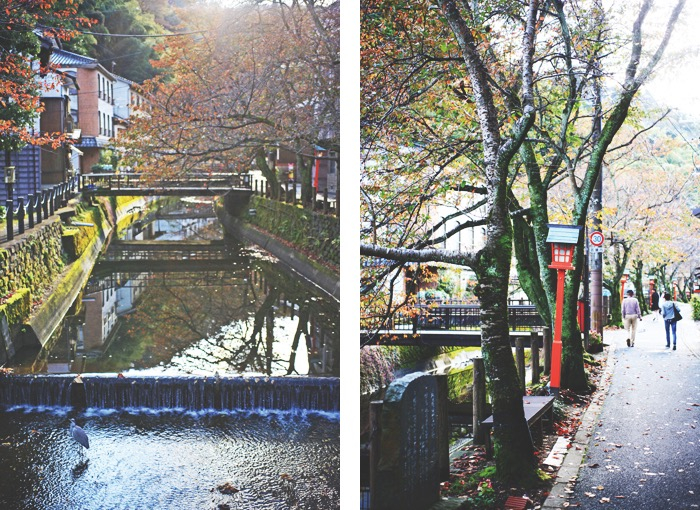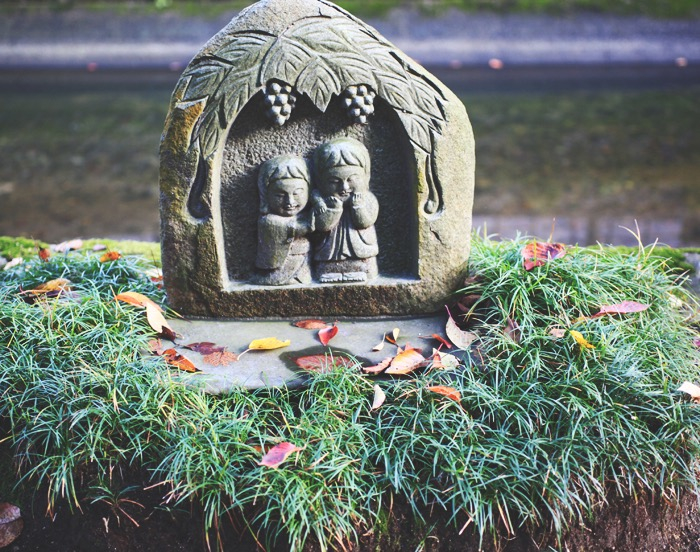 Kinosaki is teeny-tiny, and can easily be visited by foot in one day. But the main attraction of the city are the 7 public baths : each one has it's own atmosphere ("Kinosaki Macumba club, 7 rooms, 7 atmospheres") … but more on the "onsen experience" next time, because there's a lot to be said on that particular subject, you'll see!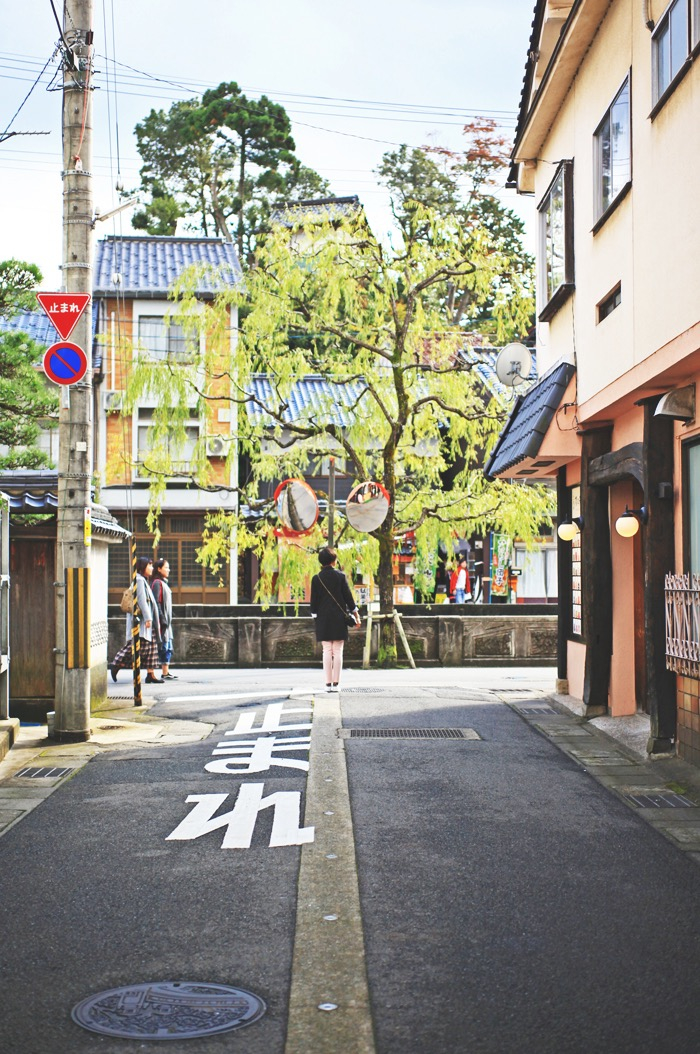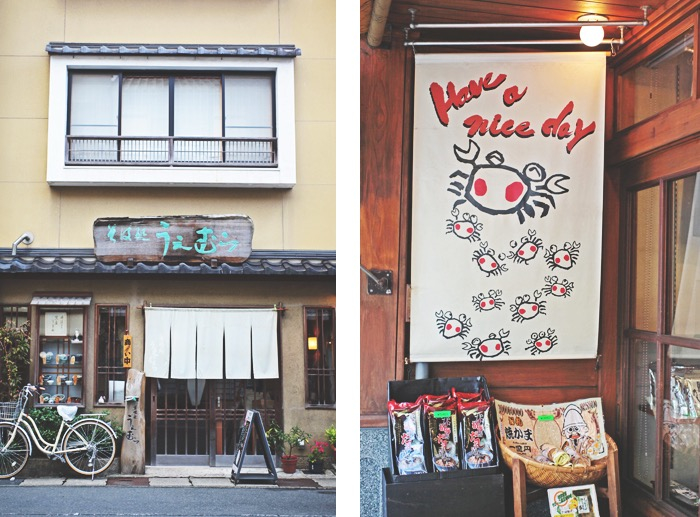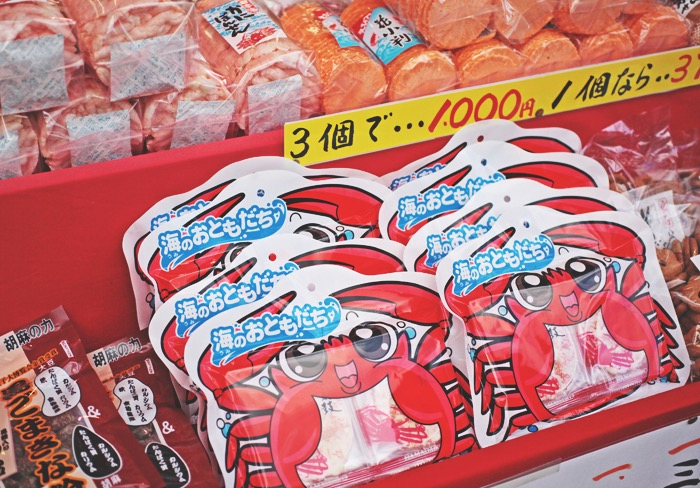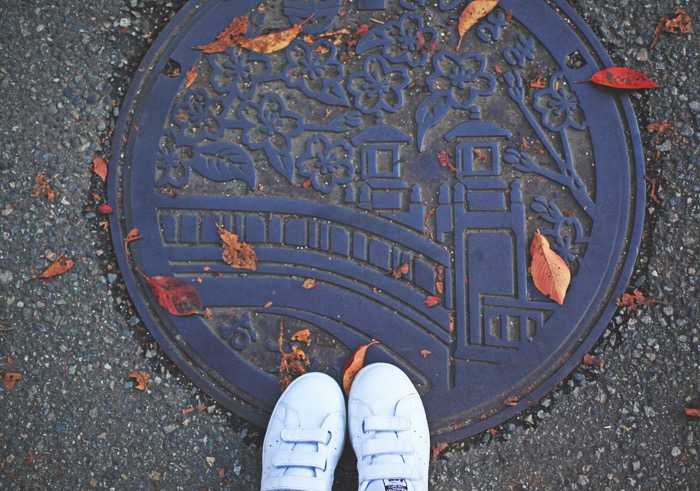 I believe summer is the most touristy season. Hence we were lucky to be able to enjoy the city with just the right amount of crowd: not too much, not too little.
We walked along the Otani riverside a number of times during our stay.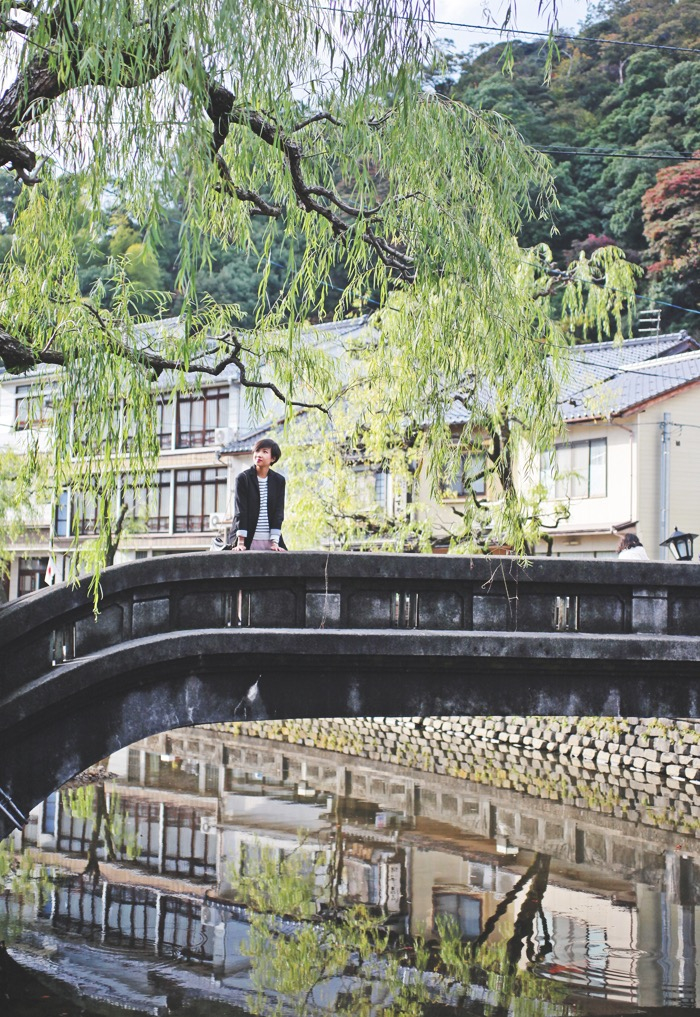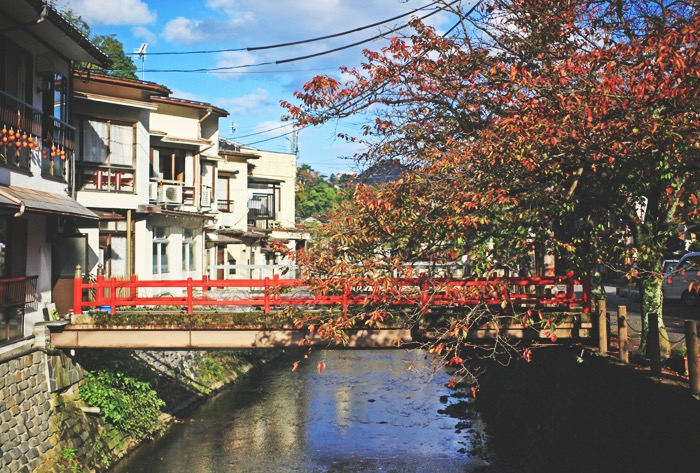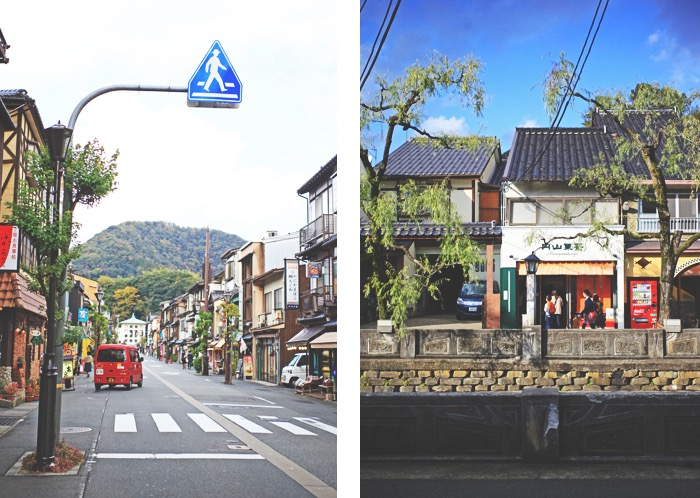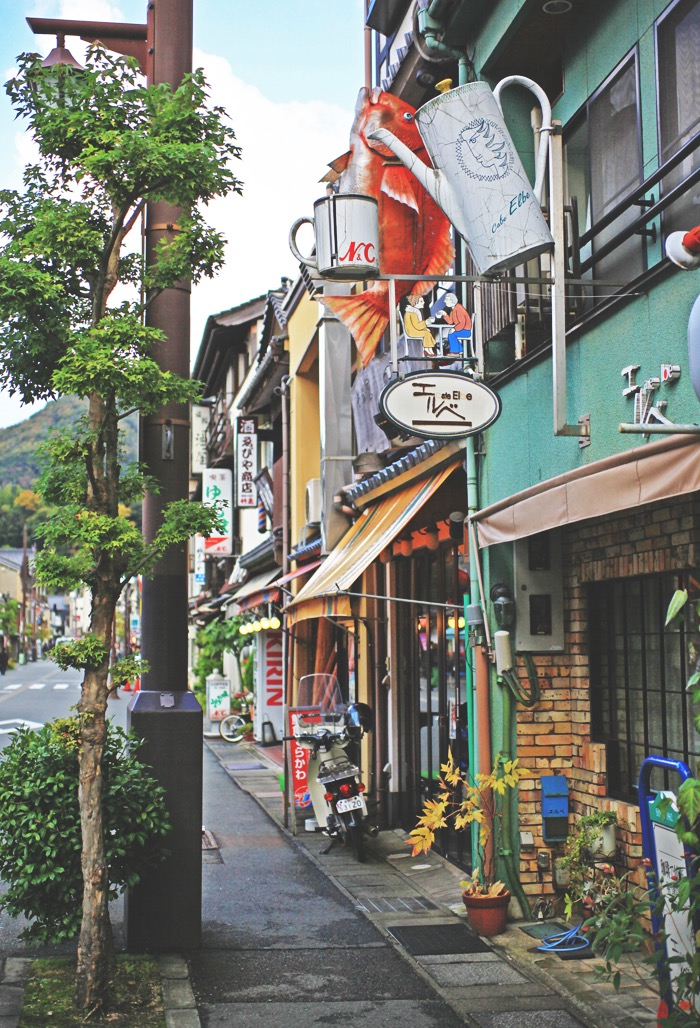 The area is lined with restaurants, cafés, and souvenir shops. People are calm and welcoming (like everywhere in Japan you might say), and their specialty is crab.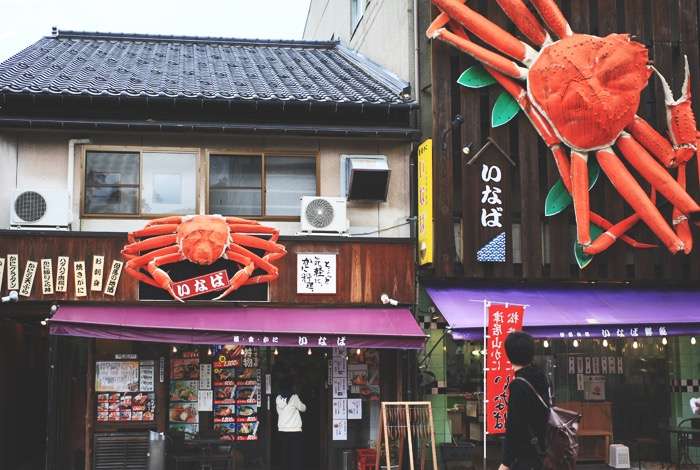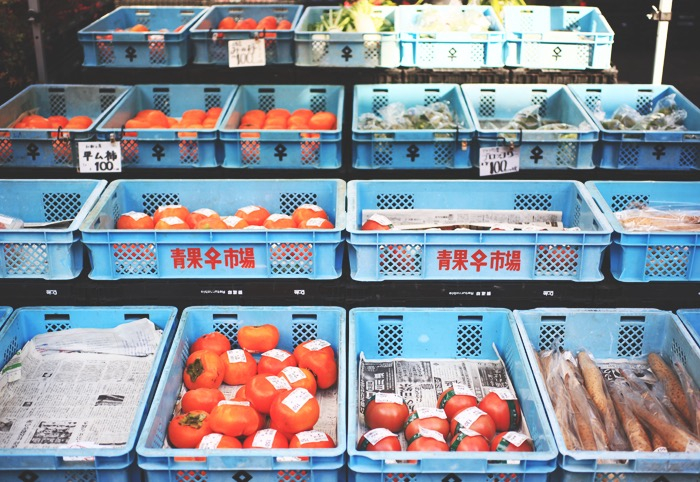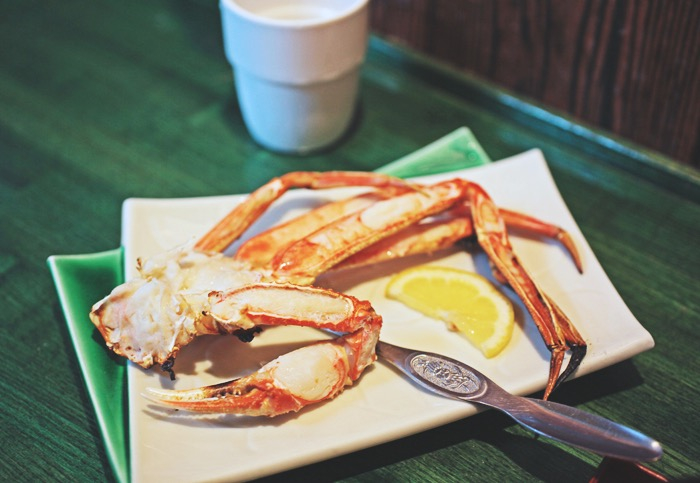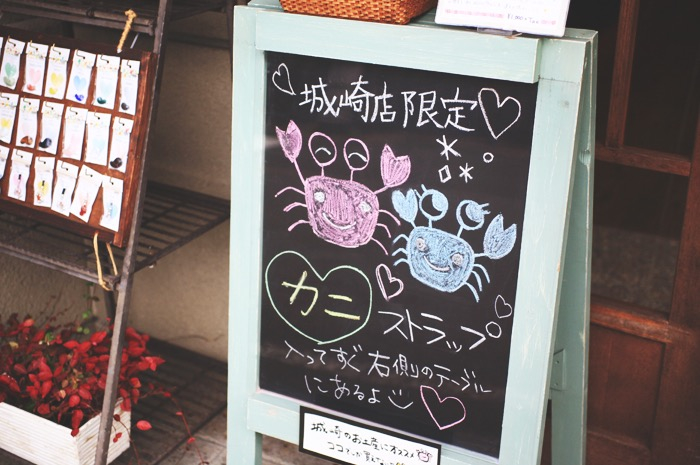 MIKIYA Ryokan

After this quick walk, we're back at the Mikiya ryokan for our room. After our first "traditional stay" experience in 2014 in Ise, we were curious to try again.
Hiro the receptionnist welcomed us with a surprisingly good english (I already told you that few Japanese actually speak another language than their own, right?) which will make things much easier.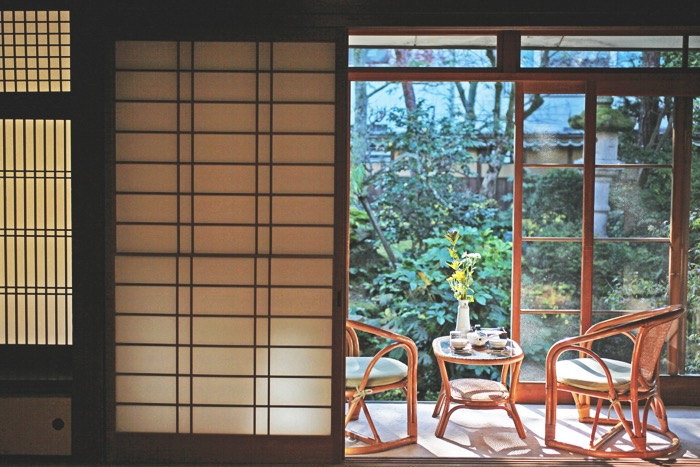 Something new compared to last time: we are offered to choose the yukata who will accompany us during our whole stay : with flowers, red, blue, green … and then the color of the obi (belt). What suspense! I'll show you the "chosen" yukata next post (but it's all simple!).
Hiro explains that we can wear it while walking in the street, and to go from onsen to onsen. I'm excited!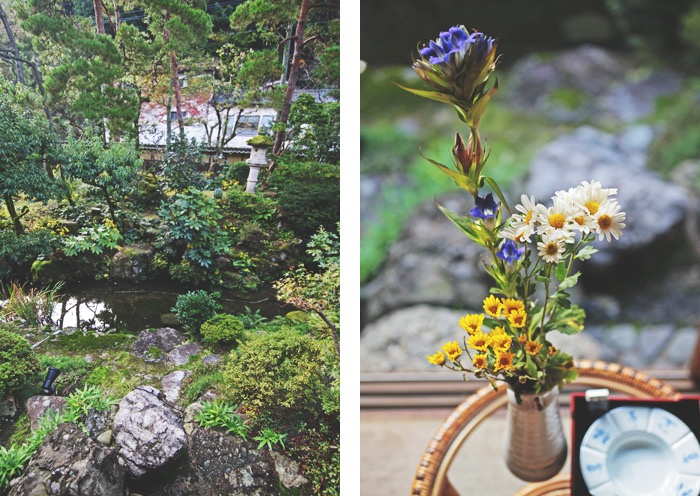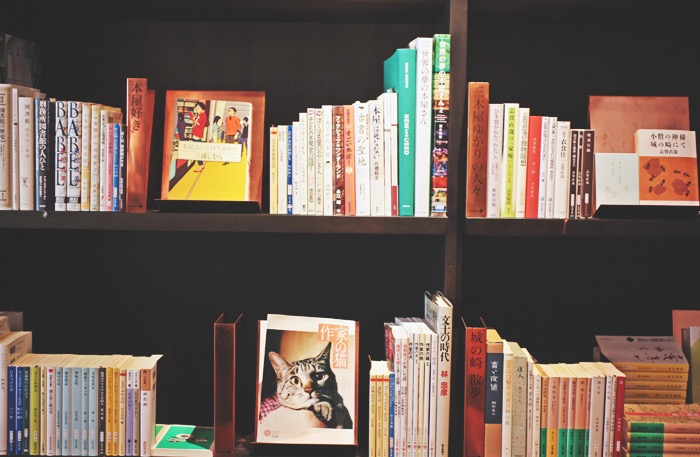 Meanwhile we discover our room: just like last time, the futons will be set up on the tatamis at nightfall. We have a most peaceful view.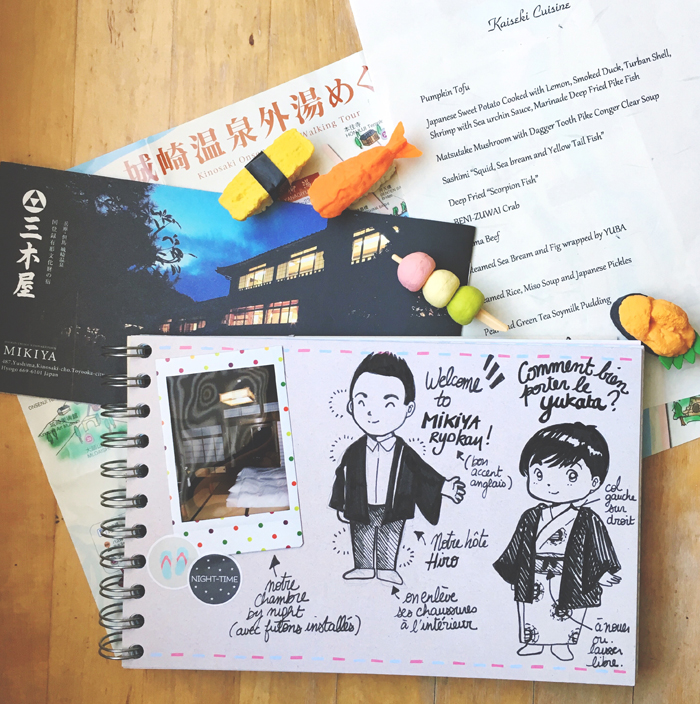 Hiro reminds us how to wear our yukata according to the japanese etiquette (left over right (the other way is for dead people = might depend what you're into right …), knot in the back (an easier version than last time = pfiou, I'm relieved, I didn't remember how to do the other one), small jacket if it's cold, to be tied at the front or not …)
Here you can see my indoors outfit, that I used as a pyjama, in order to sleep according to the proper etiquette hehe.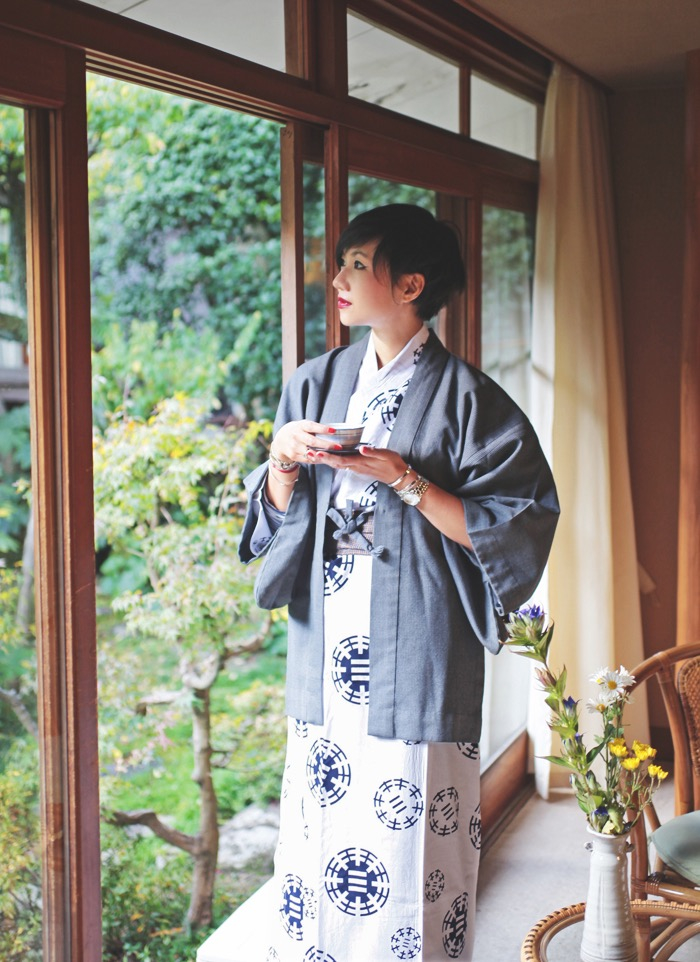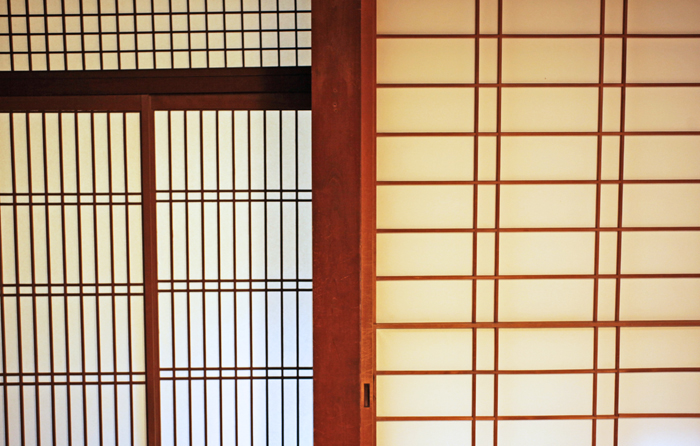 The bathroom is shared with the other ryokan guests: one for men, another for women, and a private one if you are modest, all of it in the "onsen" spirit I'll be describing soon.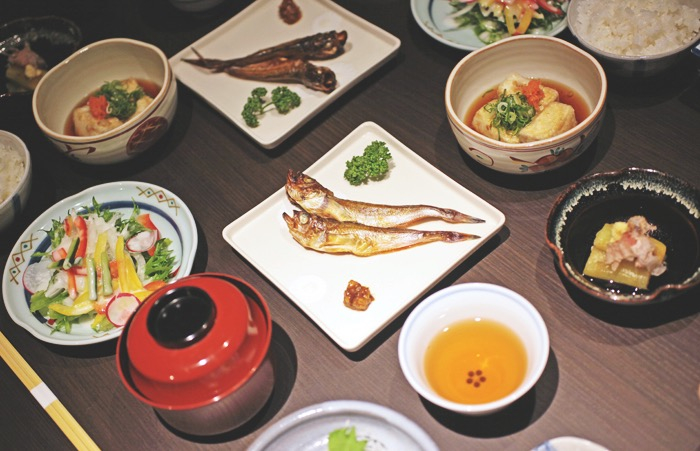 The traditional breakfasts were wonderful, although I can understand it would be unsettling for toast and jam amateurs: sweet, savory, spicy, I'm fine and delighted with it all! I especially like the hotpot cooked tofu and the grilled fish.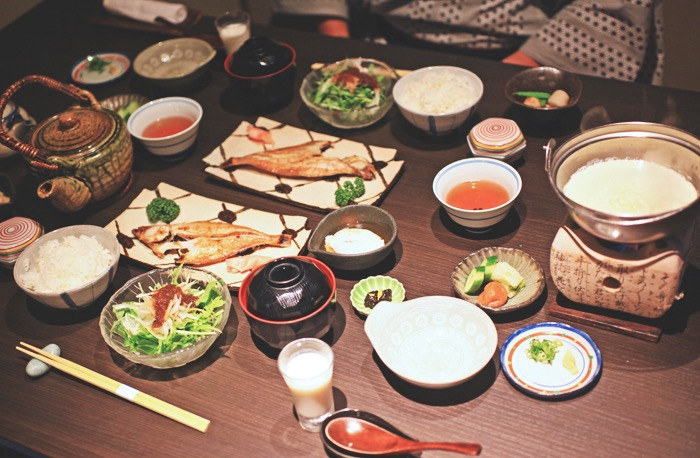 This is a breakfast

We also chose to have dinner in the ryokan once, and it was a great idea, everything was delicious : a Kaiseki meal with 10 dishes!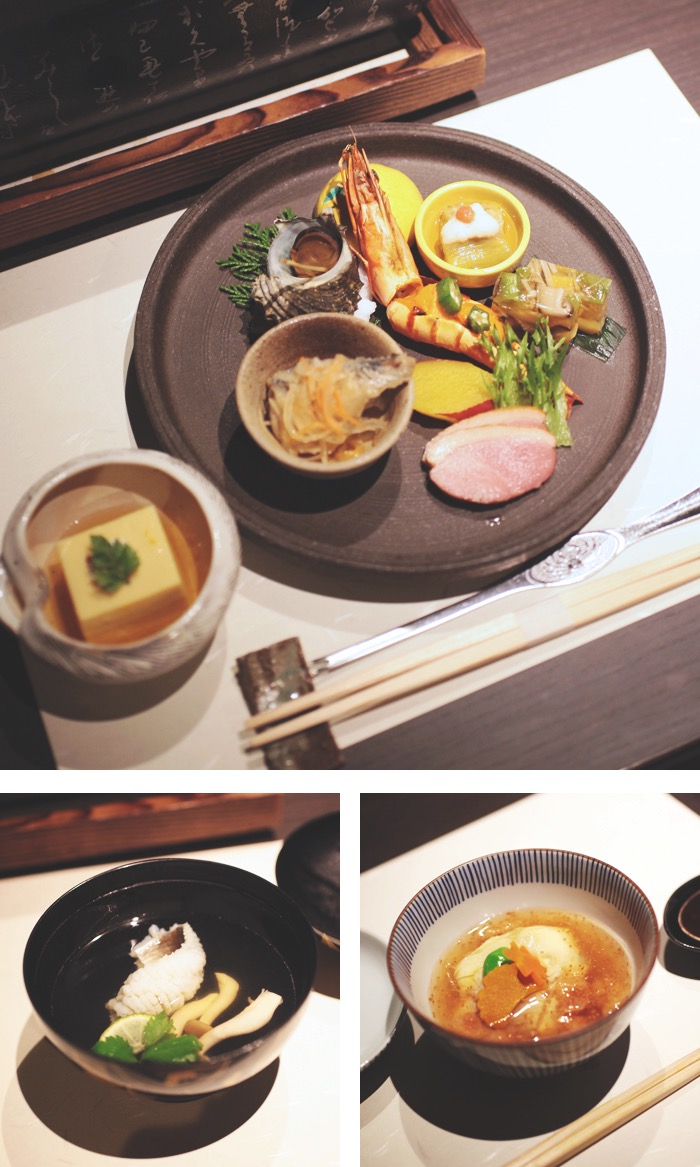 I'll let you admire it on your own: beautiful crab and tajima beef, and the discovery of the yuba (=the film that forms over tofu when it boils): interesting!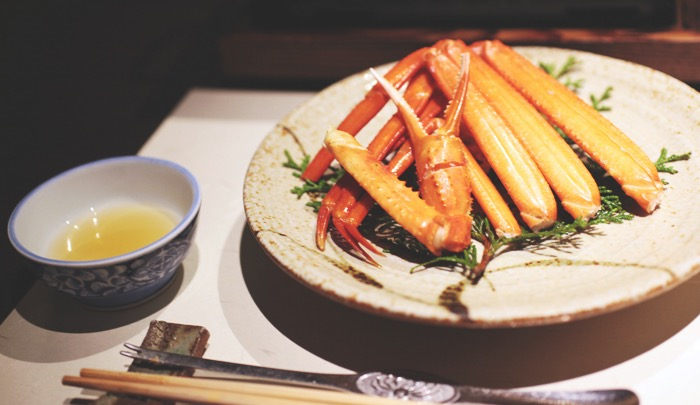 "Beni-Zumai" Crab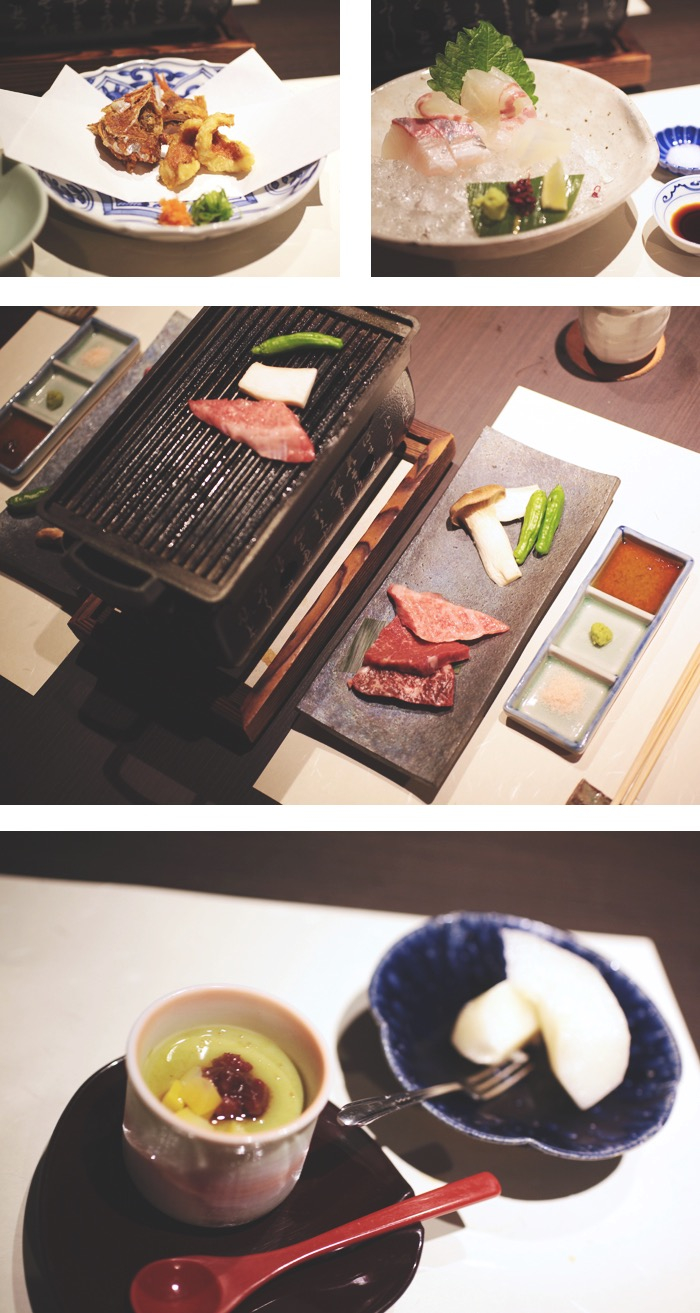 Pear and green tea soymilk pudding

Let me tell you that after all that, we just rolled back to our futon ….
Yummy addresses in Kinosaki
As you might guess, we did venture out of our ryokan during our stay (i'll tell you more next time! = what a teaser …) and we tried some places that I recommend if you choose to stop by Kinosaki. (once again, they can be easily located on my map if you click on Kinosaki).
SUKE ROKU (660-4 Kinosakicho Yushima, Toyooka)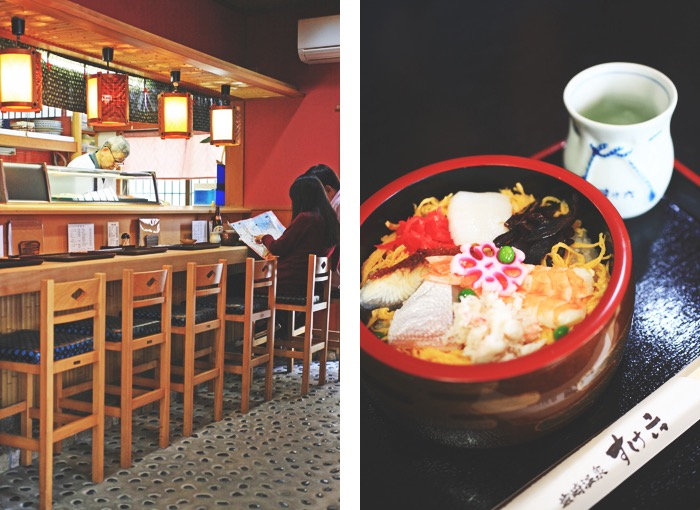 Well prepared sushi and chirashi, that you can have while seated crosslegged on tatamis or at the bar (for non-contortionists)
CHAYA KINOSAKI SWEETS (527 Kinosakicho Yushima, Toyooka)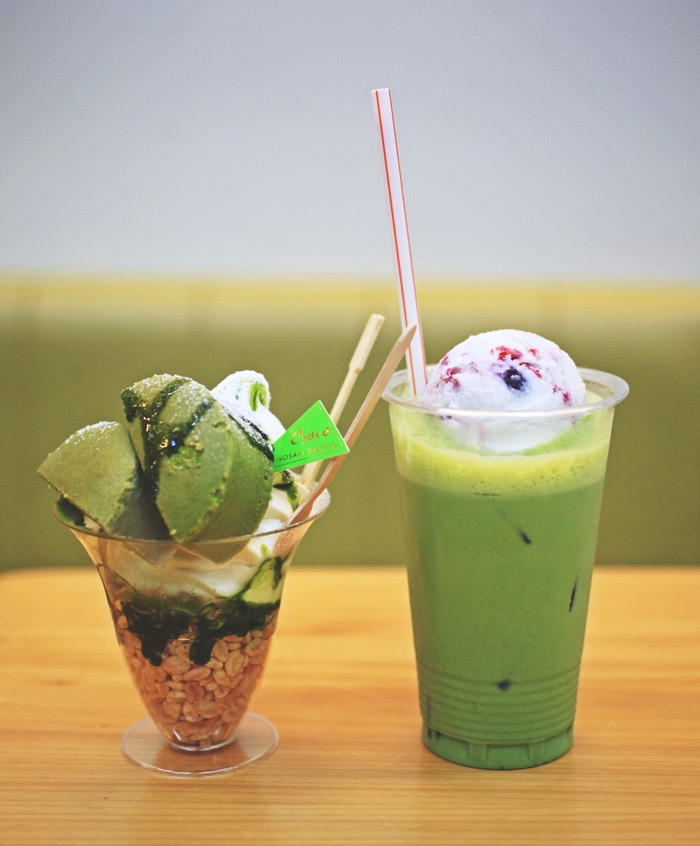 A small tea room where we had this matcha "parfait" (the "parfait" is a frequently found dessert in Japan: it's a mix of ice cream, mochis, cake, whipped cream … basically a mix of all kinds of sweets = bliss)
MASUYA (654 Kinosakicho Yushima, Toyooka)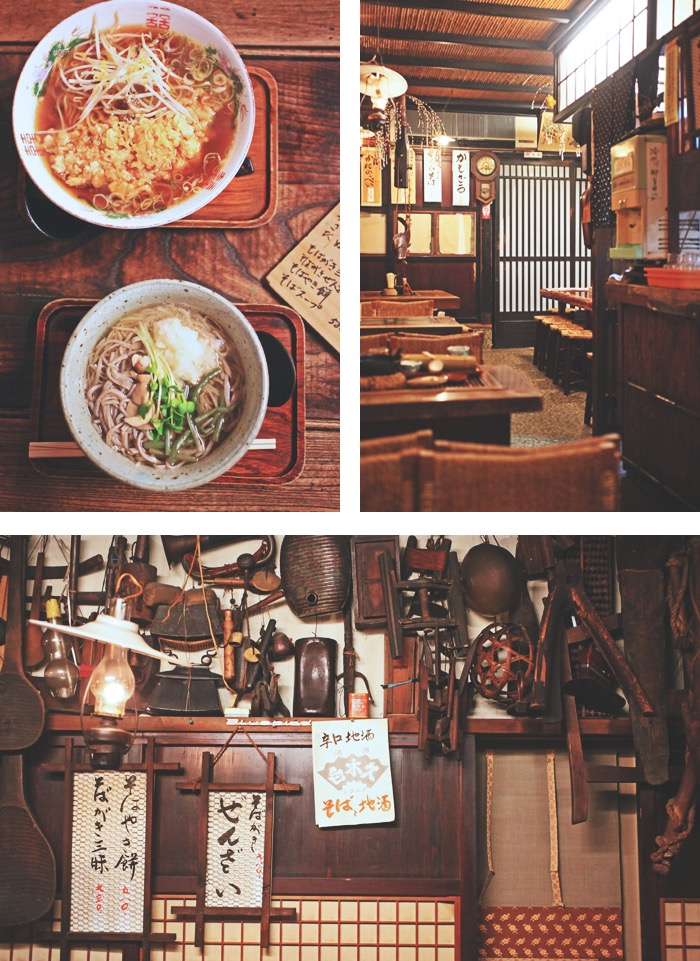 Lots of wood in the interior decoration, perfect for a good soba or udon soup.
See you next time to know all about the "onsen" baths in Kinosaki, and a little walk in gettas! See you soon! (English translation by Marine)
---
My Outfit
Coat Cédric Charlier for La Redoute
Breton shirt Maison Standards (already seen here)
Pants R Essentiel (-70%) (already seen here)
Sneakers Stan Smith Adidas
Bag Silence+Noise
Bracelets Dinh Van, Mya Bay
Lipstick « Mon Jules 430» Color Riche Matte & "Dahlia Insolent 135" L'Oréal Paris
Eyeliner Super Liner Black Lacquer L'Oréal Paris