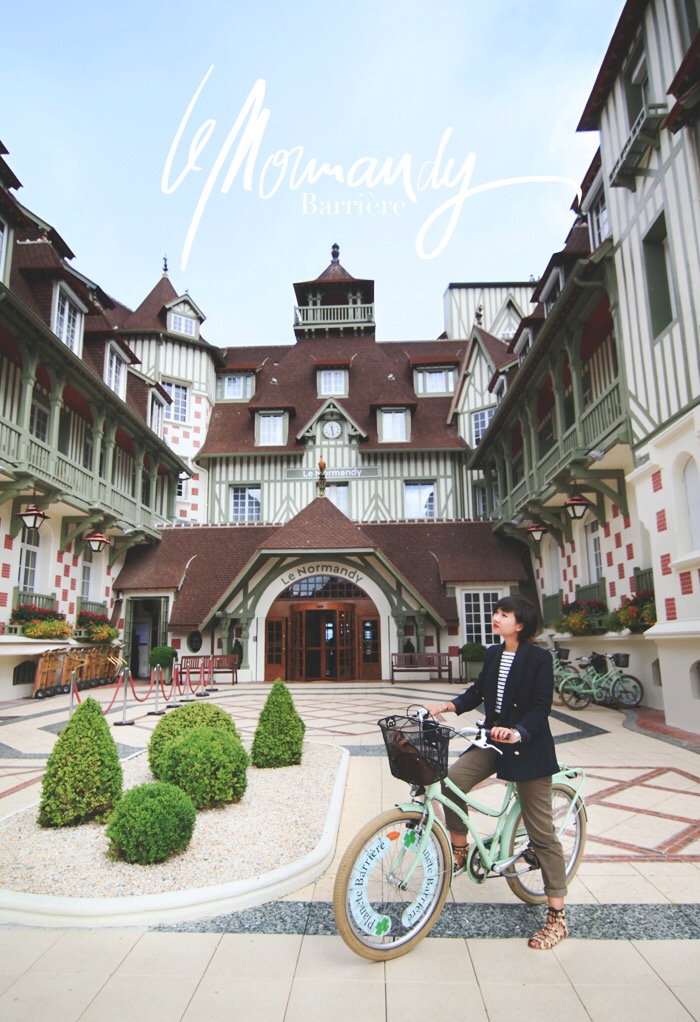 Last weekend, my SO and I were invited to spend a couple days at the mythical Le Normandy Barrière hotel in Deauville.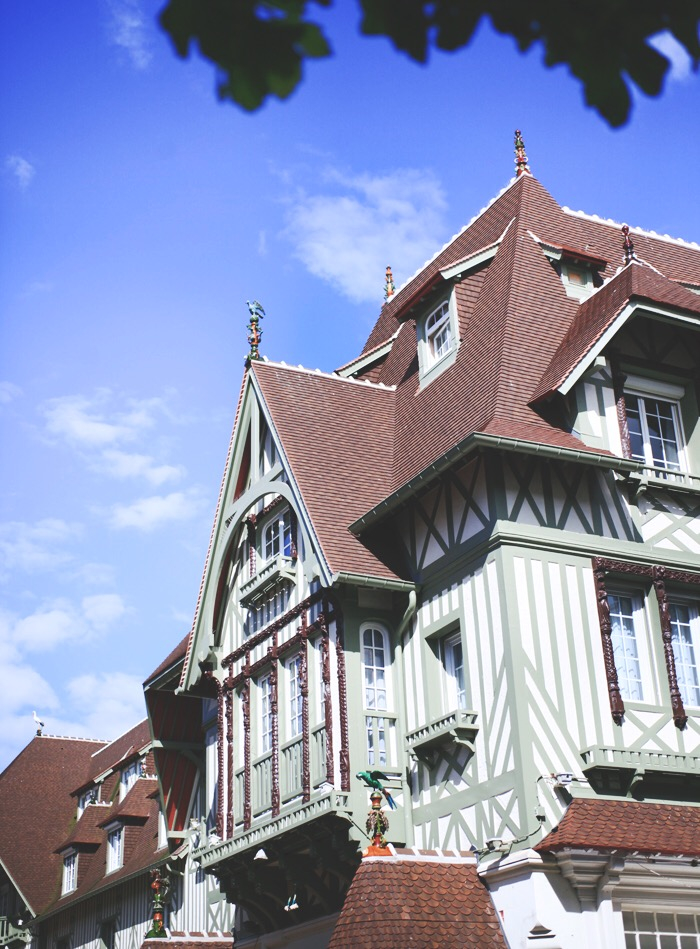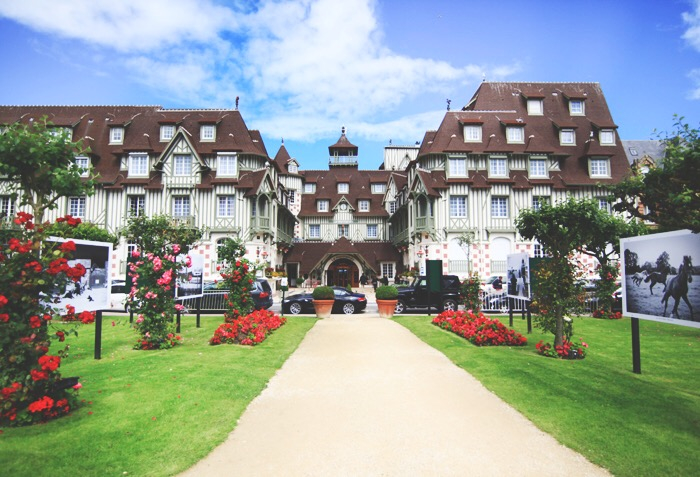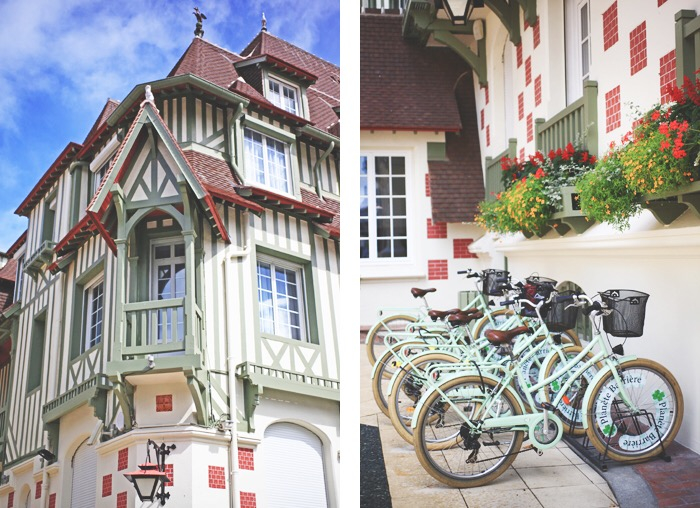 You must be thinking that I've recently been living the good life, going from horse race garden party to castle life, to five star hotels…
I must admit it's been pretty amazing – I realize how lucky I am to be able to discover such amazing places thanks to my blog. Even if luxury isn't a priority for me, I can't deny I enjoy taking a peak at what's going on behind the scenes of aesthetics.
Here's why I'll try and tell you about my stay in the sincerest way possible, so you can find out about it through my eyes.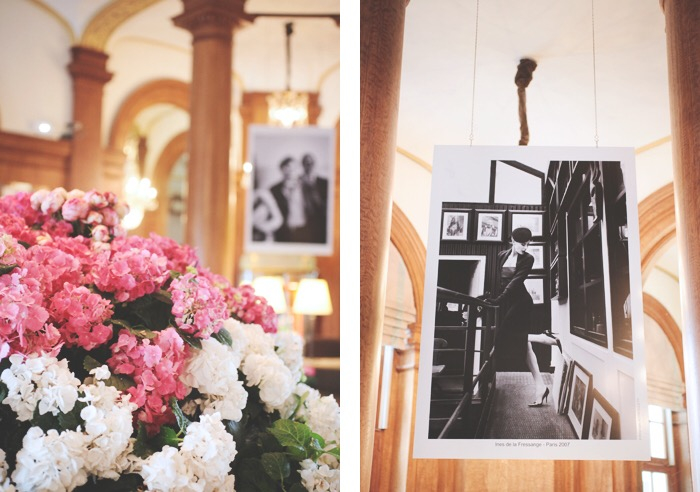 Emanuele Scorcelletti photography exhibition
We arrived on friday evening, with a chauffeur (from Paris) : it seems completely crazy, I'll admit, people must have thought we were fragile human beings haha!
But we did take full advantage of the ride and slept right through it – mouth open, head lolling from side to side – which meant we were perfectly rested when we set foot on Normandy soil.
La Belle Époque dinner

We changed and headed back down to have dinner at the restaurant "La Belle Époque", which was completely refurbished in april. The hotel got a whole 6 month long makeover.
Not having been in the hotel before, I didn't have any points of comparison, but one can only admire how beautiful the whole place is, and imagine the atmosphere in 1912, when it was built.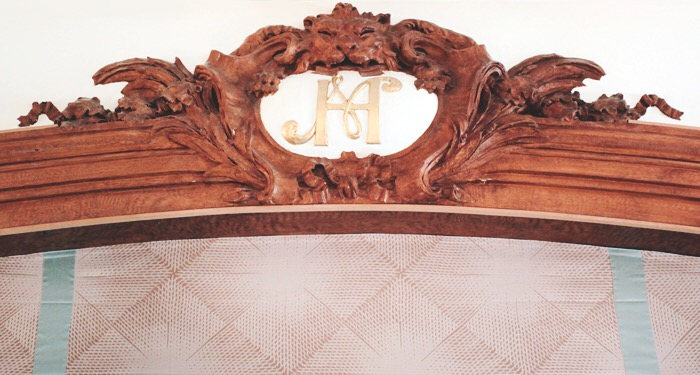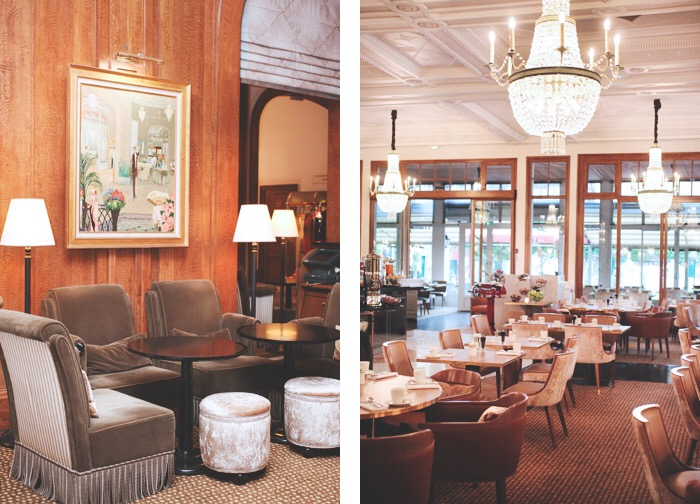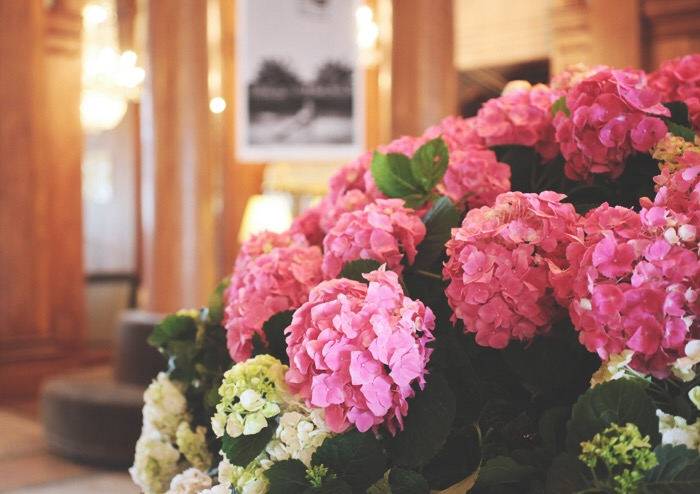 I chose the evening menu (59€), and my SO decided to choose à la carte. My lobster Caesar salad was delicious and perfectly seasoned and the Black Angus rib steak was tender (sorry you only see the latter in the background).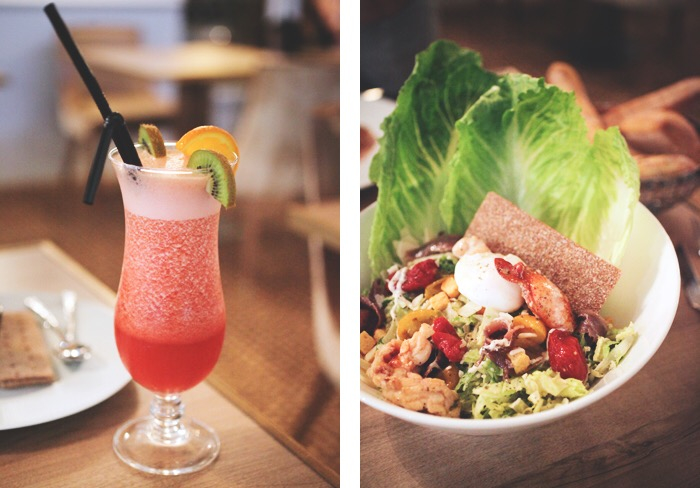 Lobster Caesar salade and yellow tomatoes
My SO was also very satisfied: white tuna ceviche with its mango, avocado, soy sauce, and poultry from Mondrainville, foie gras, apples and sauce.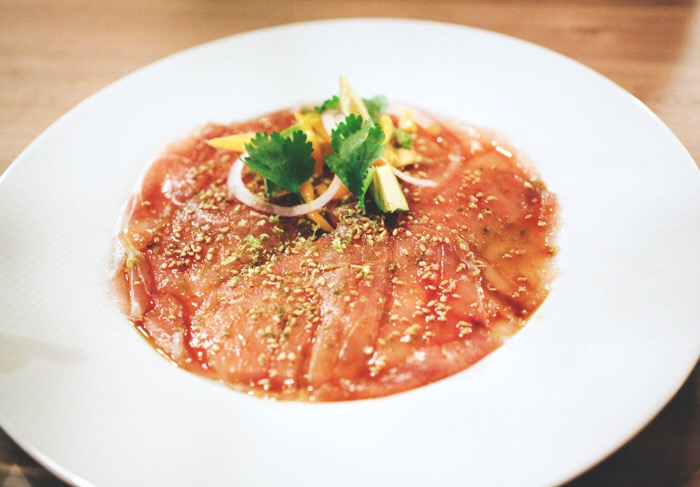 White tuna ceviche, mango, avocado, soy sauce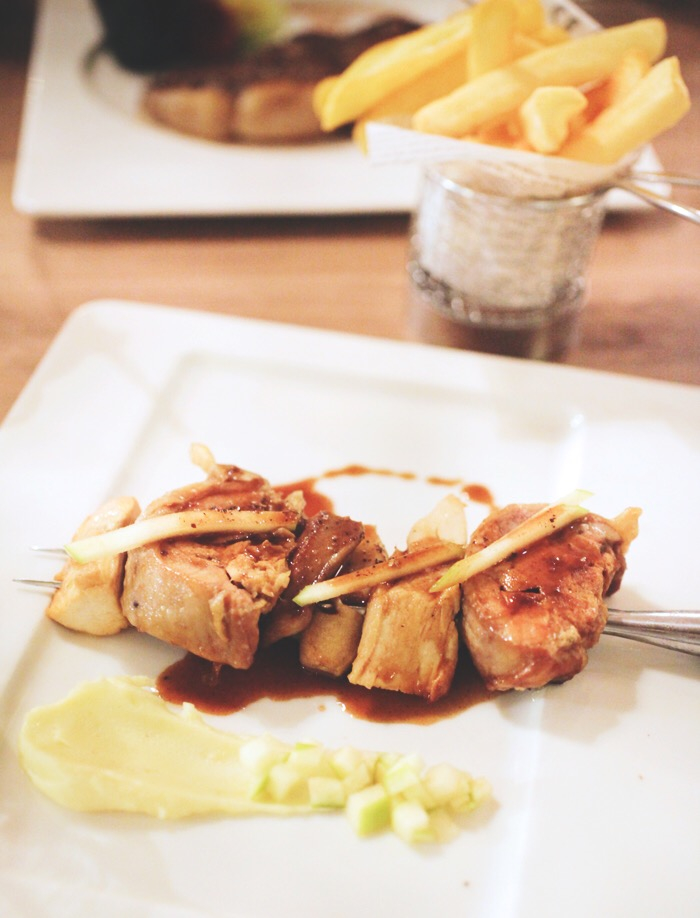 Poultry from Mondrainville
To finish our meal, a strawberry melba and tea with mignardises for two
I discovered the organic 4 berry fruit tea by Pascal Hamour. I tried a few of his teas during our stay, and this was my favorite.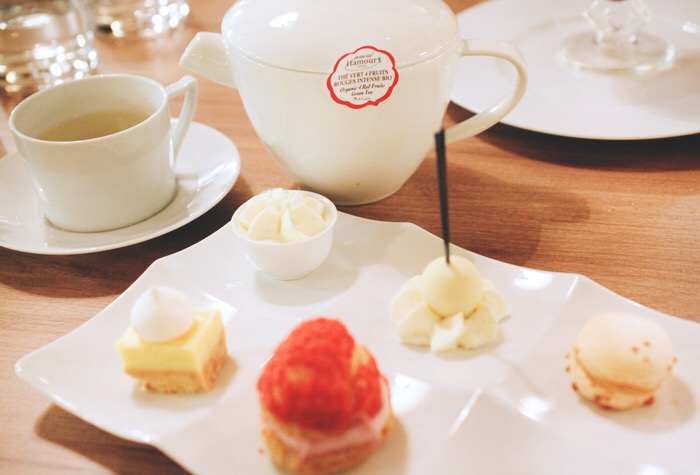 Tea with mignardises

Room service !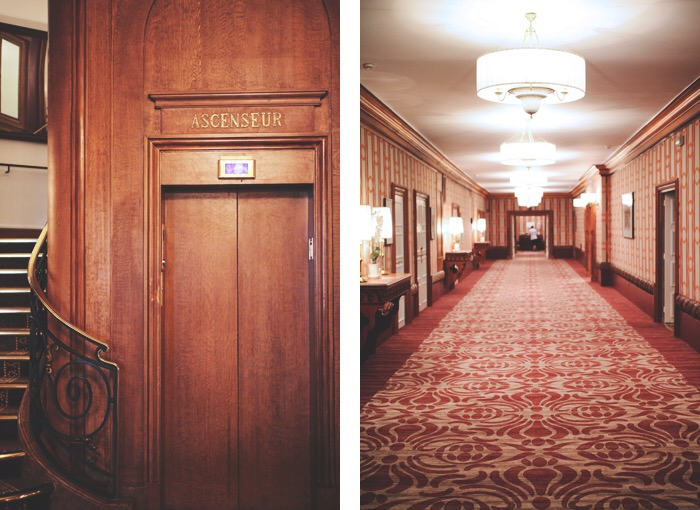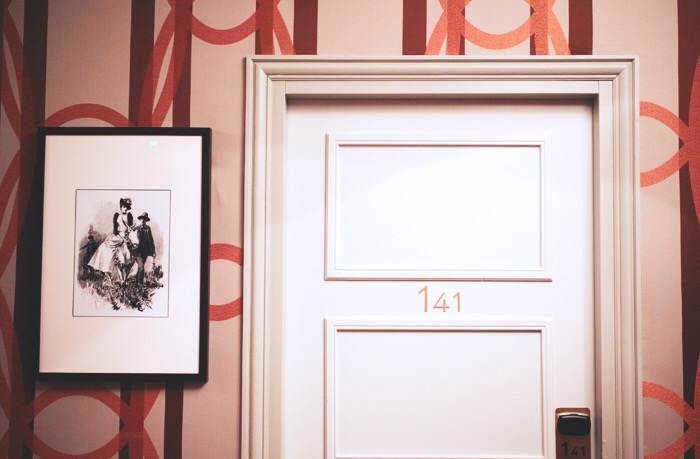 After this generous meal, I think the lift probably had a hard time bringing us back to the first floor … but here we are!
The hotel's corridors are very Disneyland-like (please note my impeccable architectural and historical references!), with period engravings and pictures.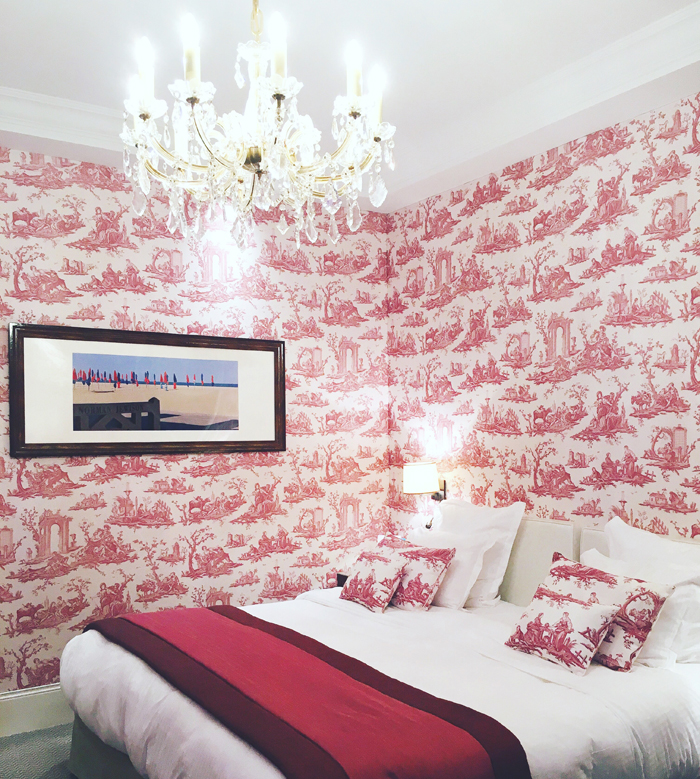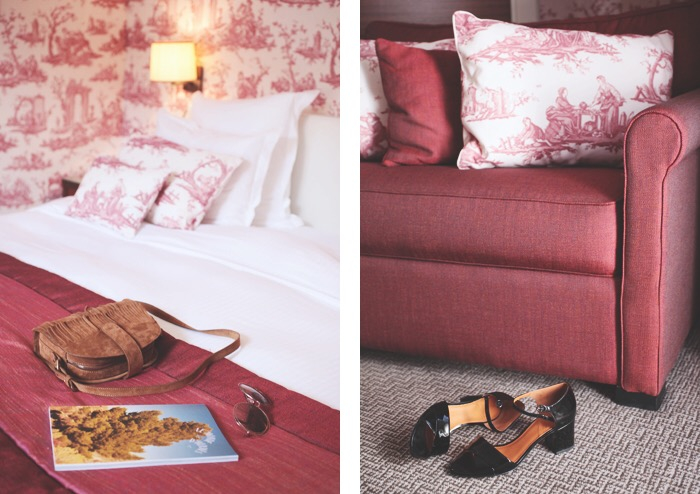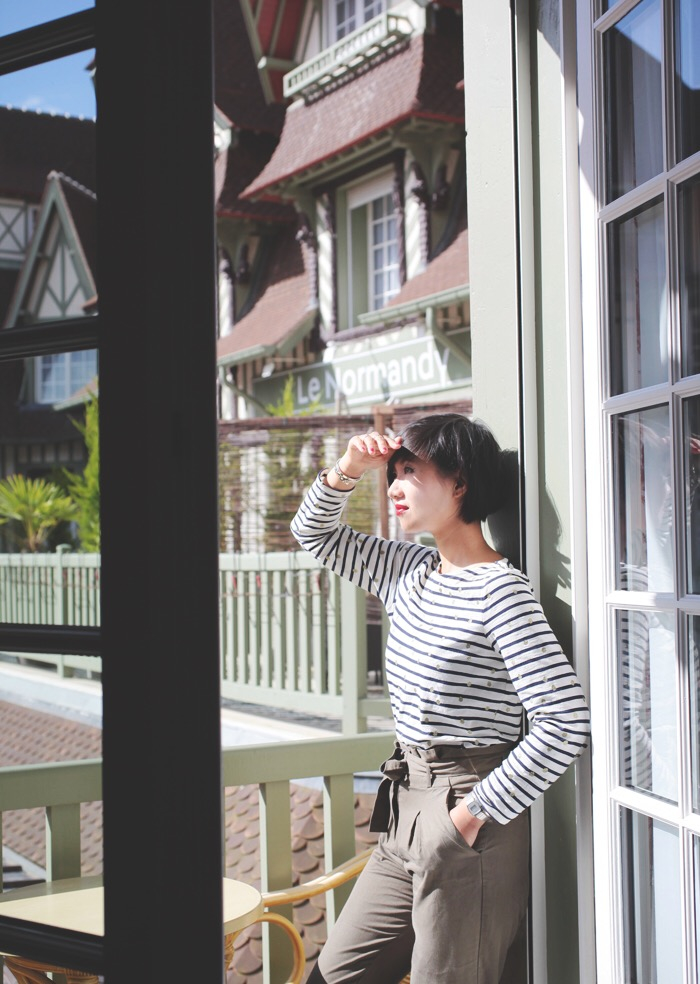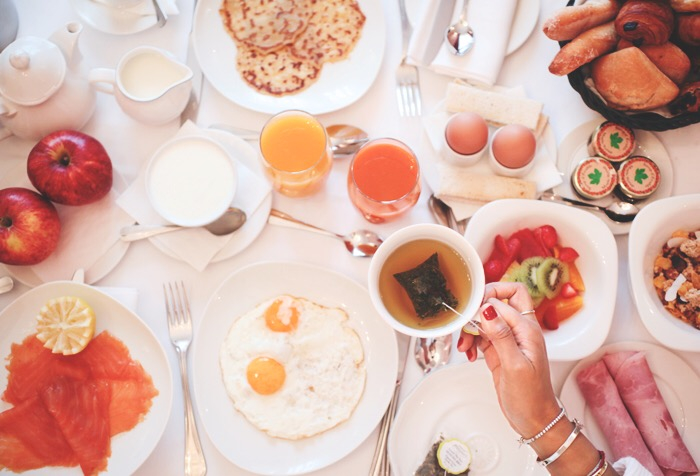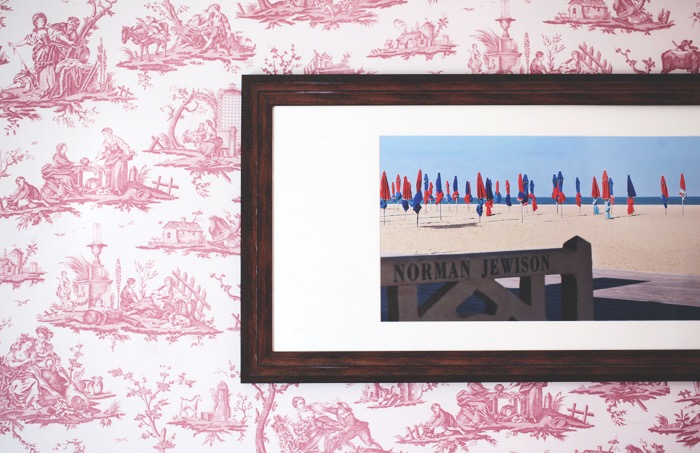 The room is incredibly comfortable : the walls are covered with Jouy-fabric, there's a chandelier, a brand-new bathroom …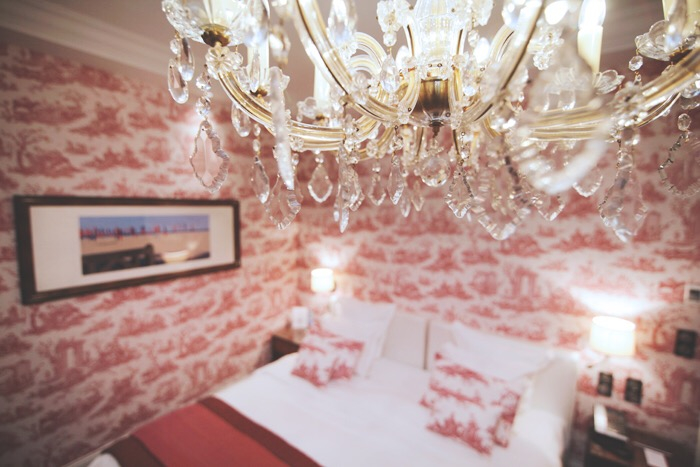 It's to be expected when you know the Normandy hotel is used to receiving movie stars during the Deauville american film festival. You imagine these guests would have high quality expectations.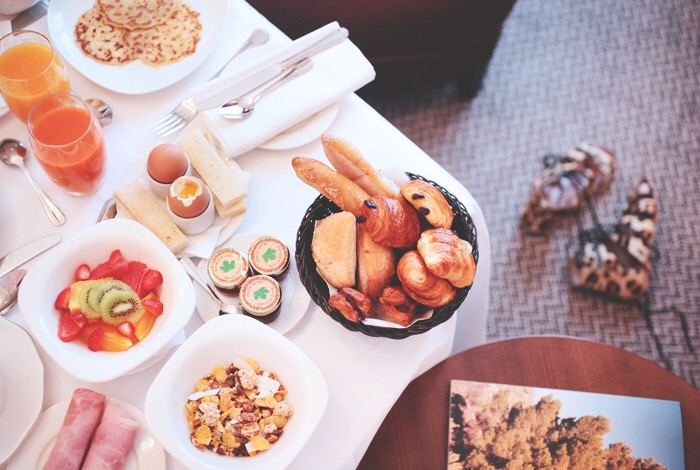 We spent a great night in this huge bed, and after a yummy breakfast in our room we're all set to go!
Le Normandy hotel's little secrets

Sorry, no People gossip here, but we enjoyed a privileged access to a place that is generally not open to the public : the dovecote!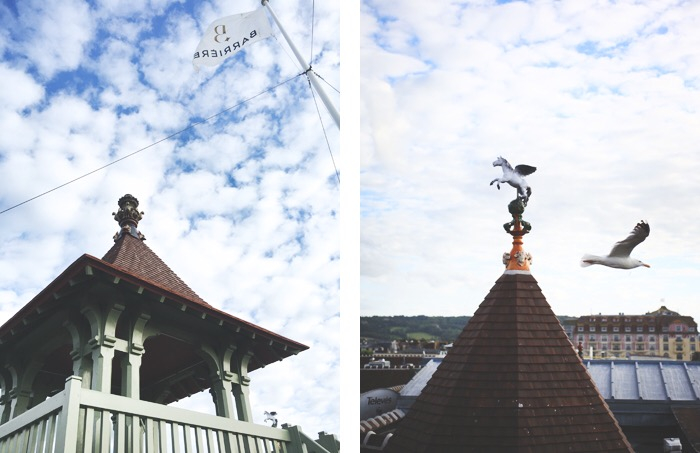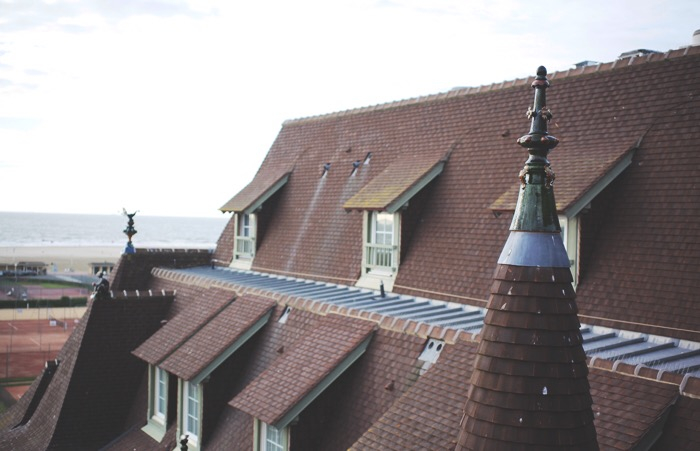 When M. Motte, the chief operation director told me about this place, my curiosity was piqued. 5 minutes later, we were there!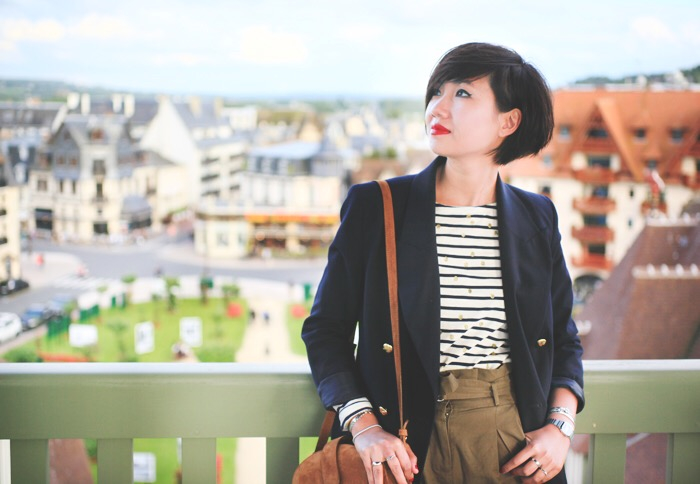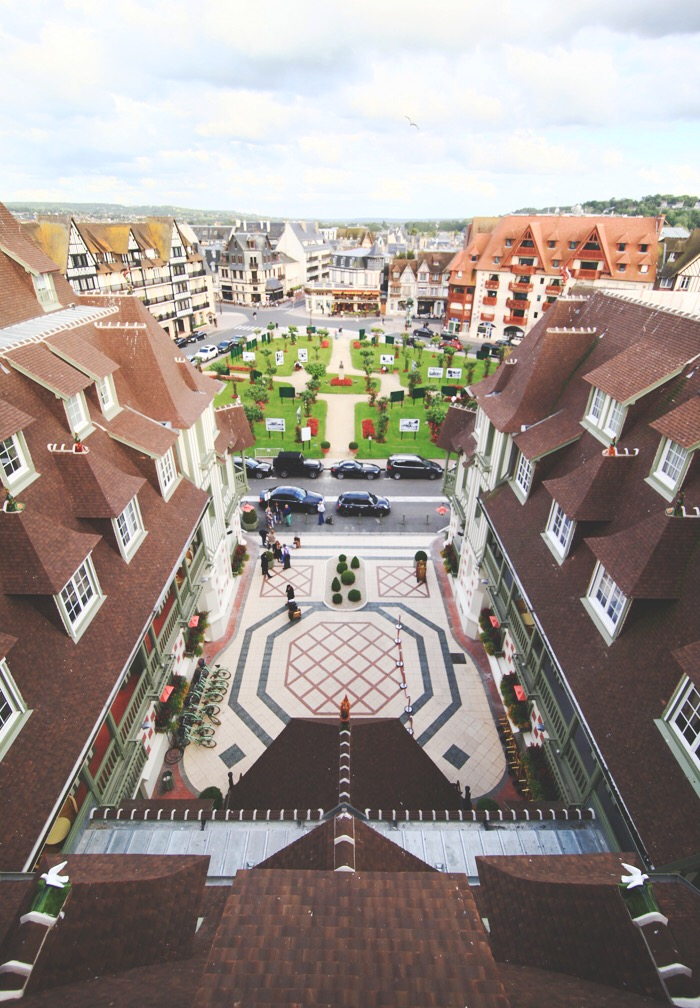 What a view! As some of you mentionned on Instagram, you'd think you're in a cartoon or a Wes Anderson movie with such a beautiful view of Deauville!
We then found a mysterious mural on the 3rd floor, which had been covered up by wall tapestries and unexpectedly uncovered during the 2015 renovation :
A well executed portrait by a handyman in 1912, who was obviously as expert with house painting as he was with pictorial art.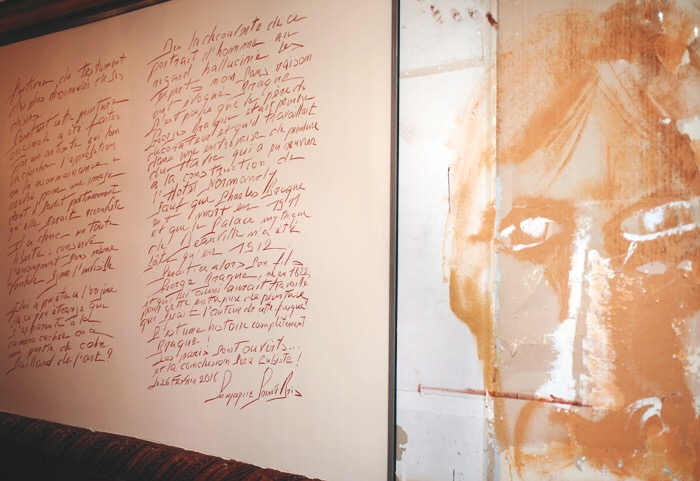 The mystery portrait with a text from Gonzague de Saint Bris
This led to the most crazy rumors: the famous painter George Braque's name is mentionned, his father's or his son's. That said, a number or chronological discrepancies keep the mystery whole on who the artist of this now exposed art piece might be.
Teatime with Monsieur Jean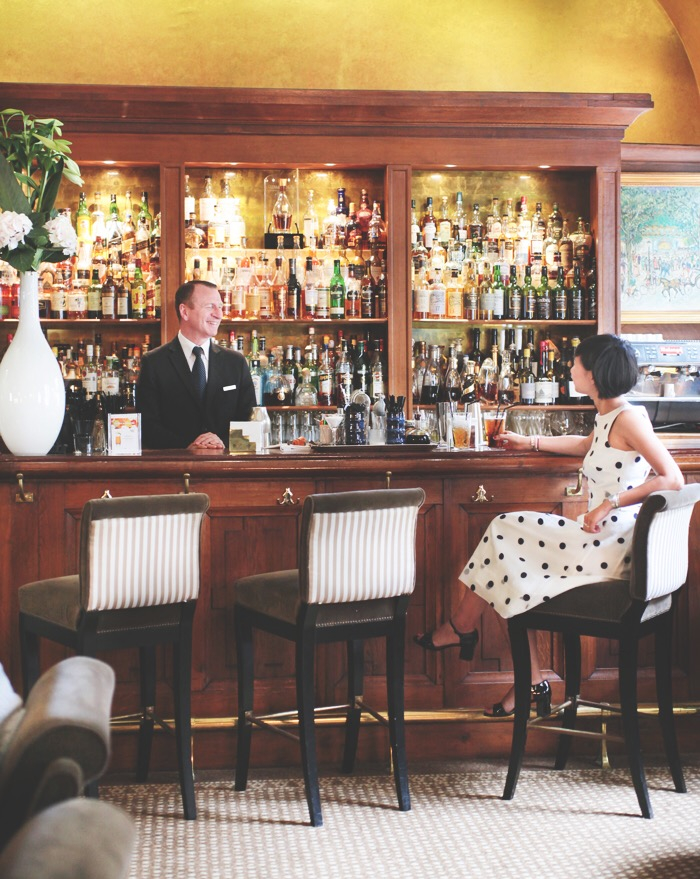 Tea for two, two for tea…
We sat down at the hotel's bar with Monsieur Jean, the mythical Chef-barman, who is said to know his fair share of celebrity secrets.
But once again, no People gossip (I must admit I failed in this category … I didn't dare ask!), rather a recipe for peach-apricot ice tea, Marc Jean style.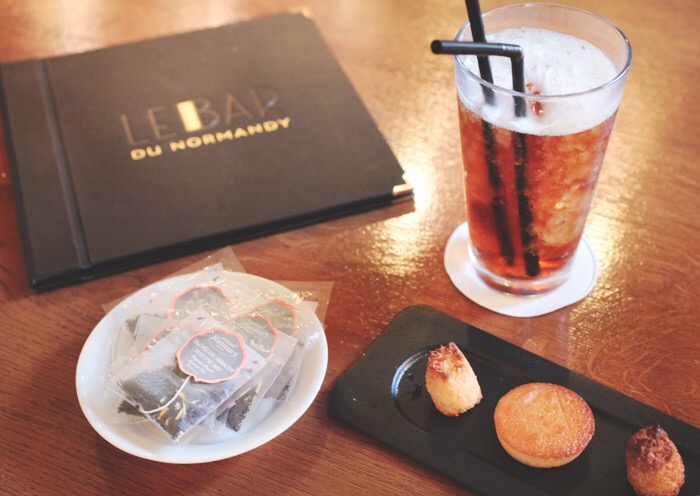 The secret here is to make 2 bags of peach-apricot tea (or another flavor of your choosing) rapidly infuse in 20cl of simmering (not boiling) water.
While the infusion is still warm you put in in a blender with a couple of ice cubes and pour in a glass filled with crush iced. Tada, you're done, enjoy!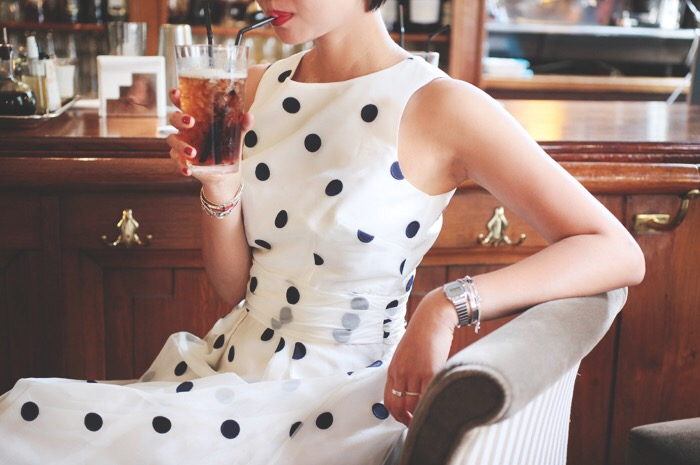 Spa Diane Barrière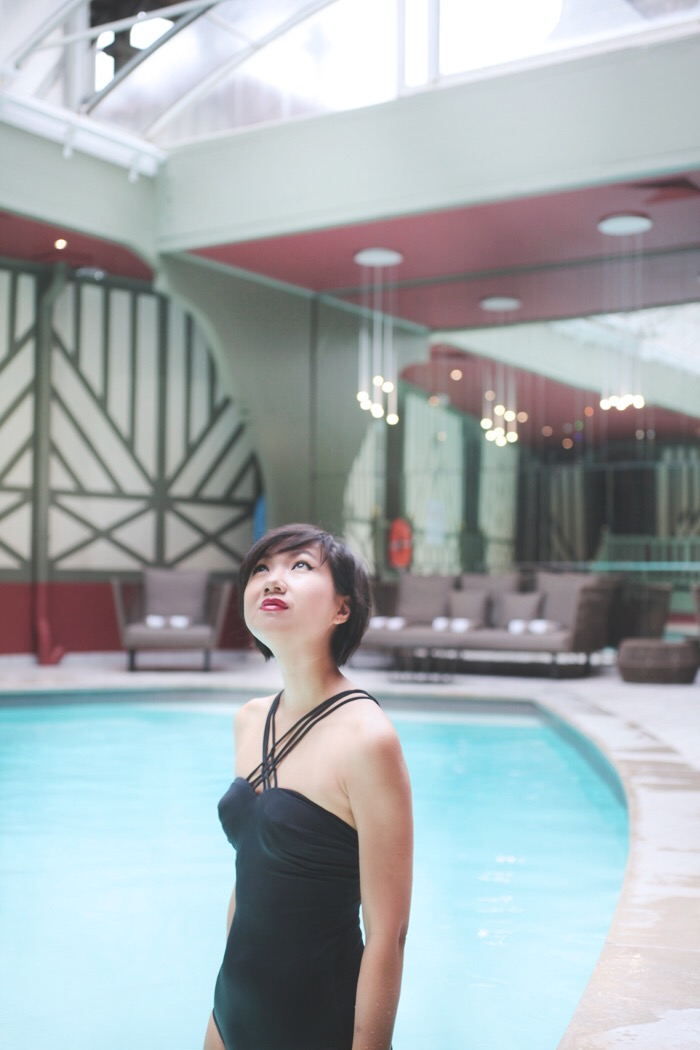 We had wonderful weather for one day during our weekend. For the rest, it was all rain rain rain. But we still got to take advantage of the pool, which is covered by a glass canopy.
Hence, no Roland-Garros syndrom and the tranquility of being able to take a dip in the pool no matter the weather!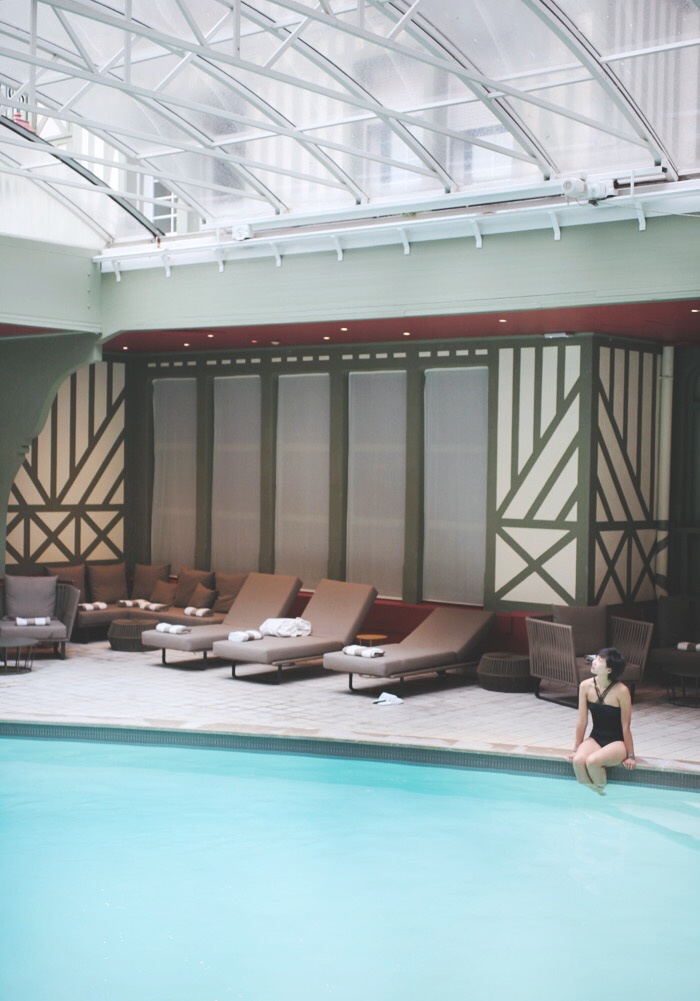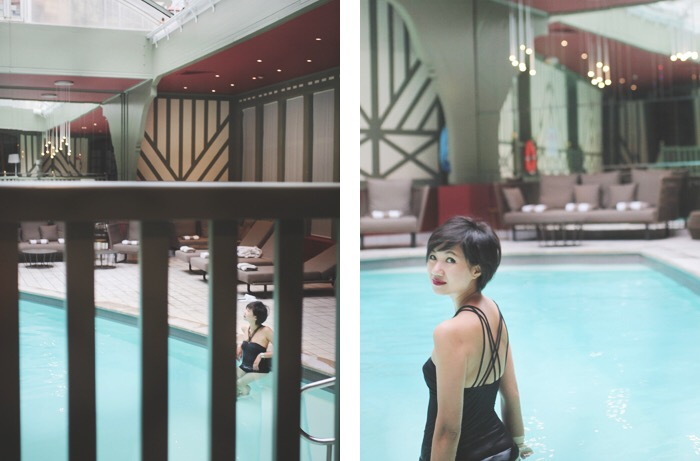 But the newcomer since the reopening of the Normandy hotel last April is it's "Aerial" spa. We got to try out a spa treatment each during our stay.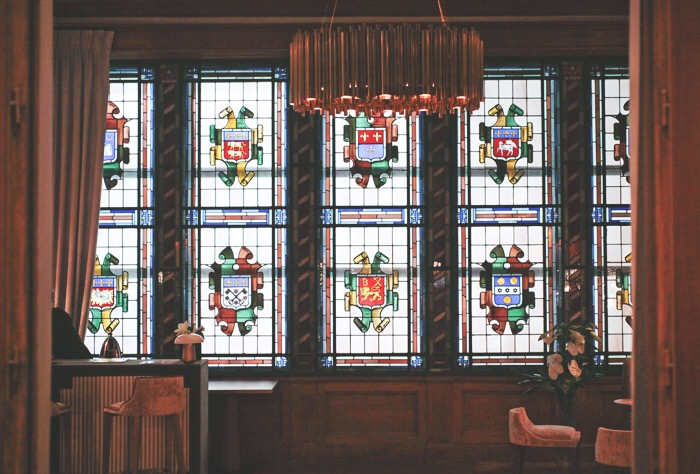 Spa reception and… changing atmosphere in the corridor : light therapy !
You fill out a questionnaire when you arrive so that you get the treatments most adapted to you. My SO was slightly over-optimistic in his answers, stating that he worked out twice a week (I'd say it depends on the week, haha) : he got the sporty treatement with cupping! He enjoyed the experience, centered on relaxing the muscles and sports recovery.
As for me, I was an open book (=I run because I have to, and only when I want). I got the bio-energetic treatment, both relaxing and invigorating, with massage and the stimulation of acupuncture points. Being used to energetic massages in Thailand, I can tell you the touch is lighter here, but relaxation and pleasure were very much present.
The staff was very obliging and considering. I'd just say the massage rooms were a bit too minimalist and "medical" for my taste, but it seems it's the architect's choice and I was told the decoration was going to evolve.
And with my eyes closed the whole time, I must have looked around for about 5 seconds, so if the treatment is top-quality it's the most important part.
A wonderful escape

I hope you enjoyed the visit and that I'll have made you travel just a bit with this post about this luxurious and warm cocoon.
Once again, I was very spoilt. I hope you'll be too if you ever get to stay in this legendary hotel.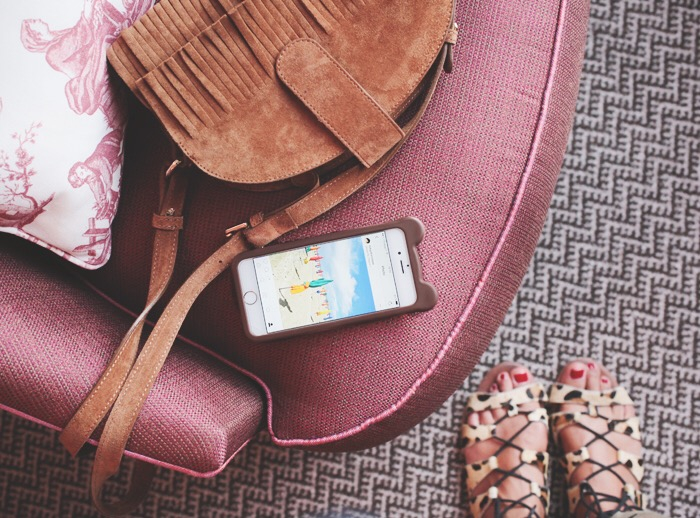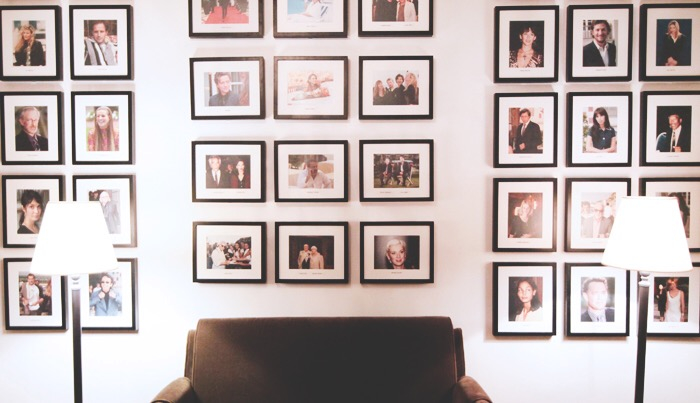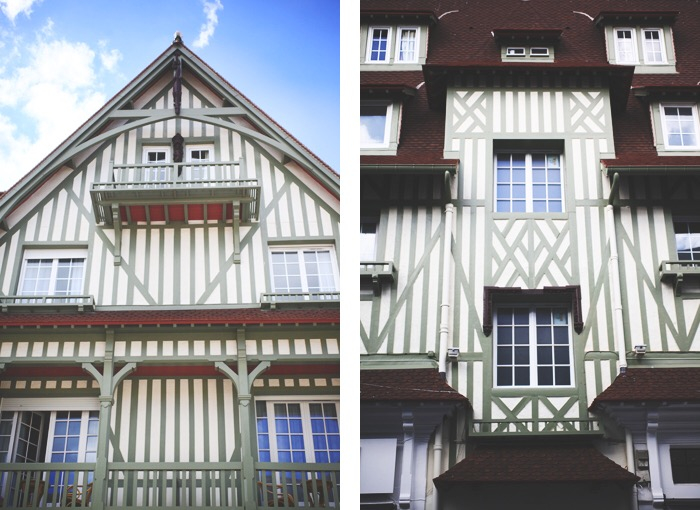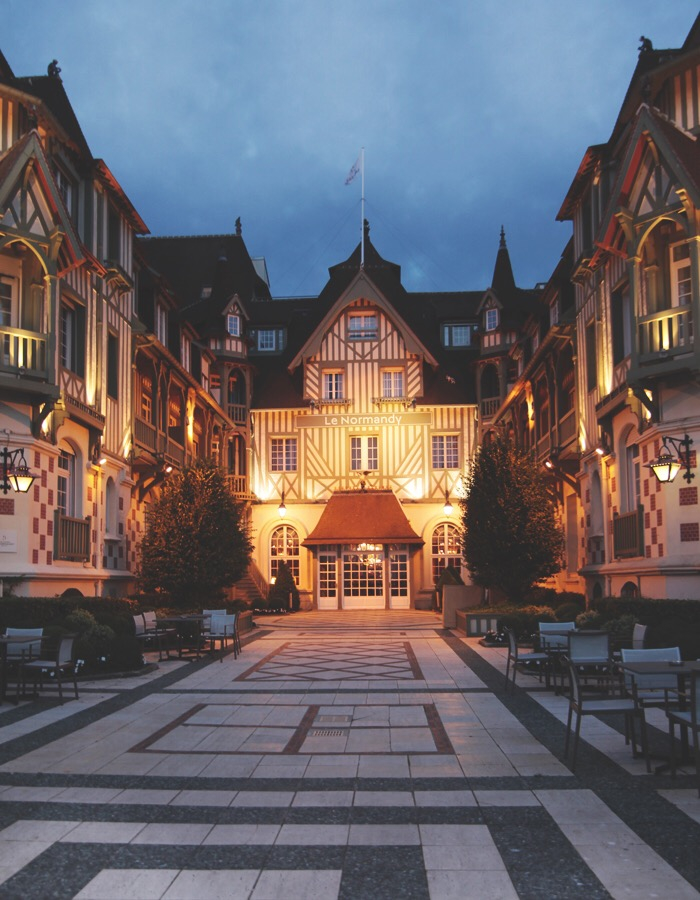 In any case, I wanted to give my thanks to the Le Normandy Barrière Hotel and to Pascal Hamour, who made our stay so wonderful (haha, it's like I'm giving a speech at the Deauville Festival!).
But most importantly, I'd like to give you all my thanks: it's because you read the blog and thanks to your loyalty that I get to enjoy these amazing experiences; you have all my gratitude. (English translation by Marine)