We start our trip in Bali with the less savage part of the island, the loudest and most filled with tourists : ready?
When I say it like that I'm not sure you'll want to read the whole thing, but I couldn't not talk about this part of the island, especially since we spent the first 6 days of our trip there. We didn't wander very far from our hotel, but here are a couple tips that might inspire you for your visits.
Pura Tanah Lot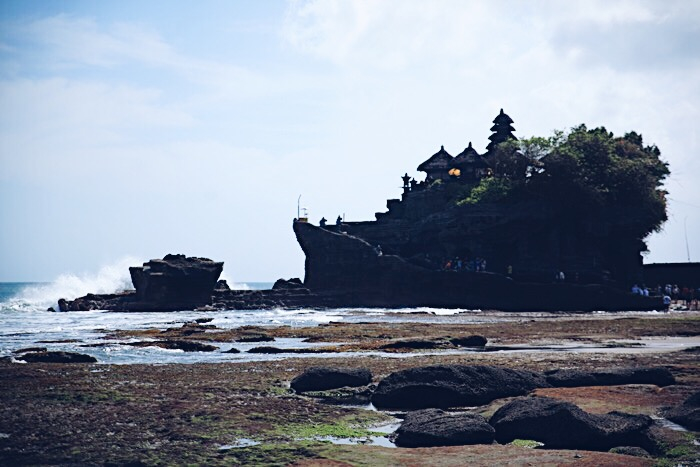 My itinerary isn't very wild, since our vacation program was mostly "lounger+pool+book+massages". I however couldn't miss the Tanah Lot temple, one of the most photographed on the island.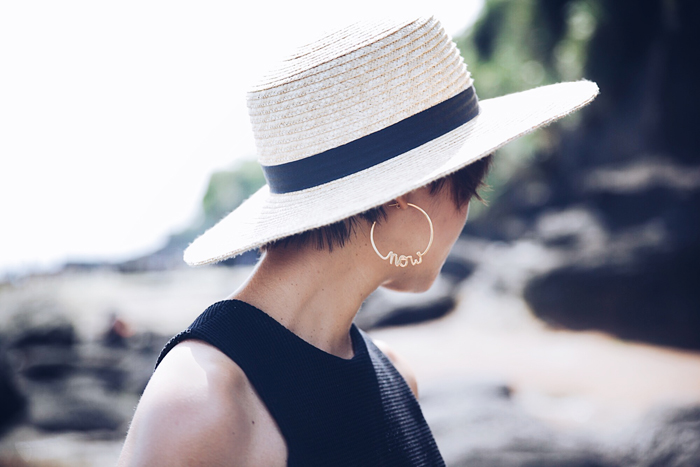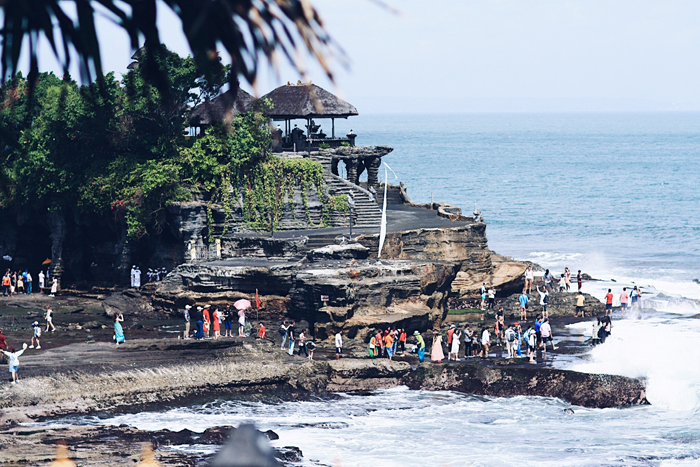 Tanah Lot temple and  its escort of tourists
We chose to go on a late morning, even though the sunset seems like a good romantic option .
We thought the morning visit would be more efficient, as our itinerary for the day involved lunch at Canggu and heading back to our hotel at Legian Beach in the evening. In any case, it seems like the place gets pretty crowded at sunset … which kind of downgrades the romantic side.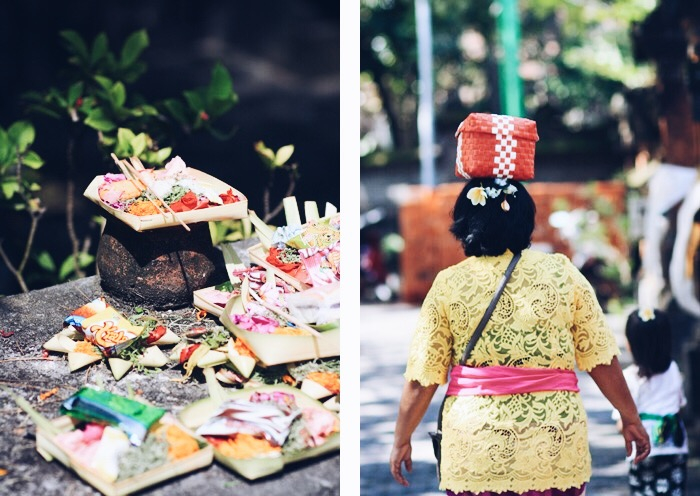 Canang Sari (or daily hindouist offerings)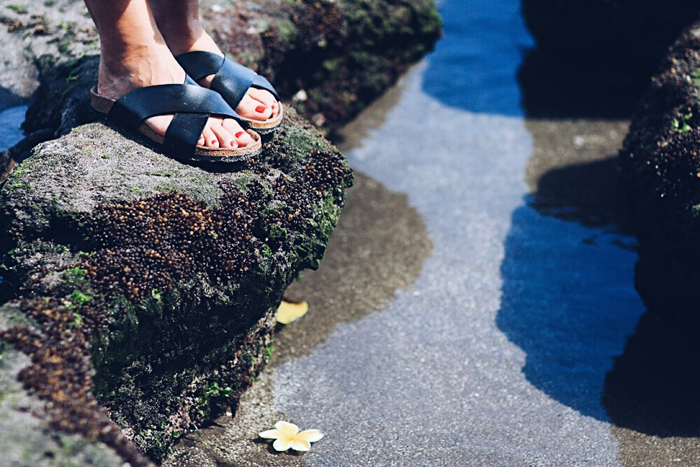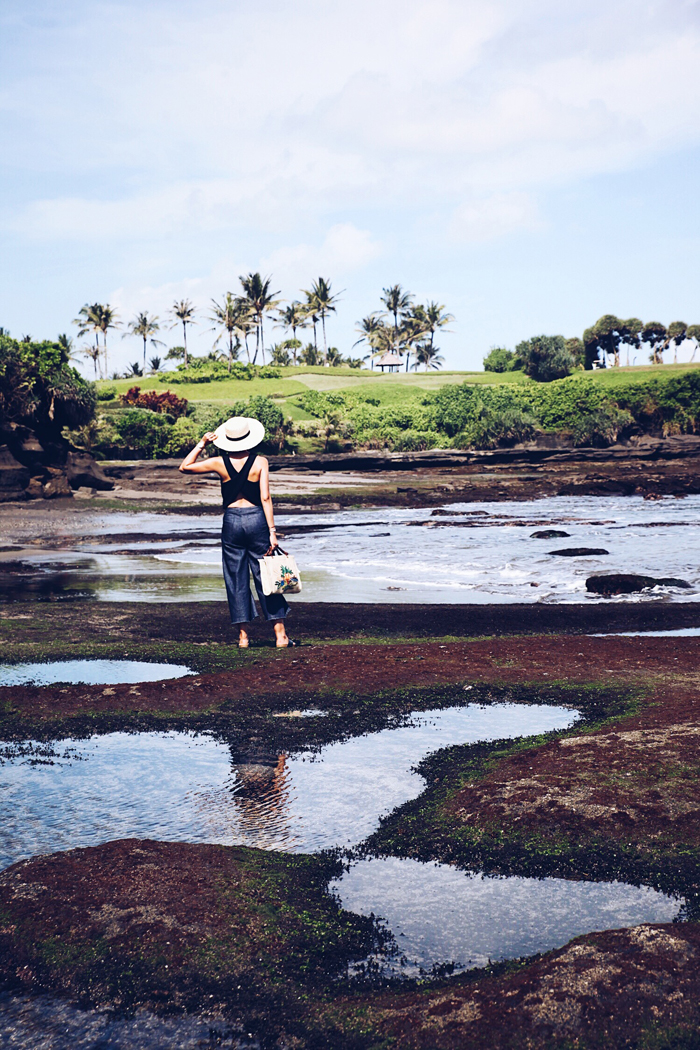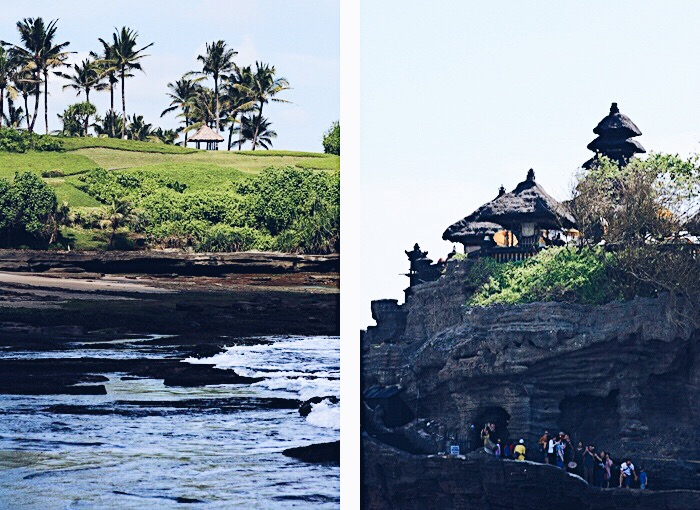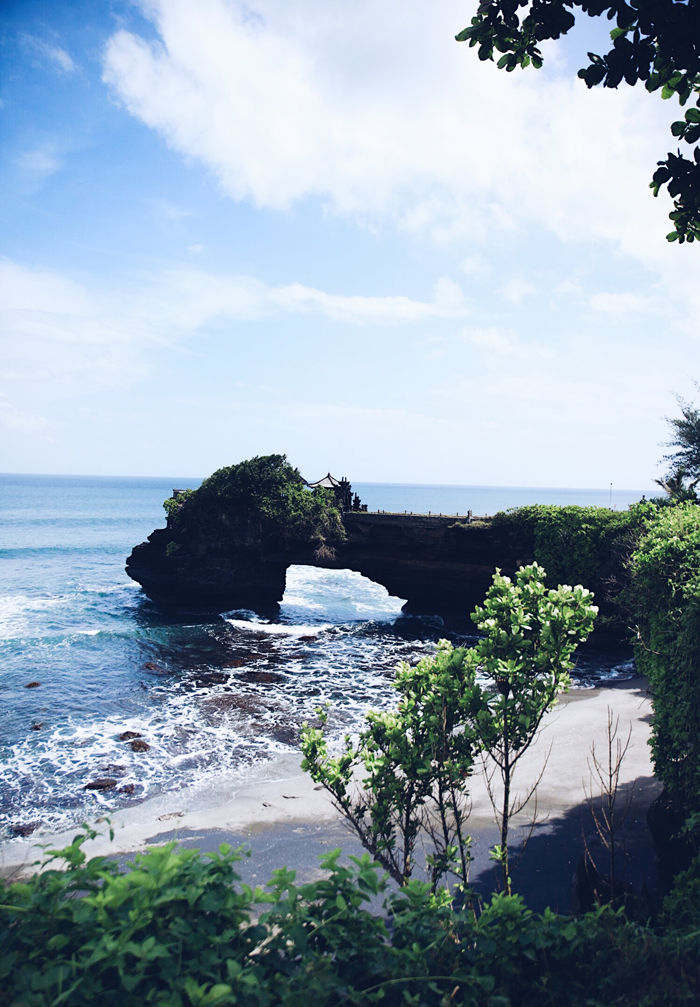 Batu Balong temple, next to Tanah Lot

The hindouist temple lives up to its popularity, because once you get past the numerous souvenir shops, the view is well worth the detour.
Canggu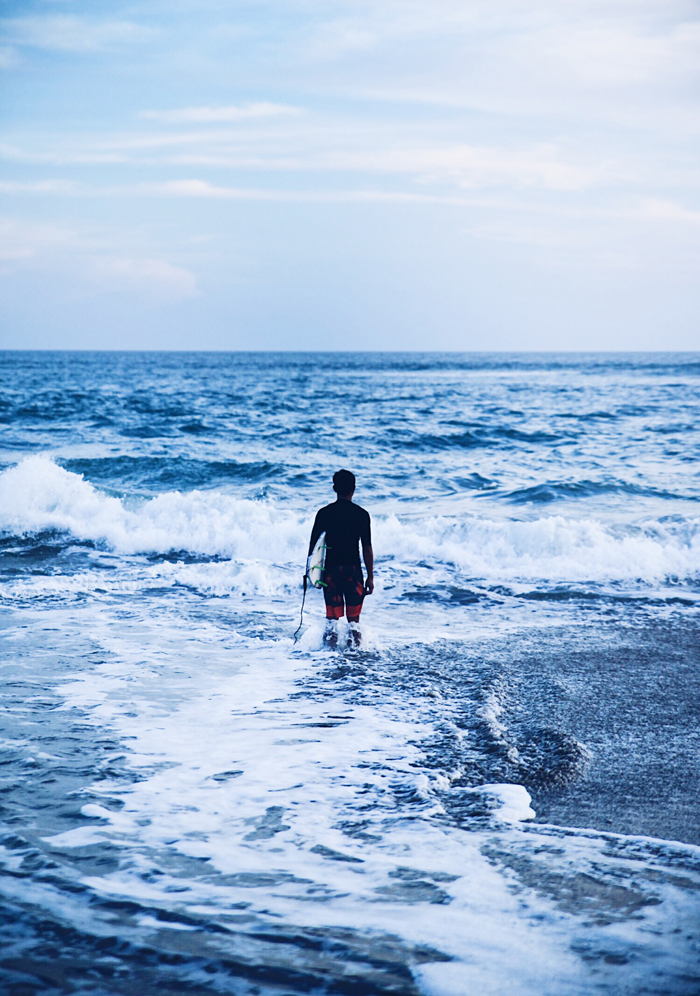 The city is overloaded with australian surfers / hipsters, and is often compared to Brooklyn, which can give you a good feeling of what the place is like.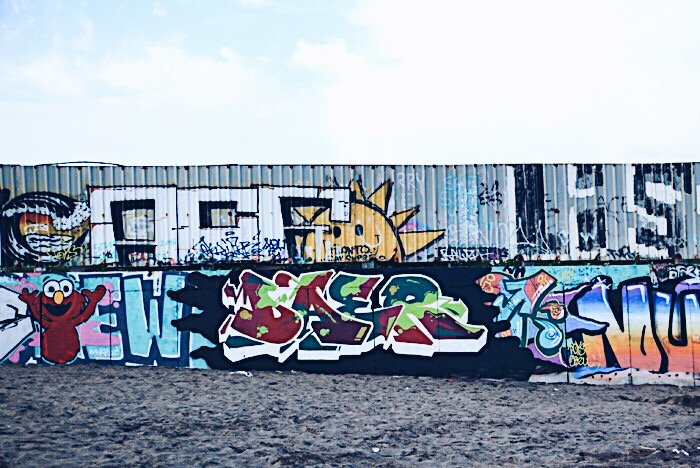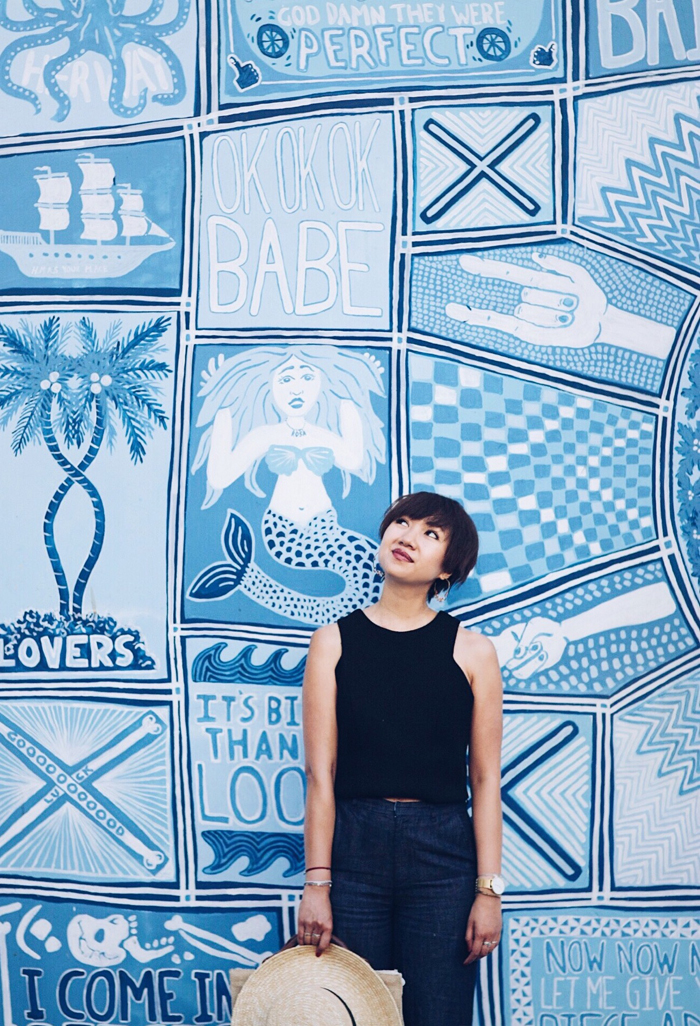 I really enjoyed the boutiques and small restaurants/healthy cafés – such cute decoration! It's kind of an Instagram paradise.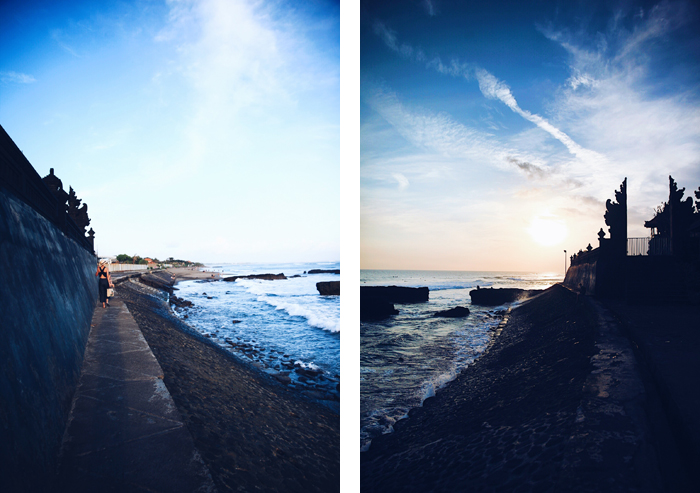 We then walked along the beach and headed for drinks to Echo Beach : an ideal place to watch surfers ride the waves and admire the sunset. That's where the real romantic spot is!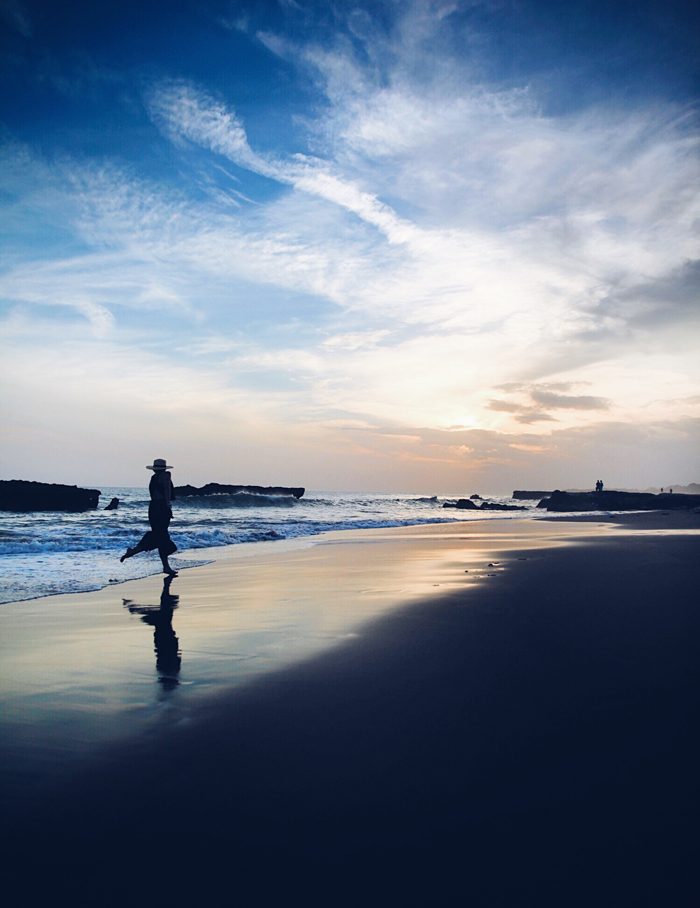 My yummy addresses

Even if my impressions are lukewarm regarding the touristic options in this part of Bali, something I can't not approve of is the number and quality of the healthy food options.
The vegan/veggie option is omnipresent here. And it's not boring or frugal either, the portions are rather astonishingly generous and delicious.
NALU BOWLS (Jl. Drupadi 1 No.2A, SEMINYAK)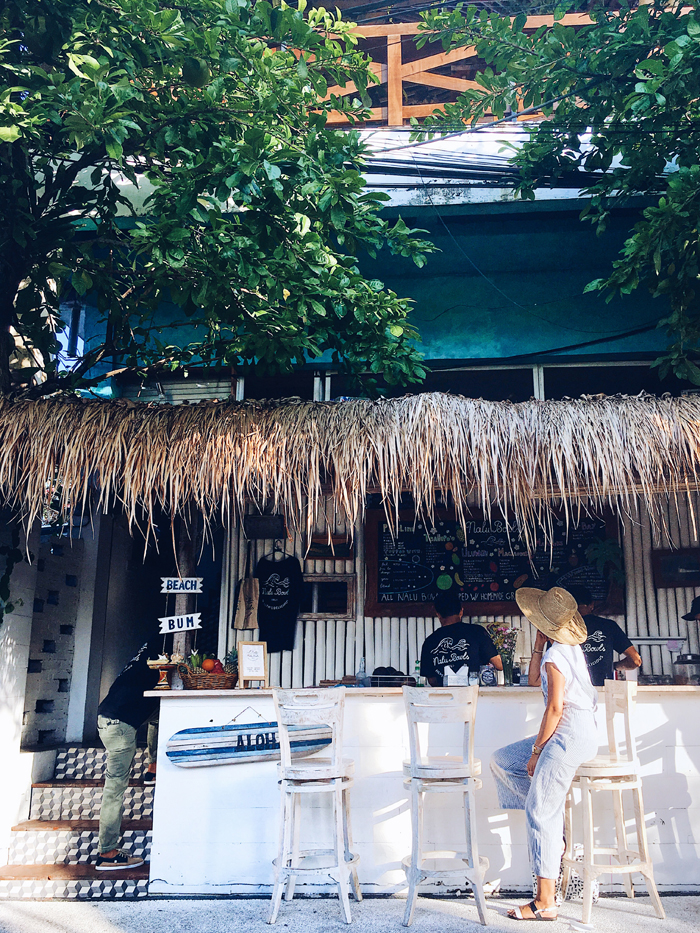 You can find this brand in a number of places in Bali, but the possibility of having your açai bowl on the first floor, in a cosy café called "The Shelter" makes it a perfect cocooning experience.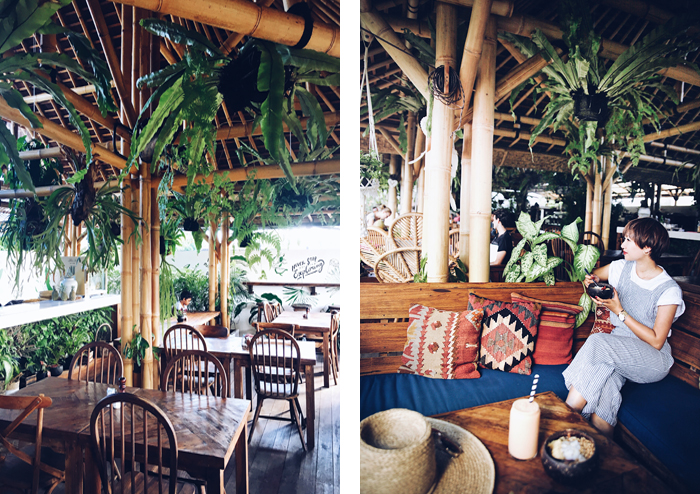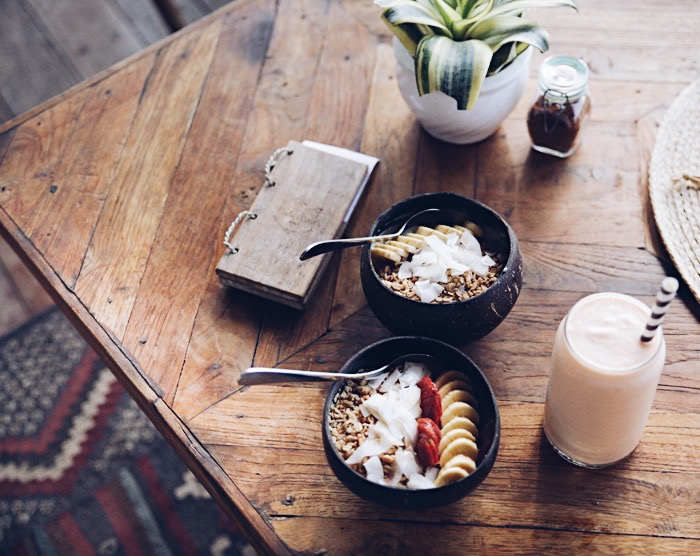 Vegetal environment is favorable to a tasty and relaxed moment.
POKĒ POKĒ (Jl. Pantai Batu Bolong No.58, CANGGU)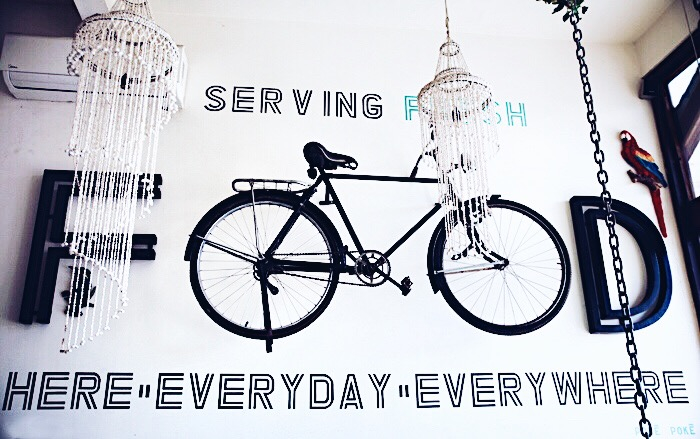 Aloha Bali bowl (Ponzu tuna, Tempeh, crusty Wonton , salad, coconut flakes…)
This place serves the hawaïan bowls with raw fish, all kinds of grains and salad : the famous pokebowls! I could eat those all day long (same with the açai bowls too!).
SEA CIRCUS BALI (Jl. Kayu Aya No.22, SEMINYAK)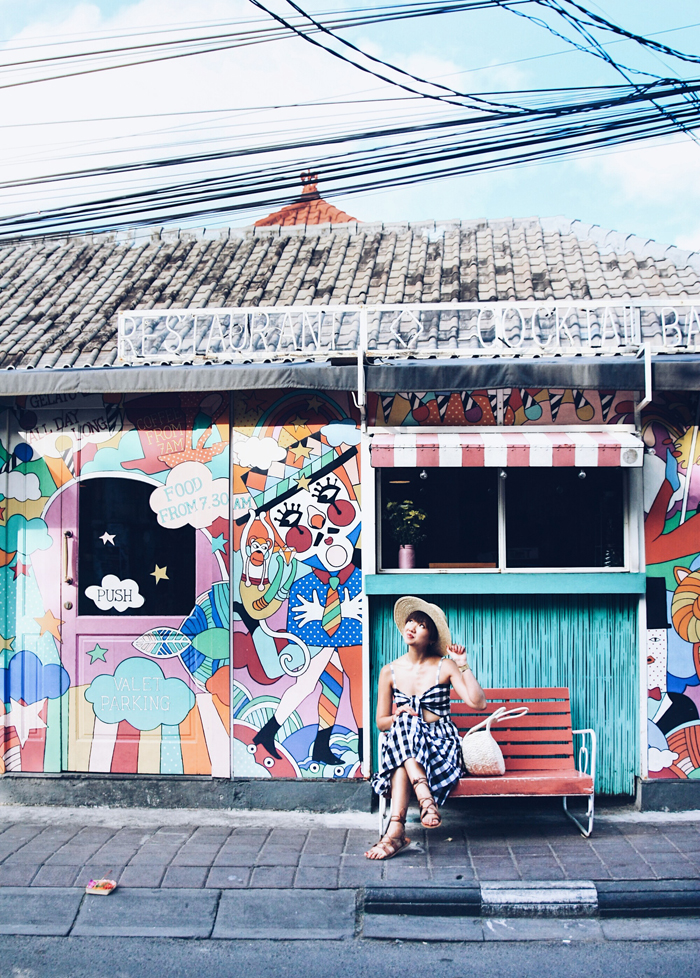 The place is as pretty as it is yummy. Special attention has been lavished on decorating the entrance (where indonesians and tourists stand in line to get THE photo : which I did as well, of course!) and all the way to the bathroom (I'll let you find that out by yourself if you ever go).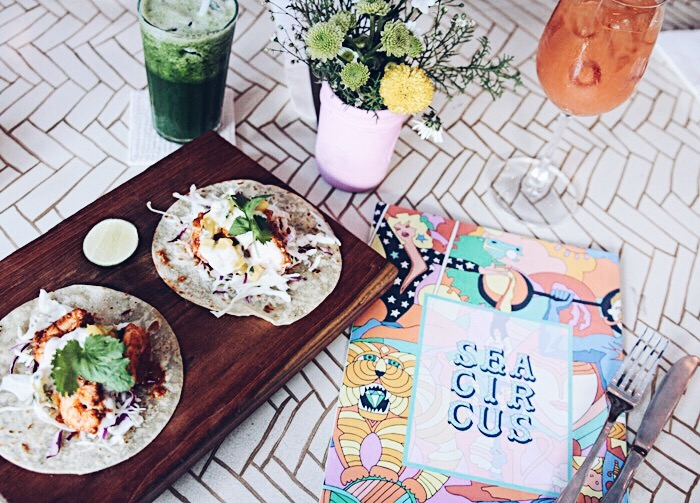 Shrimp tacos and Kombucha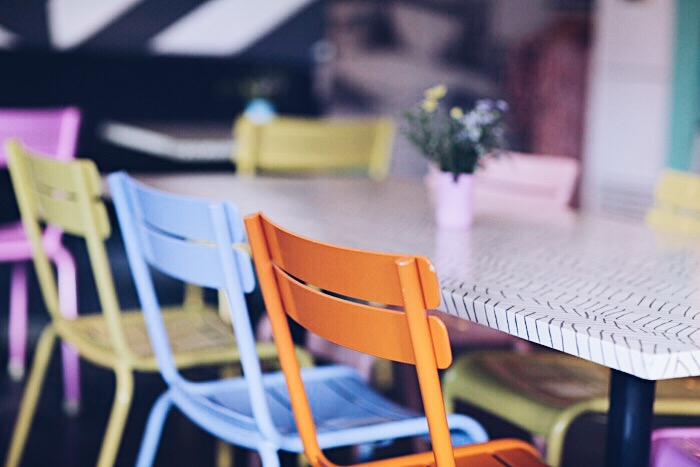 SARDINE (Jl. Petitenget No.21, Kerobokan, near SEMINYAK )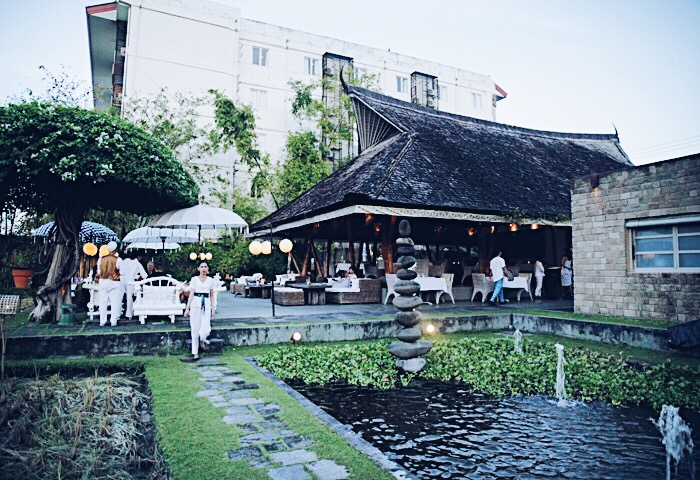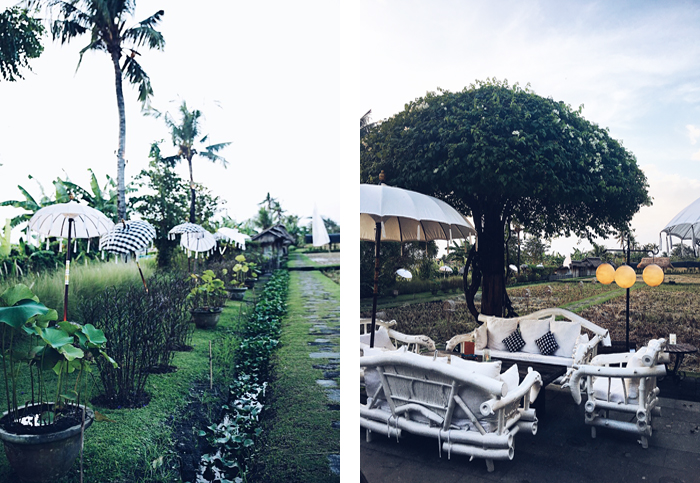 I didn't take any pictures of the food, it was too dark, but if you want to enjoy a quiet dinner with food a bit more "evolved" (and more expensive of course) than the habitual salad or pokebowl, this place is for you.
The fish is perfectly cooked, and the restaurant overlooks a paddy field : a real tranquility bubble in the midst of the buzzing Seminyak.
NOOK (Jl. Umalas 1 Gang Nook No. 1, Kuta Utara, Kerobokan)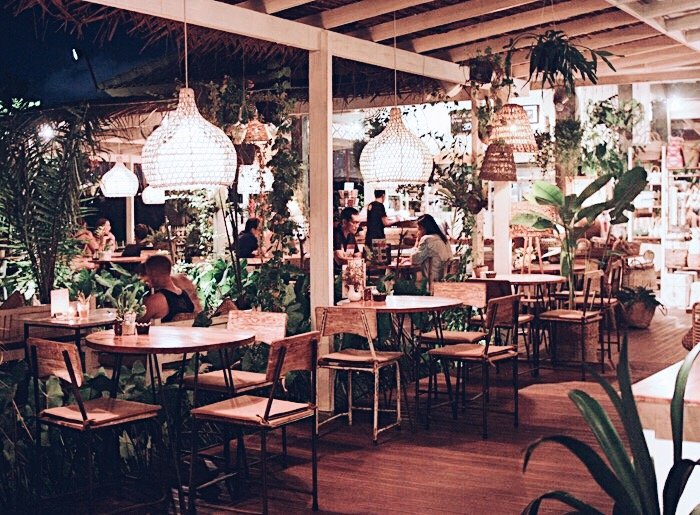 Located right next to Sardine, there is also a view on a paddy field, with a more relaxed atmosphere and a delicious Nasi Campur option (my favorite indonesian dish).
THE PIRING DAUN (Tibubeneng, North Kuta)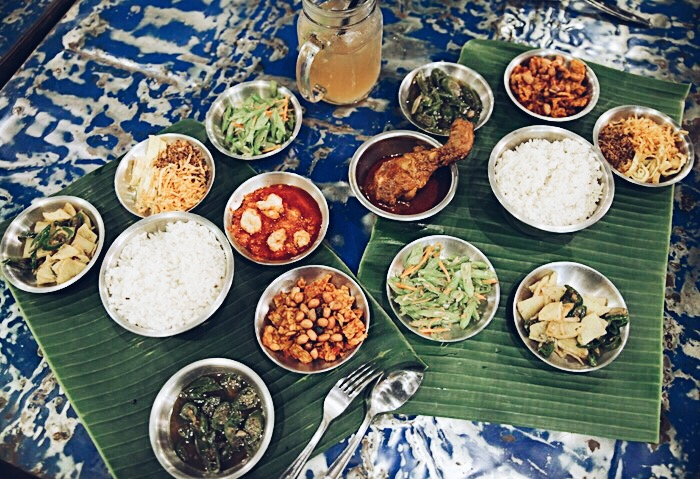 This is where I had my first Nasi Campur, and it was a revelation. This mix of rice and a variety of small spicy dishes is a blessing. A special shoutout goes out to tempeh (fermented soy paste) – it was my favorite snack during the whole trip (where can I find it in France?).
ECHO BEACH CLUB (Jalan Pura Batu Mejan, CANGGU)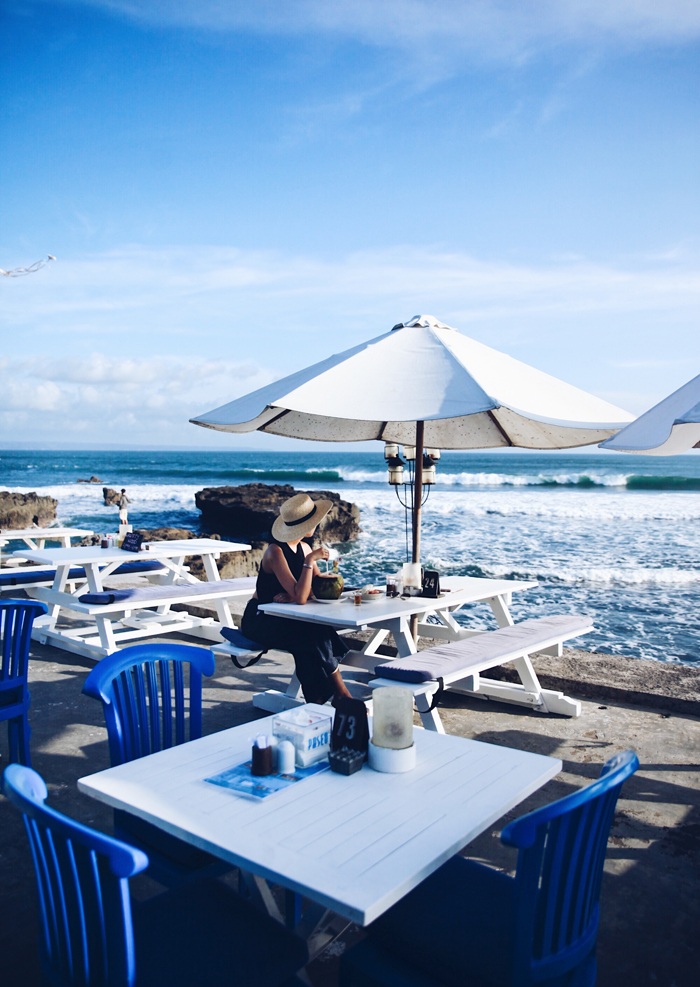 I'll only mention the address for the view, since the menu isn't specially noteworthy. Our drinks there were one of the most relaxing/chill/contemplation/enjoyable moments of our stay.
What I wanted to try

I had listed the following addresses, that seemed promising : I didn't get to try them out but it may give you a wider array of choices. Let me know if they were good!
BETELNUT CAFE (Jl. Pantai Batu Bolong No.60, CANGGU): Huge salades and healthy food
RUKO CAFE (Jl. Pantai Berawa No.99, Tibubeneng) Açai bowls and pancakes
WARUNG RONGGEN (Jl. Nakula No.88Y, SEMINYAK): Traditional indonesian dishes
HOME MATE (Jl Petitenget No.1a, SEMINYAK): "kakigori" japanese shaved ice and cakes
(English translation by Marine)