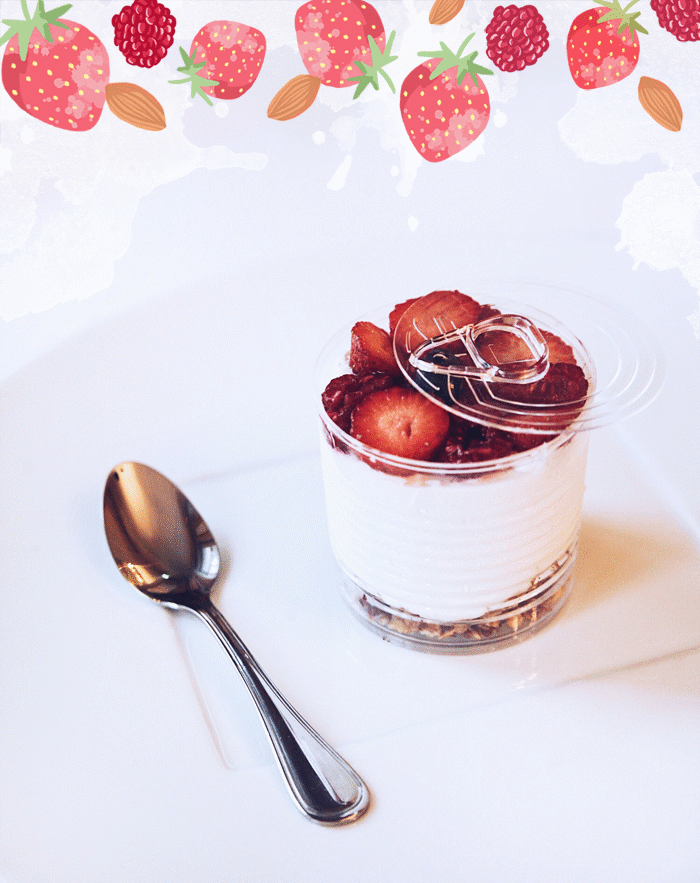 "Rouge plaisir" by pastry chef Alain Chartier, Theix (56) (1st prize)
It's been 10 years now, you know how much I love gastronomy and my legendary appetite for all things on the yummy spectrum! However in order to preserve my well-being (and my waistline!), I am trying to pay more attention to what I have in my plate, and to cook delicious yet healthy recipes (the fact that I do like asian food a lot, which is generally healthier does help).
Which is why I was delighted to be invited this October 23rd, to partake in the 2017 Taste and health cooking competition, organized by MAAF, in partnership with Gault & Millau, that shines the light on artisans that manage to bring together gastronomy and nutritional balance in an original recipe, which will be presented to a jury of both gastronomy and health professionals.
I got to taste all 8 dishes that made it to the final round, talk with the laureates (as you may have seen if you saw my live Instagram story) and I left this event absolutely certain that health and gastronomy can happily coexist. Here's proof!
Yummy and nutritionally balanced dishes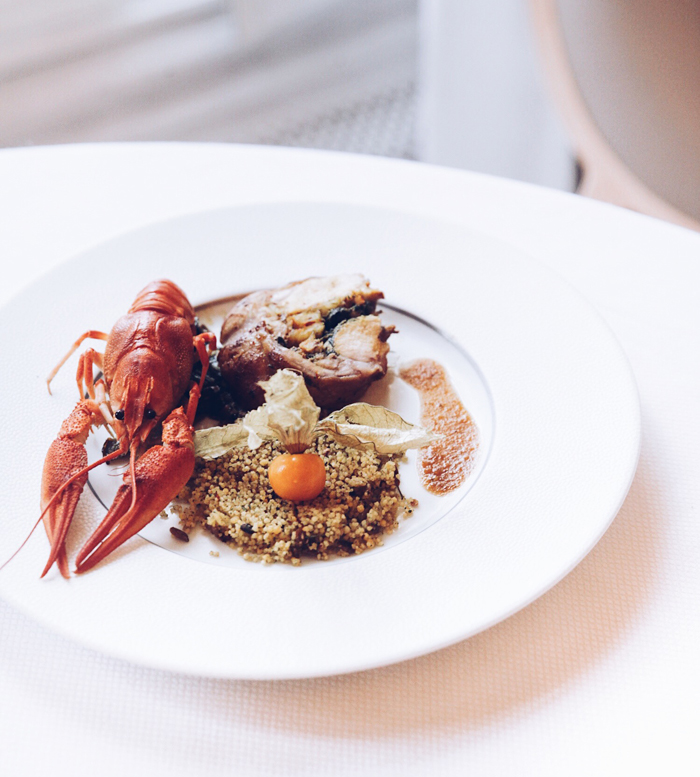 Saddle of rabbit (Rex du Poitou) stuffed with crayfish and sorrel by Alain Galerneau, Bessines (79) (2nd prize)

Here are a couple tips taken from the dishes that made it to the finals, and that can be inspiring for our daily cooking (I got pictures of my favorites ones) :
– A low glycemic index (by using unrefined sugar or natural sweeteners) means less insulin secretion, and that fewer triglycerides (fat) get stocked. It helps prevent the apparition of a type 2 diabetes mid or long term. I learned that we generally eat 10 to 20 times more sugar a day that what is necessary : it's time to act upon it!
–Rehabilitate forgotten veggies like parsnip in the pikeperch recipe by Marc Charbonnier, and unloved foods like tripes in the tripe stew maki by Laurent Ody (texture is unusual I have to admit). .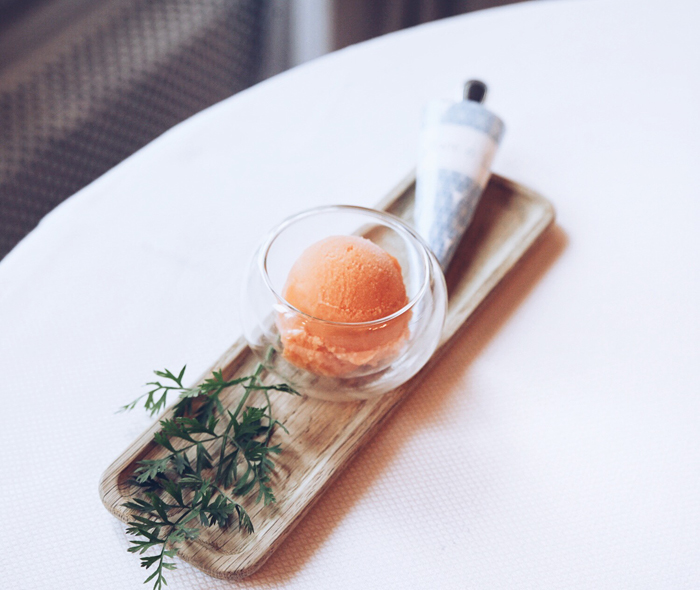 Orange carott ginger detox sorbet by Olivier Menard, Paris

-A sufficient protein intake by eating grains, fish, sea food or lean meat.
-A reasonable salt intake that can be compensated by the use of spices (cinnamon, ginger … ) and aromatic herbs (sorrel …)
-A antioxidant action of certain ingredients (ginger, berries for the "Rouge plaisir" dessert by Alain Chartier) can help prevent certain cardiovascular diseases.
Morgane Béchu "Special Prize of the Jury" 's recipe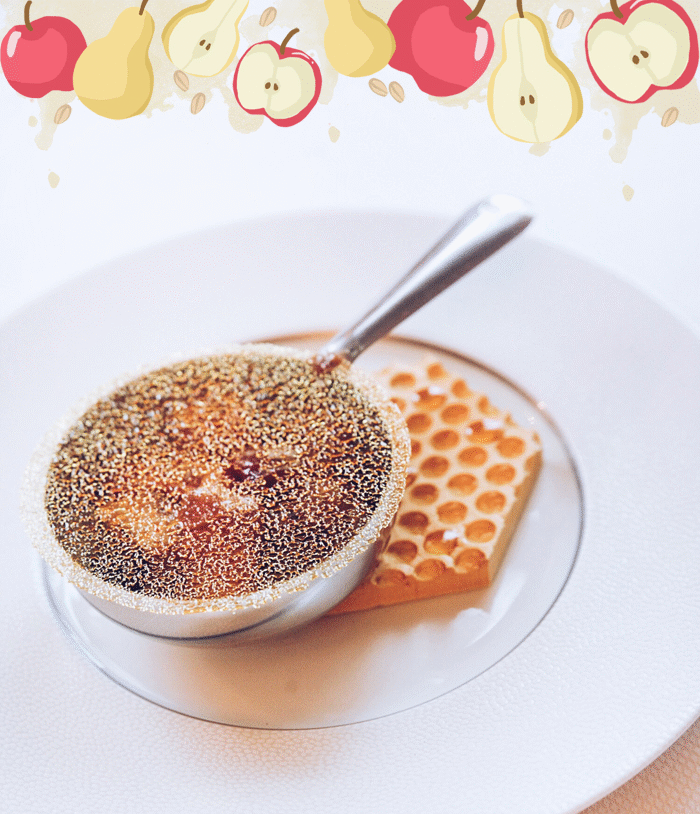 "Pas perdu pour tout le monde" by Morgane Béchu, Angers (49) (Special prize of the Jury)
Morgane Béchu, the pastry chef, was awarded the Special Prize of the Jury, and was kind enough to share her delicious "Pas perdu pour tout le monde" (="Not lost for everyone") recipe in 3 steps here :
The soft bread is made with buckwheat flour and sweetened with honey, contrinute to a lower glycemic index than what you would generally expect with desserts. The fruits she used have antioxidant properties that are beneficial to our cardiovascular system.
The recipe serves 6 (small portions though) and requires either the use of a mixer or some effort on your part (which would count as physical activity, so win-win!)
Buckwheat soft bread
45g water
40g milk
50g oat grains
225g T55 flour
25g buckwheat flour
4g salt
10g linden honey
10 g molasses
8g organic yeast
2 eggs
65g butter
• The day before, soak the oat grains in water and lukewarm milk. Reserve in a small box and keep at room temperature.
• With a mixer set on 1st speed, mix the flours, the salt, the limewood honey and molasses. Add the organic yeast, followed by the mix of water, milk and oats.
• Mix for about 10 minutes on 1st speed, followed by 5 minutes on 2nd speed. Use a spatula and scrape the sides of the bowl clean. Add butter.
• Mix for 10 mintes on 1st speed. Scrape the bowl clean again, and mix for 7 minutes on 2nd speed. Scrape clean and mix one last time on 3rd speed for 2 minutes.
• Cover with cellophane and let the mix rest for 30 minutes at room temperature.
• Fold the dough over to get rid of oxygen bubbles, and wrap the cellophane directly onto the dough.
• Keep in the fridge until the next day.
• The next day, shape the soft bread and place it in a buttered baking pan.
• Let the dough rest for 1h to 1h30 at room temperature.
• Glaze the dough with egg yolk before popping it in the oven. Preheat the oven at 160°C and bake for 40 to 45 minutes. Check if it is thoroughly baked by inserting a knife blade.
Apples/Pears, tatin style
4 Val de Loire Fuji apples
4 Val de Loire Conference pear
60g sugar
30g linden honey
10g butter
• Peel the fruit and cut in half. Core the apples and pears and cut in quarters.
• Place the apples and pears on a baking sheet.
• Make a caramel with the sugar. When it's liquid enough and light in color, remove from the heat and stir in the honey and butter. Pour the caramel on the fruit.
• Preheat the oven at 140°C and place the baking sheet in the oven.
• Bake the fruit for around 1h and stir them around very 20 minutes to coat them with caramel.

Caramel with flower of salt and honey (for the final set up)

150 g Sugar
60 g linden honey
190 g cream
80 g butter
1 pinch of salt
• Make a caramel with the sugar and add the honey.
• Bring the liquid cream to room temperature. When the caramel is light in color and liquid enough, pour the lukewarm cream over it very slowly, and then bring to a boil. Let it cool down at least 10 minutes in the fridge.
• Add the butter that was brought to room temperature and the flower of salt. Pour it in a small box with a lid. Use it for the final set up. (English translation by Marine)
This is a promoted post and was made in collaboration with MAAF