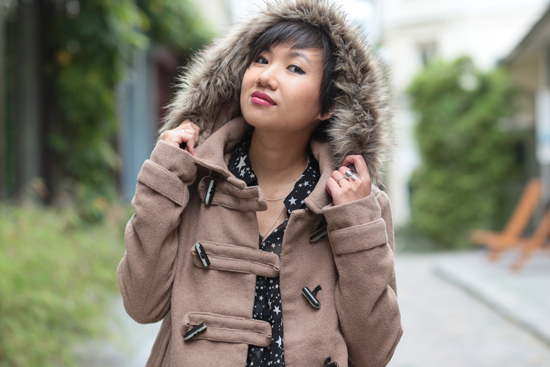 Pour cet hiver, j'ai préparé mes munitions à l'avance en commandant ce duffle-coat au mois d'Août. Dès que je l'ai vu, même si j'avais du mal à me projeter, je me suis lancée (Je félicite ma prévoyance car il est à présent en rupture sur le site). Il me fait penser aux duffle-coats qu'on a pu voir fleurir l'an dernier chez Maje ou Sandro. J'aurais bien voulu craquer sur ceux-ci mais ce qui me dérangeait un peu, c'était la fourrure de leur capuche. Je les ai donc admirés de loin. Ici, c'est de la fourrure 100% peluche, donc aucune raison d'avoir des scrupules.
Il est d'ailleurs parfait pour réchauffer ma petite chemise transparente étoilée. L'imprimé « étoilé » était absent jusqu'alors dans mon dressing: l'erreur est réparée! On en a vu pas mal l'an dernier sur les blazers (que j'avais admirés de loin également, mais je ne sais pas vraiment pourquoi je m'étais tenue à distance: souvent mon temps de réaction a ses raisons que la raison ignore ).
Je suis ainsi prête à affronter la saison hivernale (plus avec mon duffle-coat qu'avec ma chemise étoilée, on est bien d'accord) et j'ai même pensé à reculer ma montre d'une heure ce week-end. Cette capacité d'anticipation me ferait presque peur dites-donc!
For this winter I prepared my munitions in advance by ordering this duffle-coat during the month August. As soon as I saw it I went for it (and I'm very glad I did because it's now sold out on the website) – even though I had a hard time projecting myself in it at first. It reminds me of these duffle coats that we could see everywhere last year at Maje's or Sandro's. I would have liked to go for these ones but what disturbed me a bit was the fur on the hood. So I just admired them from a distance. Here the fur is 100% plush, hence no reason to have any scruples.
It's by the way perfect to warm up my small transparent starry shirt. The starry print was until then absent from my closet: the mistake has now been fixed! We saw this quite often last year on blazers (which I also admired from a distance but I don't really know why I kept the distance: my reaction time often has its reasons that reason does not know).
So I'm now ready to face the winter season (more with my duffle coat than with my starry shirt, I think we all agree on this) and I even remembered to adjust the clocks to winter time this weekend. Say, this anticipation ability of mine could almost get me scared! (English translation by LN)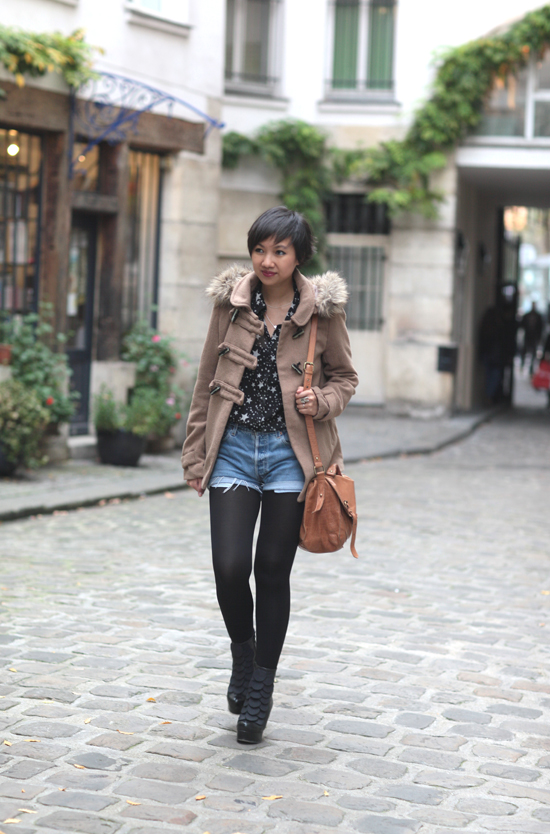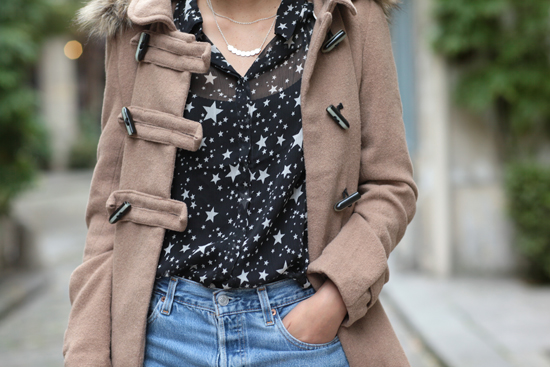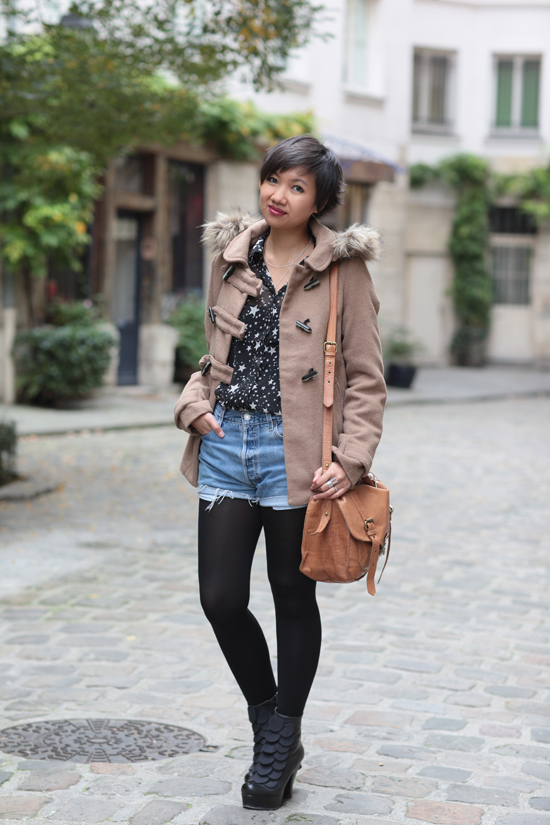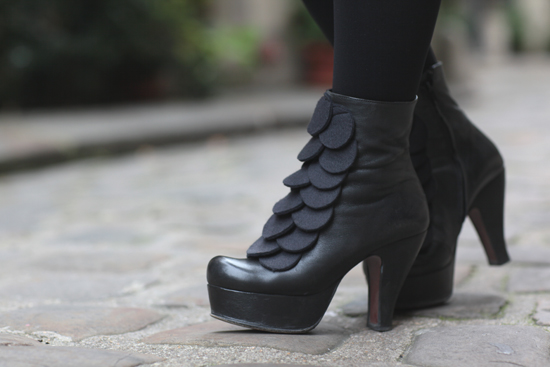 Duffle-coat Vila
Chemise étoilée/ starry shirt Only
Shorts Levi's vintage
Collier/ necklace Sak Label
Collants/ tights Mat Opaque 80 Wolford
Boots Chie Mihara
Sac-cartable / Satchel ASOS