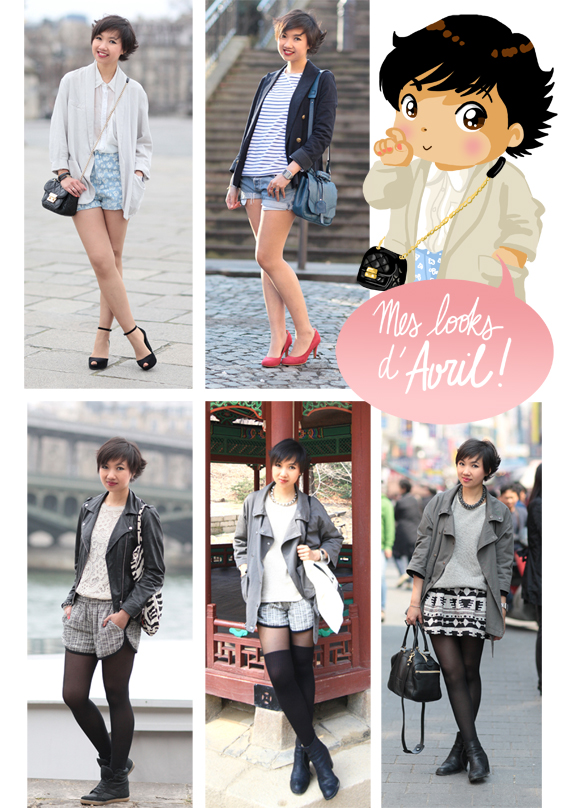 Le mois d'Avril fut pauvre en looks (puisque j'étais par monts et par vaux) mais je me plie à la règle quand même !
+ aimé : mon look « fleur bleue » : J'ai trouvé qu'il possédait la bonne dose de féminité, tempérée par mon boyfriend blazer. C'est vers ce  genre de silhouette que j'aimerais me tourner de plus en plus. Un pincée de preppy, un soupçon de féminité et du décontracté, toujours.
- aimé : Le look « chaussettes hautes » au Changdeokgung Palace. Lorsque je revois les photos, je me dis que j'aurais peut-être dû remplacer le short par une jupe patineuse. Mais bon, on mettra ça sur le compte du tourisme : une envie d'être à l'aise pour visiter. On fera mieux la prochaine fois !
April was pretty poor in outfits (since I was travelling all around) but I'll still play by the rules!
+ liked: my « fleur bleue » outfit: I found it had just the right dose of feminity, tempered by the boyfriend blazer . It's the kind of silhouette I want to strive towards more and more. A hint of preppy, a bit of feminity, and casual, always.
- liked: the high socks look at the Changdeokgung Palace. When I look at the pictures, I tell myself I probably should have gone for a skater skirt instead of the shorts. But well, we'll say it was the tourist effect: the need to be comfortable while visiting. We'll do better next time! (English translation by Bleu Marine)