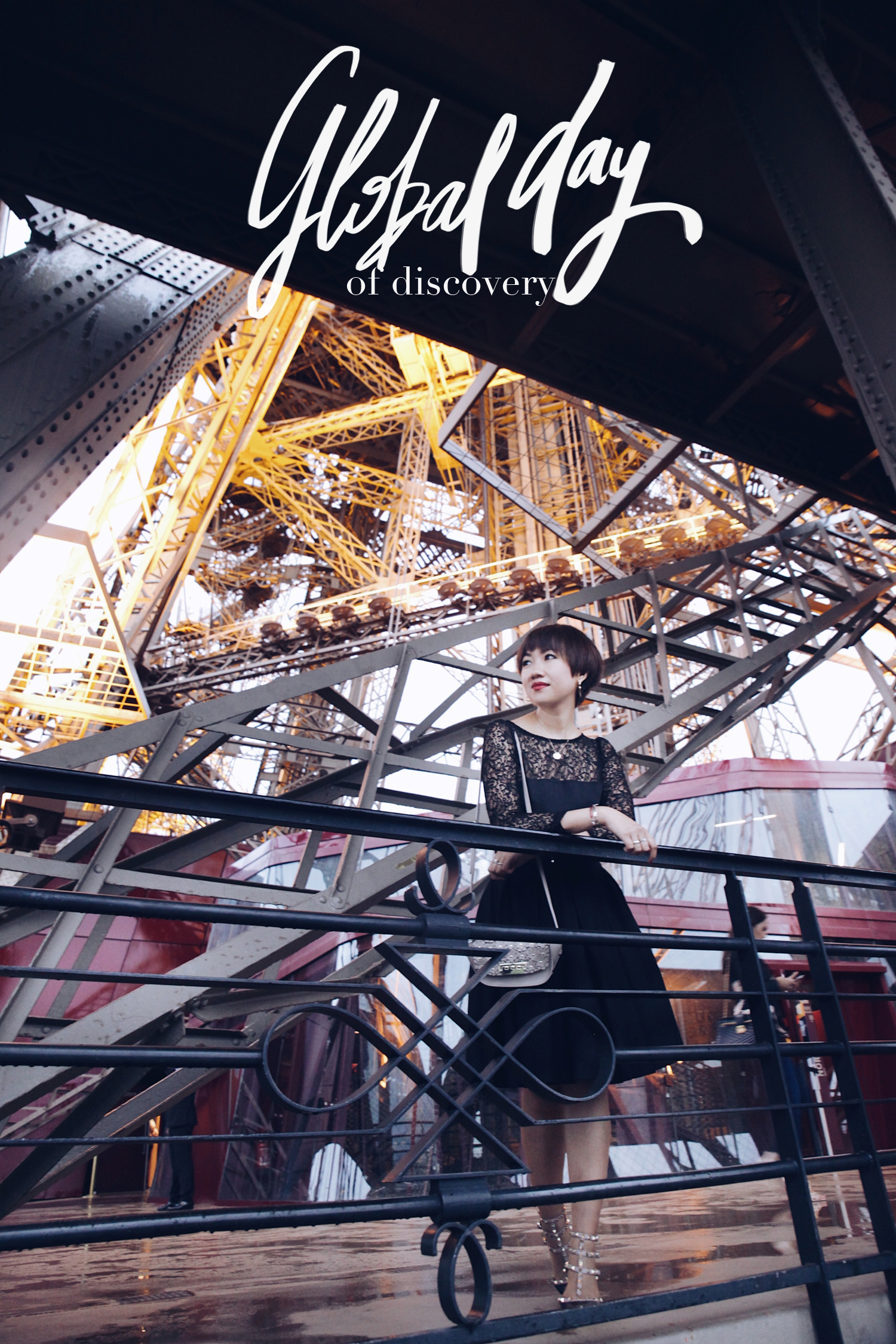 To wrap up my tour of the Renaissance Hotels, after Montreal and New York, I'm back to square one : Paris! For the 6th year in a row, the Renaissance Hotels celebrate their "Global Day of Discovery" in the 160 establishments they have all around the world, and I was invited to partake in the event here in Paris.
The "Global Day of Discovery" aims at discovering hidden places, putting art and gastronomy in the spotlight in each of those cities, all in a festive atmosphere. That – as well – is "Business Unusual"!
A night in the Renaissance République hotel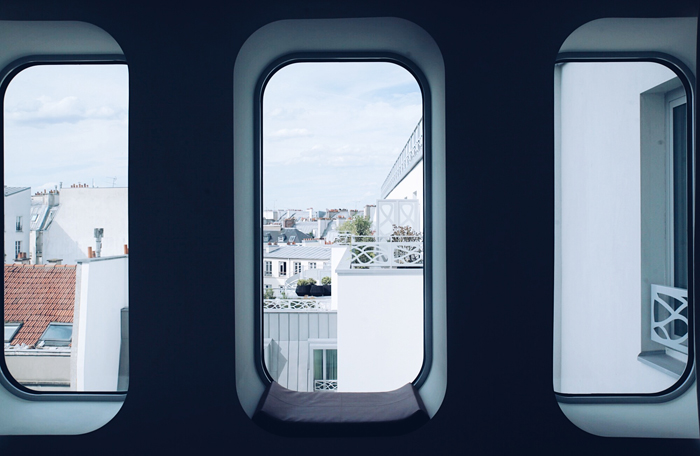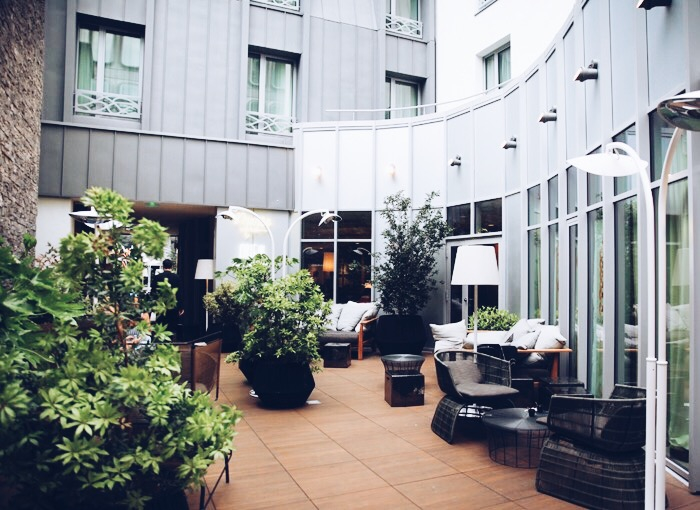 I arrived at the Renaissance République hotel on wednesday afternoon, and allowed me to take a little break in the midst of my busy planning.
As soon as I arrived and checked into my room, I was told a massage in the in-house Spa O by Sothys had been booked for me so I could relax before the evening : I couldn't really say no, right?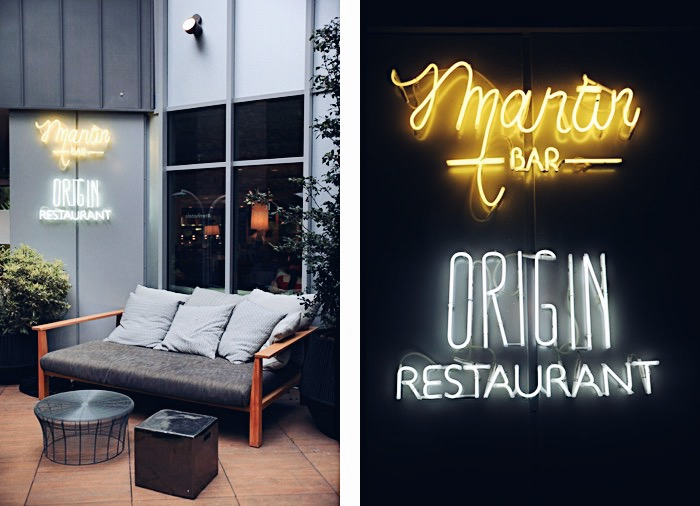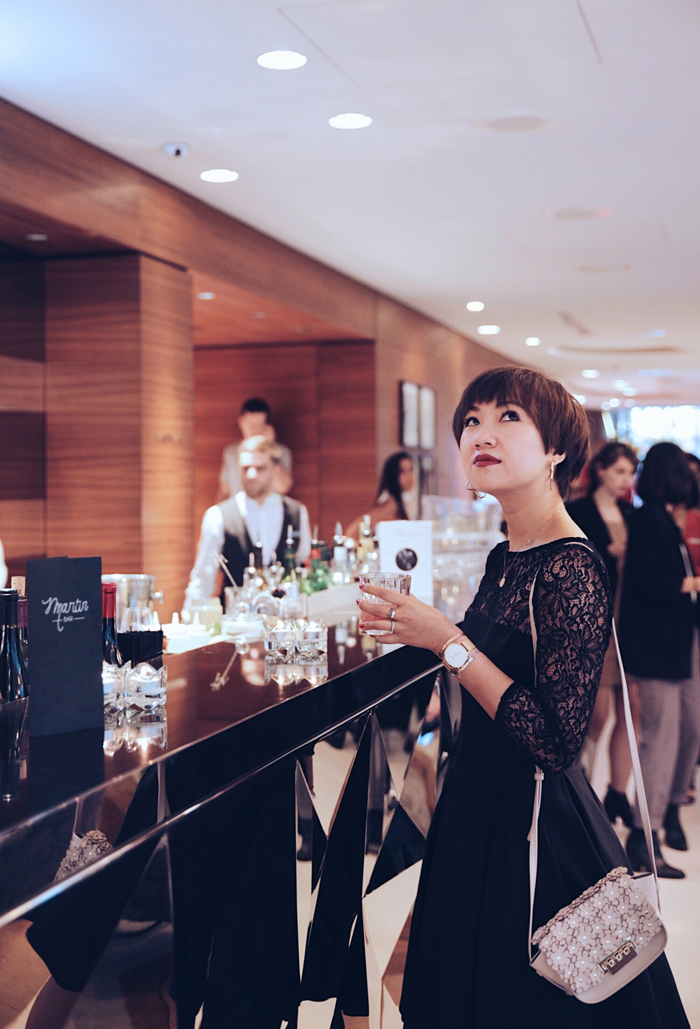 After this zen moment, I had a drink at the Martin bar, with journalists and loyal clients of the hotel. We are then invited to head to the 3rd underground floor : hmmmm … that's kind of scary! (you guys remember I'm a wimp right?)
Global Day of Discovery
Fabienne Costa's "Light painting" shooting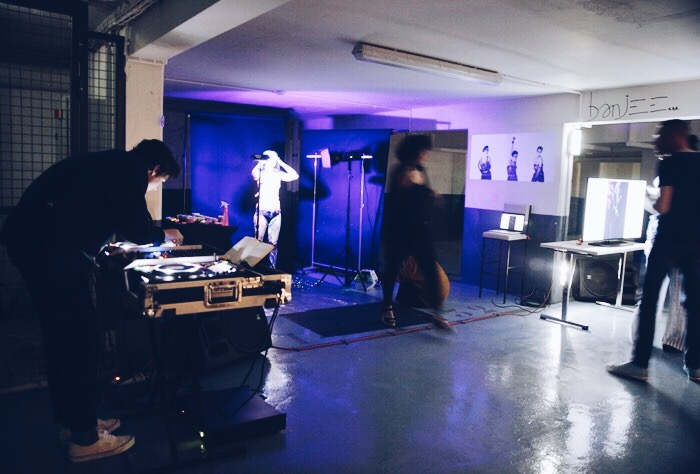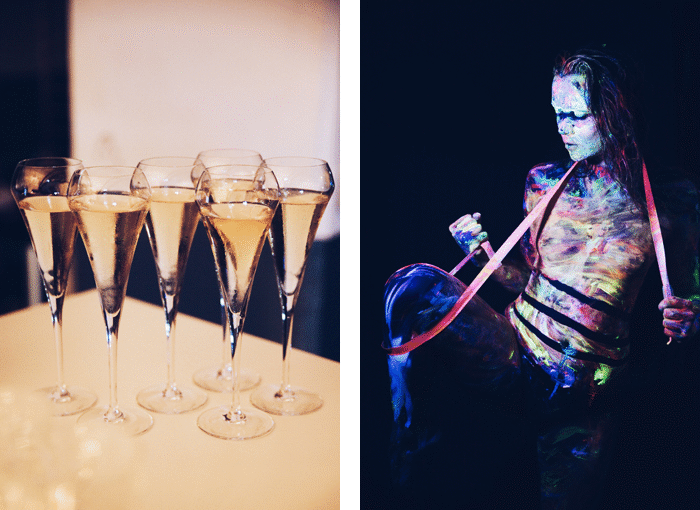 In the dark, we witness a "light painting" photoshoot by Fabienne Costa. Her model, covered in a fluorescent paint, poses under the artist's flashing camera.
These colorful photographic works will be exposed in the hotel, that is very intent on showcasing all forms of art.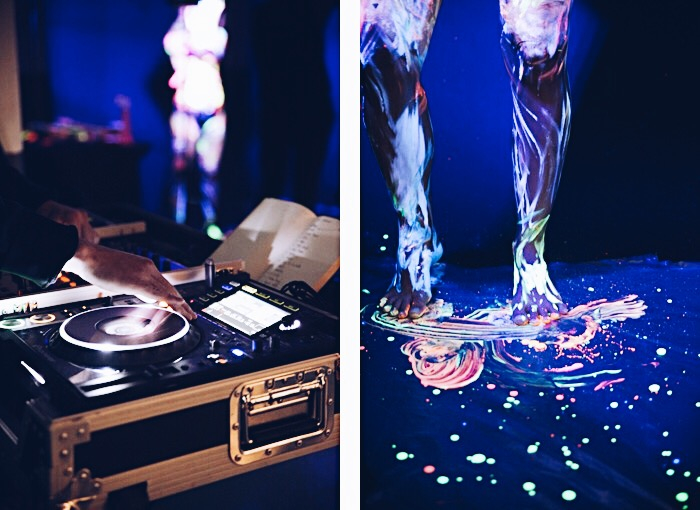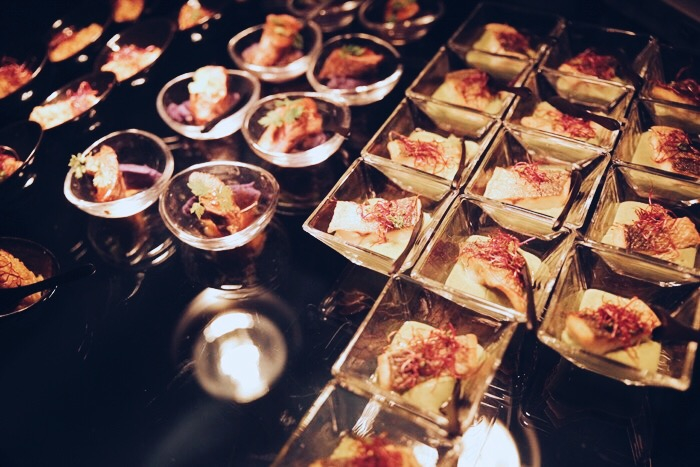 It was really interesting to be able to witness the creation of this art, all with music from a DJ, and eating a couple canapés and pastries : out of the ordinary, that's for sure!
Unusual Métro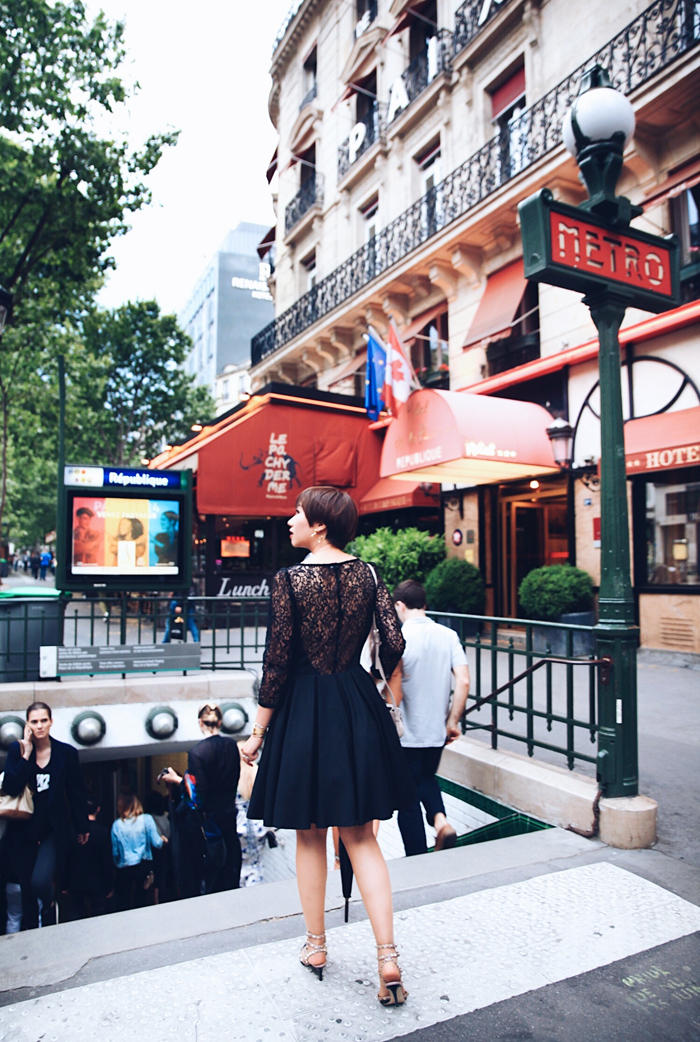 We were then given metro tickets for the next part of the itinerary : what?? We're not going by taxi?!! Questionning looks from the crowd, more used to taxis and cars with chauffeurs.
As for me, the metro is my usual daily mode of transportation, but I have to say that I'm not used to taking it while wearing an evening dress and heels!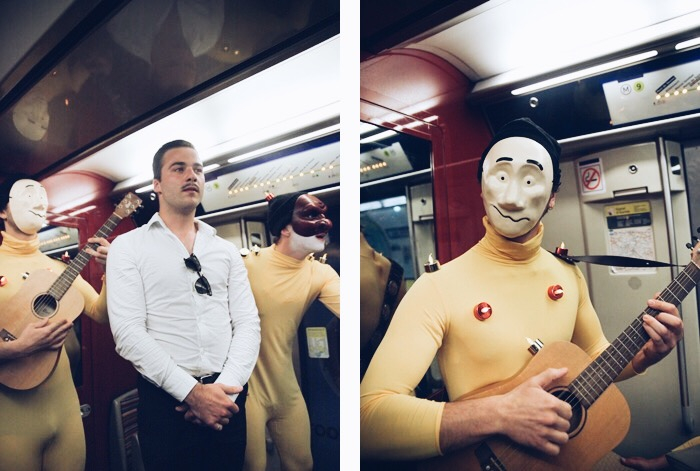 In the metro-car, surprise! A theater company starts singing a song (that remained stuck in our heads for the whole evening) : "Paris, Paris Paris, you really are the most beautifuuuuul ♬" and encouraged all the passengers to sing along. A real unexpected urban convivial interlude, and a pretty rare moment nowadays!
An evening on the Eiffel Tower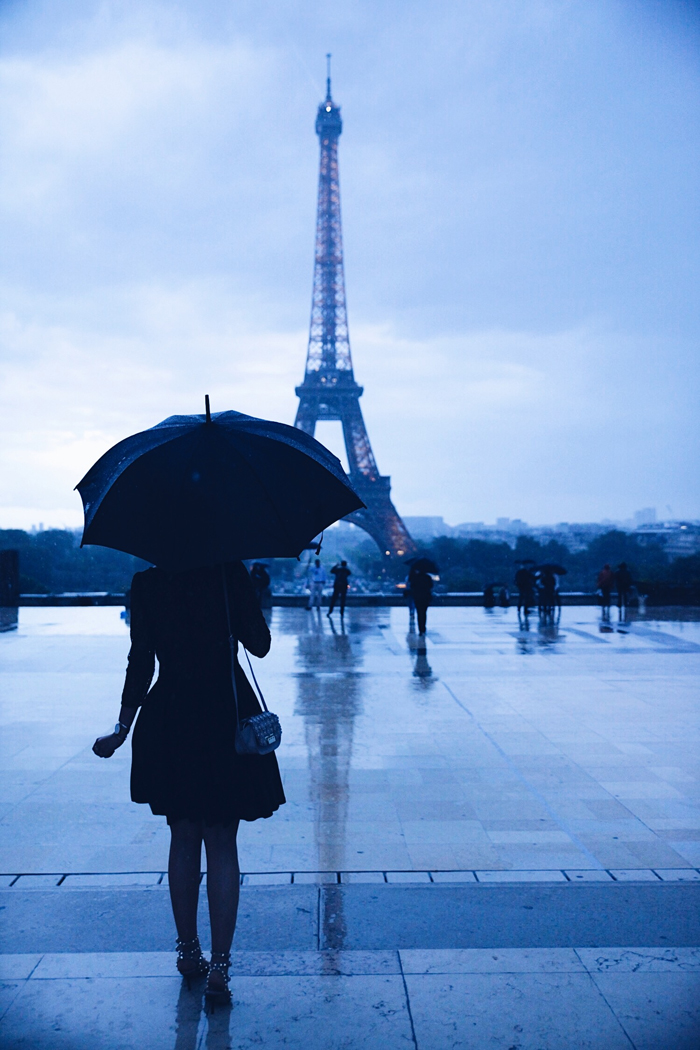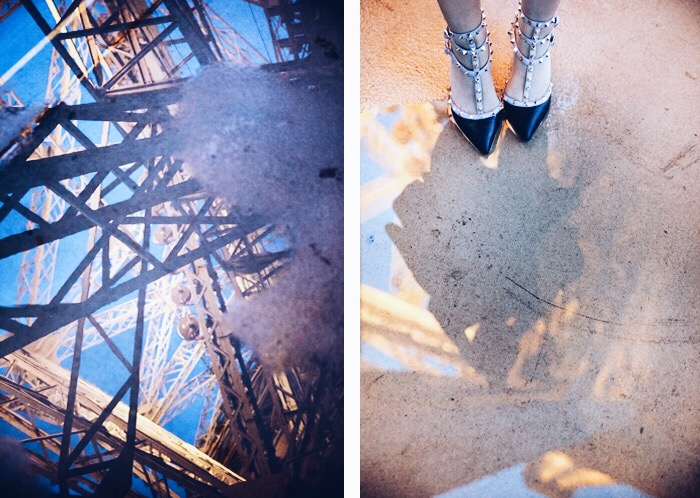 We exited at Trocadero station, and rain (the monsoon?) started pouring down : thank goodness we had umbrellas! I can also confirm that my shoes are super-waterproof!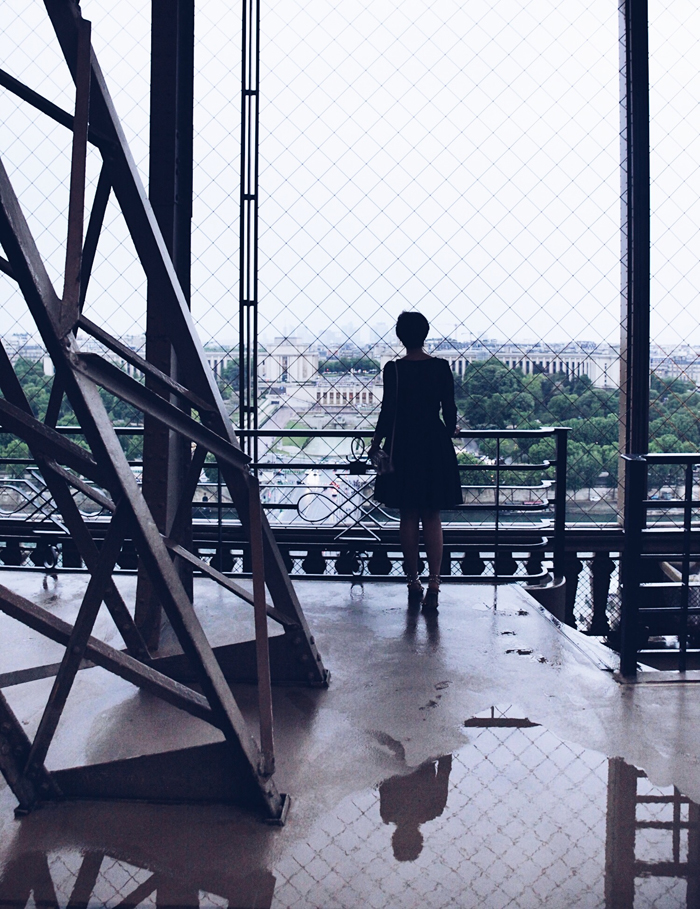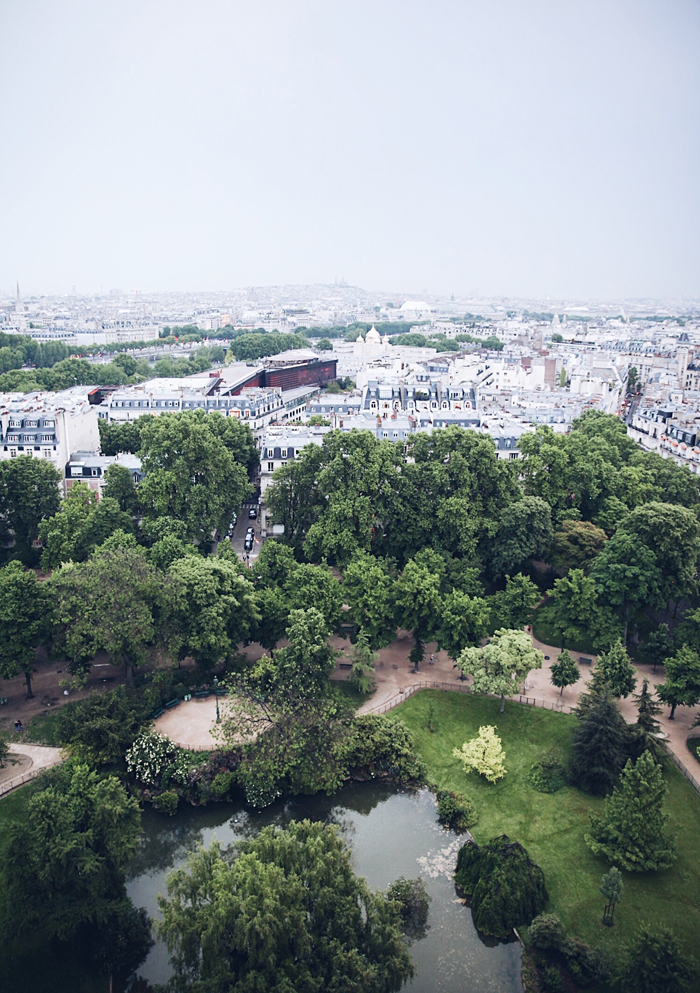 I slipped a couple times but didn't fall, and my dress got wet, but I arrived at the foot of the Steel Lady, and the escalator was waiting to take us to the 1st floor of the Eiffel Tower. It was simply magical.
It's not the first time that I go up the Tower, but I have to say I'm always in awe.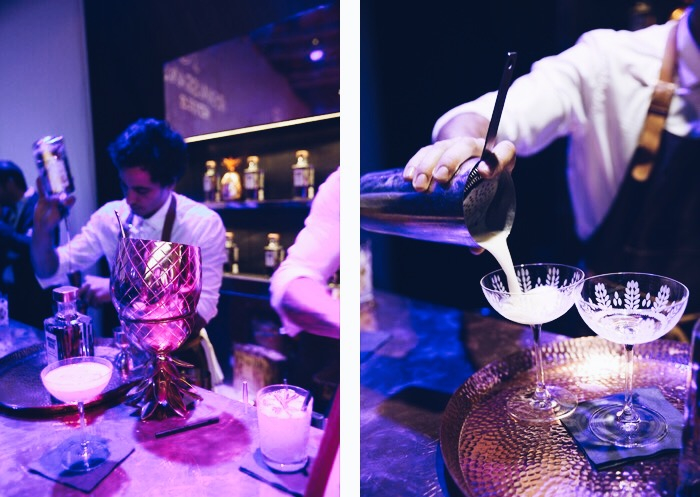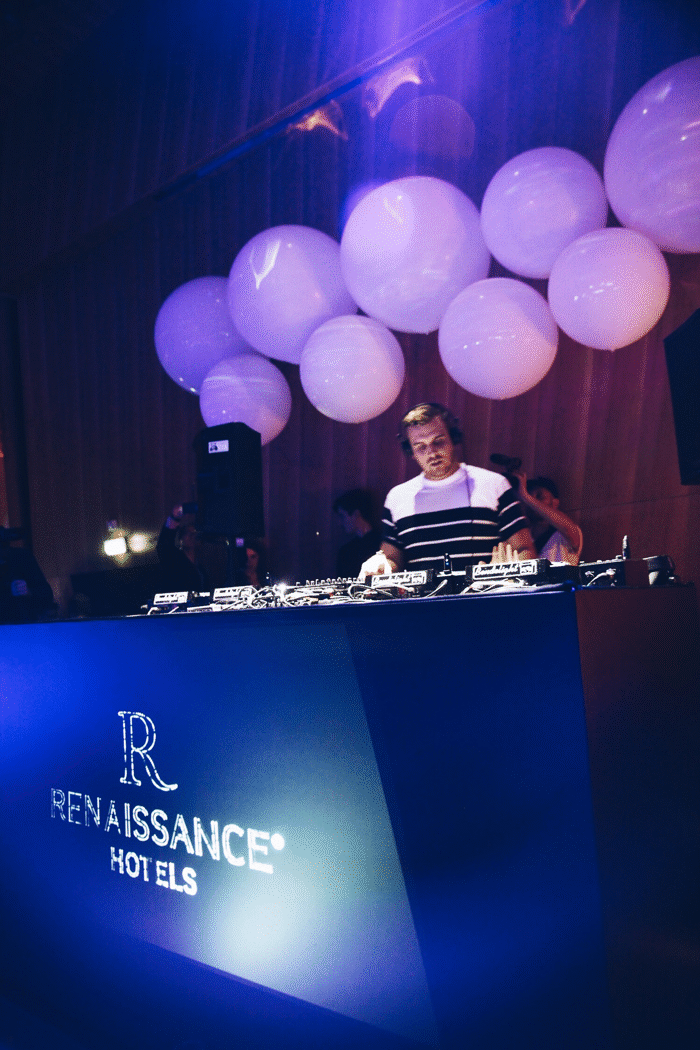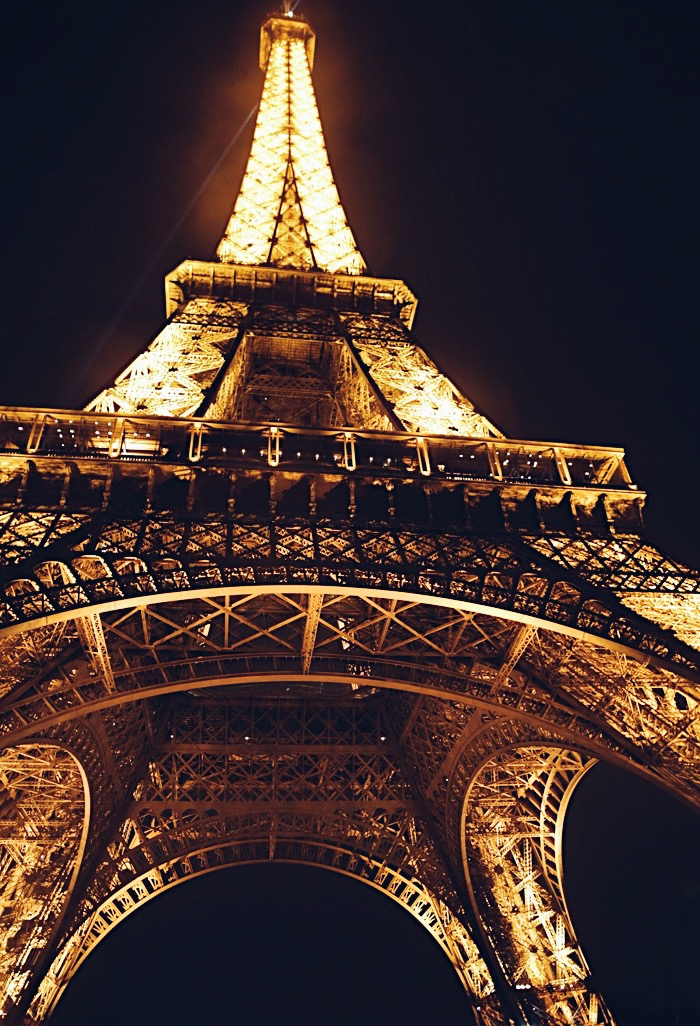 The view, the lights, the atmosphere and the mix by DJ Feder was the cherry on top to this exceptional experience.
Breakfast with a view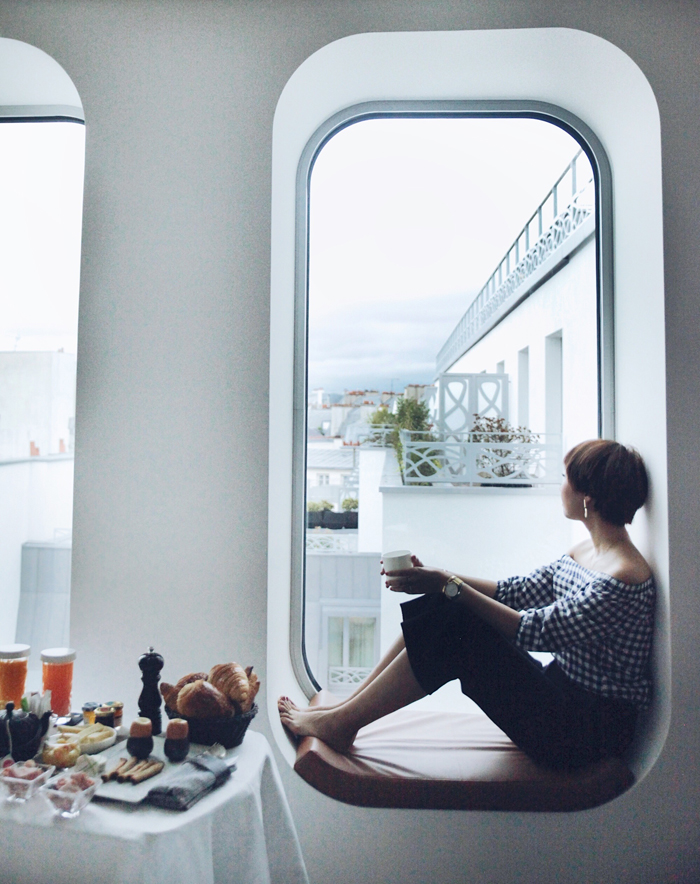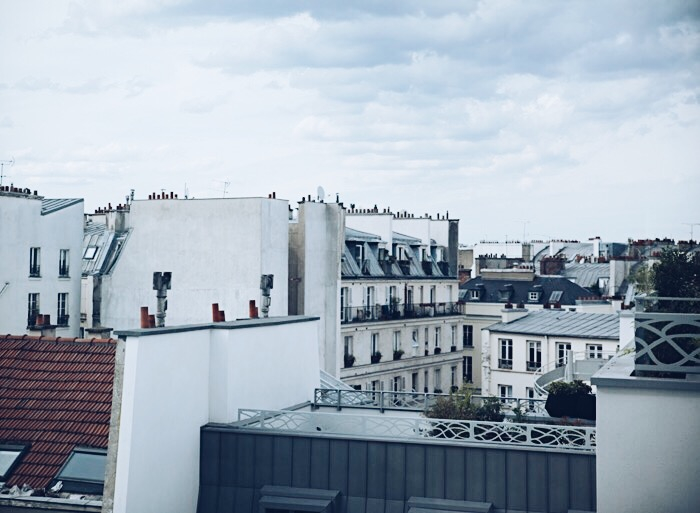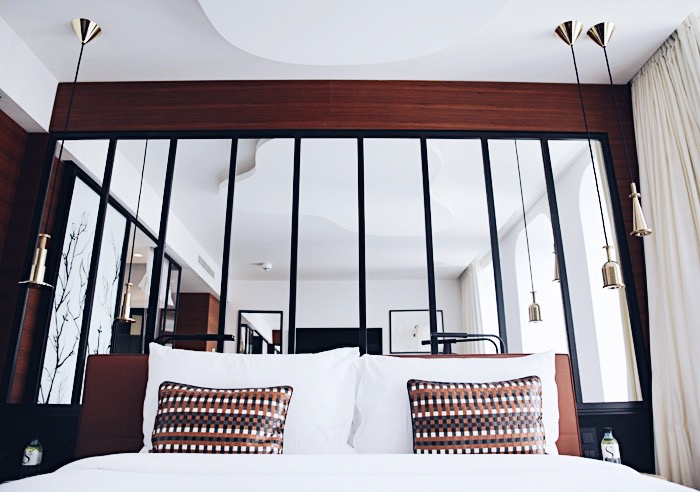 The next morning, breakfast was served in our room, after a short but oh so restful night!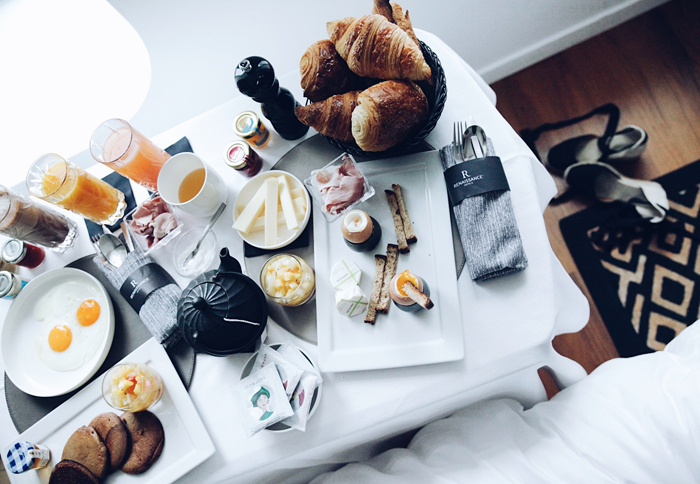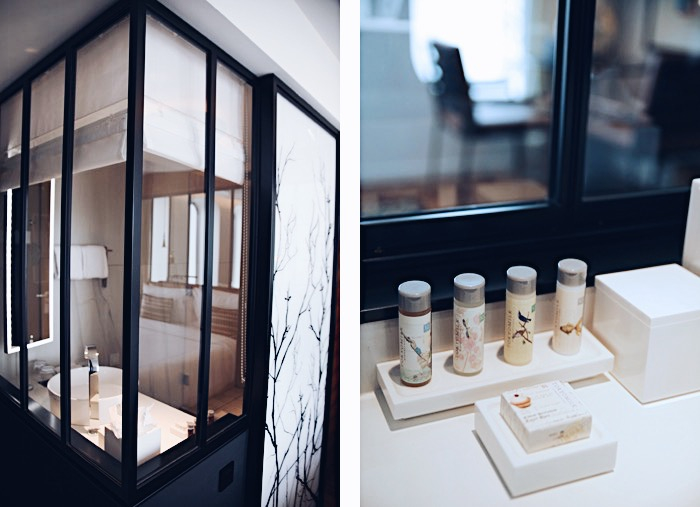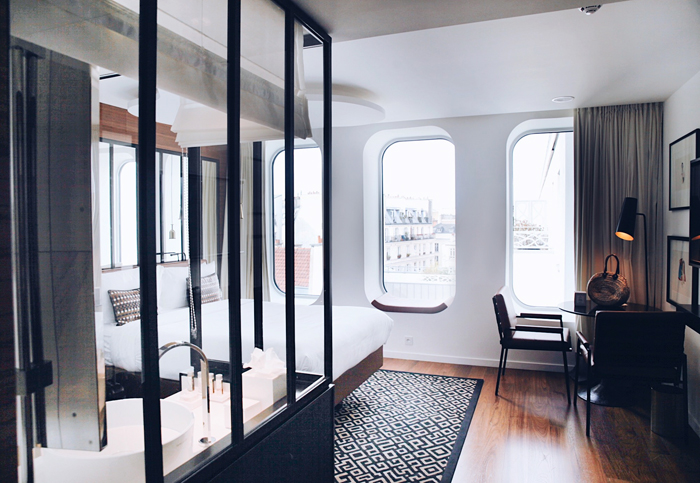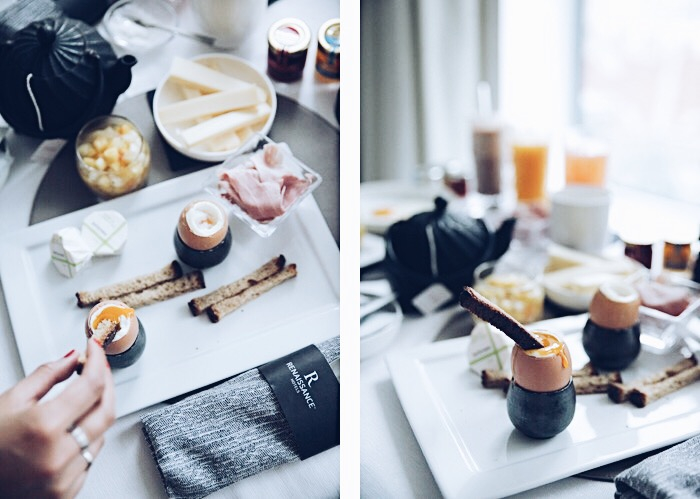 The decoration is inspired by artist workshops, with this atrium framing the bathroom. The breakfast is plentiful and eating while admiring the view of the Paris rooftops is pretty amazing.
City Art Tour by bike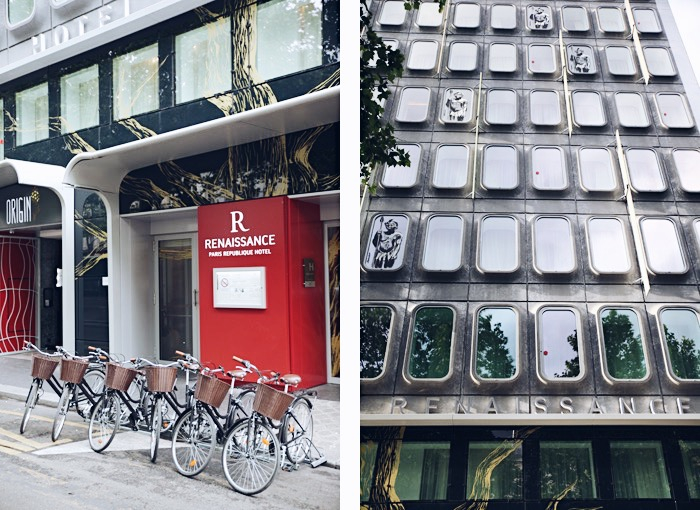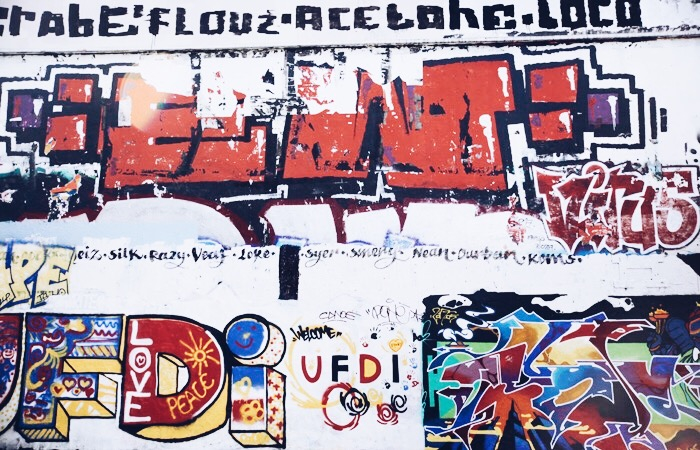 We needed to balance out all this food with a bit of physical exercice – we headed for a bike tour with our guide Laurine.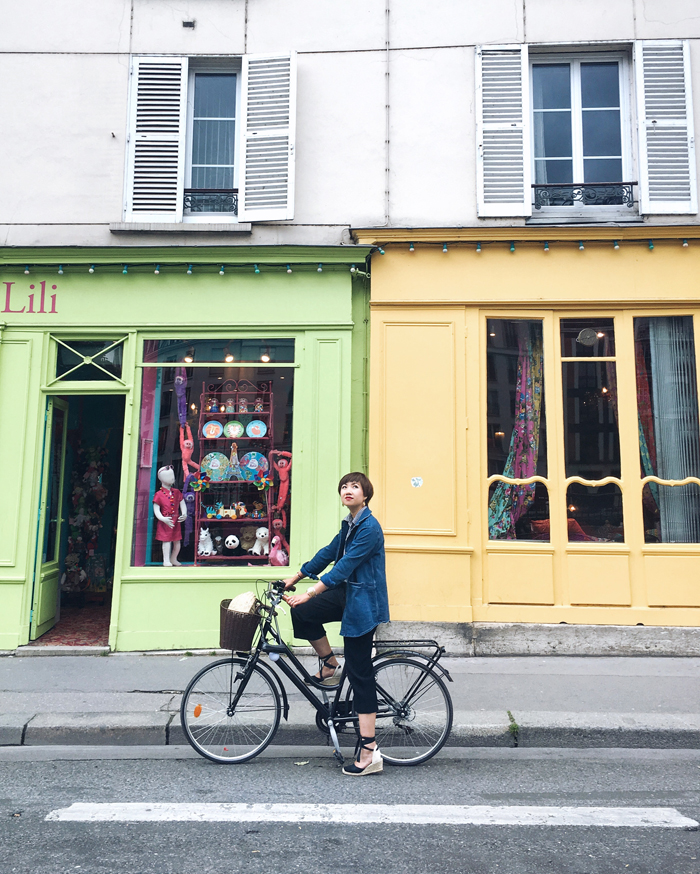 This tour centers on street art, around the St Martin canal and all the way to the Buttes Chaumont. I also discovered a ton of great shopping and food places, that I'll be trying out very soon.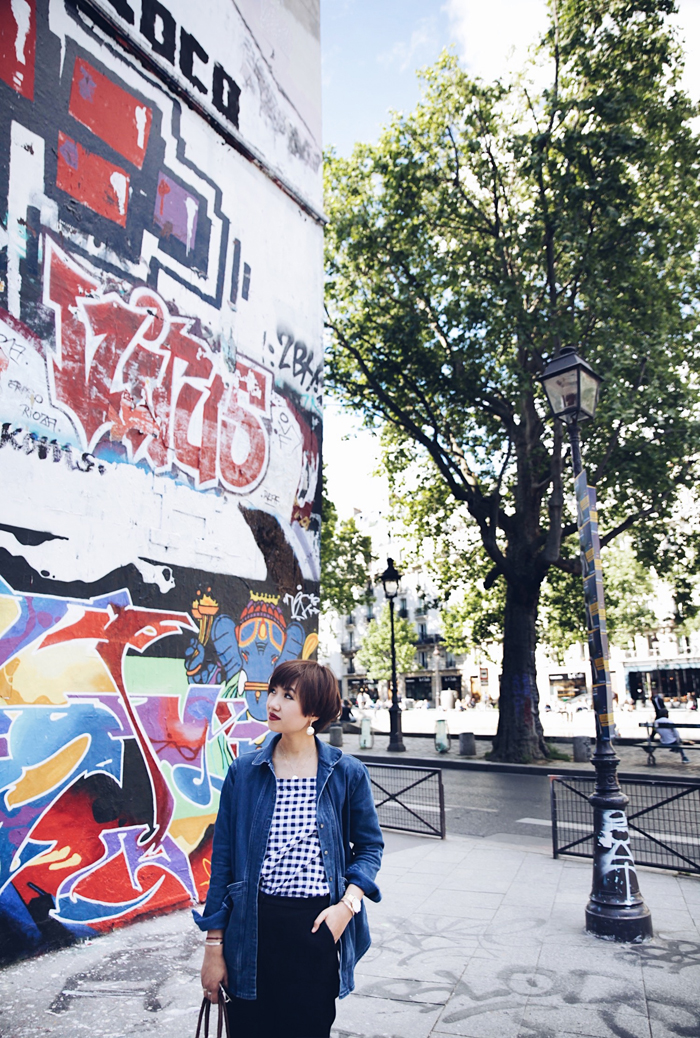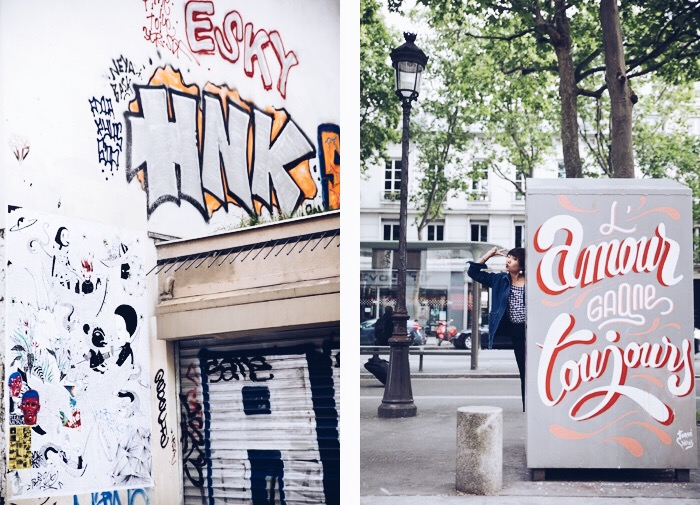 Indeed, I don't really know the area (I can generally be found around Ste Anne street and the Louvre). The addresses mentionned by the Navigator and listed on the website (scroll all the way down) will be a great help to discover new culinary spots. .
Here are a few that are on my to-do list :
La Pâtisserie Bontemps (57 Rue de Bretagne, 75003 PARIS) they are specialized in shortbreaks – as a crispy addict, I'm meant to go!
Lily of the Valley (47 rue de Lancry 75010 PARIS) : tea room and local pastries.
Le verre volé sur mer (53 Rue de Lancry, 75010 PARIS) a creative and elegant seafood restaurant.
Origin Restaurant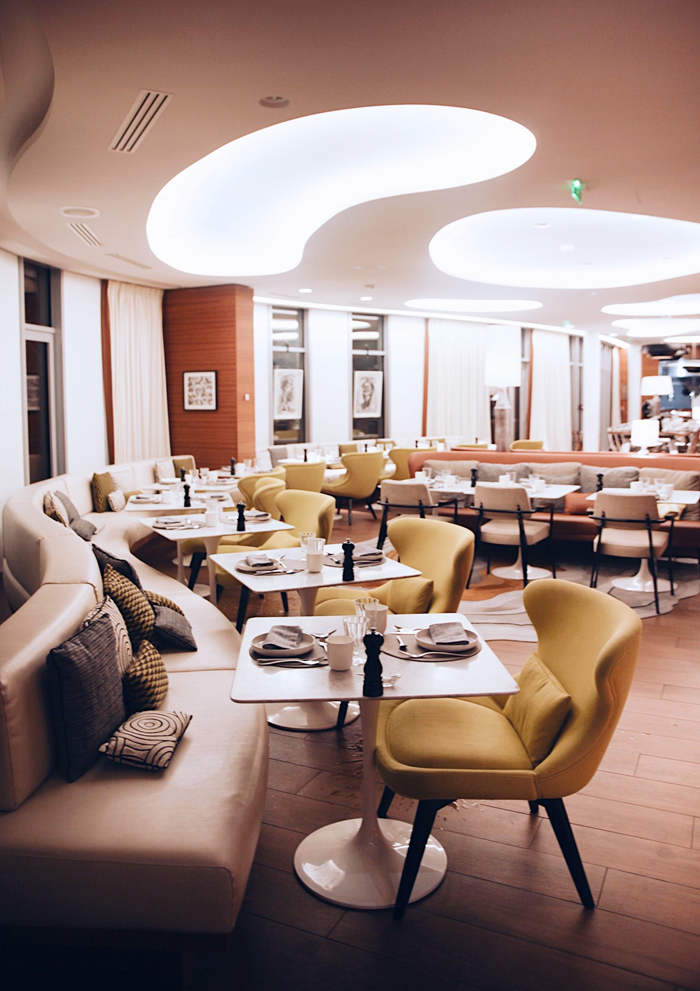 Back from our bike ride, a new culinary discovery awaited us : the hotel's restaurant : ORIGIN, with its simple but refined cuisine, by English Chef Simon Lewis. I liked it so much, I brought my whole family the following weekend!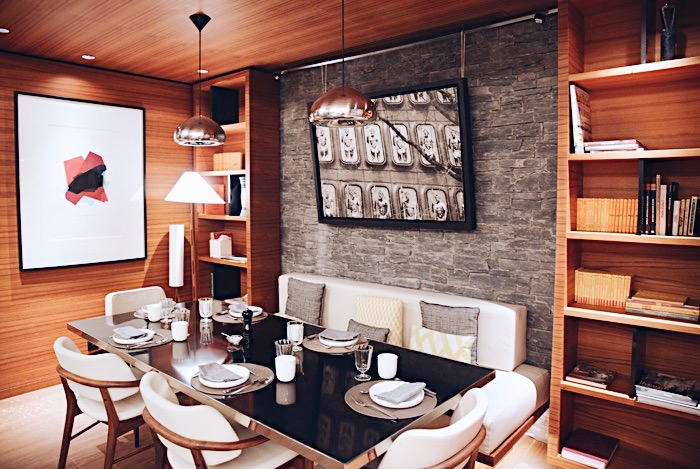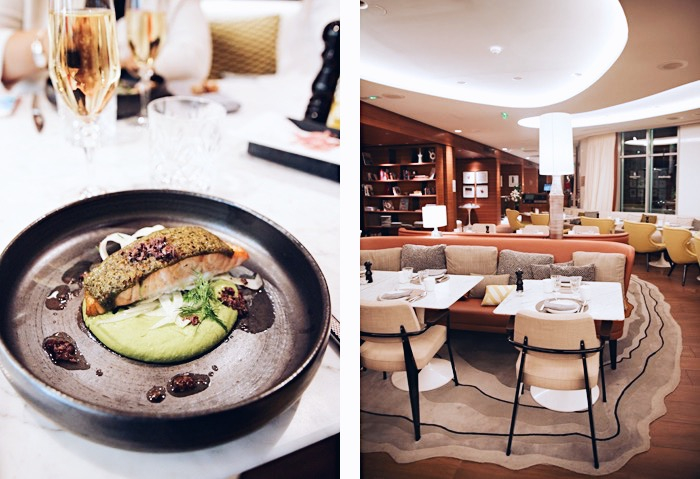 I'd especially recommend to go for lunch, for the menu is of great quality and pretty affordable (23 euros for starter/ main course, or main course /dessert, and 26 euros for starter/main course/dessert). I really enjoyed the roasted salmon and pea – cream, as well as the dessert!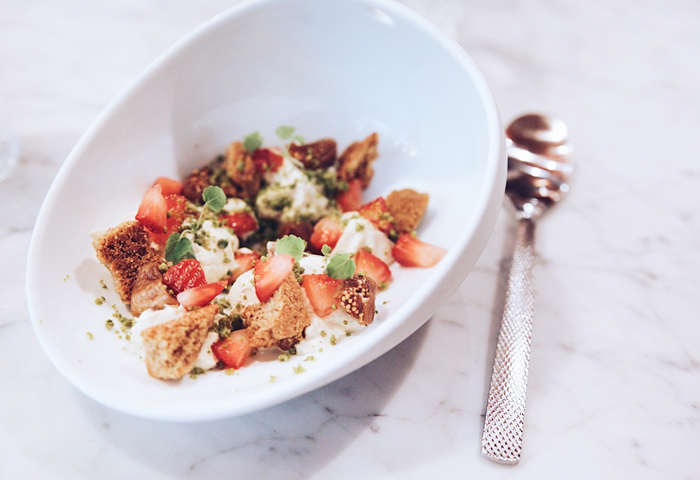 Ahh! Those pistachios "croquants", figs and strawberries were memorable.
I hope you enjoyed my Renaissance story – from Montréal to Paris, including New York. Although It was a partnership, I really tried to describe my experiences as authentically and sincerely as possible.
I'm aware of how privileged I am to have visited such beautiful and varied locations. Thank you @renhotels and thank you all readers who are the reason I can benefit from all these experiences. (English translation by Marine)
(Follow @renhotels on Instagram and use #BusinessUnusual when you're travelling)
This is a promoted post and was made in collaboration with Renaissance hotels.