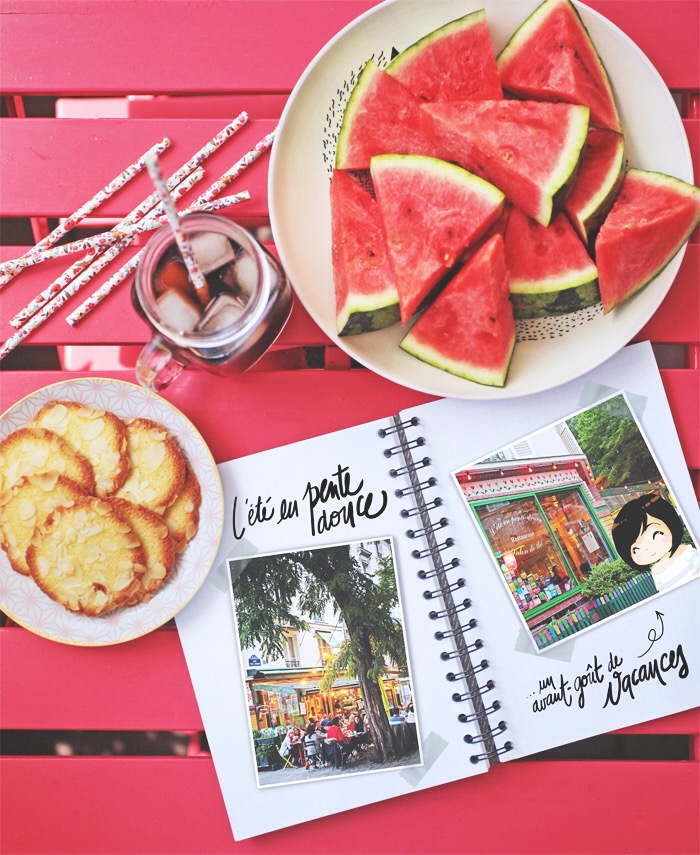 Summer is here, and I'm back with the perfect address, discovered by chance, as we were taking pictures in Montmartre. The place caught my eye with its terrace in the shade and its colors.
I'll be staying in Paris this summer (except for a couple weekends), so I might as well be looking out for places with a summer-vacation feel to them.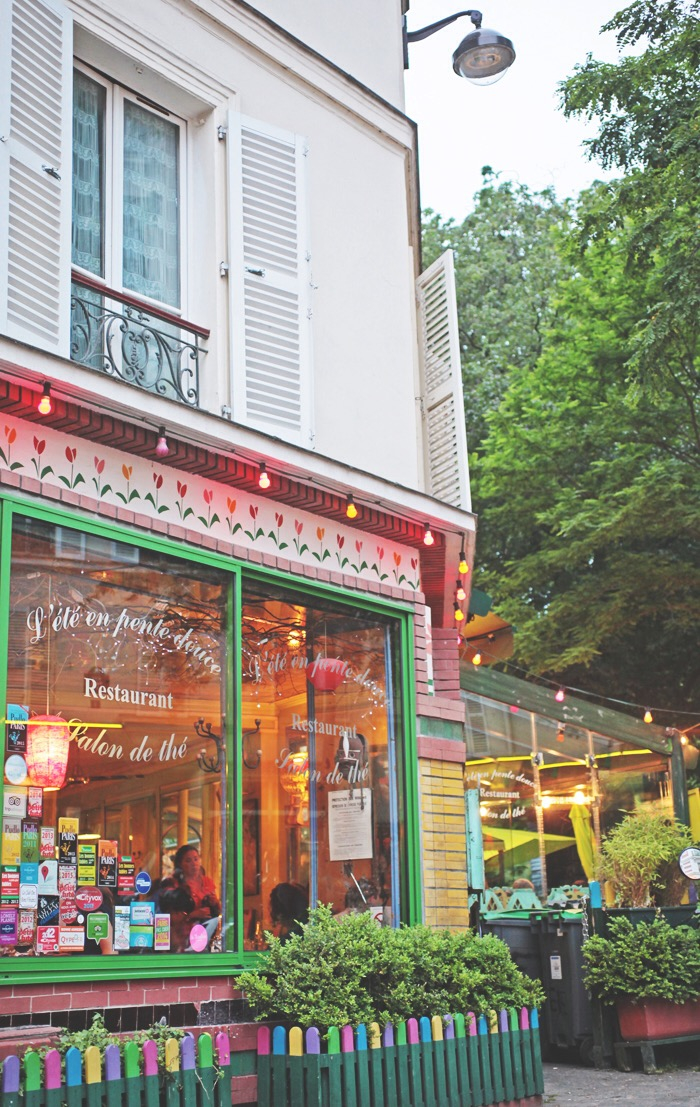 We were seated quickly by a smiling staff (rare enough to be mentionned), and I hesitated a long time looking at the menu's 100% homemade options (it's written in bold on the chalkboards out front, and I'm ready to believe it): stuffed bell peppers with 2 sauces, veal blanquette, quiche…
I'm also told the bread is homemade…is it too good to be true?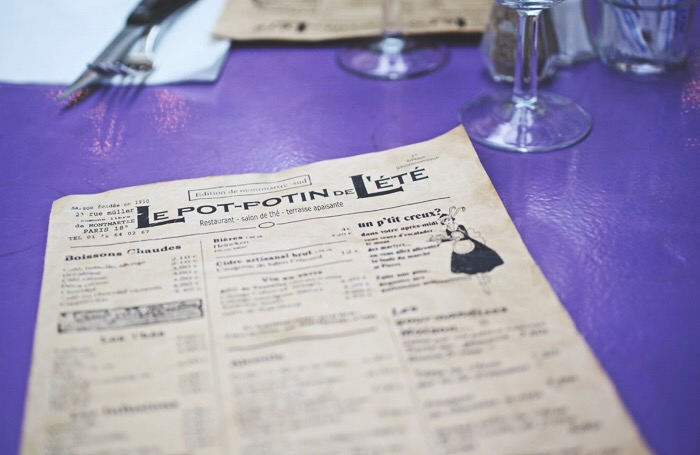 I opt for the vegetarian tofu lasagna and my SO for a generous serving of fresh "provençal style" pasta. Very simple, but the place flaunts its "family cooking style", and I'm all for that.
Small setback that day though: 45 minutes later (even if they were lovely, spent talking at our table on the terrace), I'm starting to wonder if they may have forgotten about us. It was the case. The waiter was probably day dreaming about his vacation, and had forgotten to place our order!
Apologies and embarassed smiles : they're really sorry, and promise that the drinks and dessert are on the house. All is forgiven! (See how easily I can be influenced by food?)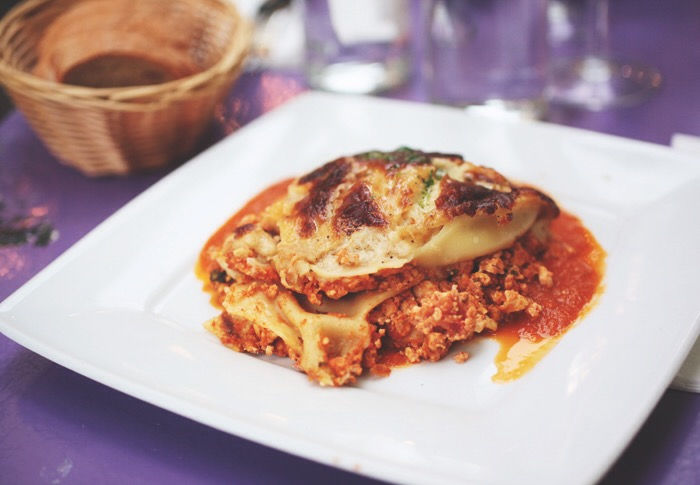 Our orders arrive: my vegetarian tofu lasagna is delicious. I especially love that creamy sauce, with tomato and fresh mint.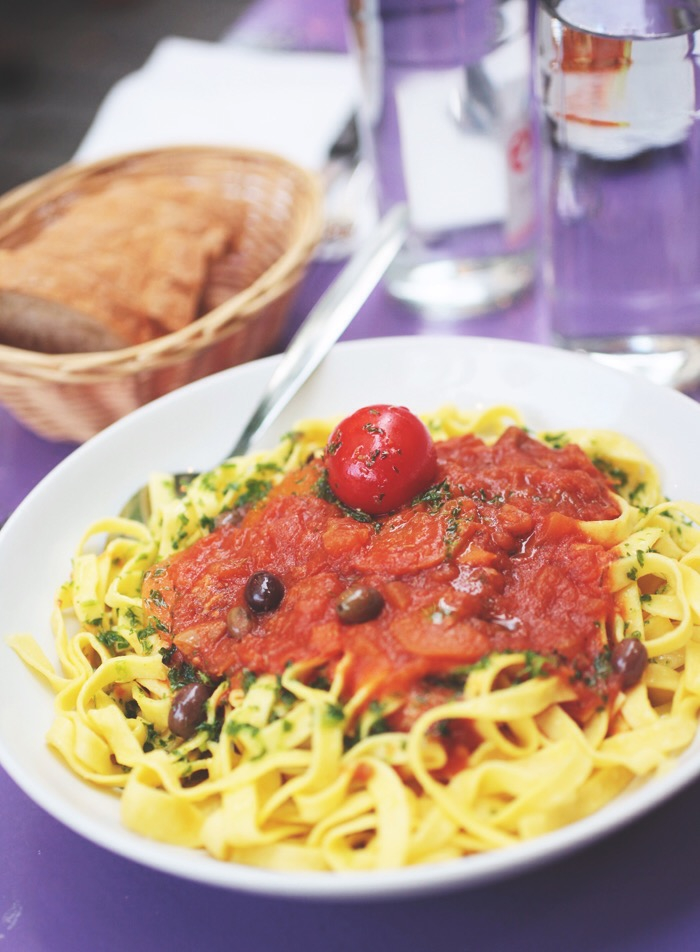 Across the table from me, the fresh tagliatelle pasta are served with a tomato sauce with wild mushrooms, carrots and celery. The plate was wiped clean, which allows me to deduct it was good.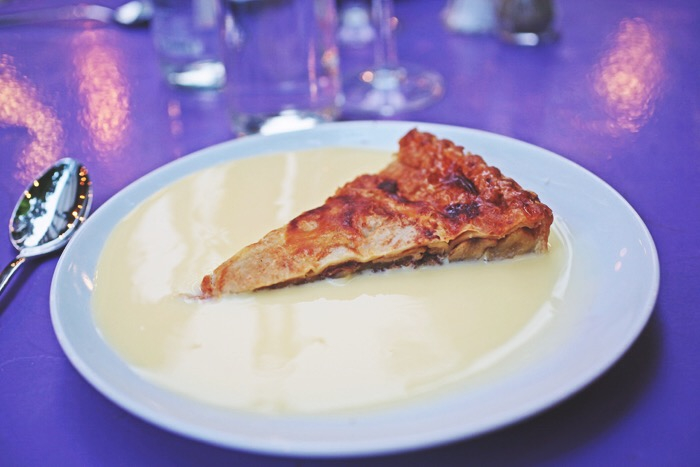 For dessert, I decide to try the apple and mushroom strudel, intrigued by this surprising match. With it's english custard, the strudel is caramelised and well prepared.
This savory-sweet twist is pretty good, even though I must admit it's not a match made in heaven.
My SO chose the lemon tart on a bed of plums: it's good, but the crust is a bit too soft…too bad!
I think next time we'll have to try the chocolate and nut fudge cake, it's supposed to be the restaurant's signature dessert!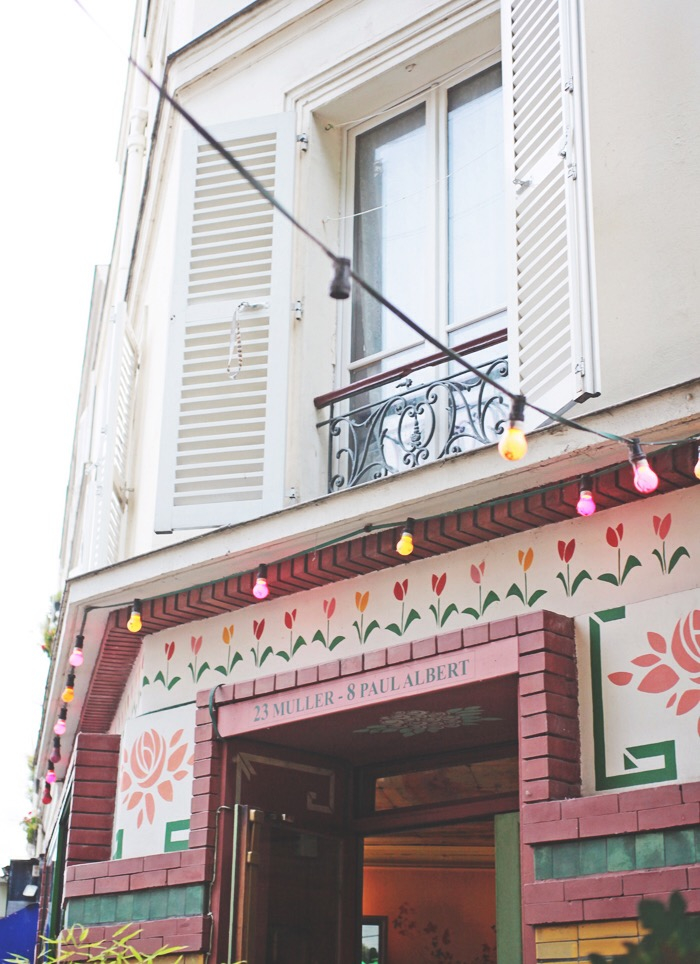 All in all…
All in all, if you're looking for a place to get a drink, or grab a bite (more on the savory side if you ask me – although I might not have tried THE dessert), and get that "at home" feeling, this just might be the place for you.
I hope your order will be place on time (or maybe you will try and get the staff to forget about you to win free desserts and drinks, you machiavellians you! hehe)(English translation by Bleu Marine)
Restaurant / Tearoom
L'ÉTÉ EN PENTE DOUCE
23 Rue Muller
75018 PARIS
(Métro Château Rouge, Anvers)