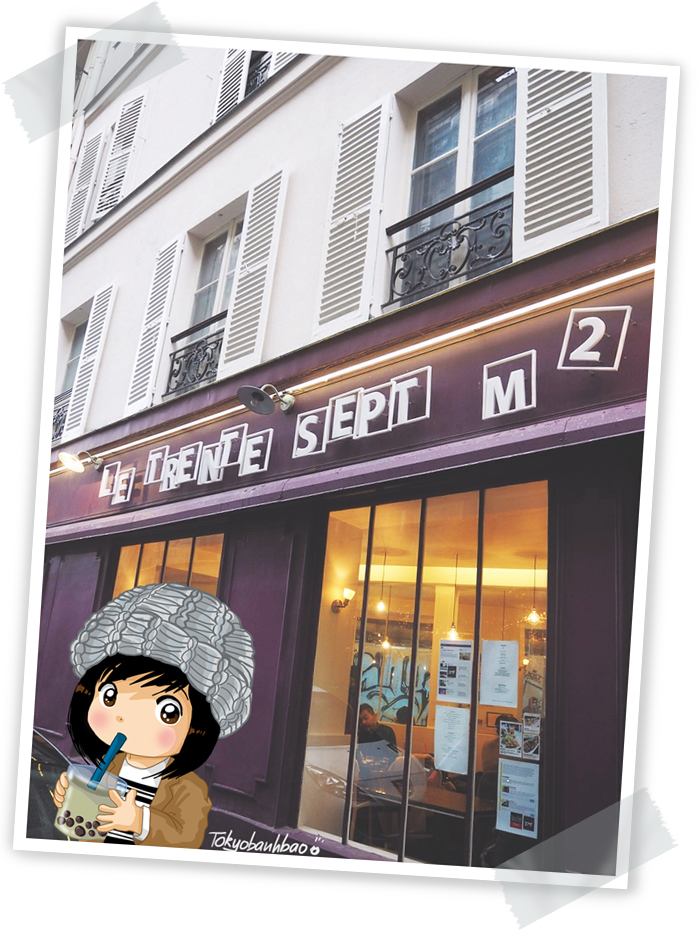 Last weekend, we felt like a family brunch. Yes but WHERE? Found at the last minute, this address was a bit of a gamble.
But luckily, despite the grim weather, the planets aligned for us and I can finally share with you my experience of the Taiwanese brunch.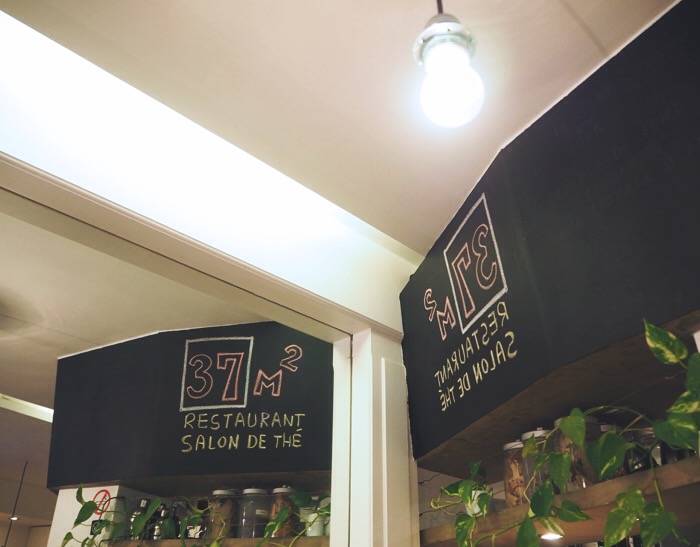 As the name gives away, the location is on the small side (is it really 37m² ? Phil Spencer shed some light please!) but cleverly done up thanks to a big mirror that suits the place well.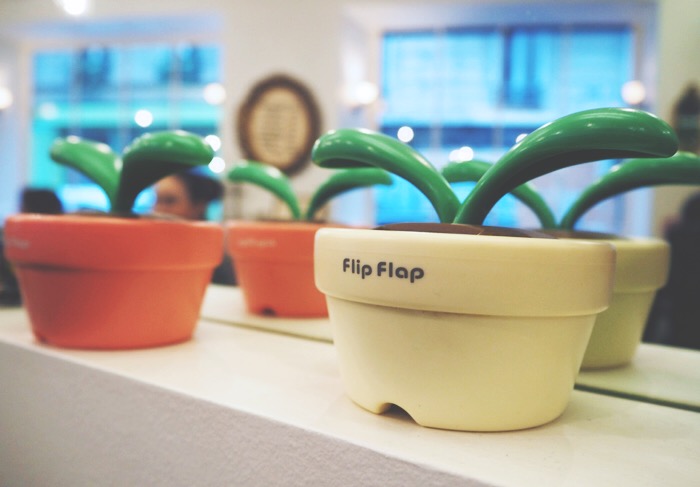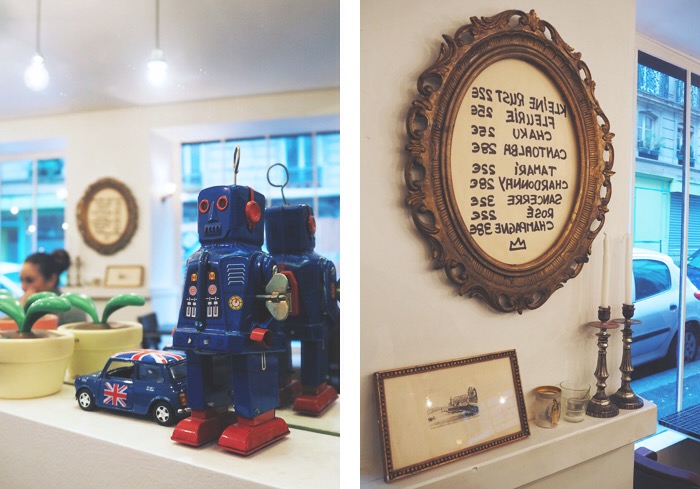 On the wall, the wine card is written back to front, so you can read it in the mirror: clever!
Let's brunch !
Let's talk about the 26 euros brunch menu that is described in the entirety of this article.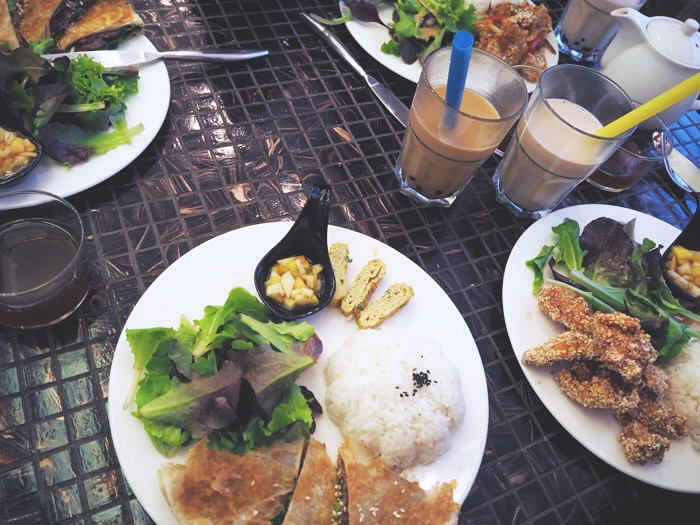 The brunch is served on the table and not on a buffet (Anyway, apart from installing one in the toilets, I don't see how it could be done in 37m²), which suits me better because I am usually disappointed by buffets that in order to satisfy our greed are often too simplistic and poor in quality.
Jam, home made bread and tea
We are brought a tray of little home made bread rolls (it seems that the chef is an old student of Guy Savoy so we are in good hands) and the jam is also home made..and you can smell it !
Very very good: it is light and not too sugary…we even succumbed to another tray that was calling our name (we weren't charged for it = very rare indeed in Paris), greedy as we are. All the time the Oolong tea was flowing.
Choices of drinks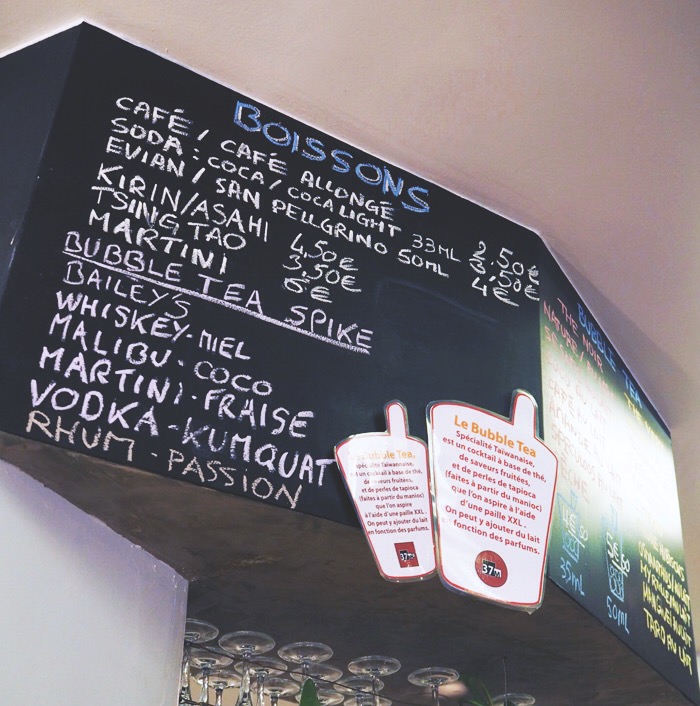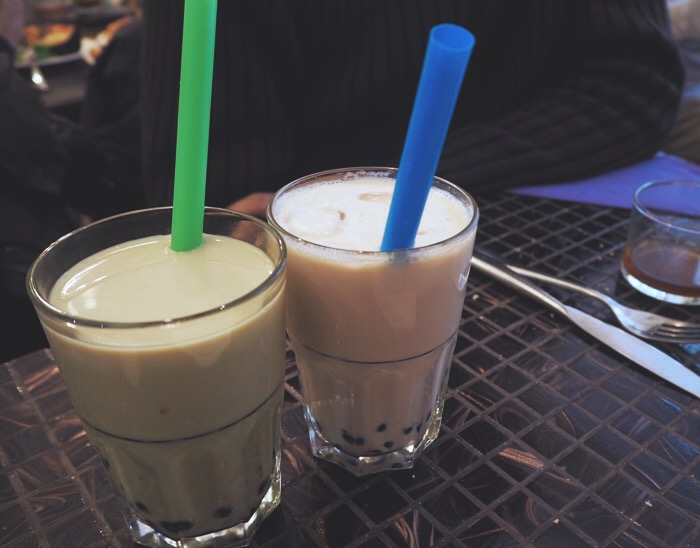 Matcha & Bailey's bubble teas
In the à la carte menu, you are meant to choose a drink between bubble tea (Taiwanese drink), a soft drink or a glass of wine..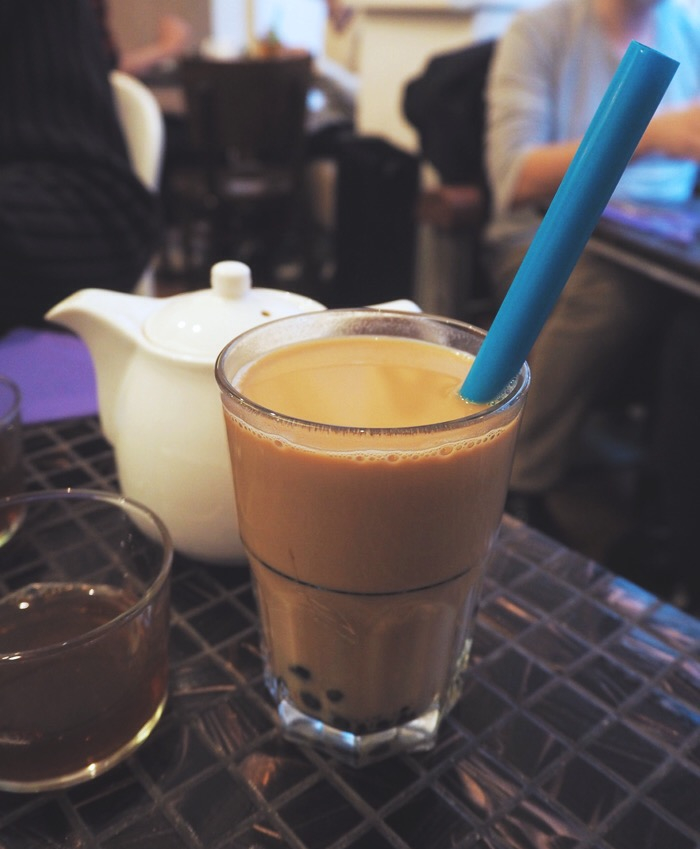 Bubble tea au Speculoos
he bubble tea was the unanimous choice: the flavours are quite varied: matcha, speculoos, milk chocolate and others more original in nature because containing alcohol (Bailey's, honey whisky, Kumquat vodka…): to enjoy moderately obviously.
The tapioca pearls are good and not too soft, I confirm !
Main
You can choose a dish from 6 different options, the plate is already garnished with an omelette, a fruit salad, a salad and rice.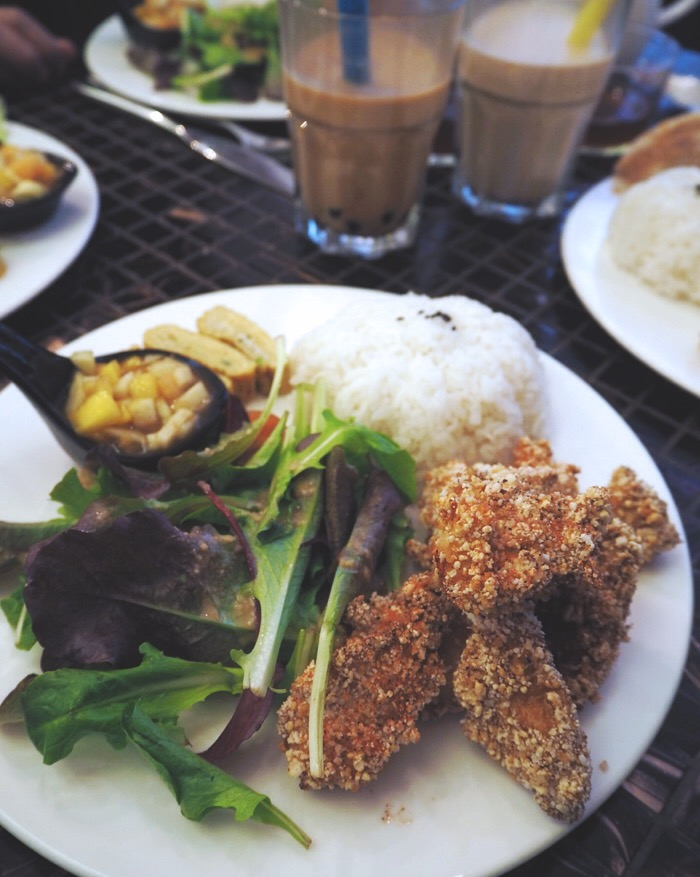 Fried chicken with prune

I opted for the fried chicken with prune, interesting in taste and crunchy.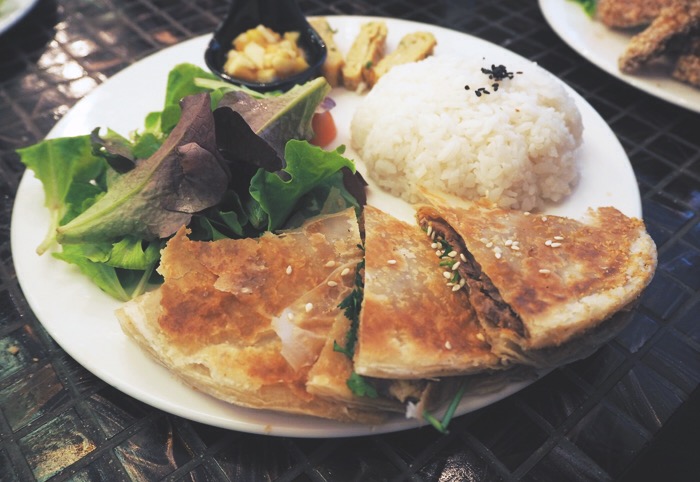 Beef pancake with nuts and coriander
Next to me, it was the beef pancake with nuts and coriander that made people talk.
The beef is delicately folded in the pancake which remind me of Thai pancakes or the Moroccan pancakes called "Msemen" (not sure about the correct spelling). It's crunchy and slightly puffy.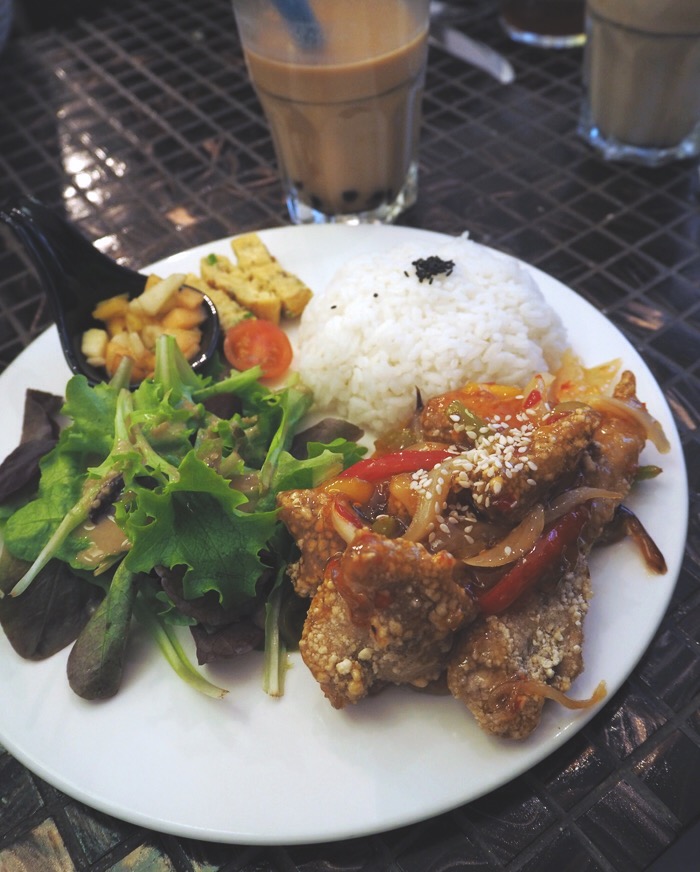 Fried sweet and sour chicken
The fried sweet and sour chicken was also well prepared: crusty and melty thanks to this coating of sour sauce. We could have tested the gambas that were wrapped in Capelli d'Angelo or the fried calamari with basil but I trust that you will.
Dessert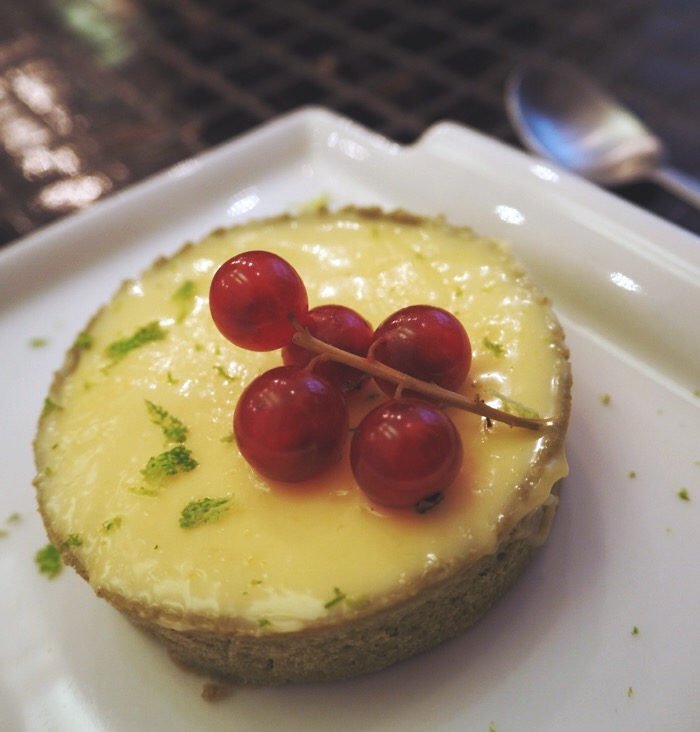 Tarte citron mangue et pâte sucrée au thé vert
We end it with a bang because the desserts (the ones we tried anyway) have been prepared with the utmost care: big up for the lemon-mango tart and it's sugary green tea pastry that went down nicely: the pastry is crusty, not soaking at all (which is usually a flaw with lemon tarts) and the cream is extra-smooth.
The only critique I could give is that it is hard to taste the mango…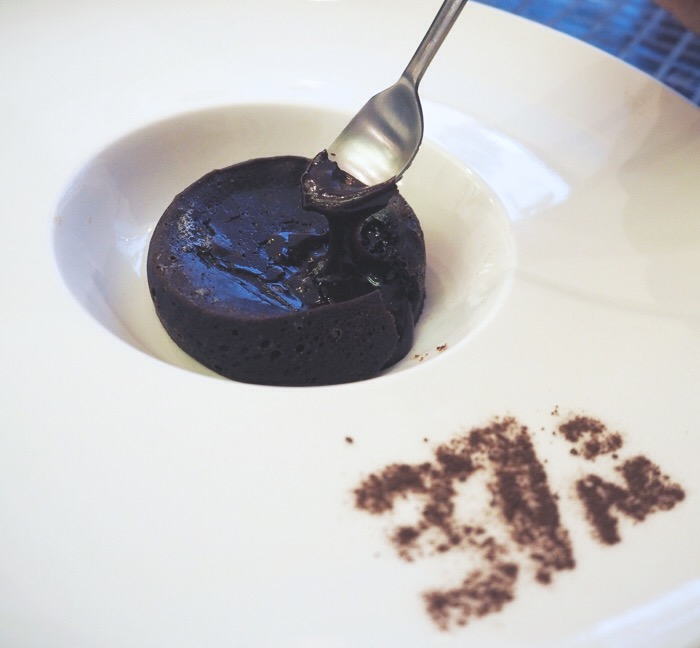 Fondant au chocolat
The chocolate fondant is also excellent: fans of melted hearts with chocolate smiles, go for it, it rocks!
En résumé
A very nice surprise indeed is this 37m² where we did well to reserve a table this Sunday. Tranquillity, lovely food and friendly atmosphere, I sign on the dotted line to move in ! ! (English translation by TradIsa)
Le 37M2
68 Rue Rodier
75009 PARIS
(Métro Anvers)
(PS : Pictures taken with  OLYMPUS Pen E-PL7 & lens M.ZUIKO DIGITAL ED 14-42mm 1:3.5-5.6 EZ)