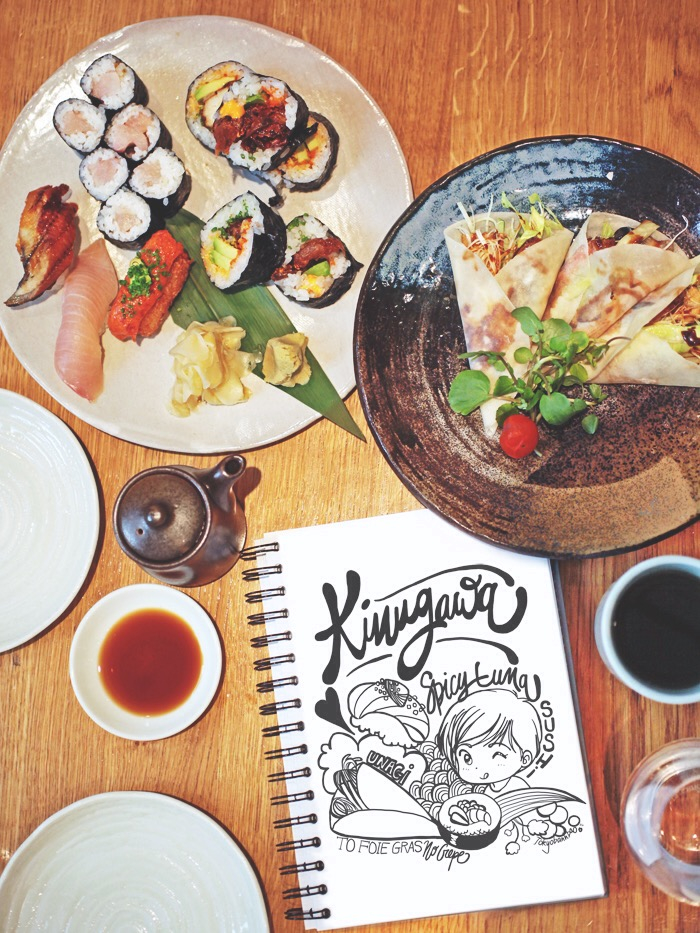 It's been a while since I last posted about a japanese food address in the capital: you can already find some on my map, but as I'm always up for new japanese experiences in Paris, here's a new one!
Of course, we'll set aside the "fake" japanese restaurants, but you've known me for quite some time, I'm sure you won't be fooled (we'll just walk away from the A3/B6 menus and the sushis with spring rolls and a handful of soft nougat, right?).
But let's get back to business: I had already heard about this place (via Gwyneth Paltrow, on her blog …. haha, what a reference, right!) but I had never tried it myself.
Where? Who? Why?
Between Place Vendôme and the Jardin des Tuileries, this place is perfect for dinner or lunch with your SO, to celebrate something special with friends, or simply to treat yourself (or to see Gwyneth).
The location let's you expect higher prices than in the canteens of Ste Anne Street, but the choice in the menu, and the skillful presentation justify the difference.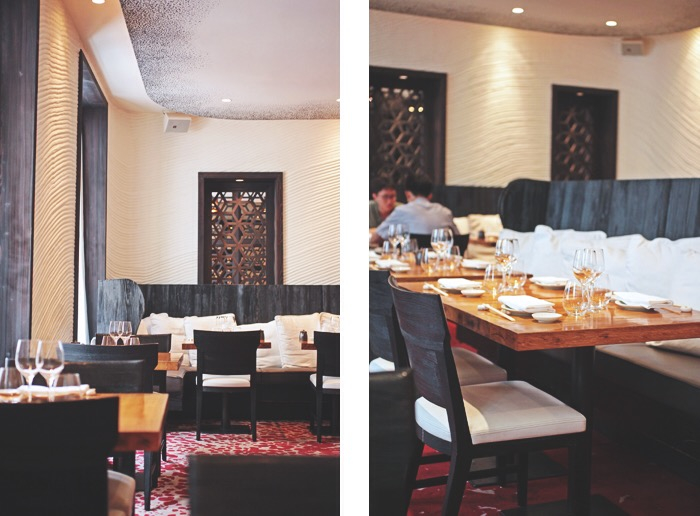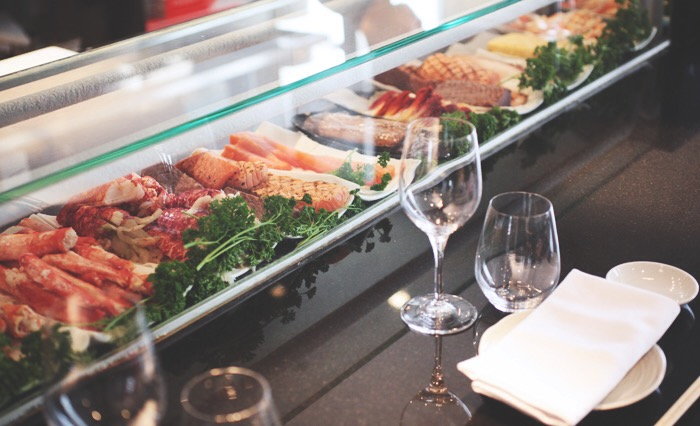 Atmosphere
The decoration is contemporary: dark wood furniture, thick and comfy cushions … you can opt for a tête à tête at a table for two, or come with friends and sit at the bar to watch the sushimen work their magic.
Starter
The restaurant offers various types of menus: sushi, Izakaya (japanese tapas), a 45€ bento during the week and a 57€ brunch-bento during the weekend. We chose to try different things in the menu, in order to get a more global idea of chef Toyofumi Ozuru's cuisine.
To start off, we chose to order Hamachi (yellow tail) and Unagi (eel) sushi. The first one is one of my favorites, I can't help but order it every time I see it on a menu: it's delicious.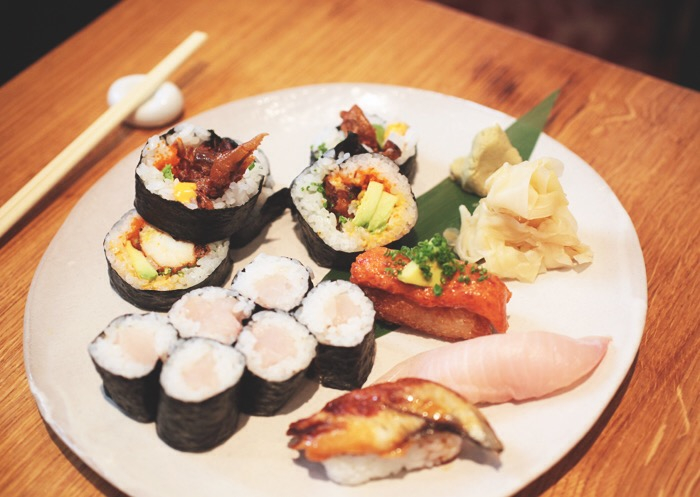 Sushis à la carte
These soft shell crab sushis are a great discovery: they're kind of crunchy; and I really loved the spicy tuna sushi (the orange one on the picture): it's made with crunchy rice on the outside, and soft rice on the inside, and the tuna is perfectly spiced: i love it! Novel AND good!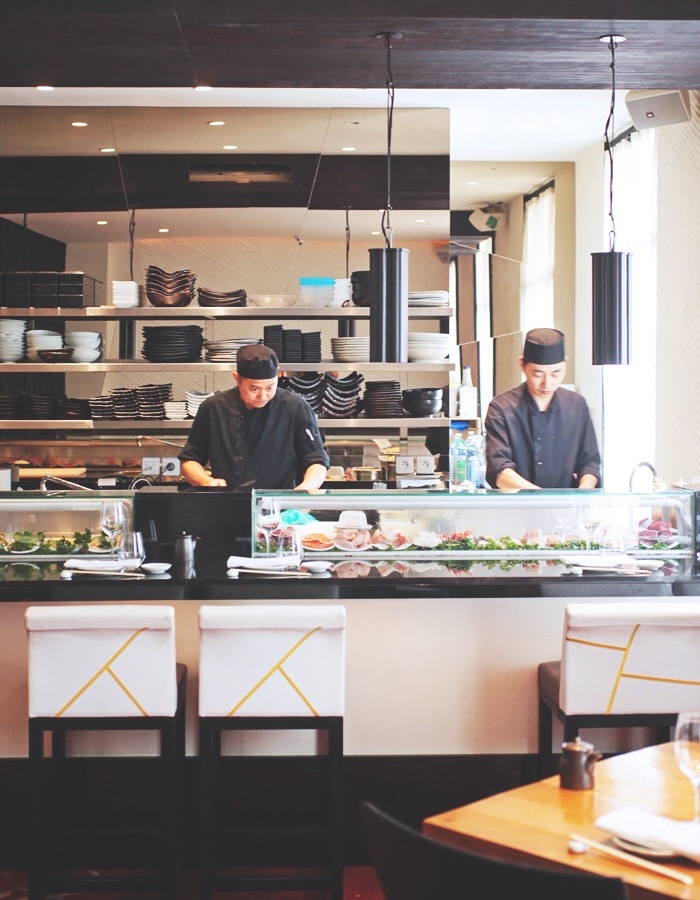 We also decide to try the Unagi to foie gras no crêpe, or in other words, crêpes stuffed with grilled eel, with seared foie gras and veggies.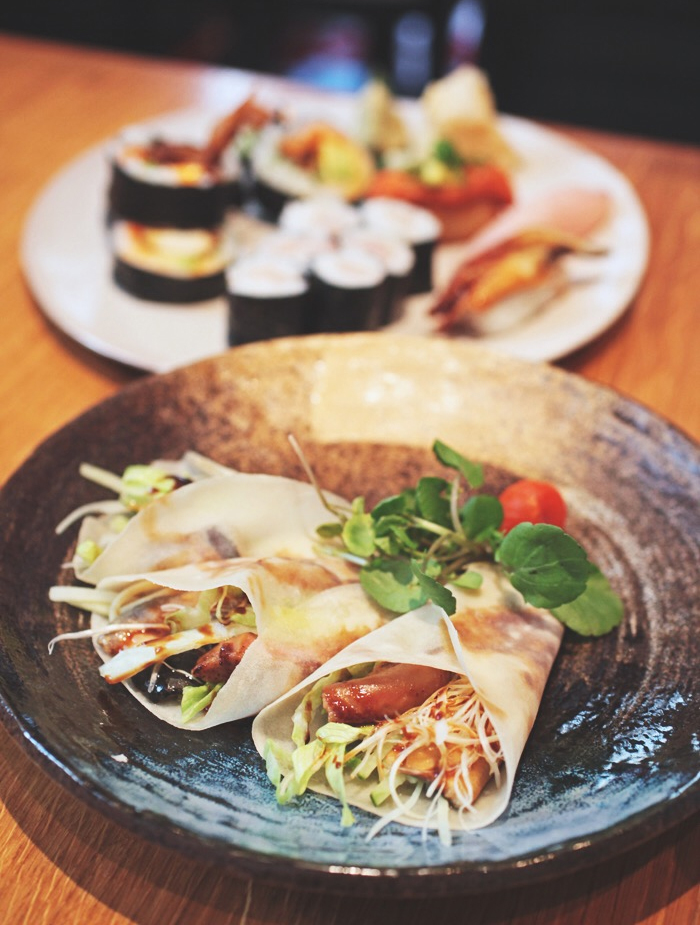 Unagi to foie gras no crêpe
Not as crazy as the spicy tuna sushi on the palate (the crêpe lacks a bit of texture and taste) but it's still good. Seared foie gras turns any dish around for me anyway …
Main course
I decide to try the Saka Mushi: it's steamed bass fillet with saké on a bed of fried tofu and mushrooms.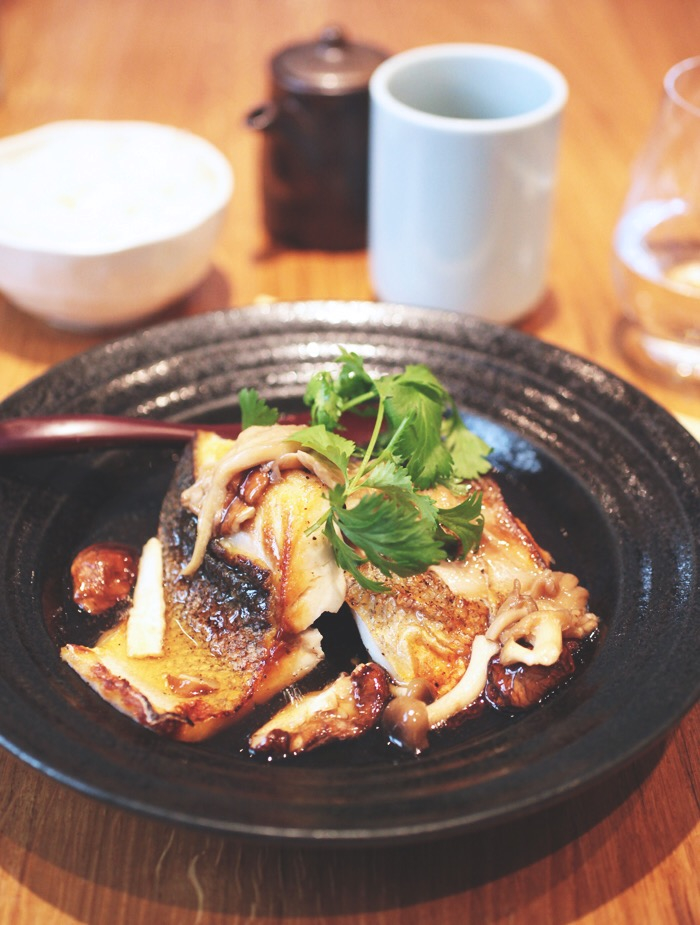 Saka Mushi
Very well prepared, the fish is delicious and the saké makes it interesting.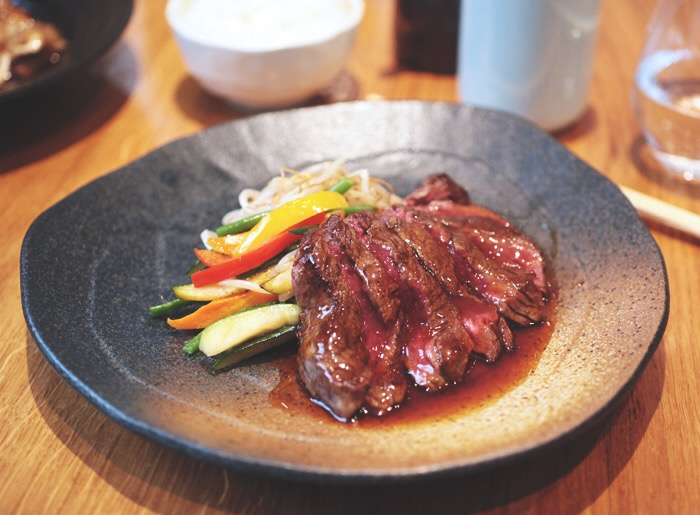 Gyu Teriyaki
My SO is having the Gyu Teriyaki: a beef fillet grilled in teriyaki sauce. I negociated and managed to steal a juicy bite. With the rice it's perfect.
Dessert
On the dessert menu, – rare enough to be noted – there's plenty of choice.
Our waiter explains that some of the desserts are made exclusively for the restaurant by Philippe Conticini (of the Pâtisserie des Rêves), amongst other somewhat more classic specialties prepared by the restaurant itself.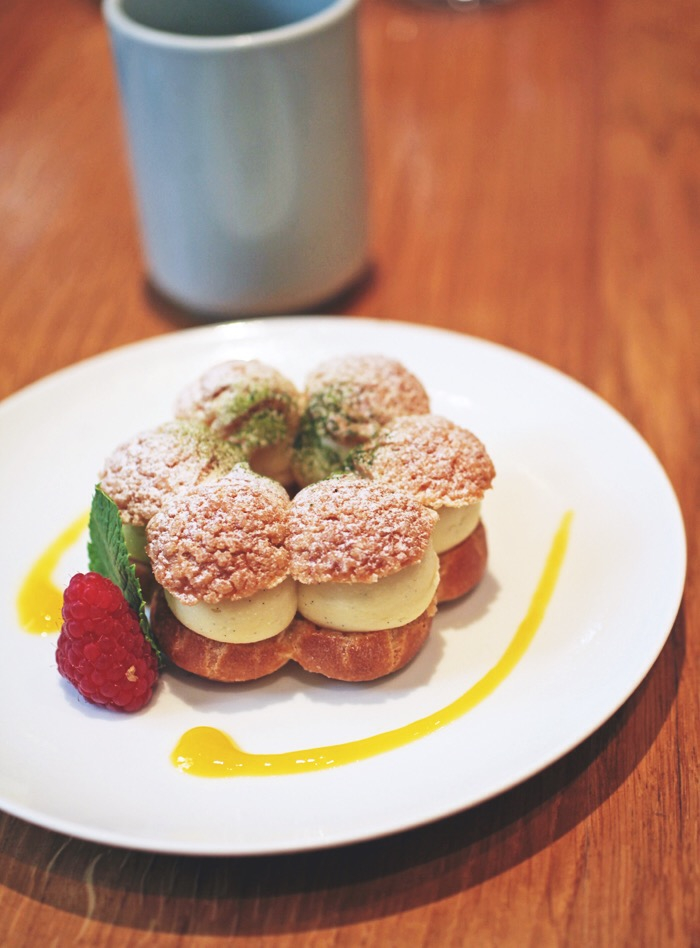 Kyoto-Brest by Philippe Conticini
I was tempted to opt for frozen mochis or a matcha roll, but finally decided to try the Kyoto-Brest, to honor our dear Philippe.
I do believe I tried it 3 years ago when the Pâtisserie des Rêves had released a special edition of its pastries in japanese style, but it's still good as ever.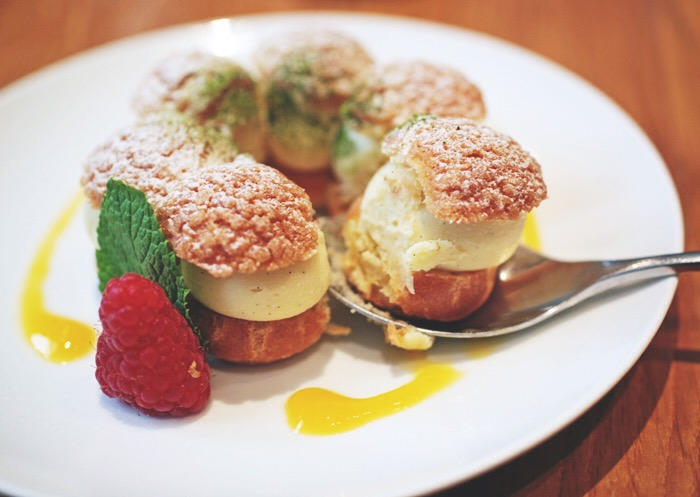 Almond cream with red bean paste and fresh mango, pastry puffs sprinkled with matcha … it's as delicious as I remember.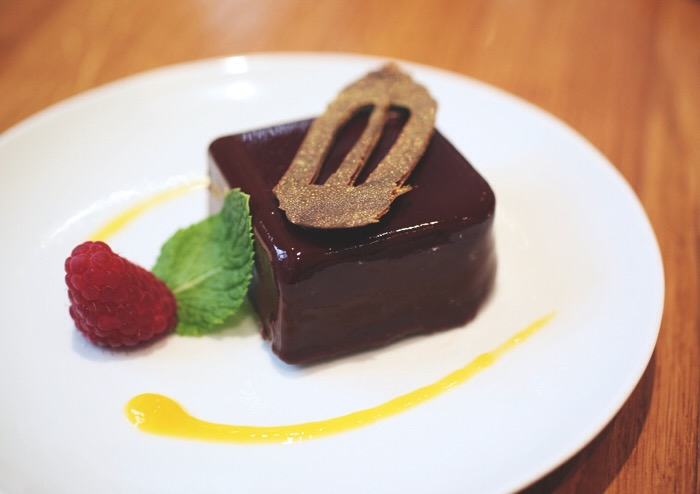 Grand cru chocolat by Philippe Conticini
My SO is enjoying his Grand cru chocolat, which is good, if somewhat more on the classic side.
All in all…
It's a great address to take your time and discover a more elaborate japanese cuisine than your regular sushi. Don't forget to try the spicy tuna sushi! (nope, I'm still not over it!). (English translation by Bleu Marine)
KINUGAWA Restaurant
9 Rue du Mont Thabor
75001 Paris
(Métro Tuileries)