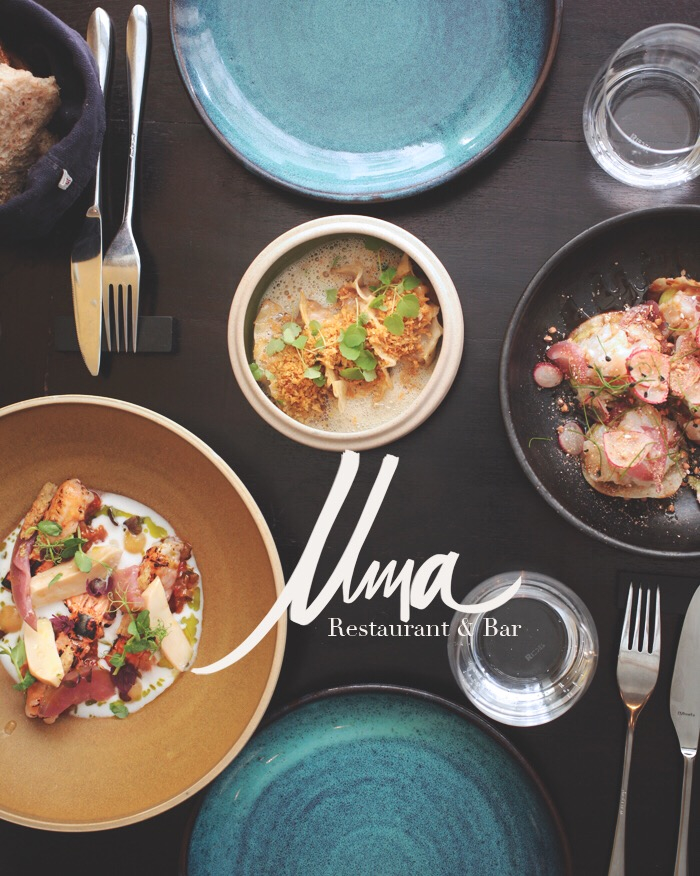 Ah, Uma! What a great find we made a couple weeks back with my SO. I didn't think I would enjoy it as much, because I'm always a tad skeptical when it comes to fusion cusine, but here a (great) surprise was awaiting…(but then again, I have a positive bias towards all things involving Japan).
Indeed, Uma is a restaurant that fusions japanese and peruvian cuisine. This gastronomy is called "Nikkei", and owes its name to the japanese immigrants that settled in Peru at the end of the XIXth century, which led to a cultural mix in this peruvian cuisine (which for me, was up to now vaguely associated with ceviches – and that was about it).
A discovery menu to share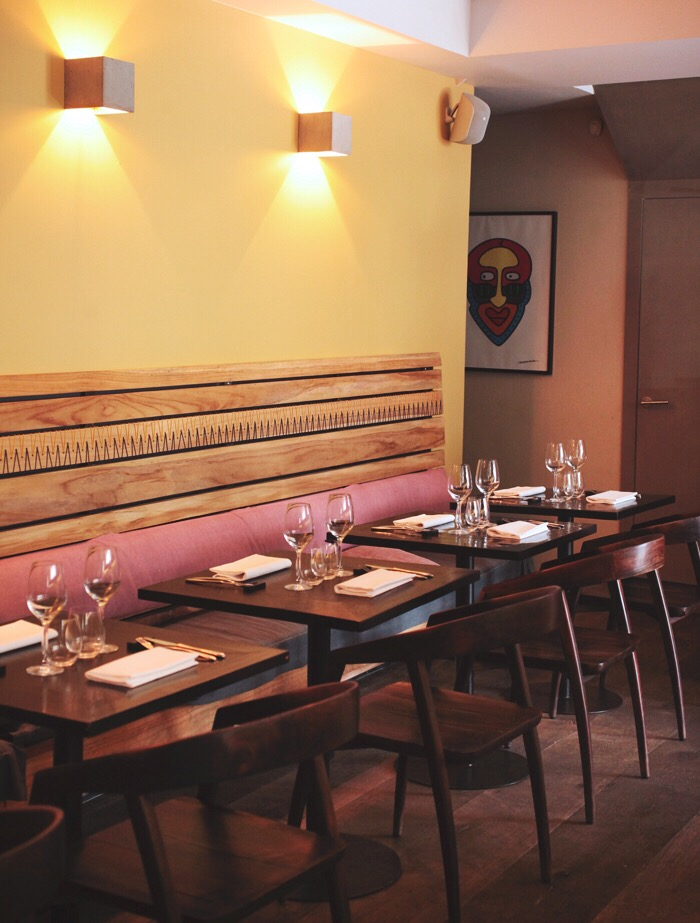 Here the Chef, Lucas Felzine (from the triple Michelin star restaurant l'Arpège … mmm, expectations, expectations!) juggles with flavours, textures, colors and exotic ingredients (there's even a lexicon in his menu to explain it all!)…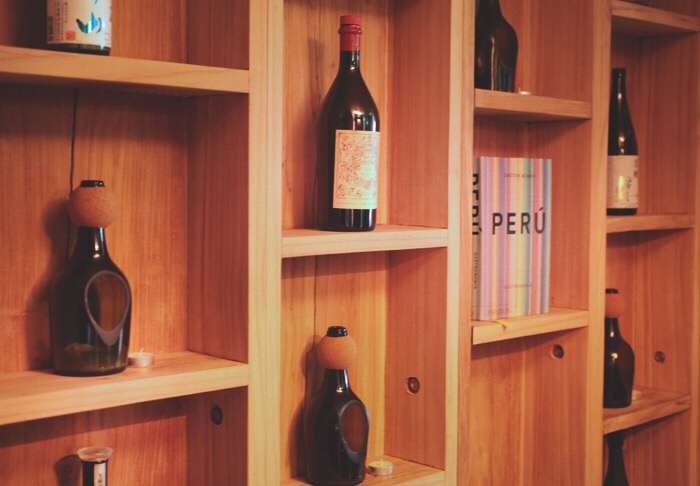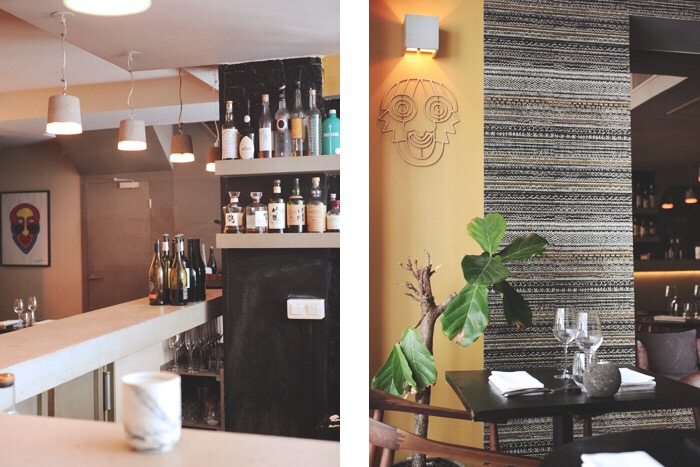 The restaurant offers dishes "à la carte" or menus to share. Since it was a first, we tried the discovery menu (55€ per person) to share (=3 starters/fish/meat/dessert).
We don't know beforehand what we're going to get. Our waitress just asks if we have any food allergies : nope, we eat everything around here.
An appetizer and 3 starters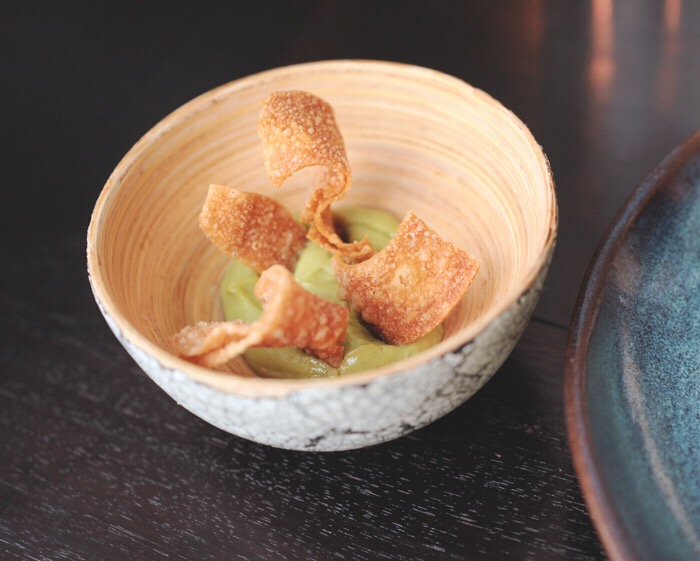 Miso guacamole cream and wheat biscuits

As appetizer, I am already in love with the miso guacamole cream and the wheat biscuits. This surprising guacamole is so light and airy compared to what we're used to : this is off to a great start!
Duck liver and umebochi plum stuffed Gyozas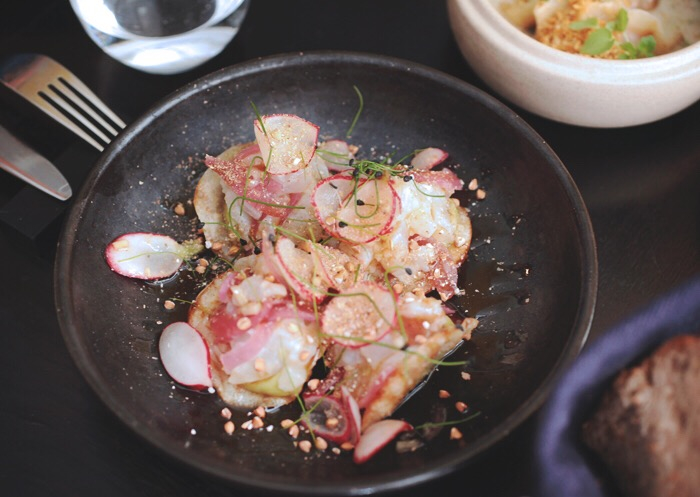 Tea roasted cod tacos, miso guacamole cream

Then come the 3 starters : I'm totally in love with the tea roasted cod tacos, served with the previously mentionned guacamole cream (you wouldn't hear me complain we could get some with every course).
This starter is everything I love : crunchy, creamy, and the freshness of the raw fish. Harmony is perfect between all the elements.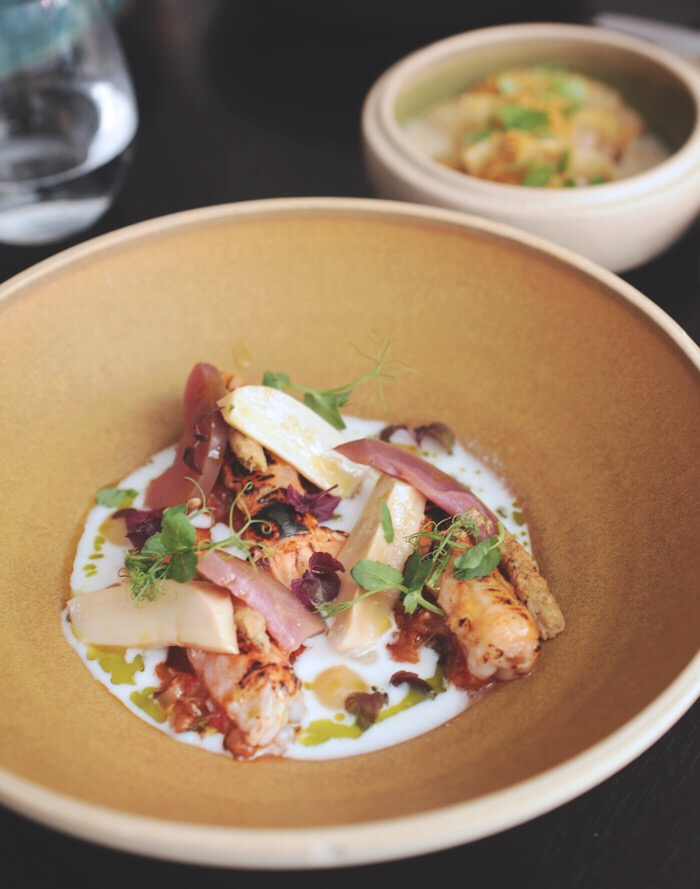 Coconut milk crayfish tiiradito, almond milk and eryngi mushroom
The two other starters are absolutely wonderful as well, but for me, the tacos really stood out.
The fish

Poached salmon with coffee-verbena butter

Here comes the fish : poached salmon with coffee-verbena butter, sweet potato cream, calamansi emulsion (it's a small green asian lime), watercress, wasabi and quinoa risotto.
Once again, it's a firework for my palate : the salmon is half-cooked and soft. The creams come together in an association that is sometimes strong, sometimes subtle. It's a real pleasure.
The meat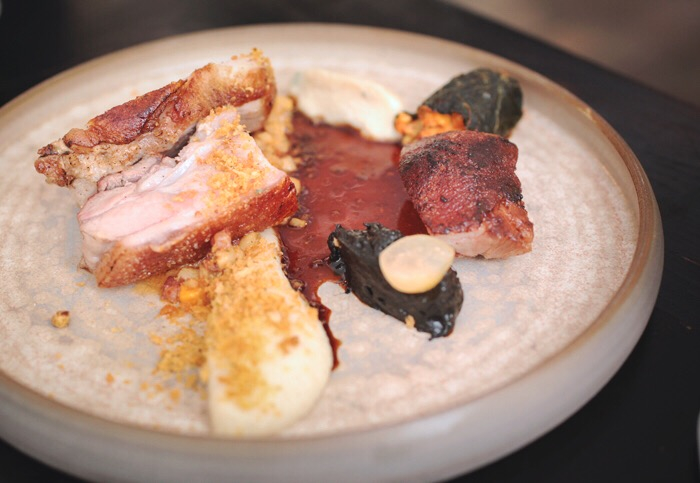 Grilled pork marinated in sumac, vine leaf stuffed with chorizo

We've already been won over when the meat is brought to our table. We enjoy every bit of the grilled pork, with its crispy skin that was marinated in sumac (a spice that comes from a bay in warm countries).
The vine leaf stuffed with chorizo and the curcuma, black curry and pork sauce bring life to the whole dish, and the celery cream brings everything together. The chef is decidedly a pro when it comes to associations that will tickle your tastebuds in just the right way.
The dessert

While waiting for dessert we're kind of anxious : will it be up to par with the rest of the meal? The answer is … yes! Once again, sharing is a pleasure. I don't know what I like best.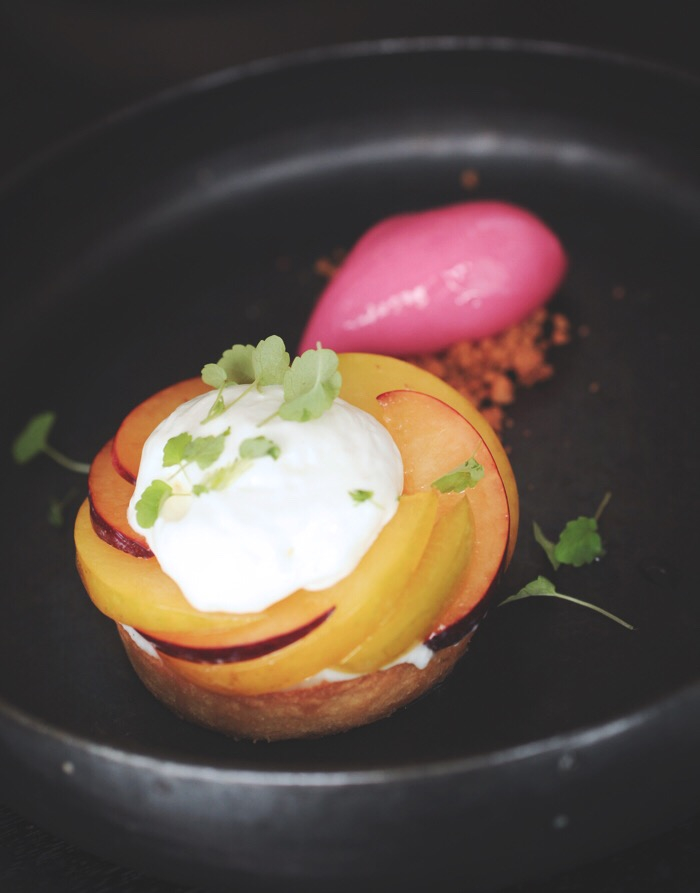 Shortbread tart with milk jam, Galanga syrup marinated plum and cactus flower ice cream

Both are wonderful, but I'd have to say that the shortbread with milk jam and the cactus flower ice cream is particularly enjoyable.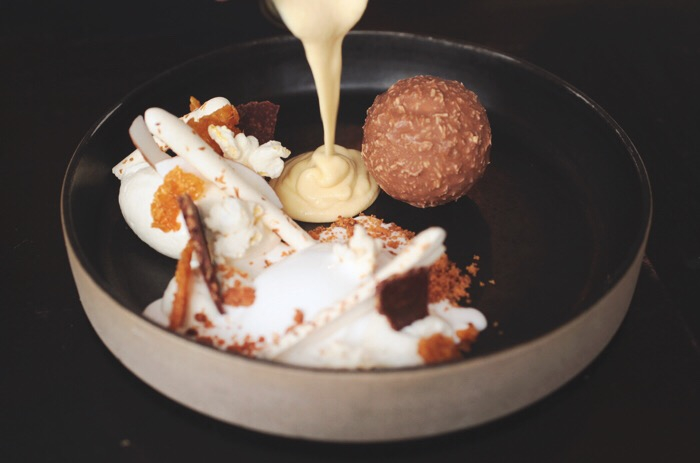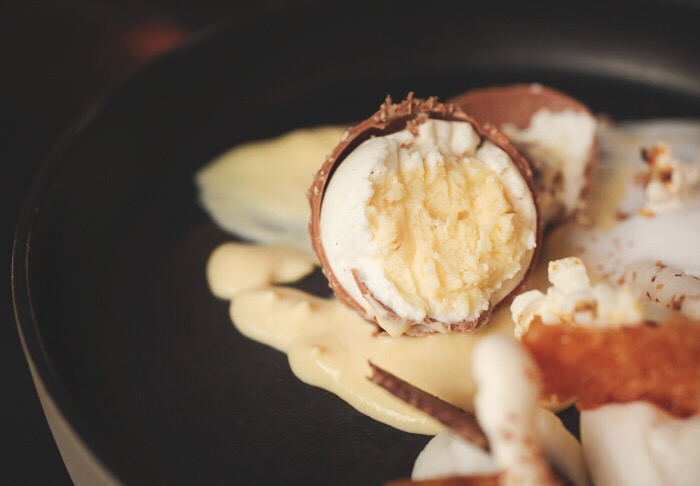 Coconut sphere, coconut mousse and sorbet, caramel, corn cream and mascarpone
The coconut sphere with coconut mousse and corn cream is equally as yummy. I have the feeling I'm using and abusing of superlatives, but honestly, it's delicious, that's all I can say.
All in all…
You'll have understood it by now, I more than loved it. I wasn't expecting such quality and gustative precision in this mixed cuisine.
The quantities are enough to share for large stomachs like ours, but it's also possible to order a dish (around 20-25€), starter or dessert directly from the menu (for those of you who don't like to share food, or if you are in a hurry).
I will most definitively be coming back, especially since it seems the Chef regularly changes the menu. I'm not done being ecstatic.(English translation by Marine)
UMA Restaurant & Bar
7 Rue du 29 Juillet
75001 PARIS
(Métro Tuileries, Pyramides)