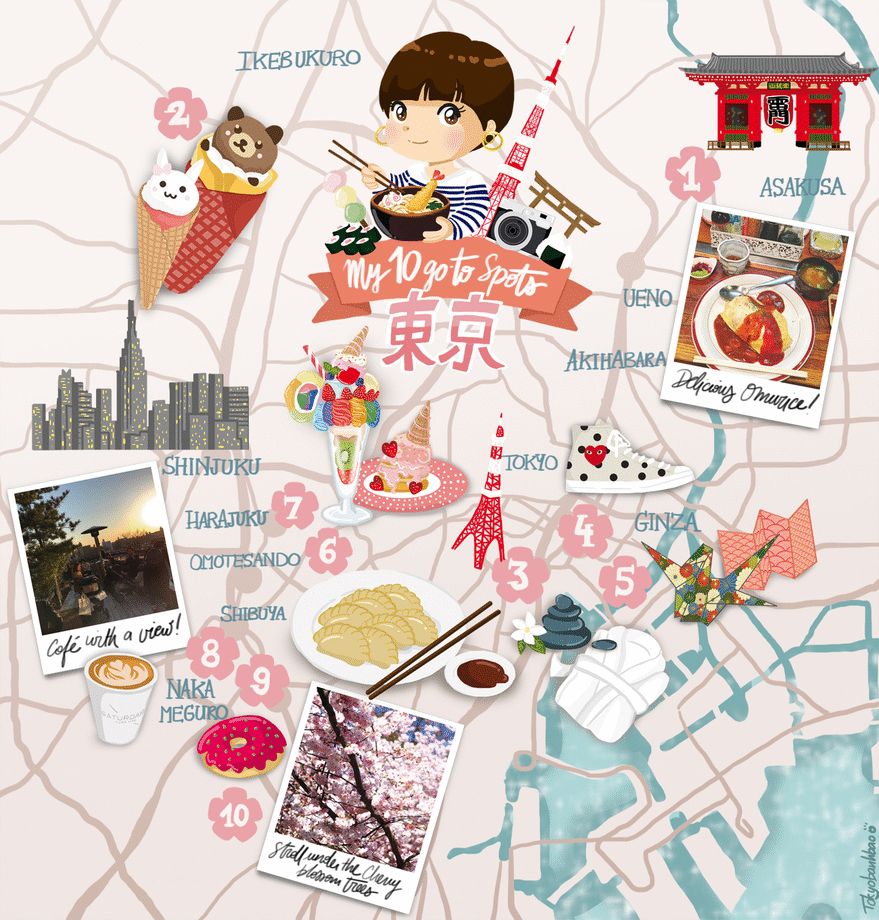 Last April As You Like magazine asked me to share my 10 go-to spots in Tokyo and create an illustrated map for the Spring issue dedicated to Asia.
I love drawing maps, food and small details: it's a time consuming job but it's really something I like doing when I have time.
10 spots in Tokyo
I thought it would be a nice idea to share it on the blog, especially for those who didn't get the chance to get the magazine.
I decided to update it (because I changed my haircut!) and animate it exclusively for the blog. I hope you will like it and it will give you ideas for your future trip to Japan. So here are the addresses (you may already know a few if you follow my blog!):
1. STEAKHOUSE NOBU : Next time I will be back in Tokyo, I hope I will be able to visit this cute Japanese couple, owner of this unpretentious place but who serve delicious omurice (omelette with rice) and grill plancha. (Details here & here)

2. NAMCO NAMJATOWN : The entertainment park dedicated to food, with super kawaii ice creams and where we can also discover strange flavours: can you take up the challenge to try wasabi, curry or oyster flavour?? (Details here)

3. SPA DE L'HÔTEL ANDAZ : An exceptional place to relax with personalised treatment and Tokyo tower view. (Details here)

4. DOVER STREET MARKET GINZA :The perfect place to discover the huge collection of the Comme des garçons brand and get a few souvenirs (striped shirt or shoes) ! (Details here)
5. KYUKYODO : Traditional Japanese stationary store for anyone crazy about origami papers and sophisticated greeting cards. (Details here)

6. GYOZARO :Delicious gyoza at unbeatable prices ! (Details here)

7. KAWAII MONSTER CAFE : Rainbow colours ice creams to enjoy in 4 different rooms (ambiances) and to reveal your inner unicorn.
8. SATURDAYS NYC : Surfer shop where you can also enjoy a cafe on a rooftop terrace.
9. LOG ROAD DAIKANYAMA : Nice pedestrian alley with concept stores, bakery, bar and shop to buy generous and colourful donuts.
10. NAKA MEGURO : neighbourhood to watch cherry blossoms during spring season day and night (with lanterns)
PS : My Japan travel diaries : Spring 2014 et Autumn 2015
Pictures et illustration credits : ©Tokyobanhbao
(except "Saturdays NYC" picture @pi_r_lo)