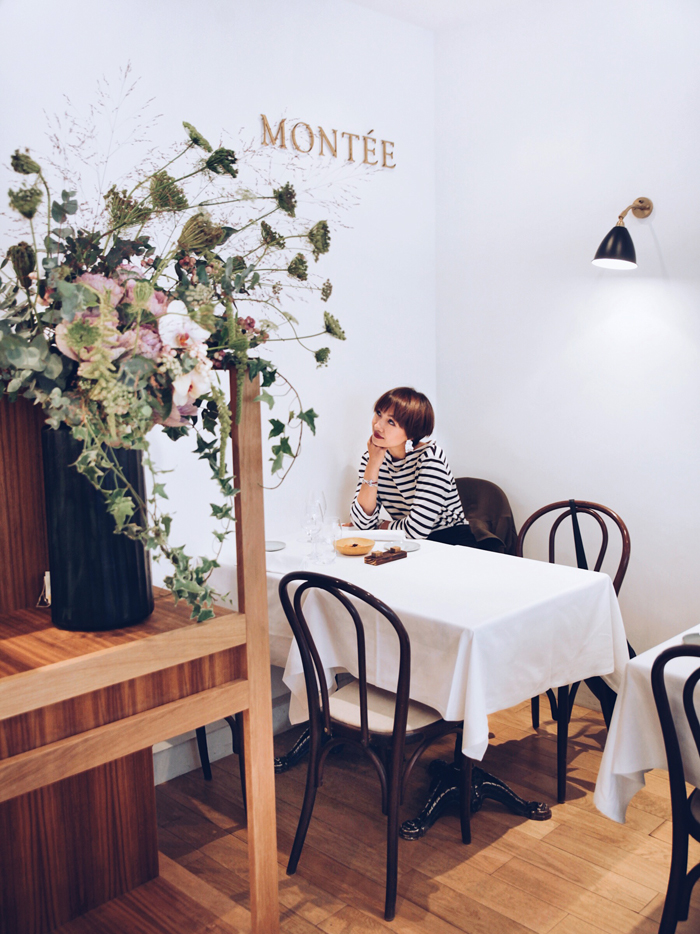 When people ask me what I love so much about Japan, I have a thousand answers. I love the japanese culture and heritage, but I'm especially appreciative of their refined, detailed and sometimes a bit crazy state of mind.
Here, no particular craziness to talk about, I'm sharing a very minimalist franco-japanese gastronomy address, full of emotion and sensuous tasting experiences.
French gastronomy according to a Japanese
Takayuki Namura is the creator of the "Montée" restaurant. After having worked in Kobe and Osaka, he traveled to the south of France to learn about the art of French cuisine and then headed back to Kobe to open a restaurant he called "Montée", because it was perched high on the heights of the city.
A few years later, he is back in France with a new "Montée", in the 14th arrondissement in Paris … for our greatest pleasure.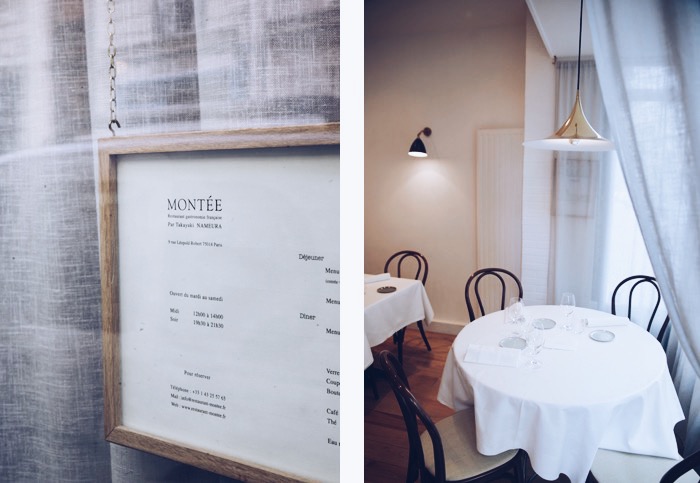 Minimalism and refinement
If I had to describe this restaurant, I'd say it shines by its simplicity. There is no sign outside that indicates the restaurant's name. Just a frame on the window, with the lunch and dinner menus.
If you're looking for quantity, this is not the place for you : minimalism will also be found in your plate.
That said, the quantity was enough for my usually quite hearty appetite. The lunch menu (40€) consists of appetizers, 4 dishes and 3 desserts. The portions are discreet, but the whole was quite satisfying.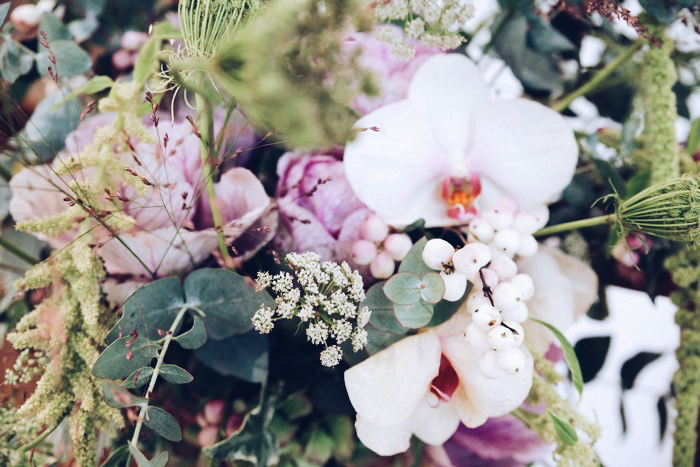 Celery, beetroot, yoghurt verrines

The decoration is pared down, but beautified by this magnificent flower arrangement. I found out it was changed every week by Atsushi Taniguchi, a talented japanese florist in the 16th arrondissement.
I like the idea of this unique fantasy in this almost ascetic location.
A seven part menu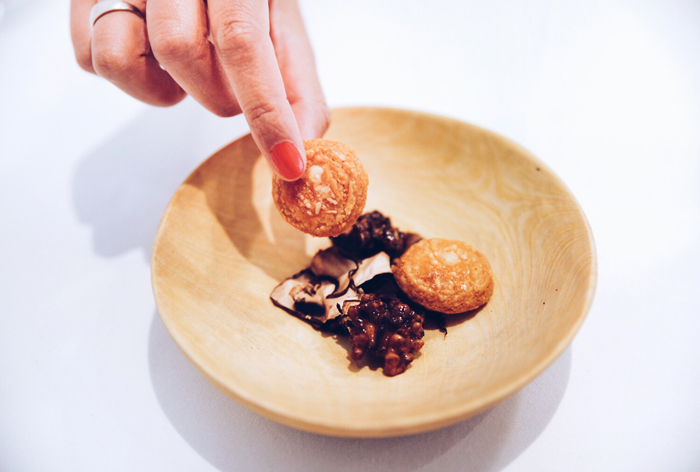 Sablés fromage, champignons séchés
We start with the the appetizers, presented by the chef's wife in a charming japanese accent.
Cheese shortbread and dried mushrooms share the spotlight with a yoghurt, beetroot and celery verrine. A raw simplicity, mixed with the sophistication of the flavors. Hard to describe it seems so contradictory.
Next up, these strips of squid, with a coconut cream and bulgur. Perfect texture for the squid, which is perfectly tender.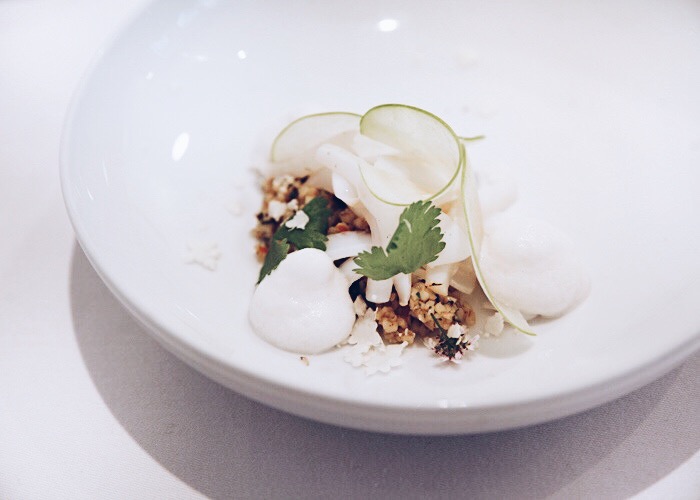 Squid, coconut cream, bulgur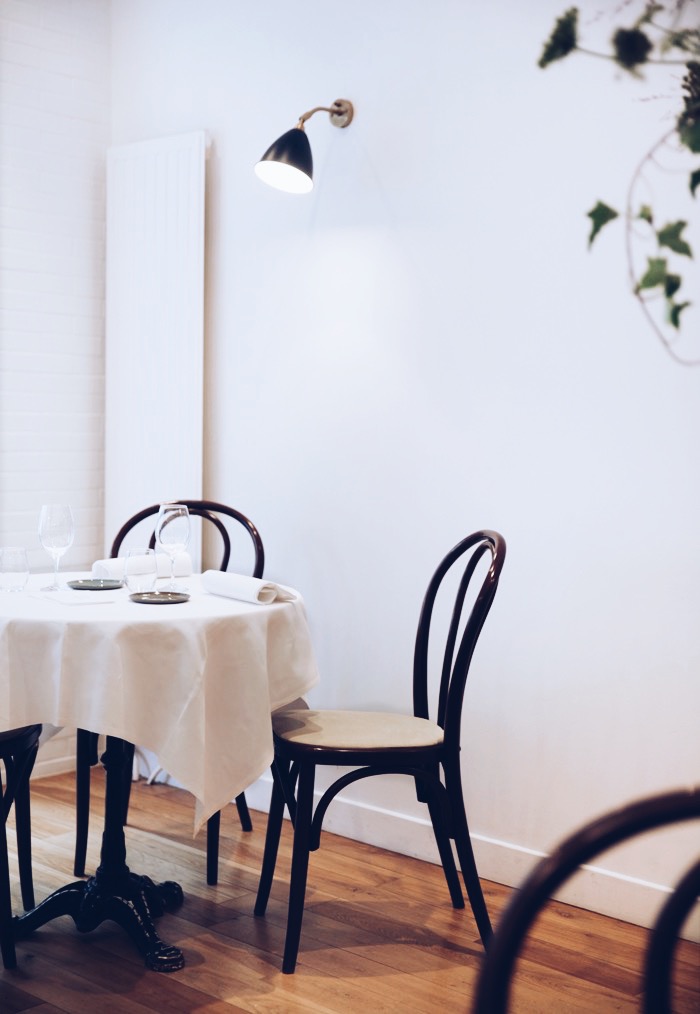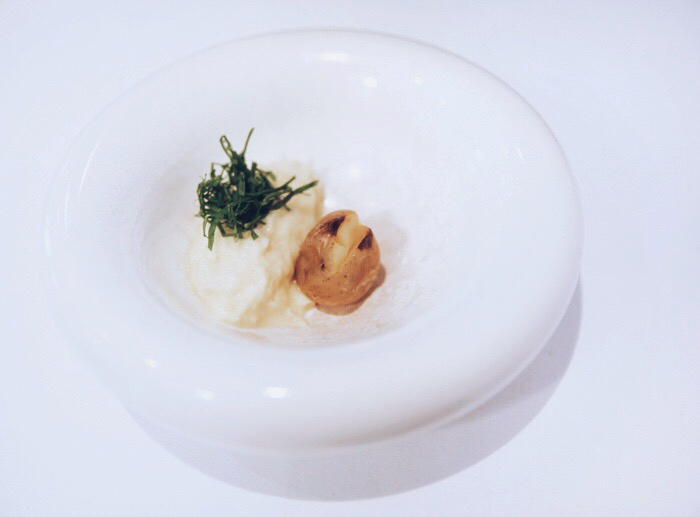 Cod, potato, sorrel
Then comes this cod brandade with sorrel layered on top of a small potato. Some will say I was punished with such a stark plate, but it's all about the flavors.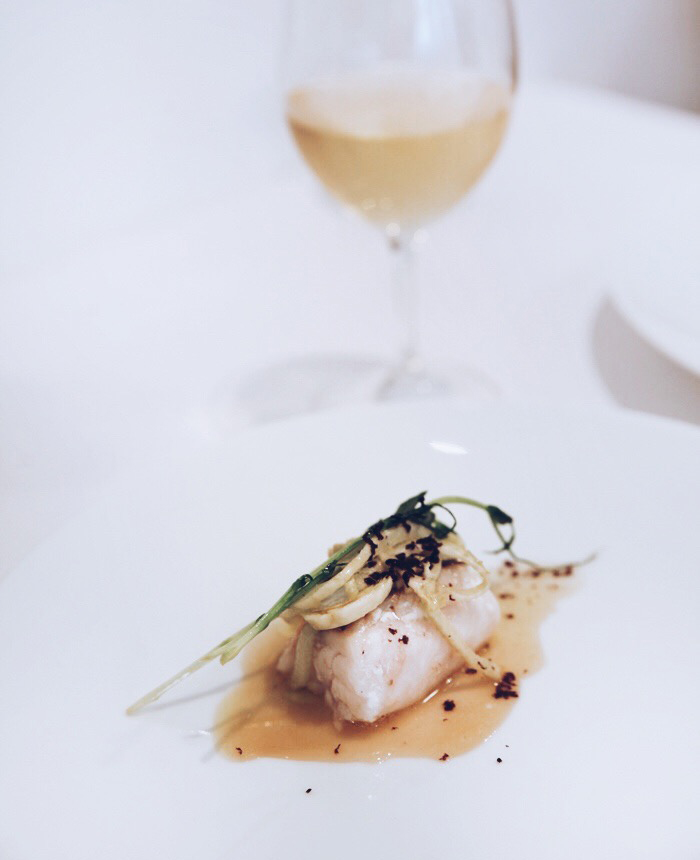 St-Pierre, fennel
Then come the main dishes : first the st-pierre, followed by a quail with dried raisins. The tenderness of the quail and and sweet-savory mix was one of my favorite parts of this menu.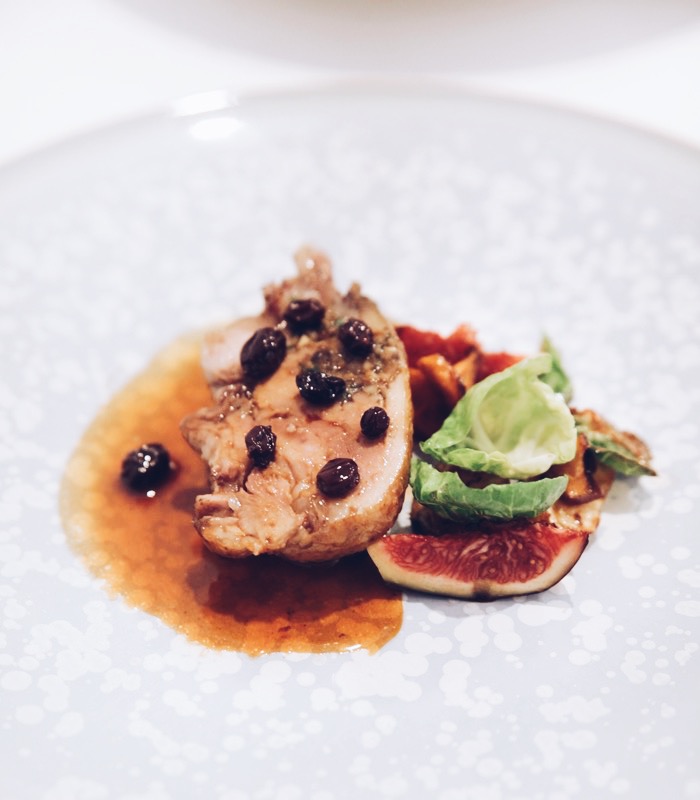 Quail, dried raisins, figs
That was … until I discovered the dessert : this perfect pavlova – the meringue was creamy inside and crisp on the outside, with some lemon sorbet. I was in dessert heaven.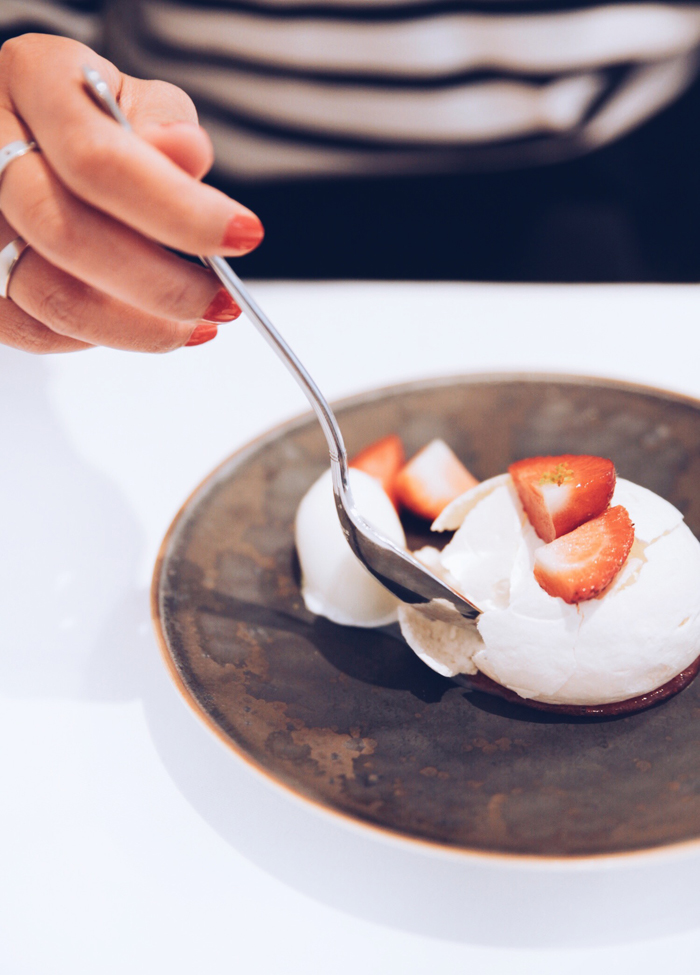 Pavlova, strawberries, lemon sorbet

But that wasn't the end (that's where you see that minimalism is also a way to make pleasures last!).
Nougatine in melted chocolate, followed by oreillettes (a typical dessert in south of France).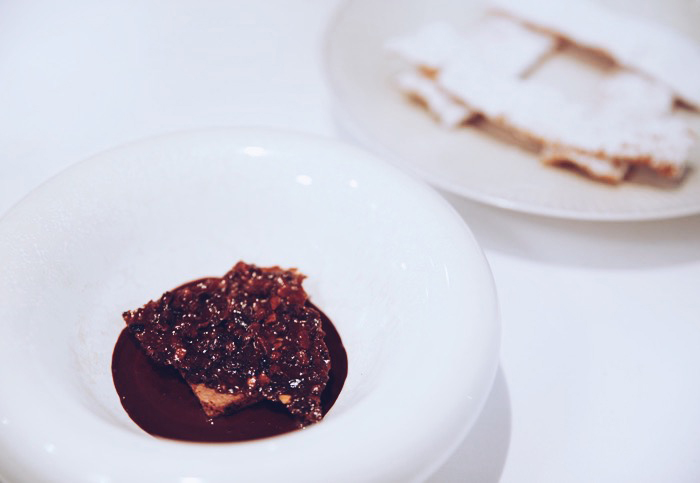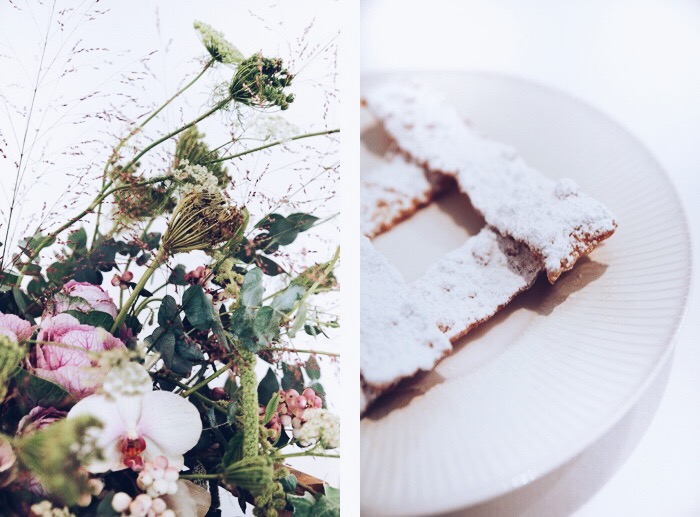 Chocolate dessert and oreillettes
In short
A french gastronomy, all in delicacy and refinement by the talented and discreet chef Takayuki Nameura.
Perfect for a lunch or romantic dinner. In the evenings, the menu comprises 7 dishes and 3 desserts, which will leave you with more than enough time to share a minimalist "I love you" with your partner. (English translation by Marine)
Restaurant MONTÉE
by chef Takayuki Nameura
9 Rue Léopold Robert
75014 PARIS
(Métro Raspail)