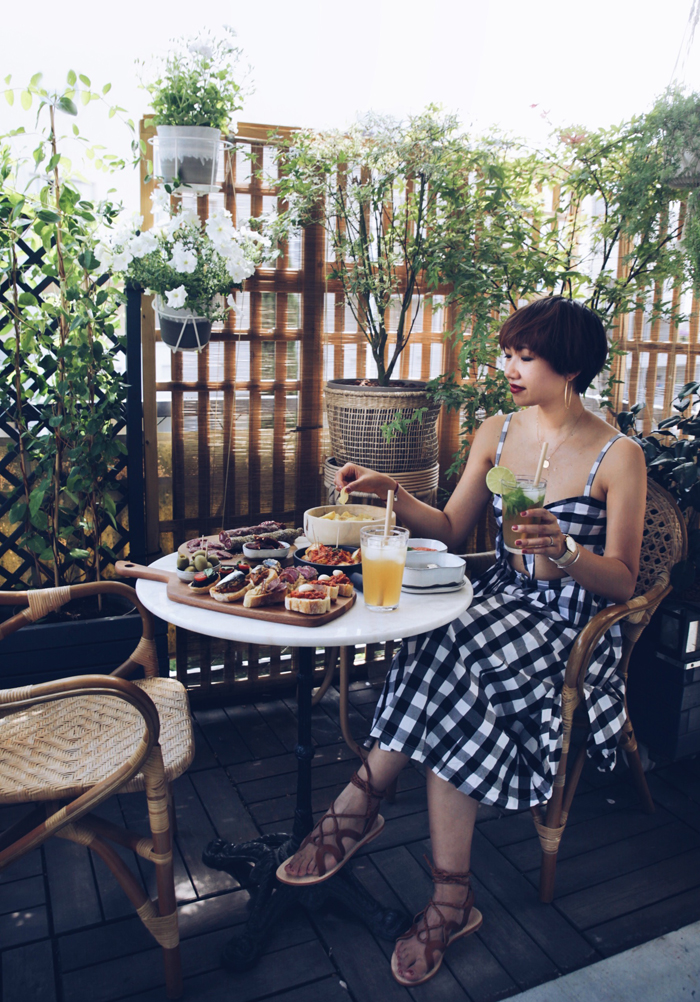 This post marks the beginning of my collaboration with the BHV Marais for the next few months, with the mission to explore the "Food" part of the department store. I'm very delighted – you know my little love for food – so it will be a pleasure to pretend to be a food reporter for some time.
By the way, this summer, the BHV Marais is in the colors of Ibiza to bring extra Spanish warmth to our capital.
If you visit the shop before July 31th, you will find a number of animations, sunny set ups to enjoy the sun as much as we should (while offering a bit of freshness during this scorching temperatures).
 "Ibiza bohème" tapas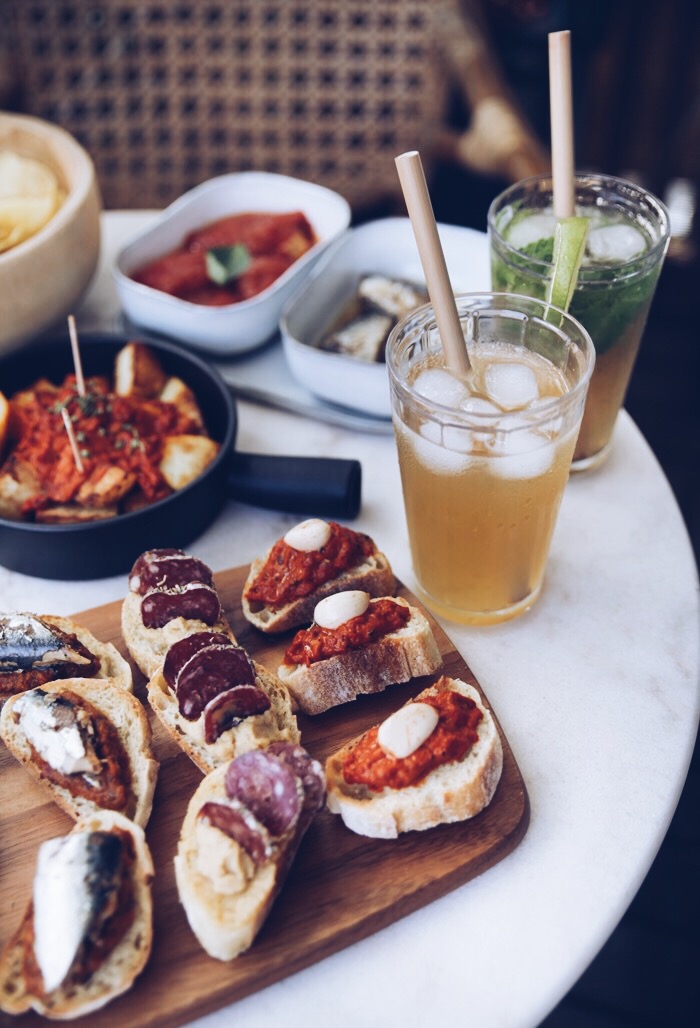 My mission was to do grocery shopping at Le BHV Marais to prepare an aperitif just like in Ibiza! When people say "Spanish aperitif" I always think right away about tapas (more than drinks = sorry party drinker people, I am not really one of yours, haha !)
So here is what I prepared with my 100% from BHV groceries, that you may have discovered with my Instagram stories. Here is my recipes for a successful yummy "Ibiza Bohème" aperitif !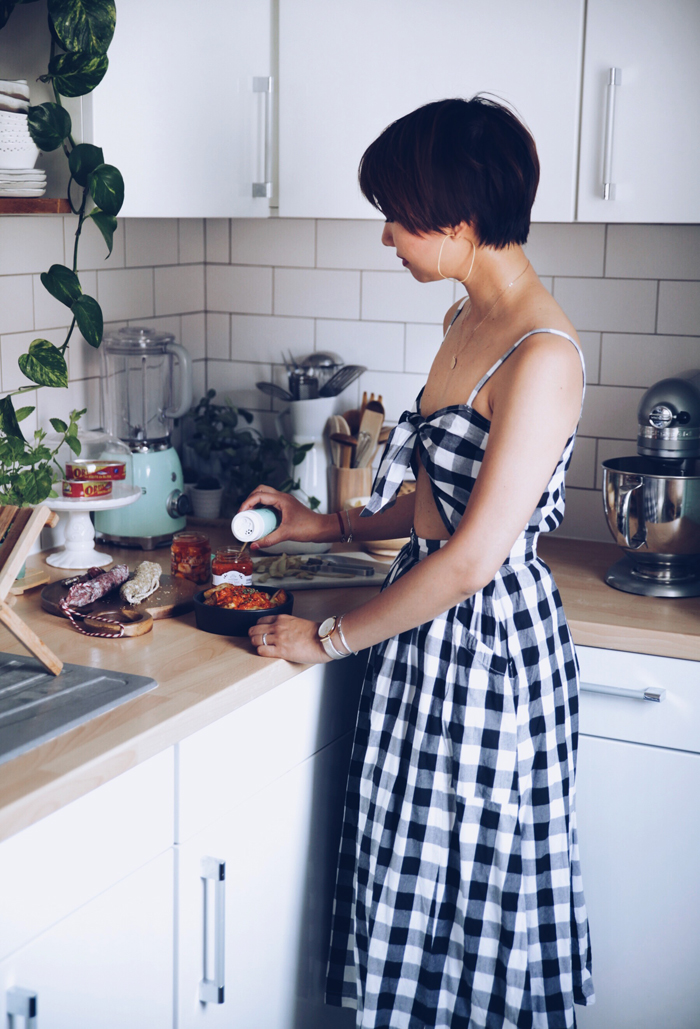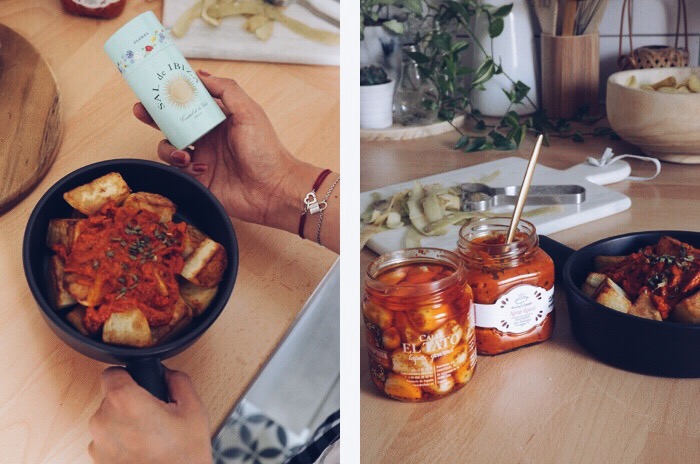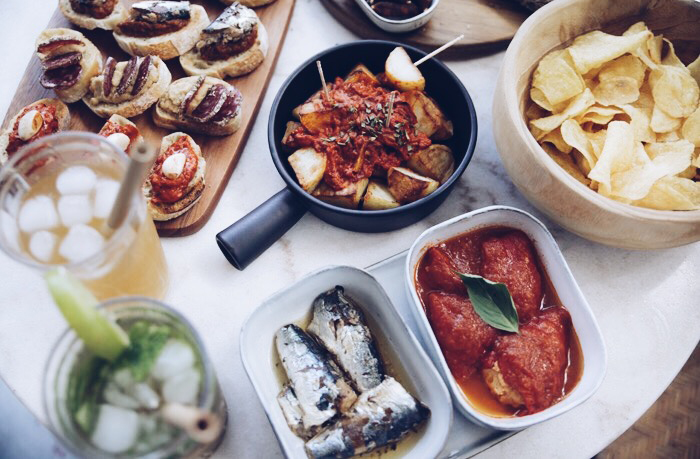 I wanted to select products that make us travel a bit but at the same time easy to prepare the tapas, even if you are not a cooking expert. You'll see with my super easy recipes it will be easy to get away while enjoying your aperitif at home.
PATATAS BRAVAS "IBIZA BOHÈME" STYLE

INGREDIENTS:
2 big potatoes
"Spicy Ajvar" roasted peppers sauce "Granny's secret"
Paprika garlics "Calle el tato"
Flower petals salt"Sal de Ibiza"
Olive oil
Chive
A little pan "Serax" (found at BHV Le Marais tableware corner)
RECIPE:
Boil water with salt in a sauce pan and cook the peeled potatoes
Cut in small pieces the garlic with paprika
Once the potatoes are cooked (slightly firm), cut them into large cubes and stir in with olive oil and prepared garlic.
Meanwhile, heat up the sauce with grilled peppers (with microwave or a small saucepan with low heat)
Display the brown potatoes inside the saucepan and coat with the heated sauce.
Sprinkles with some chives, the flowers petal salt and it's ready!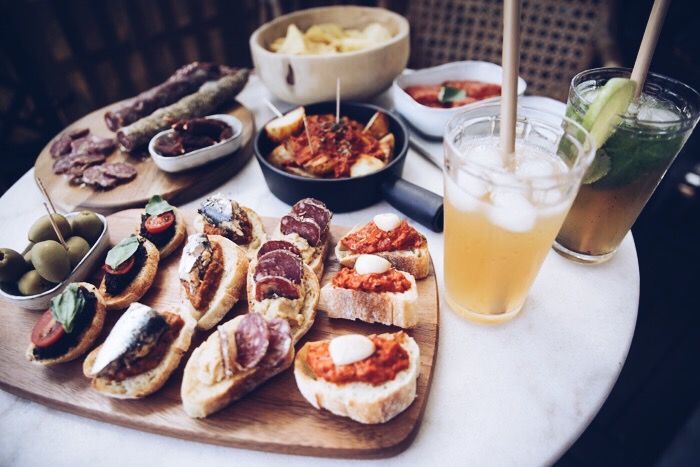 "IBIZA BOHÈME" TARTINES
Super easy and not really a recipe as I won't insult you by explaining how to spread things on a piece of bread: products make everything!
INGRÉDIENTS:
Tartines du sud "L'Epicurien" box :
Dried tomatoes and basilic tapenade
Cream of chickpeas with cumin
Duo of eggplants and peppers
Tapenade from the "Varois" shepherds "Au Bec Fin"
Olives "Calle el tato"
Paprika garlic "Calle el tato"
Sausages with herbs and walnuts from Normandy "Roches blanches"
Sardines in oil "Ortiz"
RECIPE:
Toast slices of bread.
Spread the sauces of your choice and liven up with cold meats, sausages, olives, sardines, cherry tomatoes…
You can get inspired by my tasty associations or just follow your instinct: anyways everything goes well together!
"EFFORTLESS" TAPAS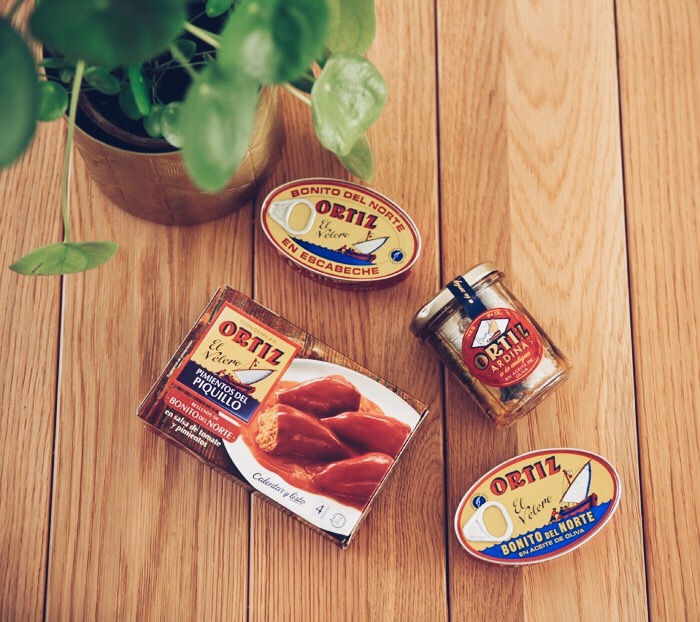 If spreading or frying is too much for you (heat, laziness, etc..) I have the solution with these products that just need to be opened (needless to say, with love !), displayed on a plate/bowl and maybe heat up (for the stuffed peppers with tuna for instance).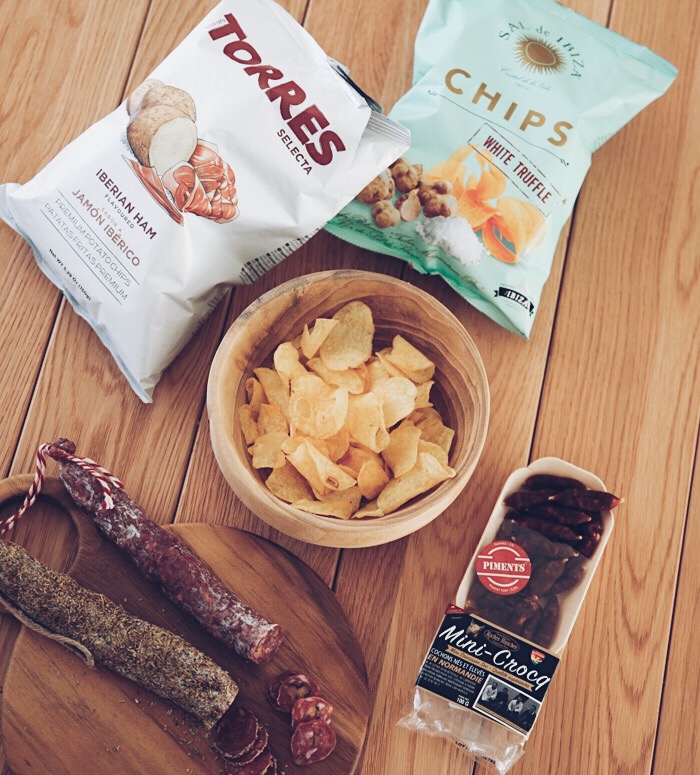 A special mention for the Ibiza salt and white truffle flavor chips, very crunchy and subtle taste. I also like the packaging of the tuna and sardines from Ortiz, so vintage!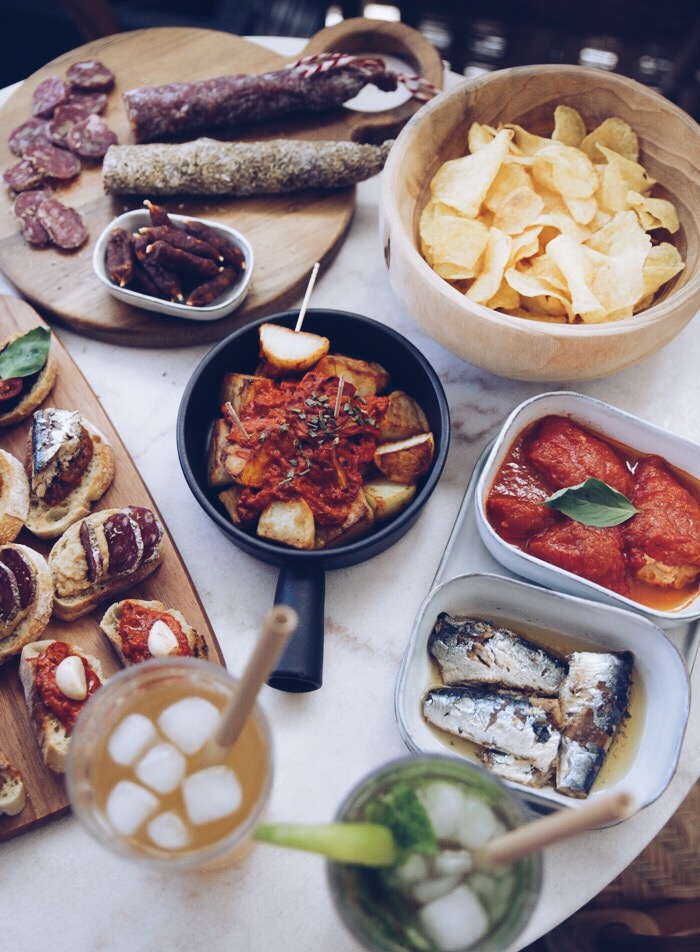 …and the drinks !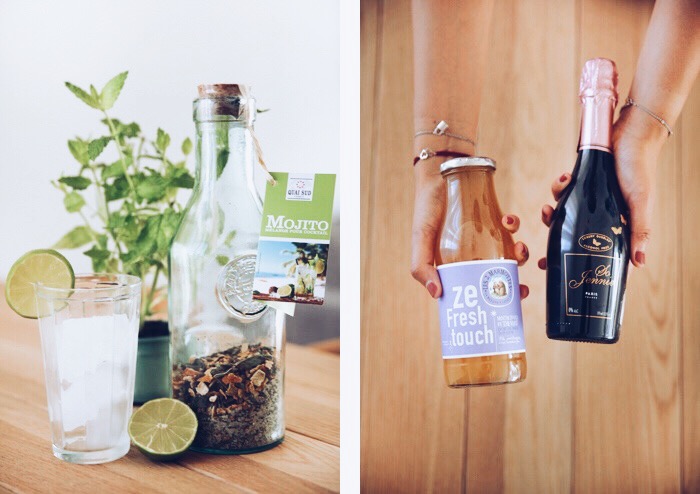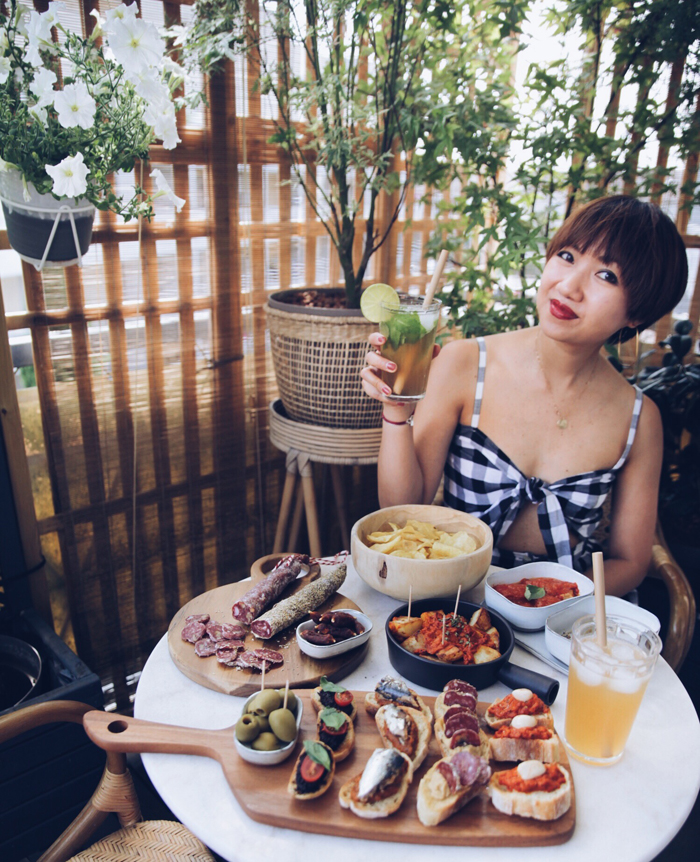 As you know I still don't tolerate much the alcoholic drinks (maybe, it happens the same to you?), so I tried to find alcohol-free alternatives in the shelves of the BHV Le Marais. I came across these 3 original beverages:
Mojito mix "Quai Sud" is initially made (as the name says) to prepare Mojito: it only requires to mix beforehand (1h) 40cl of rhum with the mix of the bottle already including mint, lemon and sugar and then add up sparkling water and the mojito is ready !
Must be enjoyed with moderation… with so much moderation for me that I just added up sparkling water and it worked too haha!
Ze Fresh touch "Les 2 Marmottes" : I knew the herbal tea from this brand but not these bottles. Here, it's a herbal tea with spearmint / passion with green tea. To savor "on the rocks": special mention for the taste not too sweet and refreshing.
So Jennie : I just love this elegant bottle : here again, the party is much more fun with this sparkling grape juice without alcohol and delicate bubbles.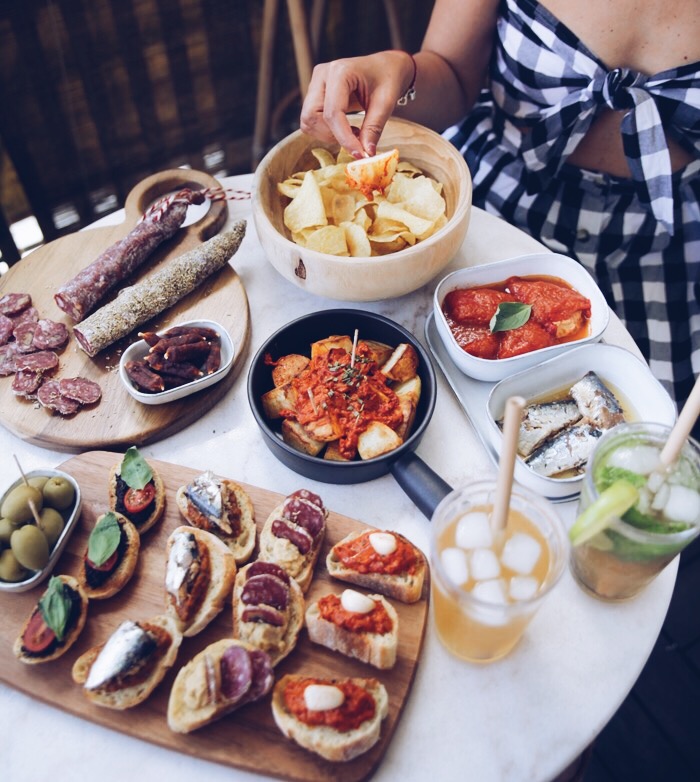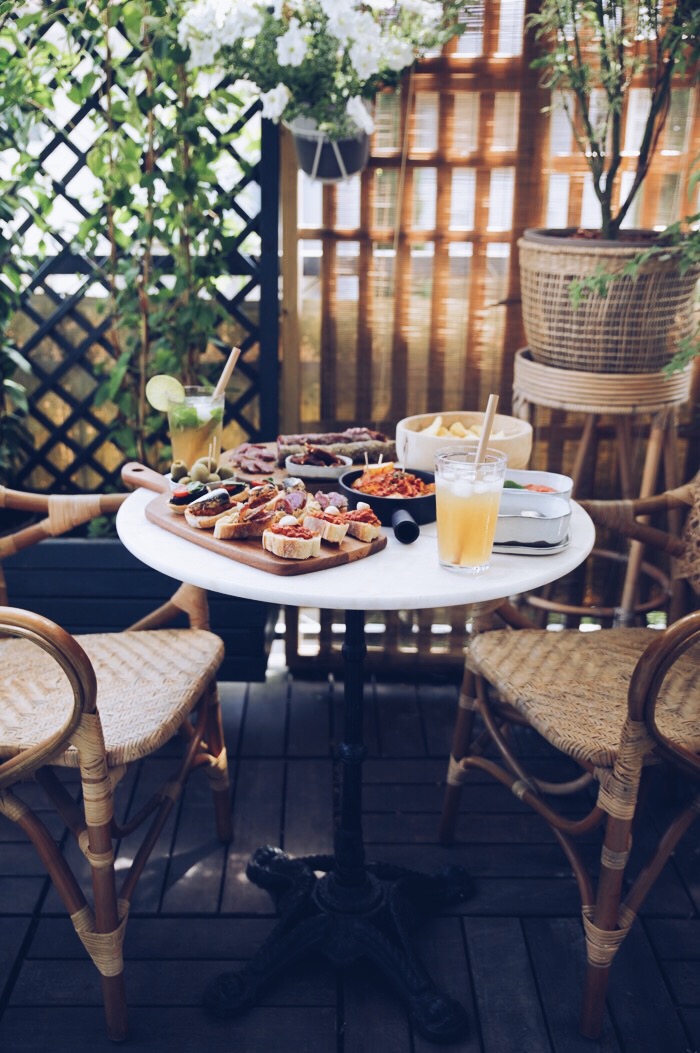 I hope you liked this "Ibiza bohème" aperitif and it may give you some inspiration to prepare your own and enjoy a refreshing and yummy summer!
However, if the laziness is too strong, you can enjoy the POD (Parisian Omnivore District), the BHV food court (located on the BHV Hommes side): a place 100% friendly with various food booths (Vietnamese, Corean, oriental…). You can enjoy the aperitif outside and more if you hit it off.
I will probably introduce this place later on during the collaboration so stay tuned… (English translation by Quiterie)
This is a promoted post and was made in collaboration with BHV Marais