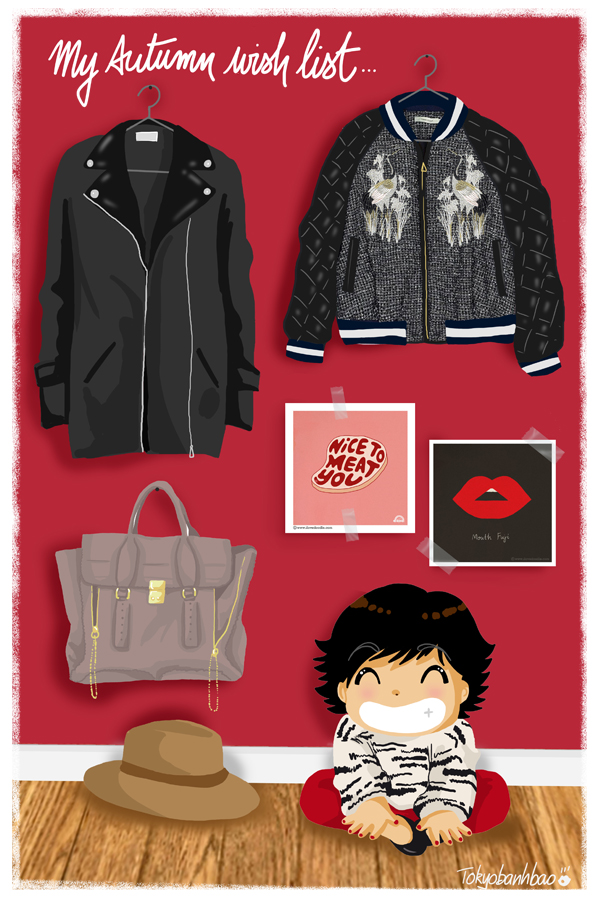 A two-material perfecto-like coat: they are everywhere this season (Maje, Sandro, Zara, Mango ….) but I haven't decided yet! I find the cut timeless, so I'm considering adopting one myself! I've been attracted to the one from ASOS: it's rather reasonably priced (and I've just noticed it's wool and the collar is real leather!). But if you've seen other ones that are as interesting, be sure to let me know!
A varsity jacket: aaaah! it's not really a wish list issue, since I've just confirmed and payed my order, and this jacket is part of it! I really liked the Isabel Marant one from the previous seasons, but of course, as often with Isabel, it was very quick to be sold out (and this even though the price is somewhat daunting!). I love the asian-type embroidery, the tweed material and the padded sleeves. I'm looking forward to receiving it!
The Pashli bag by Phillip Lim: Ah, that bag! I haven't been able to get it out of my head since last year, but the question is … what color? I've seen it in black, green, gold and pink but I'd love to go for the taupe colored one (I'm on the lookout for upcoming shipments everywhere)
Lim Heng's Swee aka Ilovedoodle reproductions: I love his illustrations: so terribly humorous and cute. I think there's an Etsy shop. I just need to decide what I'll go for, but I love « Mouth Fuji » and « Nice to Meat you » (perfect to put in the lobby, don't you think?)
A broad brimed felt hat: my problem is that I need to find one my size, for hats in the women's section never fit me (Help, my head is huge!). Maybe I should go lurk in the men's section, but I'm afraid I'll look like Indiana Jones. Touchy buy as you can see … Ideally, I'm thinking a black and a beige one, to coordinate with my outfits!
A zebra striped sweater: Iro's version seems really nice. There's also the one you see on the Mango ads, with Kate Moss who is going to end up distorting it horribly and permanently if she keeps pulling on it like that (I know, I have a Monica Geller side to me). Anyway, it's under consideration.
A pair of red slim-fit pants: but wait, not just any type of red! I can't put my hands on THE right shade of red. Tokyobibi's one would be perfect for example. Perfect to light up simple outfits. I'm looking, looking. (English translation by Bleu Marine)
(To leave comments, please return to FRENCH VERSION)