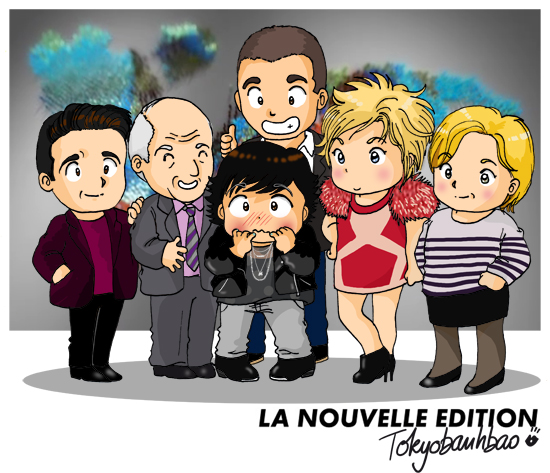 A phone call, a hesitation, an « Oh well, we'll see! » later on, and I found myself in your TV last friday on the stage of the Canal+ show: La Nouvelle Edition. I was there with two other guests as part of the Buy Nothing Day (happening last saturday), which goal was to raise awareness on our consumption (« Less goods, more bonds » like my fellow guests said it so well). And for my part, I was there to talk about my first comic book, Serial Shoppeuse, which is of course more fiction than reality as far as I'm concerned (although…).
Here I am having to face the headache of picking up an outfit that won't provoke a « Woohoo! I'm dressing up to be on TV ». I wanted to remain simple but at the same time take care of my appearance: so I went for my favorite perfecto.
I can also tell you that I was feeling quite uncomfortable during the hours that preceded the recording. It was my first TV experience and I didn't really know what questions Ali Baddou and his team were going to ask me, so I was nervous as if I had an oral exam (except that here there was nothing to revise).
And I have to admit that the welcome in the studios made me relax subconsciously. Just after arriving I was sent to the makeup and hairstyling: Jean-Luc managed to tame my super straight hair while Alexia applied some red lipstick with the assurance that I won't find some on my teeth when I'm smiling! We then chitchatted in the backstage in a very friendly atmosphere…
After that they explained to us how things will go on the show, where we would be seated (50 seconds to get to our seats… My fear: to trip over cables and not make it on time to destination! –> I must have watched too many Pierre Richard movies). A small joke with Nicolas Domenach regarding my unpronounceable pseudo and off we go. Here's the final outcome (from 7:50min on): we can feel at the beginning a slight touch of stage fright (avoiding eye contact like a lost puppy) that vanished slowly but surely – no more turning back and hop it's already over!
Crédit vidéo: Canal Plus
In the end, I will keep an excellent souvenir of this first experience that turned out to be extremely nice thanks to the warm welcome of Edwige Tanguy, the technical team of Canal+, Ali Baddou, Ariel Wizman, Nicolas Domenach, Pauline Lefèvre and Anne-Elisabeth Lemoine. Thanks to Jipé for chaperoning me, to Alexia and Jean-Luc for improving my looks always with a smile, and to Thomas and Elisabeth, the 2 other guests who « coached » me well before getting under the spotlights. You guys rock! (English translation by LN)