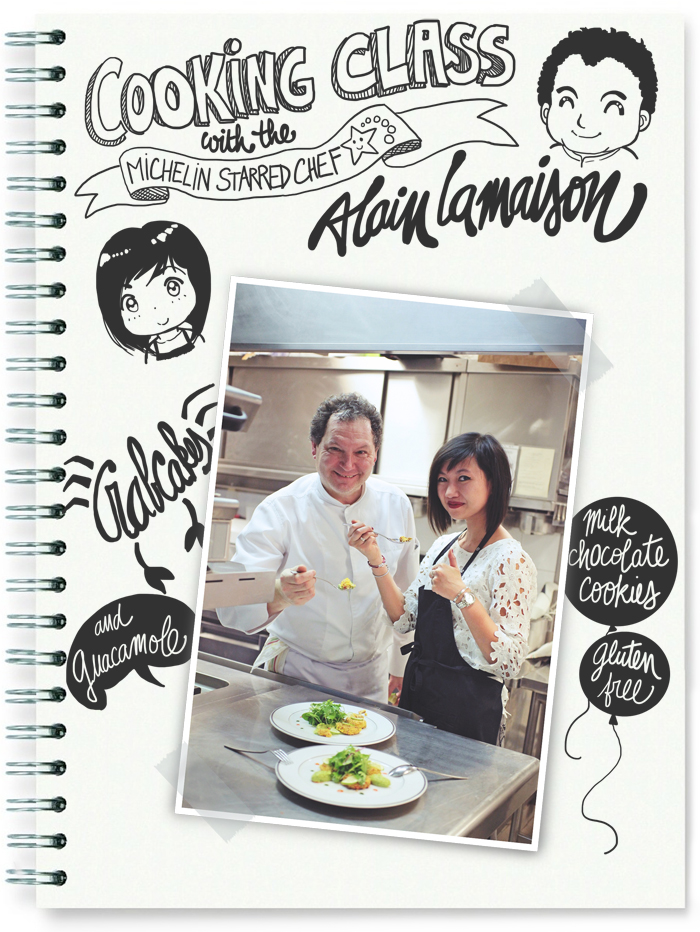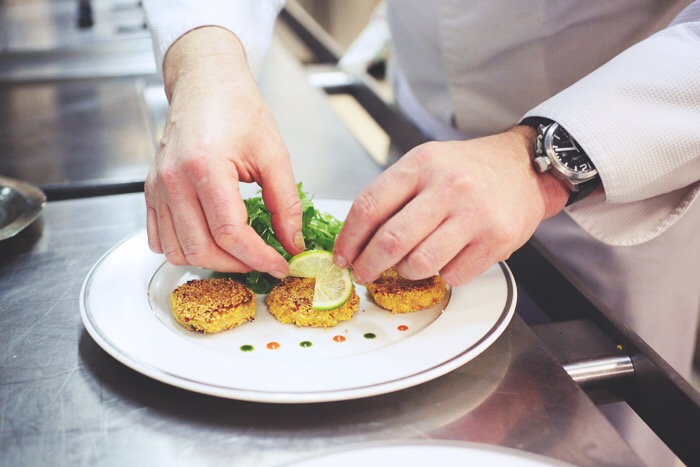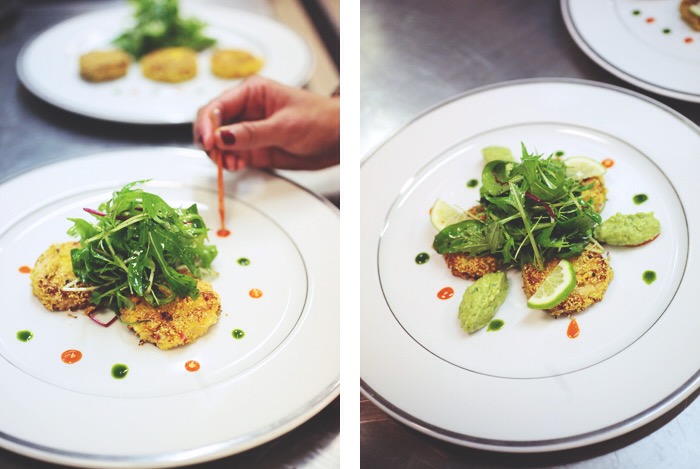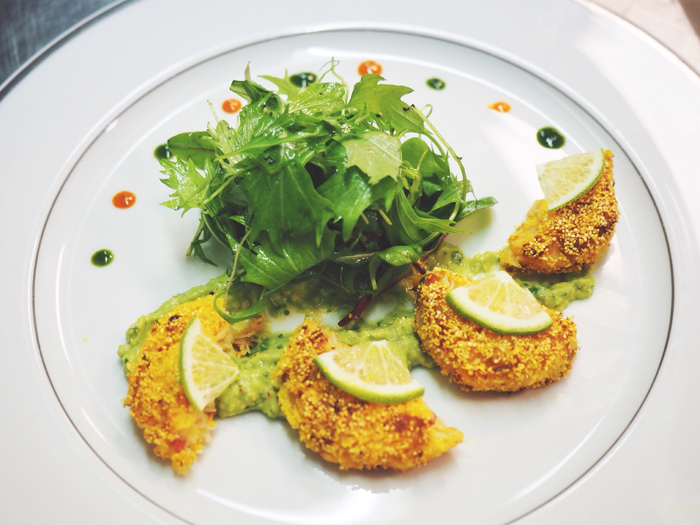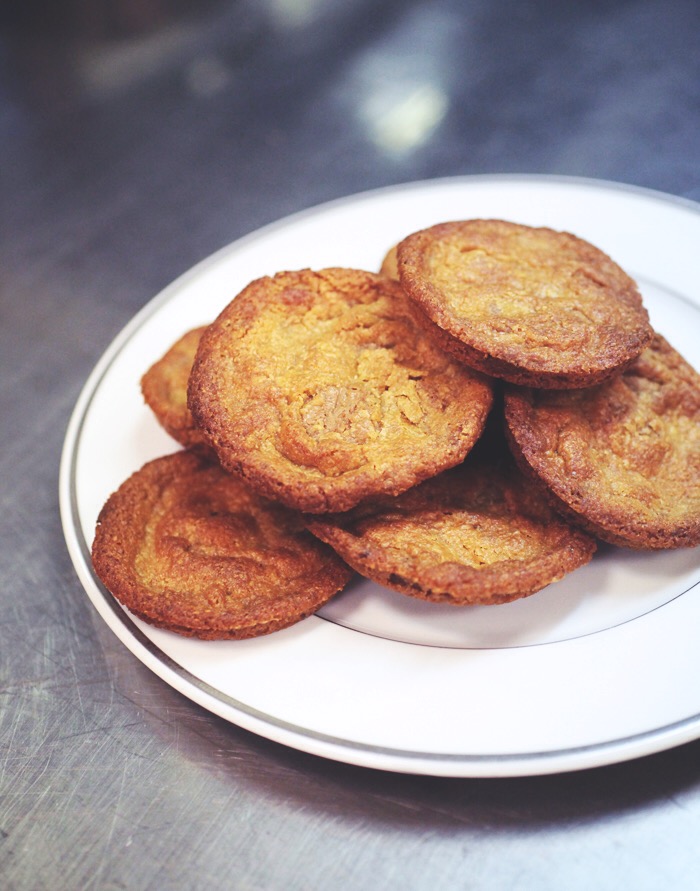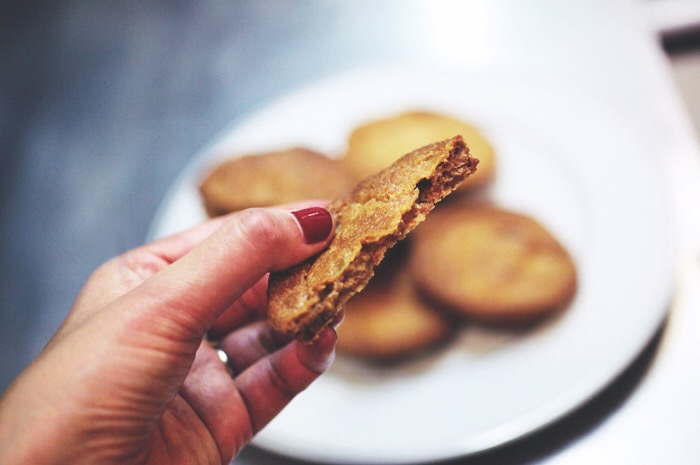 So there you go, the two recipes that I was lucky to make with the talented chef Alain Lamaison, the one and only that fed me so well during my stay at the hotel Les Barmes de l'Ours. I hope that you understand it all and that you will be able to reproduce it all at home !
I admit being a little intimidated at first (remember that not so long ago, I was a kitchen lost cause ?) but he was able to put me at ease and share his experience and his passion by answering my questions (no doubt trivial for him) and by telling loads of anecdotes about his craft. I didn't want to leave the kitchen !
To tell you all, this culinary cooking class was my favourite moment of this trip (and god knows there was competition between the perfection of the spa, the snowshoe treck, the cocktails in front of the logfire…) : I was lucky to get a front row seat in food prep, assist the team that is present in every front (making the buffet, menus for the 3 restaurants and room service) but above all, I loved talking to the chef, my hands covered in butter and chocolate.
If you have a chance to visit Val d'Isère and that you feel like cooking and talk to a talented chef, the hotel organises cooking classes for all. All the info is down here.
Sniff…it's over…
Our big saga of Les Barmes de l'Ours is ending, in the middle of the butter and the chocolate that is. I hope that all these mountainous episodes were to your liking (At least if you missed a few, you can find all of them at the end of this post). Anyway, I absolutely loved to transcribe this to you, it's as if I was reliving my stay a second time !
I am aware of the immense luck that allowed me to live these exceptional moments in altitude, around a team of friendly and professional people but also with you. I am getting off my little cloud, of my snowy mountain and I say good weekend to you ! (English translation by TradIsa)
Episode 1 : Les Barmes de l'Ours
Episode 2 : A stroll in snowshoes
Episode 3: The Spa at Les barmes
Episode 4 : Hungry like a bear at Les Barmes
Episode 5 : Cooking class at Les Barmes

---
My Outfit
Blouse La Redoute
Bracelets Dinh Van & Mya Bay
Jeans Levi's
Watch ASOS
Lipstick Rouge Dior « 977 Pied de Poule » Dior
Nailpolish « 853 Massaï » Dior