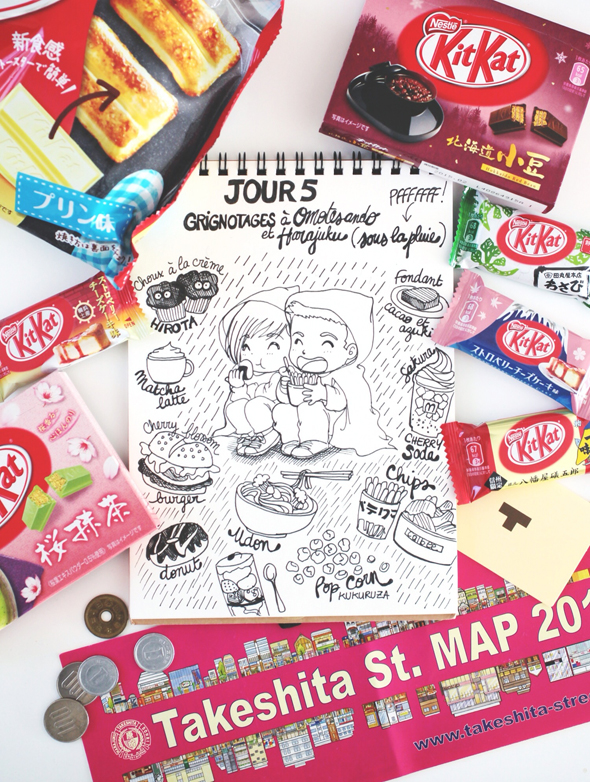 La pluie ? Encore ?!! Pour vous rassurer, si je ne m'abuse, je crois que c'est le dernier jour de pluie que j'ai pu « subir » au Japon, ce qui laisse entrevoir des journées plus intéressantes niveau visites. Puisqu'il pleut, je vous fais part de mes adresses et expériences gourmandes dans le quartier de Omotesando et Harajuku.
Rain ? Again ?!! To reassure you, if I am not mistaken, I think it is the last rainy day that I had to "endure" in Japan, which suggests more interesting days of visits coming up. As it is raining, I present you all my addresses and food experience in the neighborhood of Omotesando and Harajuku.
HIROTA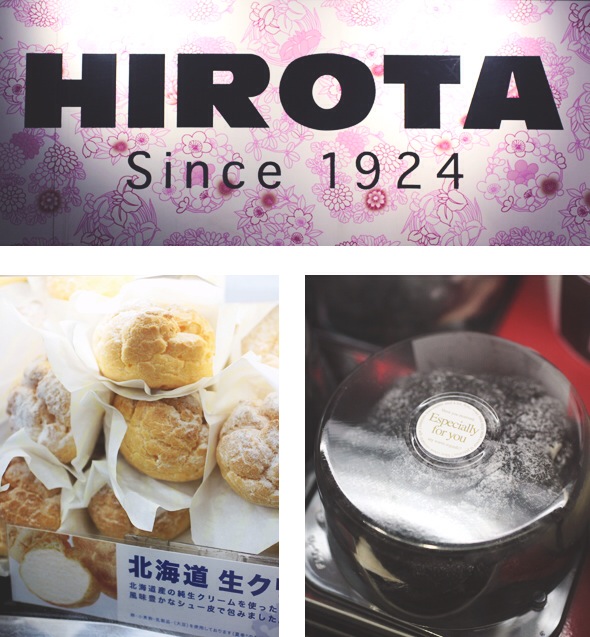 Ma révélation « chou » du voyage. Dans les allées du métro, on peut croiser de multiples enseignes pour titiller ses papilles (boulangeries, restos de nouilles…).
My « cream puff » revelation of the trip. In the corridors of the metro, you come across all sorts of stores designed to tickle your taste buds (bakeries, noodle restaurants …).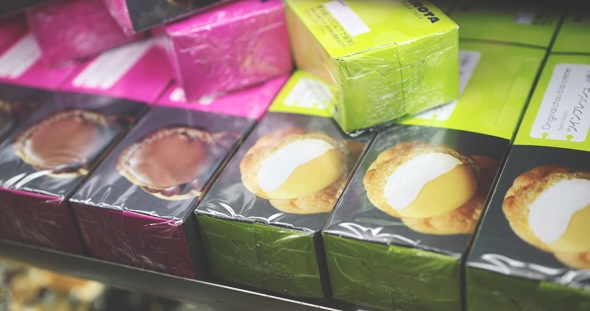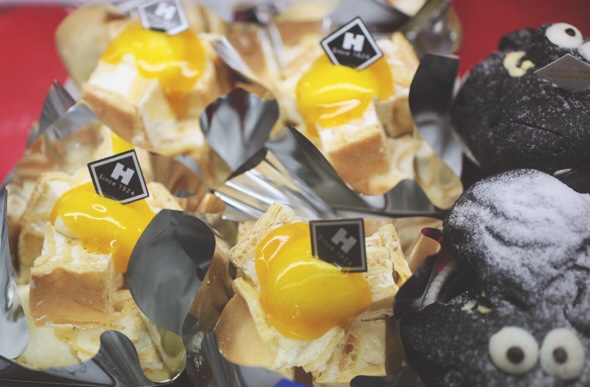 Ici, à la sortie de la station Omotesando (Sortie « Omotesando Crossing Gate »), cette enseigne spécialisée dans les choux à la crème m'a convaincue : choux au matcha mais surtout ce chou noir bizarroïde hybride muffin, fourré à la crème (appelé « Omote-kun »), que j'ai dégusté à deux reprises tellement il était bon.
Here, at the Omotesando station (« Omotesando Crossing Gate » exit), this store specialized in cream puffs has convinced me: Matcha cream puff but also this bizarre black hybrid muffin, stuffed with cream (called « Omote-kun ») that I tasted twice because it was so good.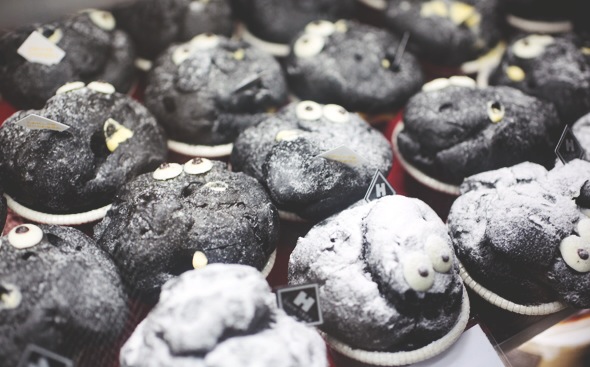 Il existe d'ailleurs en modèle jumbo « especially for you » apparemment… By the way, they also come out jumbo shaped "especially for you" apparently…
KUKURUZA POP CORN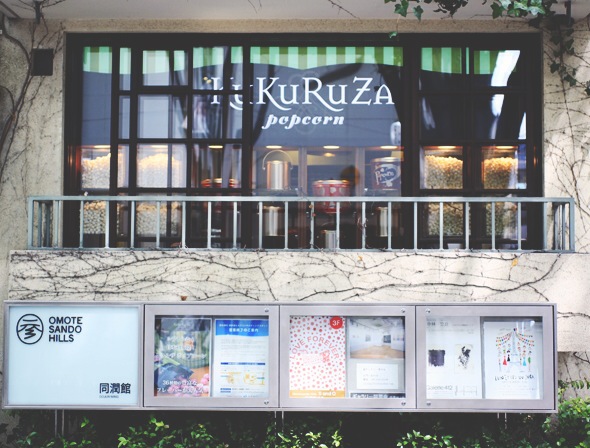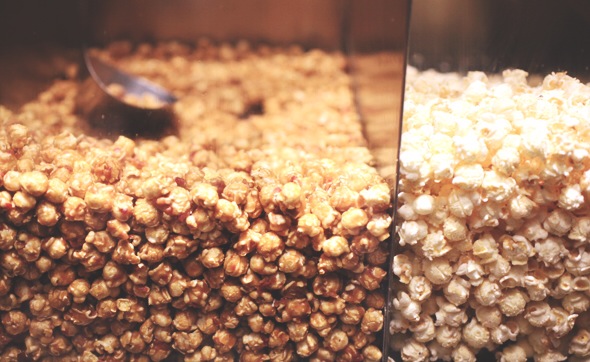 (Omotesando Hills 4-12-10 Jingumae, Shibuya-ku) Nous nous sommes arrêtés devant cette enseigne car il y avait une longue file d'attente devant. Ce n'est pas du tout une spécialité locale puisque originaire de Seattle, mais nous étions curieux de découvrir les parfums originaux de pop corn : Framboise à la crème de vanille, Fromage & truffe, sirop d'érable bacon…
We stopped in front of this shop because there was a longue queue in front of it. It isn't a local specialty at all because it comes from Seattle, but we were still keen to discover unusual flavors of popcorn: vanilla cream and black raspberry, truffle and cheese, bacon and maple syrup…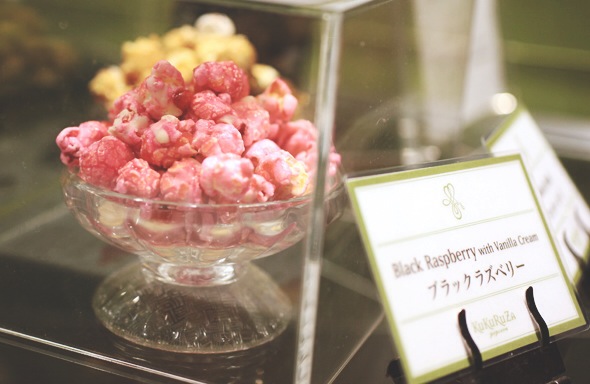 Pour les frileux, il y a tout de même le classique caramel. Les pop corns sont bons sans être fou-fous mais si vous êtes curieux comme moi…
For the unadventurous ones, you can still have the original caramel flavored. The popcorns are good but not crazy good, but if you are as curious as me…
IROHA UDON
(1F Kimura Building, 4-28-26 Jingumae Shibuya-ku) Une adresse mêlant les udons « à la japonaise » et ceux avec une touche occidentale. J'ai particulièrement aimé mes udons à la crème de crevette. Ce n'est pas très cher (environ 6-7 euros le bol) et c'est délicieux.
A place mixing "japanese style" udons and more western ones. I particularly liked the shrimp creamed udons. Its not too expensive (around 6-7 euros a bowl) and they are delicious.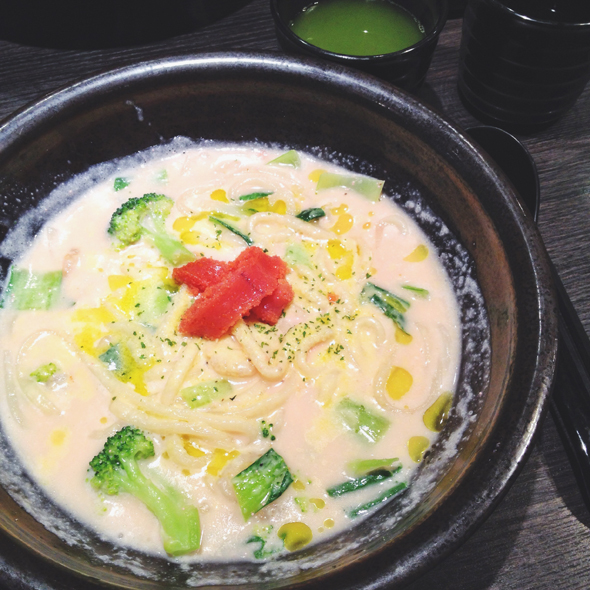 TORAYA CAFÉ
(Omotesando Hills, B1, Jingumae 4-12-10,  Shibuya-ku) Je ne pense pas qu'il y ait un rapport avec l'enseigne du même nom à Paris mais c'est tout de même un salon de thé. Situé dans « Omotesando Hills », c'est parfait pour une pause en plein shopping
I don't think it has anything to do with the one in Paris but it is still a tea house. Situated in "Omotesando Hills", it is a perfect break from shopping.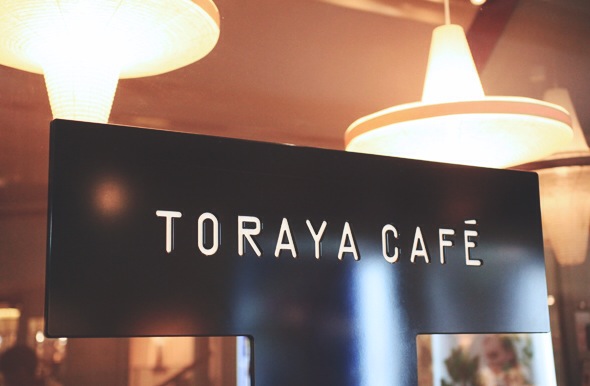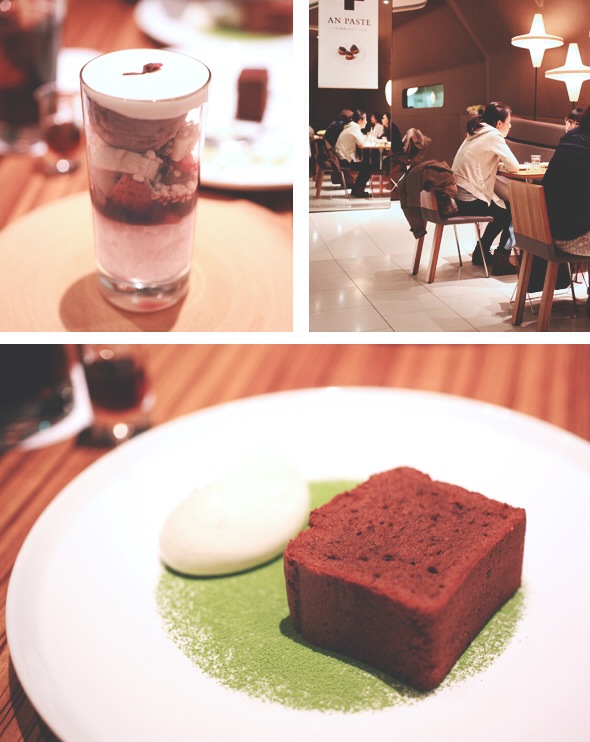 Cocoa & azuki (red bean) cake

Mention spéciale pour le « Cherry blossom parfait set » composé de divers étages : riz au lait, mochis, fraises, crème, le tout parfumé à la fleur de cerisier.
The "Cherry blossom parfait set" deserves a special acknowledgement, it is composed of several layers: milk rice, mochis, strawberries, cream, and all of it is cherry blossomed flavored.
Mc DONALD'S
(Takeshita dori, Harajuku) Haha ! l'adresse est assez méconnue, un petit fast food qui se lance hein !… Bon, OK il y en a partout mais c'est toujours intéressant de goûter au Mac Do dans d'autres pays que la France.
Haha ! Unknown place, a little fast food restaurant which works quite well hey!… Ok, they are everywhere, but it is always interesting to try Mac Donald's abroad.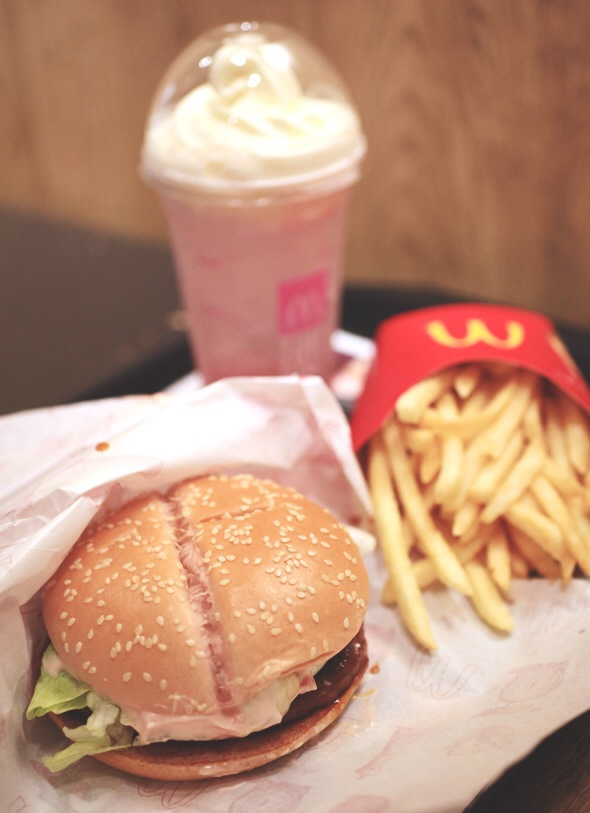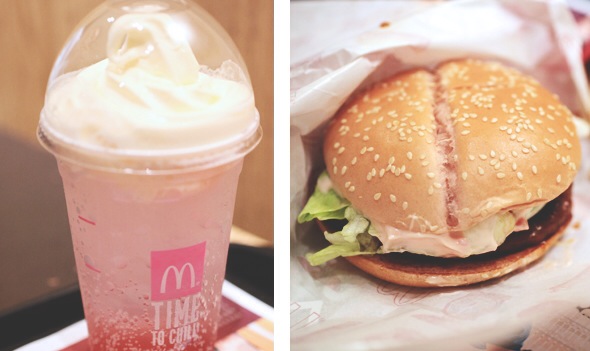 Hanami oblige, ils proposaient un « Cherry blossom burger » composé de pain rose (pas forcément très visible sur la photo), d'oeuf, de porc au gingembre façon teriyaki et d'une délicieuse sauce au daikon (radis blanc). Une boisson gazeuse « cherry sakura » était également dispo pour être 100% raccord.
Assez mangé, on se retrouve très vite pour un « retour vers le futur » !
Obliged Hanami, they had a "Cherry blossom burger" composed of pink bread (which you cannot really see on the picture), egg, ginger pork "teriyaki" style, and a delicious daikon sauce (white radish). You can also find a fizzy drink "cherry sakura" in order to be 100% matched.
Enough with the food, we'll meet again very soon to go "back to the future". (English translation by Daphné)
Previously on MY JAPAN TRAVEL DIARY :
Notre appart à Tokyo
Day 1 : Sumida Park & Asakusa
Day 2 : Namco Namjatown
Day 3 : Omotesando & Harajuku
Day 4 : Ueno Park