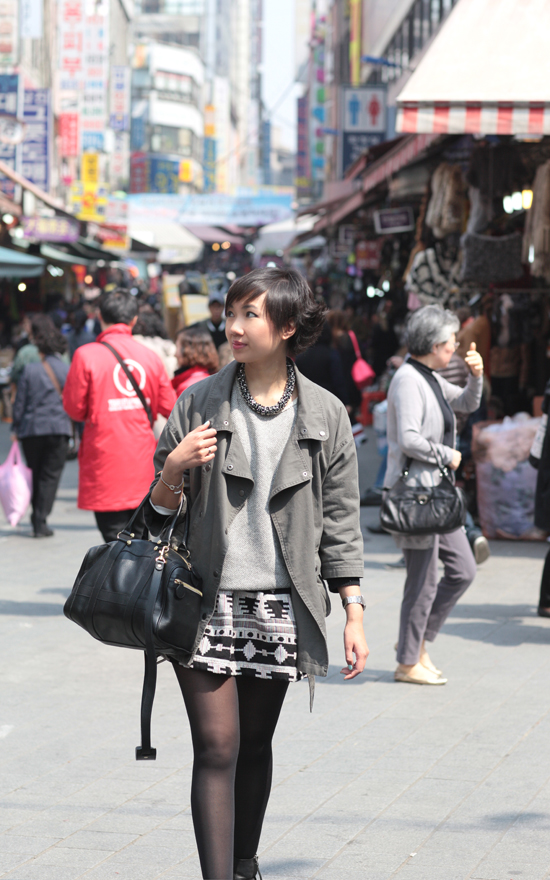 Séoul est une ville immense. Se déplacer d'un point A à un point B demande pas mal d'effort (et de temps) à pied : Pour traverser une rue, le bonhomme est vert pendant environ 20 secondes puis devient rouge pendant 5 minutes: Il ne faut pas louper le coche !
Seoul is a huge city. Going from point A to point B requires quite some effort (and time) walking: to cross the street, the green man light lasts about 20 seconds and then turns red for 5 minutes – you'd better not miss the boat!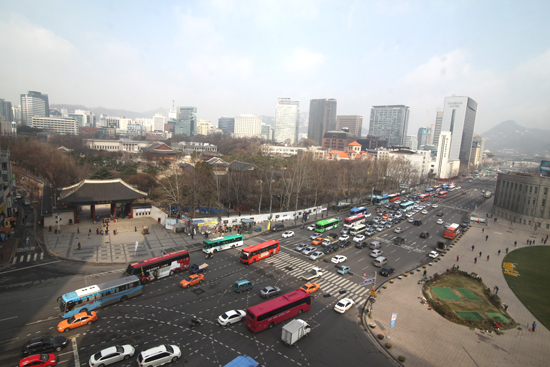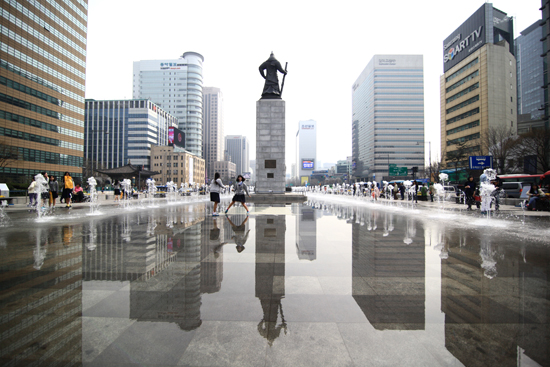 C'est pourquoi le métro est l'un des moyens les plus pratiques pour circuler dans la ville. Après un petit temps d'adaptation pour se familiariser avec (payer son ticket en fonction de l'endroit où l'on va, bien s'assurer dans quelle direction on part), on utilise ce moyen de transport à tout va.
That's why the subway is one of the easiest ways to move around in town. After it took us a bit of time to get used to it (pay the ticket according to the place to go to, make sure the direction is right), we simply kept using this mean of transport.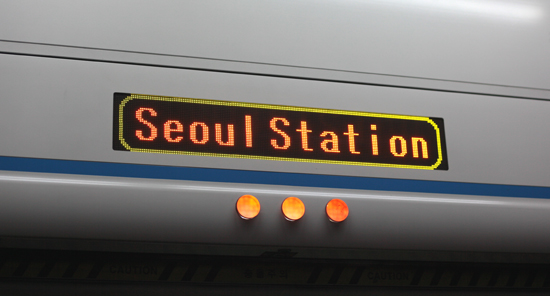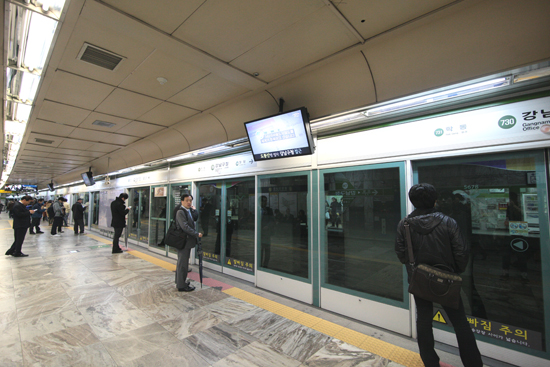 En ce qui concerne les taxis, c'est pratique aussi, pas très cher (comparé à la France) mais la plupart des chauffeurs ne parlent pas anglais et ne lisent que les adresses écrites en coréen…  On a toujours l'impression de participer à Pekin Express lorsque l'on monte dans un taxi ! C'est l'aventure !
As for taxis, they're also convenient to use, not too expensive (compared to France), however most drivers don't speak any English and can only read addresses written in Korean… So being in a cab there always feels like being on the Peking Express reality game show! Quite an adventure!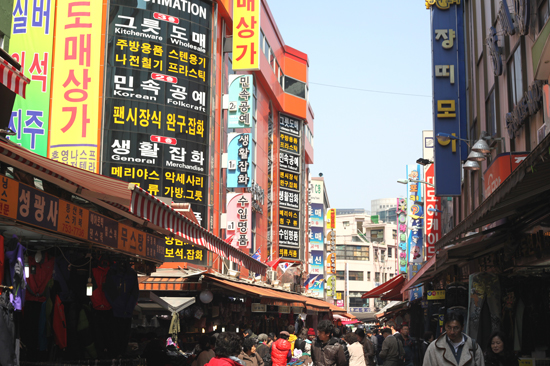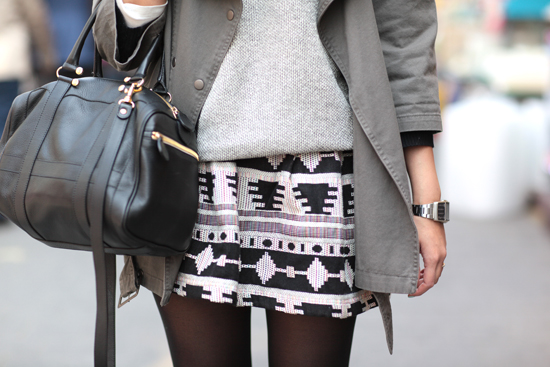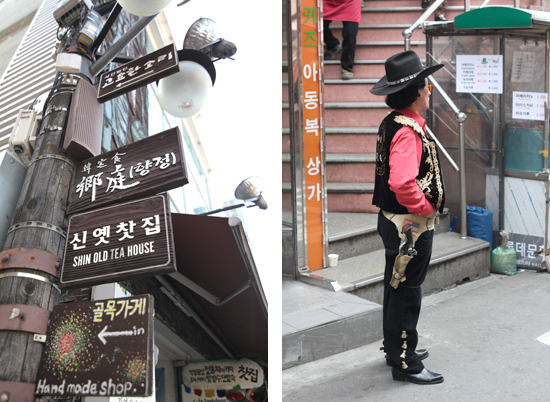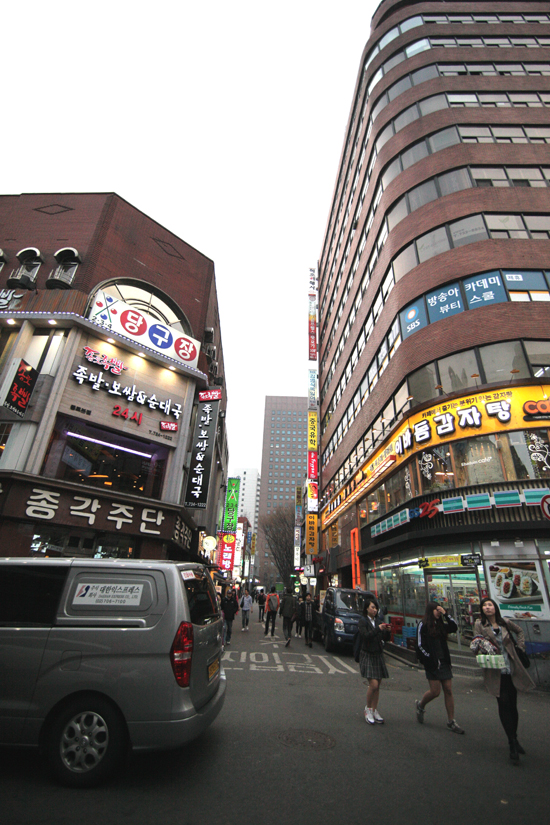 Cela dit, une fois arrivée dans un quartier donné, c'est plutôt agréable de se balader à pied. Beaucoup de stands de nourriture de rue un peu partout (je crois avoir  goûté TOUT ce qui se présentait à moi… je vous en reparle très vite !), des rues très animées souvent grouillant de monde, des marchés colorés…
That said, once you are in a given area it's rather enjoyable to just walk around. Many street food stands pretty much everywhere (I believe I have tasted EVERYTHING that came my way… I will talk about this again soon!), very animated streets full of people, colourful markets…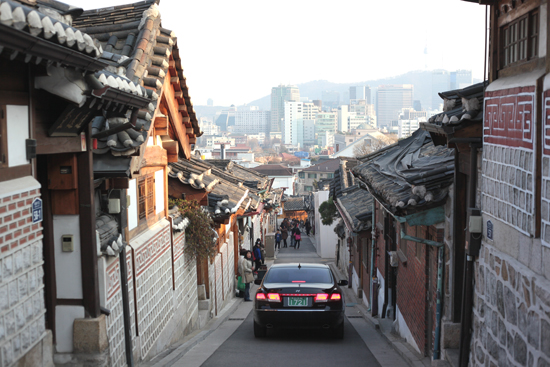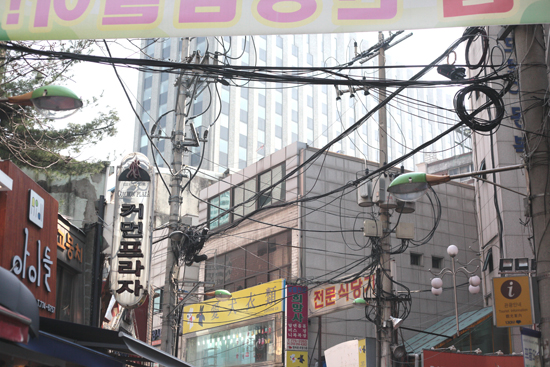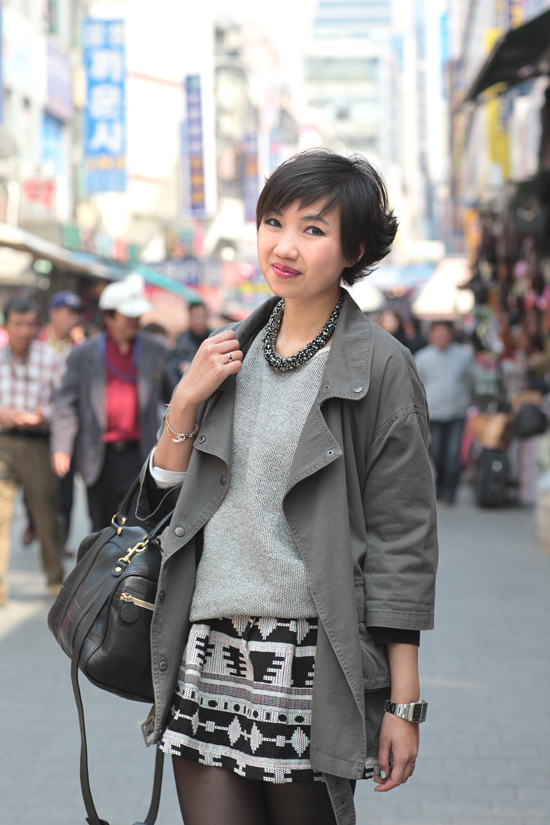 Sinon, côté look, pour une promenade au marché de Namdaemun, je porte une jupe trouvée dans une boutique du Bukchon Hanok village. La mode coréenne est assez difficile à définir : j'ai remarqué que les trenchs larges et fluides étaient sur le devant de la scène cette saison. Les looks sont plutôt sobres en général (si on veut comparer avec les Japonaises), mais toujours avec de belles coupes.
Bon, vous appréciez toujours la visite en ma compagnie ?
In terms of look, for a walk at the Namdaemun market, I wore a skirt found in a shop of the Bukchon Hanok village. Korean fashion is quite hard to define: I noticed that large and fluid volume trench coats were a highlight this season. The looks are rather sober in general (if we compare them to the Japanese) but always with nice cuts.
So… still enjoying the visit in my company?
Veste / jacket Samy Vero Moda (déjà vue ici)
Collier / necklace April, May
Pull / jumper American Apparel (déjà vu ici)
Collants / tights Velvet deluxe Wolford
Jupe / skirt 103 (Samchung dong, Seoul)
Sac / bag Alex Medium MySuelly (déjà vu ici)
Boots Pistol Acne