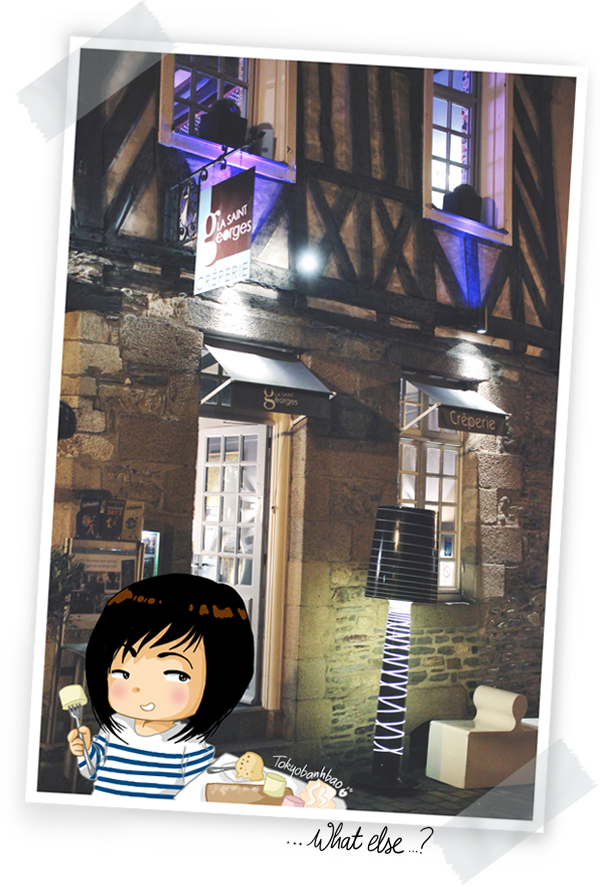 Durant ce week-end en Bretagne, nous avons mangé des crêpes et galettes presque à chaque repas. Ce ne fut pas toujours une réussite mais au bout du compte, j'ai réussi à trouver l'adresse qui m'a faite vibrer.
Située dans le centre historique de Rennes, la devanture à colombages laisse place à un intérieur contemporain truffé de jolies touches déco. Je n'ai pas pris de photos du décor comme ça, vous aurez la surprise si vous y allez ! (et puis j'étais bien trop occupée à admirer/déguster ce qu'il y avait dans mon assiette !)
Il est toujours difficile de sortir du lot lorsque l'on tient une crêperie : Pas évident de trouver les garnitures qui feront votre signature.
During this weekend in Brittany, we ate pancakes and galettes nearly for each meal. It wasn't always a hit but in the end I managed to find an address that does it for me.
Situated in the historic center of Rennes, the front of the shop is in half-timbered style but the inside is more contemporary with lots of lovely decorative touches. I didn't take pictures of the decor so that you will be surprised if you go! (also I was far too busy admiring/nibbling everything in my plate!)
It is always hard to stand out from the rest when you own a 'crêperie' (pancake restaurant): not easy to find the garnish that will make your signature dish.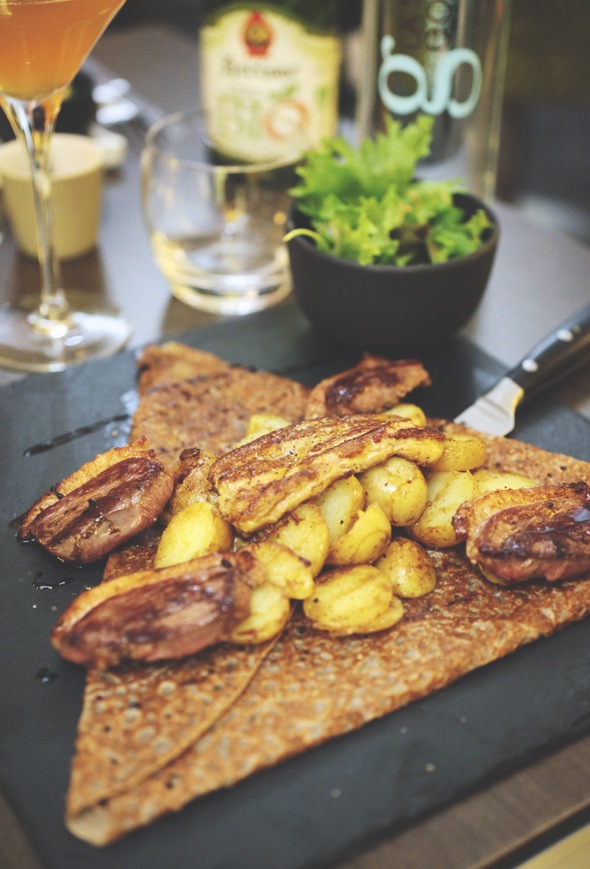 La galette Giorgio Armani
Ici, l'originalité est totale et ce, dès la lecture du menu. En effet, les galettes portent le nom de « Georges » célèbres ( George Clooney (au Chèvre chabi cendré épinards, tomate, basilic sorbet concombre…), Georges Brassens (à la fourme d'Ambert).
Un bon moyen d'avouer sans honte que Georges Moustaki nous fait troooop envie (haha) ou que George Michael nous fait saliver ! (calmez-vous, calmez-vous)
Here, the originality is total and that starts from reading the menu. Indeed, the galettes are all named after famous « Georges » (George Clooney (ash-coated chabi goats cheese, tomatoe, basil and cucumber sorbet…), Georges Brassens (with 'fourme d'Ambert' cheese).
A great way to confess without shame that you long for Georges Moustaki or that George Michael makes you drool! (Calm down, calm down)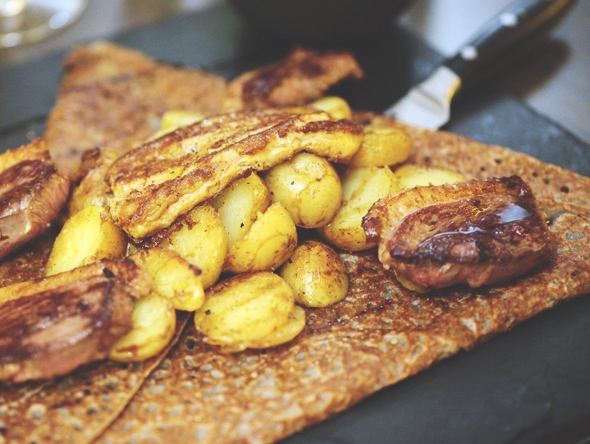 Après de longues minutes de réflexion, j'ai choisi la Giorgio Armani à cause/grâce au foie gras poêlé qui me fait frémir à chaque fois que je le vois sur une carte !
Au programme, foie gras poêlé (donc), pommes de terre, magret de canard, fleur de sel, réduction balsamique. Les portions sont généreuses, le foie gras est fondant à la perfection, le magret délicieux… mais surtout la pâte de la galette, croustillante (mais pas sèche !) comme je les aime.
After a few minutes of thought, I chose the Giorgio Armani because of the pan fried foie gras that make me flutter each time I see it on a menu!
In the programme, pan-fried foie gras, potatoes, duck breast, flower of salt, and balsamic reduction. The portions are large, the foie gras melts to perfection, the duck is sublime…but more importantly the galette dough, crusty (but not dry) like I love them.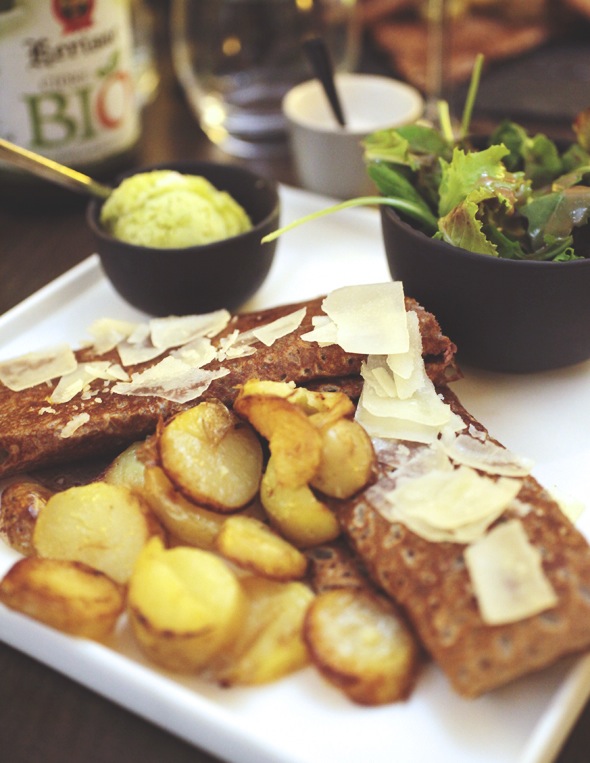 La galette George Elisabeth
Mon homme a choisi le côté féminin de la George Elisabeth (auteure américaine de polars) : Celle-ci était garnie de carpaccio de boeuf, mozzarella, tapenade de tomate, copeaux de parmesan, pommes de terres sautées et glace petit pois menthe  (ses romans se déroulent en Grand-Bretagne, voilà pourquoi !).
Très bon choix également (j'en ai croqué une bouchée) et le mélange est vraiment savoureux, fondant, bien assaisonné.
Place maintenant au dessert qui fait repartir les différents Georges dans leurs pays respectifs et nous invite à replonger dans les saveurs de notre enfance avec les crêpes Carambar, Nesquik, Kinder…
My man chose the feminine side of George Elisabeth (American author of thrillers): That one was garnished with beef carpaccio, mozzarella, tomatoe tapenade, parmesan flakes, sautées potatoes, and pea and mint ice cream (her novels are set in Great-Britain, that's why!). Equally good choice (I had a few bites) and the mixture is really tasty, melts in your mouth and is well seasonned.
Let's talk about the desserts that spread the different Georges in their respective countries and invite us to plunge in the tastes from our childhood with the Carambar (caramel sweets), Nesquik (hot chocolate), and Kinder pancakes…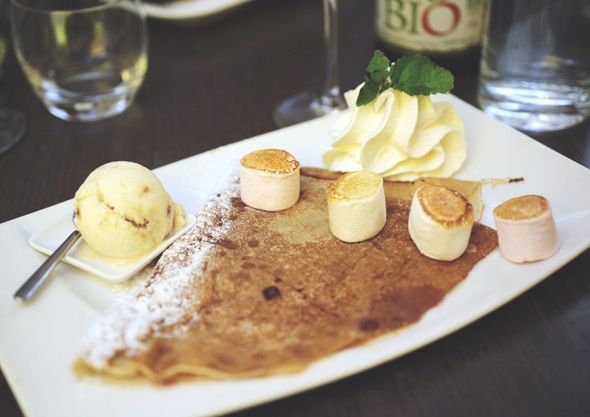 La crêpe Chamallow
J'ai choisi la Chamallow qui était assurément un choix que je ne regrette pas : caramel au beurre salé maison, chamallows caramélisés, boule de glace vanille aux éclats de nougatine, Chantilly.
Lorsque le moelleux du chamallow vient flirter avec l'onctuosité du caramel au beurre salé pour finir de chatouiller le fondant de la crêpe , c'est l'extase… aaaah !
I chose the Chamallow (=Marshmallow) which was a great choice that I don't regret: homemade caramel with salted butter, caramelised marshmallow, vanilla ice cream balls with nougat flecks, whipped cream.
When the softness of the marshmallow comes to flirt with the smoothness of the salted caramel that tickles with the meltiness of the pancake, it's extacy….aaaah!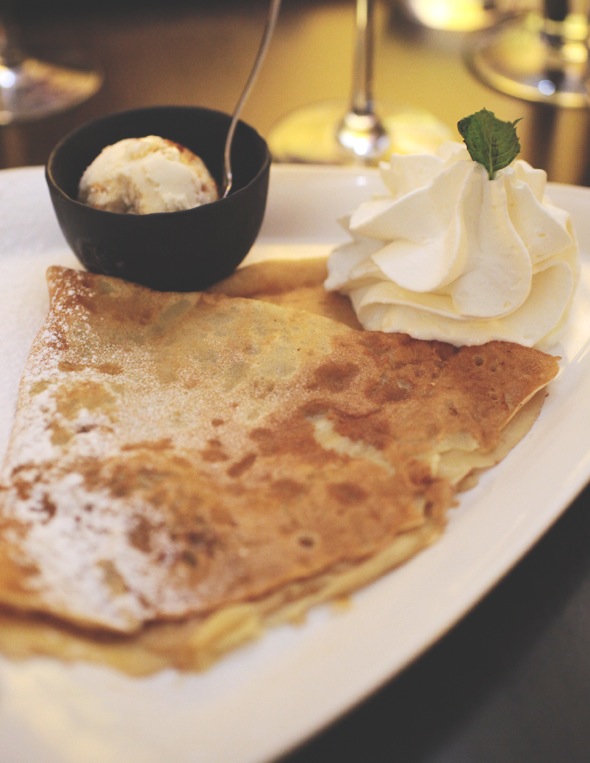 La crêpe Crunch
Mon homme a choisi la simplicité de la Crunch (Crunch au chocolat au lait, glace vanille éclats de nougatine, chantilly) mais tout aussi délicieuse !
Cela faisait longtemps que je n'avais pas été autant emballée par une adresse : l'accueil, la qualité des produits, le cadre sont irréprochables. On pourra peut être chipoter sur le prix, un peu plus élevé que les crêperies classiques (de 8,70 à 17,90 euros pour les galettes) mais vu la créativité, le service et la quantité/qualité, je trouve cela au final plutôt justifié (Nous avions tenté une autre crêperie la veille, à peine moins chère, mais la déception était au coin de l'assiette).
Si vous passez donc par Rennes, dites-moi donc avec quel Georges vous avez passé la soirée. Je veux connaitre les détails… croustillants !
My man chose the simplicity of the Crunch -french chocolate bar- (chocolate milk Crunch, vanilla ice cream with flakes of nougat, whipped cream) but as delicious as the previous one!
It has been a while since I was this excited about a restaurant: the welcome, the quality of the products, the space are all faultless. We could just argue a little about the prices, a little dearer than normal crêperies (from 8.70 to 17.90 euros per galettes) but when you think of the creativity, the service and the quality/quantity, I find the prices justified (we chose another crêperie the night before, only slightly cheaper, but very disappointing).
If you ever come to Rennes, let me know which George you chose to spend your night with. I want all the details…crusty please! (English translation by Isa)
CRÊPERIE SAINT GEORGES
11 Rue du Chapitre
35000 RENNES
(Réservation conseillée !)