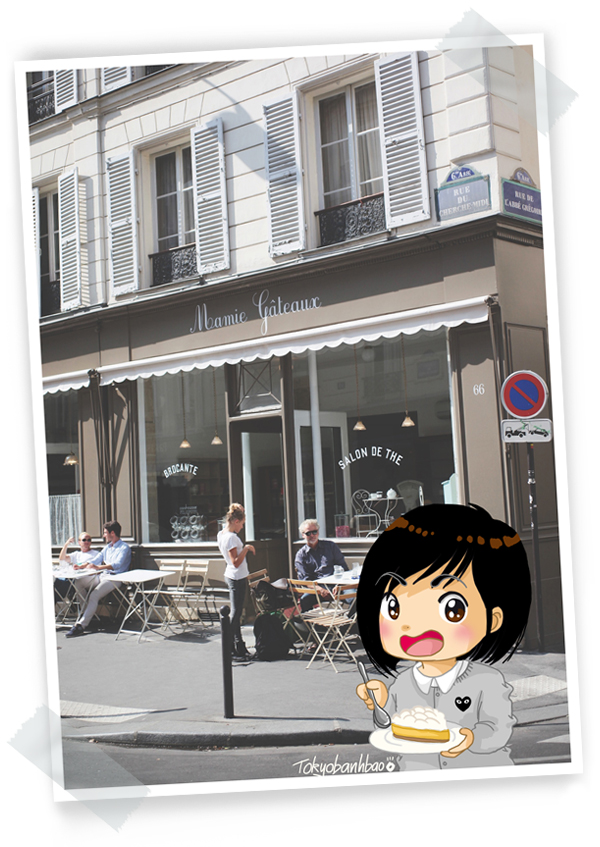 … plus forte, plus méchante ! Gniark ! Gniark ! J'avais déjà testé cette enseigne en Juillet 2009 et en étais sortie avec un avis très positif.
Cela faisait longtemps que je n'y étais pas retournée: j'avais envie de vérifier si l'on y mangeait toujours aussi bien. Surtout que des travaux ont été effectués depuis, agrandissant l'espace.. donc plus de tables… et plus de gourmands ! Ce n'est pas forcément quelque chose qui me rassure car dans ces cas là, j'ai toujours peur de perdre l'ambiance originale de l'endroit.
« Mamie Gâteaux » the return… stronger, meaner! Munch! Munch! I already sampled this place in July 2009 and came out with a very positive opinion.
It had been a long time since I was there last: I wanted to find out if the food was still really great. Especially as they remodelled the space, making it bigger…so more tables…and more happy customers! It's not usually something I look for because in those situations, I'm always worried they original ambiance will be lost.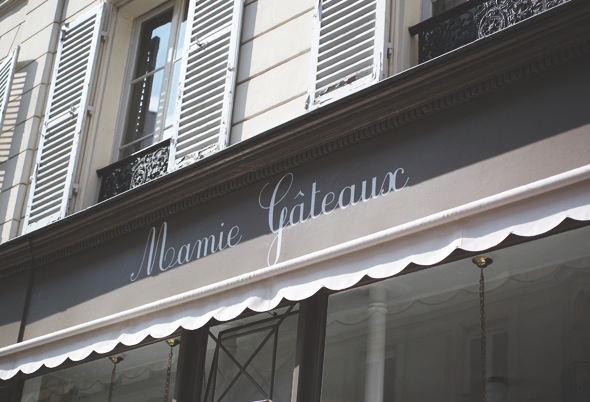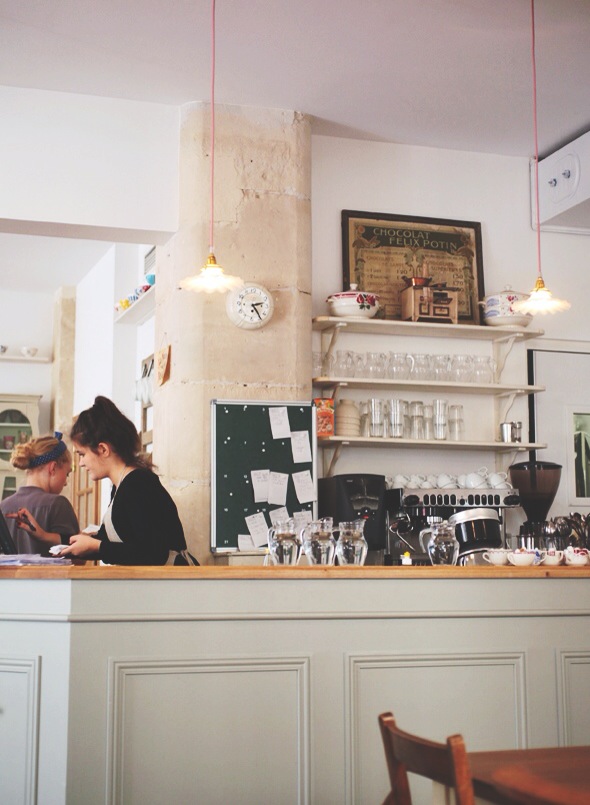 L'atmosphère écolière et cantine de CM2 a été conservée (on peut encore connaître son âge en regardant au fond du verre). Toujours une Japonaise au fourneaux mais davantage d'équipiers en salle (non-nippons par contre).
The primary school / cantine atmosphere was kept (you can find out your age by looking at the bottom of your glass). Still a Japanese lady cooking but more staff members in the dining room (non-Japanese this time).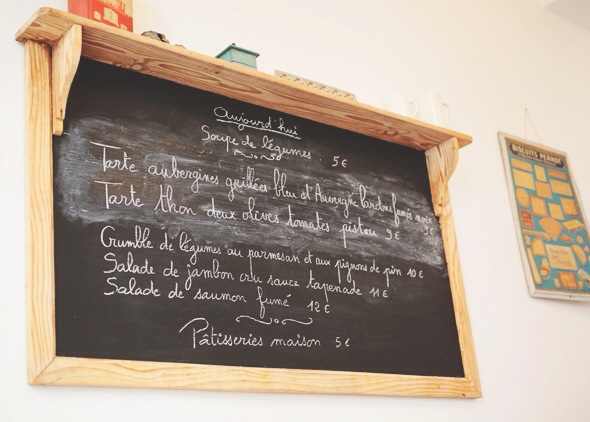 Si l'on compare avec mon billet de 2009, on peut voir que la carte écrite à la craie sur tableau noir regroupe des plats similaires mais que les prix n'ont pas augmenté en 5 ans ! Très bon point (… au bout de 10, privilège d'avoir une image).
If you compare with my post from 2009, we can see that on the blackboard menu written with chalk similar dishes are mentioned and the prices haven't increased in 5 years! Winning points (…after 10, they win a sticker!).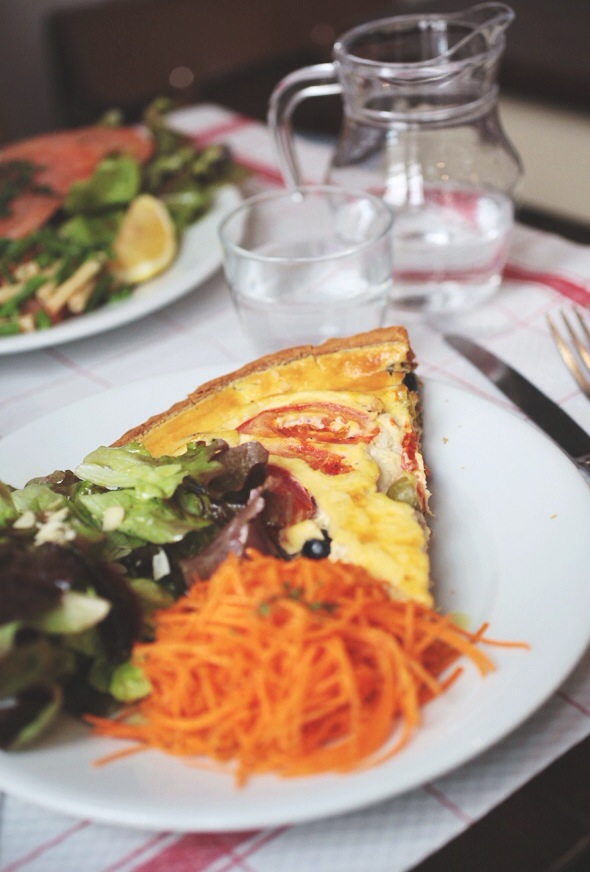 Cette fois-ci, mon choix s'est orienté vers la tarte au thon deux olives tomates pistou. Je ne me souvenais pas à quel point la pâte brisée était délicieuse. Le fondant des ingrédients mêlés à cette pâte croustillante rendent cette (apparente) simplicité plus qu'exquise.
This time, I chose a tuna and two olives Pistou tart. I completely forgot how delicious the pie-crust pastry was. All the ingredients melting together with this crusty pastry makes this (apparent) simplicity more that exquisite.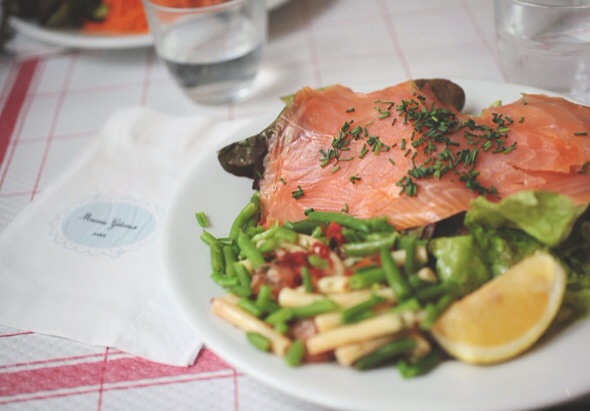 En face de moi, salade de saumon fumé : ici pas grand chose à dire à part que les produits sont frais et que la sauce vinaigrette est bien balancée.
Pour l'instant, aucune déception par rapport à 2009 : qu'en sera t-il des desserts… puisque c'est quand même l'argument premier de Mamie Gâteaux !
In front of me, smoked salmon salad: not much to say apart from the fact that the products are fresh and the vinaigrette is well balanced.
So far, no disappointments compared to 2009: what will it be concerning the desserts…because it's still the main reason to be at Mamie Gâteaux!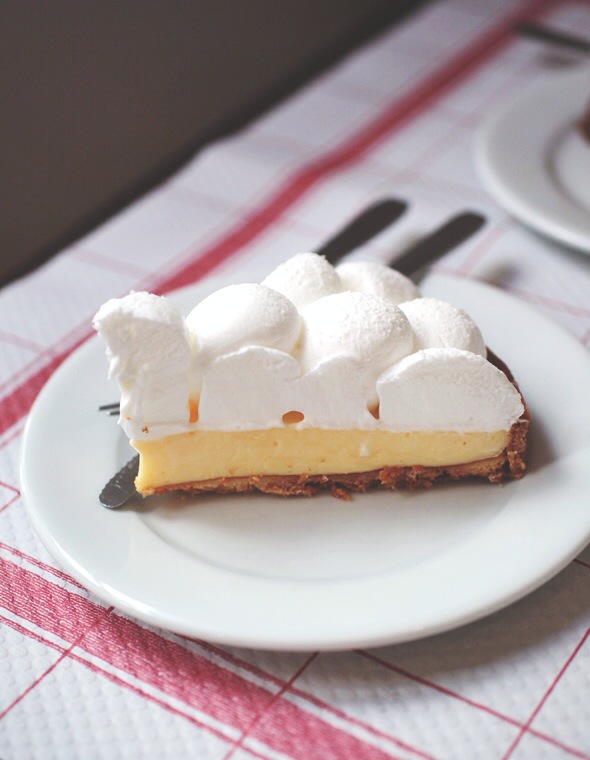 Je commande une tarte au citron meringuée et là encore, même punition : la pâte sablée est d'un croustillant !… un dé-li-ce ! La crème au citron ni trop sucrée ni trop acide, et cette meringue légère… je serais même tentée d'en prendre une 2ème part (mais stoppez-moi tout de suite s'il vous plaît).
I order a lemon meringue tart and then again, same punishment: the shortcrust pastry is so crunchy !…a de-light ! The lemony cream is neither too sugary nor too acidy, and that meringue is light…I'm even tempted to have another piece (but stop me already please).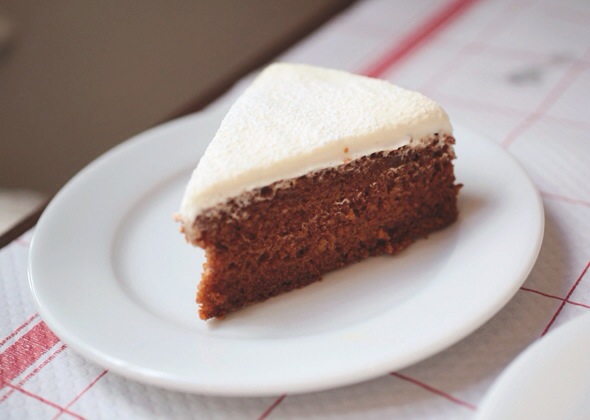 Le Carrot Cake est lui aussi parfait, léger et bien aéré avec un glaçage crémeux loin d'être écoeurant…
Bilan de mon retour après 5 ans : Toujours aussi conquise et très heureuse de voir une qualité pérenne et des prix qui ne gonflent pas comme jambes de Grand-mère au soleil. Bravo Mamie Gâteaux !
The carrot cake is also perfect, light and airy with a creamy icing that is not too much…
Final assessment after 5 years: Still as enchanted and very glad to see that the quality has remained and so have the prices. Congratulations Mamie Gâteau! (English translation by TradIsa)
Restaurant MAMIE GÂTEAUX
66 rue du Cherche-Midi
75006 PARIS
(Métro Sèvres Babylone)