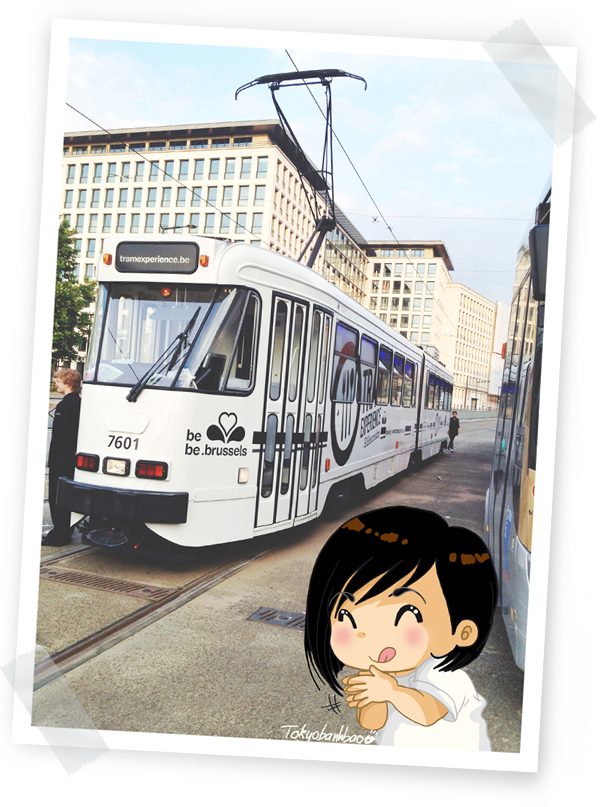 Suite et fin de mes aventures bruxelloises et gourmandes… je termine par une expérience culinaire très sympathique qu'il m'a été donné de découvrir. Après mes exploits hivernaux Jean Claude Duss-iens, je réitère ici dans le même esprit avec la Tram Expérience belge !
Le principe : déguster un repas gastronomique imaginé à 8 mains (cad par 4 chefs belges de renom) à bord d'un tramway qui sillonne la ville de Bruxelles pendant 2 heures. Plutôt cool, non ?
Follow up and end of my gourmet Brussels adventure…I finish off with a very lovely culinary experience that I was made to discover. After my wintery exploits, I got to relive the same spirit with the belgian Tram experience.
The principle: endulging in a gastronomic meal imagined by 8 hands (as in by 4 famous Belgian chefs) riding in a tramway that scour around Brussels for two hours. Pretty cool, don't you think?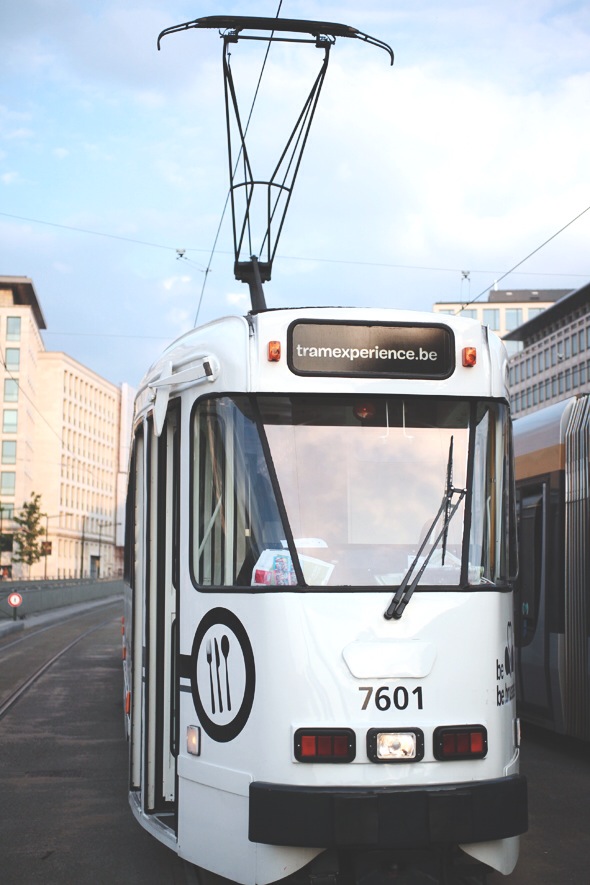 Il faut réserver sur le site, on a le choix entre deux services : celui de 18h30 et celui de 21h. Nous avions opté pour celui de 18h30 car hélas, plus de place pour l'autre service. À 18h30 précises, il faut se rendre au point de départ du tramway, autrement dit devant la place Poelaert.
Pas question d'être en retard sinon le tram part sans vous (… avec sa délicieuse nourriture à bord= si ça peut vous motiver pour être à l'heure) !
You have to get a reservation on site, then you have a choice between two times : 6.30pm and 9pm. We chose 6.30pm because the other was full already.
At 6.30pm on the dot you have to meet up at the start of the journey which is on Place Poelaert otherwise it will leave without you (…with it's mouth-watering food on board=if that's not a good motivation to get there on time I don' t know what is!)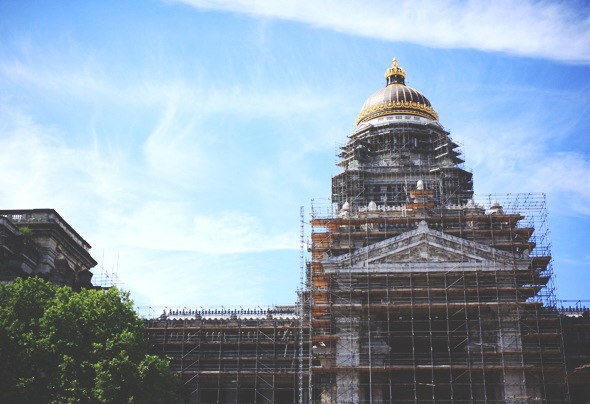 On nous installe ensuite dans le tramway. On peut réserver pour 2 ou 4 ou si vous êtes plus de 4, on pourra peut-être vous installer à des tables contigües mais l'idée, c'est de n'avoir que des amis en nombre pair, parce que les sièges du tramway sont ainsi faits.
Donc revoyez ainsi votre cercle d'amis : soyez sélectifs et sans pitié haha !
You are then shown to a seat on board. You can reserve for 2 or 4 heads or if you are more they could put you on one of the corner tables but the idea is to be an even number of diners because the seats are that way laid out in the tram.
So bear that in mind with your circle of friends: be selective and ruthless ha ha!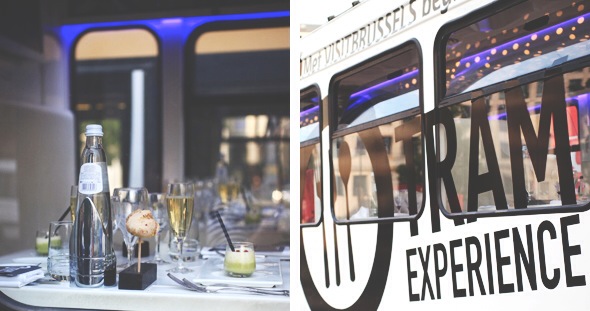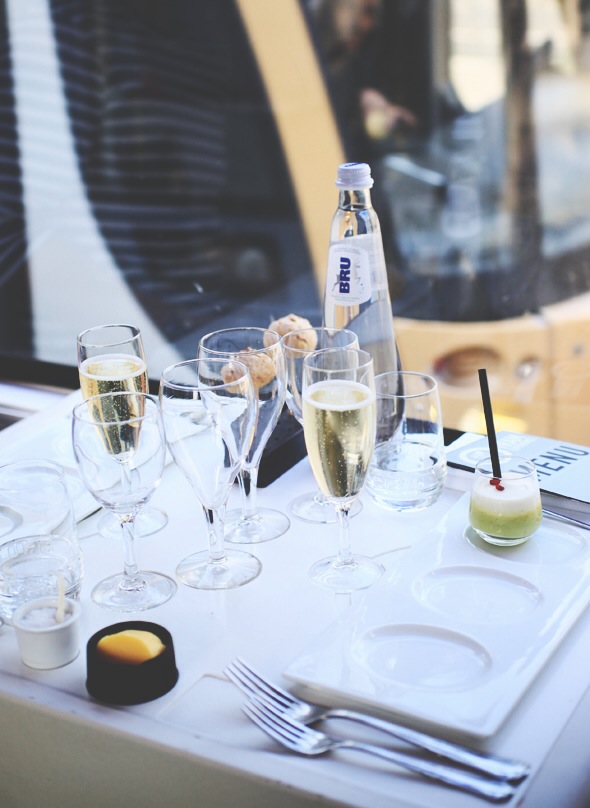 Une fois à l'intérieur, c'est assez drôle de voir l'aménagement prévu à cet effet : en bout de tramway, la « cuisine » où les traiteurs préparent le menu imaginé par les chefs et les sièges placés le long des fenêtres.
Nos tables sont spécialement pensées pour d'éventuels soubresauts  puisqu'il y a des encoches prévues pour accueillir les verres, les assiettes. Ainsi, rien ne bouge , rien ne se perd… rien ne se transforme !
Once inside, it's quite fun to glimpse the special layout: at the end of the tram, the « kitchen » where the caterers prepare the menu that the chefs have concocted and there are seats all along the sides by the long windows.
Our tables have deliberate indentations designed for plates and glasses so they don't slide off with the bumpy roads. With that, nothing moves, nothing is lost…nothing is transformed!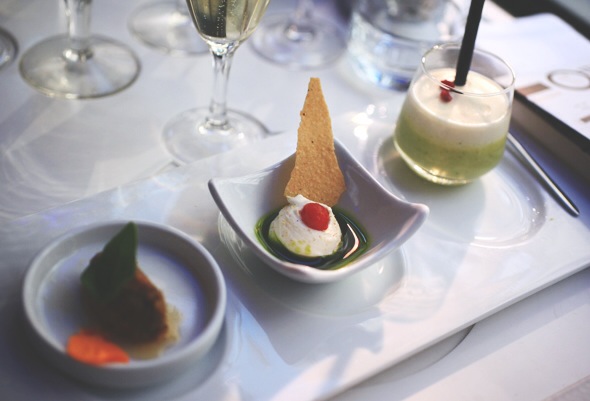 Le tramway démarre. Mise en bouche avec une recette de Giovanni Bruno, chef du restaurant italo-belge Senzanome à Schaerbeek.
Prenez votre souffle pour la description : Burratina bio olive, basilic et caviar de tomates au pain sarde, Confit d'aubergines au vinaigre dashi, cappuccino de courgettes et espuma de parmesan. Très très frais et parfait pour se mettre dans l'ambiance gustative. J'ai particulièrement apprécié la burratina qui est une mozzarella crémeuse à souhait… miam !
The tram leaves. Mise en bouche with a receipe from Giovanni Bruno, chef at the italo-belgium Senzanome in Schaerbeek.
Take a breath for this description: Organic Burratina with olive, basil and tomato caviar on Sardinian bread, Aubergine confit with dashi vinegar, courgette cappuccino and Parmesan Cheese foam. Very very fresh and perfect to get in the mood for a taste experience. I was particularly fond of the burratina which is a lovely creamy mozzarella…mmmmm!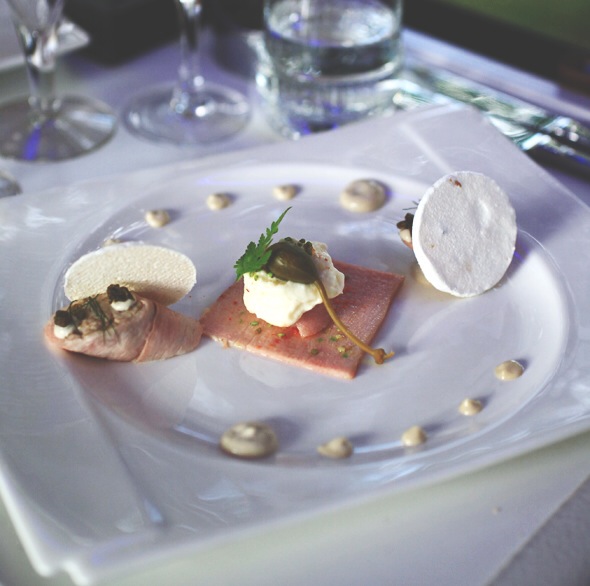 C'est drôle de voir la réaction des passants qui se demandent quelle est donc cette petite sauterie à bord du tramway, un peu comme si un OVNI passait devant leurs yeux.
Ensuite, place au cannelloni de veau, pignons de pin, parmesan, câpres et émulsion d'anchois de Cetara du chef Lionel Rigolet. Il est partout ! Souvenez-vous du fameux pistolet !
It's fun to see the reaction of the passers-by wondering what is this party on board of a tram, as if a UFO was passing in front of their eyes.
Then it's time for Cannelloni with veal, pine nuts, Parmesan cheese, capers, emulsion of Cetera anchovies from the chef Lionel Rigolet. He is everywhere! Remember the famous « pistolet »!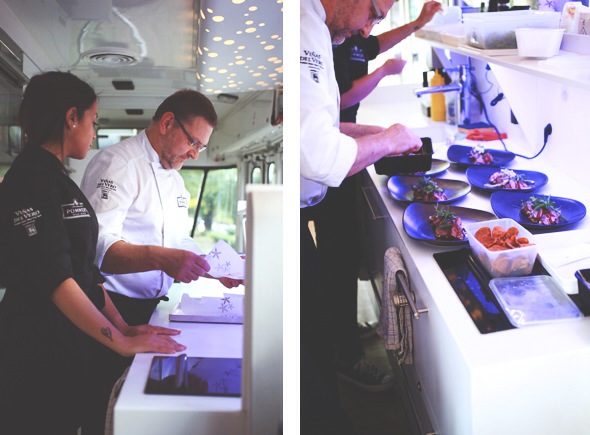 Pendant que l'on déguste nos mets en admirant le paysage qui défile, la préparation de la suite va bon train (haha, jeu de mot).
While we are enjoying our courses and the landscape, the prepartions for the rest is running smoothly.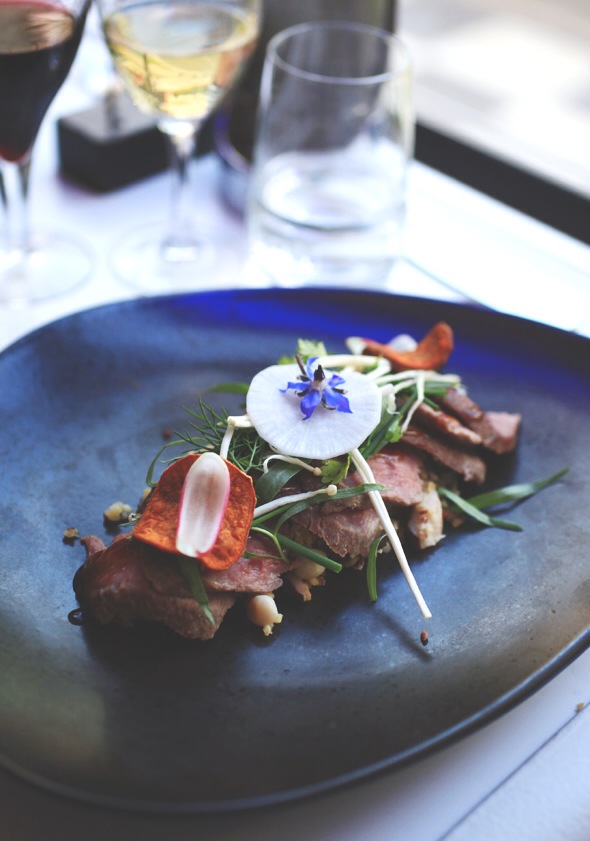 Le meilleur selon moi, et pas seulement parce que que c'est un chef japonais qui l'a imaginé hein… c'est le filet d'agneau et quinoa aux champignons japonais et sauce au Ponzu. Le ponzu, cette fameuse sauce utilisée pour y tremper sa viande lors du shabu shabu, souvenirs souvenirs !
Ce plat a été concocté par le Chef étoilé Kamo Tomoyasu, du restaurant Kamo (le même Kamo de la boîte de chocolat Mary ! Décidément, comme on se retrouve !)… Soit dit en passant, la prochaine fois que je vais à Bruxelles, il faut absolument que j'aille dans son restaurant !
The best for me , and not only because it's the brain child of a Japanese chef…it's the lamb filet and quinoa with japanese mushrooms and ponzu sauce. The ponzu, this famous sauce used to dip in our meat during the shabu shabu, memories, memories!
This dish was concocted by the michelin star chef Kamo Tomoyasu, of the restaurant Kamo (the same Kamo from the Mary chocolate box! It's weird how things come back!) …that said I definitely have to make a point of checking out his restaurant on my next visit to Brussels!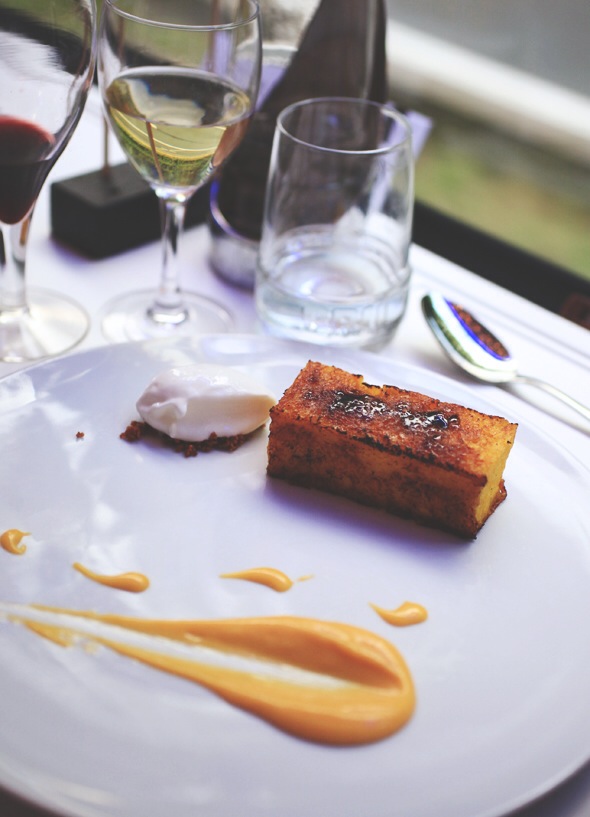 Puis, clou du voyage, le dessert du chef Bart de Pooter du restaurant Wy, à Bruxelles : Pain perdu au babeurre (eh oui, parfois, les noms de plats peuvent rester simple).
After that, the cherry on the cake was the dessert from the chef Bart de Pooter from Wy the restaurant in Brussels: French toast with buttermilk (and yes, sometimes the names of dishes can be simple).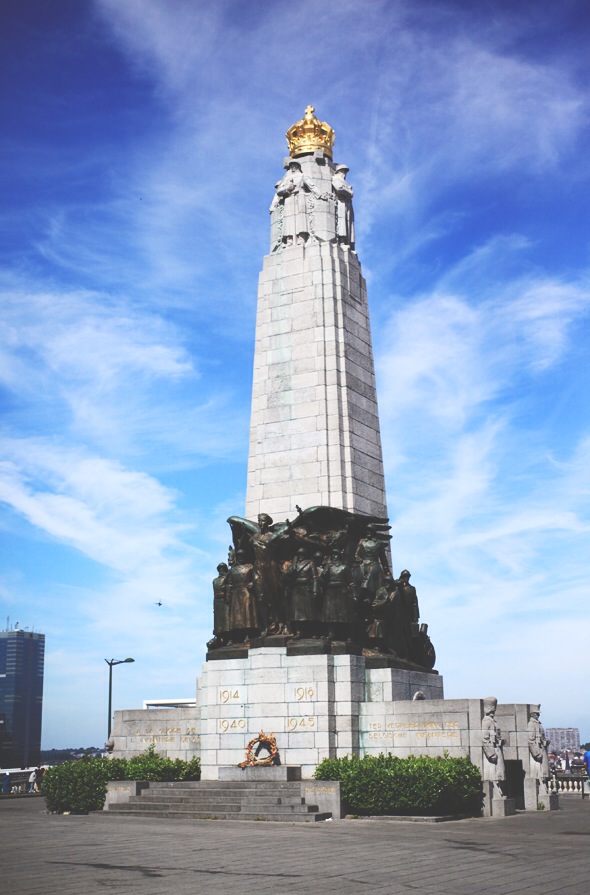 Après 2 heures de balade gourmande, retour à la case départ, sur la place Poelaert. J'ai d'ailleurs filmé une petite vidéo (ci-dessous) pour que vous reviviez un peu l'ambiance à bord !
After two hours of gourmet journey, we were back to place Poelaert. By the way, I shot a little film on board (below) so you can get a little taste of the ambiance!
En tous cas, cette expérience était assez dépaysante et permet de découvrir les différentes facettes gastronomiques de la Belgique tout en faisant le tour de la ville, les menus changent régulièrement dans l'année, bref, belle (et bonne) expérience !
In any case, this experience was quite refreshing and it is a great way to discover the different sides of Belgium cuisine while getting a feel for the city, the menus are adapted all year round, in brief, a beautiful (and tasty) experience! (English translation by Isa)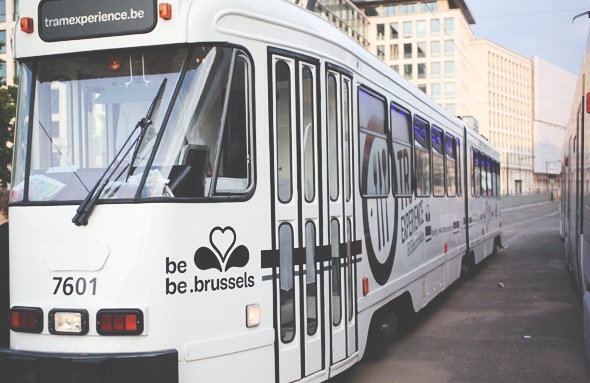 TRAM EXPERIENCE
Menu unique 89 euros
(Entrée, 2 plats, dessert, boissons incluses)
Toutes les infos sur le site