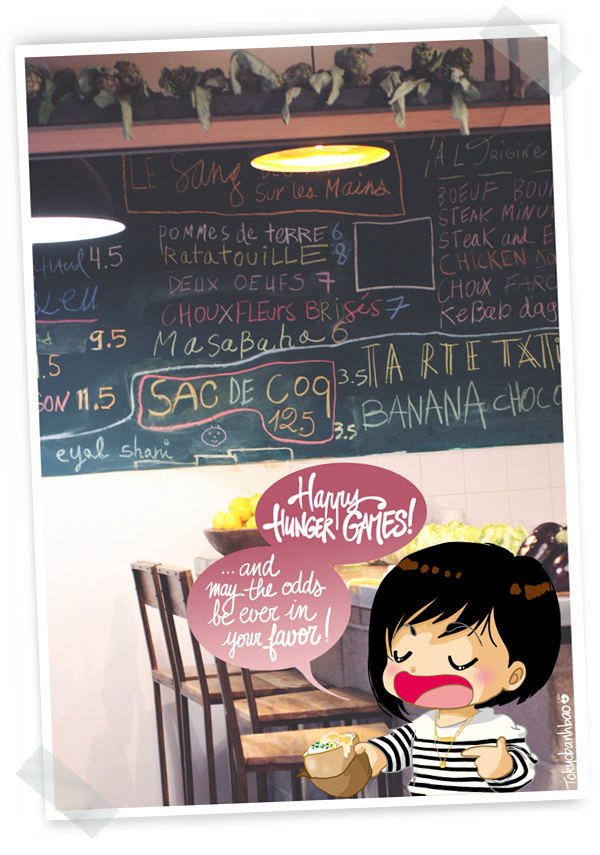 Un billet resto avec une bonne adresse sur Paris, ça faisait longtemps ! C'est en discutant de Hunger Games avec mon pote Lionel que nous en sommes venus à évoquer le personnage de Peeta Mellark (je suis fan, surtout dans Hunger Games 2) puis, je ne sais trop comment, nous voilà à tester les sandwichs de ce bar à Pita du Marais (haha on part de loin hein ?) !
Inspiré des recettes du célèbre chef israëlien Eyal Shani, le Miznon (qui signifie « buffet » en hébreu) propose toutes sortes de kebab et pitas à tomber.
It's been a while since I posted about a good parisian eatery! We were having a « Hunger Games » conversation with my friend Lionel, and got to talking about Peeta Mellark (I'm a fan, especially in Hunger Games 2). Somehow, I don't really know how, we ended up trying out the sandwiches in this Pita Bar in the Marais (haha, didn't see that one coming did you?)!
Inspired by the famous iraëli chef Eyal Shani's recipes, the Miznon (which means buffet in hebrew) offers a large choice of to-die-for kebabs and pitas.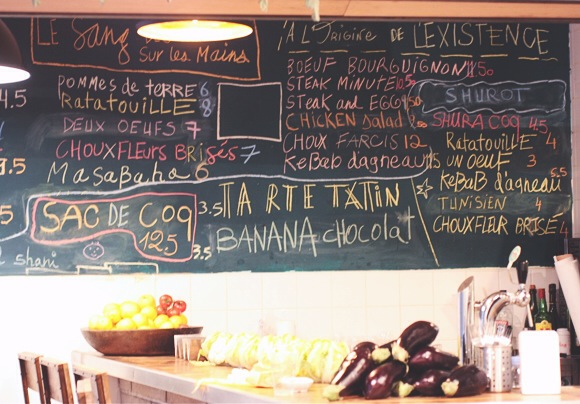 La carte est écrite sur le tableau : on a un peu de mal à s'y retrouver mais heureusement que la serveuse nous a tout bien expliqué ! On passe alors sa commande et on peut décider de s'installer au bar (pour les maniaques du « je veux voir comment c'est préparé »), sur la grande table près de l'entrée ou dans la salle plus cosy au fond.
The menu is written on a blackboard: it's kind of hard to figure it out, but thankfully the waitress explained it all! Once you order, you can choose to either sit at the bar (for those of you who want to see how it's done), at the large table by the entrance or in the cozier room in the back.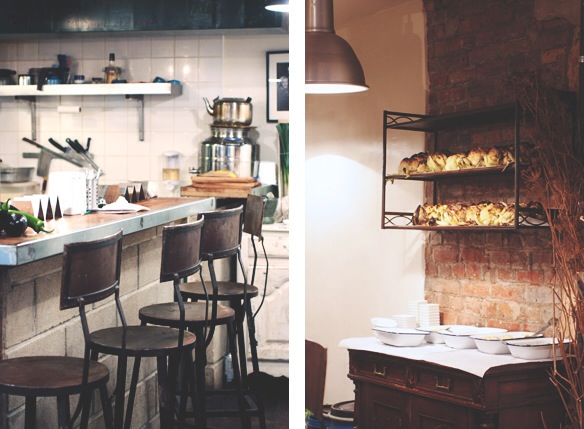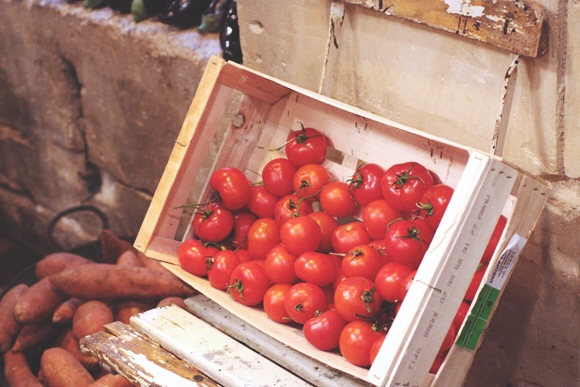 Des cagettes de légumes sont disséminées aux quatre coins du restaurant et un buffet (d'où le « miznon »!) propose les sauces et condiments traditionnels.
Crates of veggies can be found all over the restaurant, and a buffet (hence the « miznon »!) offers up traditional sauces and relish.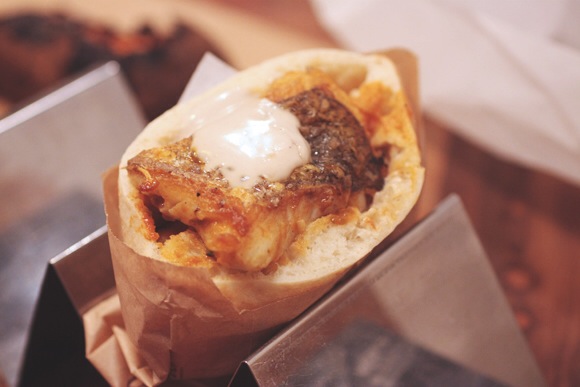 Je me suis laissée tenter par une pita au poisson épicé, histoire de changer de l'agneau classique. Et vraiment, ça faisait longtemps que je n'avais pas été aussi emballée par un sandwich : le tout est parfaitement assaisonné, relevé, garni… tout !
I ordered a spicy fish pita: I wanted a change from the classic lamb. And really, I haven't been this excited about a sandwich for a very long time: it was perfectly seasoned, spiced, garnished…everything was perfect!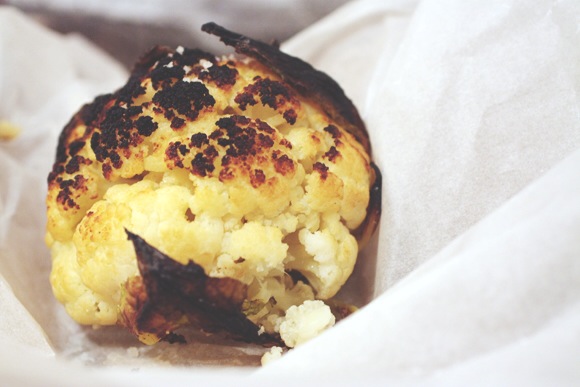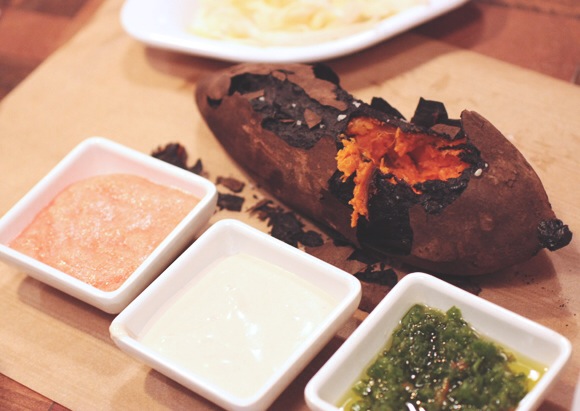 Accompagné de choux-fleur grillé et d'une patate douce au four (que l'on déguste en trempant dans les sauces du buffet), c'est divin !
With a side dish of grilled cauliflower and baked sweet potato (that you dip in the sauces from the buffet), it's divine!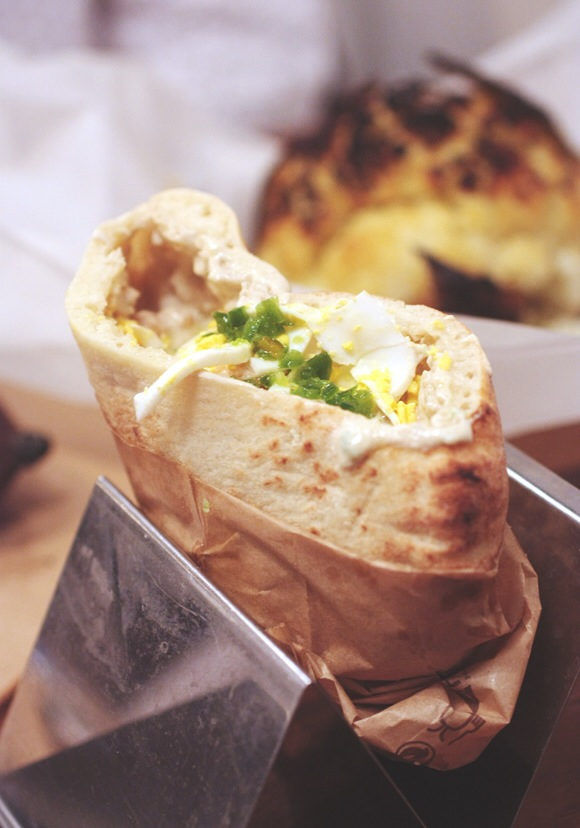 On peut se laisser tenter par d'autres variantes de sandwichs pita comme celui au masabaha (mélange végétarien à base de pois chiche similaire au houmous (ici avec des oeufs)), poulet salade (que j'ai essayé aussi ici: parfait) ou l'inattendu boeuf bourguignon !
You can let yourself be tempted by the other pita variations, like the masabaha one (a vegetarian chick-pea mix, quite similar to hummus actually (here with eggs too), chicken, salad (that I tried too here: perfect) or yet the unexpected boeuf bourguignon!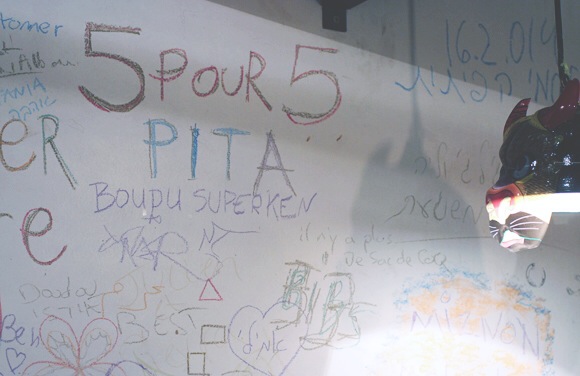 Je n'ai pas eu le temps de goûter aux desserts (pita banane chocolat, ça doit être quelque chose !!!) mais c'est certain que je reviendrai, par amour pour Peeta … les pitas !
I didn't have the time to try the desserts (a banana-chocolate pita…that must be interesting!!!!) but you can be sure I'll be back, out of love for Peeta … the pitas! (English translation by Bleu Marine)
MIZNON
22 Rue des Écouffes
75004 PARIS
(Métro Saint Paul)