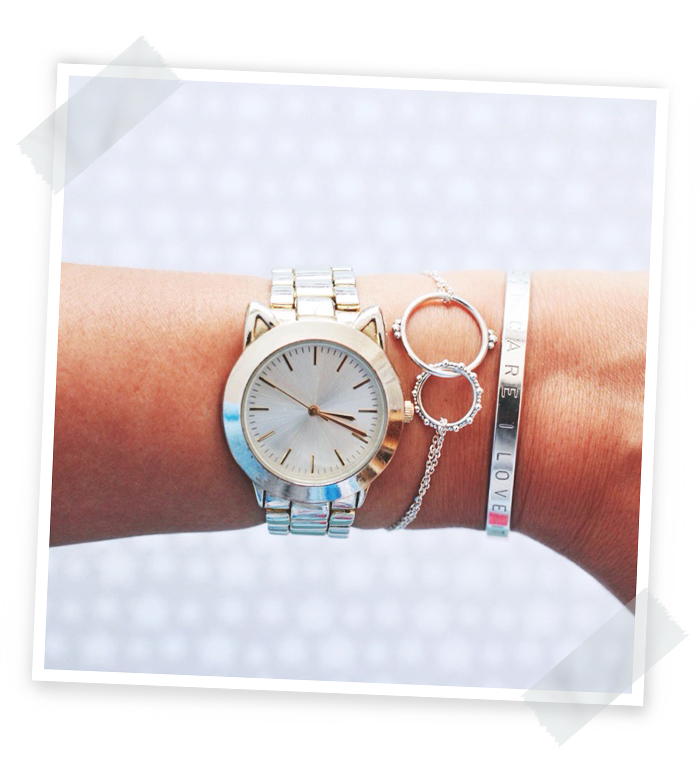 Watch ASOS
"I don't care I love it" Bracelet Mya Bay
"Austerlitz" Les Poinçonneurs bracelet
(-30% off on all "Les Poinçonneurs" jewels with  PAMPULILU magical code until April 11st 2015)
You see them regularly in my outfit posts, but as they are a bit frustrated to be observed only from afar, I'm putting them in the limelight for a whole post: my bracelets!
I wear them 24/7. I've always been on the lookout for bracelets that could be worn under the shower, while sleeping and that wouldn't bother me when I was working or drawing: bracelets of a lifetime if you want.
I'm not one of these girls who pick out bracelets every morning: I'm way too lazy for that. I need to be "bracelet-operational" as soon as I get up! If I could wake up already made up and ready to step out the door, it'd be absolute heaven, but that's another matter. Well, let's get to it and let those trinkets enjoy their hour of fame:
My "Dinh Van" cuffs
One is silver and was a gift from the brand a couple years back: it hasn't blackened since, even with trips to the pool!
The other one is a heart shape in white gold, and was a gift from my SO, as a symbol of our unconditional and indestructible love (well…undestructible until we have to decide who's turn it is to clean up). I will however have to think about changing the bracelet strands, as it turns out it is neither unconditional nor indestructible.
My silver "Mya Bay" rushes
I discovered the brand in the Kure store in Brussels: the first silver plated rush bracelet appeased my urge to get a "Love" bracelet from Cartier. And when I saw that it was holding up pretty well, I got 2 more from the same brand: one with "I don't care I love it" inscribed, and another one with a leaf shape.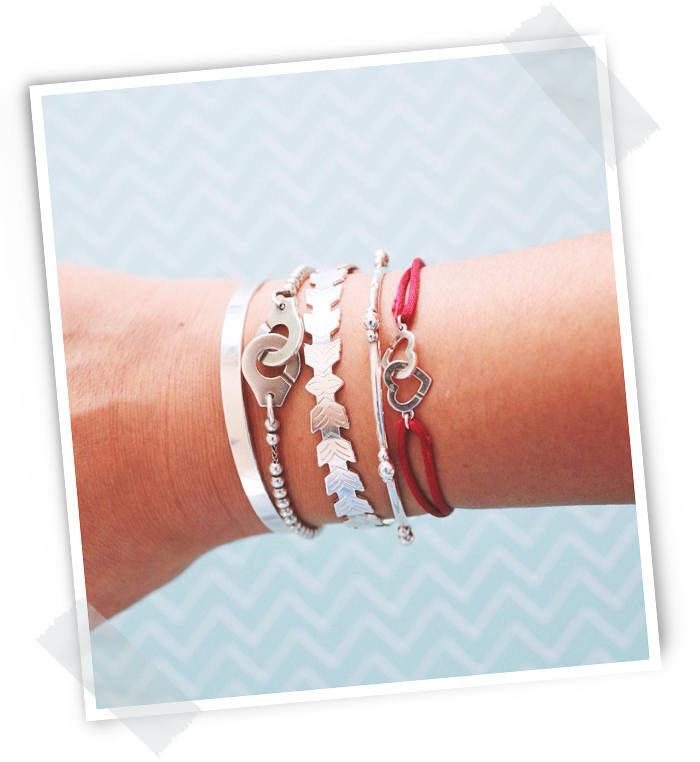 Rush bracelet Mya Bay
Cuffs bracelets Dinh Van
Leafs bracelet Mya Bay
"Bastille" Les Poinçonneurs bracelet
(-30% off on all "Les Poinçonneurs" jewels with PAMPULILU magical code until April11st 2015)
I'm all the more happy with them that I often get complimented on them. Only issue: I do have to take them off when I go to the pool… but no problem with the shower… except if you should decide to shower with bleach, but that seems doubtful.
My precious "Les Poinçonneurs"
My friend Adeline recently created her own jewelry brand. I knew she was talented and passionnate: and here is visual proof.
I loved the silver Bastille rush bracelet because it's simple yet not quite so simple, and it reminds me of a band of the same name that I love.
And another one, a bit thinner (and also in silver) called "Austerlitz", with two thin and delicate rings. I love them even more knowing that Adeline molded them entirely by hand. She worked long hours on these, probably by candlelight and with a ferocious wind screaming outside her window… it really adds a personal dimension (and dramatical one at that) to the piece. Hehe, I'm really an incurable sentimental.
So that's that on what I wear around my wrists: I won't digress on my 100% fake cat-watch, but I'll probably cry the day it dies. So here are my essentials, you know everything. (English translation by Bleu Marine)