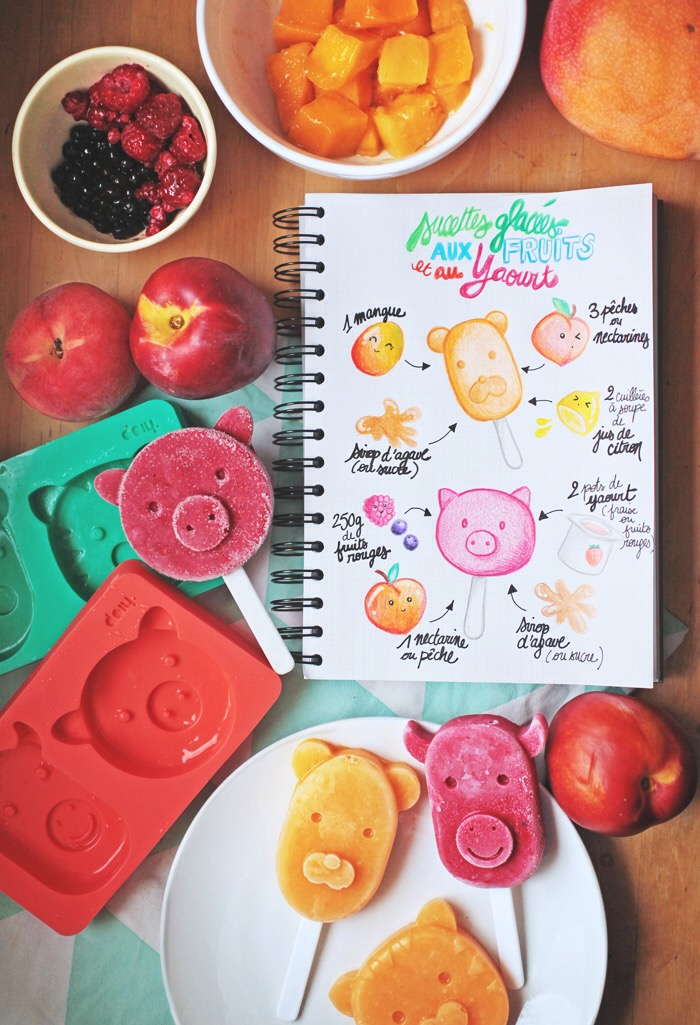 Fruits & Yogurt popsicles
You're not learning anything new if I tell you that the last couple days gave us some almost unbearable temperatures to deal with: we had to use all kinds of trickery and ploys to find a way to stay cool: movies, sprayers, wet tshirts, head in the fridge …
On my part, I chose to experiment with homemade popsicles, and to make to to this blog section, they're super easy to make.
FYI, the first mango recipe was inspired by the Marie Laforêt's "Vegan" book: I'm neither vegan nor vegetarian, but the book has lots of yummy recipes with which it's easy to reduce daily meat consumption, which isn't a bad thing for both the environment and our health.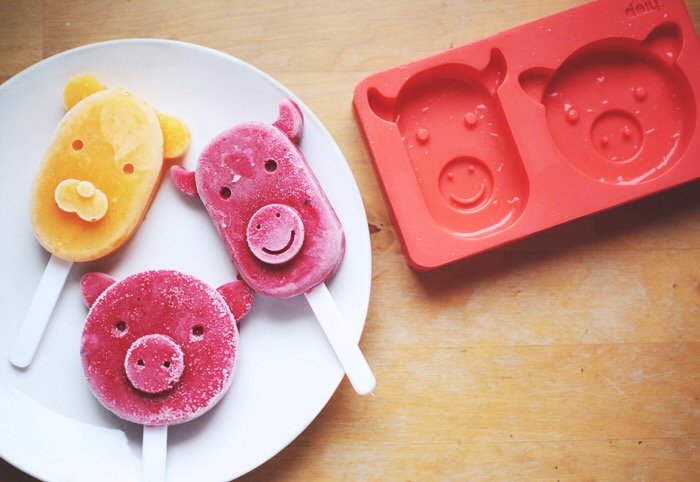 Popsicle molds Doiy (Jungle and Farm (40% off))

The amounts on the drawing make for about 6 popsicles in each flavor. It all depends on the molds you use : I found super cute animal shaped ones, but regular ones that you'd find at Hema or Ikea would be fine too.
For those of you who enjoy alternative solutions (or who don't feel like investing in the molds), you can recycle old paper yogurt cups and your icecream sticks (still have washed those right?)… anyway, it's up to you!
Some friendly tips
Of course, you need to peel and cut up the fruit in little bits and pieces before mixing everything in your blender. Don't have a blender? Well this time I'm not sure I have an alternative solution, but you can always mix everything up in itsy bitsy little pieces!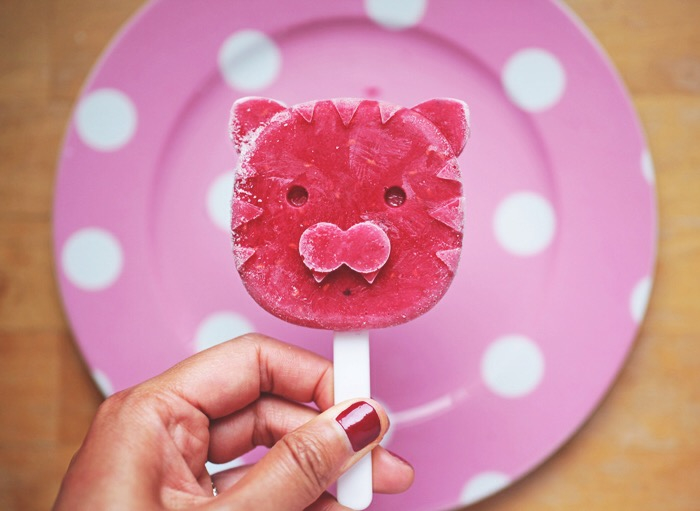 Popsicle made with the "Jungle" popsicle mold Doiy
Polka dot plate Sabre
Nailpolish « 853 Massaï » Dior
For the berry recipe, if you're afraid of getting little seeds stuck in your teeth, you can choose to strain the berries and keep only the flesh and juice of the fruit to mix in the blender.
As for the sugar or agave, I didn't give any specific quanitites, because it really depends on how you like it. Check before you pour into the molds.
Then you can put your molds in the freezer (don't have one? This time I give up) for a couple hours or overnight, and you're ready for a new heatwave, should one come our way! (English translation by Bleu Marine)