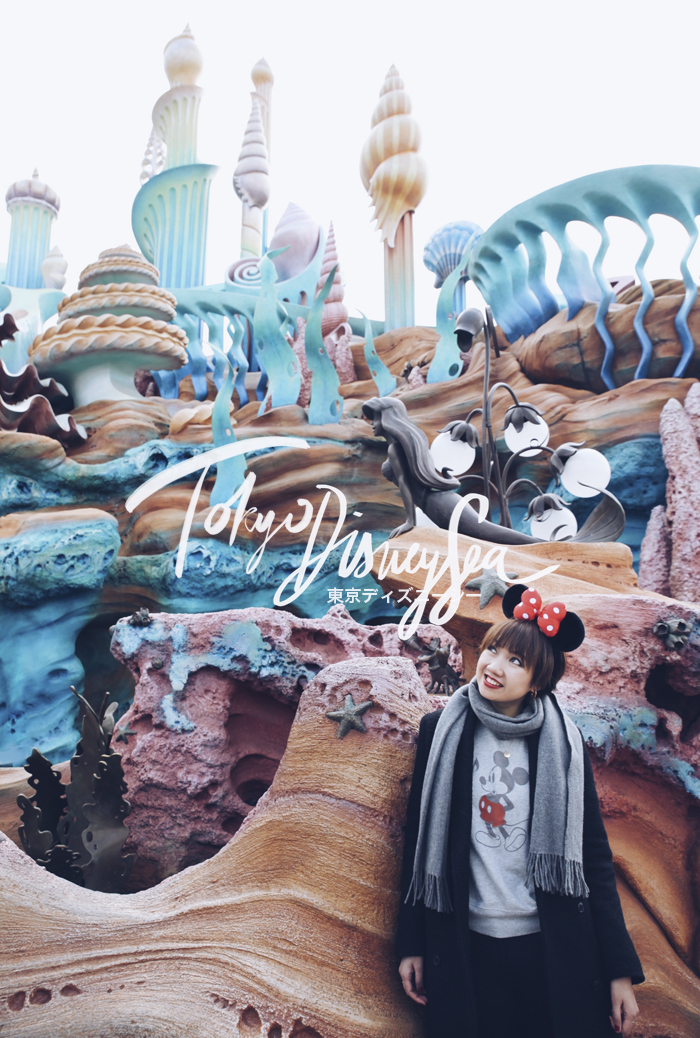 Let's not wait more, here is the story of our winter trip in Japan, and more specifically in Tokyo with my birthday gift received from my dear love: 2 days in Tokyo Disney Resort (first day in Tokyo DisneySea and second in Tokyo Disneyland)…
… and a little extra came as a cherry on top with a third day decided last minute at Tokyo DisneySea for Valentine's Day, our last day in Japan!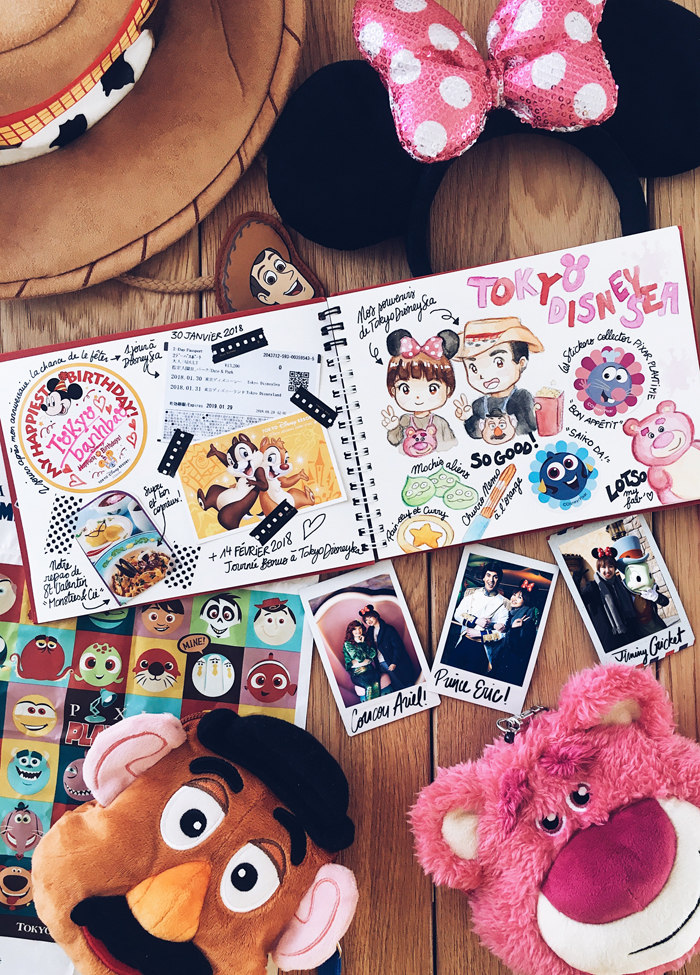 Souvenirs from Tokyo DisneySea
I don't think I could have been more spoiled as we decided to fully enjoy our first 2 days and stayed over Tokyo Disney Resort.
I will get more into details below as it ended up being a great deal especially if you decide to visit the magical Japanese world of Mickey!
A quick reminder about Tokyo DisneySea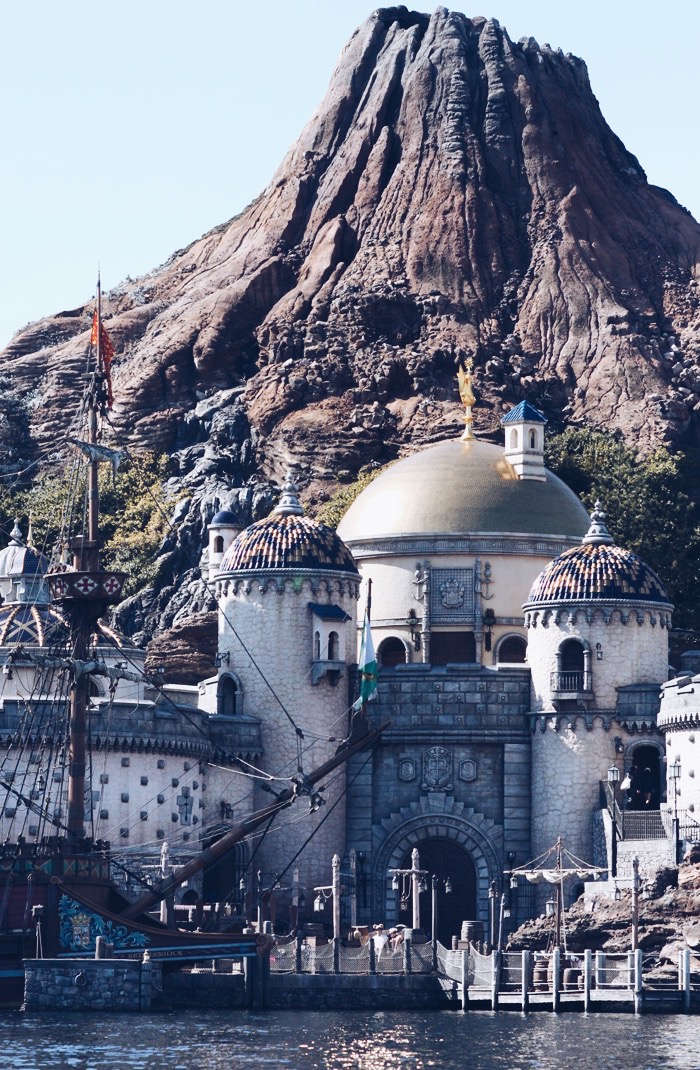 I am inviting you to read again my previous article from 2014, about the organization of this Disney park, unique in the world, with a theme related to the sea and harbor. A few changes in term of attractions by the way.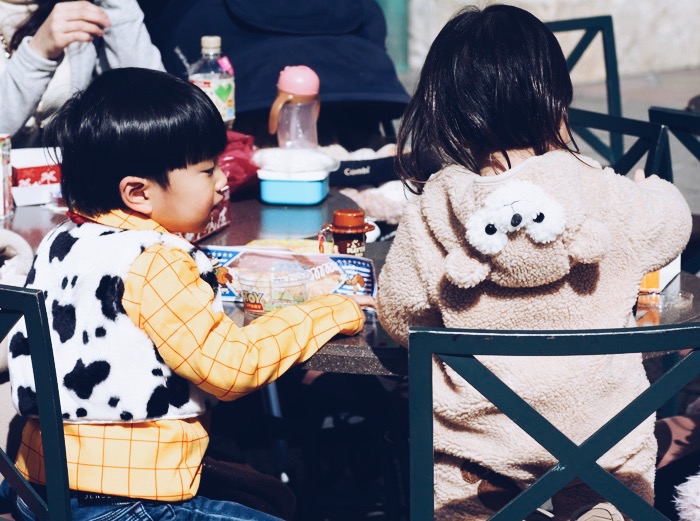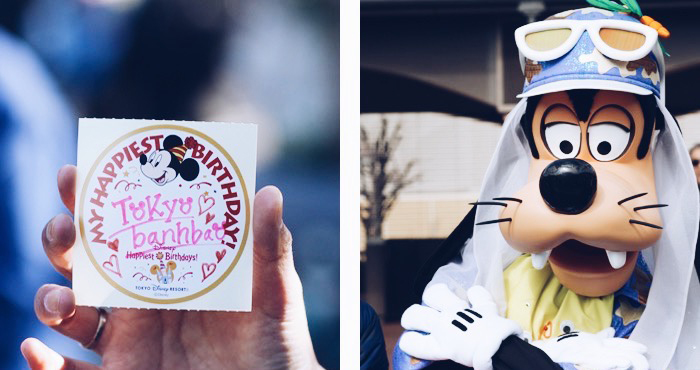 My birthday gift !

Tokyo DisneyResort website is quite well done so you can already have a look at the attractions (with our without Fast Pass) you may be interested in.
So we spent in total 2 days at Tokyo DisneySea, which gave us the opportunity to see almost all the shows and tried the attractions we didn't have have to do in 2014: I think I might be able to give you additional tips!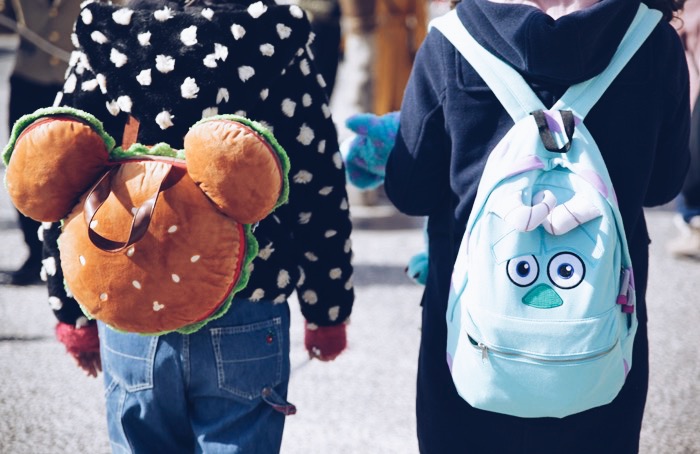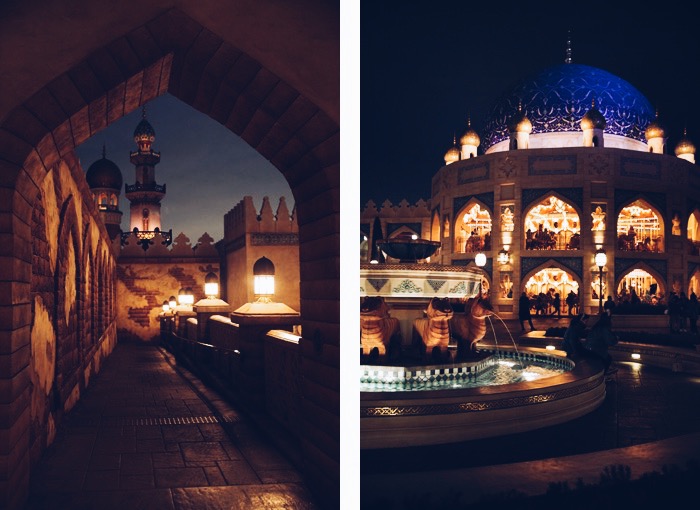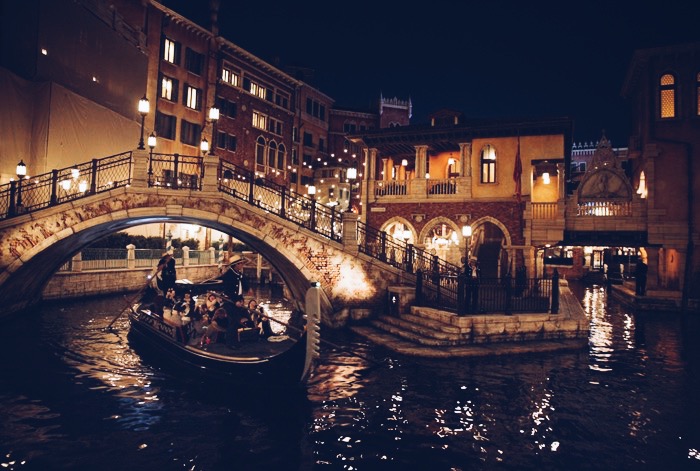 Arabian coast or Venetian gondolas for St Valentine's day ?

On Instagram you had a quick glance at the park thanks to my Instastories and the live video I did with you (which I unfortunately didn't save!): I felt like it was the most exciting visit for you guys!
On my side, I love the ambiance of this park so much and especially because it's decorated with all the Pixar characters for the Pixar Playtime event (from January 11th to March 19th): total happiness!
Attractions to do before anything else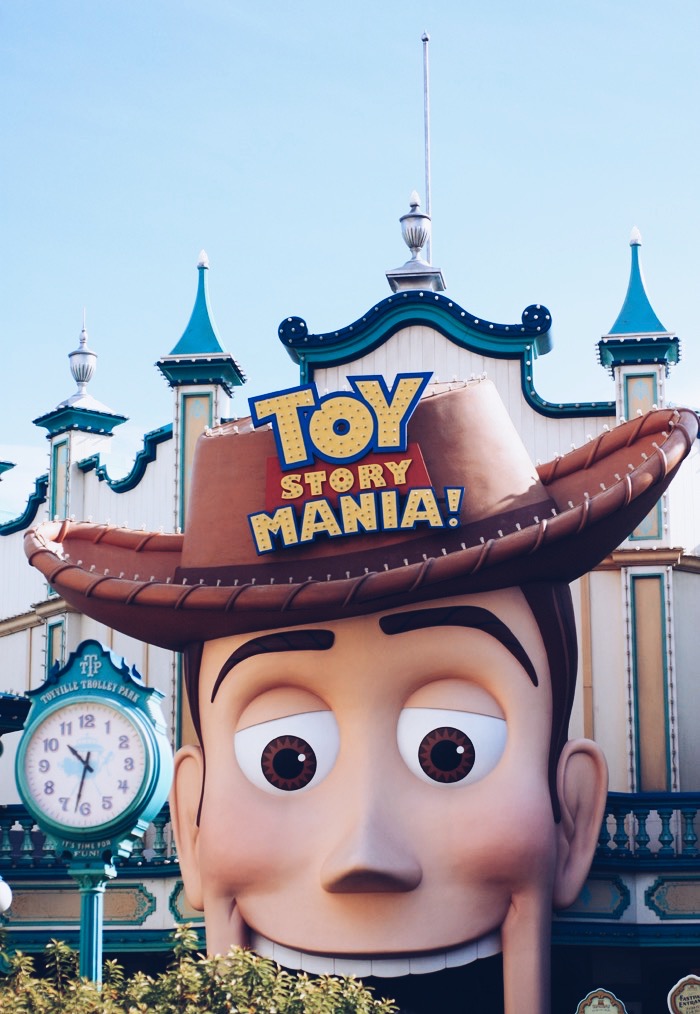 This section is totally from my point of view but after discussing with a few other persons who went to the park, I think our opinions were pretty similar when it came for attractions.
Therefore I will post in order of preferences the ones that really worth a try:
•TOY STORY MANIA : Still a huge fan of this attraction, which is completely different from the one in Paris because it consists in shooting virtual targets with 3D glasses & slingshot guns along an amazing scenery.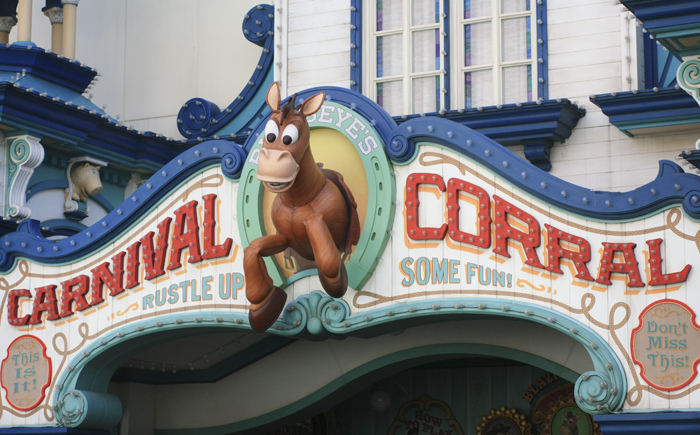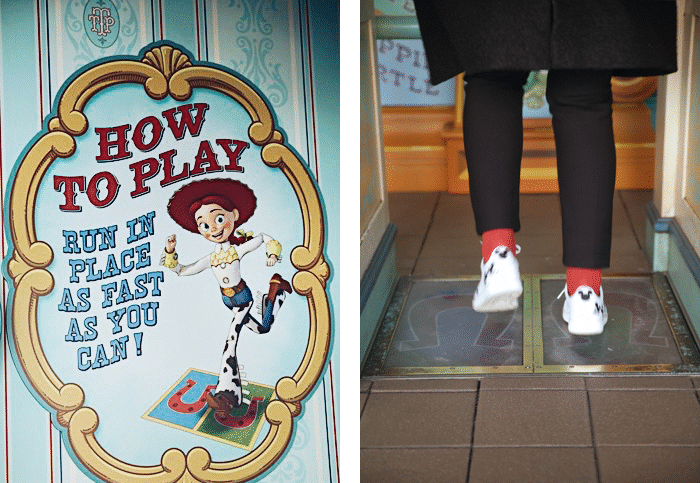 A"sporty" game at the entrance of the ride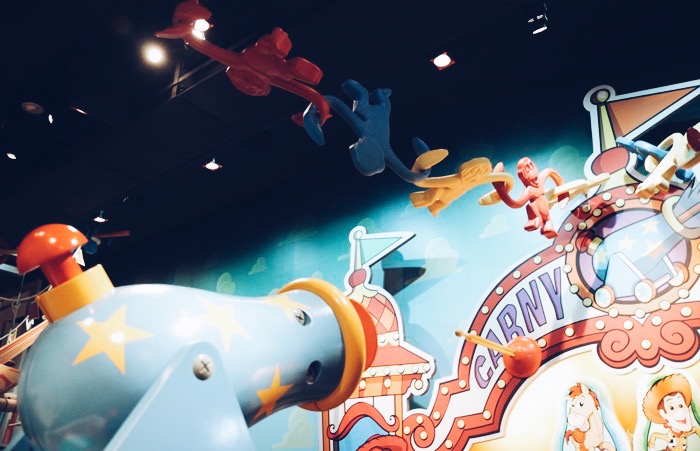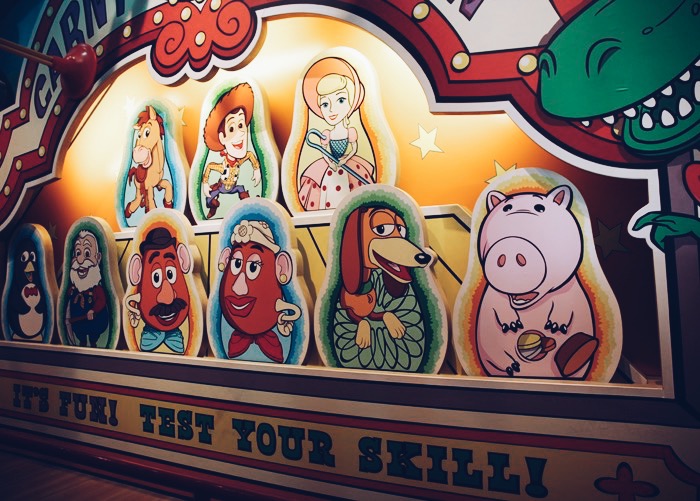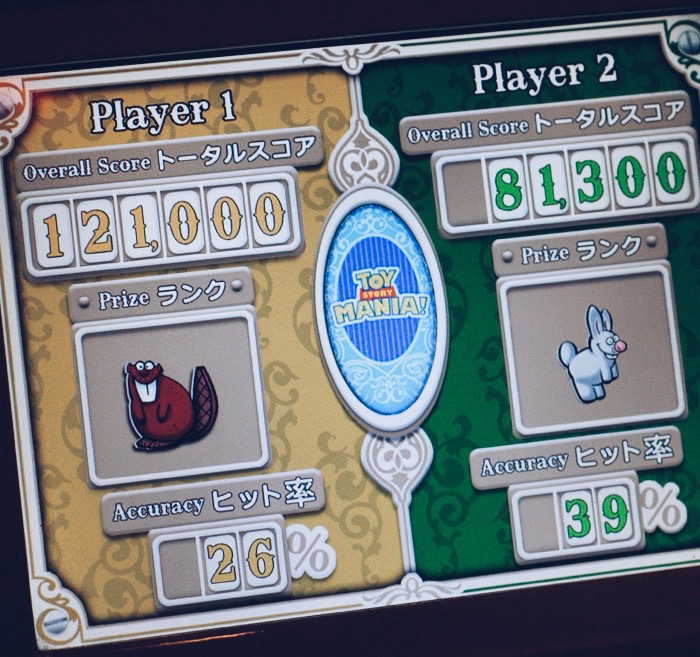 Beaver for him, Rabbit for me !
•INDIANA JONES ADVENTURE : TEMPLE OF THE CRYSTAL SKULL : only regret, it was closed this time. Nothing to compare with the one in Paris as this one consist in a 4-wheel journey in the middle of superb scenery and from top of my memory a bit of thrill.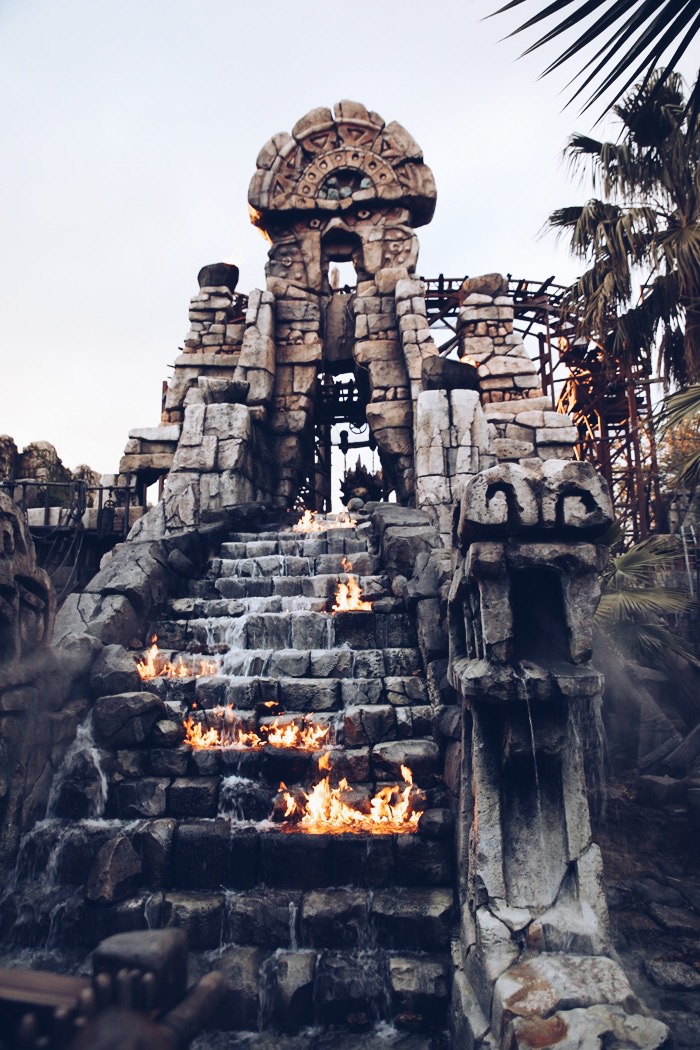 "Raging spirits" ride, located next to "Indiana Jones adventure"
•JOURNEY TO THE CENTER OF THE EARTH : I can't remember if we tried it last time but we were positively surprised by the speed of the end of the journey.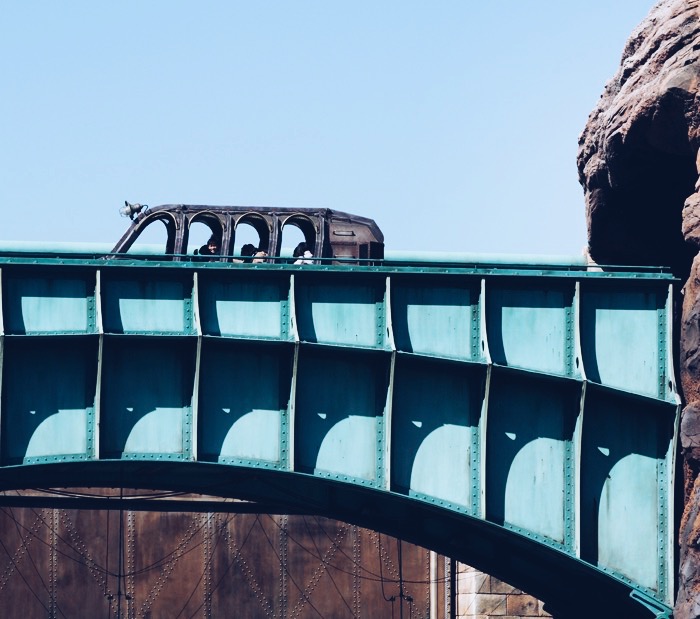 •THE MAGIC LAMP THEATER : we could compared it with a combination of "Honey, I shrunk the audience" and the "Mickey and the wizard! show from Disney Studios as the 3D is mixed with a live show, with main theme The Genie from Aladdin. No lack of magic tricks and 3 dimensions surprises with this one!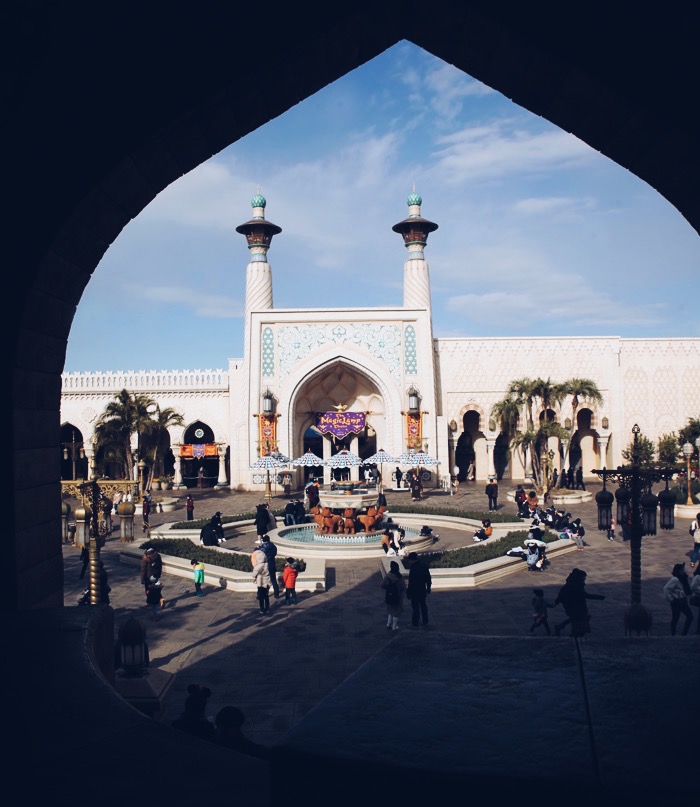 •TOWER OF TERROR : yes, you read well, me usually fearful, I rank this one in my top priorities!! In 2014, I had judged it useless to try, thinking it would be the same as Paris, but it wasn't!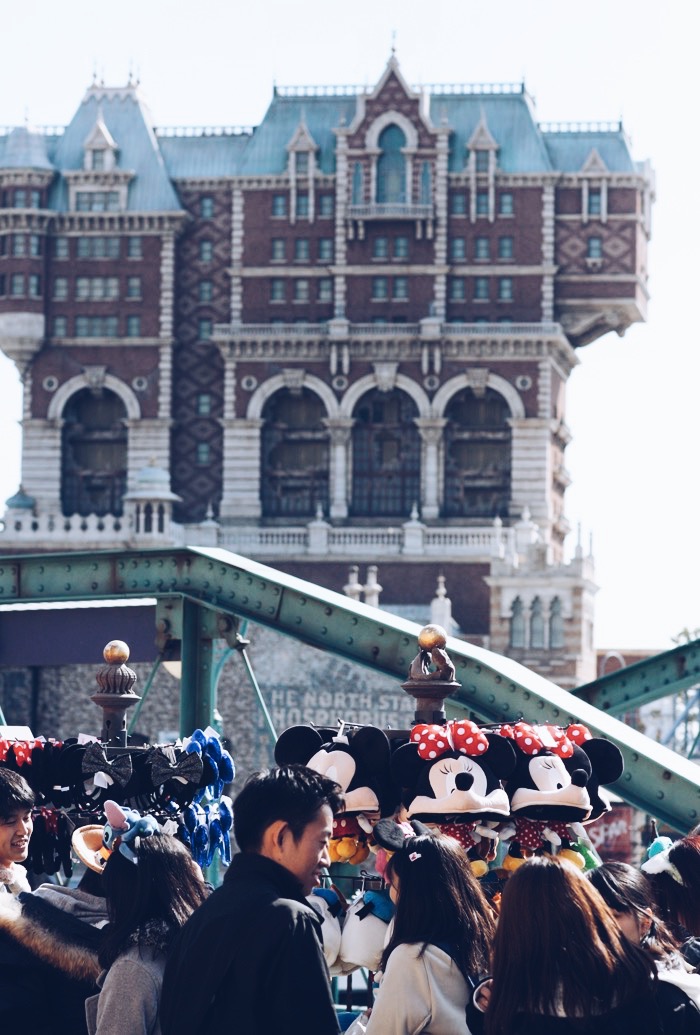 The story, if I understood correctly, is not the same; it's about an explorer who came back from an exhibition with a small statuette possessed by an evil spirit. During our visit, we experienced a special version of the attraction called "Level 13 Shadow of Shiriki" (available till March 20th 2018).
A few overlooking at the park before falling down, going up and falling down again (7 plunges instead of the usual 3)…
I blew it up out of all proportions but I can guarantee you that it's not as "thrilling" as the Paris one (dixit the girl who gripped her man from the beginning to the end). High sensation lovers might be disappointed but it's always interesting to be able to compare with our tower.
In terms of newbies, NEMO & FRIENDS SEARIDER replaced the very slow "Storm Rider" from 2014 = excellente idea! It's still a bit slow but at least we can enjoy the Nemo ambiance while riding a submarine.
The other attractions worth to be tried too, depending on what you want and the time you have, but to my opinion not essentials.
The shows and animations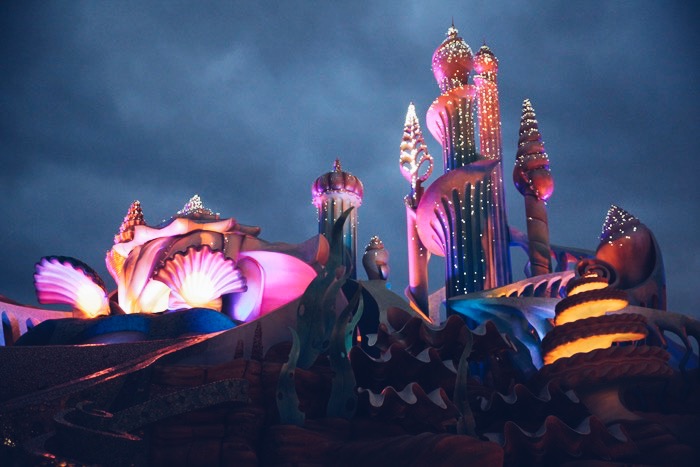 If it's your first time at Tokyo DisneySea you may want to skip the shows to have more time for the attractions. You should also keep in mind that the charming side of Tokyo DisneySea is also due to all the sceneries around the attractions, which means, decorations, food, the games during the Pixar playtime but also the shows!
My advices won't be very useful for all the visits after March 19th when it comes to Pixar shows, but it might be worth the read for the more long term ones. Anyway you can find the list here.
•KING TRITON'S CONCERT : I think this one located in the "Mermaid lagoon theater" is a permanent one. To my opinion it's a must-see. Pictures are forbidden inside but be assured that Ariel will spin around your heads …♫ under the sea ! under the sea !♫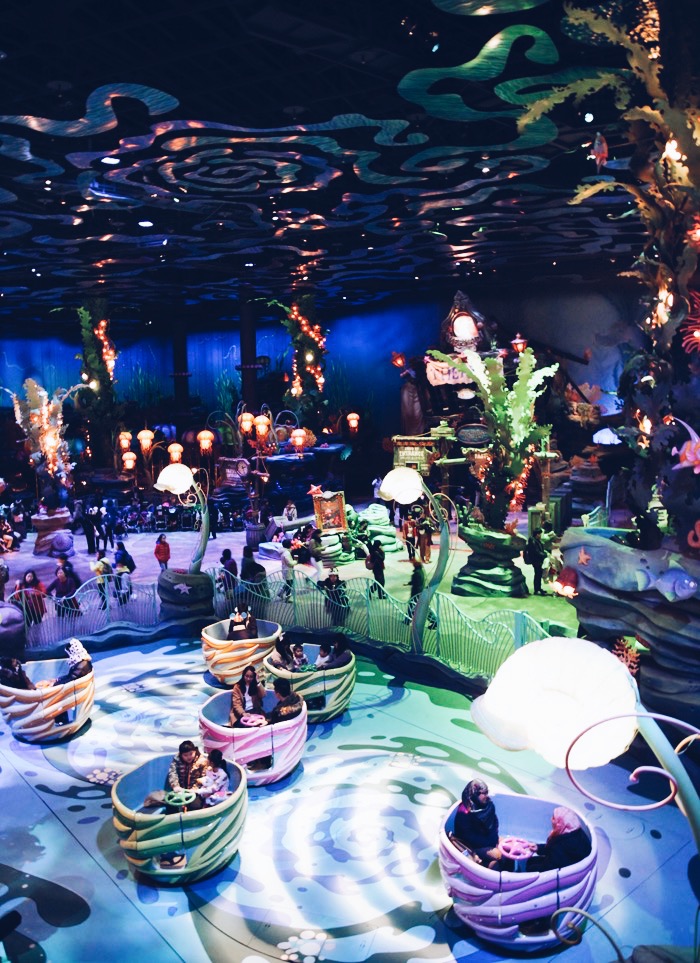 •PIXAR PLAYTIME PALS : Nothing very spectacular but I really loved the characters not often seen in our park.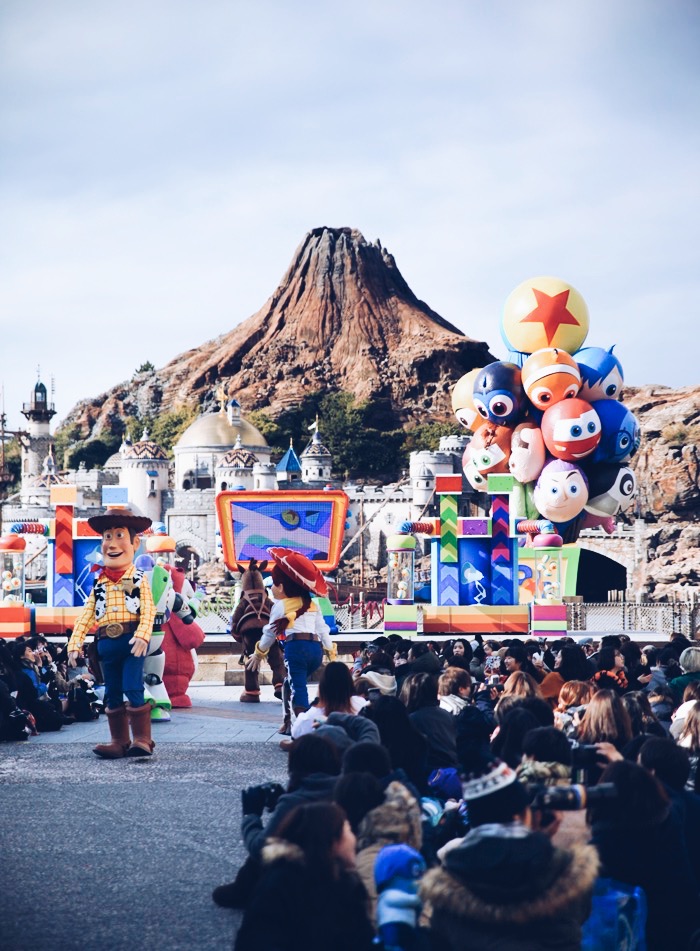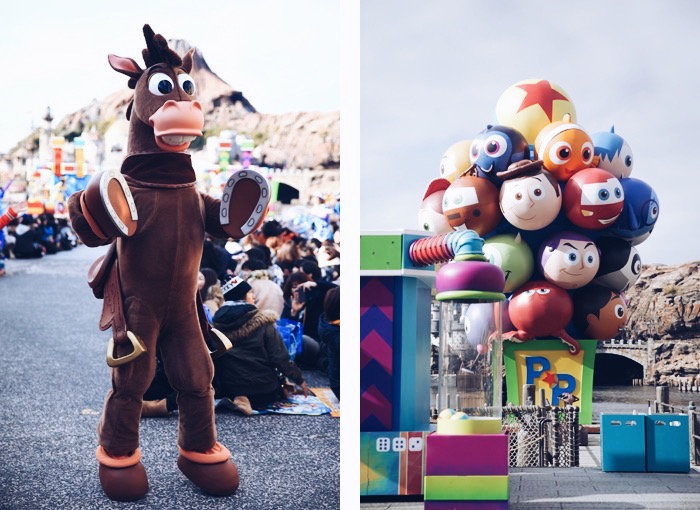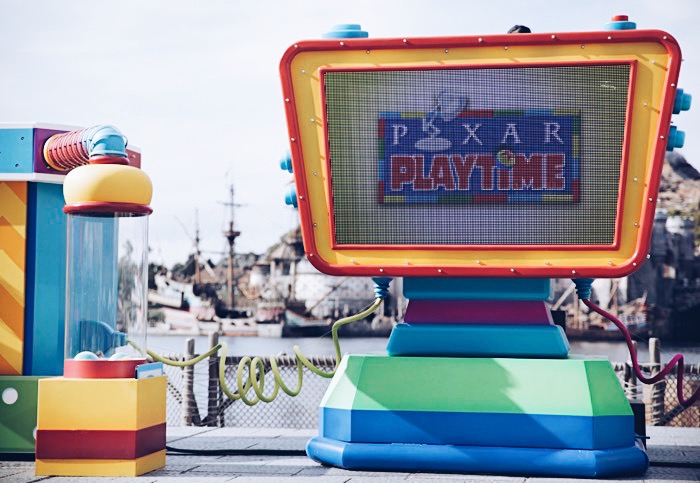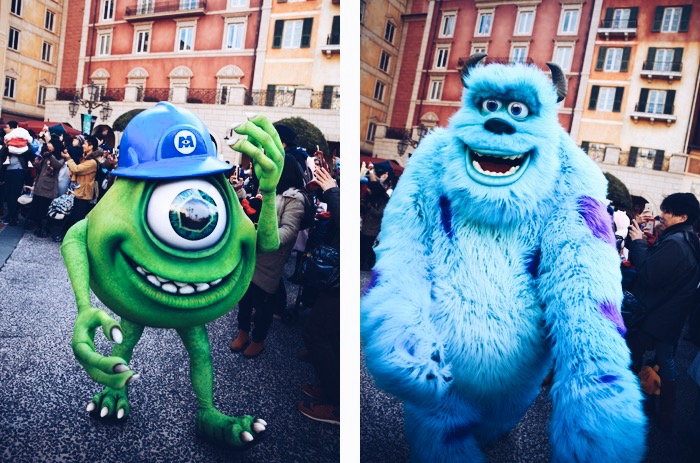 Bob Razowski and Sulley !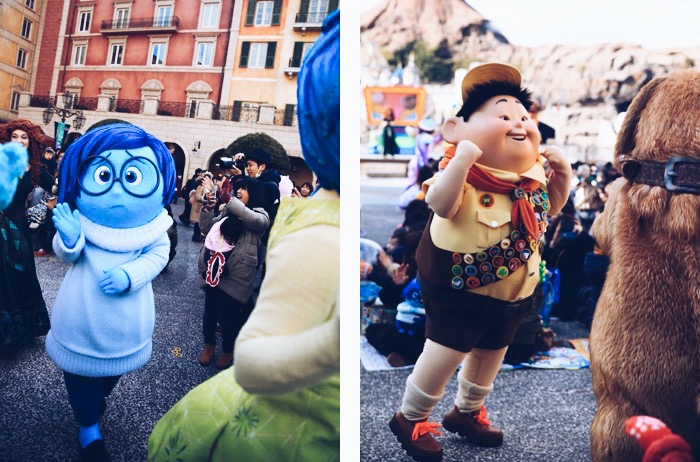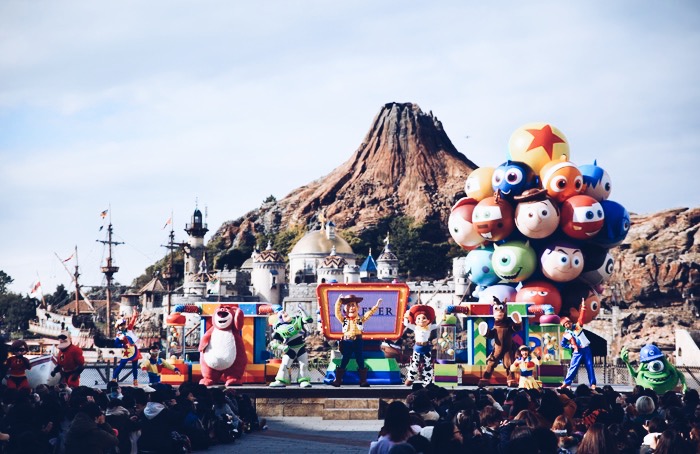 Sadness, Russell, Doug, Carl and… Lotso !!! <3
Carl, Doug from Up, Bullseye from ToyStory, and… Lotso ! (who I got the chance to quickly see in Florida but not very popular in France, snif!). The ambiance in the audience is friendly and disciplined, as you can as every time in Japan!
•PIXAR PALS STEAMERS : just for the pleasure to meet Toy Story & Monsters.Inc characters on a boat and say hello. (yes, a little is enough to please me… especially when I can see again my favorite character Lotso!)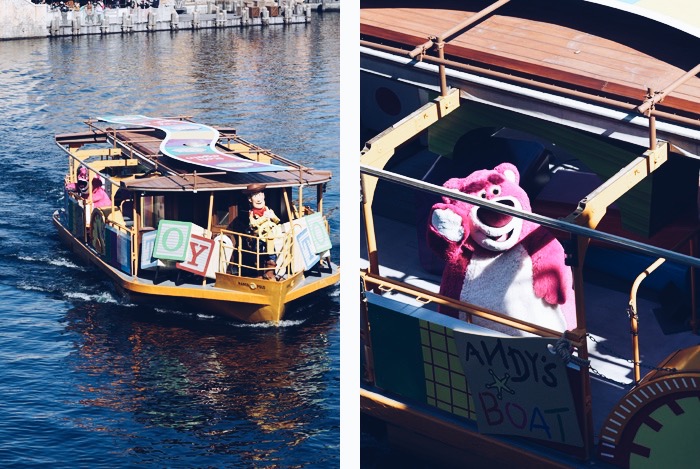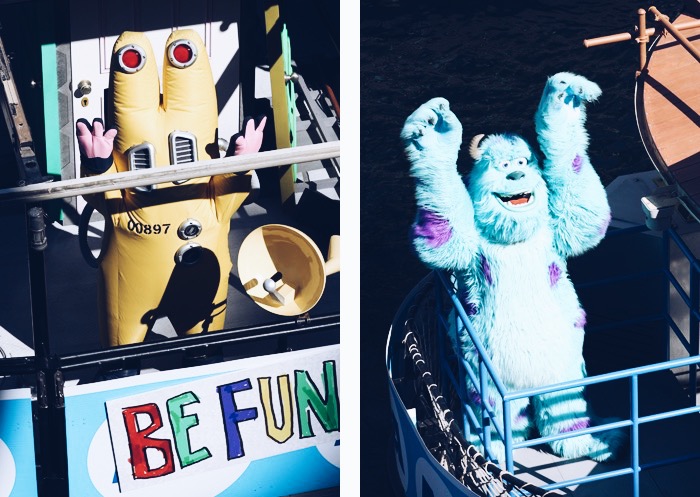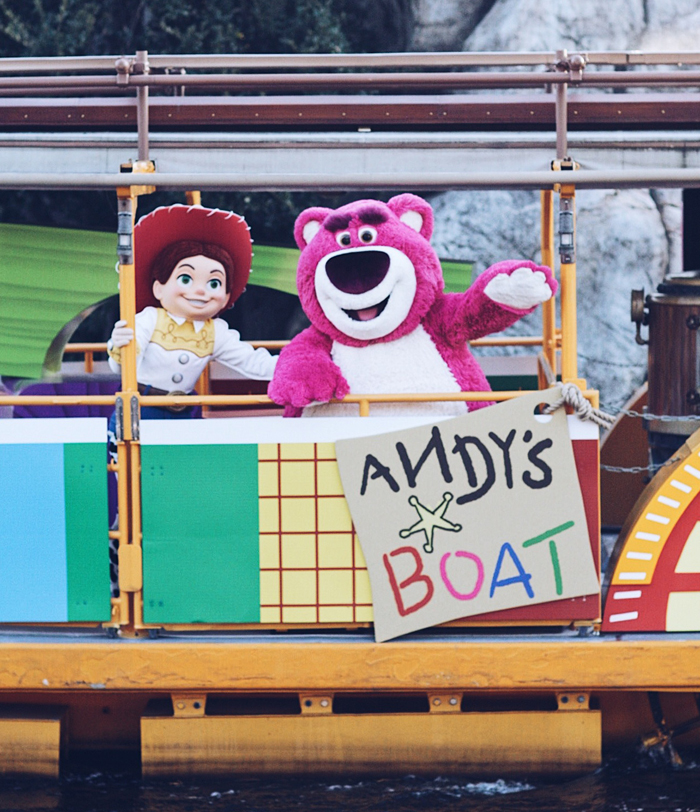 Lotso is everywhere !
•LIGHTNING MC QUEEN VICTORY LAP : A short parade of Lightning Mc Queen from Cars in the streets of American Waterfront.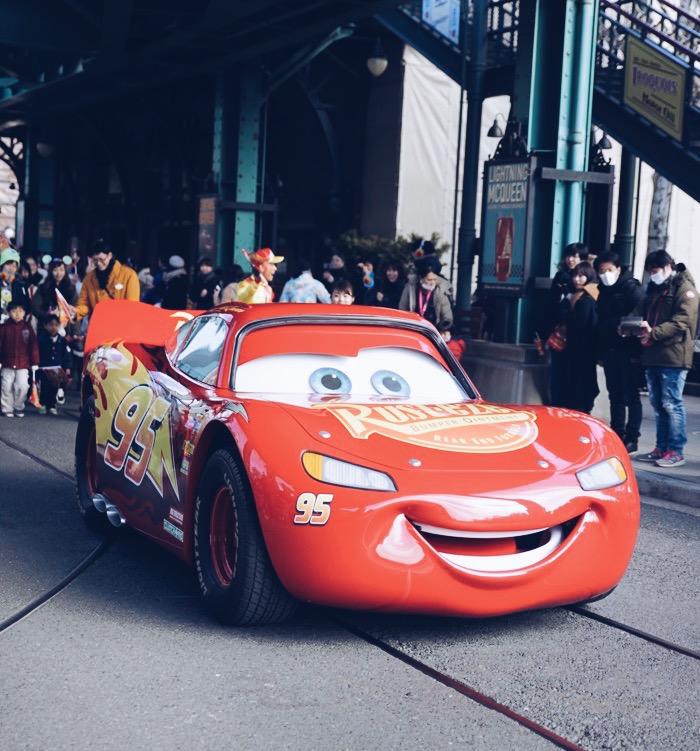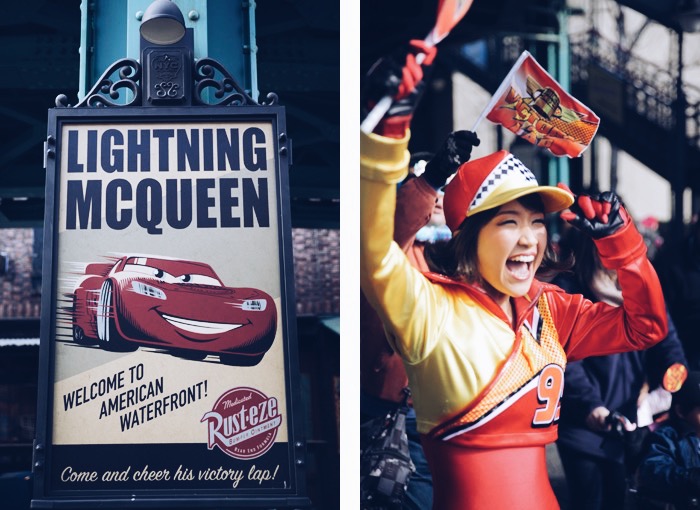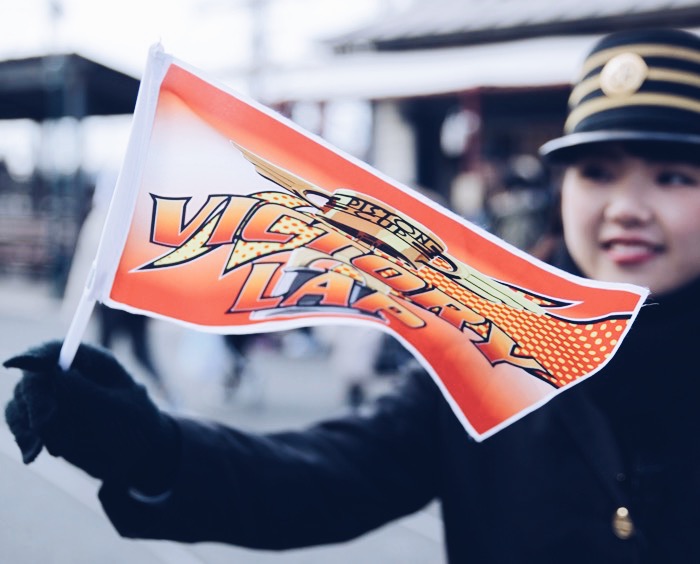 •CHEF REMY & YOU: A show with the theme of Ratatouille was promising but actually it wasn't: I was expecting people wearing food costumes to perform the show (as this crazy one in 2014) but no! Too much talks (indeed not understanding anything didn't help!) and not enough show for me!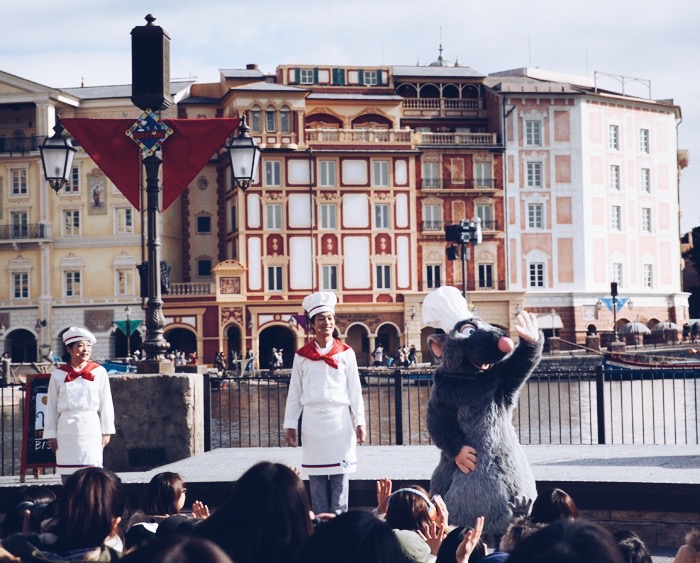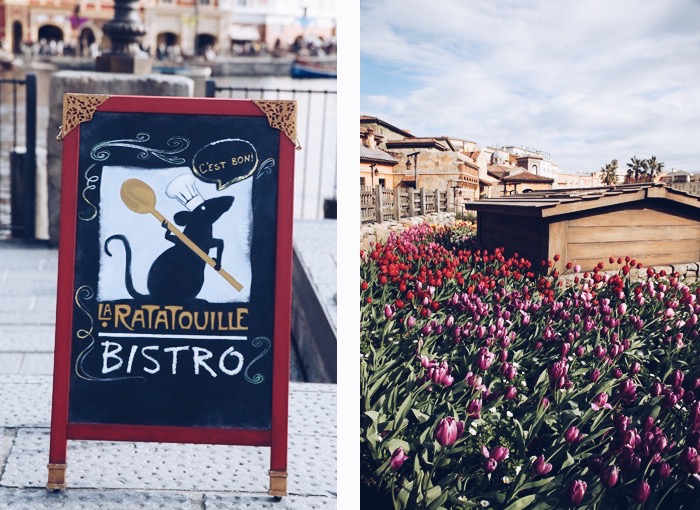 •OUT OF SHADOWLAND: Nothing related to Disney, but I really liked it. It showcased a young Japanese girl scoot, Mei, who got lost in the forest and discovered enchanted people in the middle of a moving scenery, games of light and acrobatics.
•STEPS TO SHINE: a show with Duffy and his friends (YES, Duffy now has other friends than Mickey and Minnie: the rabbit Stella Lou and the cat Gelatoni = a good excuse to extend the derived products, isn't it?).
Anyway, I am not very sensitive to these characters without soul, so only if you pass by or if you are a fan of Duffy.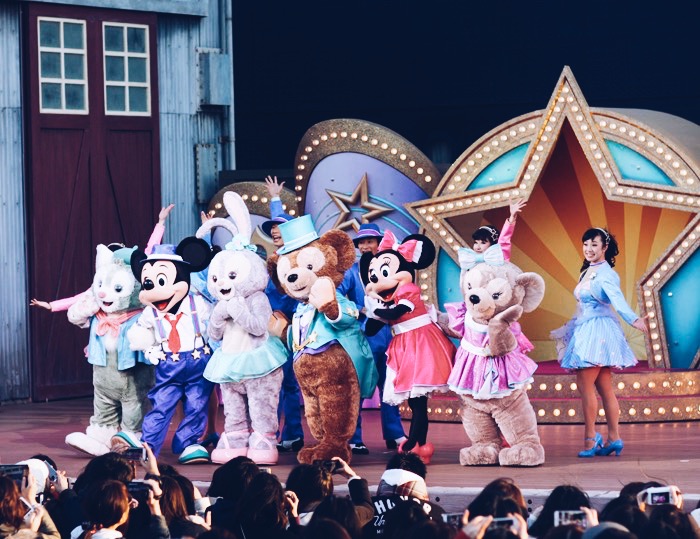 •The "FANTASMIC" night show : already watched in 2014, with Fantasia and Lion King themes if I remember well.
Other than that I loved the animations during the "Pixar Playtime" event: one race against time to gather all the ingredients to prepare a ratatouille, a ball throw challenge to win surprise gifts, a hunt to find 4 special "Pixar" stickers given away by the cast members in exchange of saying the password ("Ka chow!, "Bon appétit", "Saiko Da !" or "Kaw-Kaw ! Raawwrr!" were the best to receive the Holy Grail stickers).
I even got a birthday sticker given from a cast member (basically you just say that it's your birthday when you see her and she customizes the stickers = perfect timing for me, I didn't even had to lie!).
Truly, I won't never say it enough: the Japanese know how to keep their childlike innocence, have fun and make like funnier !
Food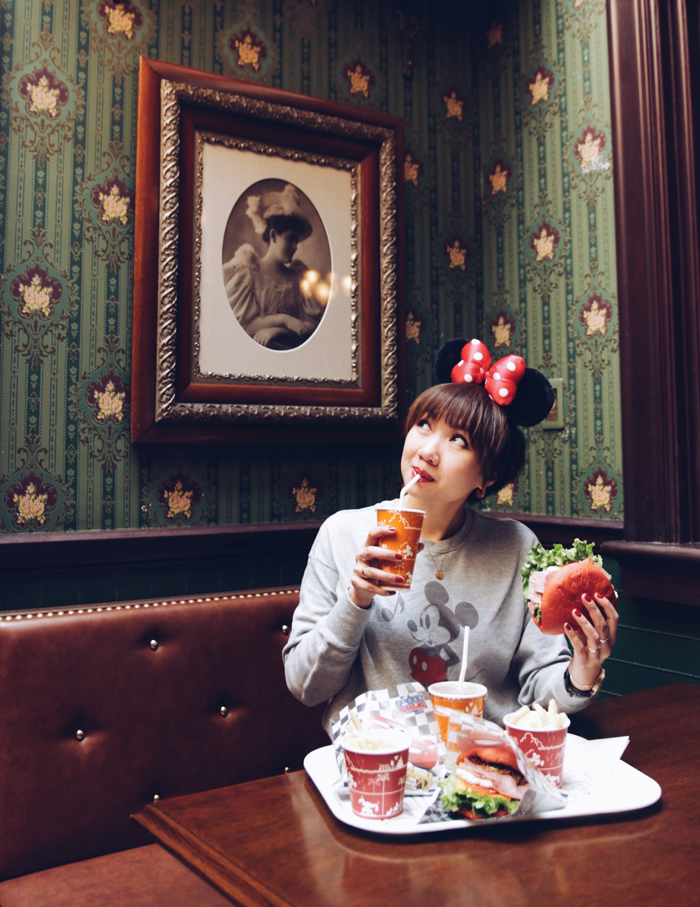 "Cars" menu at New York Deli restaurant
As my previous time, quality of the food and creativity met my expectations.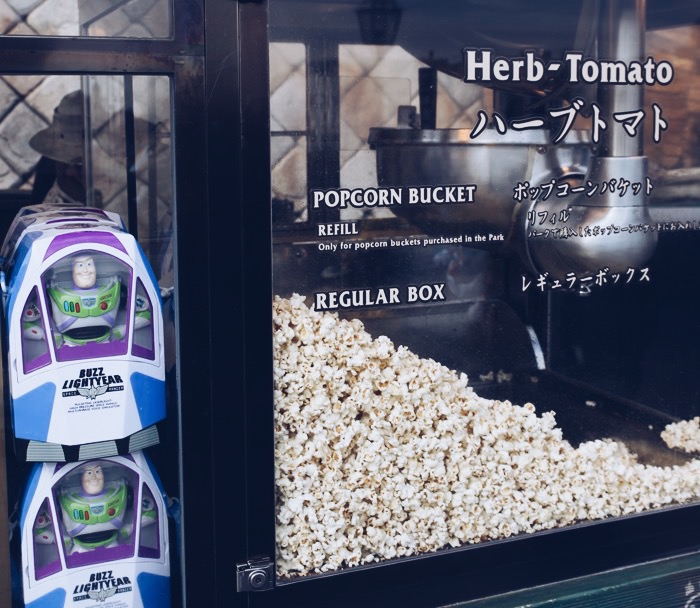 Collector "Buzz Lightyear" pop corn buckets & tomato and herbs flavored pop corn

No popcorn hunting for me this year (am I getting reasonable?) but once again some very original flavors such as tomato and herbs, shrimps or chocolate with very nice collector buckets.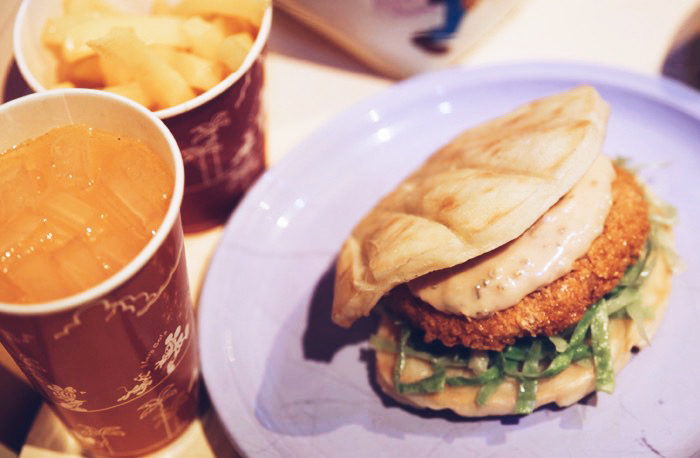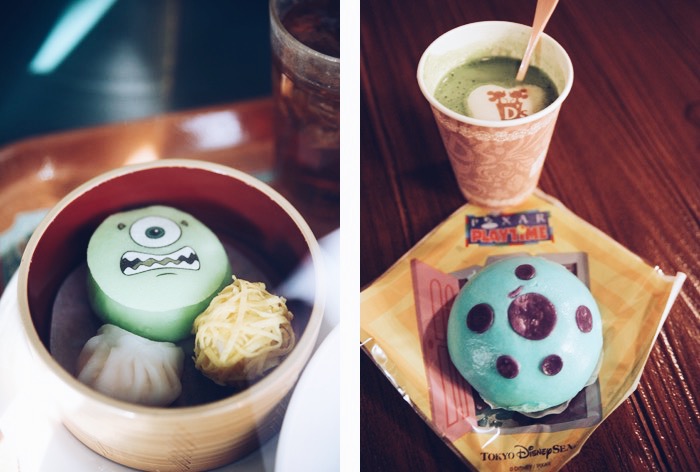 Burger "La Petite sirène" burger, "Monsters,Inc" dimsums and bánh bao

Each restaurant or booth offers new menus to celebrate the Pixar Playtime: here are images of the most creatives ones.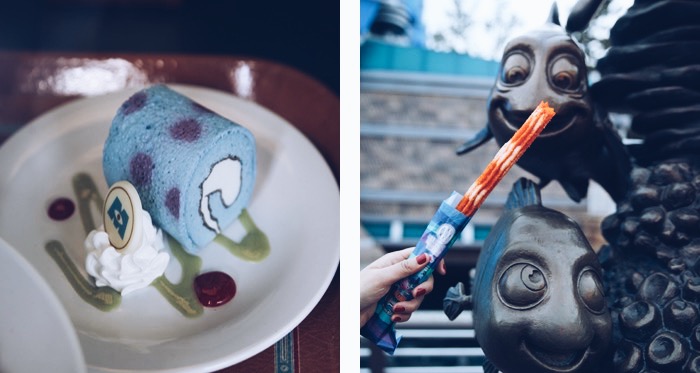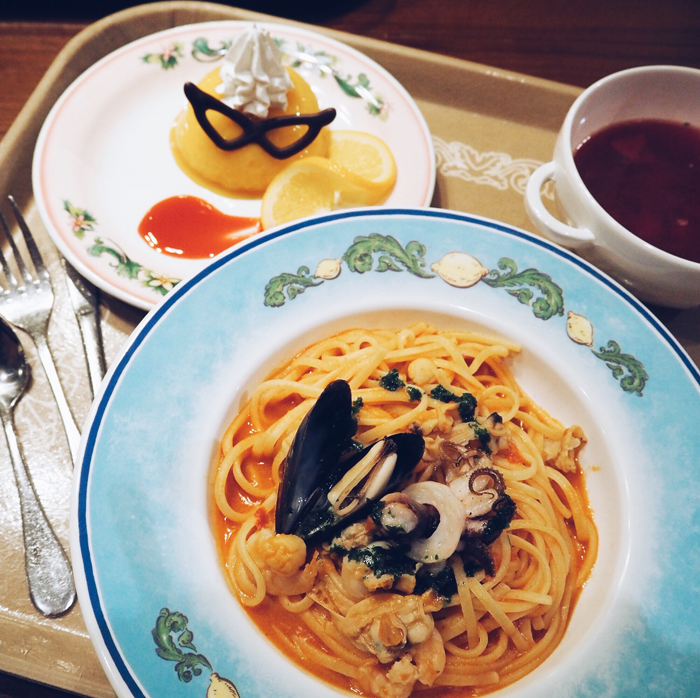 Churro Nemo churro and our "Monsters,Inc" Valentine's day dinner

I have a yummy memory of the Nemo orange churro, the James P. Sullivan bánh bao stuffed with chicken and corn, as well as the excellent Monsters, Inc menu which included seafood linguine pasta, orange mousse, beetroot soup (everything for only 12€)!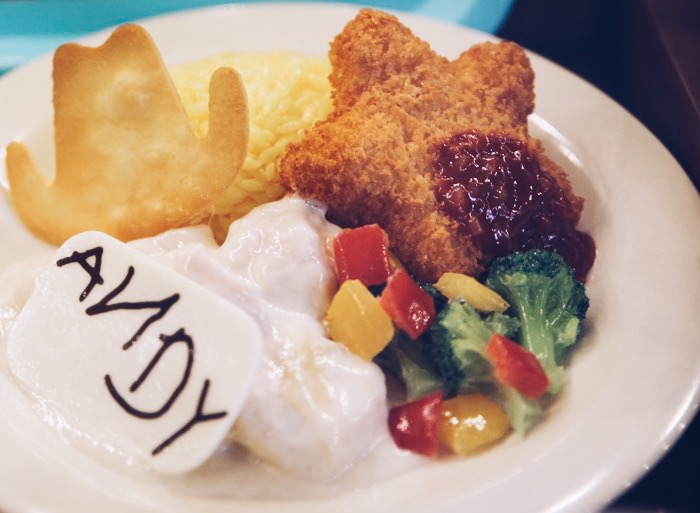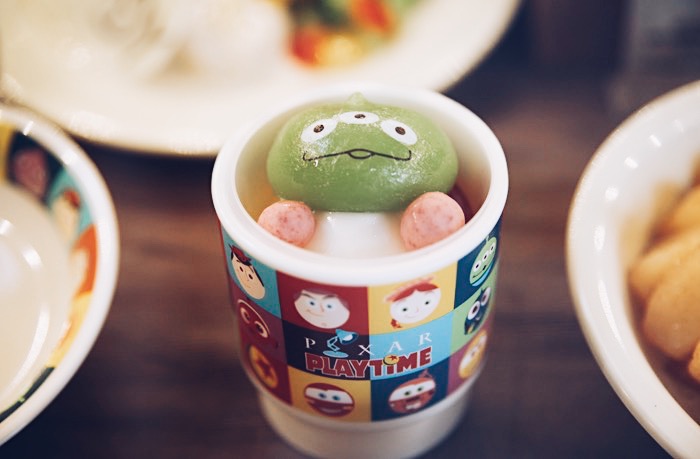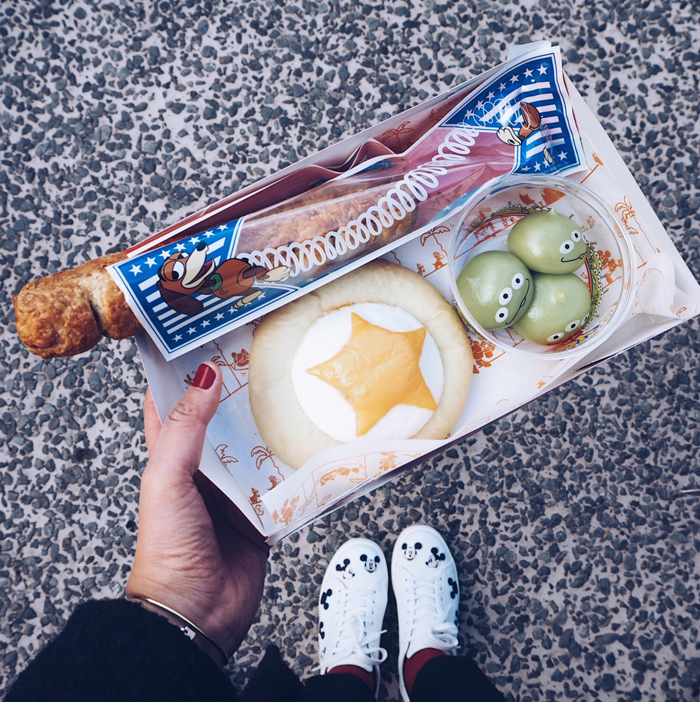 "Toy Story" menus

The legendaries alien mochis were still there. To sump up, everything was delicious and not very expensive in the park, so enjoy!
Misc advices
Stay over DisneyResort hotel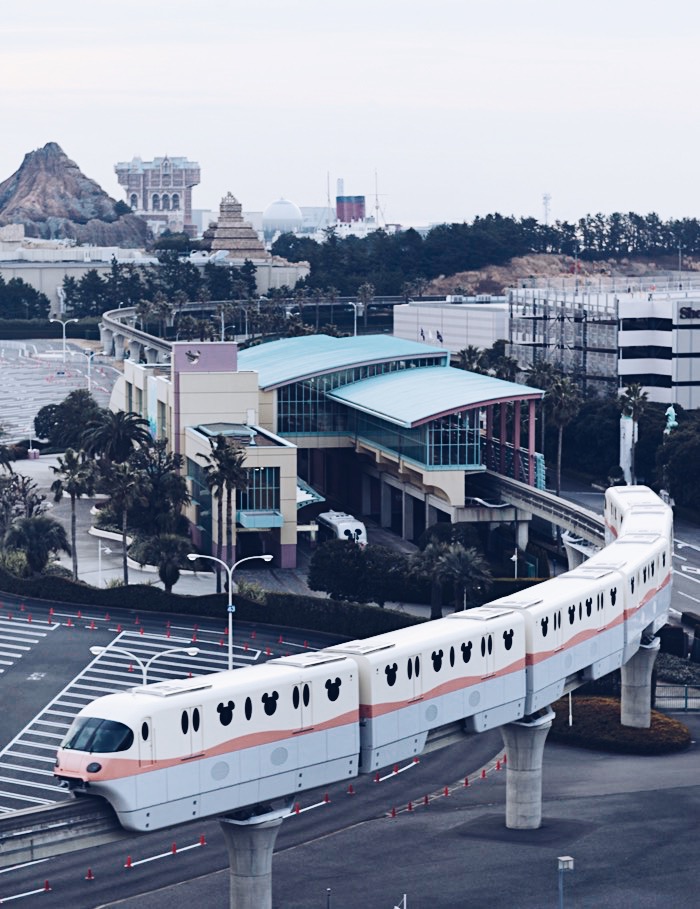 The view from our hotel room proves that we are very close to Tokyo DisneySea !
As we wanted to spend 2 days in Disney world, we decided to book 2 nights within the resort. It exists Deluxe Disney hotels located in the parks and other Disney official ones located along the Disney monorail, in other words a few minutes away from the parks (the list here)
Those last ones are less into Disney decoration but still very convenient and affordable (75€ per night for a standard room, I would almost be tempted to stay during our full stay in Tokyo, but it's a bit far from the center). The bedrooms of our Tokyo Bay Maihama Hotel Club Resort were clean and without complain: to sleep it was more than enough!
We didn't not have a breakfast included (enough to eat inside the park!) but a buffet is available. I didn't take pictures of the place but you can judge by yourself here.
Anyway, you'd rather book it if you want to avoid a long trip back after the closing of the park. Here, a shuttle takes you directly to the monorail and from the Monorail to the hotel: within 10 minutes you are in the park or in your bed!
 Entrance tickets purchase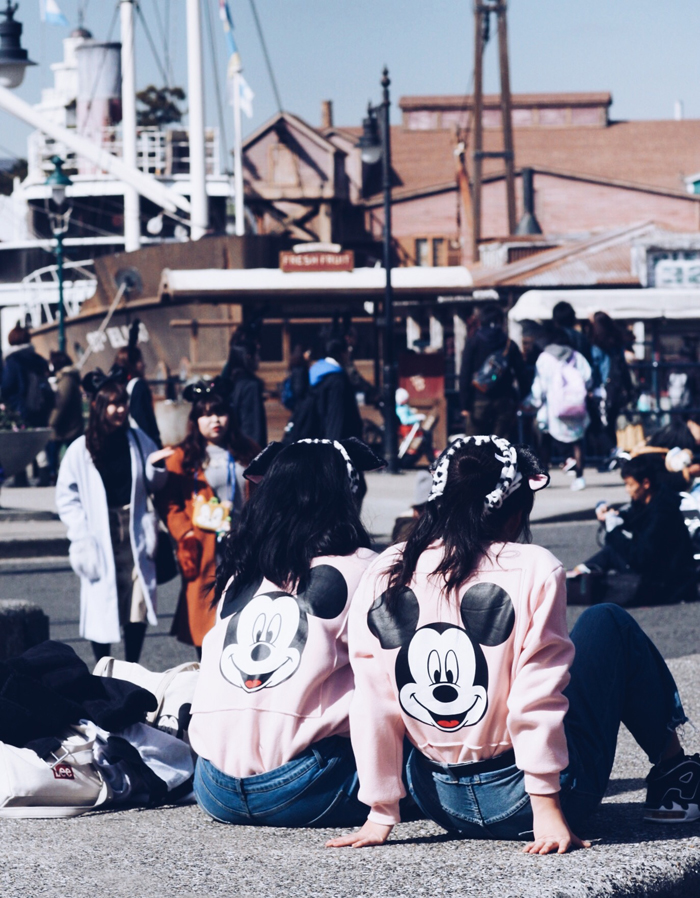 I couldn't buy them online. Therefore we purchased the tickets at the hotel counter upon check-in (very easy to have them on hand the day before the visit) but when we went for Valentine's Day, we purchased them at the entrance counter when the park opened. No rush, just arrive a bit earlier than opening time and everything will be alright.
For 2 days Disney sea/Disneyland, we chose the 2-day pass (about 100€ per person). For Valentines' Day, 1-park ticket (56€ per person).
Get the Fast Pass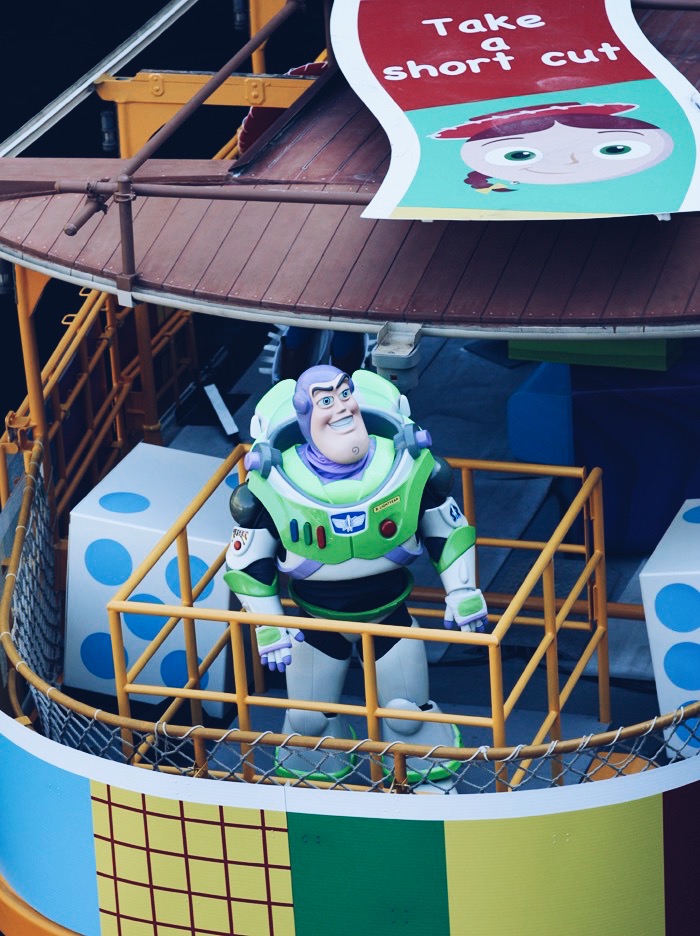 Same way as Paris: you need to go get the Fast Pass ticket next to the attraction, which gives you a slot time later during the day in order to access the attraction after bypassing the long line.
Optimize your time while waiting between two Fast pass tickets by seeing shows or doing smaller attractions or by eating.
Bring a small blanket for the outside shows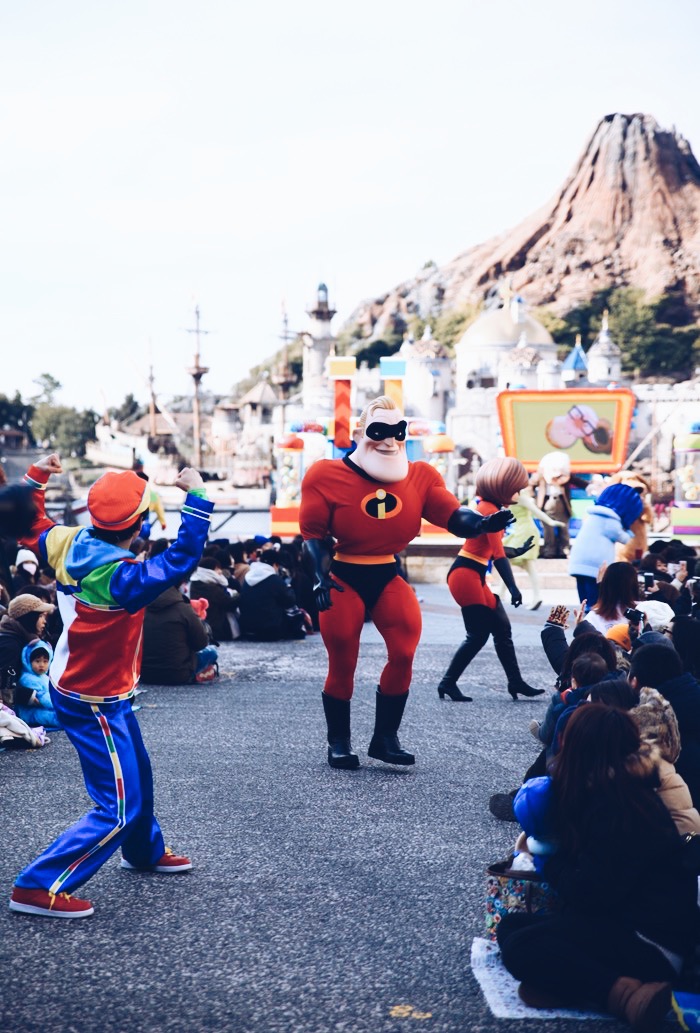 The shows are mostly watched seated in order and total respect. No one disturbing other's visibility, it's paradise.
This year we remember about bringing a small blanket (rolled in my tote bag) in order to sit on during the outside shows: all the Japanese do the same, very confortable!
Shops and merchandising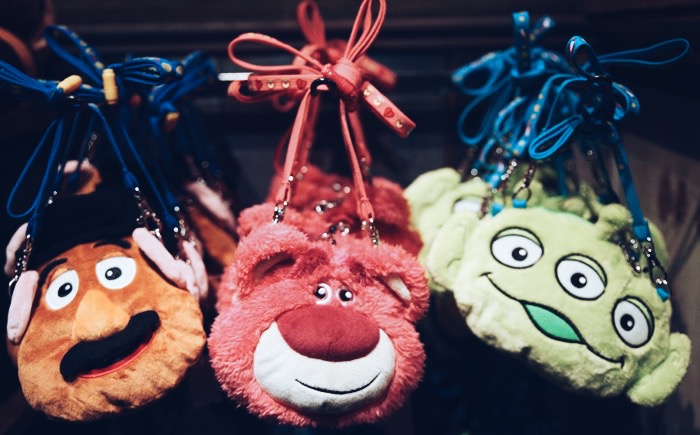 Globally I found the price cheaper than in France, and the derived objects are most of the time more inspired than ours but I didn't have any buying frenzy.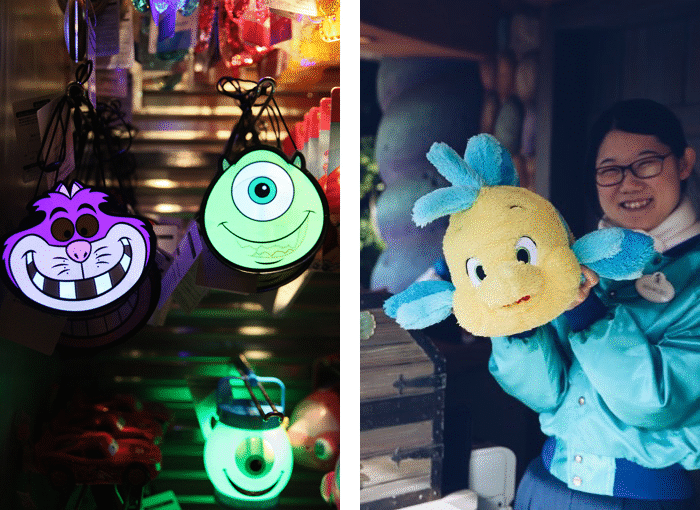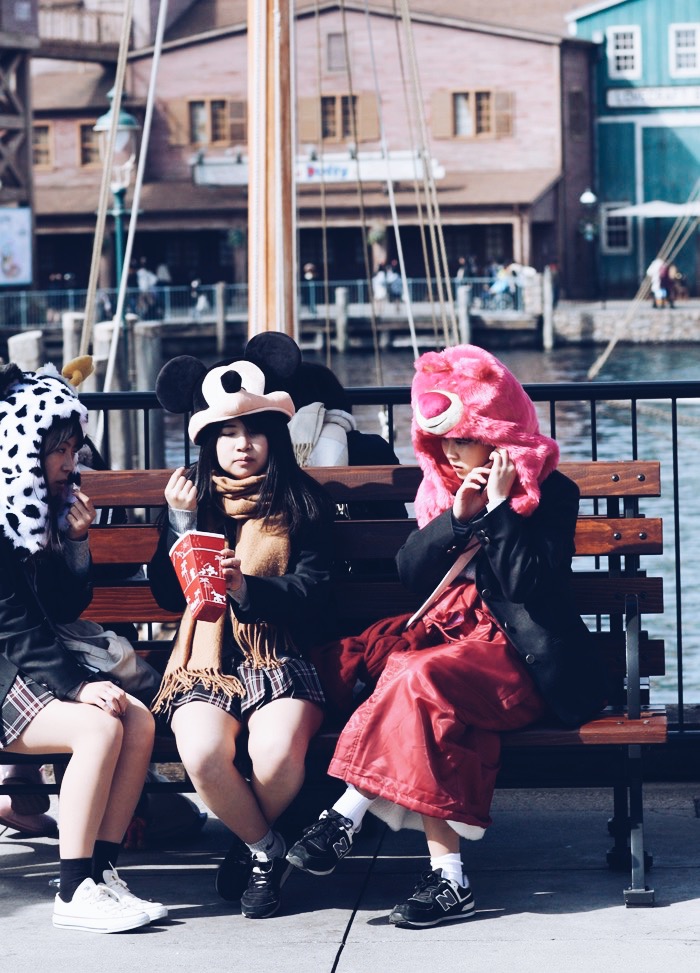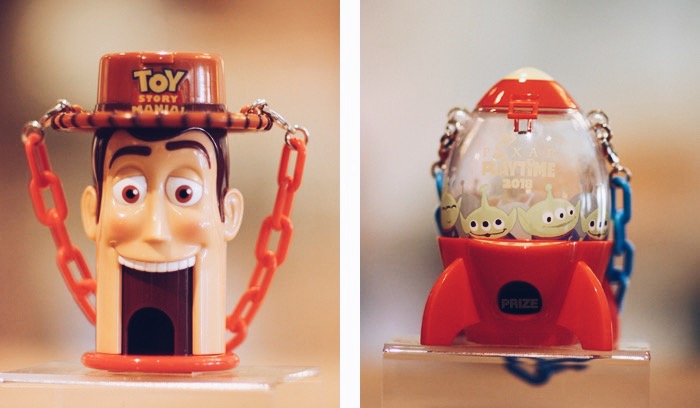 "Toy Story" Candy boxes

They have much more choices when it comes to hats & small bags (we got tempted by what you can see next to my travel diary, to anticipate our next visit to Disneyland Paris).
Kitchen accessories are quite originals. For the rest, I didn't find anything interesting (a bit too much of Duffy for my taste).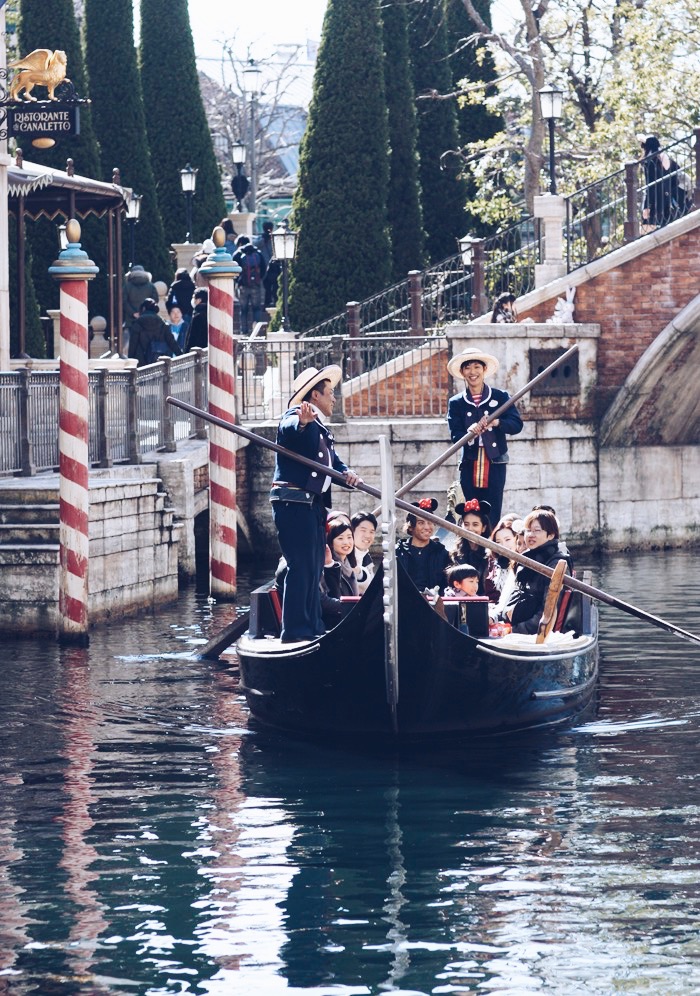 $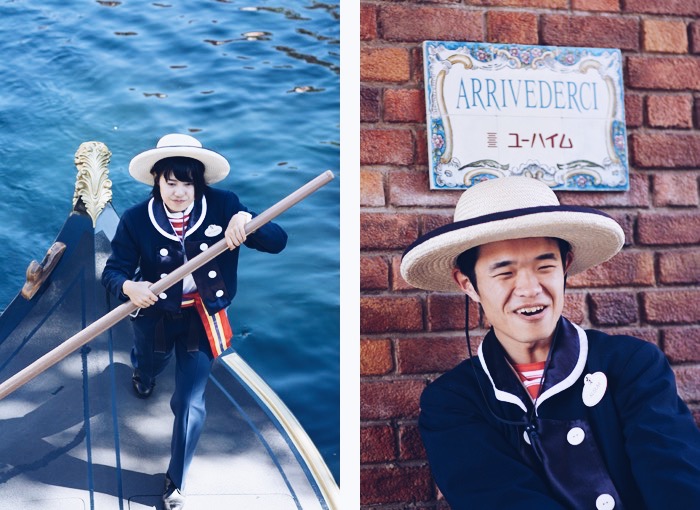 Arrivederci Tokyo DisneySea !
I hope you enjoyed this 2nd visit to Tokyo DisneySea. Next time I will detail Tokyo Disneyland, where I went in 2015… but once again, I got surprised by a few newbies! Talk to you soon! (English translation by Quiterie)