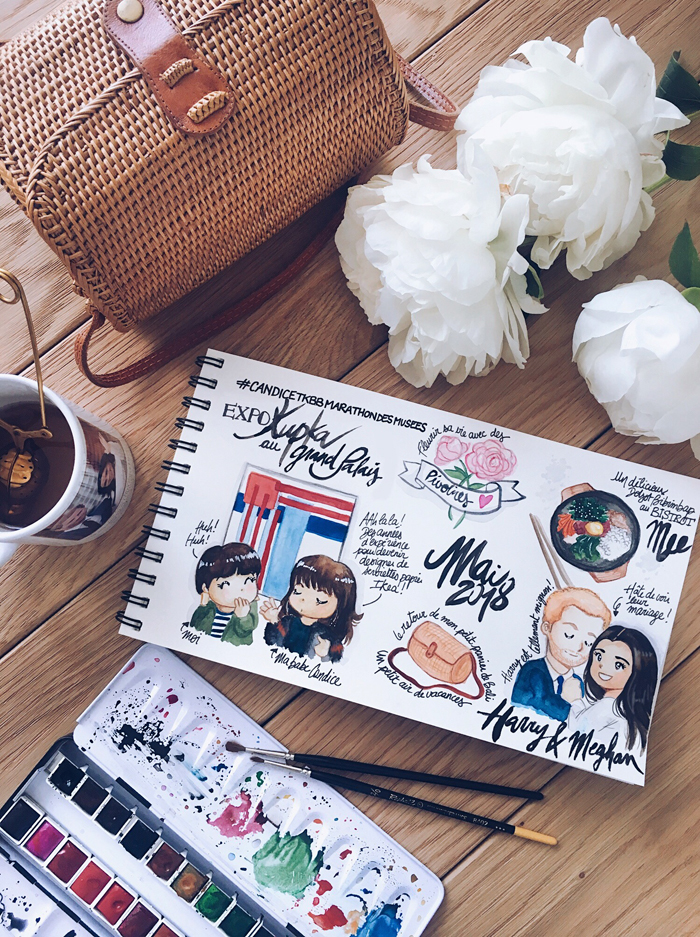 Today I am opening a new column in the style of an illustrated diary or a mood post in order tell you what had an impact on my days lately.
I love taking pictures of what I am experiencing (especially travels, and yummy discovery) but I also appreciate living things without the need of shooting them with a camera, to enjoy them fully. But dilemma! I also like keeping memories of these moments not only in my head…
This is how I came up with the idea of this column, which helps me to gather over the time everything I couldn't photoshoot.
Thankfully drawing will help me out, and thanks to this new column I will try to go back to more simple sketches in the style of a logbook. I don't know yet how often I will be writing but it will depend on my desire and things I do! Anyway, I hope you will enjoy reading these articles as much as I enjoy creating this kind of articles.
The Kupka exhibition at the Grand Palais
You may have followed our traditional museum marathon on Instastory some time ago. My "babe" Candice and I spent a day to discover the Kupka exhibition at the Grand Palais, followed by the Margiela's one for Hermes at the Museum of arts decoratifs and finished by the Gupta exhibition at the Monnaie de Paris. 3 exhibitions completely different but we really enjoyed them all.
Our way to visit the museums is a mix of reflexion, contemplation but also some fun, which is why I like our marathons.
The purists would say it's a shame but I like thinking that art can be appreciate in many different ways if pleasure remains the key.
Here is the illustration of our reflexion about the graphic evolution of the Czech painter František Kupka, who started in a very symbolic and realistic style to take a major turn later for a more modern and abstract style.
The peony season
It's such a pleasure to decorate my interior with flowers, and I am particularly happy when comes the season of peony.
Pink or white, this flower fascinates me, as much as the cherry blossom earlier in the year. Even little things can make your daily life more beautiful.
Discovery of a Korean bistro
Nothing will ever replace my most favourite Korean place, Dawa, which unfortunately closed down a few years ago!
But earlier this month, my SO and I discovered this restaurant (or more Korean bistro), another style but also qualitative.
You won't find any barbecue on a plate like the one at Dawa, but a menu of various plates to share. This place offers yummy and generous lunch sets (starter and main course for 15€).
That day, I tried the fried oysters as starter and super hot dolsot bibimbap, it was just delicious. The quality/quantity/price ratio is excellent. I will go again once they will reopen as they started doing some refurbishment work just after we went there.
Here is the address: BISTROT MEE, 5 rue d'Argenteuil, Paris 1er
Bring my summer baskets out again
The weather has been a bit random the past few days but I brought out my summer baskets and bags from Bali with pleasure.
The are just perfect to give all outfits a holiday touch, and my favorite is really this one, in which I can carry all my essentials without hurting my shoulder.
Team Harry and Meghan
Unless you live in a parallel dimension, you must know that we are on the home stretch for the wedding of Prince Harry and Meghan Markle!
For the past few months, I've really been into this couple that I've found very charismatic, fun and cute… it's my romantic side! Even though I find William, Kate and their family very nice, I am really into the team Harry/Meghan, much more spicy!
So I am really looking forward to the wedding on Saturday.
If I was staying home this weekend, I would have prepared a royal brunch with British specialities but I will be on my way to Auvergne at this moment = I will watch the ceremony on my iPhone and later on with the replay!!
I am aware of my starry-eyed girl in front of celebrities events but I totally assume it. I love things that make me dream and no matter the reality, these two are doing a good job!
PS: The title of this column will be the same as one of my favorite song from my beloved Take That: I love their music video, which still keep me very happy and in a good mood! (English translation by Quiterie)