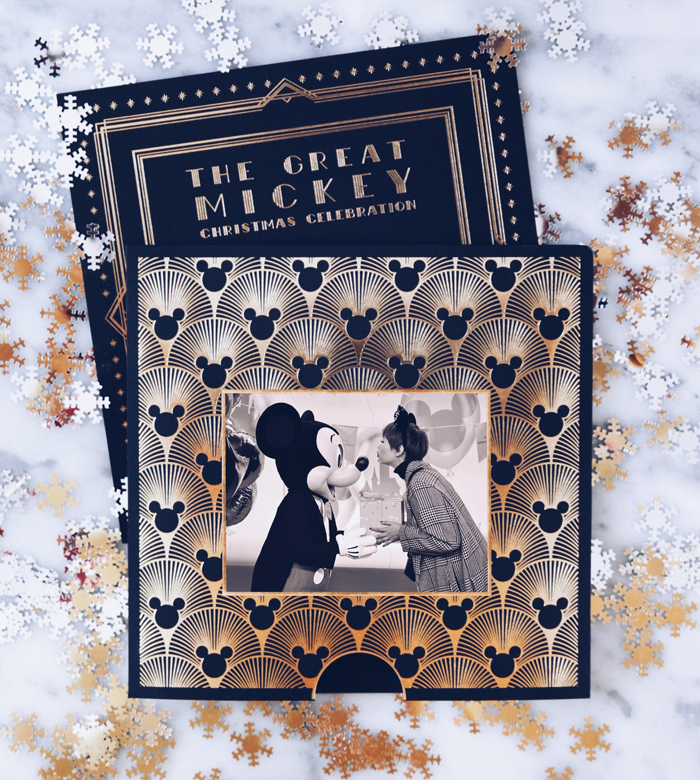 I was invited to celebrate Mickey Mouse's birthday at Disneyland Paris last weekend. I'll let you imagine how euphoric I was when I received the invitation (it's art deco style and so gorgeous I'm thinking about having it framed).
I've known Mickey since I was a kid but we've only really been close for the past 4 years. I was so happy he thought of me for his 90th birthday celebration! (Haha, I haven't smoked any Alice in Wonderland mushrooms, I promise).
During these 2 days, I also got to wish Minnie a happy birthday (she was more discreet about it) and I noticed she was a real organisation queen : she gave me her tips and 10 COMMANDMENTS for a great birthday bash …. and great it was indeed! I'll share them here :
1. Great care to the decoration you shall give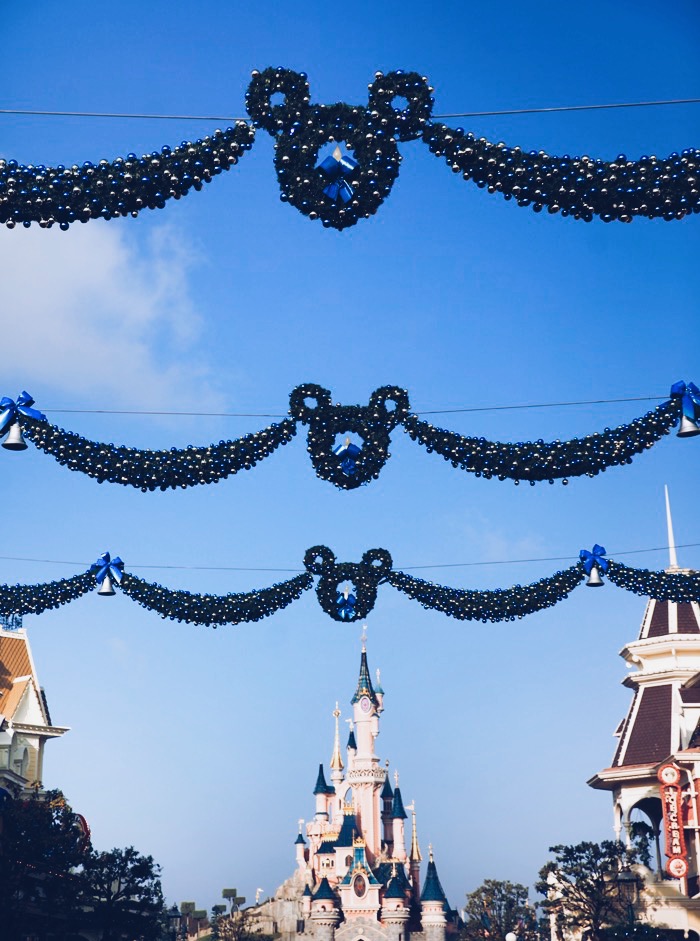 For this very special birthday, the park had adorned it's most beautiful Christmas decorations (Mickey is lucky of have been born a month before the holidays!).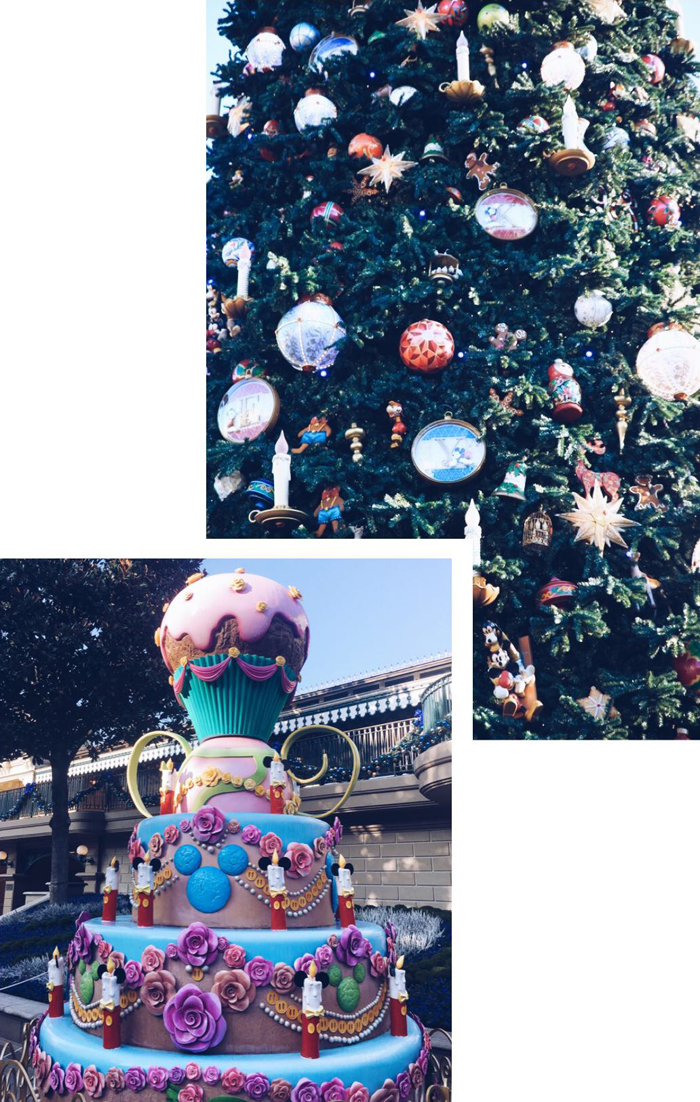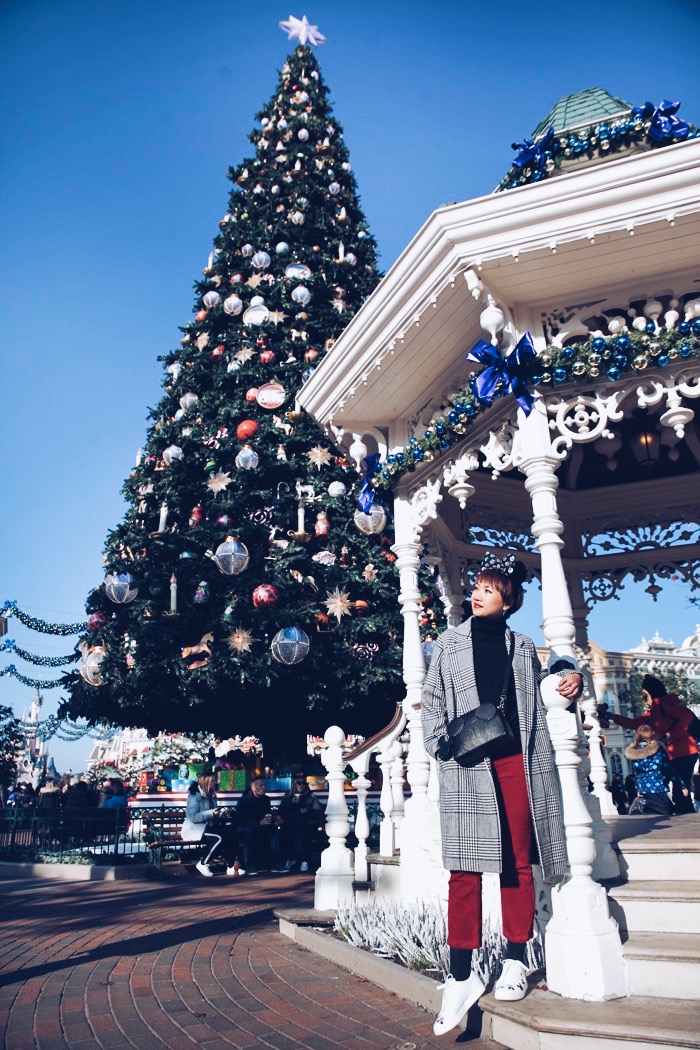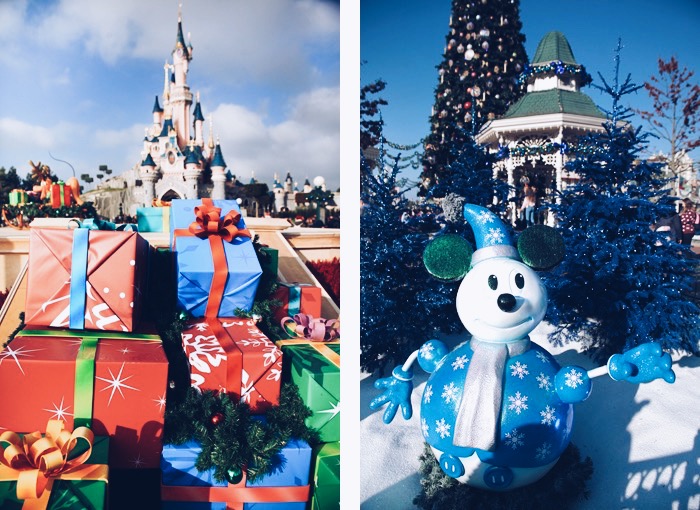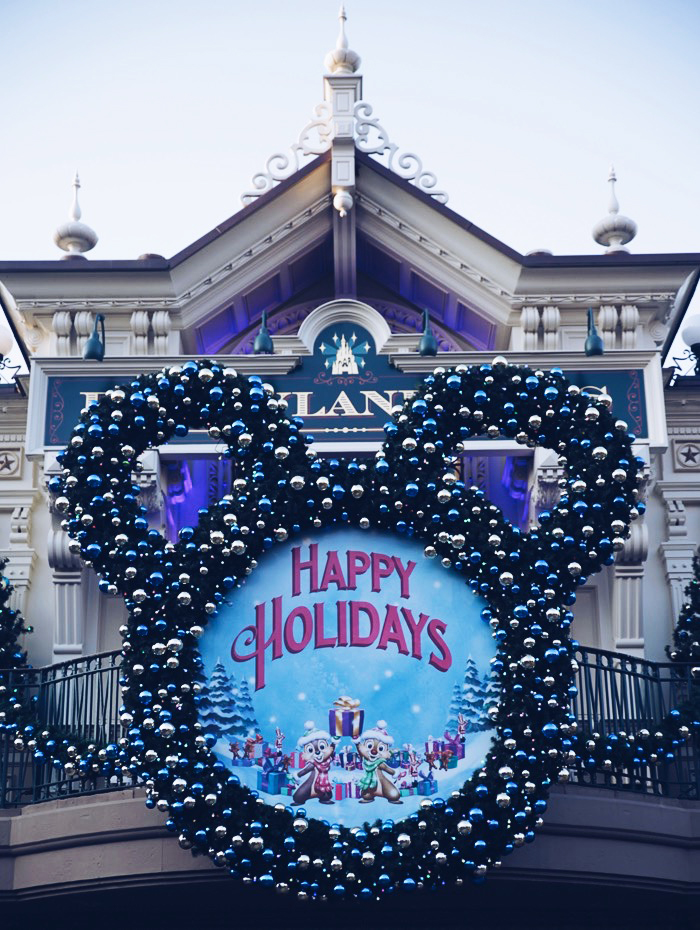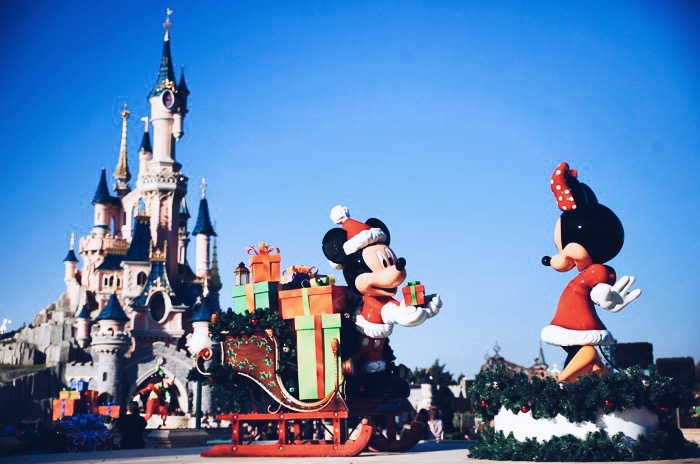 The castle is majestic as always (I think it's the most beautiful one of all the Disney parks in the world) and Christmas and birthday spirit mix as soon as you walk in.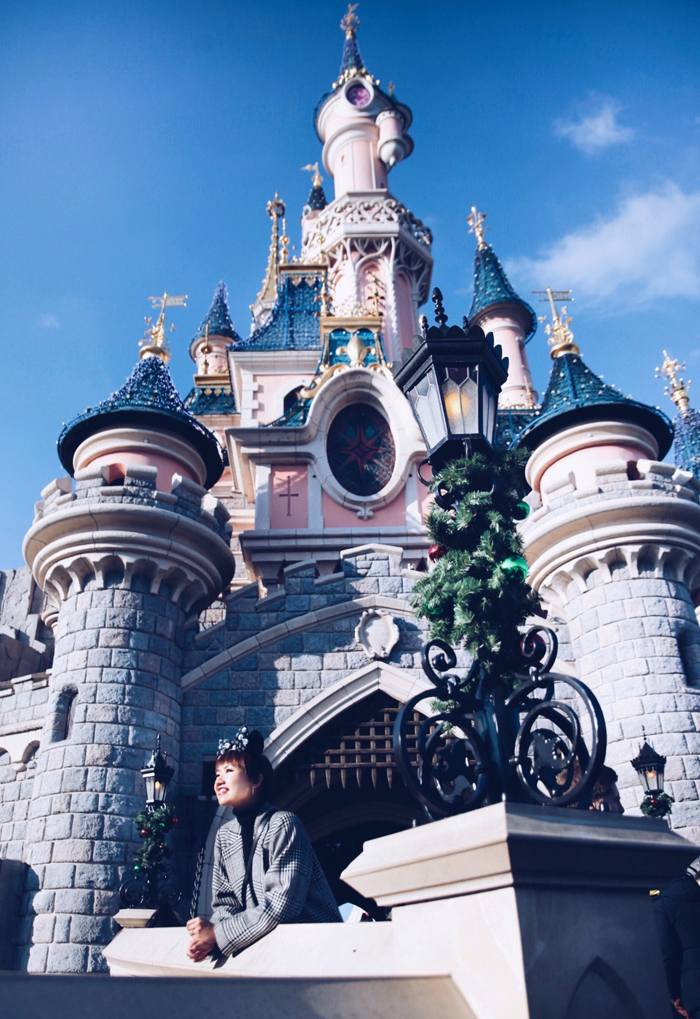 The Christmas tree is impressively huge as always and even more beautiful when it lights up at nighttime. There are Mickey garlands all over Main Street. There is some serious party preparation under way that's for sure!
2. Surround yourself with your best friends you shall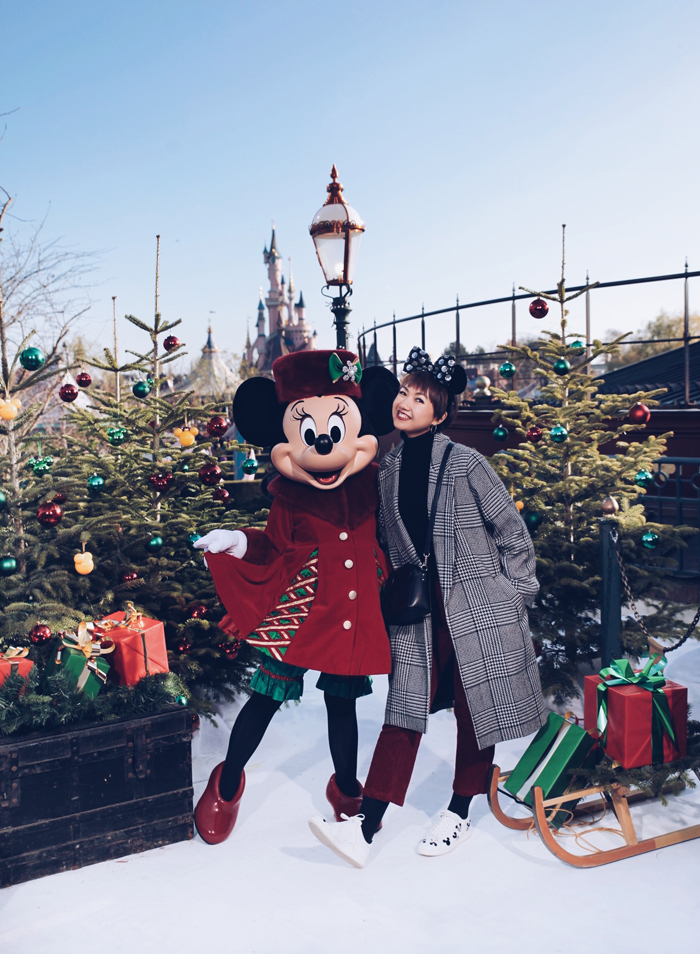 All of Mickey's friends were present for the birthday party. I even got to meet them before the festivities started and snapped a souvenir photo.
I talked fashion with Minnie (she had noticed my bag) as well as preparation for the big evening ; she was a bit stressed out so I tried to get her to unwind by reminding her it was her birthday as well : Relax and enjoy Minnie!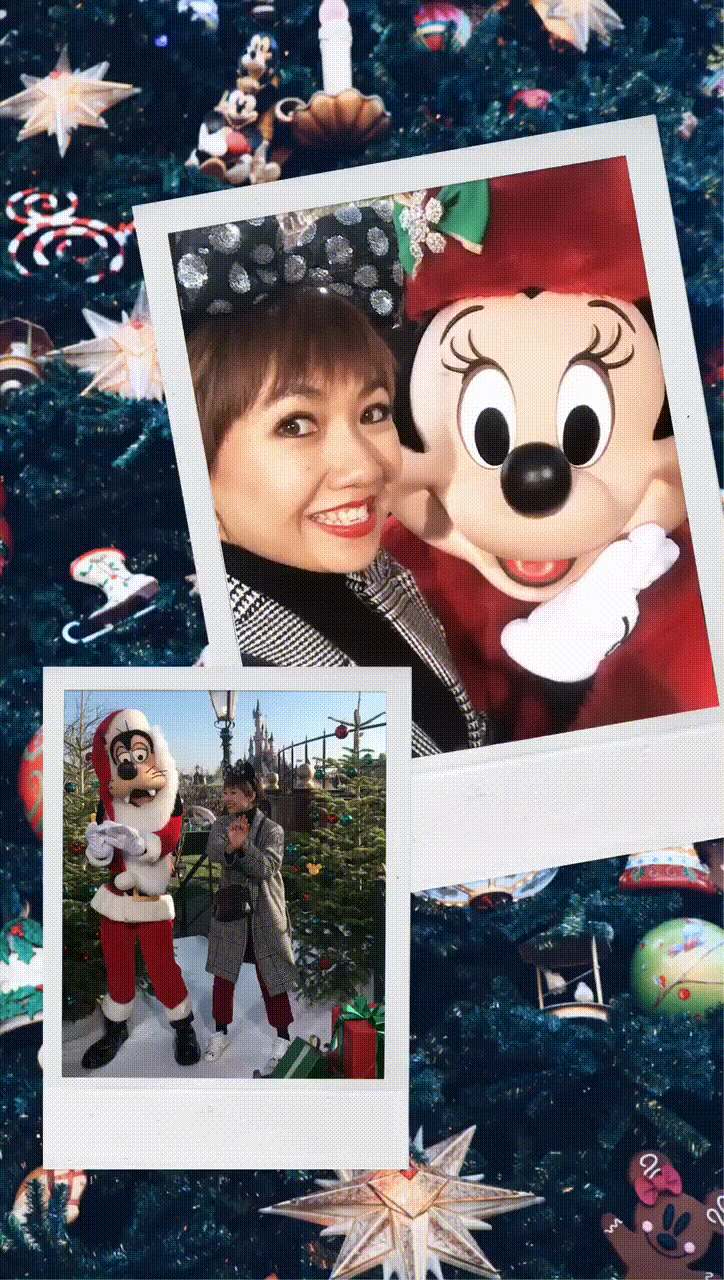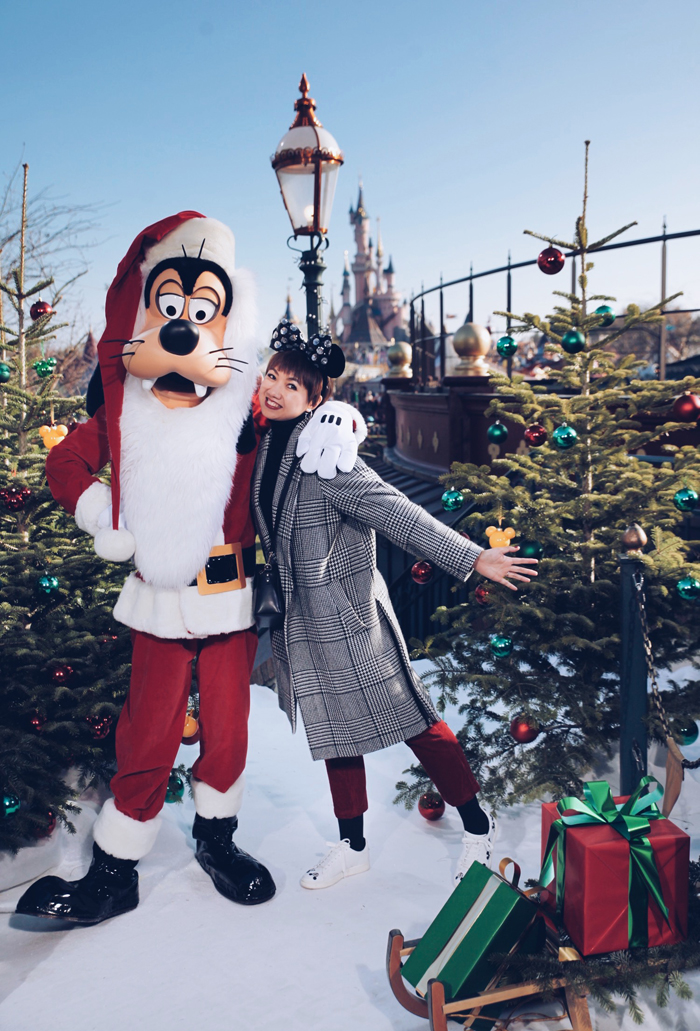 Goofy, cheerful and always the jokester, had dressed up as Santa Claus and welcomed us in a decor that we're not used to seeing in the park : it's pretty unusual to see the castle from this angle, right?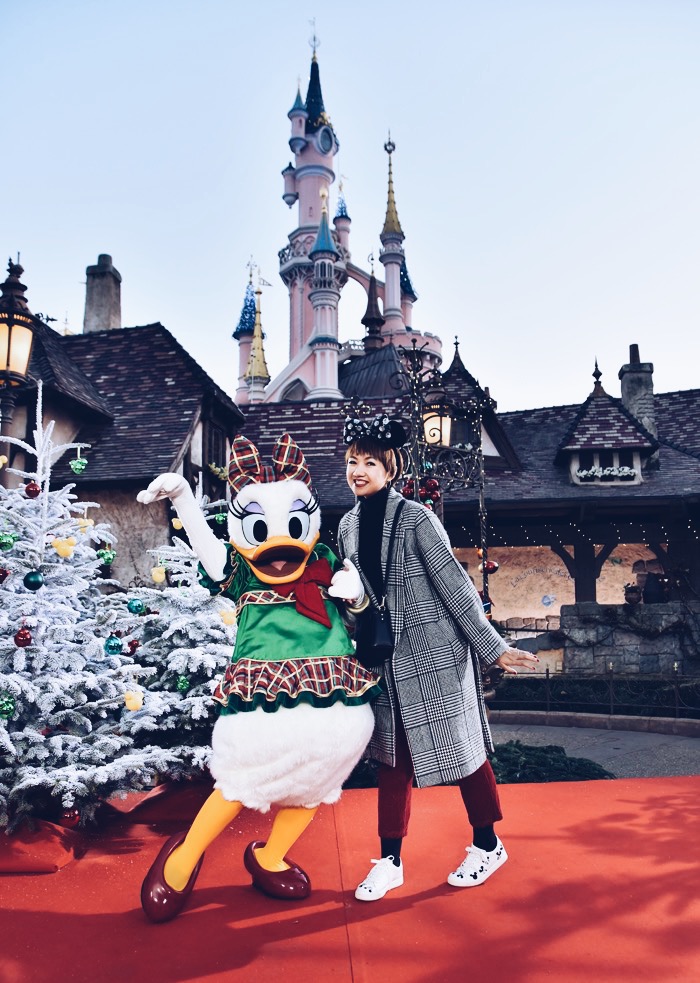 Daisy was waiting for me near Cinderella's Inn (pro tip : the area is always pretty quiet if you picture where it is in the park). I must have missed Donald by a couple minutes only, but running into his girlfriend is always pleasant.
3. On a special dresscode you shall decide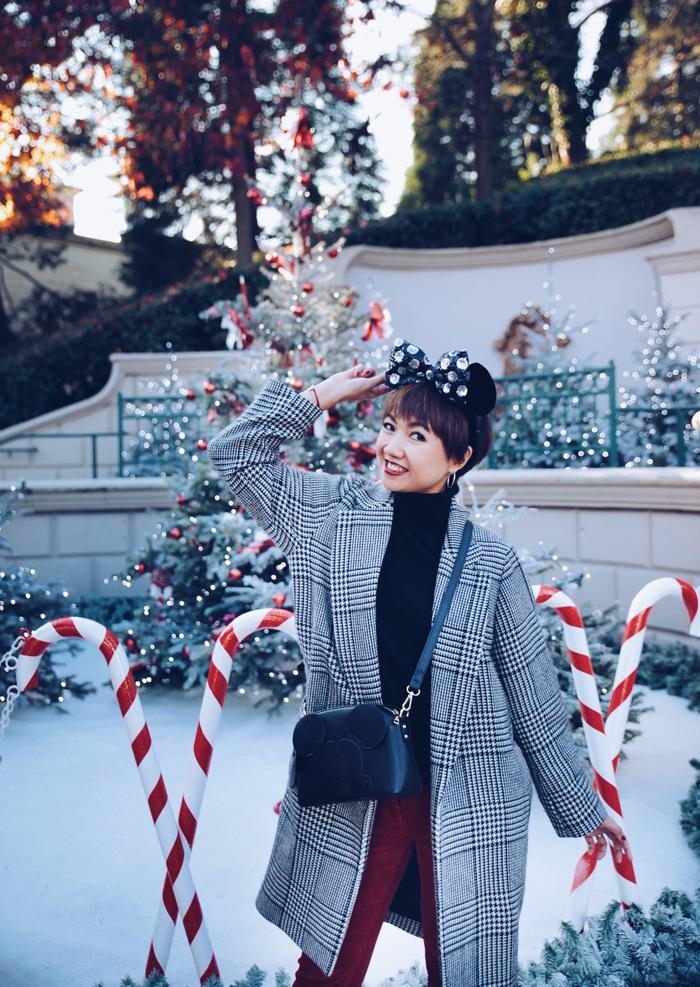 On the invitation, it was strongly recommended to wear a Christmassy and/or Mickey Mouse related outfit for the reception. I'm starting to have quite the collection, I preciously save these items for my visits to Disneyland.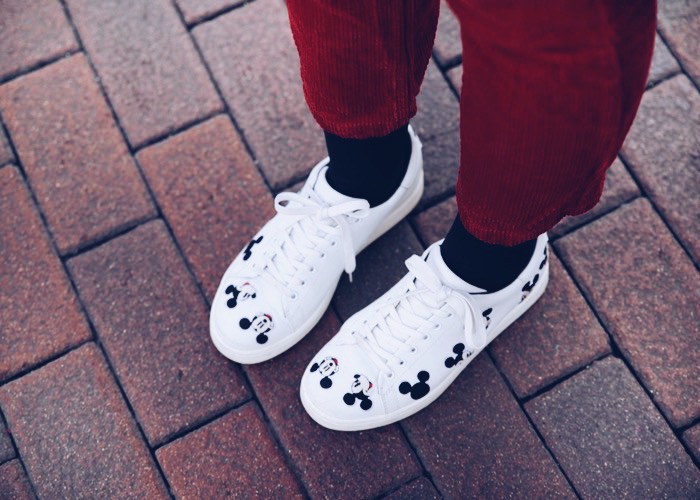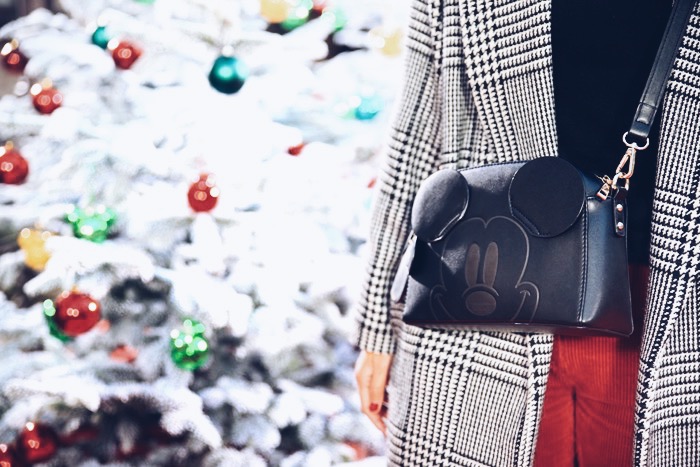 The Mickey Mouse tennis shoes I have are probably the best Disney investment I made, as is this faux leather bag I found in Thailand. They are very understated but that Mickey touch make them special, which is why I included them both in my outfit of the day. .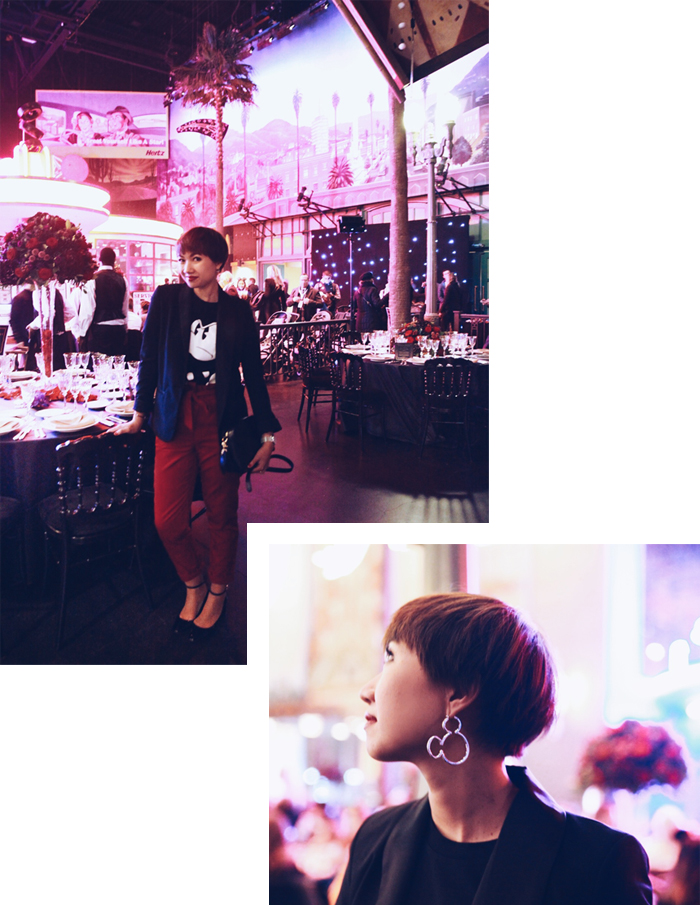 For the evening, I borrowed a Mickey T-shirt from my S.O and added these graphic earrings I had ordered from Couture Kingdom. They are pretty fragile and heavy, but I really liked the design and I'll be keeping them preciously for my future Disney outings, or even for daily life.
In both outifts I tried to take into account the Mickey/Minnie color code : red, black and white. I could have added some green, but it's not really my color!
4. Privileged time with your guests you shall spend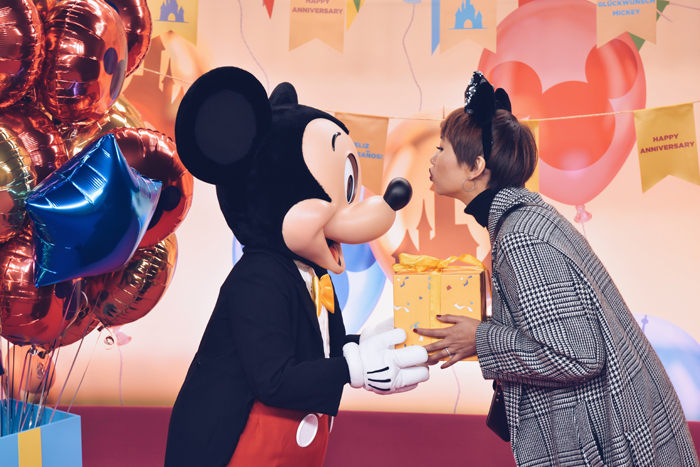 Mickey decided to spend some time with each of us and it was the best idea ever, since it would have been difficult to chat with each of the 900 guests during dinner!
We met up at the Walt Disney Studios. I found a last minute gift that I recommended he open later when he'd have more time.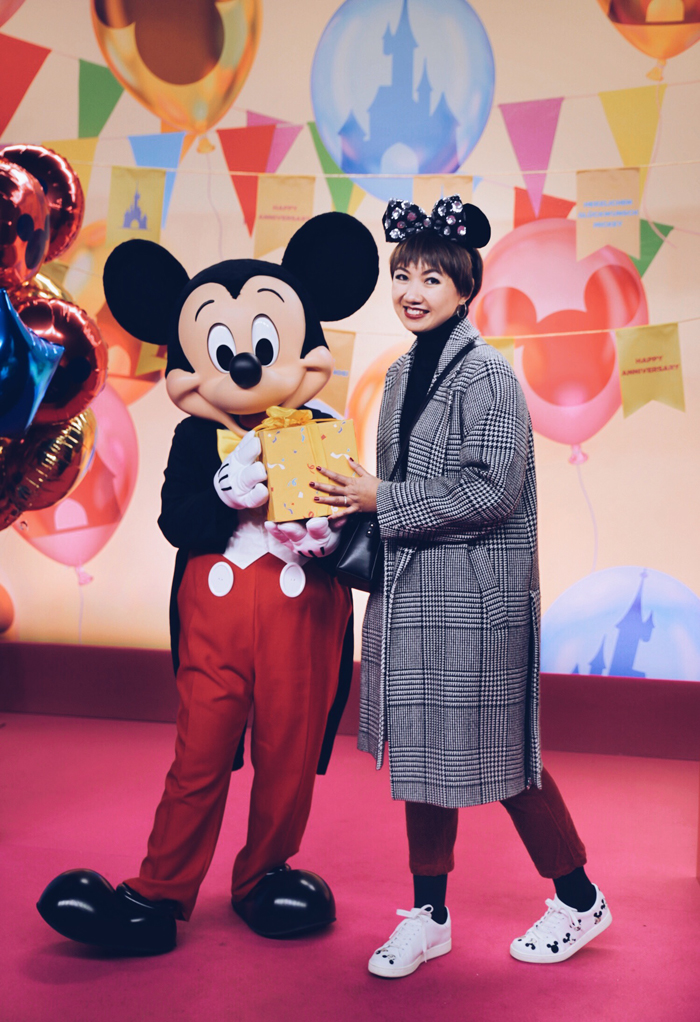 He complimented me on my bag (he and Minnie have the same fashion sense!) and we snapped a couple pictures of our meeting. I think it's the first time I got to spend so much time with him…it might not be visible and it might be childish (but let me reassure you, I'm quite ok with that), but I was a bit emotional!
5. Treat your guests to open-air shows you shall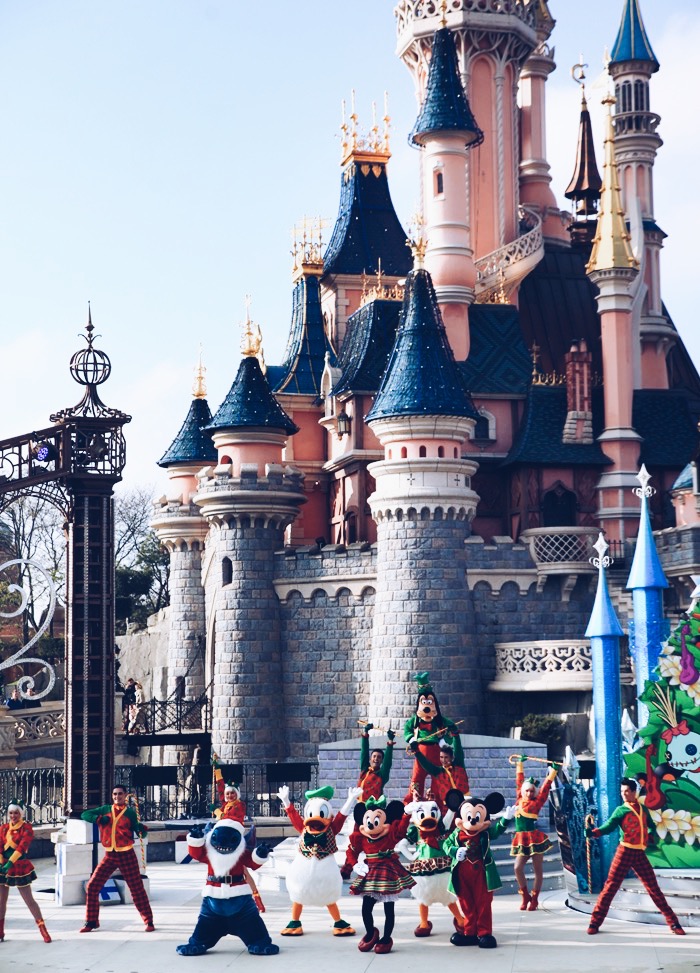 A FantaStitch christmas !
The weather was gorgeous during this weekend, which really helps when you're celebrating a birthday like this one. The festivities kicked off with a fanfare. Stitch really set the mood with Minnie during a "FantaStitch Christmas" show in front of the castle.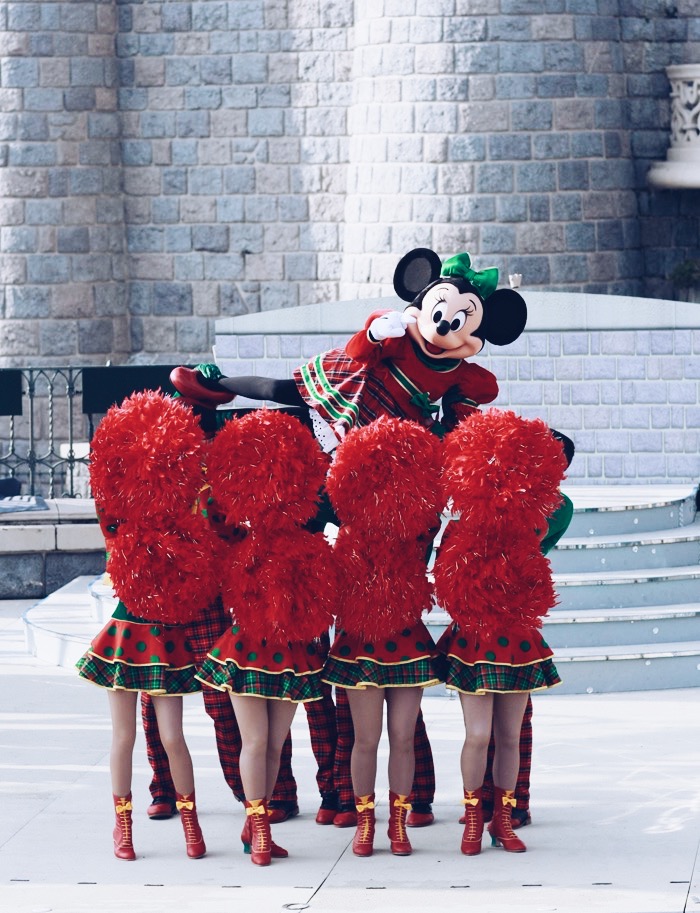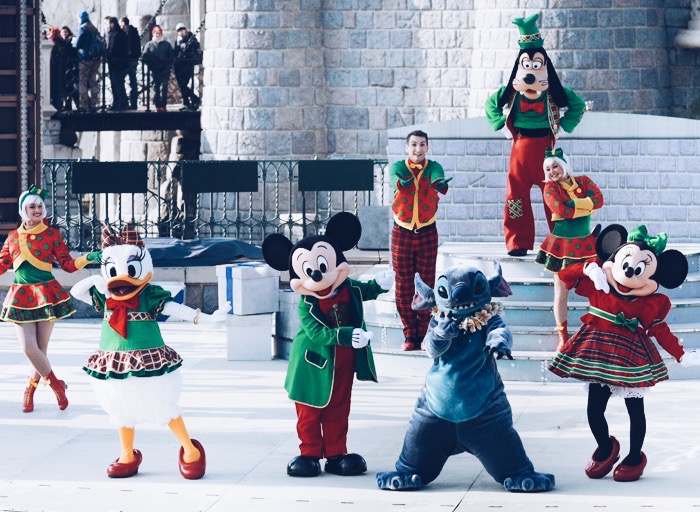 At the end of the afternoon, we saw the fabulous Christmas parade. I never get tired of it : I feel they mix things up a little each year which helps in keeping the surprise and magical feeling intact.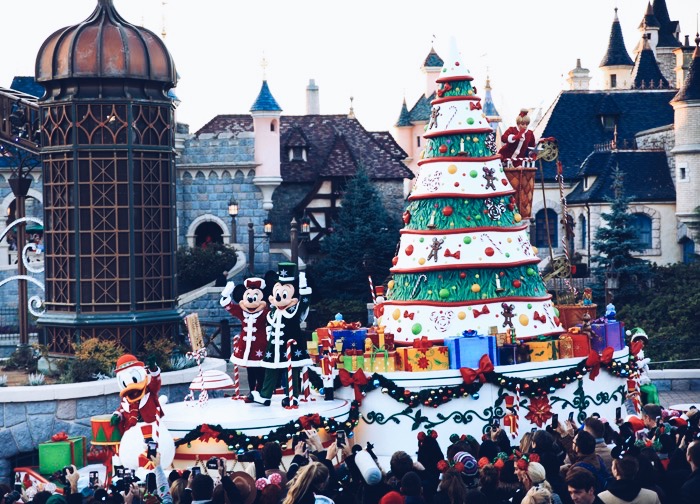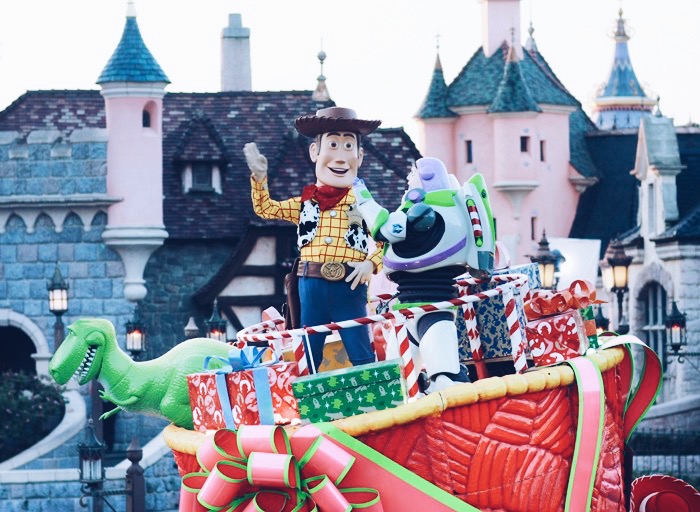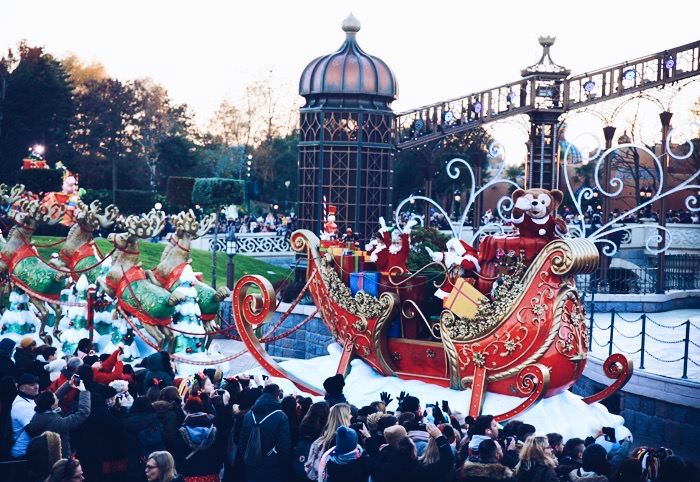 Quand Duffy appears in the Santa sleigh 😉
At nighttime Goofy introduced us to his "Incredible Christmas" with a mix of real and virtual scenes as well as a cascade of fireworks.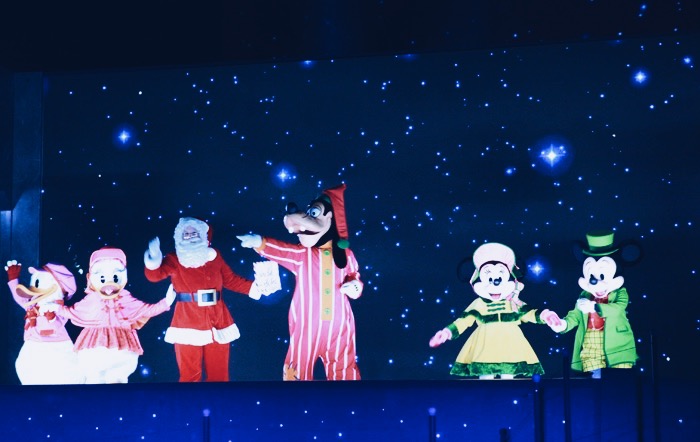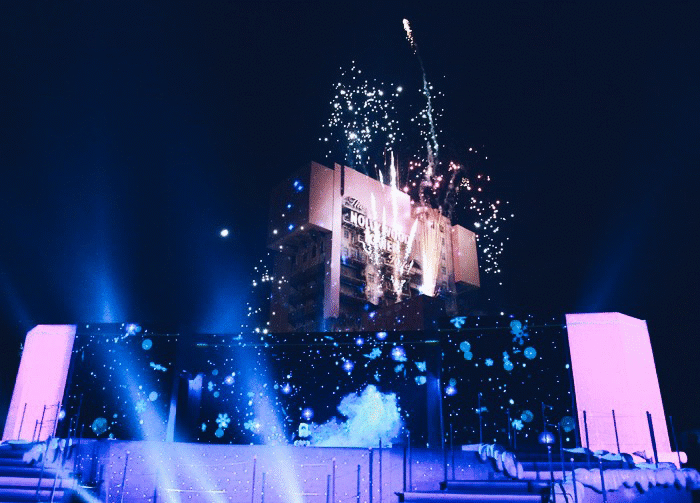 Goofy 's incredible Xmas
6.Let your friends organize suprises you shall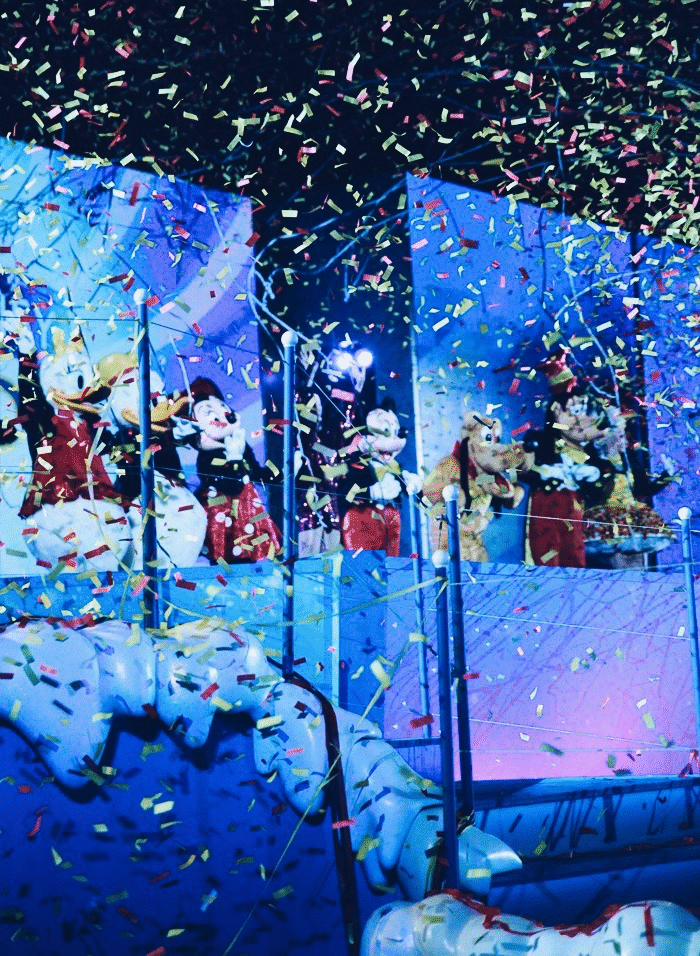 On saturday evening, we had been told to head for the Walt Disney Studios park. Mickey was clueless (even though the scene before the Terror Tower wasn't very discreet!).
He was expecting to see Minnie but found himself with a whole cast of castmembers/dancers (in synch with his outfit for the evening) and all his friends : Goofy hyper as always, Donald, Daisy and Pluto.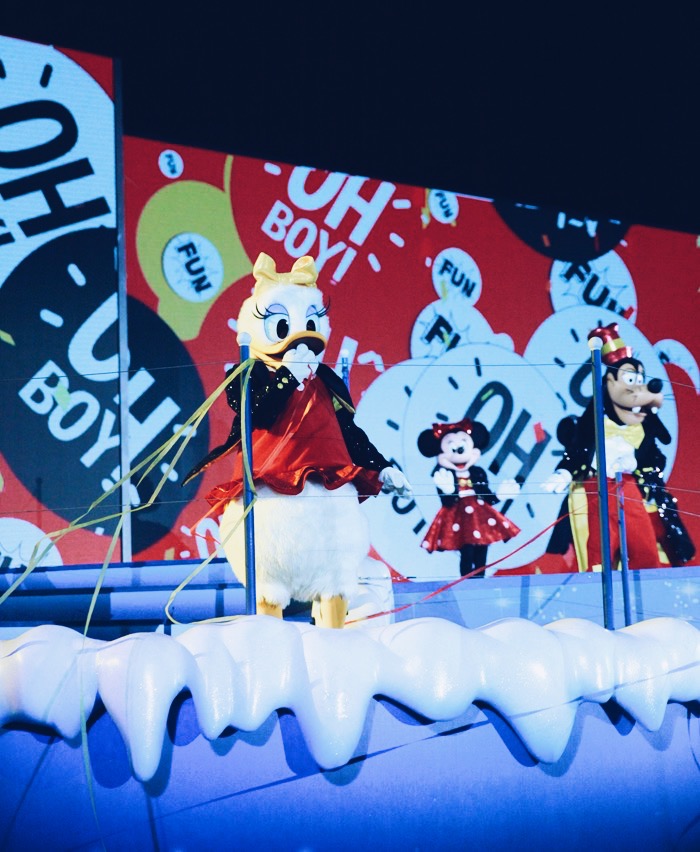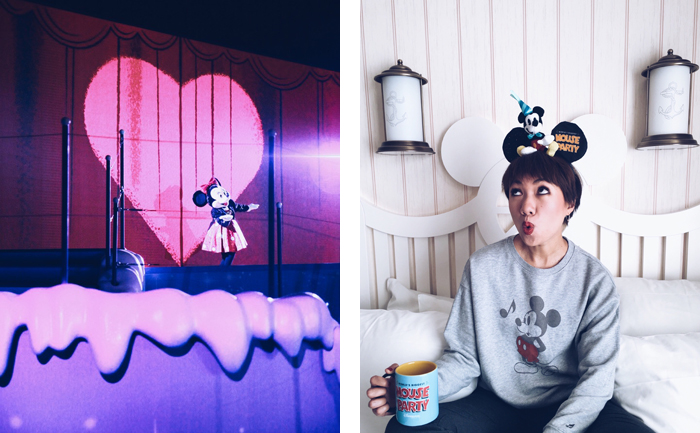 They all joined the scene to dance, sing and wish him the happiest birthday ever. Mickey was very surprised indeed, knowing that the show stopper was the intervention of sweding singer Zara Larsson, who sung 2 of her songs.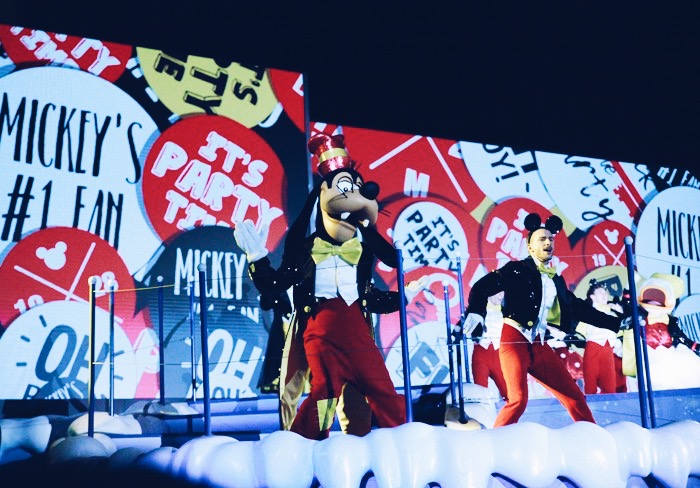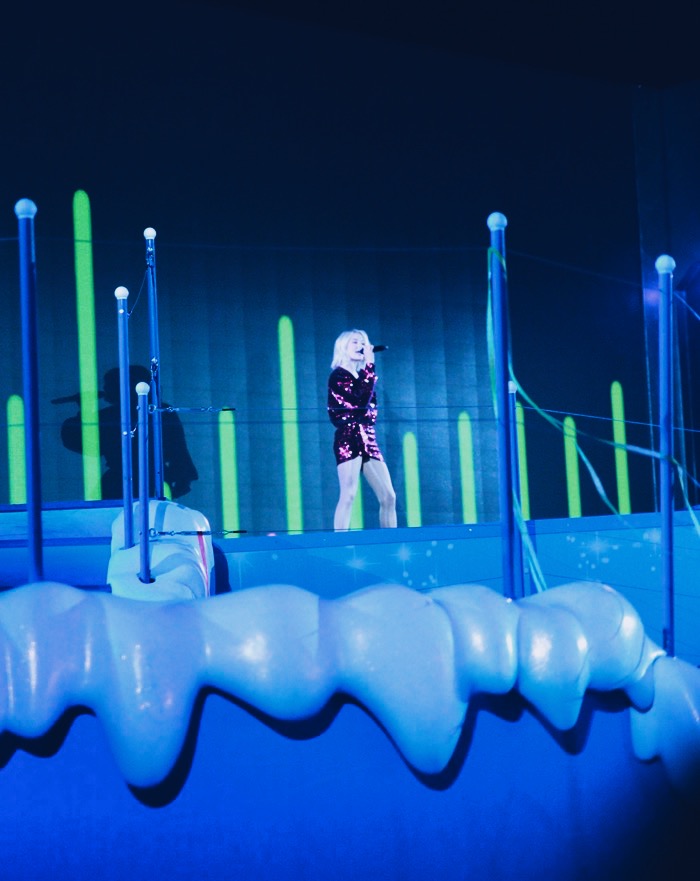 Zara Larsson live !
I wasn't expecting any of this either and really enjoyed dancing to "Lush Life" and "Symphony" while reminiscing how I had danced to Lollapalooza this summer.
7. A performance to impress your guests you shall prepare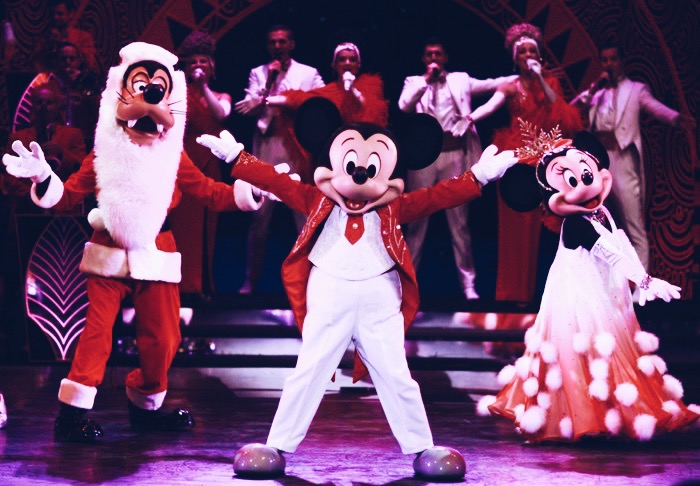 Mickey likes receiving gifts but also giving them : he and his Christmas Big Band treated us to a very impressive performance : I didn't know he was such a good tap dancer, or that he was such a gifted drummer!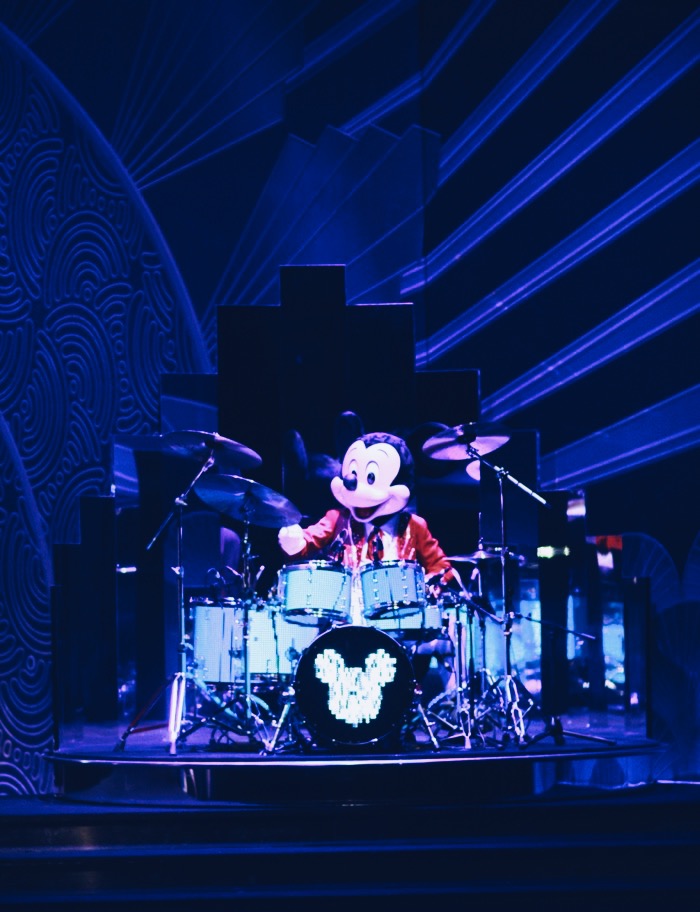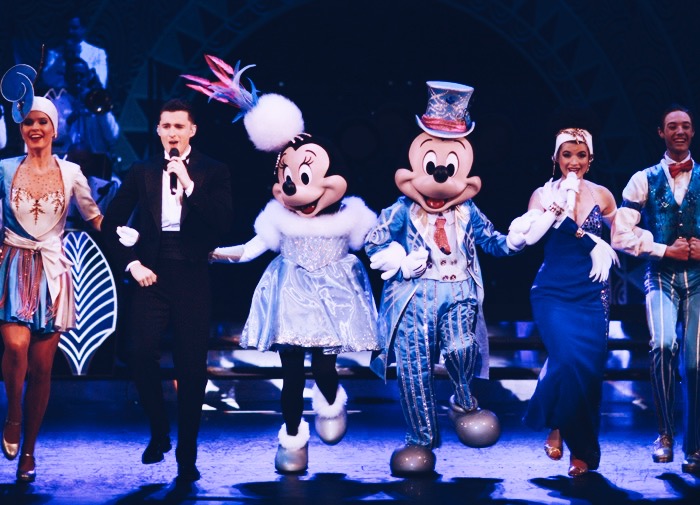 Mickey's Christmas Big Band !
This show was simply one of the best I have ever seen in the park : song, dance, a Gatsby style decor… it was constantly moving and the rhythm was incredible! The vocal performances were very impressive and the Christmas songs really set the mood for Christmas.
8.Invite your guests to discover traditional specialties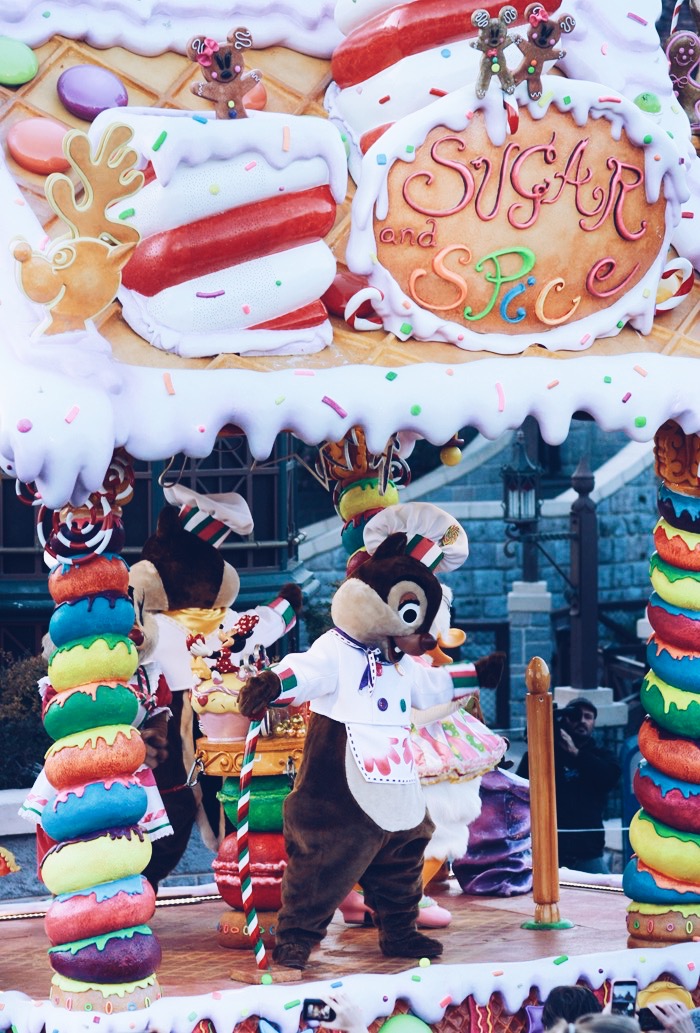 Chip & Dale at the stove ?
Enough of donuts, popcorn and other specialties from Uncle Sam's country? More traditional stands can be found in front of the Ratatouille attraction, at the Walt Disney Studios: Crepes, pancakes, raclette sandwiches and other regional "lightness" of "L'Hiver gourmand"(=Gourmet Winter) are to be enjoyed there.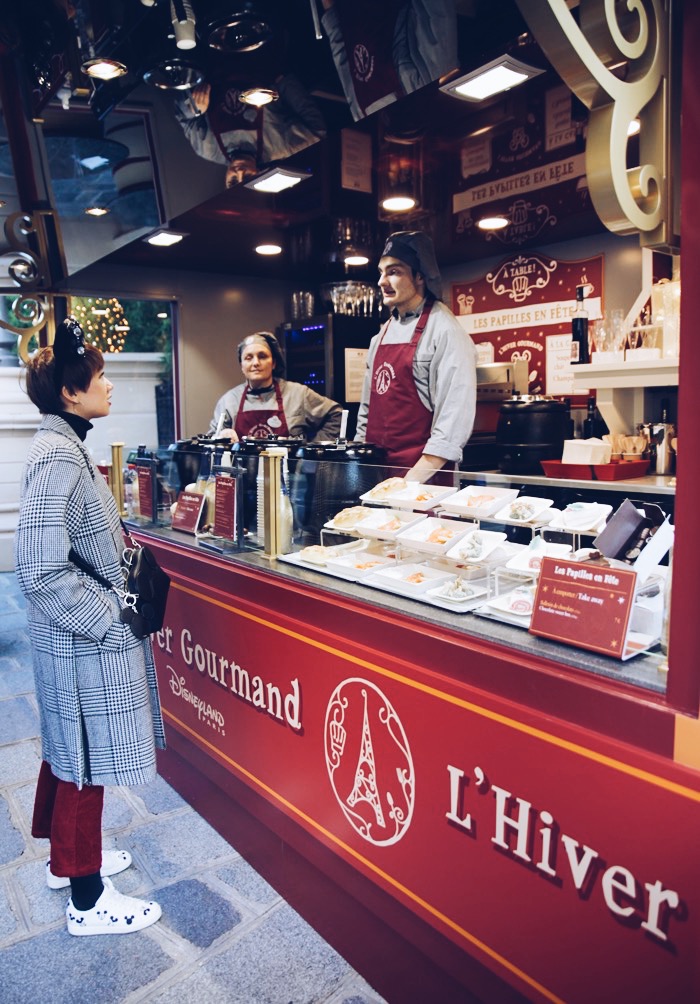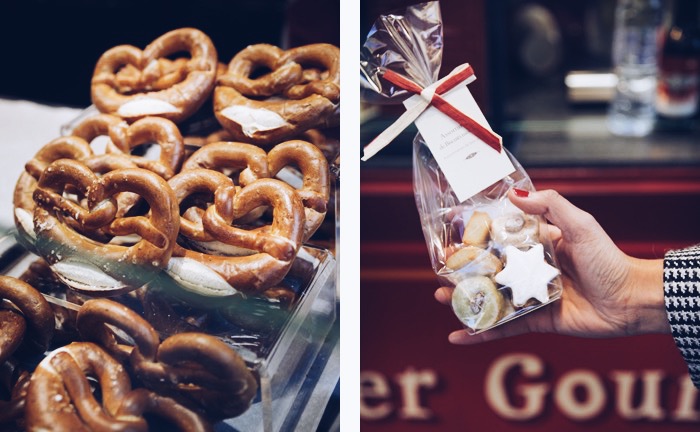 "L'Hiver gourmand" specialties
9. Ask Pierre Hermé to bake your cake you shall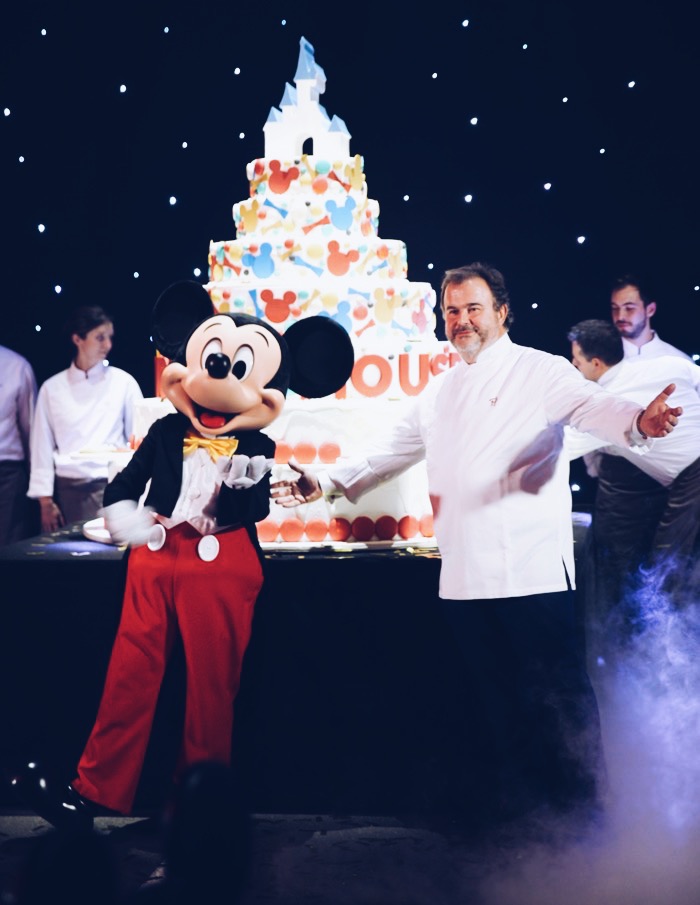 Minnie managed to order a birthday cake from Pierre Hermé! I had no idea : Minnie you're really the best!
The best pastry chef in the world and his team prepared a huge structure with giant macaroons and "Mickey Zest party" pies.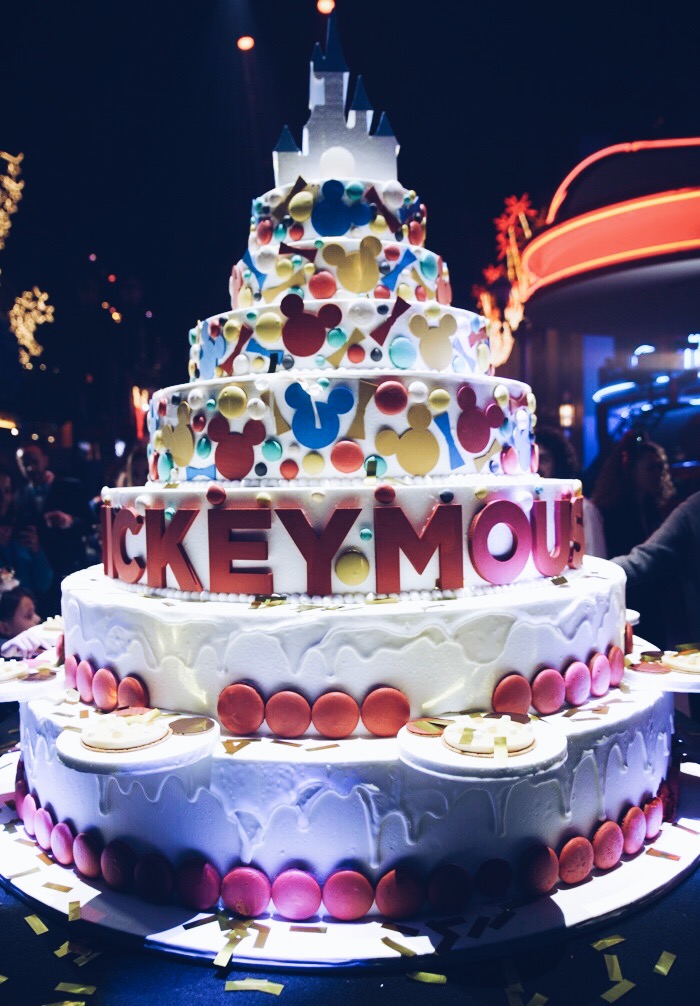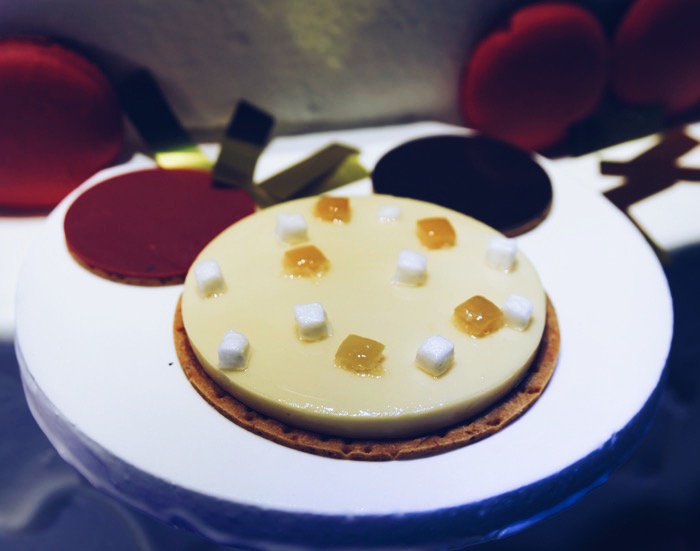 "Mickey Zest Party" pies by Pierre Hermé
These pies can also be eaten in the park (at the Walt's as well as at the California Grill) during this time of the year.
I loved finishing the dinner with this citrus touch. and since Pierre Hermé was dining at the table next to us (yes it's surreal) I got to talk to him again, 2 years after meeting him for the first time, and he is still just as adorable!
He felt pretty emotional when he gave Mickey a piece of pie : I think we all connected with our inner child this weekend!
10. Magic to the party you shall add
"Rockin' around the Christmas tree ! ♫♪♫ "
The fact that the birthday took place in the 2 Disney parks is one of the reasons the magic clearly operated this weekend, but I found that each moment brought us closer to the pinnacle of magic : unusual encounters, awesome weather, nonstop shows and an exceptional dinner!
This dinner took place in Studio 1 of the Walt Disney Studios, which is the studio with the retro/neon light decor that you go through when you are heading to the park.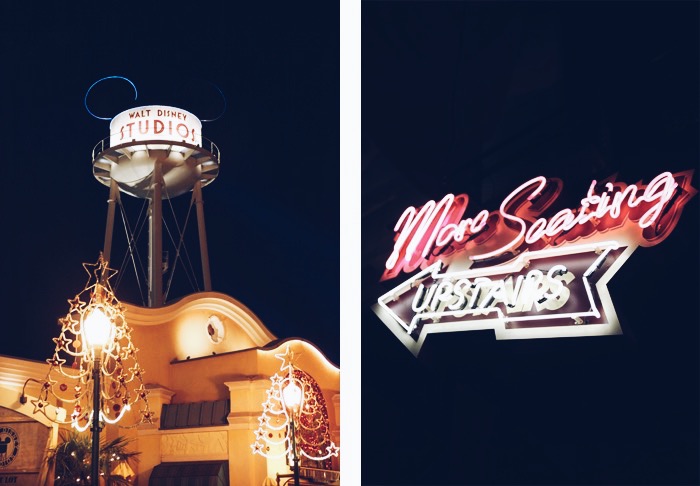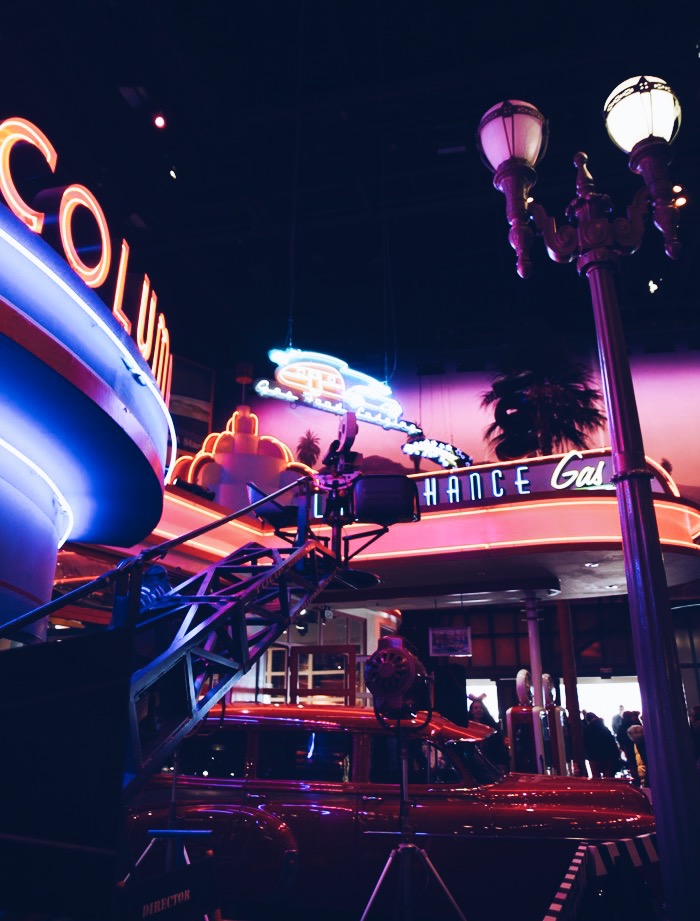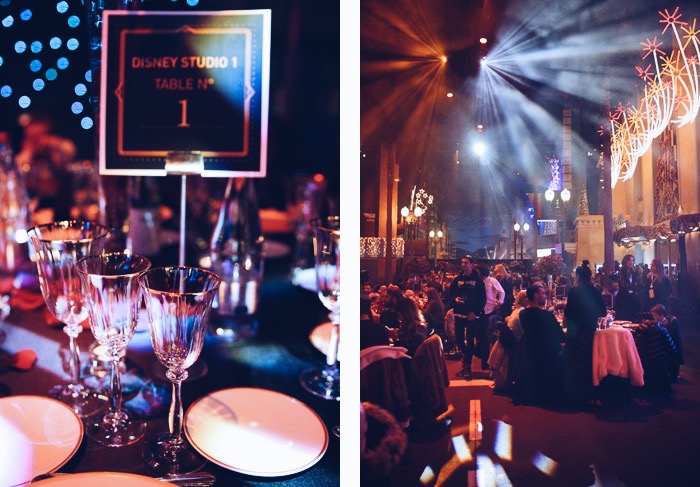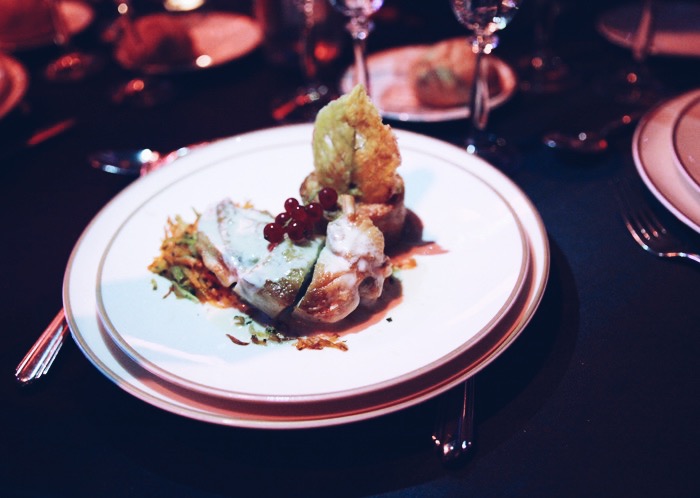 Free range chicken supreme with Champagne sauce, ginger flavored sweet potato gratin
and seasonal vegetables

The dinner with table service was up to par with the cake and unfolded to the beat of a jazzy voice that sung christmas carols from a balcony above us.
I had already been lucky enough to take part in exceptional events in Disneyland Paris, but this birthday surprised me over and over again.
The "Best Birthday Bash" mission was clearly a success. Once again, let's wish Mickey and Minnie – let's not forget the humble instigator of this fabulous party – the happiest of Birthdays! (English translation by Marine)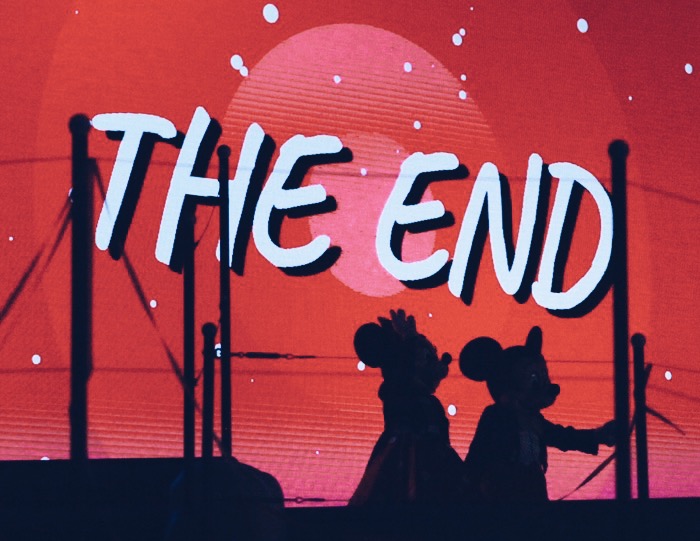 ---
My Outfit
1. Coat Munich Japan (already seen here)
Cashmere jumper La Redoute (already seen here)
Pants Close (already seen here)
Ears Minnie ShopDisney
Earrings Tiffany & Co (already seen here)
Sneakers Moa x Disney (already seen here)
Bag ESP Thailand
2.Blazer Ba&Sh x La Redoute (already seen here)
Tee shirt ESP Thailand
Pants La Redoute (already seen here)
Babies Electra Repetto (already seen here)
Earrings Couture Kingdom
Eyelashes extension « Volume russe » Les cils de Marie (already seen here)