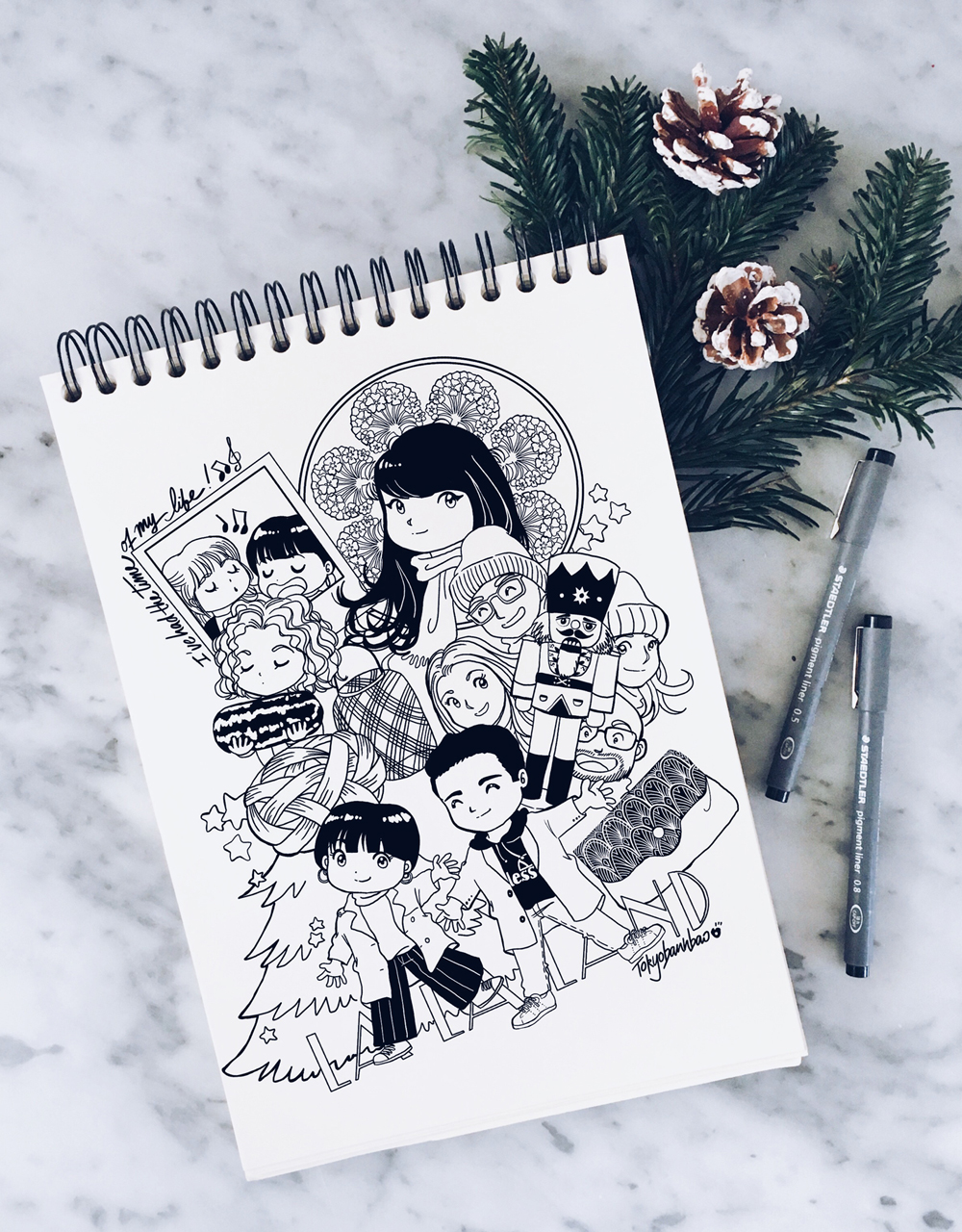 Here is the second episode of my column « These days » initiated last May. People following my stories on Instagram already got a preview but here all in one place all my last discoveries and activities drawn with a few markups.
The musical exhibition at the Philharmonie of Paris
I discovered this exhibition on a rainy day, which couldn't be better to warm up this day! What a surprise we had to experience this interactive exhibition as it was possible to wear a costume like a performer of musical (Mary Poppins anyone?) and to attend a lesson of tap-dance.
As a spectator you won't be disappointed neither because a lot of videos (even of one shown on a giant screen) allow to discover the backstages and secrets of the shooting. The perfect « Feel Good » exhibition !
"Fendre l'air, art of bamboo in Japan" exhibition at the Quai Branly museum 
I've really made the most of this « Japonismes » special event before it ends in a few months. A few weeks ago, I had the pleasure to attend the private viewing of this very inspiring exhibition about Japanese bamboo art.
Initially created to highlight the flower art called ikebana used during tea ceremony, these baskets have witnessed the Japanese creativity along the century (willing to show off in front of my guests mixed to the know-how).
A good overview of the mix between tradition and contemporary: the finest art and technical achievements created with bamboo: a real pleasure for the eyes.
The Christmas Market in Stuttgart
I recently had a childhood friend gathering (we've known each other for over 30 years… we've been getting in touch since elementary school!) in Stuttgart in Germany.
I already had the chance to discover Christmas Markets in Hamburg a few years back: it comforted with the idea that German know how to celebrates Christmas tradition!
Local treats (sausage, praline, crepes and sauerkraut…) and Christmas decoration booth: a magic and end of the year festive ambiance… and in such a good company !
I brought back a lot of memories in my head and others to decorate my Christmas tree.
The Mucha exhibition at the Luxembourg museum
This year, I've really committed to spend more time with my friends, even though it would mean to put my work life a bit on the side and this kind of day was in line with it.
So I spent one day with Alix to explore the exhibition of Alphonse Mucha at the Luxembourg museum. Here again, a source of inspiration with the famous Slav artist, that everyone knows for his pieces inspired by women and flowers.
We really enjoyed to go into details for each of his so poetic and astonishing creations.
I would recommend you to book a ticket to avoid the line if you want to see it.
The Dirty Dancing 30 yo party
One of my favourite movie just turned 30 years old! And to celebrate this birthday and the new DVD/Blu-ray + exclusive bonus, I got invited for a very nice movie karaoke night!
The first time I watched Dirty Dancing, I was probably 11 year old, and it was a VHS and french voices… so I almost know all the french adaption by heart. Back in time my passion for Patrick Swayze was unlimited. What a pleasure to watch it on a big screen!
The DVD blu-ray has new unseen scene of the casting, scene cuts and documentary that I will most probably take the time to watch during the holiday season… it will be the good timing to spread my knowledge about my Proust's madeleine.
The Japonisme exhibition at the museum of Arts Décoratifs
Another exhibition! I can't stop! This time I got invited by the leather good brand Le Tanneur to attend the exhibition Japon – japonismes with a private visit, before the opening of the museum.
Here again, pleasure for the eyes guaranteed with a few pieces of art, fashion or in term of graphics inspired by Japan.
We can find regrettable the poor scenography (I was discussing about it with one of you on Instagram and we were saying that it looks like an auction house but… only my opinion). However, the content of the exhibition and the collection are very rich which is self-sufficient. (English translation by Quiterie)