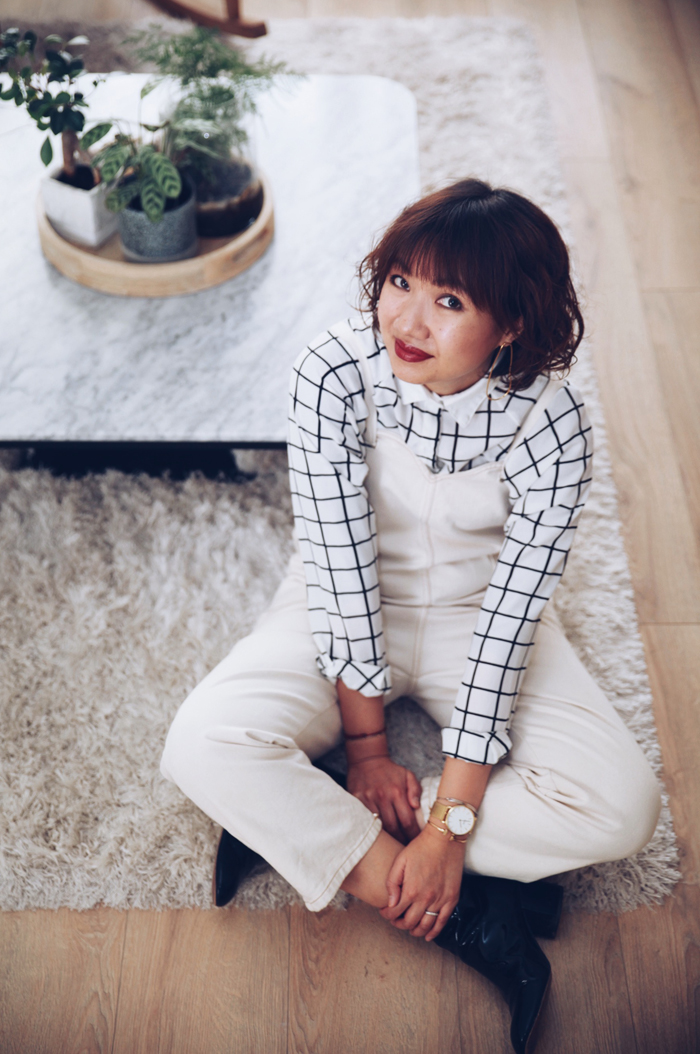 The month of January inaugurates the year, but can also be the time to look back at the year that has just gone by. I thought that it would be interesting to make the 2020 sum up of my purchases in clothing and accessories, especially since I have been consuming in a more reasoned way for the last few years. This is part of my quest for minimalism and simplicity.
This assessment would have been impossible for me to make (or would have been very indigestible to read) 5-10 years ago given the excessive amount of clothes that entered my closet every month (week?). This year, unless I forgot, there are 8 items that have entered my closet consciously.
The idea is not to make you feel guilty if you bought more but just to show you that my consumption (and awareness) has evolved over time. I own much less than during my "fashion blog" years, carefully selecting clothes according to my criteria of quality (and usefulness) but the pleasure of dressing up remains intact. My looks have gained in simplicity and I have gained in freedom.
8 novelties in my wardrobe in 2020
When I say "8 purchases", I'm talking about global acquisitions: 5 items on this list were gifted via partnerships (so they were offered to me) but I accepted these rare fashion partnerships with care, so I consider that it was as if I had bought them.
So I'm going to present this list of the 8 fantastic ones by telling you why I fell in love with them and how I felt about their quality until now. Let's get started!
THE MAKE MY LEMONADE DUNGAREES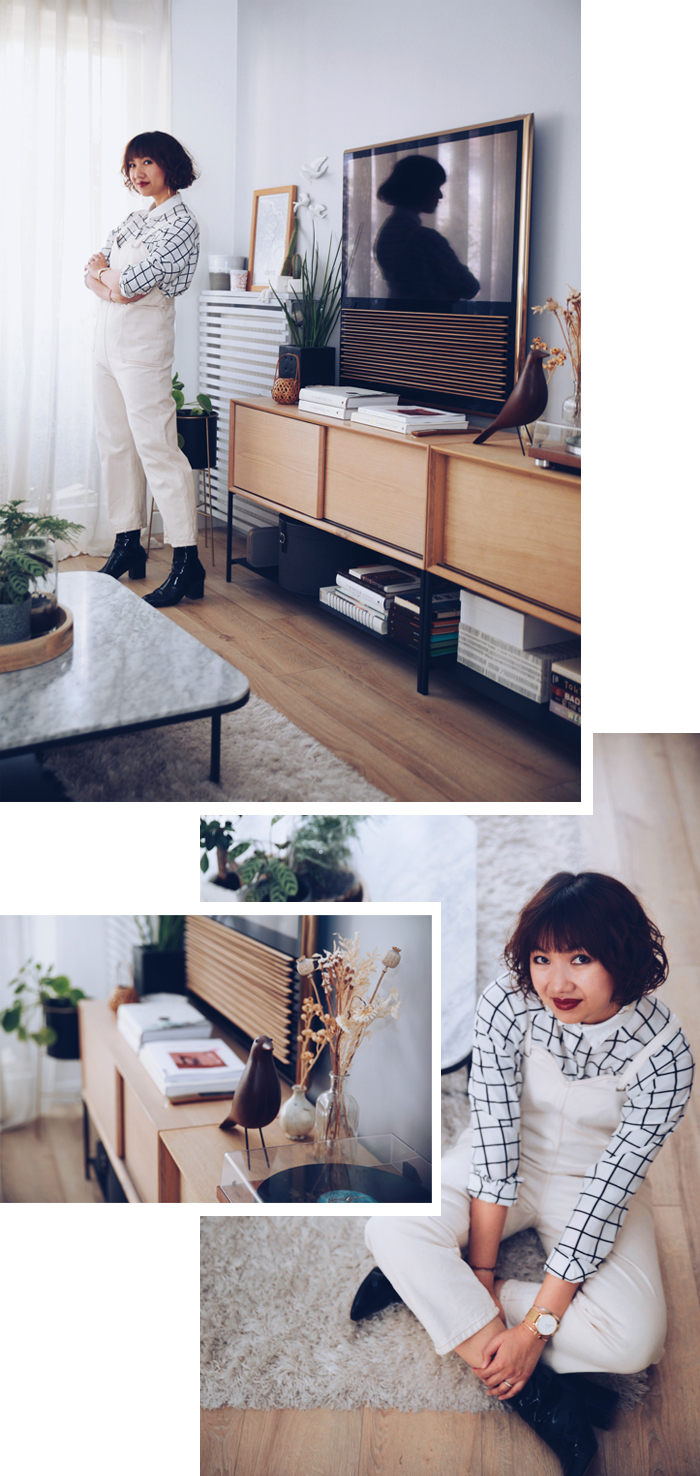 Hedwige Make my Lemonade dungarees (already seen here)
Date of purchase : July 2020
Reasons for the purchase : Favorite for the cut, the color of the garment and the responsible approach of the brand (organic cotton, quality of the relatively thick fabric, European manufacturing).
My daily use : I wear it from time to time, especially when the weather is nice, because of the light color, it can get easily dirty, but it follows me all year long depending on whether I wear a t-shirt or a sweater. Here is the autumn winter version (you have already seen the summer version here). I'm satisfied with it, it looks good after several washes.
THE UNIQLO DENIM SHIRT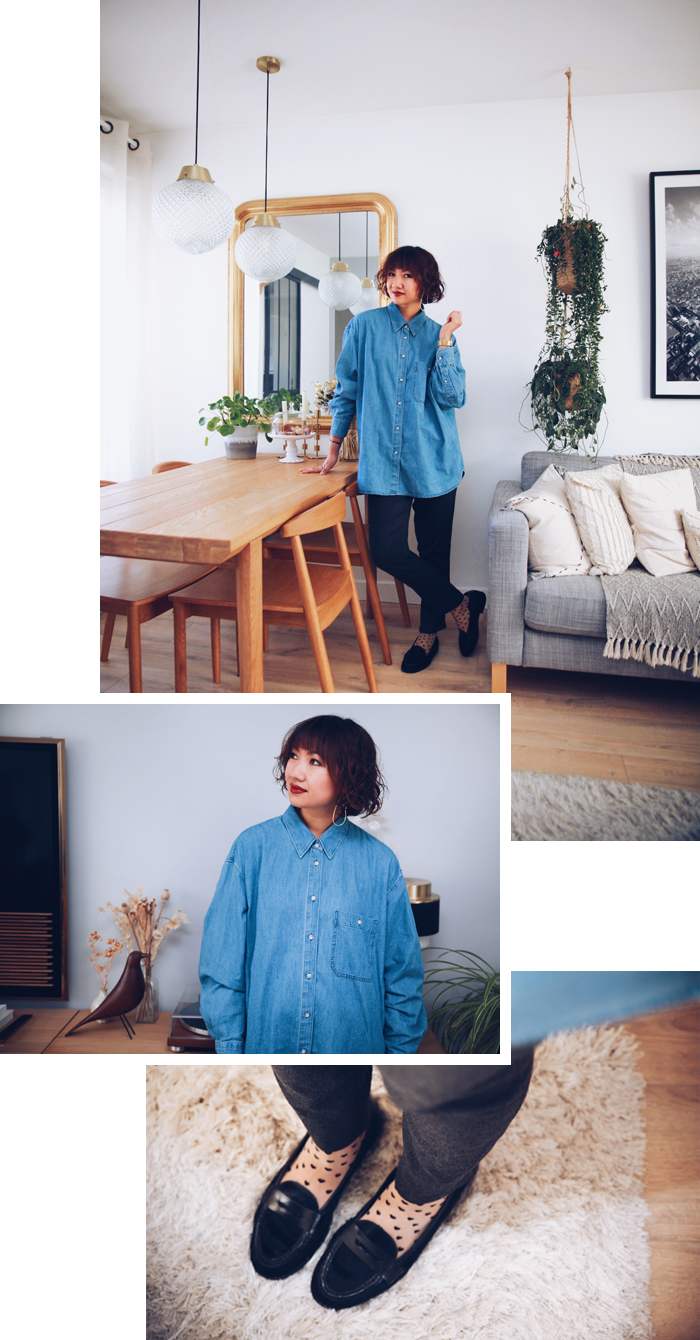 Denim Uniqlo shirt (already seen here)

Date of purchase : March 2020 (gifted)
The reasons for the purchase: : I develop them in this article.
My daily use : I have been wearing this oversize shirt a lot at home since March. It's not a particularly flattering piece but I feel good in it for a "cool" look and it's easy to live with.
THE UNIQLO WHITE LINEN SHIRT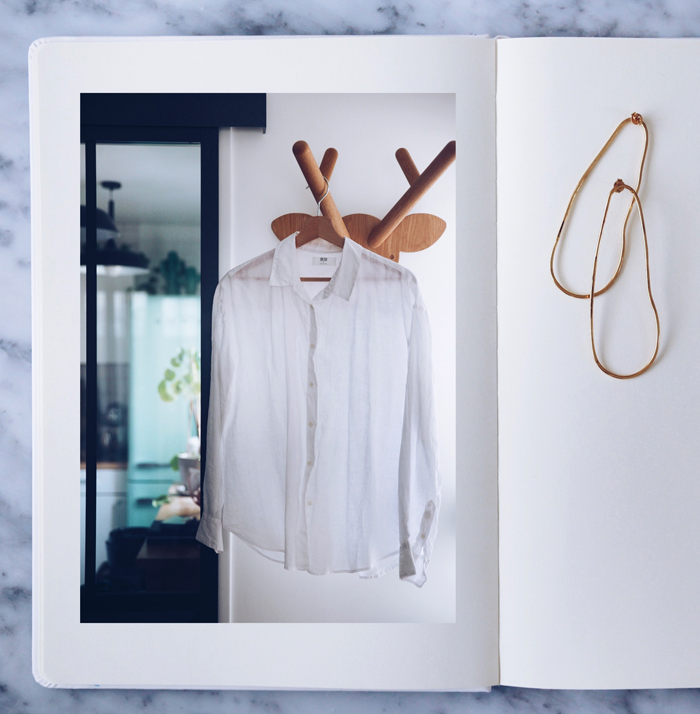 Linen shirt Uniqlo (already seen here)

Date of purchase : March 2020 (gifted)
The reasons for the purchase : I also develop them in this article.
My daily use : Perfect for spring and summer, it is a basic that I missed. I am satisfied with it.
THE COMPTOIR DES COTONNIERS JUMPSUIT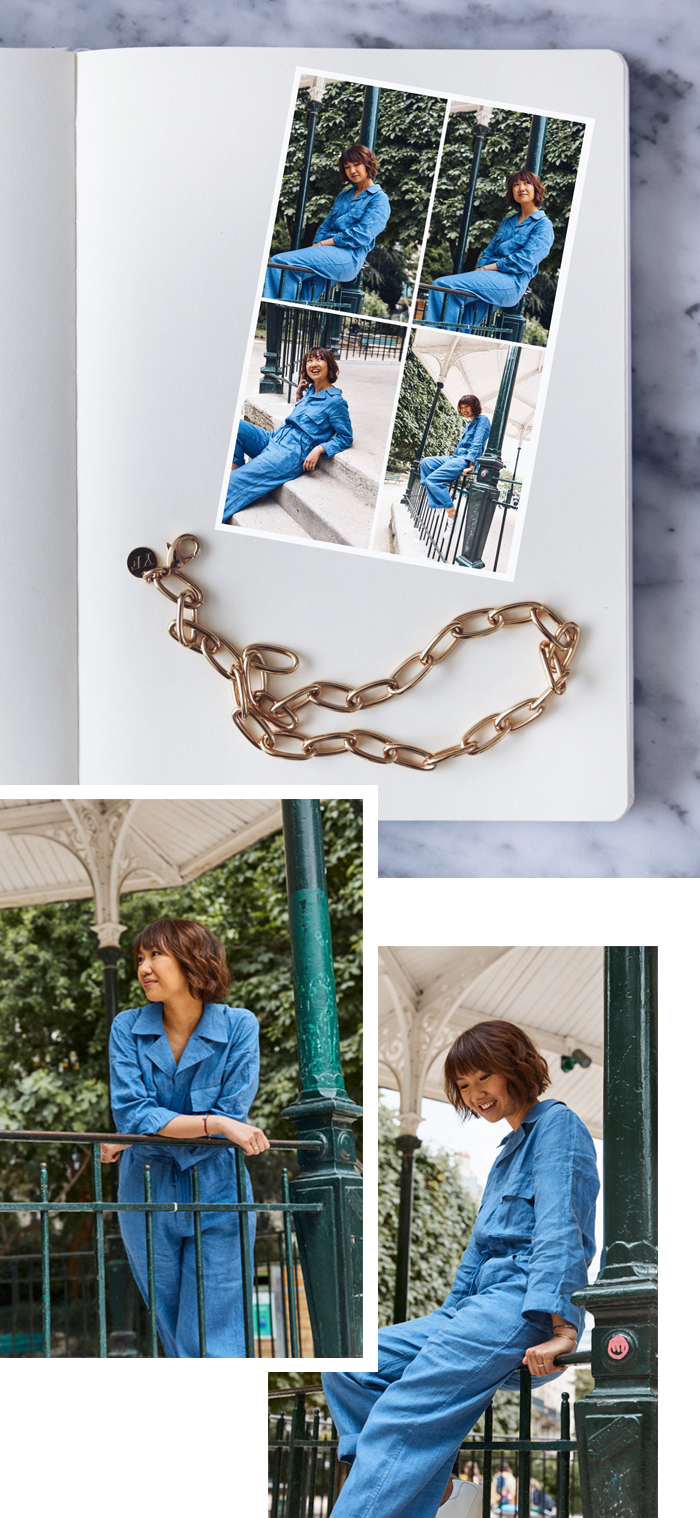 Pictures by Alice Jacquemin during a Comptoir des cotonniers collaboration

Date of purchase : June 2020 (Gifted)
Reasons for the purchase : The casual chic side that I like, the quality of the linen.
My daily use : I haven't worn it much so far because I'm waiting to hem it at the bottom of the legs to get the right length… and I'm dragging a bit to get it done! But I hope that it will be ready next summer because I would like to wear it with sandals and a hamper (if we get free by then).
THE BERET LE BERET FRANCAIS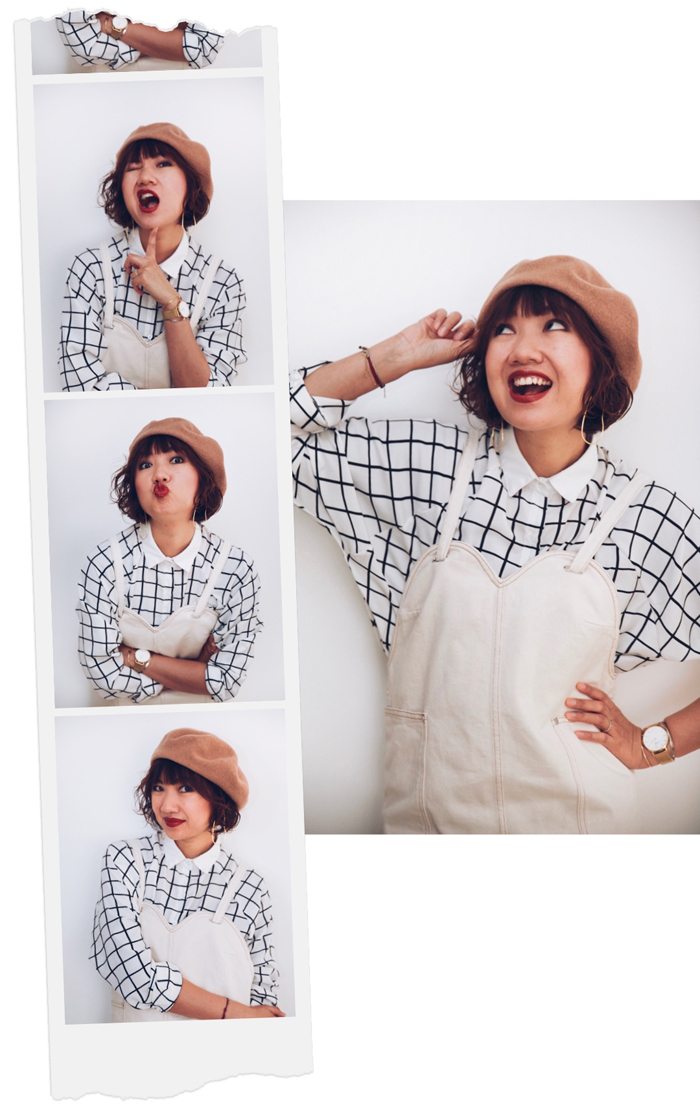 Date of purchase : October 2020
Reasons of the purchase : I already had a beret of the same color, from another brand but the size was a bit too small for my (big) head. So I decided to invest in a new beret in my size. The manufacturing in France guided me in this choice of brand.
My daily use : I wear it a lot since this fall (the influence of Emily in Paris no doubt!) and this beige/camel color goes well with the camel/grey/black/cream palette of my wardrobe. Nothing to report on the quality for the moment, I've had it for too little time (and never washed it) to say anything about it… but it's all good for it!
THE YOUNG FRANKK NECKLACE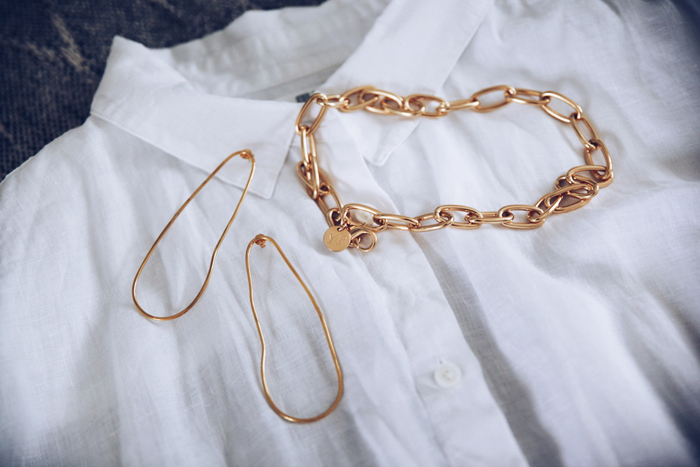 "Classic chain" necklace Young Frankk
Date of purchase : August 2020
Reasons of purchase : Since the big dangling earrings I used to wear with the mask are a bit embarrassing in my daily life, I wanted to invest in a big necklace with links that would serve to spice up my most basic outfits. I chose this brand because I already have a pair of Young Frankk earrings that hold up well over time. So I wanted to be sure of the quality.
My daily use : I wore it a lot this summer and fall, with a half-open shirt or on a simple tee-shirt. It also works very well with a sweater. I don't regret the purchase (even if I took 40 euros of customs fees to get delivered, since the company is based in the USA= Carbon footprint level I could have done better too but well…)
ELOīSE FIORENTINO EARRINGS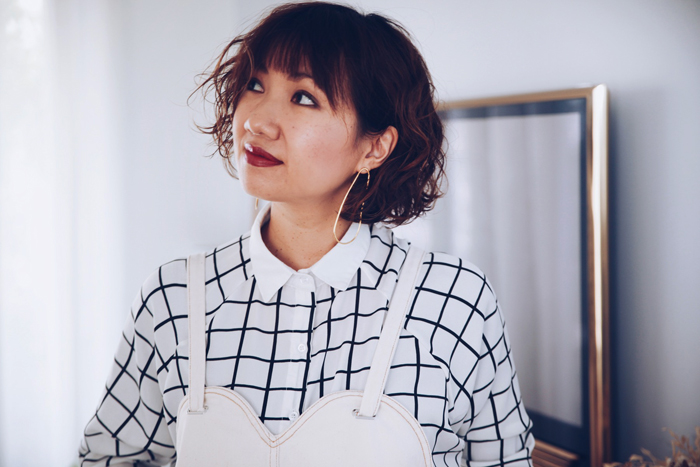 "Océan" earrings  Eloise Fiorentino
Dateof purchase : December 2020 (gifted by the designer)
Reasons of purchase : I have several pairs of earrings from this designer that you can see here here and there. My first pair was bought a few years ago in a small store in Dijon. Then I purchased new ones each time I came back to Dijon because the quality is there, in addition to the pure design and their lightness that I appreciate. I was lucky this time that the designer gave me a pair for Christmas.
My daily use : These buckles are elongated but don't bother me when I wear a mask so despite this COVID crisis, I wear them quite frequently (haha! the detail that counts since 2020). They are simple but sophisticate a bit my basic outfits.
THE COMPTOIR DES COTONNIERS BUCKET HAT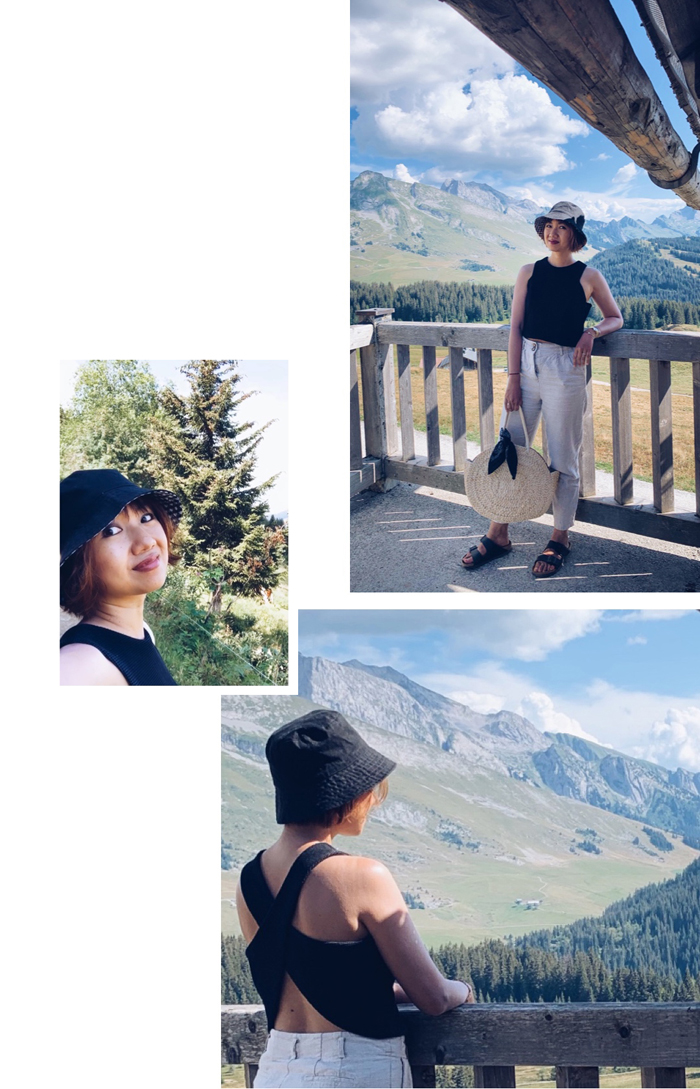 Comptoir des cotonniers bucket hat worn at La Clusaz last summer

Date of purchase : June 2020 (gifted)
Les raisons de l'achat : I have a black bucket hat from &OtherStories since 2019 and it has served me well but I blame it for collecting dust very easily. When I saw this one, I saw the difference in quality and its gingham lining adds a little twist.
My daily use : I used it a lot this summer during my walks in Belle-île, Dijon or La Clusaz and it does the job well. It doesn't catch dust and fulfills its role as a space-saving sun protector.
My assessment
I brought quite a few things into my wardrobe last year (the lockdowns and lack of opportunity to go out helped quite a bit too, so it's not a big feat) and I've planned to do the same this year. In fact, I don't think I'm missing much adding up things in my wardrobe.
I have in my wishlist a khaki hooded parka (without fur) with a simple and warm design for winter (which would be a winter equivalent of my spring oilskins when it rains= so practical not to carry an umbrella!) : I've been looking for one for several years but I have never found one that meets all my criteria.
I also aim to find a vintage Hawaiian shirt: again, relatively simple colorful patterns that could match my wardrobe, to be worn with flowing pants and a hat in summer. I didn't launch an active search but I have these two targets in mind.
I am delighted in any case to have succeeded in moderating my acquisitions for a few years: It's up to you to tell me if you are in the same spirit: Out of curiosity, how many clothes (and accessories) did you add in your wardrobe last year and are you satisfied with them? (English translation by Quiterie)