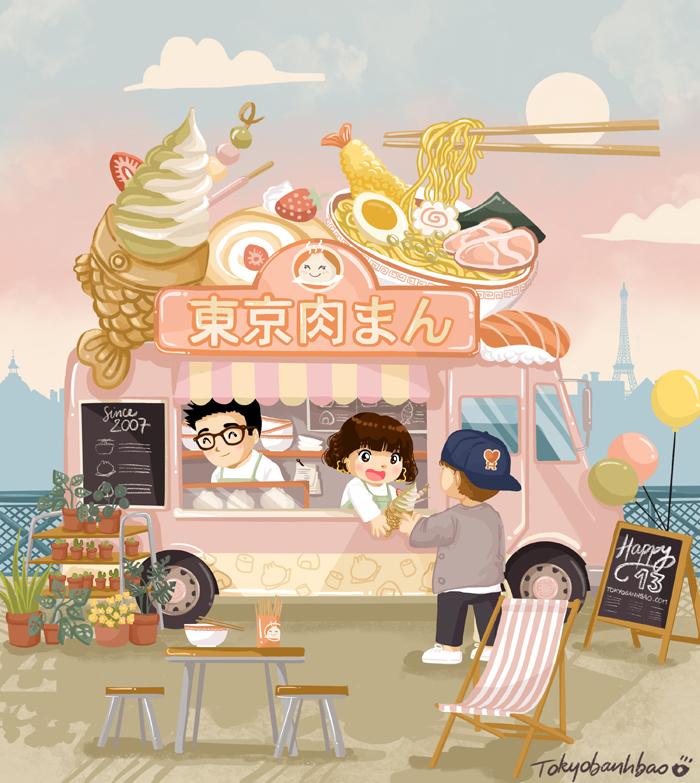 Year after year, when I see the 25th of May on my calendar, I have a smile on my face… I don't really celebrate it every year but I always remember this day of 2007 when I had the idea to start a blog « to see », just because I thought it was a great idea to chat with people from around the world, and also because I was bored of writing long comments on other fashion blogs (Balibulle or Punky B for instance) and that I needed a new space to express myself and create.
Social networks didn't exist at that time (but MSN did !), it was the time when the only way to communicate with you was the comment area below. Honestly, I would have never thought that I could be writing you here 13 years later… Some of you have been following me since the very beginning, some of you later on and other just found out about this blog : I grew up and got older with most of you, while sharing my passions and this sounds just crazy.
We read quite often this enthusiasm in blogger interviews and I won't be original because, yes, this blog changed my life (human relationships, life-experiences…). I've kept doing what I like and I don't regret anything.
A lucky charm blog

But why should we expound on this anniversary, this particular year? Maybe because this year I also turned 40 and 13 is traditionally known as a lucky number and the blog has been a lucky charm for the past 13 years. I've changed since the beginning (stylistically/physically speaking, it's the more obvious), my aspirations and concerns as well, but I think I've remained loyal to my initial desire : being sincere and enjoy every single time.
With this article, I will rewind these past 13 years to sum up the best (and the worst), even though I didn't transfer all the archives on this blog that officially started in 2008. As I told you I don't regret anything : all these years have contributed to be what I am today and I hope I'll keep being in touch with you here or elsewhere the coming years. I don't know where it'll take me but it will always be a pleasure to write and share here, I'll keep doing it.
To laugh and see the all the changes over these past 13 years, here is a selection of my best souvenirs and funny looks/hairstyles year after year. There would have so many things to say, but here is an overview (if you want to go more into details, you can freely read everything from the beginning!). I assume all of it, ahah!
And eventually, to be even more cheesy, it's time to say THANK YOU from the bottom of my heart, it's also thanks to YOU, or it wouldn't be the same at all <3
2007:

Best memory : The first time I met Alix (I wasn't showing yet my face on the blog!) but here is a collector picture of that day.
THE look : I was in love with the dress I was wearing that day, purchased during my first trip to Japan.

2008 :
Best memory : My trip to the United States
THE look : Everything in this look is everything I wouldn't wear today! (A skirt transformed to a scarf (!), a saroual pant, a fluffy cardigan and this manga inspired haircut) but it makes me smile.
2009 :
2010:
Best memory : My first comic book "Serial shoppeuse" published (the theme is at the extreme opposite of my today's convictions) but it will remain in my memory forever, for the work I had done, the emotions I had felt, especially during the book fair or signing session in the French book stores once again with you! … and beside, one thing that just changed my life, the surgery of my myopic vision I told you about here and there.
THE look : it goes in every direction (Pirate boots obsession) but, despite of this I met Ewan so whatever!
2011:
Best memory :Being a one-day model for Jean-Paul Gaultier as part of an ambassador program with (among others) Stéphanie and Pauline and this fabulous trip with the JPG team to Montreal.
THE look :The quest to the perfect perfecto marked the beginning of this year, my style was getting slowly more simple (I said slowly) and here is a look that I don't think I would wear today but I still have two pieces (the breton shirt and the perfecto) and I still love them a lot.
2012:
Best memory : My second comic book "Globe-trotteuses" released (and once again some signing sessions across the country with you <3) and this day spent with my favorite band Keane
THE look : I finally (sadly) purchased the pair of platform sneakers from Isabel Marant, to create this look (=sneakers still in my cellar) but I still got this fashion challenge in London with international bloggers that you probably know.
2013:
Best memory : A year full of travels : Seoul then a gataway to the Thai paradise, then a second time to the USA… and a lot of good moments with my friend Lionel, met a year before, by luck while working.
THE look : I (finally) gave up this spiky haircut to keep my hair more natural.
2014:
2015:
Best memory : My fall trip to Japan (again!) that made me discover another face of this country and this collaboration with Swarovski that was the starting point of a love story with Christmas.
THE look : My hair longer than ever got cut short (with my style more and more simple : Alleluia !)
2016:
2017:
Best memory : the backstage of the 25th anniversary of the Disneyland Paris' parade and a trip to Bali that made me think more deeply about my consumption and priorities (we refined/transformed our apartment that year)
THE look : My outfit style and my haircut got closer to my ideal minimalism.
2018:
Best memory :My winter trip to Japan under the snow, my British road-trip and one of the most beautiful collaboration I've done during these 13 years for Kenzo. They gave me a full carte blanche to work with a great team (at Beaubourg and for this video)
THE look : Simple, with pieces I've already got in my closet, and only a few newbies, such as this look in the middle of an exhibition of Tadao Ando.
2019:
Best memory : My roadtrip to Japan (that I actually haven't finished to tell you about) and all the concerts (Take That, Spice Girls in London, Backstreet Boys, Keane, Marina, Little Mix, the Lollapalooza festival…) and a perfect cosy Christmas season.
THE look : only a few newbies in my closet and simple looks, easy to wear.
2020:
I hope you enjoyed this retrospective : at least it will show me how I've changed (like a Pokemon evolution ?) and I really hope we will share more experiences together in the coming years (… with or without walker?). (English translation by Quiterie)