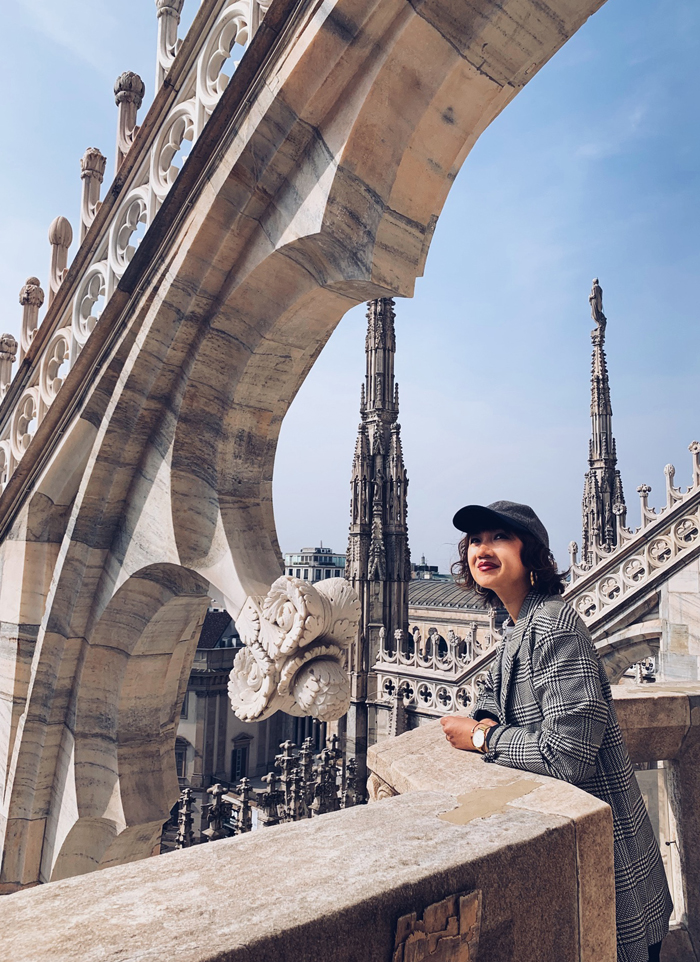 Having just returned from a romantic break in Milan, I wanted to gather all the info and tips here on my blog rather than on Instagram, so that you can rely on a permanent post if you also decide to go there for a few days. I'll definitely post some bonus video clips on Instagram but I'm still sticking to our space here.
Preparing your stay in Milan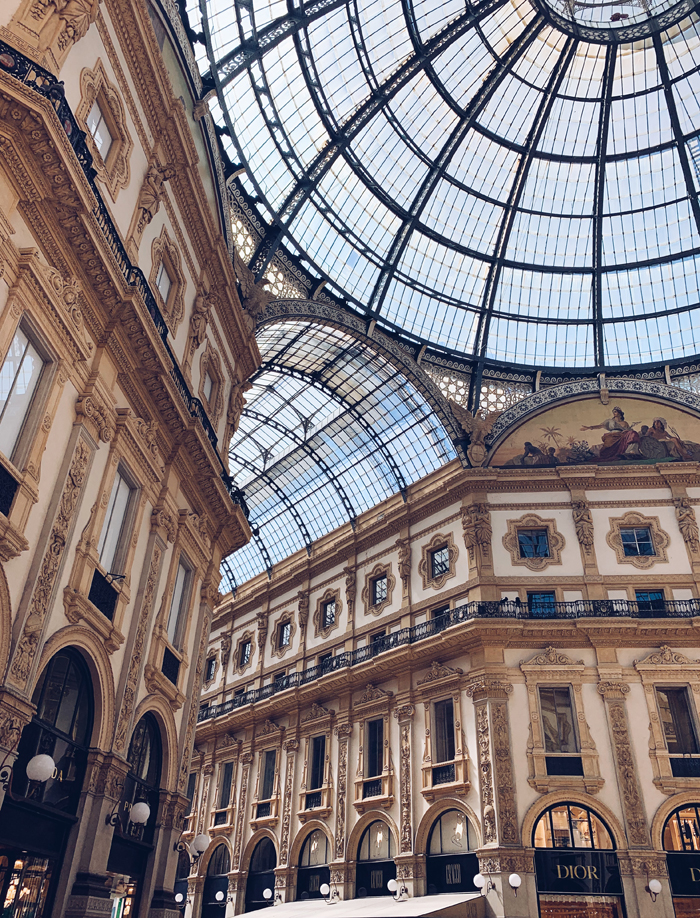 Once again, I won't detail my stay in a logbook way by telling every day spent there but rather in a synthetic way (well, in a way of speaking… because the article will certainly be quite detailed) by referencing what I could visit or eat there, all sprinkled with a few tips to make your stay successful. It's up to you to pick out what interests you in order to prepare your stay!
I hadn't prepared much before our departure except asking for some recommendations via Instagram (which were very useful, thanks to you!) and receiving those from my friends (Thanks Jérémy and Hugo !) to visit Lake Como. Apart from that, we planned everything on the spot, depending on the weather, our pace and our motivation to visit this or that thing.
However, I advise you to book in advance on online ticketing services, the places you want to visit.
Getting to Milan
Milan can be reached in 1 hour and a half by plane. We deliberately chose to take the train (7 hours by TGV) to reach the Italian city, for ecological reasons (I was a bit sick of taking the plane for such a short stay).
Obviously, you have to take it easy: the travel time is much longer, but if you consider the time to get to the different airports and the time to check your luggage, there should only be a few hours difference.
If I had to do it again, I would take the train, even if we were delayed by 1h30 on the outward journey (=work on the tracks), which makes the journey even longer (and more tiring!) and loses more than half a day on the outward and return journeys… But if you want to limit your carbon footprint, the sacrifice is worth it!
I already had the opportunity to go to Milan for a day in 2012, invited by the brand Stefanel (I was miles away from asking myself questions about the ecological impact… Like what, we evolve in 10 years!) but I only had visited a little part of the city.
The advantage of the train is that the Milan station (Garibaldi) is relatively central, so you don't need to plan much transport (or even walk) to reach your accommodation in Milan. In short, it's up to you to decide what you prefer.
If you don't want to depend on the French TGV, there are also Italian Frecciarossa trains (thanks to Céline for the information) which offer more comfortable and punctual options.
Accomodation in Milan
We chose to stay in the Brera district and we didn't regret it! The area is central, very cute with lots of small shops and restaurants. Our hotel was the Milano Scala, which we booked based on price, reviews and location.
I always advise to check the prices on the hotel's website (it's often cheaper than on Booking.com). Here, good deal, there were special offers for 4 nights (we stayed from the 5th to the 9th of April) with breakfast and mini-bar included. There is a very nice terrace bar at the top of the hotel and the buffet breakfast is set to music with harp music. A bit kitschy but nice.
Getting around Milan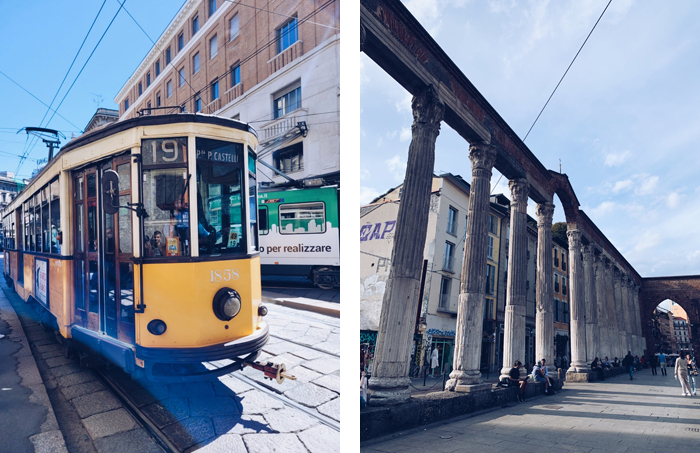 From our Brera neighbourhood, everything was relatively accessible on foot except for getting to the Prada Foundation and wandering around a bit further. That day we chose to take a day pass (€7) allowing to take the metro and tram unlimited for 24 hours.
There may be multi-day passes available: I confess I didn't look into it.
Visiting Milan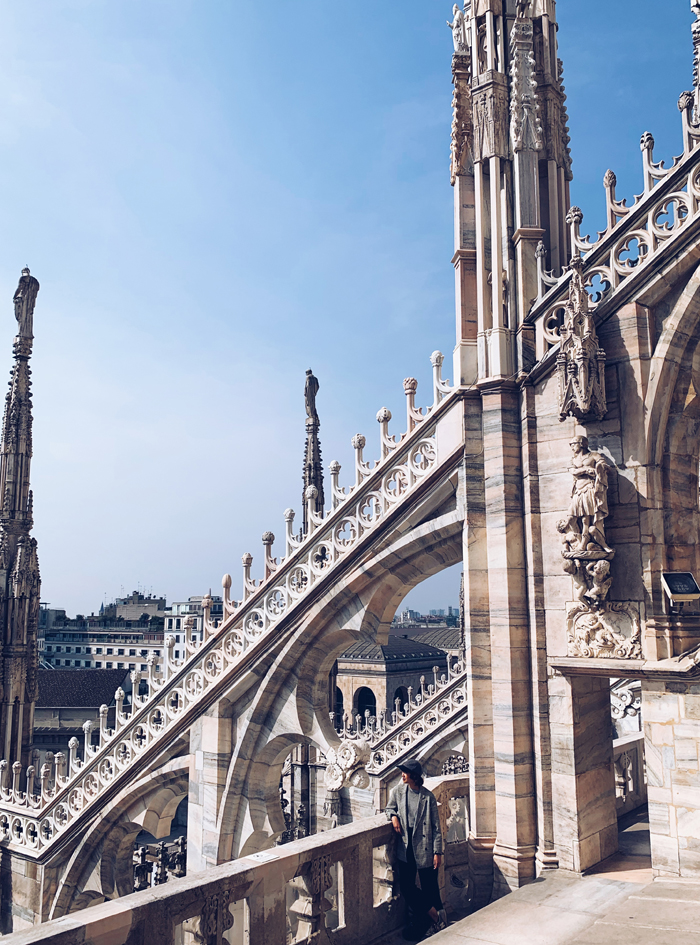 On the Duomo di Milano rooftops

Here is the list of what we visited. We didn't want to put pressure on ourselves by organizing a tight schedule of visits. We visited one or two points of interest per day so that we could enjoy cool walks through the streets of Milan or food breaks. The list will certainly not be complete but it will give you an idea.
THE DUOMO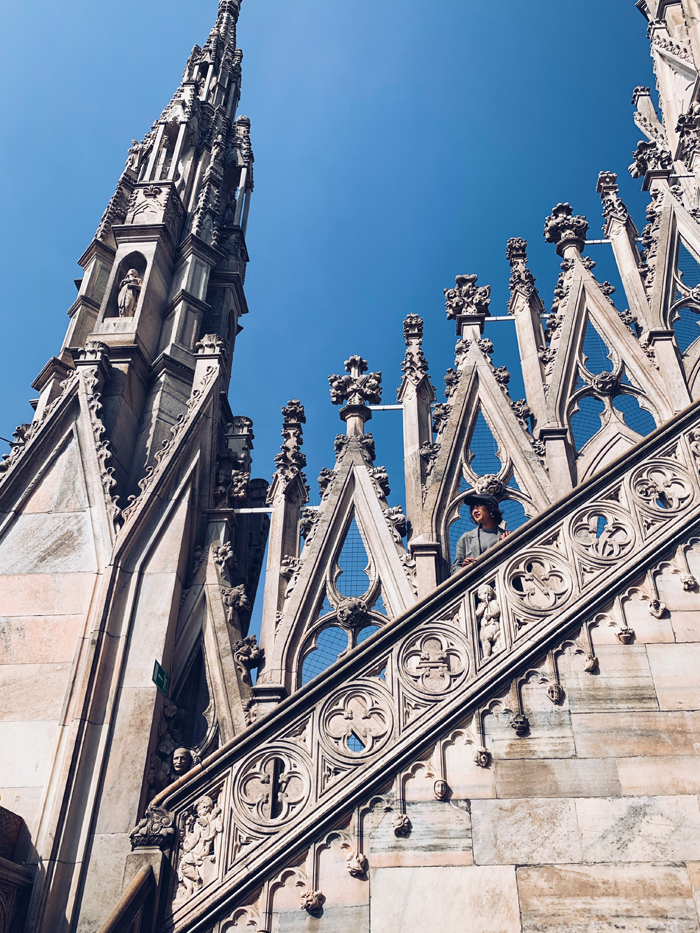 This 14th century cathedral (=3rd largest church in the world) is impossible to miss. We booked the entrance tickets a day before on this website (beware, if you are in high season, plan more in advance) by choosing the Duomo Pass lift giving access to the cathedral, the roofs (via the lift), the Duomo museum and the archaeological area under the cathedral.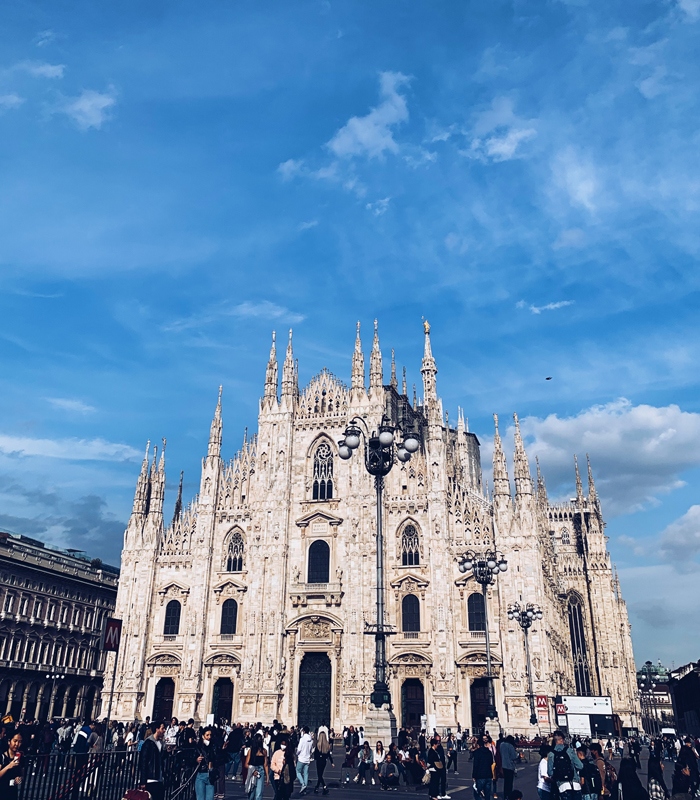 I had read that the stairs were narrow and windowless so there was little point in choosing this option (unless you wanted to tone your buttocks).
The museum and the archaeological area did not transcend us (if you like religious art, you will enjoy it more than we did) but we wanted to visit the interior of the cathedral as well, which forced us to choose this full pass.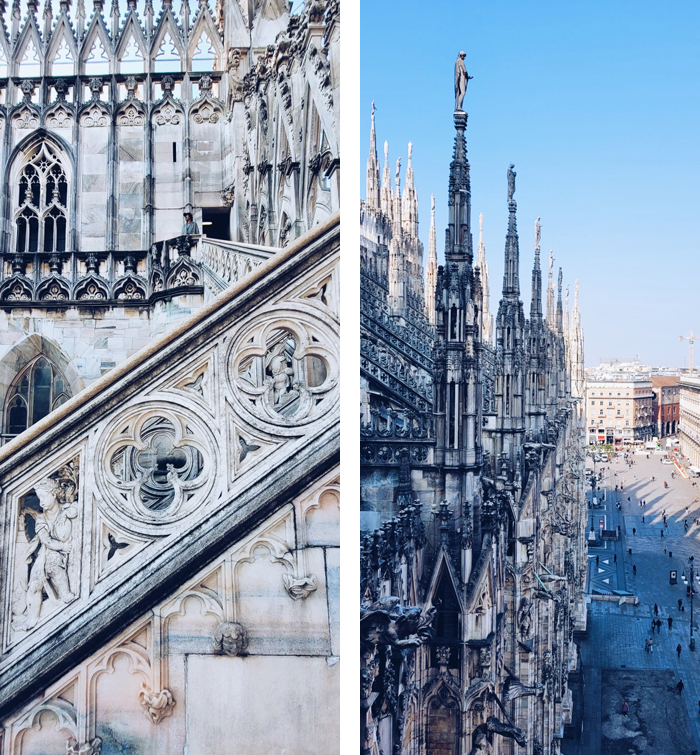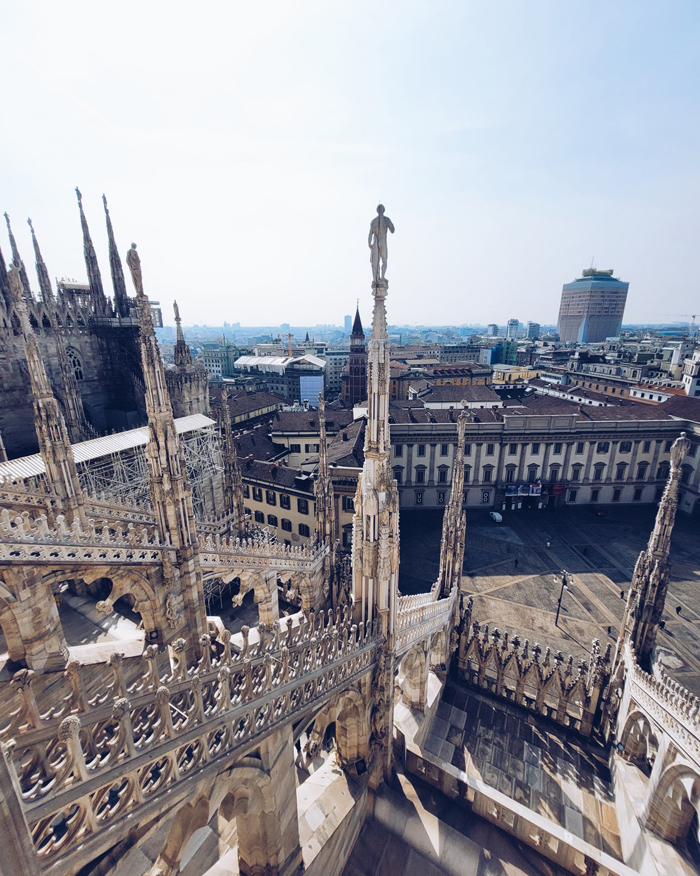 The main interest for me, however, was the visit to the roofs of the cathedral, which were grandiose and had fascinating architectural details… not to mention the view of the Piazza Duomo. We had booked the 9:30am slot: it was perfect as it was not very crowded. If you are motivated, I encourage you to book for earlier, you will be even more quiet.
GALLERIA VITTORIO EMMANUELE II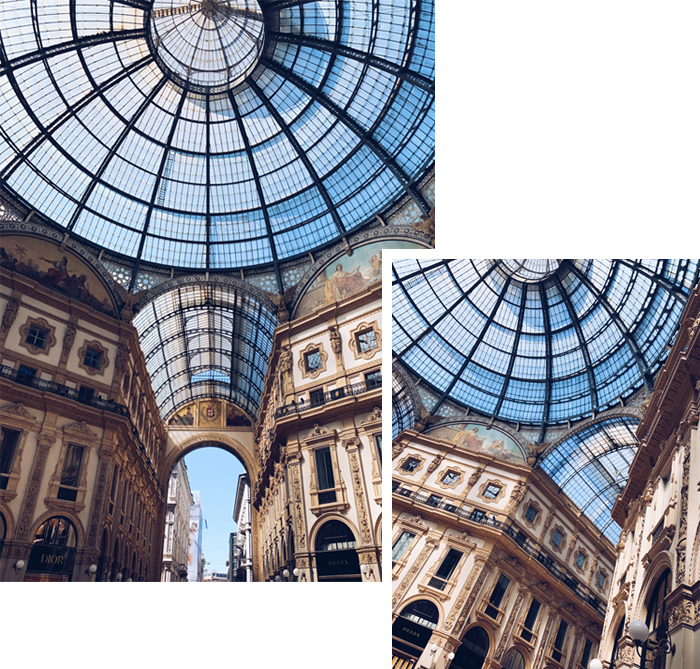 This prestigious 19th century shopping gallery is a jewel. It contains luxury brand boutiques and cafés/restaurants. You cannot miss it if you are going to the Duomo (well, it depends on where you're from).
For good luck, don't forget to go to the bull mosaic on the floor, put your right foot on the animal's genitals and turn around 3 times.
MUSEO DEL NOVECENTO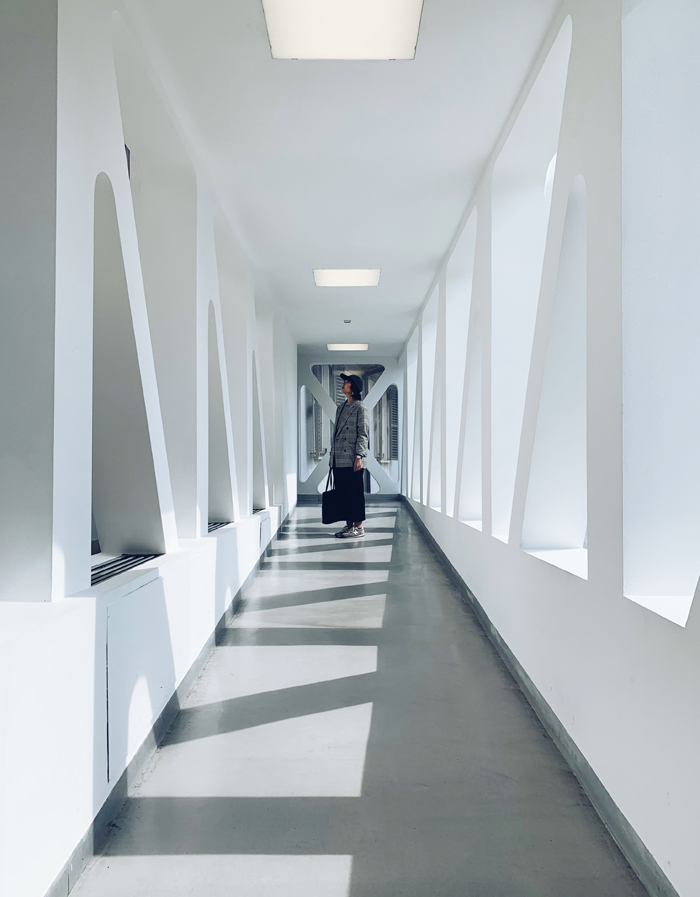 Located next to the Duomo, this multi-storey museum is dedicated to 20th century art with mainly a collection of works by Italian artists (and some foreign ones like Braque or Kandinsky).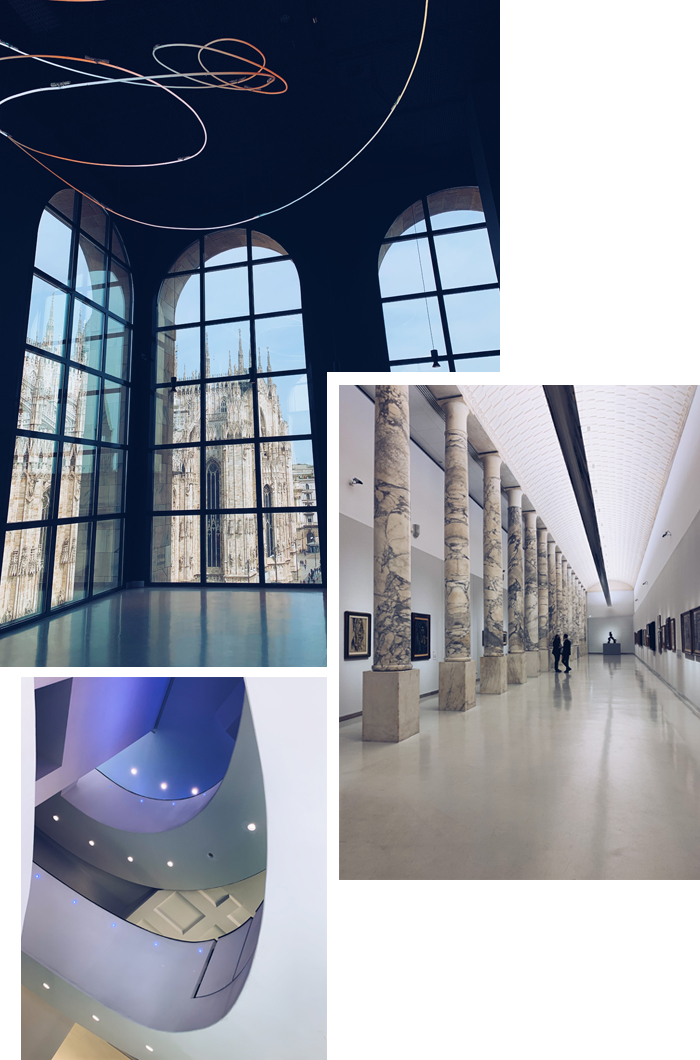 The museum was designed by architects Fabio Fornasari and Italo Rota
I enjoyed the visit (quite a few "interactive" works) and was happy to discover again the "split" and "spatialist" works of Lucio Fontana.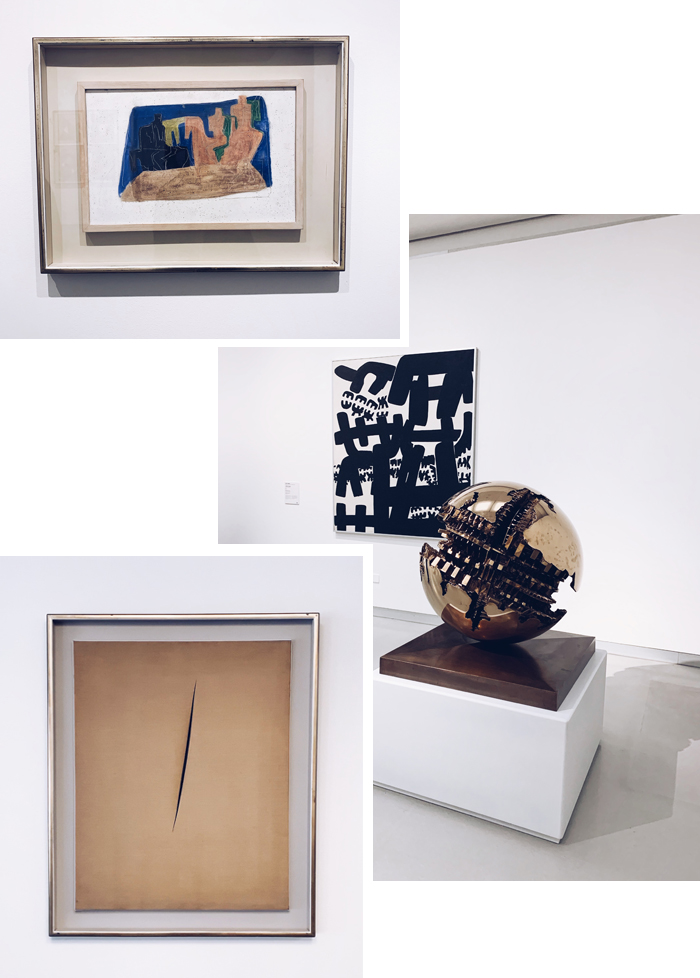 Art from  Lucio Fontana and Arnaldo Pomodoro
CASTLE OF THE SFORZA
We just entered the courtyard and admired the architecture of this castle which was home to the Dukes of Milan. As we are not particularly sensitive to ancient art and were short of time, we did not visit the interior, but it is worth a visit.
PRADA FOUNDATION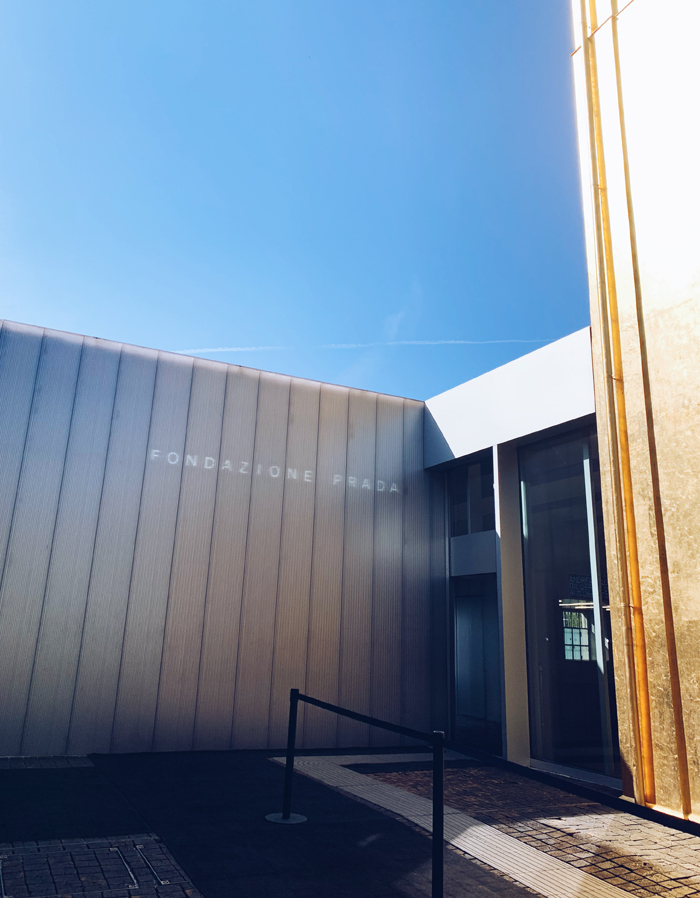 A former distillery rehabilitated into a contemporary art museum by Miuccia Prada and Patrizio Bertelli. We spent half a day exploring everything (several levels and buildings to see)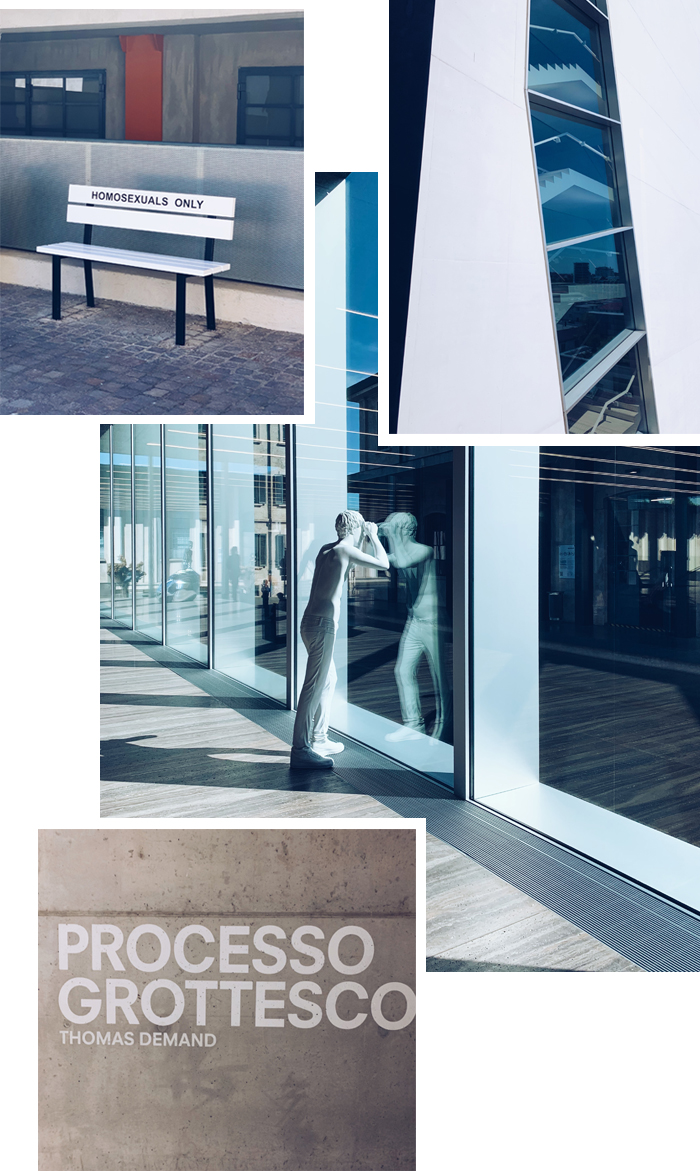 I really liked the variety of works present, from Louise Bourgeois, Jeff Koons, Carsten Höller to Jean-Luc Godard (=Still not very sensitive to his art, which I find too "offbeat", but I remain curious) and the "Useless bodies?" exhibition by Elmgreen & Dragset (until August 22 2022)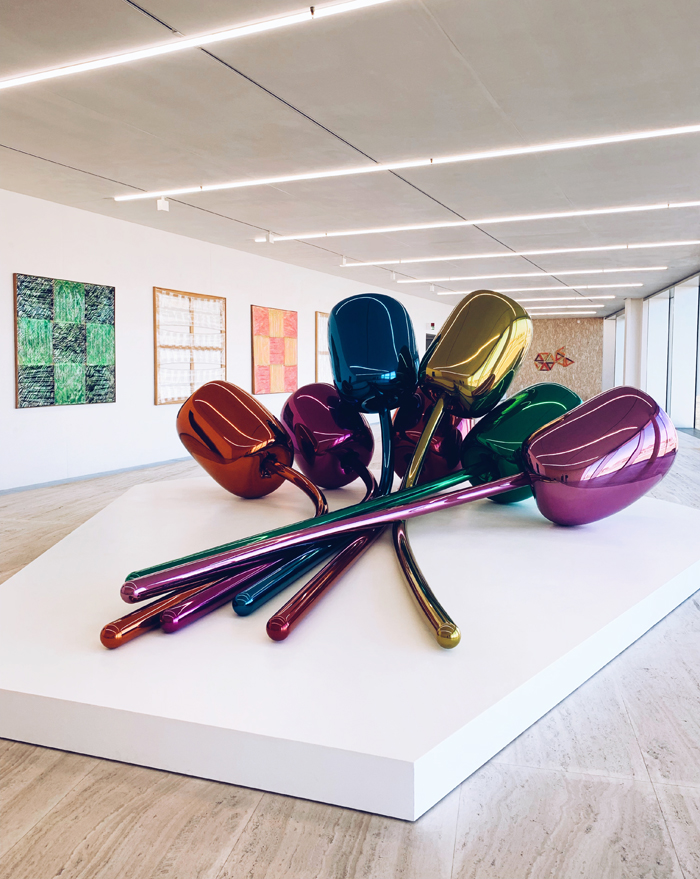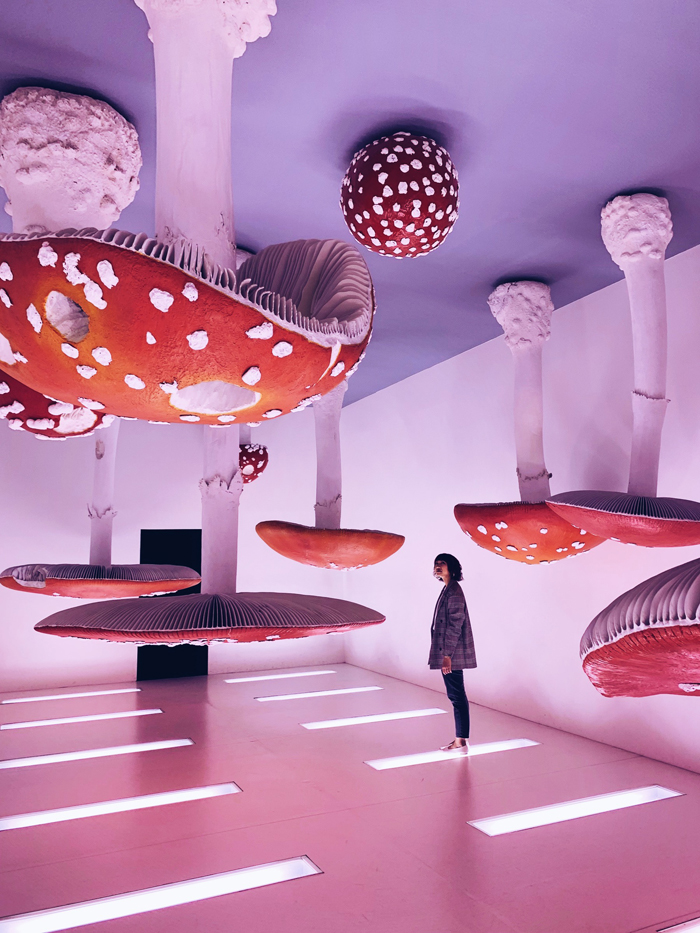 "Tulips" by Jeff Koons et "Upside Down Mushroom" by Carsten Höller
It is also within this place that the café designed by Wes Anderson is located (which I confess was my first motivation to visit the place): I will detail it more below in the gourmet part.
NAVIGLI QUARTER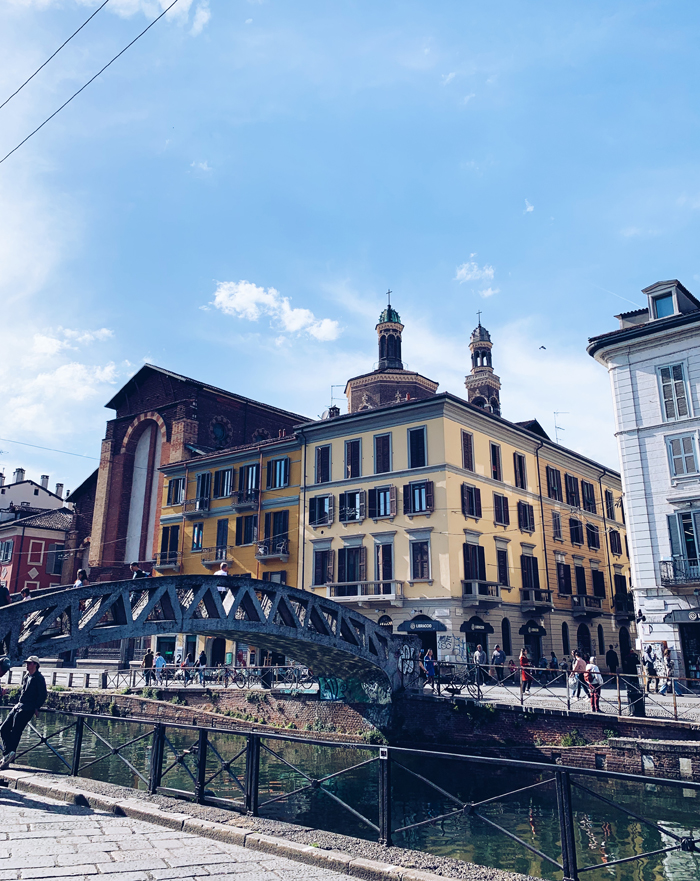 Walking along the canal at the end of the day was nice but I found the atmosphere too crowded with tourists (=shoppers asking us to come in for a drink or a meal) which didn't make us stay longer for the evening. Maybe we were in the wrong part of the canal?
OTHER VISIT IDEAS : Our tour was quite "piano" paced but I had identified other places to visit that we didn't see this time but maybe next time!
The last supper by Leonard de Vinci at Santa Maria delle Grazie church :This famous painting requires advance booking. No more slots available during our stay: Too bad for us!
The Monumental Cemetery : Many of you recommended it to us, but that's for next time too!
Parc Sempione
A day at Lake Como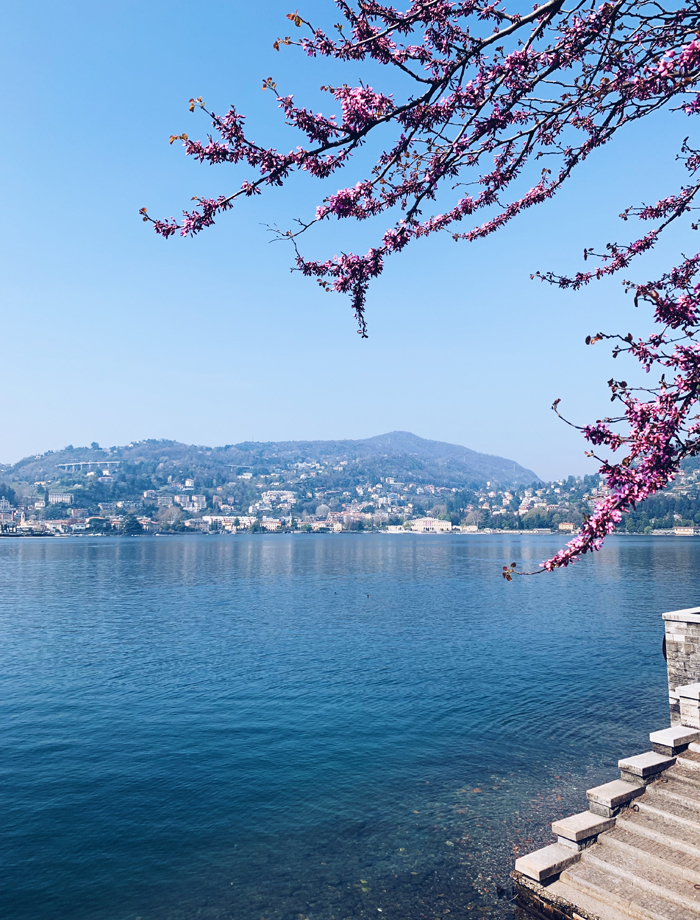 Ideally, we would have stayed there for several days and chosen a village by the lake to sleep in, but our timing was tight, so we only went to Lake Como for one day. It requires a bit of organisation, but it is quite feasible if you follow my advices:
Leave as early as possible by taking the train to "Como Lago" at the CADORNA TRIENNALE station (located not far from the Sforza castle): A train to Como runs every hour (every hour at …h43) and the last train back to Como-Milano is at about 9:16 pm (there is one every hour at …h16). (Note that the journey takes 1 hour and feel free to check the timetable locally or online)
Once you arrive at Como station, turn left at pier 4 to take the ferry to the desired village (2 options are available: Normal ferry which takes about 2 hours to reach Bellagio for example and a fast ferry which takes only 40 minutes): We chose the fast ferry, a little more expensive but more strategic for a day of visit.
Check the timetable here and choose the village(s) that might interest you, to plan your day calmly (we didn't do it and so our movements were a bit rushed and not very strategic)
Bring a little sweater/ scarf even if the weather is fine as the air is cool on the boat and on the banks of the lake.
EDIT(06/25/22) Pauline Darley and her boyfriend Maxime Stange, who have just returned from Lake Como, confirm that it is also convenient to reach the various villages by bus. So ask about the timetable if you choose this option.
Here is an overview of what we visited (We discovered on our way from Milan to Como that a scene from Star Wars had been filmed at Lake Como, which greatly influenced our choice of village!)
LENNO and the VILLA BALBIANELLO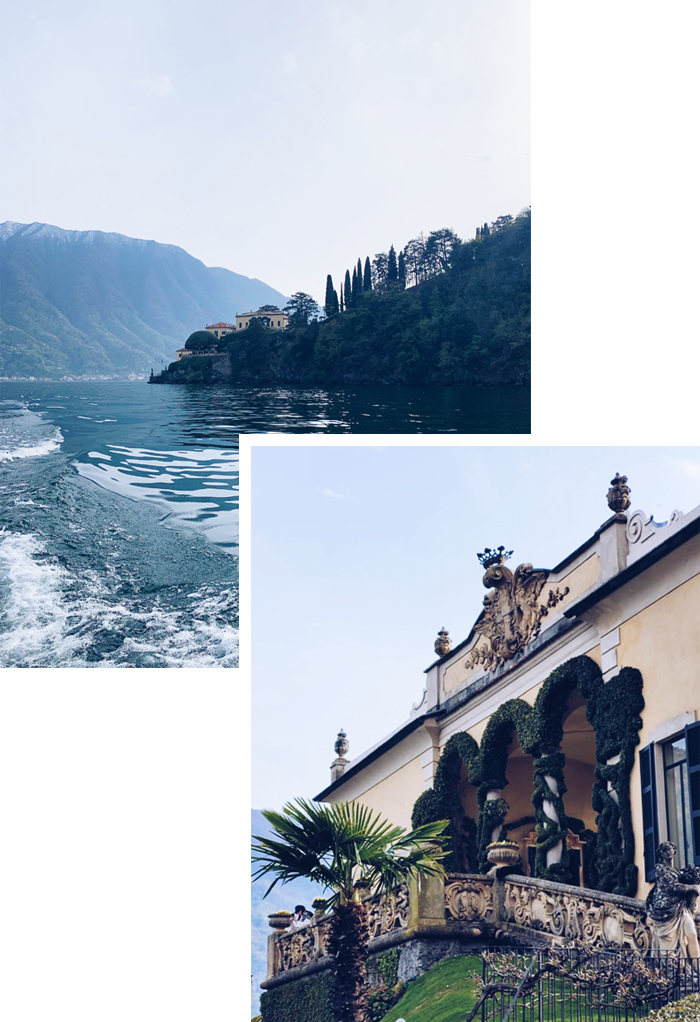 It is in this village and in particular this villa that Padmé and Anakin were secretly married (…well more precisely in Naboo, in the region of the lakes on the island of Varykino, if you are a Star Wars specialist (Episode 2 "Attack of the clones")).
The "Star Wars" of the Villa Balbienallo (Credits : Lucasfilm)

I wanted to immortalize the place with these pictures, of course ( You never know… if Obiwan shows up as a wedding witness).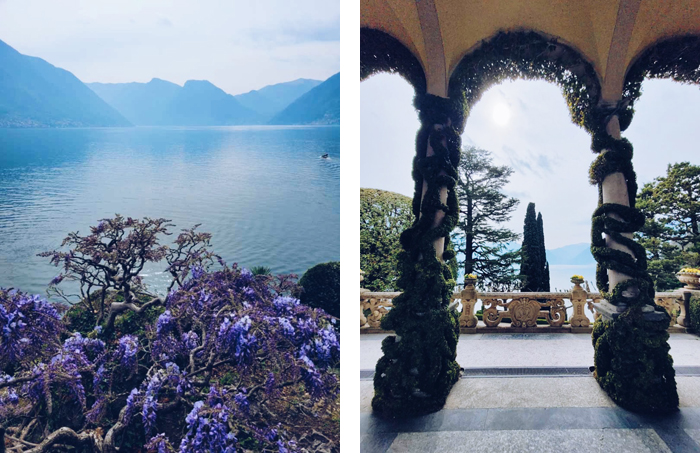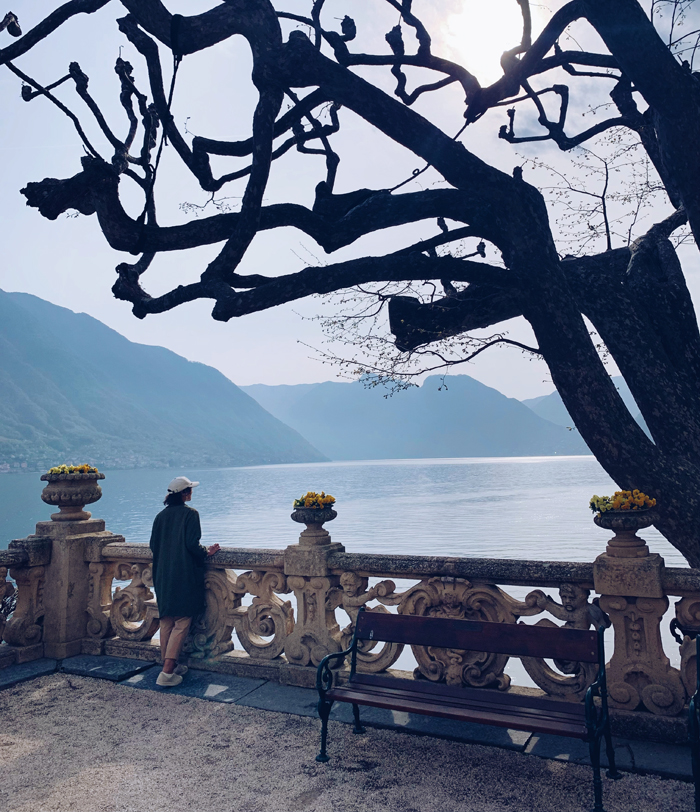 I, watching for the arrival of Obiwan Kenobi…
But it is also in this villa that a scene from James Bond's movie Casino Royale was shot. I'll let you judge the beauty of these gardens (the interior is also open to visits but we had taken the access to the garden only).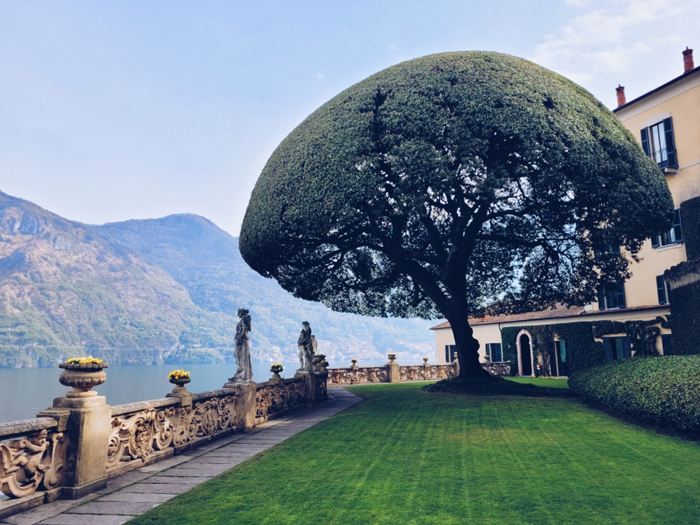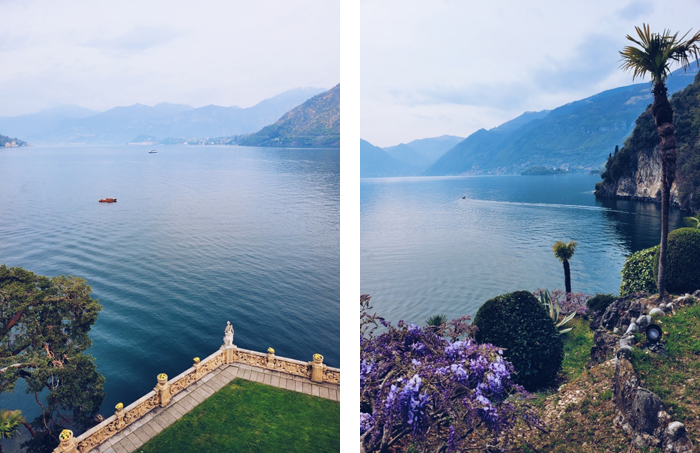 Villa Balbianello's gardens
If you want to optimize this visit, it is interesting to go to the villa Balbianello on foot once you disembark in Lenno (15 mn walk with a slight climb) and then return via private boat from the villa to the pier of Lenno to take the ferry back. James Bond atmosphere guaranteed! And this gives two different views of the villa.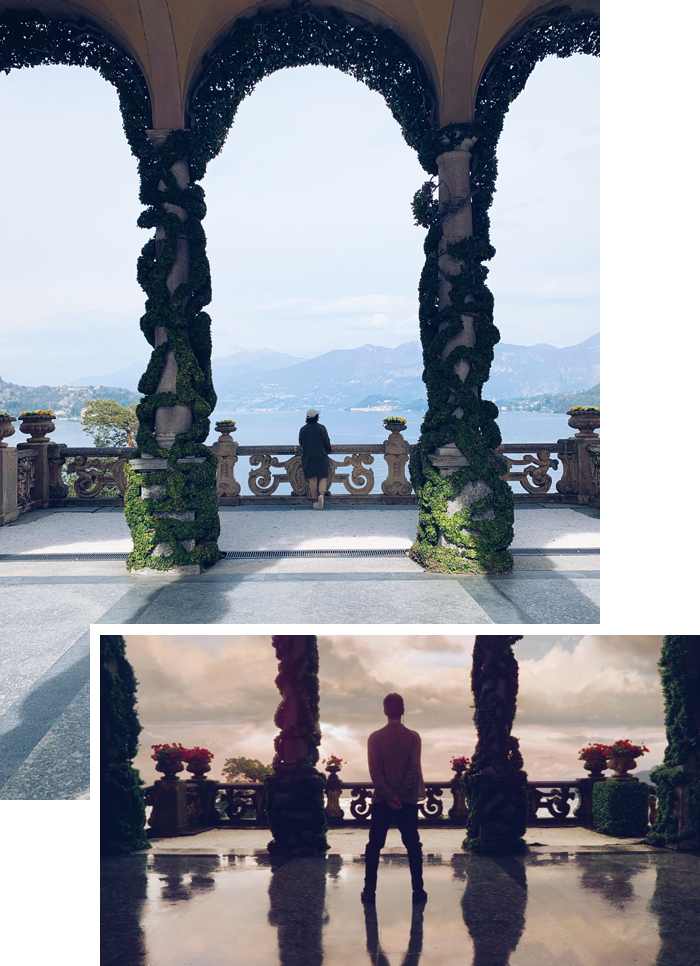 Landscape appreciation by two Padawans (credit photo : Lucasfilm)
Apart from this mythical place for Star Wars fans, we didn't have time to visit the village of Lenno but were able to taste its delicious ice cream parlour (see below).
BELLAGIO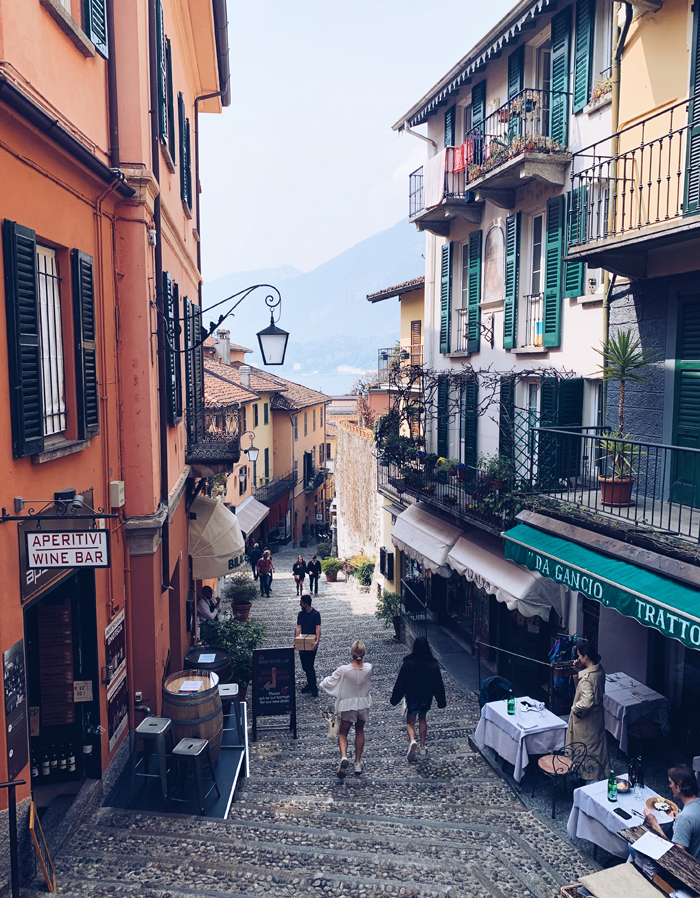 We only explored this charming village briefly and had a lunch break of arancini and pizza while sitting on a bench.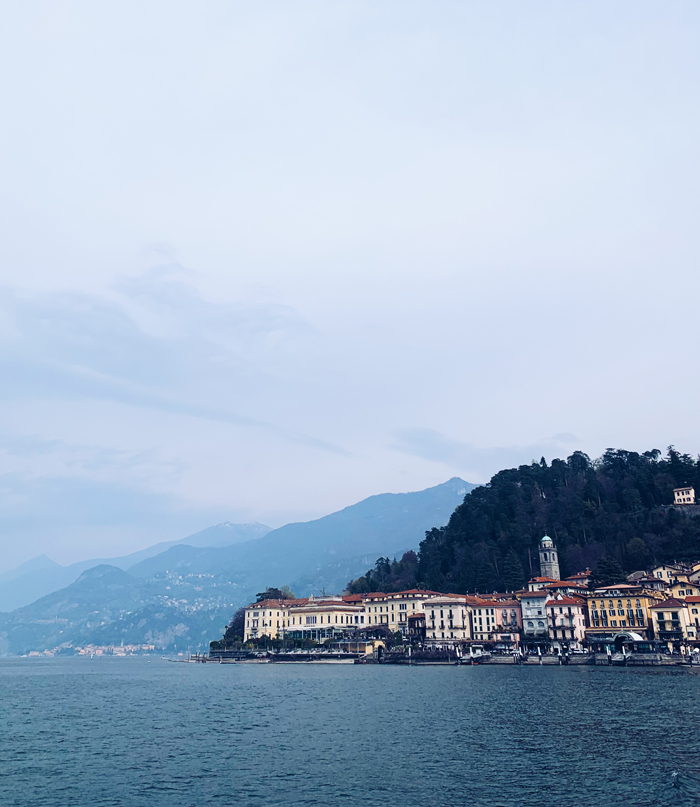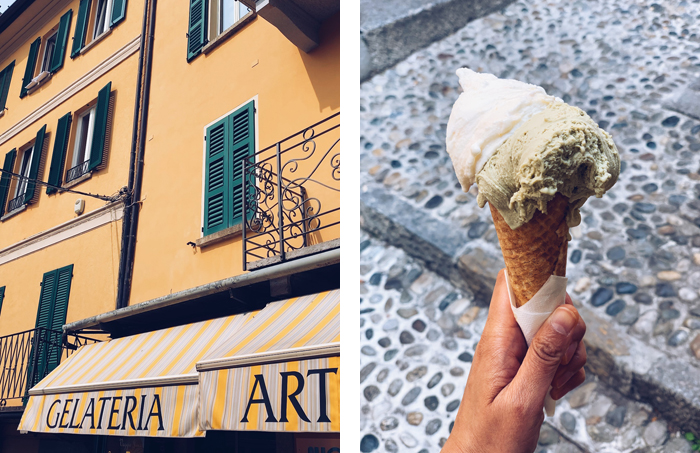 There is certainly more to explore but Bellagio was mainly a lunch stop for us (and ice cream = very important).
TREMEZZO : We didn't drop in on this village but on the ferry there was a very "The Grand Budapest Hotel" viewpoint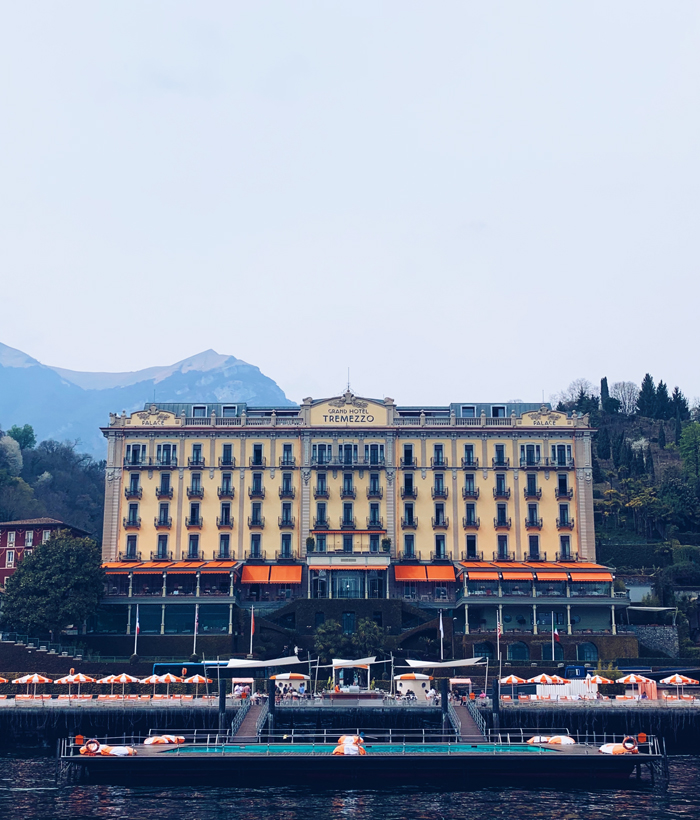 Grand Hotel Tremezzo
LA VILLA CARLOTTA : (seen from afar) The Villa Carlotta and its botanical garden seem to be admirable..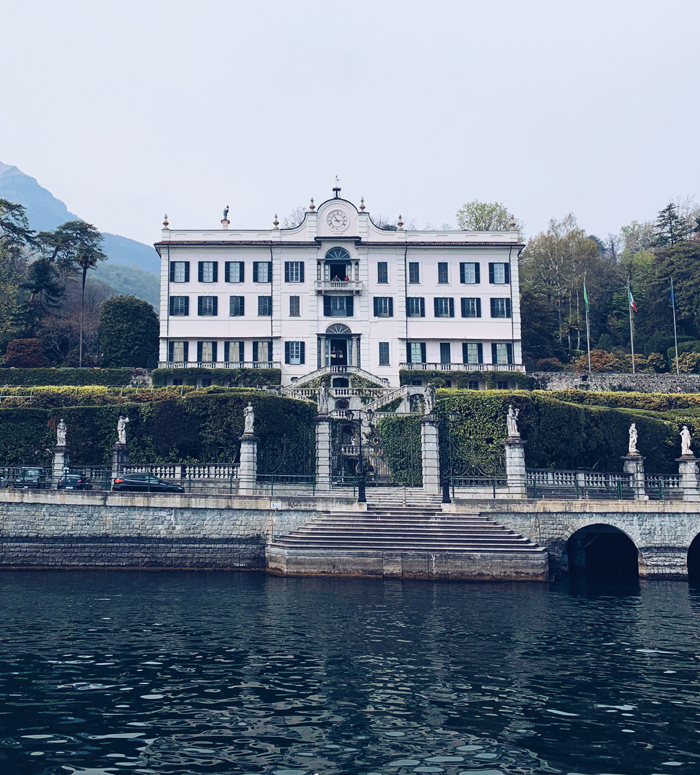 FABRICCA DEL GELATO (at Lenno) : Very good artisanal ice creams to taste after visiting Anakin and Padme in the Balbianello villa.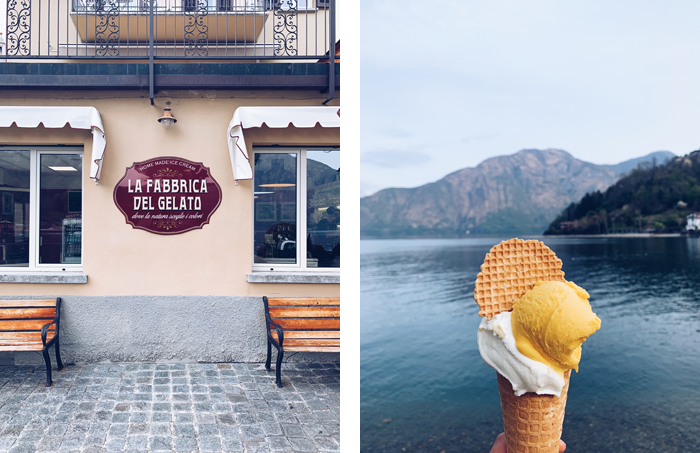 Mango and white chocolate gelato in front of the lake
My foodie addresses in Milan
BAR LUCE (in the PRADA FOUNDATION)
My big favourite of the stay because, as I said above, this café was designed by the director Wes Anderson (and you know my love for his work).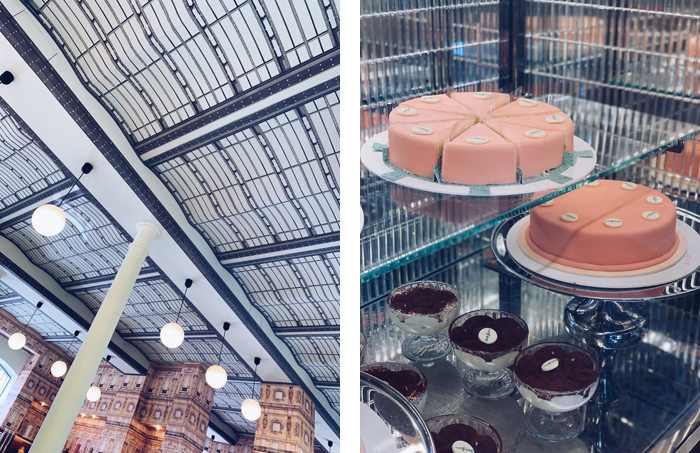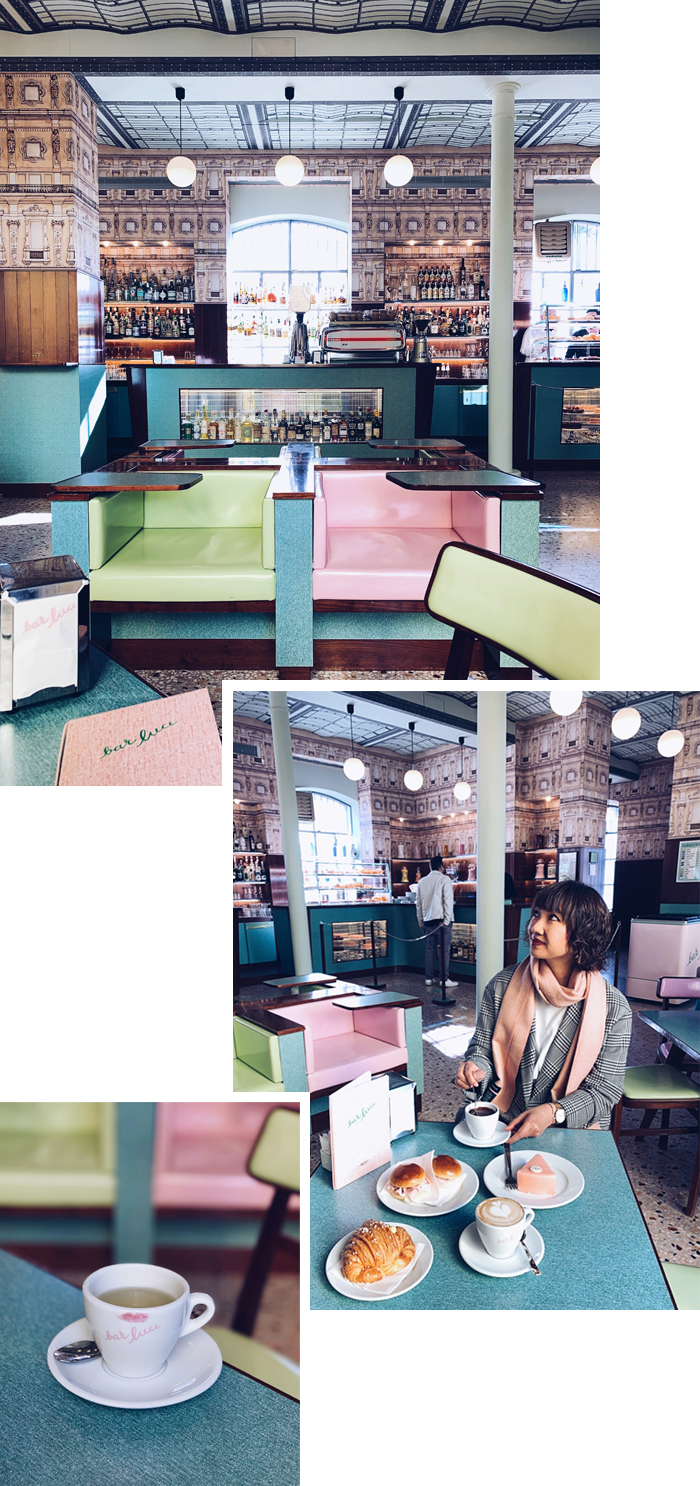 The place is not very big but we find the charm, the colours and the style of Wes Anderson. Sense of detail, harmony, retro atmosphere… even the toilets are nice!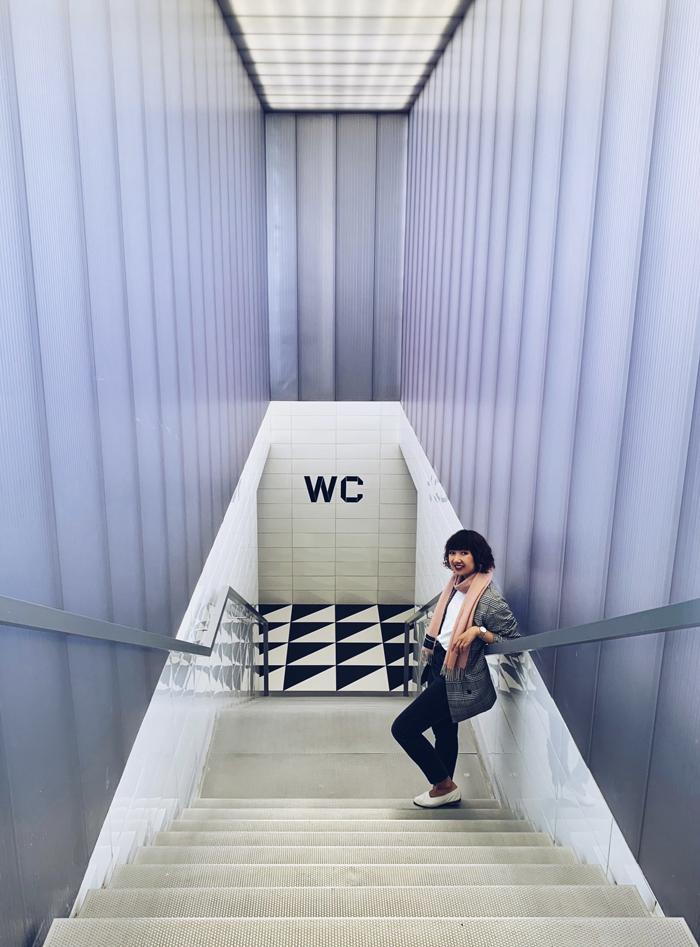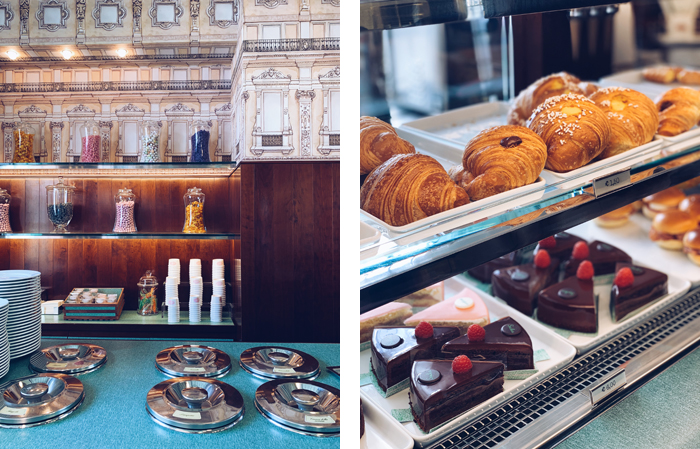 And what is even more amazing for such an Instagrammable place, is that the food is very good and the prices are reasonable (€1.50 to €2 for a pastry).
We went there for breakfast and enjoyed it so much (the filled croissants and hot chocolate are delicious) that we came back for lunch after our visit to the Prada Foundation.
The panini, bruschettas have original flavours. And a big crush for the chocolate pear tartlet, not very sweet and multi textured. In short, I was so taken with this place that I brought back a souvenir booklet with photos of the café.
SAVINI : Located in the Vittorio Emmanuele II tourist gallery, this ice cream parlour is next to the restaurant/café of the same name.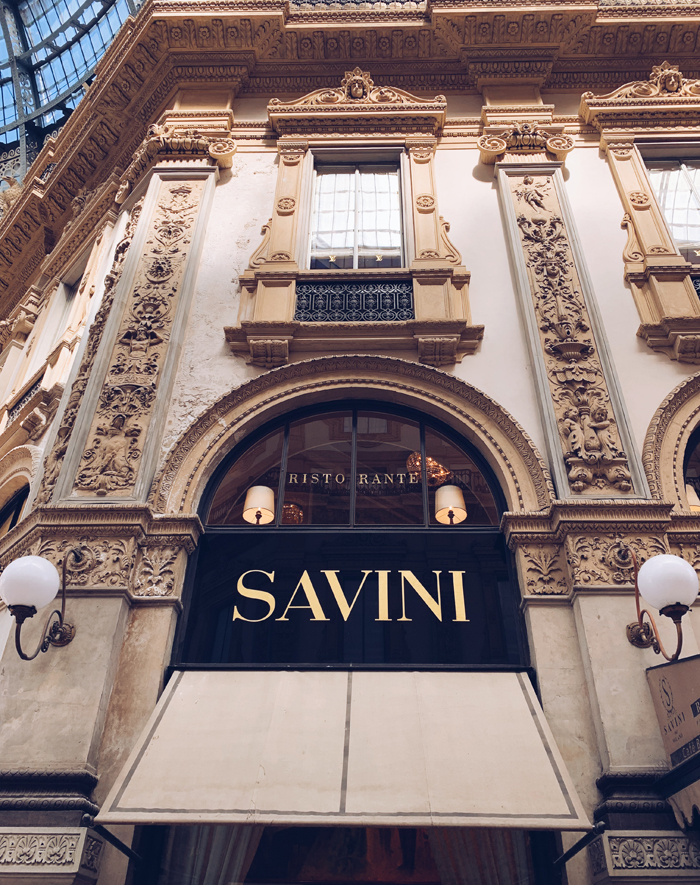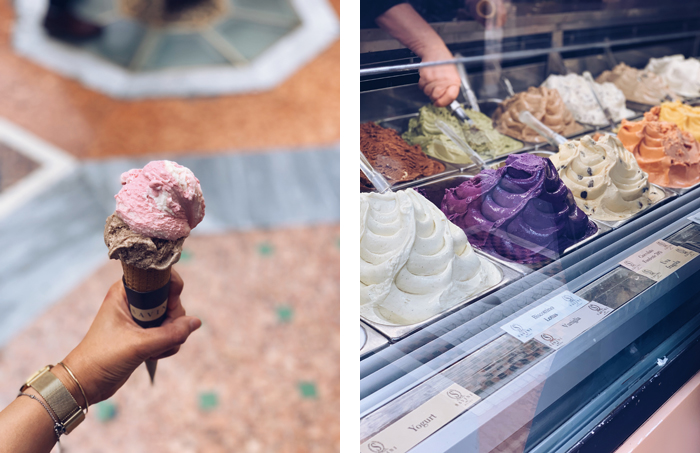 TERRAZZA APEROL (Galleria Vittorio Emanuele II) Be patient if you want to have a drink with a view of the Duomo as there may be a long queue in front. We waited about 30 minutes to enjoy this terrace where the spritz flows freely.
Given my low tolerance to alcohol, I was tempted by a non-alcoholic cocktail but the festive atmosphere and the breathtaking view are worth the diversions, even if it remains a nest of tourists (which we are).
PASTICCERIA MARCHESI 1824 (Galerie Vittorio Emmanuele II) This pastry shop is like an Italian Ladurée and is perfect for admiring the gallery through the glass of the tea room.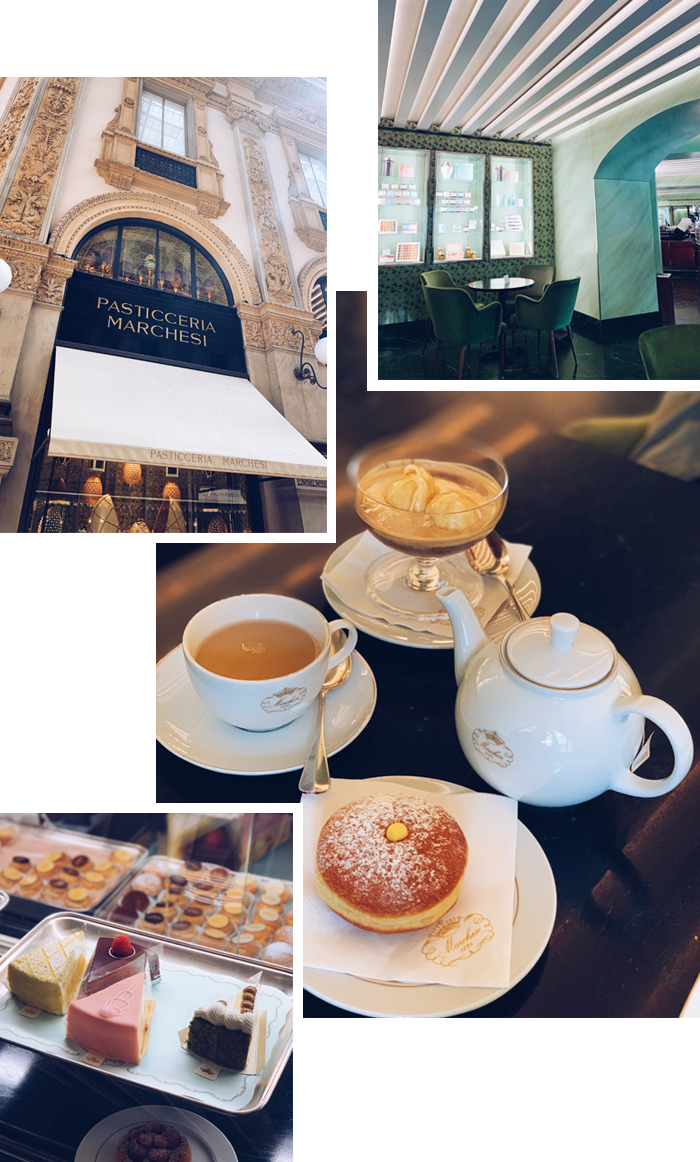 Affogato coffee and Bombolone
I tried the bombolone (Italian filled doughnut) which was soft and delicious at the same time: like a filled doughnut, only less fatty and more bouncy.
GIACOMO ARENGARIO (1,Via Guglielmo Marconi above the Museo del Novecento)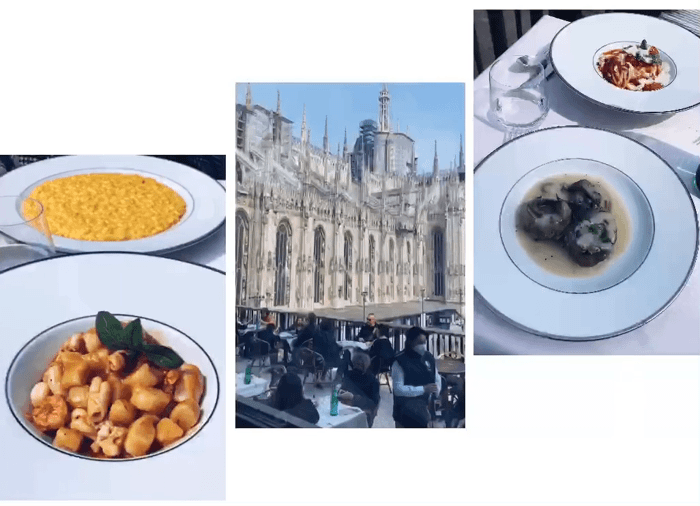 Gnocchetti alla Giacomo with lobster, Milanese Risotto with safrron, Garlic artichokes, Basil and tomato spaghetti

If you don't have the patience to wait at Terrazza Aperol, book a table on the terrace on the other side of the Plazza at this restaurant, located in the same building as the Novecento Museum, overlooking the Duomo. The food is decent (opt for the pasta and the Gnocchetti, which are more memorable) and the service very friendly.
LUINI (16, Via Santa Radegonda)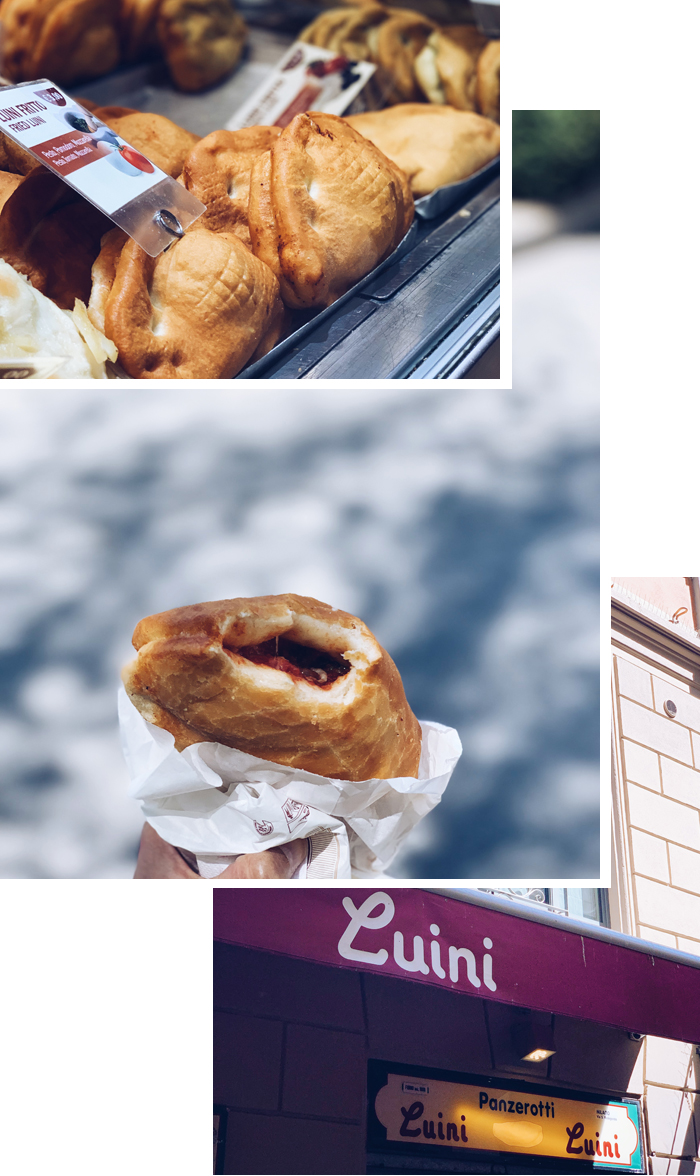 Panzerotto of the day : tomato, pesto and mozzarella
For a lunch on the go, go for the panzerotti at Luini! These are fried pizza dough turnovers filled with tomato, mozzarella or other gourmet fillings.
I would recommend fillings with tomato sauce inside, however, as the ham and cheese ones are a bit stuffy. And skip the sweet turnovers. I thought they were made with the same dough as the savoury turnovers, but it's not the case: they are actually very dry filled shortbread.
BUN (20, Via dell'Orso and other addresses in Milan)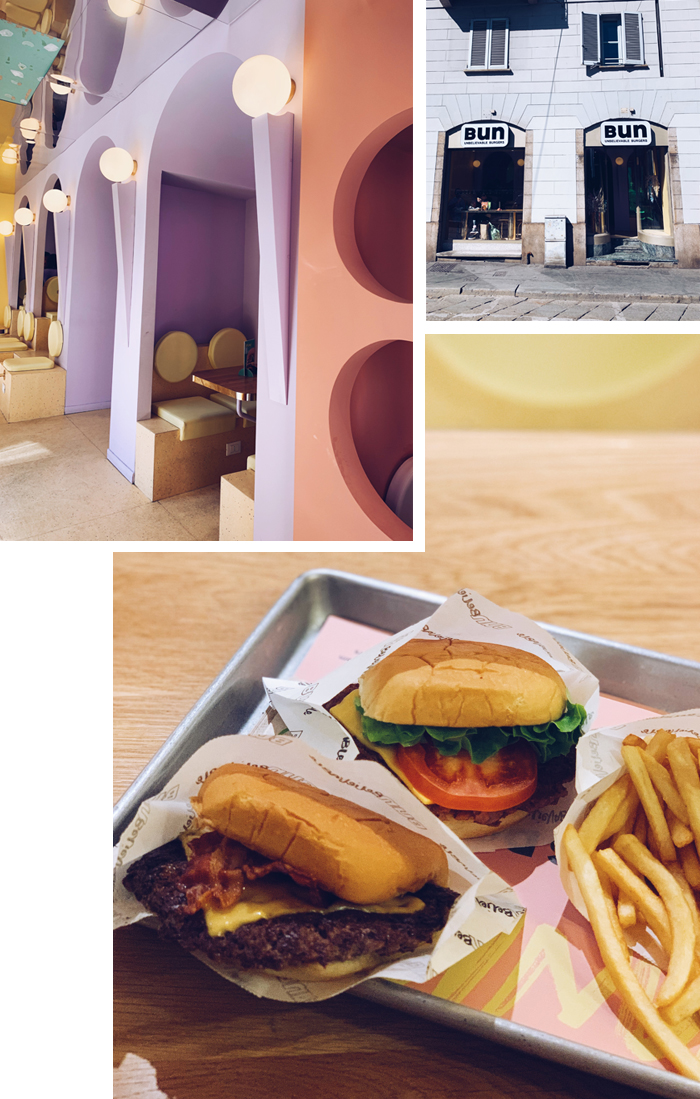 Classic steak Burger Crispy Smoke andCheeseburger with Beyond Meat vegetarian steak
If you want a change from Italian, here is a burger chain that offers vegetarian burgers (made with Beyond Meat steaks), of which there are several addresses in Milan. These burgers are described as "unbelievable". I wouldn't go so far as to call them that, but they're pretty good and served in a pleasant pastel-coloured decor.
OSAKA (Corso Garibaldi, 68)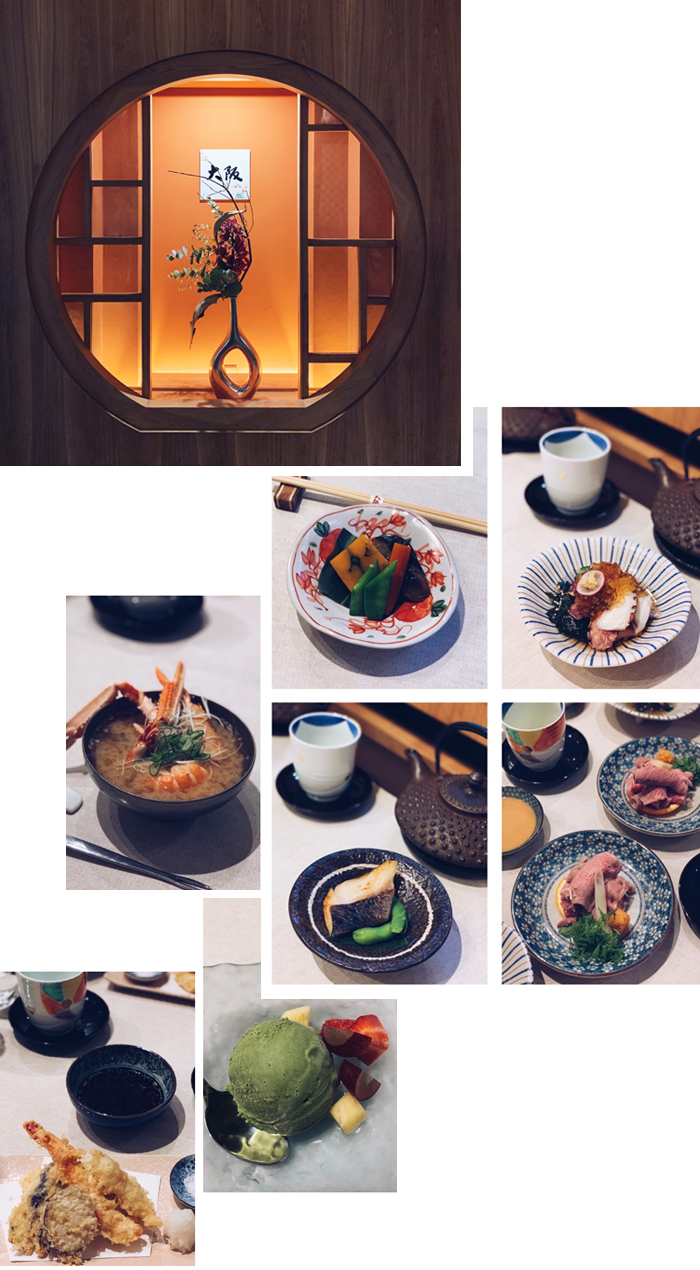 Kaiseki menu (including all you see above + the sushi below)
Not a typical Italian find at all but an authentic Japanese restaurant where we went twice during our stay: that says it all. We were tempted by the Kaiseki tasting menu and it was simply divine, just like in Japan!
From the amuse bouche, to the black code, the shabu shabu beef, to the perfect octopus, tempura and sushi, the special miso soup and matcha ice cream, this menu had it all.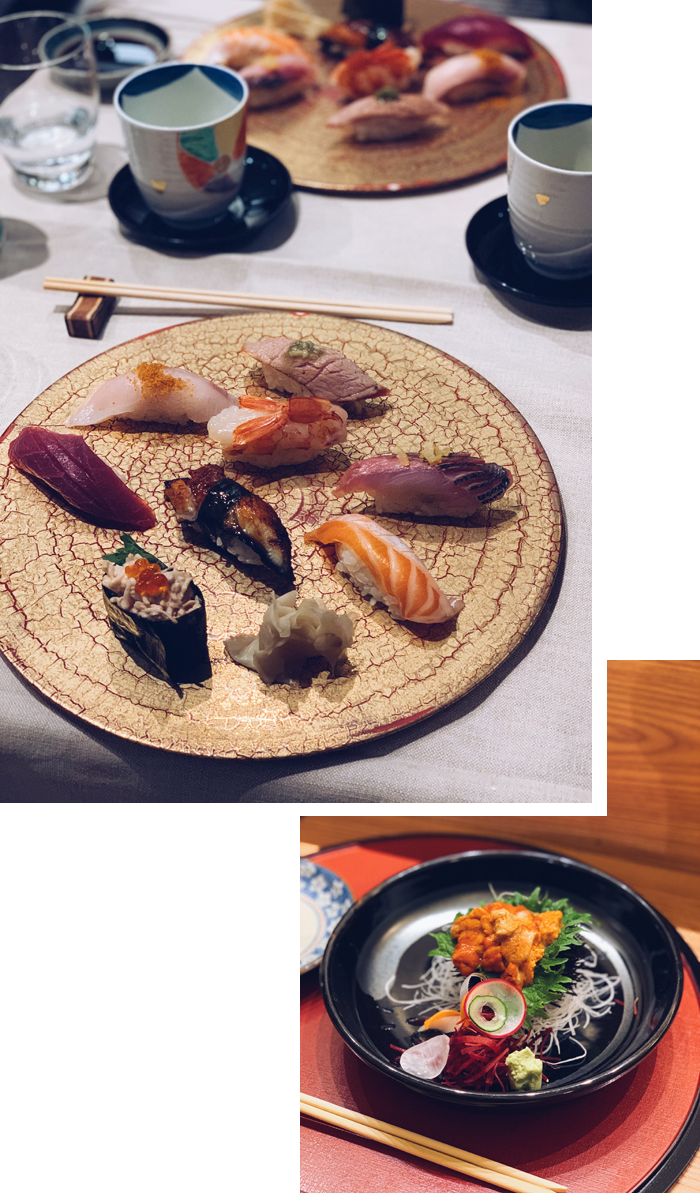 The delicious sushi from Kaiseki menu and uni (sea urchin) sashimi

The second time, we just had sea urchin sashimi and sushi, which was again delicious. A very good Japanese restaurant that I highly recommend.
OTHER INTERESSANT ADDRESSES (BUT NOT TESTED) :
Trattoria La Libera (21 Via Palermo)
Cantina Piemontese (2 Via Laghetto)
La Latteria (24 Via S. Marco)
Langosteria (10 Via savona)
I hope that this quick (but still quite extensive) guide will help you to concoct a tailor-made Milanese program, if you decide to visit this city that pleasantly surprised us.
Milan is often less appreciated than the more popular and romantic Rome, Venice and Florence, but I found it to have a distinguished and grandiose city charm. The proximity of Lake Como does not spoil anything. I can definitely see myself returning to visit this city in the future (by train!).
So I hope this article will help you to appreciate this city as we did during this beautiful sunny interlude (the extremely mild weather must have also influenced our opinion!).
PS : If the situation has not changed since this article was written, remember to bring FFP2 masks as they are mandatory in public places or on the italian train and on the boat at Como lake (English translation by Quiterie)