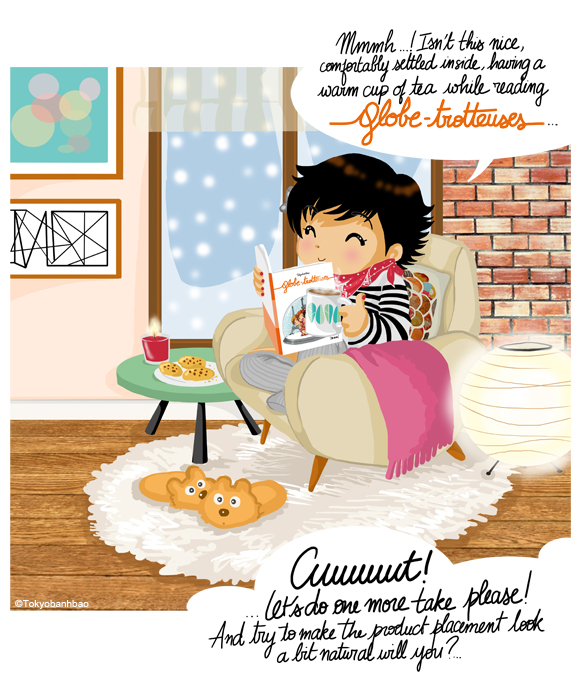 Today is the big day ! Globe-trotteuses, my second comic book is now in bookstores ! … I'm very excited, but probably more stressed out than for Serial Shoppeuse because the second time around, that feeling of a reckless leap into the unknown disappears. It's replaced by the desire of exceeding the previous book, as well as by a fear of disappointing. So basically, I'm freaked out.
The conception of this book was a tad more difficult. Serial Shoppeuse was a succession of shopping related gags, but here I wanted to create something different, but that would still remain connected to a theme that corresponds to me. As the title indicates, the book is about travelling, with a background story of rekindled childhood friendships. Which makes this second book all the more personal to me (=it's « the book of maturity » …. yeps, I had to fit that in somewhere !!!!), it mixes both self-experienced and fictional adventures and I tried to implicate myself in this one even more than I did in the first.
You witnessed my agony on the blog during these long, everlasting months of my hermit life in search of inspiration, of drawing unremittingly on my tablet, with the shutters closed when the sun was constantly shining brightly outside, inviting us all to enjoy a lemonade drink in a hammock (well ok, not constantly, since we did have an incredibly horrendous summer last year … but I do like to add a bit of drama to my story, to try and get a tear or two out of you all). In any case, THANK YOU for all your support via Facebook, Twitter or in the comments on this blog.
But let's get back to business, no matter the eventual difficulties, I really enjoyed creating this last book, and I hope that you will just as much enjoy reading it (not including the hermit life!). So for those of you that I'll see in a bit at the FNAC des Halles (at 3 PM) you can tell me about your first impressions and for the rest of you, I simply hope that it'll make you travel, and smile. If this should be the case, it'll be my biggest reward (Yes, I had to fit that in somewhere too !)
PS: Of course the famous « Serial Shoppeuse » action plan (remember ?) also applies to Globe Trotteuses. Except now it's going to be much more difficult to pretend to be reading 2 comic books in the subway (at some point you're going to have to start walking around with an Ikea bookshelf). But I'm confident: one's either crazy or isn't ! (English translation by Bleu Marine)
GLOBE-TROTTEUSES
Editions Paquet
96 pages, 9,50 euros
Available on Amazon