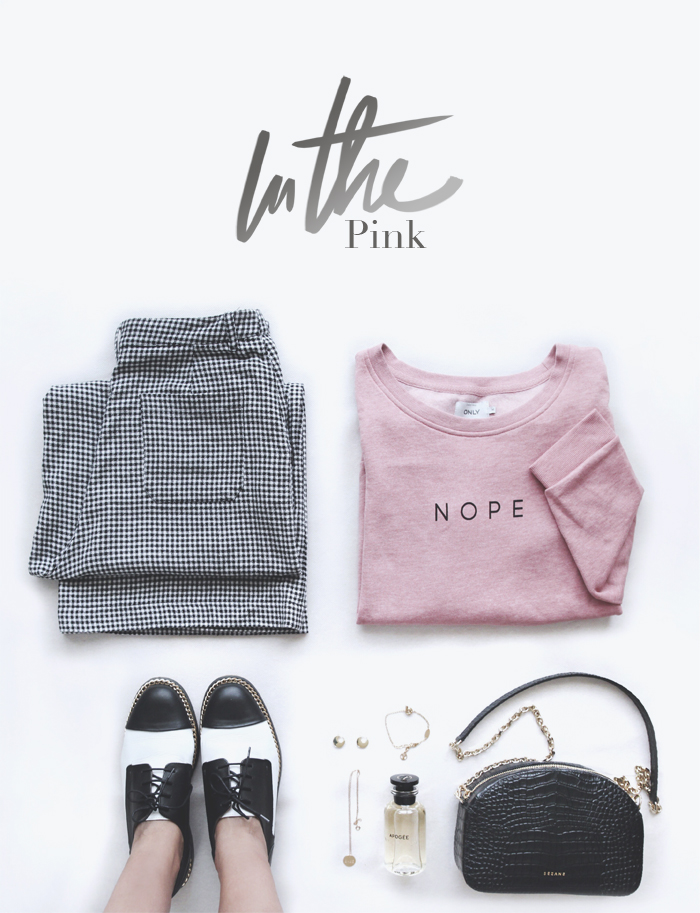 I hope you all started 2017 in the best possible way. On my part, after a farniente weekend in Lille, our trip back was actually completely chaos, with the unexepected arrival of fever and post-party digestive issues, which left me unable to leave bed for a while.
Even if I'm much better as I'm writing these lines, I didn't dare leave the house to get pictures of my looks. I have two looks to show you, but I decided to take pictures inside, where it was warm and toasty.
La vie en rose

So please forgive my absence on these pictures (you can see my feet, so it's proof I survived) – I'll be back when fully recovered.
I hope these options will inspire you (to be imagined with socks and a warm coat of course), I'm off to get as much vitamins in me as possible, in the hopes of being in the pink sometime soon. See you soon, in full health! (English translation by Marine)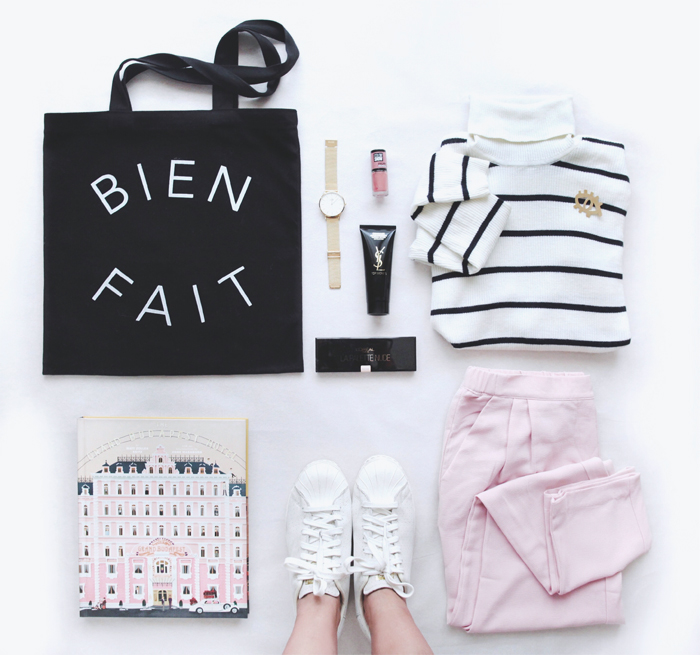 Look N°1 : Culottes Clo&Se / Sweatshirt Only (or in grey here) / Derbies Topshop (already seen here) / Personnalized necklace Minetta Jewellery / "Apogée" perfume Louis Vuitton / Earrings &Otherstories (Xmas gift from my Babe) / "LV & Me" bracelet Louis Vuitton / "Dean" bag  Sézane
Look N°2 : Tote bag Madewell (brought from the USA) / Watch Cluse / Face exfoliator "Top secrets" YSL / Nailpolish "Color Show 470 Runway Rose" Maybelline NY / Palette nude "Beige" L'Oréal Paris / Turtleneck jumper Muji (at the Men section size S) / "Eye" brooch Mya Bay / Book "The Grand Budapest Hotel" The Wes Anderson Collection / Sneakers "Superstar 80s Clean" Adidas (already seen here) / Pants La Redoute (already seen here)