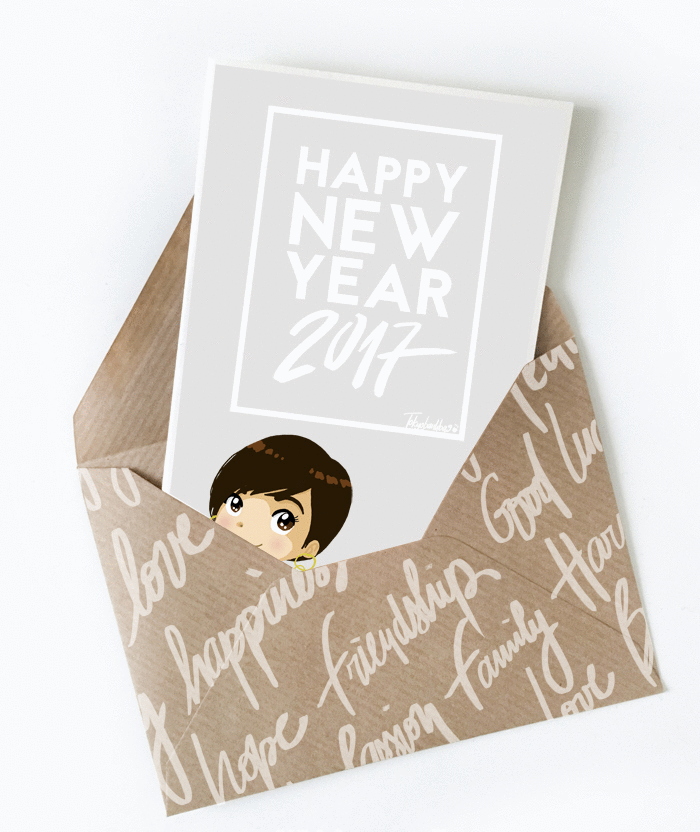 This year passed at a breakneck speed therefore it's already time to extend my warm Greetings for 2017!
I hope this new year will bring you happiness, love and serenity. I'm not the kind of persons who likes doing list of resolutions to start the year… simply because I don't want to put pressure on myself (and I never keep them anyway)!
So let's see what 2017 will reserve : meanwhile, a last glance at 2016 and my 17 best-of  (I liked the idea of doing it last year).
Happy New Year to all and thank you for following me these past 10 years (Yeess! 2017 will also be the 10th birthday of the blog!)
My 17 fav' from 2016

1. My best comfort/visual rendering/price ratio outfit: The one I was wearing here when the warmer weather started: a dress that resulted to a lot of compliments here and IRL. It seems that the simplest outfits are the most effective.
2. My beauty revelation: the eyelash extension which completely changed my eye-look and the way to do my eye make-up. I will try to prepare a quick sum-up soon.
3. My favourite photoshoot: actually there are 3! For the fangirl side, I would say this one and for the magical side, that one. But I think my real favourite remains this one, for its symbolism and the two amazing days we spent together to make the pictures.
4. The best team work: without hesitation this session.
5. My best pair of shoes: My Electra Repetto babies, a perfect alternative (less expensive) to the Tango Valentino.
6. My best change of scenery : Our road-trip in the USA (which I have to finish telling you) and our holidays in Thailand.
7. My most amazing night : this "Pre-Christmas dinner" with friends as much comforting as a real Christmas Eve.
8. My most beautiful Disney moments : the opportunity to stay at the mythic Disneyland Hotel during the launch of  "The forest of enchantment" new show, to share a frozen moment during the "Frozen Summer Fun" show and visit Disneyworld in Florida (I will tell you all about it soon!)
9. The most beautiful hotel I stayed at: I had the chance to discover a lot during 2016 but I think the most WOW was this one.
10. My favorite movie: "Me Before You", with the cute Sam Claflin and the sparkling Emilia Clarke, which I watched twice during my Paris-Miami flight and once during the NY-Paris flight. I shed a tear 3 times.
11. The illustration I loved creating: this map of my roadtrip in the USA, which took me a lot of time but the pleasure remained from the beginning to the end.
12. My favorite museum: The Rivau Castle for the dynamism of its exhibitions mixing contemporary and ancient art.
13. My favorite restaurant : Uma restaurant, a true revelation for my taste buds.
14. My most successful recipe: I didn't share much recipes on the blog in 2016 owing to time (I hope to catch this up in 2017!). So by default I would say this one (perfect in summer, yummy and healthy at the same time).
15. My most beautiful culinary experience: my meeting with the two experts in tea and pastry respectively: Kurush Barusha and Pierre Hermé during this tea pairing workshop.
16. My favourite blogs: in term of dressing style, I am more into simplicity and I loved discovering in 2016 the blog of Alexandra and also the blog of Brittany, two girls extremely inspiring.
17. My most shameful confession: here, but I keep slowly reading… hoping to be level in 2017! (English translation by Quiterie)