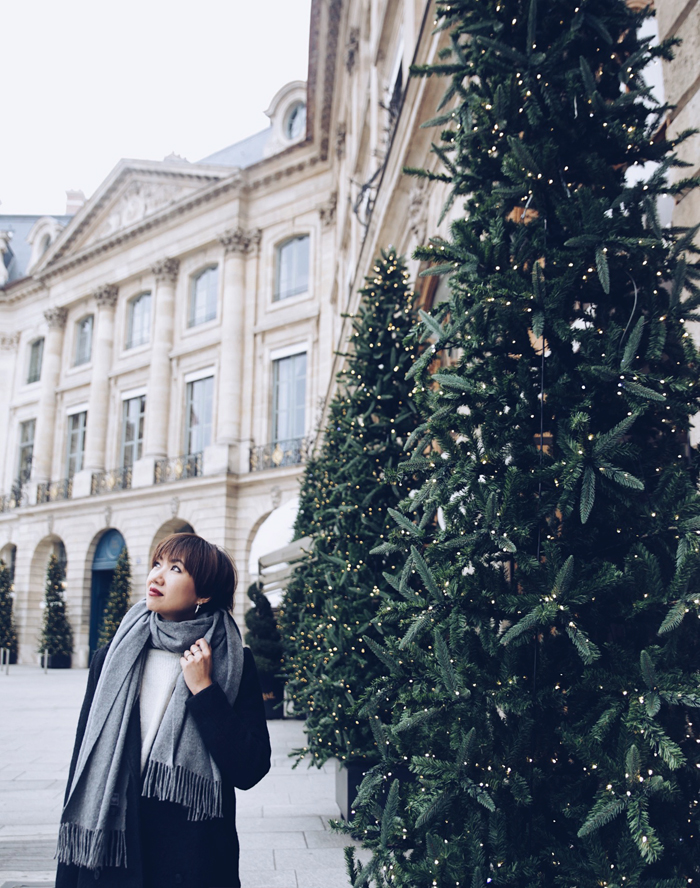 Here is a new "Five senses" article because the Christmas period, which is coming soon (one month to go!), is a good opportunity to use our five senses, isn't it? Be reassured, unlike all the decorations already out in the streets of Paris, my interior (not completely done) still doesn't have a Christmas tree.
However, I couldn't resist to this Christmas spirit with these few festive (or not) discoveries.
Smell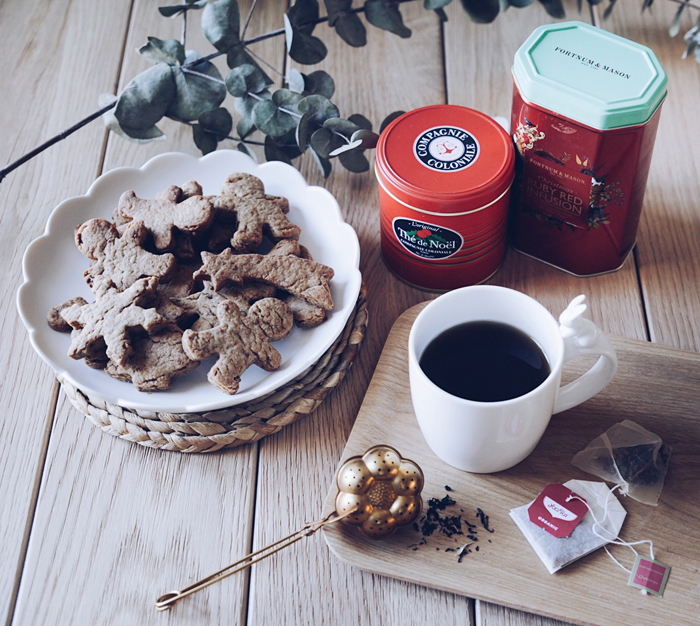 Plate Wear Lemonade x Monoprix
Seagrass trivet Serax
Tea infuser Rice
The most interesting thing to do during Christmas period is to stay home doing nothing, wearing huge socks on the sofa, drinking a hot tea while eating gingerbread biscuits and watching a romantic comedy. Here is a few teas and herbal teas I currently have in my cupboard:
Le thé de Noël from Compagnie coloniale : It's a gift from last year by my friend Lionel. Therefore on top of its cherry and almond smell it also has the smell of (nice) memories. However, it contains black tea so better to drink it in the morning.
Xmas Ruby Red infusion from Fortnum & Mason : It's not a tea but it's lightly sour herbal tea with a base of hibiscus, cloves and cinnamon. I am not sure we can find it in France as the shop is in London (this being said, I bought it at L'Appartement Sezane last year).
Christmas tea from Yogi Tea : an organic red Rooibos (caffeine free). With a lot of spices as all the Christmas drinks. I especially like the short mantras we can find on the tea bags. (Ah ! Marketing is powerful!).
Le thé blanc de Noël from Pascal Hamour : a tea brand served in luxury hotels (remember about Hôtels Barrière in Deauville), Pascal Hamour kind me asked me to try this Christmas tea, I will receive it soon. With ginger, cinnamon, apple, cardamom, cloves and vanilla notes, this organic white tea doesn't have caffeine neither. I will tell you more about it as soon as I will try it but it seems promising.
If you have other tea or Christmas herbal teas to advise me feel free to let me know (I told you, my senses are alert!)
Touch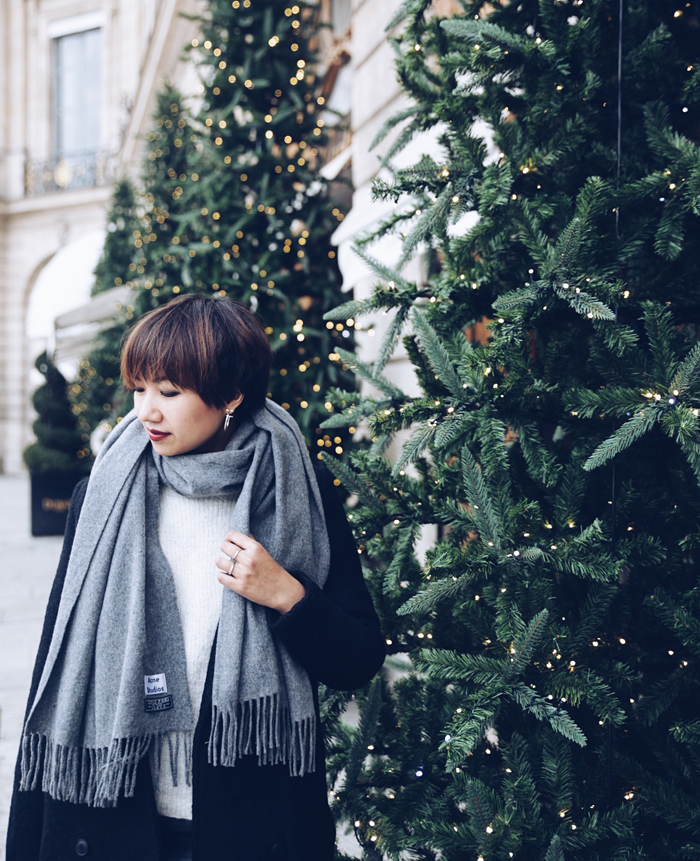 "Canada" Grey Melange scarf Acne Studios
Coat Samsøe Samsøe (-20%)

Still in my will to consume less and better, I decided to invest this year into this warm, timeless and qualitative scarf. The color doesn't get dirty easily and matches with most of my wardrobe.
I had seen quite a few people wearing it and after hearing positives feedbacks I decided to take the plunge this year.
As for now, it meets my expectations in terms of look, size and warmness. I chose the standard model instead of the narrow one because I wanted my neck to be well covered, and as you can see it does the job.
Sight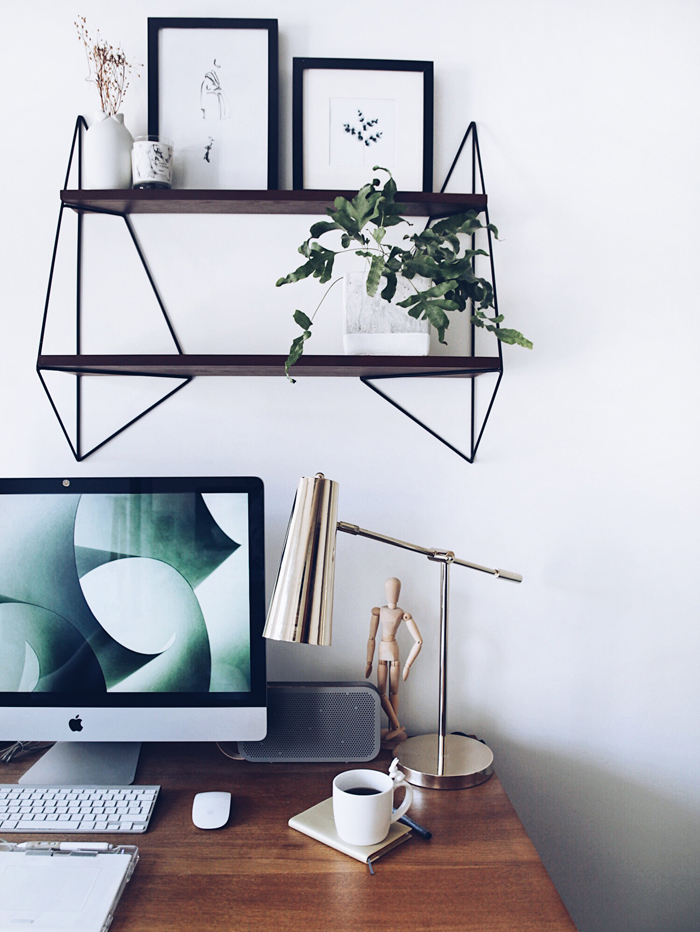 "Butterfly" shelves Serax
Lamp Bloomingville
Oak desk La Redoute Intérieurs (-28%)
Bluetooth speaker "B&O Play A2" Bang & Olufsen

The refurbishment of my apartment isn't progressing as fast as planned (we started working on it mid-august!) but some part are almost done, such as my desk.
I've always dreamed about a pretty and well organized desk: therefore the last few days I spent a lot of time to put things in order. It only misses a few accessories to tidy everything up but here is a preview (the other side of the desk isn't that perfectly clean to be totally honest!).
Once again I chose timeless furniture for a natural ambiance, more "adult" and more fluid. No more colorful kawaii stuffs..
As I spent most of my time in front of my desk, I needed a nice environment to change from what I have had till now (in other words a huge big mess). This new shelves will allow me to often change the decoration without touching the wall. How nice it is to work when everything is in order!
Hearing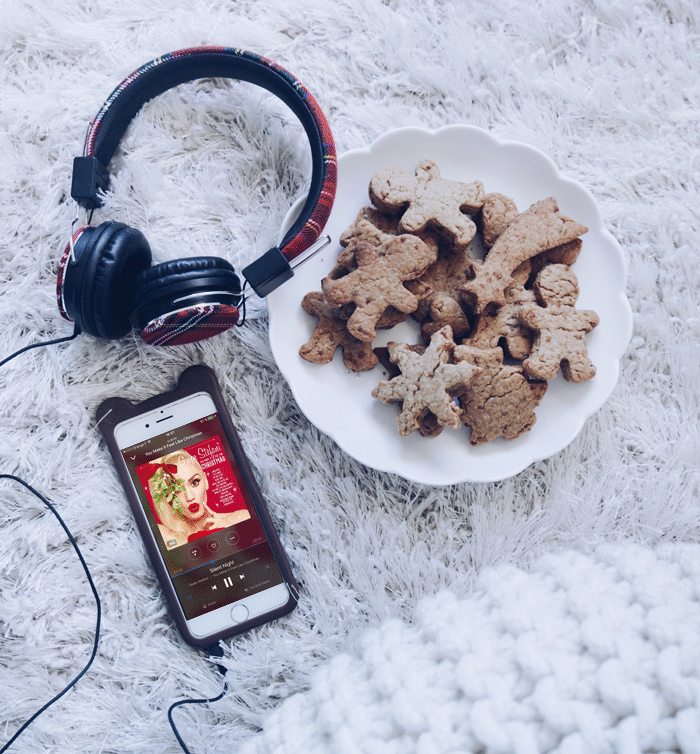 Headphones Benetton
Plate Wear Lemonade x Monoprix
Every year, artists released new (good or not) albums and Christmas best of. I must admit that I'd never thought about it much as "Christmas albums" most of the time is synonymous of hackneyed, but this year, Tom Chaplin (the previous leader of Keane, one of my favorite group) decided to release one, which piqued my curiosity.
I also found out he was not the only one, since Sia and Gwen Stefani also decided to do their own Christmas songs.
•Sia "Everyday is Christmas" : only original creations about Christmas. Pleasant to listen during this period, we can enjoy a happy Christmas spirit without doing an overdose of the classic "Jingle Bells" or "Let it snow".
•Gwen Stefani "You make it feel like Christmas" : Here, it's the opposite, not very innovative apart from 6 original songs amongst the 12. The well-known songs are included, pretty good performance: the twangy voice of Gwen gets along pretty well with Christmas classics. The cover of "Last Christmas" from Wham is well done too. No surprise coming from the rest.
•Tom Chaplin "Twelve tales of Christmas" : All objectivity (or almost), this is my favorite album. Among 12 songs, 4 are covers done in an elegant way, including the cheesy "Stay another day" from East 17 from my teenage years. My favorite is the melancholic "Walking in the air" which opens the album perfectly.
In terms of original creations, he didn't fall for the easy Christmas bells everywhere: all the songs really tell a story, an emotion (happy or not) that we can feel during the end of year period, this is what touched me.
A few of them such as "Under a million lights" were composed after the attacks in London and Manchester this year, as a message of fraternity and hope. An album not as light as the two previous but heart-warming.
Taste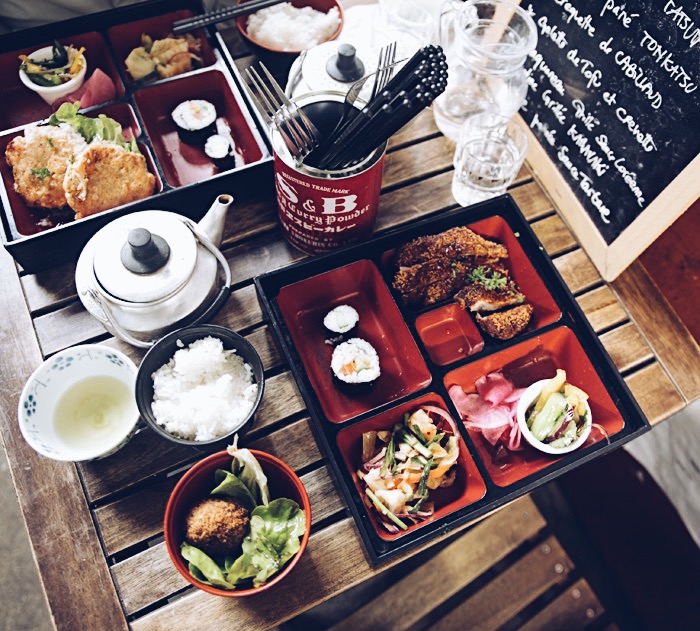 I talked about this corner of bentos called Chez Taeko 7 years ago here. Believe it or not, I hadn't got back since then! A few weeks ago, I had my lunch there and nothing had changed, it was still as good as before..
As it's located in "Le Marché des enfants rouges" we eat outside but it's possible to order and take-away to eat at home.
In any case, my favorite are the tofu and shrimps galettes. The bento for lunch is not that big but very authentic and the pastry shop Bontemps is not that far for information, hehe. (English translation by Quiterie)
CHEZ TAEKO
Marché des Enfants Rouges
39 Rue de Bretagne
75003 PARIS (Métro Temple)