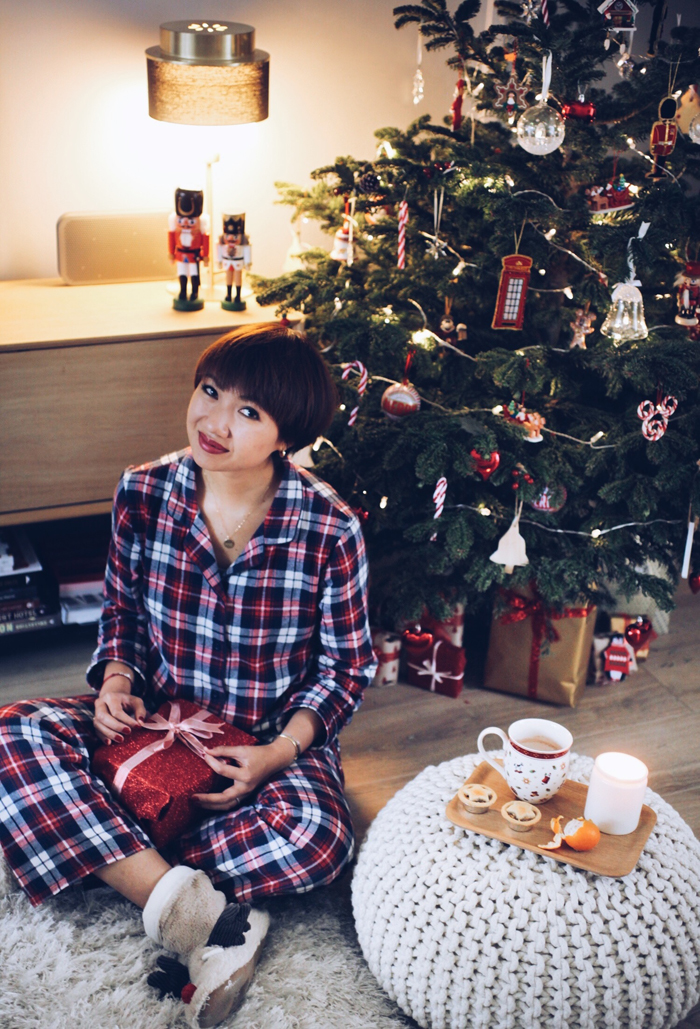 This year, the Christmas hype started way early (I feel like we've been expecting it since end of august!) but I managed to wait until november to progressively get into the mood : first with the department store windows, then with the amazing Mickey Mouse birthday weekend at Disneyland …
But I waited until december to bring the Christmas spirit into our home ! In this post, you'll get a glimpse of our 2018 Christmas decoration!!
O Christmas Tree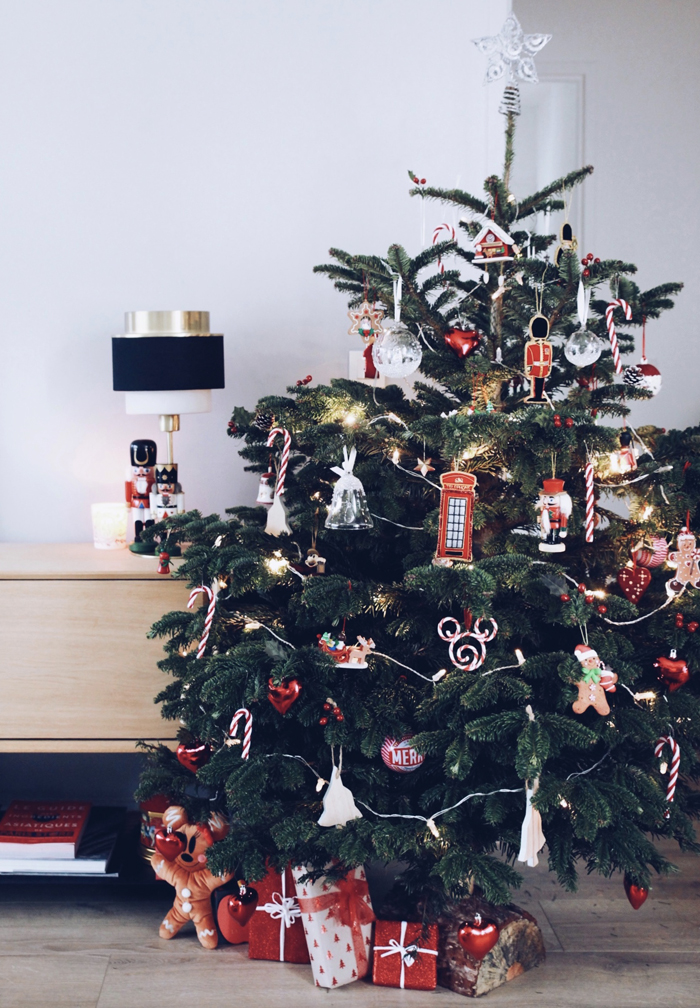 If you compare with last year, the 2018 christmas tree is a bit taller : it wasn't a conscious choice : we didn't measure it before bringing it home! But it's not a bad thing, as there was more space for our decorations.
We only started decorating a tree 4 years ago, but it's a tradition we're not ready to let up : it's so soothing and it brings such sweet magic to the whole month of December.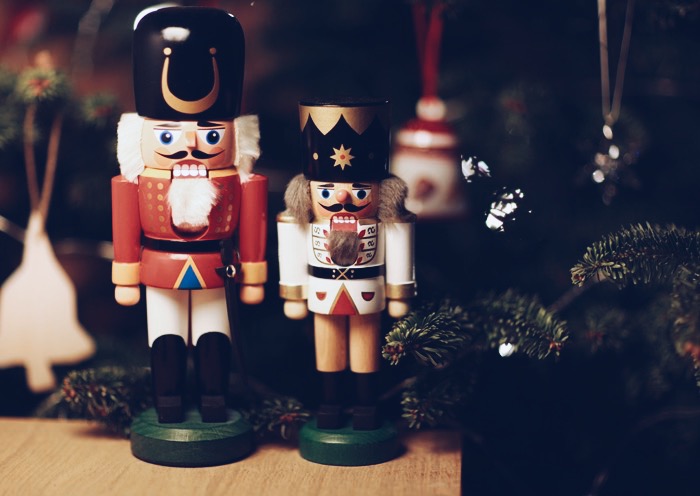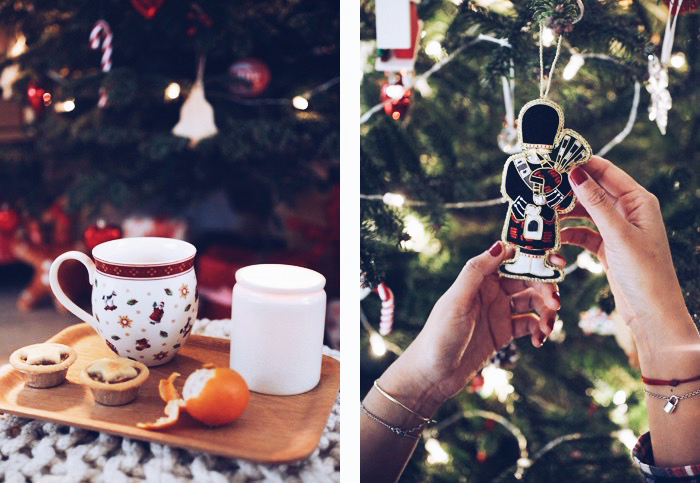 Nutcrackers  brought from Hamburg and Stuttgart Xmas markets
Mug Villeroy & Boch
Bagpipe player brought from England
We spend long hours in the evening admiring our tree (and after our refurbishment works last year, the tree now has the perfect spot across from the sofa), and I love it. I just wish I had taken more time to prepare a homemade advent calendar (it's a perfect gift for your SO and/or a friend), but I'll try to do it next year!
With regards to our Christmas decorations, we used the same ones as last year and added our finds from this year : a queen's guard, a kilt-wearing bagpipe player, a telephone booth in embroidered cloth, all souvenirs from our UK roadtrip.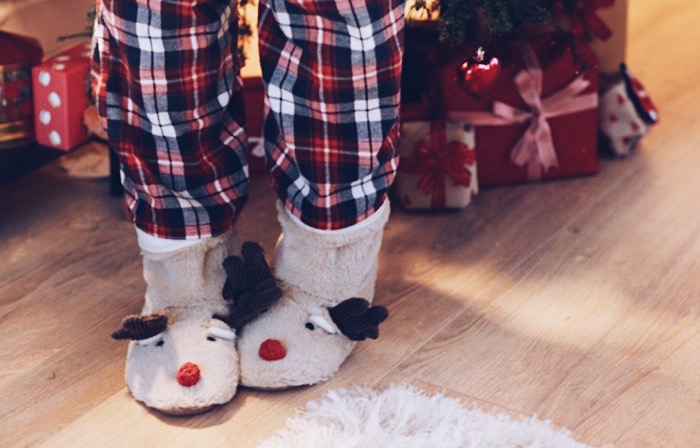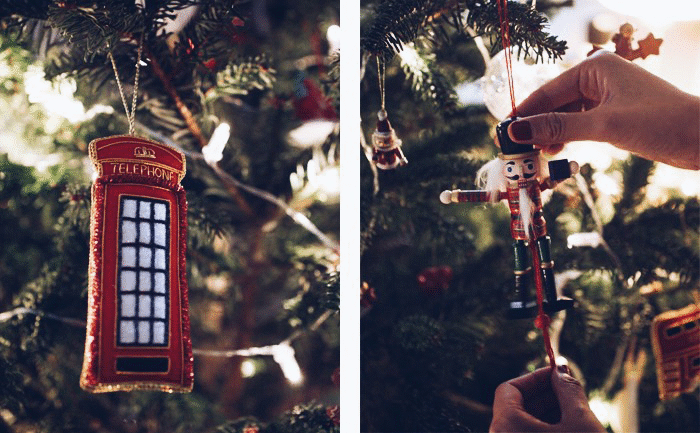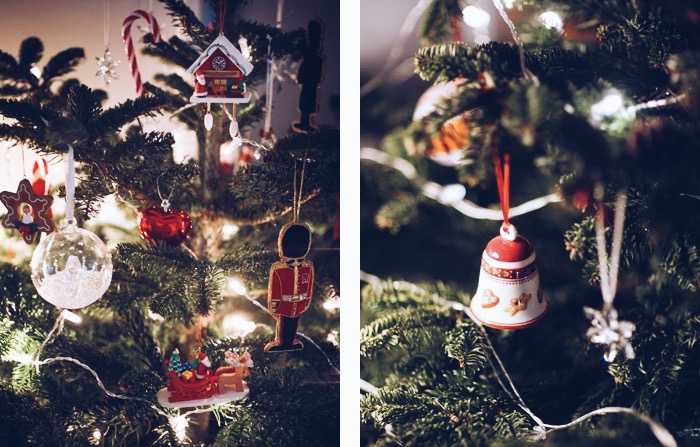 Animated nutcracker BHV Marais
Bell and reindeer Villeroy & Boch
Stars and ball Swarovski
I also love Villeroy & Boch's traditional decorations : the first (the reindeer and the gingerbread man) were gifted to me by my friend Sylvain last year , and this year I added the ball and the bell to my collection.
My favorite decorations are the wooden ones by Christian Ulbricht, brought back from our trips to the german chistmas markets. The details are so precise and cute that I try to add to my collection each year : this year I added the sleighs (driven by Santa and a christmas angel) to our star and cuckoo clock.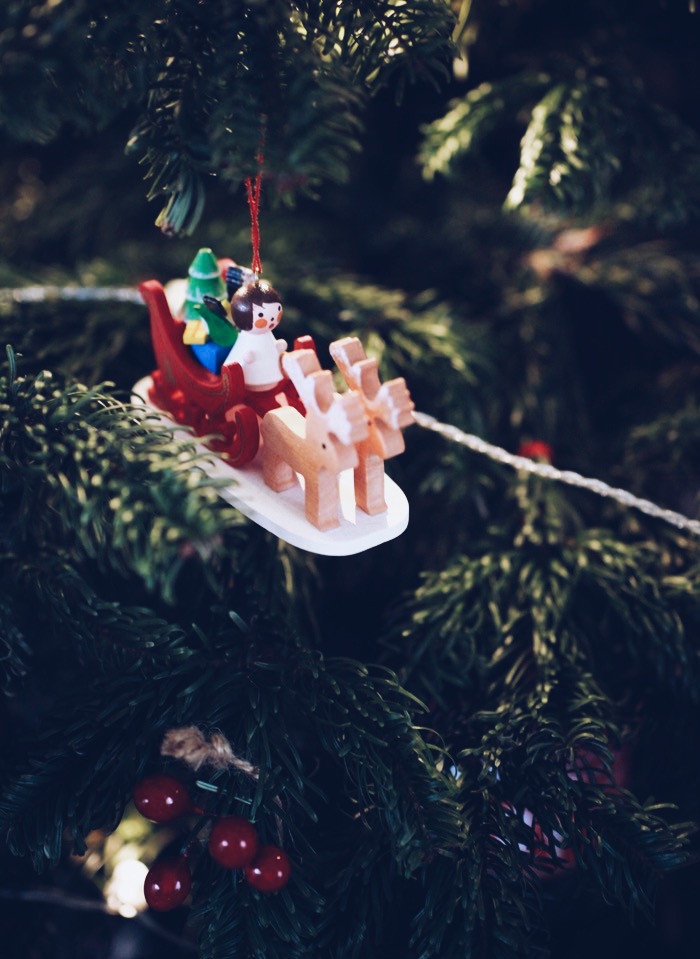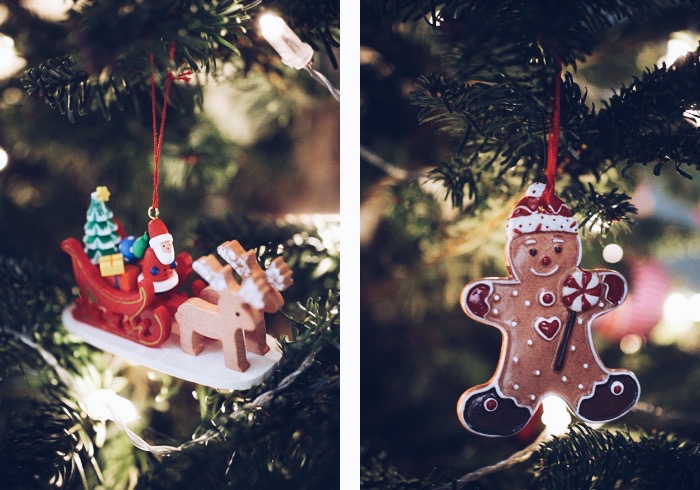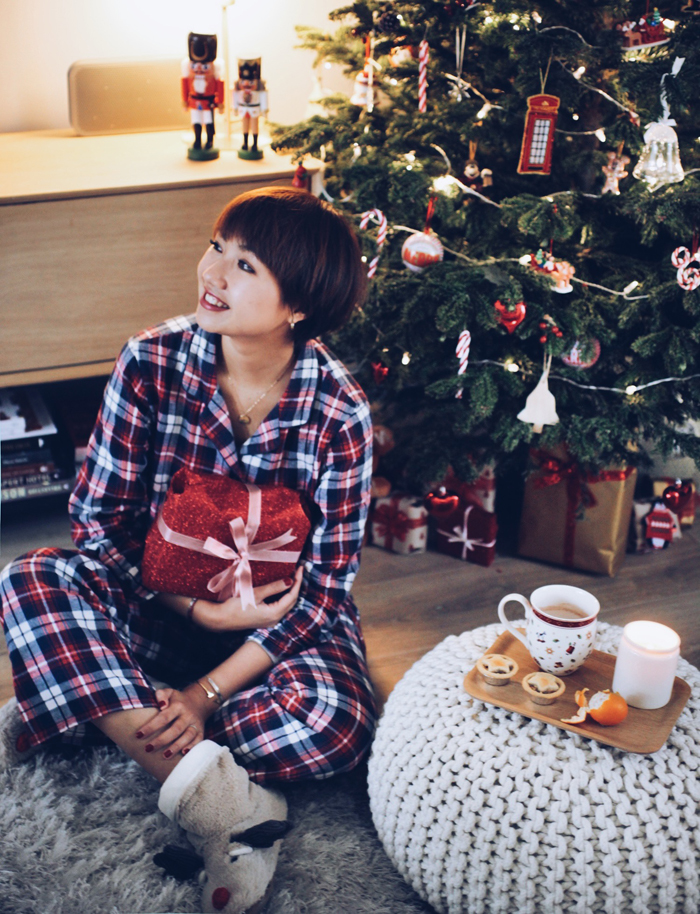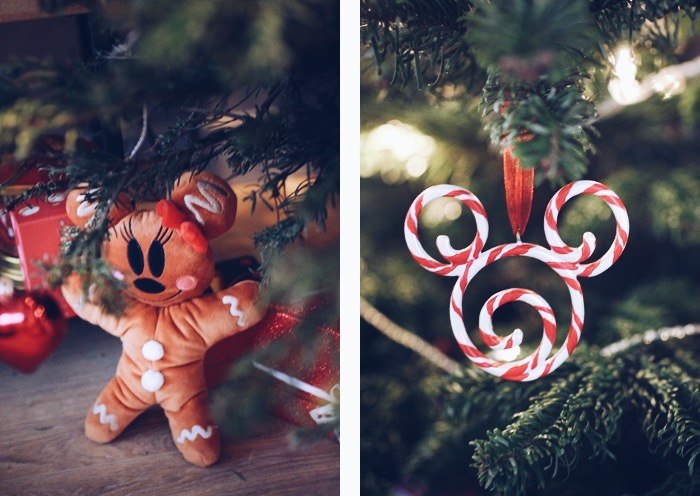 Reindeer and gingerbread man Villeroy & Boch
Mickey decorations Disneyland Paris
Wooden decorations Christian Ulbricht

Let's not forget the Disney decorations that I have been collecting as I visited the parks over the years. Gingerbread Minnie seems to have caught your eye on Instagram, but I'm not sure she can still be bought !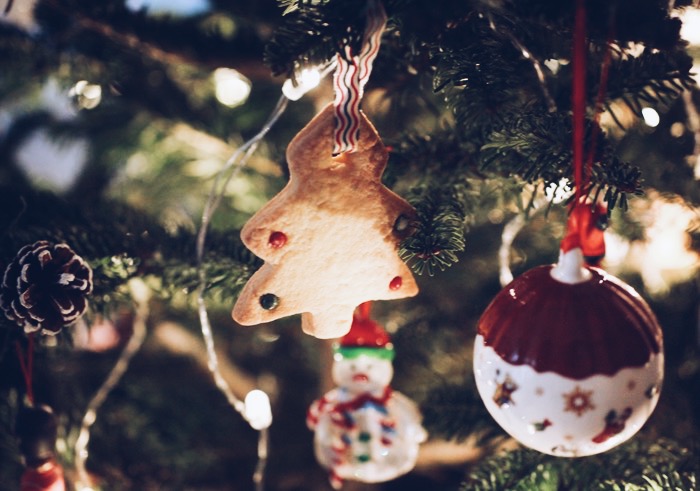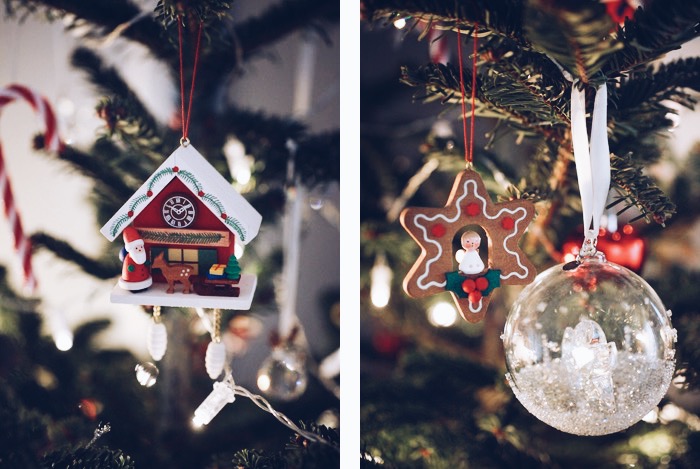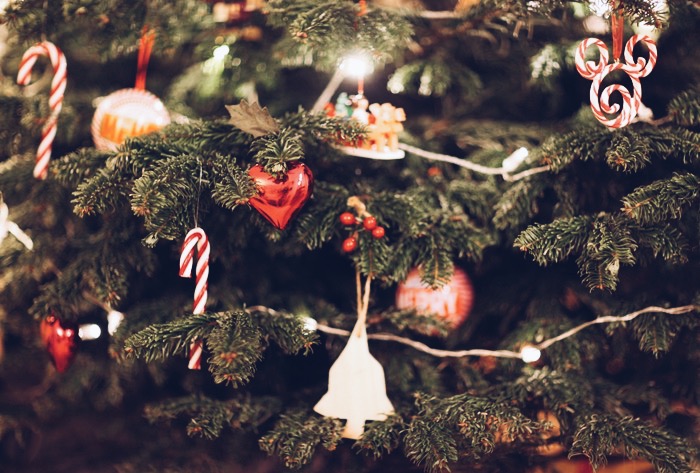 Wooden decoration Christian Ulbricht
Ball Swarovski
Fake candy canes from Japan

Each decoration has its little story, which is why we're so happy to unpack them all each Christmas season.
The Christmas wreath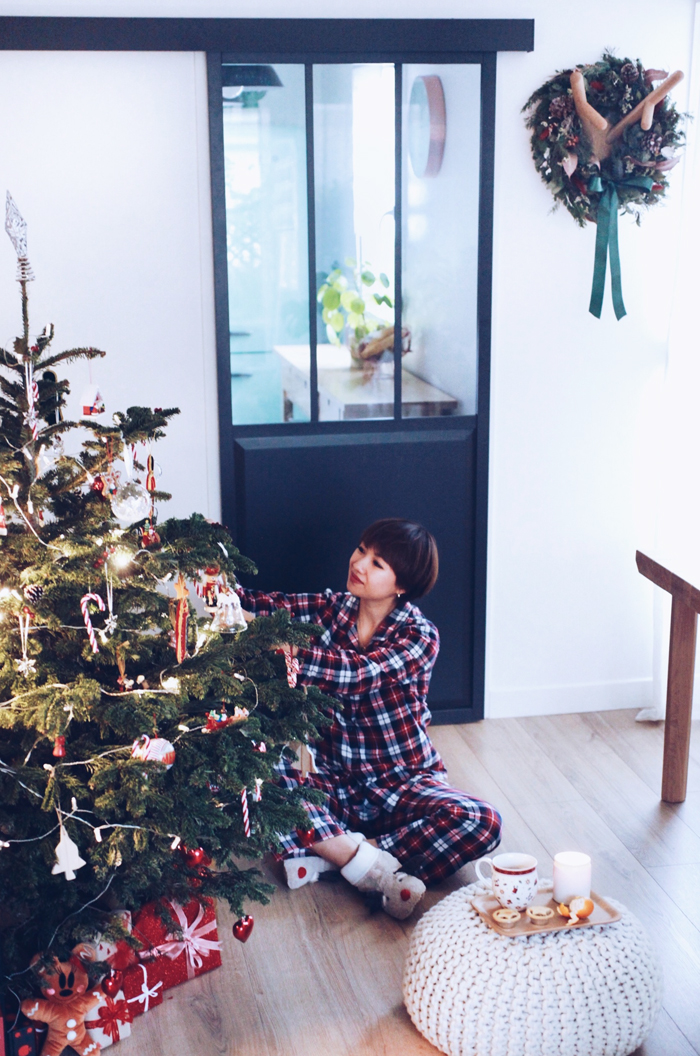 Pouffe La Redoute intérieurs
Mug Villeroy & Boch
This year, I asked Clémentine, the founder of Peonies flower/coffeeshop to create a wreath for me. It's made with dried plants, I wanted it to be natural, festive, but not too much so … the result lived up to our expectations.
We chose to hang it on our reindeer head next to the kitchen. Yes, OK, you can't really see it anymore, but let's just say that our reindeer chose to go hibernate incognito in december.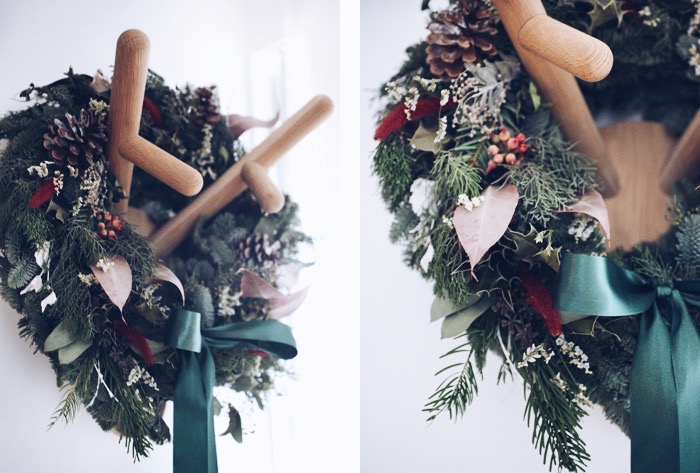 Xmas wreath Peonies Paris
A Holiday Table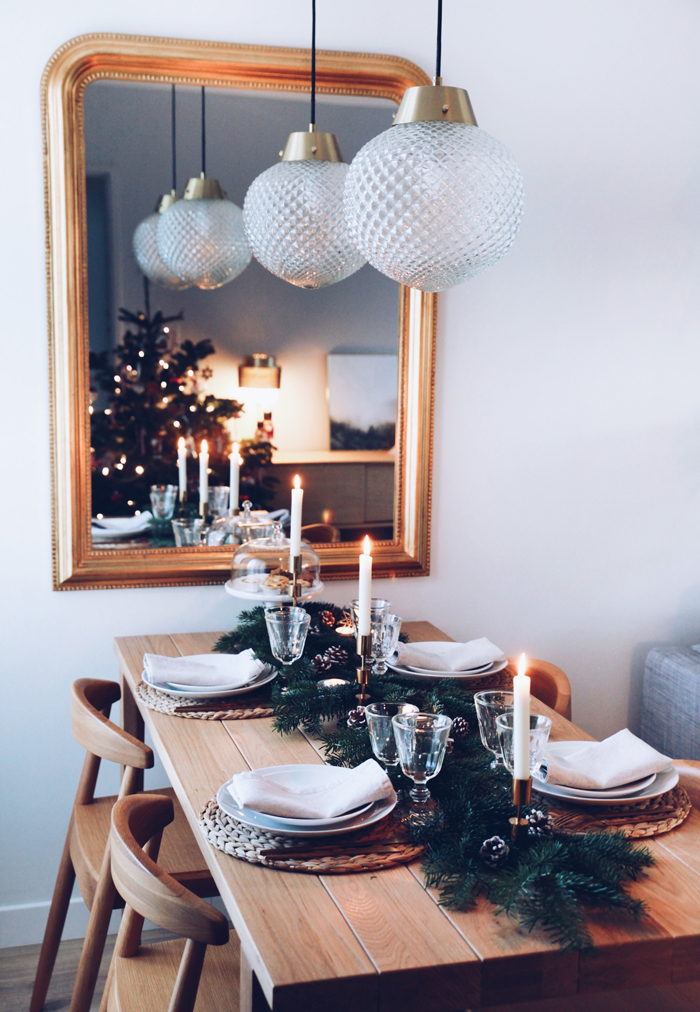 Oak table E Galina pour AM.PM
Oak chairs AM.PM
Mirror Maisons du Monde
I've only started enjoying setting a pretty table for the holidays since last year. Then again, having a real dining room table (instead of just a coffee table) changes everything!
Last year, I was missioned to prepare the Christmas Eve dinner for my family. This year it won't be the case, but a couple days earlier, I had some friends over for a pre-Christmas dinner and I snapped a couple pictures of the table before my guests arrived (…that way I was sure to enjoy the evening and not bother everybody with my blogger/instagramer tendencies, haha!).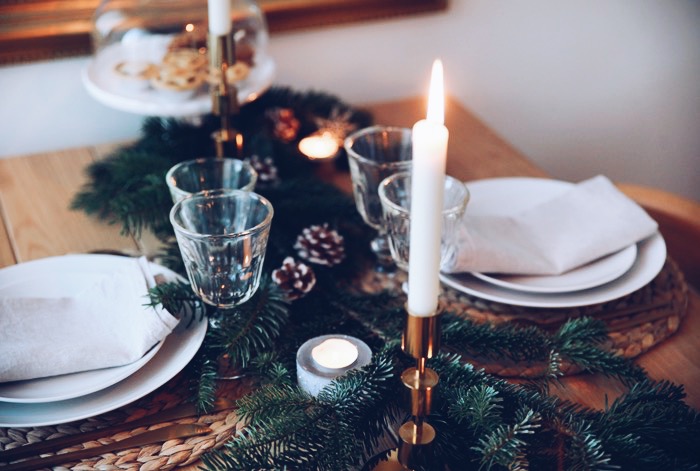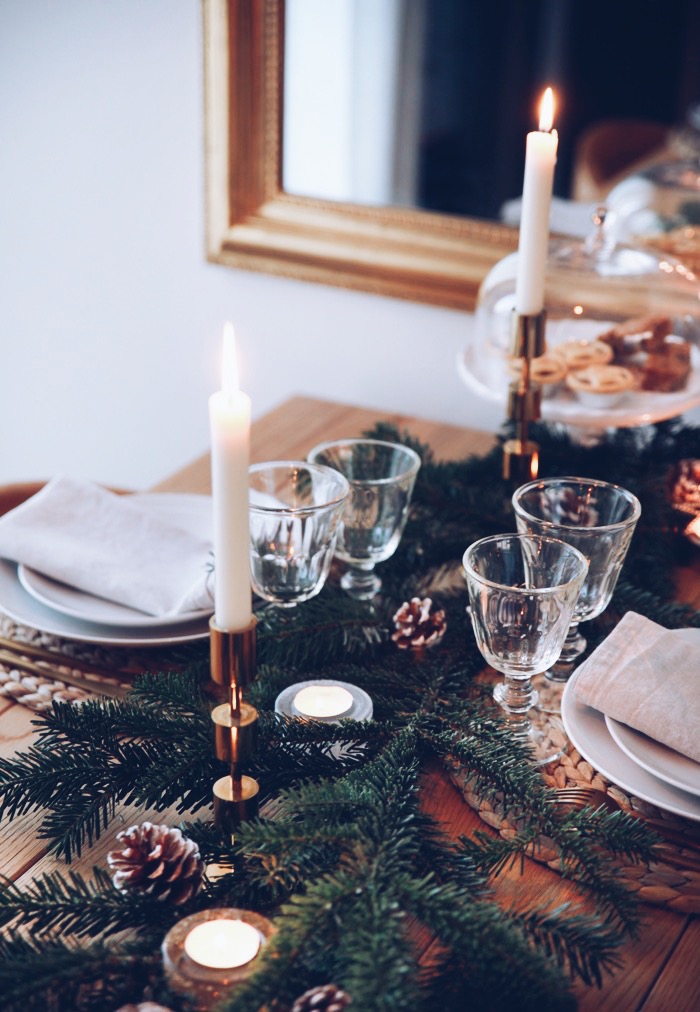 Candlestick holders Maison Sarah Lavoine
Glasses La Redoute Intérieurs
Plates Habitat
Linen napkins La Redoute intérieurs

The decoration is pretty similar to last year's, but I used pine tree branches instead of eucalyptus, and added a couple pine cones here and there.
The result is voluntarily simple and natural, and I'm very glad I chose to invest in these golden candlestick holders, that bring elegance to the whole! I chose to leave the linen napkins untouched : no decorations or napkin rings.
I'm still using my white porcelain crockery that I've had for years : it's often tempting to invest in more colorful tableware, but I'm afraid I'd get tired of it, and I just don't have the space to spare! I'm a minimalist by necessity, hehe! It forces me to be more creative with the rest … and all in all, it's simplicity I'm most attracted to.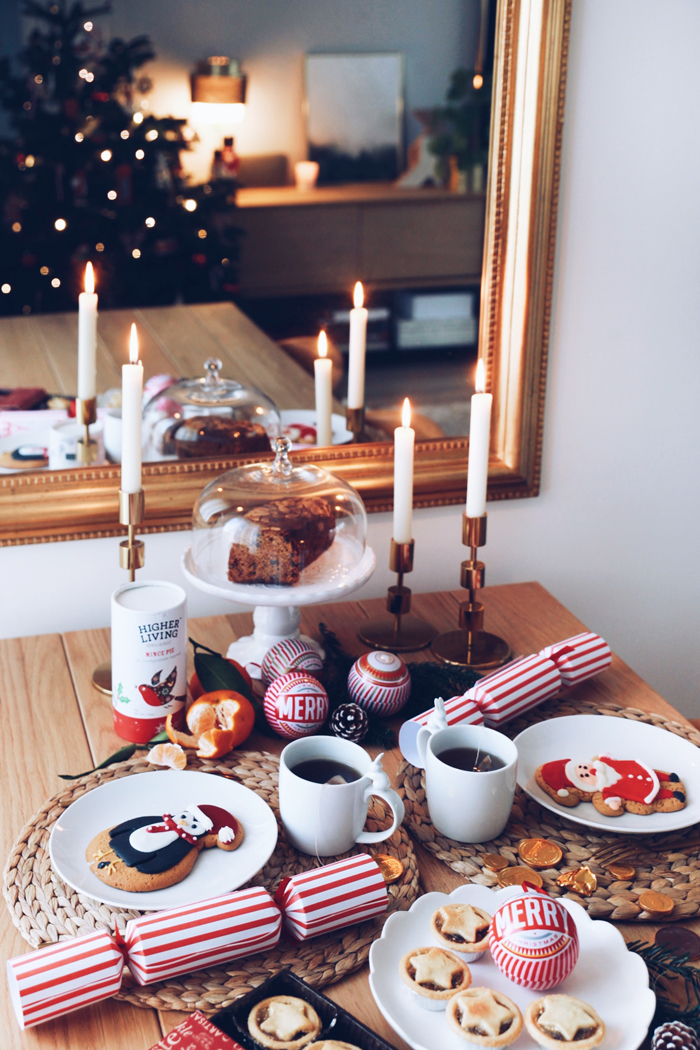 Mugs Rabito
Gâteaux et crackers brought from BHV Marais
Here is another example of table setting … for a Christmas teatime! One of my dreams is to celebrate Christmas in England or to enjoy London during Christmas time at least once in my lifetime : and it's quite achievable, as I'm sure you'll tell me! In the meantime, I'm inspired by British teatime traditions.
Crackers, mince pies and lots and lots of Christmas tea, here are the key ingredients to feeling a bit more British! (let's not forget to add watching Bridget Jones and Love Actually, my favorite Christmas movies!)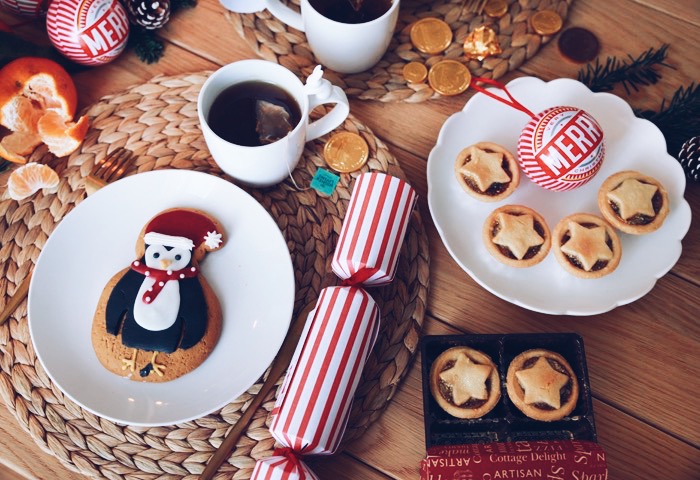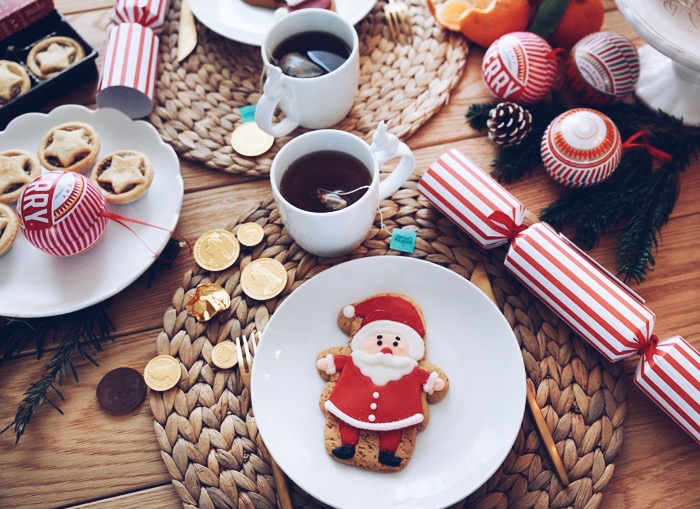 … and the Christmas spirit!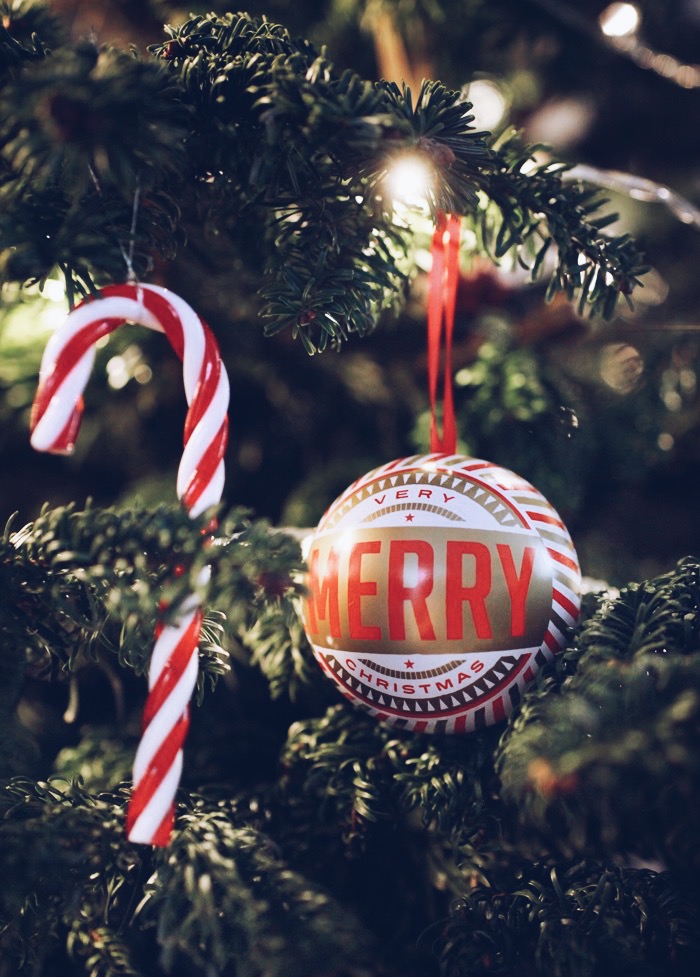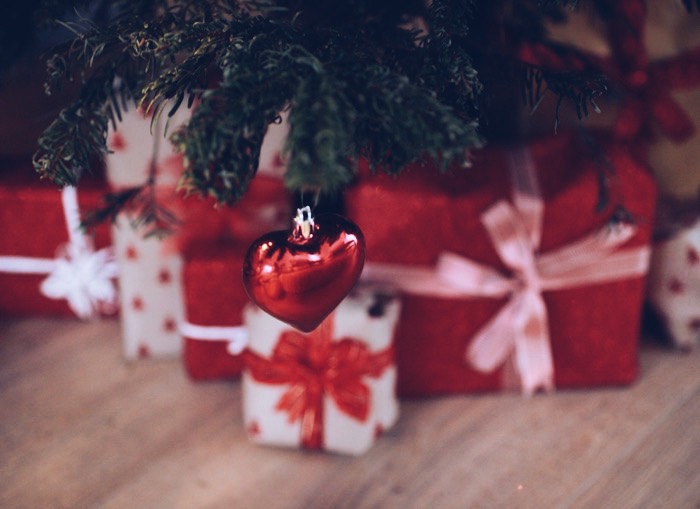 I wish you all a very happy and joyful holiday season – enjoy it as much as you can, whether you are Christmas adepts or not. I don't really know why, but my love for this time of the year, with its sparkly atmosphere, only gets bigger every year.
I look forward to spending more time with friends and family during the upcoming weeks. I'll try to slow down even more, and I'll tell you we will see each other soon in 2019! Take care of yourself and of your loved ones … (English translation by Marine)
(This article contains affiliate links)